This collection of 20 best healthy flaxseed recipes will show you that there are plenty of fun ways to eat flaxseeds, from oatmeal cookies to breakfast muffins and fluffy pancakes.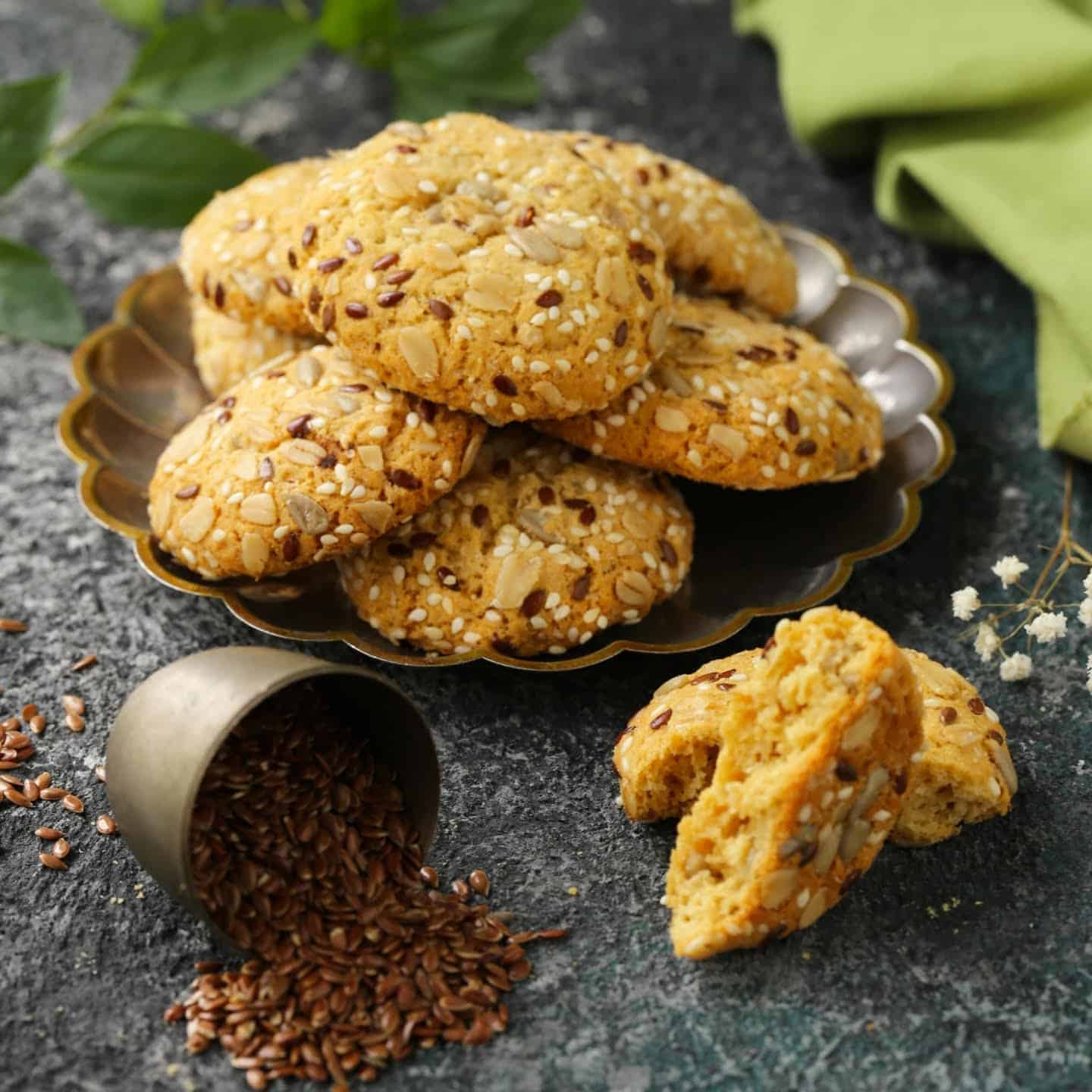 The health benefits that flaxseeds provide are simply hard to ignore. These little tiny powerhouses are a high source of healthy omega 3 fatty acids, fiber, and protein.
And, they only contain about 37 calories and only 2 grams of carbs in 1 tablespoon! That's why they are a hit in health food circles.
So what better way to get all those essential nutrients than making these easy and delicious flaxseed recipes.
You can also use flaxseed as a substitute for breadcrumbs in these spicy Schnitzel Bites. The possibilities are endless!
Frequently Asked Questions
What are flaxseeds?
Flaxseed is a plant-based source of healthy fat, antioxidants, and fiber. It's well known as a functional food implying that it may be eaten to improve your health.
Flax has been grown for millennia in Egypt and China. It has been used in Ayurvedic medicine for thousands of years in Asia.
Flaxseed is now available in a variety of forms, including seeds, oils, powder, tablets, capsules, and flour.
What is the difference between linseeds and flaxseeds?
Linseeds and flaxseeds are nutritionally identical, with the exception that the plant may be distinguished. Linseed has a shorter stature (3 feet) and more branches, whereas flaxseed is taller (3 feet) and has fewer branches.
Flax Seeds Nutrition Facts
One tablespoon (7 grams) of ground flaxseed contains (2Trusted Source)
Calories: 37
Carbs: 2 grams
Fat: 3 grams
Fiber: 2 grams
Protein: 1.3 grams
Thiamine: 10% of the Daily Value (DV)
Copper: 9% of the DV
Manganese: 8% of the DV
Magnesium: 7% of the DV
Phosphorus: 4% of the DV
Selenium: 3% of the DV
Zinc: 3% of the DV
Vitamin B6: 2% of the DV
Iron: 2% of the DV
Folate: 2% of the DV
So if you're looking for ways to incorporate flaxseeds into your diet, this list of best flaxseed recipes can help you get started.
Your whole family is going to love this incredibly moist, deliciously spicy and full of pumpkin flavors bread that's studded with dried cranberries and packed with heart-healthy omega-3 fatty acids thanks to ground flaxseed.
All the flavors blend beautifully, making every slice irresistible. The best part? It tastes even better the next day!
Enjoy it with a hot cup of coffee for breakfast or as an afternoon snack.
Get your morning off on the right note with this smoothie recipe that's packed with good-for-you ingredients.
It has high antioxidant blueberries, natural honey sweetness, omega-3s of ground flaxseed, and classic banana flavors.
Low-calorie nonfat yogurt and unsweetened almond milk make this smoothie super creamy. This blend of goodness is sure to become a family favorite.
Featuring flaxseed meal, old-fashioned oats, chocolate chips and sunflower seeds, these extremely rich and delicious cookies offer a ton of nutrients and an extra boost of energy in every bite.
They're perfect for breakfast, on-the-go treats, as a post-workout snack, or healthy dessert. And the best part is you can whip up these little bites in less than 30 minutes using just one bowl!
These cookies are pretty customizable, too. So feel free to throw in some raisins, nuts, dried fruits, or different seeds.
Make this slaw recipe for your next get-together and it will be a guaranteed hit.
The wonderfully sweet and tangy dressing made with ground flaxseed, lemon juice, ginger, maple syrup & cilantro takes coleslaw to a new level.
It's fantastic on pulled-pork sandwiches, brisket burgers and hotdogs. It also makes a perfect side for crispy French fries, fried fish, barbecued and grilled meats.
Crunchy and flavorful, these Schnitzel Bites are healthy, quick and ridiculously easy to make. They're sure to please any crowd.
Chicken thighs are coated with ground flaxseed, paprika, ground ginger, ground cumin and chili, then pan-fried to crisp perfection.
Serve them with potato wedges and your favorite dipping sauce & salad for the perfect meal.
If you enjoy homemade baked goods and love the delicious flavor combo of blueberries and bananas, this recipe is a must-try.In every bite, it yields supremely moist and flavorful bread bursting with juicy blueberry and sweet banana flavors.
This combo is fantastic as it is, but the addition of flaxseed meal makes it even better! It adds a pleasant nutty flavor, highlighting the banana and blueberry flavors.
Enjoy a slice for breakfast or as an afternoon snack with a cup of your favorite tea.
You'll never go back to store-bought granola once you try this 40-minute homemade recipe.
It's loaded with oats, almonds, coconut flakes, ground flaxseed, chia seeds and lightly sweetened with maple syrup for a delightfully sweet, chewy treat.
Feel free to add other seeds, nuts, dried fruits, or whatever you like to your granola.
If you're looking for a healthy breakfast treat, you simply can't go wrong with these flaxseed muffins. They are perfectly moist, super easy to whip up and taste absolutely amazing.
Made with almond flour, flaxseed, butter, nutmeg and cinnamon, these perfect-for-anytime muffins will fill your house with a warm, intoxicatingly good aroma. Everyone is going to love these.
Plus, they are low carb and keto! Feel free to add chopped pecans or walnuts for a nutty crunch.
This flaxseed recipe gets 5 stars! It's not only tasty, nutritious and effortless to prepare but uses simple ingredients that you probably have in your pantry right now.
These deliciously addictive bites are crunchy and savory with a nutty taste of flax seeds. They'll be a surefire hit for your next indoor picnic brunch.
For a low-carb, gluten-free option, use almond flour.
This flaxseed recipe combines all-purpose and whole wheat flour for delightfully light, fluffy and filling pancakes with a subtle nutty flavor.
But the star of the show is the Greek yogurt! It makes the pancakes extra fluffy and tenders while adding a dose of protein.
Use whatever toppings you like, but one is for sure, you're going to love these tasty, healthy pancakes.
Looking for 5-minute recipes with flaxseed? This peanut butter banana smoothie bowl recipe takes only 5 minutes to put together and is super filling and nutritious.
All you need are ripe bananas, peanut butter, vanilla extract, flaxseed meal and plant-based milk. Toss them into your blender, blitz it up and you have yourself a delicious breakfast or dessert.
Add your favorite toppings and enjoy!
These simple and delicious no-bake energy bombs pack nutrient-rich ingredients like almonds, pumpkin seeds, flaxseeds and dates.
The dried cranberries lend natural sweetness. The hazelnut butter is the 'glue' that holds everything together and adds extra protein punch to keep full until your next meal.
Ready in mere minutes, these treats are so much healthier than anything you can buy at the store.
This peaches n cream chia, flaxseed, and hemp seed pudding is one of those flaxseed meal recipes that you should have in your back pocket when you want a no-fuss treat with a nutritious punch.
Thanks to the seeds and flaxseed meal it's packed with fiber, protein, healthy fats, and antioxidants. Cinnamon adds a warm, spicy flavor that brightens the whole dish.
Enjoy this bowl of heaven with diced peaches and a generous dollop of dairy-free peaches and cashew butter yogurt on top.
If you're looking to satisfy your French toast craving but following a plant-based diet, give this easy recipe a try.
Made with just 5 ingredients - flax seeds, coconut milk, vegan bread, vanilla and cinnamon - these incredibly crispy and gloriously browned French toast drizzled with maple syrup are perfect for lazy weekend mornings.
Serve with berries, whipped cream, or just pile your favorite toppings and enjoy.
Win over your non-vegan friends with these flavor-packed flaxseed wraps. Bursting with fantastic flavor and texture in every bite, you simply can't go wrong!
Soft garlicky wraps made with flax seeds, garlic, ginger and coriander are stuffed with perfectly seasoned tofu, spinach, avocado, bell pepper and carrots.
A spicy peanut coconut sauce drizzled on top transforms this recipe into a show-stopping appetizer. Make a double or triple batch at your next party or gathering; they'll go quick.
These wraps also make the perfect grab-and-go lunch or easy weeknight dinner.
As far as quick and easy flaxseed recipes go, it doesn't get much better than these low-carb waffles. The prep takes less than 10 minutes and cooks in the same amount of time.
Crispy on the outside with a slightly light, tender center, these waffles will delight your entire family.
Plus, they freeze beautifully, so you can make a big batch and enjoy them throughout the week.
This recipe is a great way to slip more nutrients into your diet. Berries and chia seeds are topped with homemade granola then baked to perfection with a satisfying crunch.
Make the granola ahead of time, then just assemble and pop in the oven for 45 minutes whenever you want want to indulge.
Top generously with coconut whipped cream or yogurt for a yummy treat.
It doesn't get much easier than these crispy flaxseed crackers, made with just flax meal, olive oil, water, salt and pepper.
They're nut-free, egg-free and gluten-free! The best part? This recipe is totally customizable!
So you can add whatever ingredients you have on hand that suits your taste. Cheese, seeds and spices like garlic powder & onion powder are great additions.
With only 0.3 net carbs per serving, these savory flax crackers are the ultimate low-carb snacks.
Skip the added sugars, pesky preservatives, refined flours and make these oatmeal bars instead.
This 5-ingredient recipe takes 10 minutes or less to prepare and combines oats, mashed bananas, flaxseeds, sun butter and cinnamon.
Just mix everything in a bowl, transfer to a loaf pan or something similar, refrigerate for half an hour, and you've got a scrumptious treat.
Not only is this flax porridge loaded with all kinds of good stuff, but it tastes soo good. This recipe is a total win.
Even your picky eaters are going to love this! Bananas and blueberries are a perfect pair. Add flax seeds and walnuts, and you've got a comforting breakfast that will keep you satisfied throughout the day.
A touch of cinnamon takes this recipe to the next level.
Related Healthy Snack Recipes
Check it out our healthy snacks collection. These quick snack recipe ideas will have you covered no matter what time of day it is!
Looking for easy cookie recipes? Check out my collection of easy cookie recipes with few ingredients.