Tenderized round steak is a delicious and budget-friendly cut of meat that can be used in a variety of dishes. Whether you're in the mood for a classic steak dinner, a comforting bowl of beef and noodles, or a crispy chicken-fried steak with creamy gravy, there's a recipe for everyone.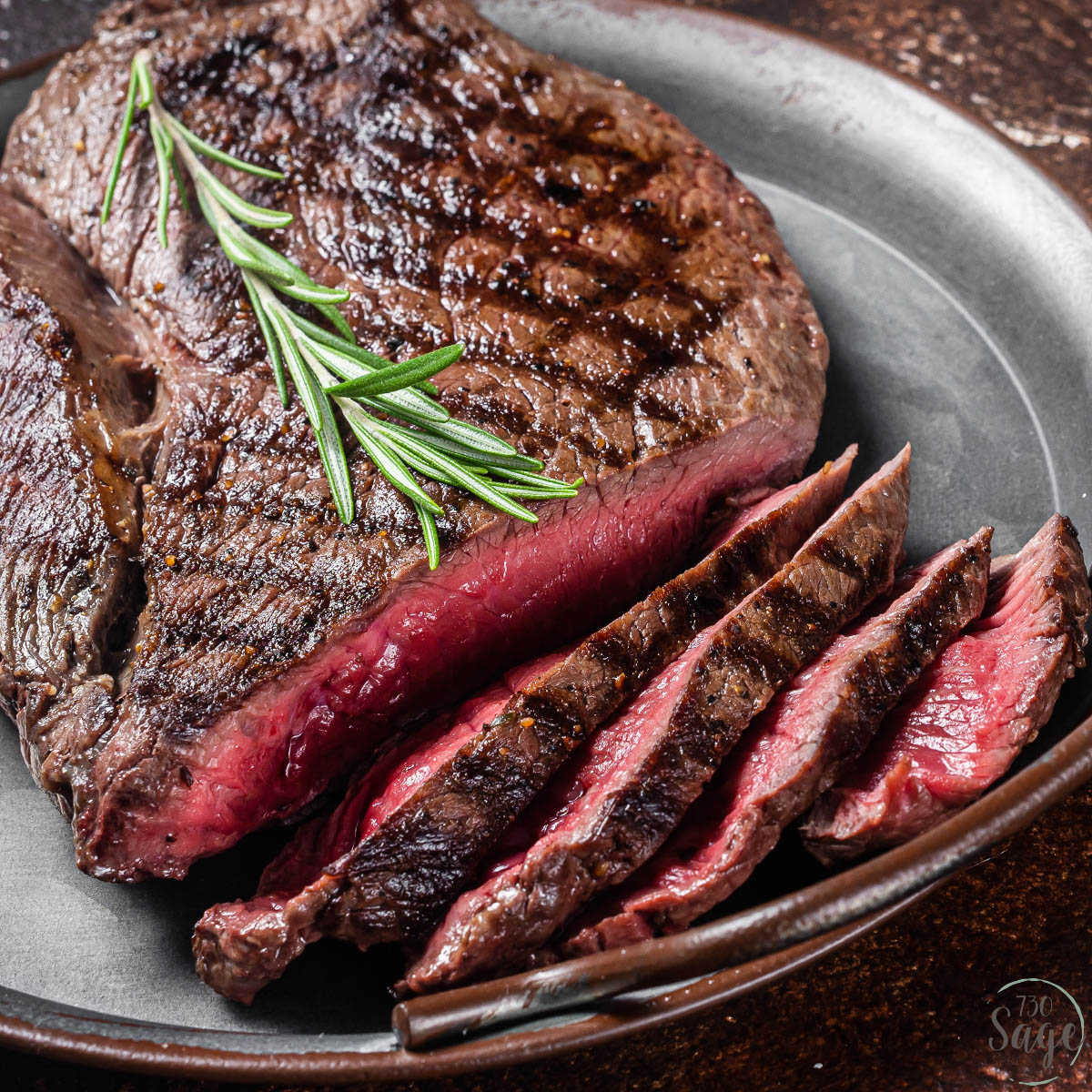 In this article, we've compiled 18 delicious and easy-to-follow tenderized round steak recipes that will satisfy your cravings without breaking the bank.
How Is Tenderized Round Steak Different From Other Cuts?
Tenderized round steak comes from the hindquarter of the beef, while other cuts like ribeye and filet mignon come from the midsection. The hindquarter muscles are typically tougher and require mechanical tenderization to make them more palatable.
How Do You Tenderize Round Steak?
Round steak can be tenderized by pounding it with a meat mallet, marinating it in an acidic mixture, or having it mechanically tenderized.
Can Tenderized Round Steak Be Substituted For Other Cuts
Tenderized round steak can be substituted for other cuts of beef in recipes, but the cooking time may need to be adjusted to ensure the meat is cooked to the right temperature.
18 Tenderized Round Steak Recipes
Discover the savory and budget-friendly possibilities with these 18 delicious tenderized round steak recipes:
This tenderized round steak recipe is perfect for a hearty and satisfying dinner. The recipe features round steak that is coated in flour and browned in a skillet before being placed in a baking dish. The steak is then topped with tender mushrooms and a savory onion soup mixture before being baked to tender perfection. The dish is easy to prepare and full of flavor, making it a great option for a weeknight dinner or special occasion.
This recipe for country fried steak is perfect for a delicious Southern-style dinner. The recipe uses 1 ½ pounds of round steak, which is pounded to a uniform ¼-inch thickness, coated with a mixture of eggs, buttermilk, flour, salt, garlic powder, smoked paprika, and cayenne, and fried in a pan of hot oil until golden brown. The steaks are then finished in the oven to keep them warm.
The dish is served with a creamy gravy made from pan drippings, butter, flour, milk, and heavy cream. Serve the steak with mashed potatoes and pour the gravy over everything for a truly comforting meal.
This recipe is for classic Southern-style cube steak, a comforting and flavorful dish made with tenderized beef and a savory sauce. After seasoning the meat and coating it in flour, the steaks are browned in a Dutch oven and set aside. The vegetables and seasonings are then added to the pot, creating a rich tomato-based sauce. The steaks are returned to the pot and baked in the oven until tender. This dish is perfect served with your favorite sides, such as mashed potatoes and green beans.
This round steak recipe is a simple and hearty dish that can be made in the oven. The steak is coated in flour and seared, then baked with stewed tomatoes, celery, carrots, garlic, and Worcestershire sauce. After two hours in the oven, the dish is topped with shredded cheddar cheese and returned to the oven for a few more minutes. It's a delicious and easy-to-make meal that is perfect for any occasion.
This Instant Pot round steak recipe is a quick and easy meal that's perfect for busy weeknights. Simply cut your beef round steak into serving-size pieces and place them in the Instant Pot. Add in the onion soup mix, water, and cream of mushroom soup, and stir everything together.
Set the Instant Pot to the meat setting for 20 minutes and let it naturally release for 15 minutes before quick releasing. Serve this delicious dish over cooked egg noodles for a hearty and satisfying meal.
This thin sliced beef round steak with sauce recipe is a delicious and hearty dish that is perfect for any occasion. The tenderized meat is seasoned and coated with flour before being pan-fried until golden brown. A flavorful red wine sauce is then prepared in the same pan, featuring diced shallots, garlic, beef broth or water, thyme, and bay leaf.
The beef steaks are then added to the sauce and cooked on low heat for 2-2.5 hours until super tender. Serve this tasty dish with your favorite side dish, such as mashed potatoes or roasted vegetables.
With just a few simple ingredients and a bit of patience, you'll have a delicious meal that the whole family will love. Simply place a 2-pound top round steak on a bed of chopped onions and celery in a Dutch oven, add broth and spices, cover with the lid, and bake for 1 ½ hours at 325°F. Seasonings such as salt, pepper, garlic powder, onion powder, cayenne pepper, oregano, and paprika add depth to this savory and tender dish.
This recipe for Round Steak Fajitas is a great way to use up tenderized round steak, and can be substituted with regular steak as well. The dish is easy to prepare and can be made ahead of time by marinating the steak slices in a mixture of olive oil, chili powder, cayenne, garlic powder, red chili flakes, salt, and pepper.
The vegetables are sautéed first with a little olive oil and garlic powder, and then the marinated steak slices are added and cooked until done. The result is a delicious and flavorful fajita dish that is perfect for a quick and easy weeknight meal. To top it off, the fajitas can be served with sour cream or Greek yogurt.
This recipe features thinly sliced Certified Angus Beef® bottom round steaks coated with a flavorful blend of ancho and chipotle chili powder, garlic and onion powder, oregano, paprika, cumin, coriander, black pepper, and cinnamon. The steaks are then pan-seared in a hot cast iron skillet with canola oil until golden brown and cooked to perfection. The final result is a delicious and savory dish that is perfect for a hearty lunch or dinner.
These Country Fried Steak Fingers are a perfect meal to satisfy your craving for comfort food. Made with tenderized round steaks, these fingers are crispy and flavorful. The recipe starts with baking the steaks in the oven until they are fork-tender, then they are sliced into fingers and coated with a flavorful breading mixture of cornstarch, flour, and spices. The fingers are fried until golden brown, then served with a creamy and delicious gravy made with evaporated milk and whole milk.
The beef is marinated in a sweet and savory marinade that is made with honey, soy sauce, Worcestershire sauce, garlic, ginger, and red pepper flakes. After marinating, the beef is stir-fried in a skillet with onions and bell peppers, then simmered in a sauce made from the reserved marinade and cornstarch. This stir-fry is garnished with sliced green onions and sesame seeds for added flavor and texture. It is best served over rice or noodles.
This recipe is for a delicious and hearty steak and cheese sandwich made with tenderized or cube round steaks. The steak is sliced into strips and cooked until browned in a skillet. Bell pepper and onions are added to the skillet and cooked until the onions are soft and translucent.
The steak and veggies are then seasoned with salt, pepper, Worcestershire sauce, and butter. The mixture is then placed on the bottom halves of bolillo or hoagie rolls and topped with slices of Swiss cheese. The top halves of the rolls are brushed with olive oil and placed over the sandwiches.
This recipe is for a classic and hearty dish - slow-cooked round steak with mushrooms and onions. The steak is first seasoned and browned, then baked with a mixture of mushrooms, onions, beef broth, thyme, and Worcestershire sauce for a few hours until it is fork-tender.
The cooking liquid is then thickened with cornstarch to create a rich gravy. The dish is served over mashed potatoes, making it a satisfying comfort meal. The recipe notes advise checking the tenderness of the beef before serving and tenderizing the meat before browning.
While this recipe specifically calls for sirloin steaks, you can certainly use the same cooking method for tenderized round steak to achieve a delicious and tender result. The key is to make sure the steak is at room temperature before cooking and to season it well before cooking in a hot pan or on a grill to create a nice crust. You can then finish cooking the steak to your desired doneness, and let it rest for a few minutes before slicing and serving.
This recipe is for a classic Southern dish called Smothered Steak. It uses top round steak, which is tenderized and dredged in seasoned flour before being browned and simmered with onions, bell peppers, and mushrooms in a flavorful gravy made with beef stock, Worcestershire sauce, and a blend of herbs and spices. The dish is cooked low and slow until the meat is very tender and falling apart, and can be served over rice, mashed potatoes, or with a side of vegetables.
These oven-grilled top sirloin steaks are an easy and delicious way to prepare steak in the oven. The steaks are rubbed with olive oil, seasoned with salt and pepper, and grilled on a rack in the oven at a low temperature of 275F for 22 to 30 minutes, depending on your desired doneness.
Then, they are seared in a hot skillet for a few minutes on each side to get a nice crust. After resting for 10 minutes, the steaks are ready to be cut and served. This method can also be used for tenderized round steak to achieve a similar result.
This recipe is for making crispy and tender buttermilk fried beef strips. The recipe requires 1 pound of boneless beef top round steak, tenderized, which is cut into strips and seasoned with lemon pepper and salt. The strips are then dipped into buttermilk and coated with flour before frying in vegetable oil until golden brown and crispy. The fried strips are then drained on paper towels and served hot.
This recipe is for crispy and flavorful country-fried steak with creamy gravy. The steak is sliced thin and pounded out with a tenderizer, then seasoned with salt and pepper. It is coated in a mixture of all-purpose flour, paprika, cayenne, salt, and pepper, then dipped in buttermilk (or egg) for extra crunch.
The steaks are then fried in a neutral oil until golden brown, and set aside to drain on paper towels. To make the gravy, the remaining oil and brown bits are combined with butter to create a roux. Milk is added slowly to the mixture, whisking constantly to prevent lumps, and cooked until the gravy is thick and smooth. The steaks are served with a generous amount of the creamy gravy, and can be enjoyed with sides like potatoes, salad, or biscuits.
Frequently Asked Questions About Tenderized Round Steaks
Can leftover tenderized round steak be stored and reheated?
Yes, leftover tenderized round steak can be stored in the refrigerator for up to 3-4 days and reheated in the microwave, oven, or on the stovetop.
How do you know when tenderized round steak is cooked
The internal temperature of tenderized round steak should reach 145°F for medium-rare, 160°F for medium, and 170°F for well-done. Use a meat thermometer to check the temperature.
What are some side dishes to serve with tenderized round steak?
Common side dishes to serve with tenderized round steak include mashed potatoes, roasted vegetables, rice, and a side salad.