Canned spinach is a versatile and convenient ingredient that can be used in a wide range of dishes, from savory casseroles and pies to creamy dips and sautés.
In this round-up, we've put together 20 canned spinach recipes that are easy to make, flavorful, and satisfying.
Whether you're in the mood for a gluten-free crustless pie, Indian-style rice, or a copycat version of Morton's Steakhouse Creamed Spinach, we've got you covered.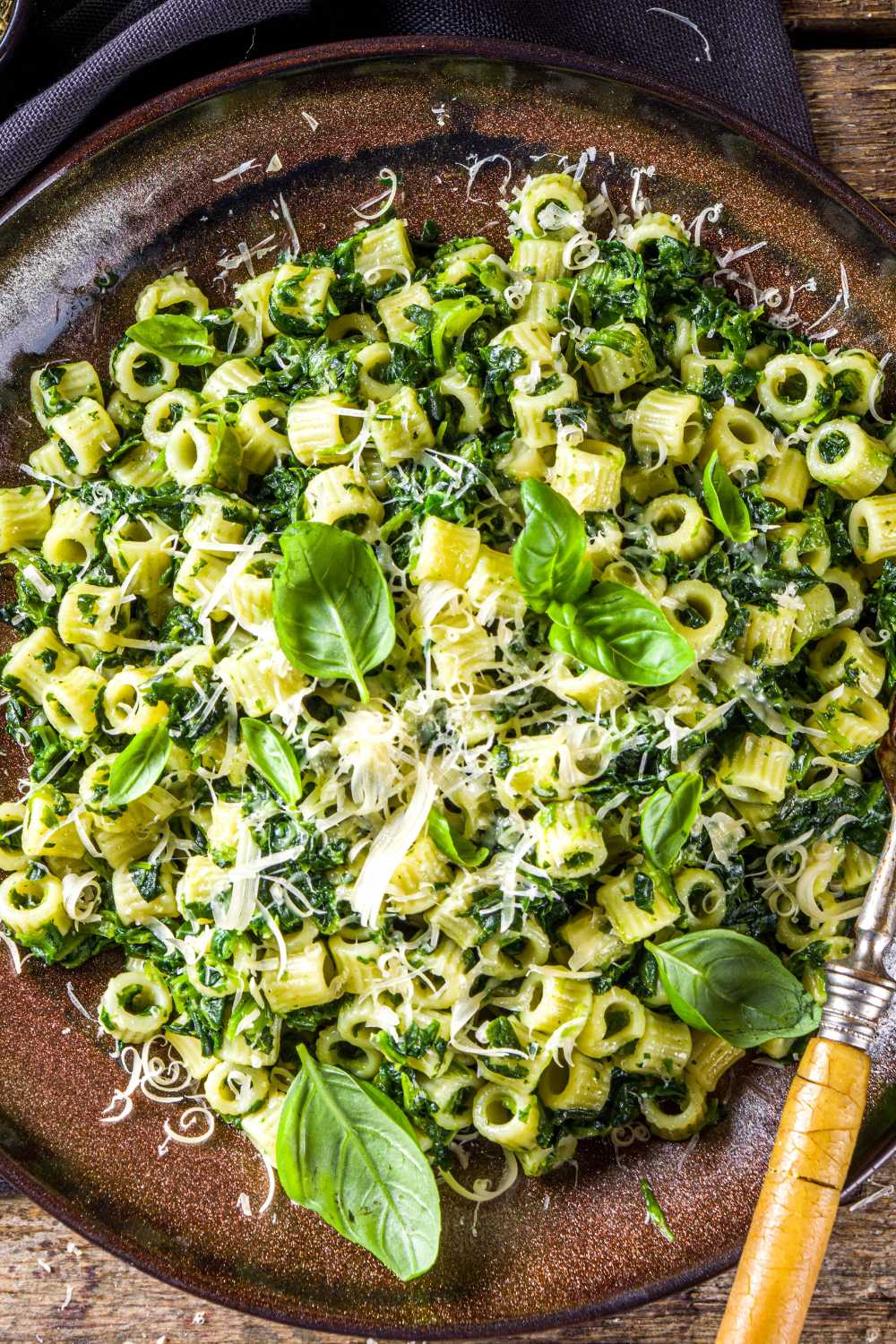 Which Is Better: Canned Spinach Or Frozen Spinach?
Both canned and frozen spinach have their advantages and disadvantages. Canned spinach is more convenient and has a longer shelf life, but it can be high in sodium and lose some of its nutritional value during the canning process.
Frozen spinach, on the other hand, is often more nutrient-dense and has a longer shelf life than fresh spinach. However, it can also be more expensive and may require more prep work.
Which Canned Spinach Brands Are Best?
There are several canned spinach brands on the market, but some stand out for their taste and quality. Del Monte canned spinach is a popular choice because it is often well-seasoned and has a good texture.
Popeye canned spinach is also a favorite among consumers, as it is made with fresh spinach and has a mild flavor. Other notable canned spinach brands include Green Giant, Libby's, and Happy Harvest. It's important to read the labels carefully and choose brands that use sustainably sourced spinach and have no added preservatives or artificial flavors.
How To Prepare Canned Spinach For These Recipes?
Canned spinach is a convenient option for quick and easy meals. Before using canned spinach, it's essential to drain and rinse it thoroughly to remove any excess salt or preservatives. You can do this by placing the spinach in a fine mesh strainer and running it under cold water for a few minutes.
Once drained, squeeze out any excess water and pat the spinach dry with paper towels. This will ensure that your canned spinach is clean and ready to use in your recipe.
20 Canned Spinach Recipes
Revamp your meal plans with 20 versatile and delicious canned spinach recipes, from savory casseroles to creamy dips and everything in between:
This creamy and cheesy baked spinach casserole is perfect as a side dish for your holiday feast. The dish is slightly spicy and bursting with flavors of cayenne pepper, dry mustard, and Worcestershire sauce. The sharp cheddar cheese adds a delectable tang, while the sauteed onions add a sweet depth to the dish.
Even though this recipe calls for frozen chopped spinach, you can easily substitute it with canned spinach. It's quick and easy to prepare and is perfect for impressing your guests with a delicious and wholesome side dish.
Crustless spinach cheese pie is perfect for those on a low-carb diet or anyone looking for a quick and easy dish. Made with just a few simple ingredients, it's a healthy and flavorful option for breakfast, lunch, or dinner.
The eggs and cheese create a rich and creamy texture, while the spinach adds a healthy dose of nutrients. This versatile recipe can be baked in a pie pan or a square dish and can be customized to your liking with various cheese options. If you don't have fresh spinach on hand, canned spinach is a great substitute. This dish is a great way to add more veggies to your diet in a delicious way.
This Instant Pot Spinach Rice (Palak Pulao) is a flavorful and colorful side dish that's perfect for any Indian cuisine enthusiast. Infused with aromatic spices such as garam masala, cumin, and turmeric, this dish packs a punch in terms of taste and nutrition. The spinach adds an extra dose of nutrients and gives the dish a vibrant green color.
This dish is gluten-free, vegetarian, and vegan-friendly, making it a healthy and versatile option for any dietary preference. Serve it with a curry, stew, or a side of vegetables for a complete and satisfying meal.
Sauteed Spinach with Bacon is a quick and easy side dish that's perfect for bacon lovers. The bacon adds a crispy and savory flavor to the dish, while the chopped onions and minced garlic create a sweet and aromatic taste. The spinach is cooked until it's bright green and wilted, making it a nutrient-dense and healthy addition to any meal.
This recipe can be easily tweaked by substituting fresh spinach with canned spinach. Season to taste with salt and pepper and serve as a delicious and wholesome side dish that's sure to please everyone.
Morton's Steakhouse Creamed Spinach is a copycat recipe that's easy to make and is a great addition to any meal. This creamy and decadent side dish features fresh spinach that's cooked until wilted and then mixed with a delicious combination of butter, garlic, onion, nutmeg, and three different types of cheese (mozzarella, cream cheese, and Parmesan).
The cheese mixture is thickened with flour and half-and-half, resulting in a rich and creamy texture that's hard to resist. For a quick and easy version of this recipe, simply substitute fresh spinach with canned spinach, which makes it a more convenient and accessible dish to make at home.
Creamed spinach is a classic side dish that is sure to impress your dinner guests. This recipe features a creamy and indulgent sauce made with butter, onion, garlic, whole milk, cornstarch, salt, pepper, cream cheese, and Parmesan cheese. The spinach is cooked to perfection and coated in rich and delicious cream sauce. This easy-to-make side dish is perfect for special occasions or when you want to add a touch of elegance to your meal. Serve it warm and watch as your guests rave about how delicious it is.
This creamy and delicious pasta with spinach is a quick and easy meal that's perfect for busy weeknights. Cook the pasta until al dente, reserving some of the pasta water before draining. In a large skillet, sauté garlic and spinach until wilted, then add cream cheese, parmesan cheese, nutmeg, and seasoning. Stir in the reserved pasta water to make the sauce creamy, then toss the cooked pasta with the spinach sauce. Serve hot with a drizzle of olive oil and additional parmesan cheese. This is a must-try recipe for any pasta and spinach lover!
Spanakorizo, or Greek spinach rice, is a flavorful and filling vegetarian dish perfect for a meal or side dish. This authentic recipe features basmati rice cooked with onions, garlic, and baby spinach, seasoned with fresh dill, chives, and a touch of lemon juice and zest.
The result is a dish bursting with Mediterranean flavors and aromas, with a creamy and satisfying texture. Serve it garnished with feta cheese and lemon wedges, and enjoy this delicious and healthy Greek classic.
These Spinach Balls are a perfect choice! Easy to make and always a hit at parties, these little balls of goodness are made with a combination of canned spinach and stuffing mix, and baked to perfection.
Just mix all the ingredients together, form them into small balls, and bake. And if you're using canned spinach instead of frozen, simply substitute it in and make sure to drain it well. These tasty Spinach Balls are a must-try for your next gathering!
These easy spinach cheese squares are a classic appetizer that's perfect for effortless entertaining. If you want to use canned spinach instead of frozen, make sure to drain the excess liquid before adding it to the mixture. Follow the same recipe instructions and bake until golden brown on top, about 30-35 minutes.
These cheesy and savory squares can be served warm or at room temperature, making them a versatile addition to any party spread. You can even bake them ahead of time and freeze them for future use!
These creamy spinach and cheese green chile enchiladas are a perfect vegetarian meal option. If you don't have fresh spinach, you can use canned spinach instead without affecting the recipe.
Simply add the canned spinach to the skillet in step 1, cook until heated through, then proceed with the recipe as directed. The end result will still be a delicious and comforting dish that can even be frozen for later use. Don't forget to add your favorite toppings like chopped green onions, cilantro, and diced avocado for an extra burst of flavor.
This Bacon Spinach Quiche recipe is a savory breakfast dish that is perfect for sharing with family and friends. Made with eggs, bacon, mozzarella cheese, spinach, and green onions, it's a crowd-pleasing dish that is sure to impress. You can use either a homemade or store-bought pie crust for convenience.
The filling is a simple mixture of eggs, half & half, salt, and pepper that is poured over layers of bacon, cheese, spinach, and green onions. Bake for 40-45 minutes, let stand for 5-10 minutes, and enjoy!
Spinach Quiche Muffins are a delicious and easy-to-make breakfast option. These healthy and clean muffins are packed with spinach, mushrooms, and egg whites, making them an ideal choice for clean-eating enthusiasts.
You can add different variations to them, like ground turkey sausage or broccoli, to satisfy your cravings. They're perfect for meal prep since you can make them ahead of time and heat them up each morning. Store them in the fridge or freezer and heat them up in the microwave when you're ready to enjoy a quick and easy breakfast.
This Potato & Spinach Gratin recipe is perfect for a cozy night in. While the recipe doesn't call for canned spinach, it can easily be substituted in. Simply drain and squeeze out as much water as possible, and layer it with the potatoes and onions. The cream sauce is what makes this dish so irresistible. Infused with garlic, oregano, and rosemary, it's both rich and flavorful. Topped with a generous amount of Gouda cheese, this gratin is sure to please even the pickiest eaters.
Indulge in the creamy and rich flavors of this Steakhouse Style Creamed Spinach recipe. This savory side dish is made with thawed chopped spinach mixed with melted butter, sauteed onion, and garlic, then simmered in a mix of half and half, Italian seasoning, and cream cheese.
The creamed spinach is elevated with the addition of nutmeg, Parmesan cheese, and Mozzarella cheese, which creates a mouthwatering texture and a depth of flavors. Perfect for a cozy night in or for a steakhouse-inspired dinner party. Plus, it only takes 15 minutes to make!
Garlic spinach with white beans is a healthy and flavorful side dish that is perfect to serve alongside a variety of main dishes. Canned white beans, sautéed garlic, and fresh baby spinach are combined and seasoned with lemon juice, herbs, and capers to create a delicious and nutritious vegetable side.
This Whole30-compliant recipe takes only 10 minutes to make, making it a quick and easy option for busy weeknights. To incorporate canned spinach instead of fresh, thoroughly drain the canned spinach and sauté with the garlic and beans.
This Copycat Applebee's Spinach and Artichoke Dip recipe is the perfect appetizer for any party! This ultra-creamy dip is easy to make at home in under 30 minutes and tastes just like the restaurant version.
Combine roasted garlic alfredo sauce, cream cheese, Parmesan, Romano, and low-moisture whole milk mozzarella cheese in a large saucepan over medium heat. Add steamed spinach and chopped artichoke hearts, and serve with your favorite chips or vegetables. If the dip is thicker than desired, add milk to thin it out. This recipe can be stored in the refrigerator for up to 4 days.
The Spinach Gratin recipe is perfect for any gathering! Chopped spinach, garlic, and onion are mixed with loads of cheese and warm spices to make the ultimate cheesy side dish.
If canned spinach is to be used instead of frozen or fresh, use one can (10 oz.) of drained and squeezed canned spinach. Simply mix it into the sauce in the same way as the frozen or fresh spinach. This easy casserole is ready in 55 minutes, and it's a delicious and nutritious way to enjoy spinach.
These Tuna and Spinach Burgers are perfect for anyone looking for a quick and healthy meal option. Made with sustainably caught tuna, fresh spinach, and grated onion, these burgers are packed with flavor and nutrition.
They're also incredibly easy to make! Simply mix all the ingredients in a bowl, shape the mixture into burgers, and refrigerate them for half an hour. Then, fry them in coconut oil until golden brown on both sides. Enjoy them on a bun with your favorite toppings, or as a protein-packed addition to any salad.
Start your day off right with this healthy and scrumptious breakfast recipe for scrambled eggs with spinach! The combination of fluffy eggs and creamy melted mozzarella cheese, together with sauteed spinach, creates a savory and nutrient-packed breakfast that's easy to make in just a few minutes.
Cooked in olive oil, and seasoned with salt, pepper, and red pepper flakes, this dish is sure to provide a burst of flavor to your morning. Perfect for a nutritious start to the day or a quick and easy brunch option, these scrambled eggs and spinach will become a breakfast staple!