Ah, bottom round roast. That super affordable cut of meat that you buy from the grocery store, cook it and find that it turned out about as tender as a shoe.
So what do you do? Well, you don't have to stop buying bottom round roast, that's for sure. You just have to learn to cook it right so it turns out tender instead of tough.
Keep reading to learn the ins and outs of how to cook the perfect bottom round roast, including a delicious recipe!
Where does bottom round roast come from?
Literally from the bottom of the cow. The butt if you will.
See that black shaded area there? That's pretty much where the bottom round roast comes from.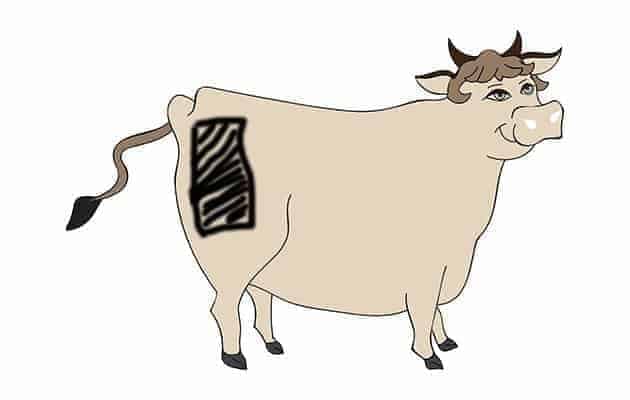 The video below explains a little bit about the bottom round cut.
But a bottom round roast is still beef, and if you cook it properly, it can taste delicious and fairly tender. Not as tender as a filet, I'm not going to lie to you, but not too terrible and certainly tender enough considering the affordable cost of bottom round roast vs filet.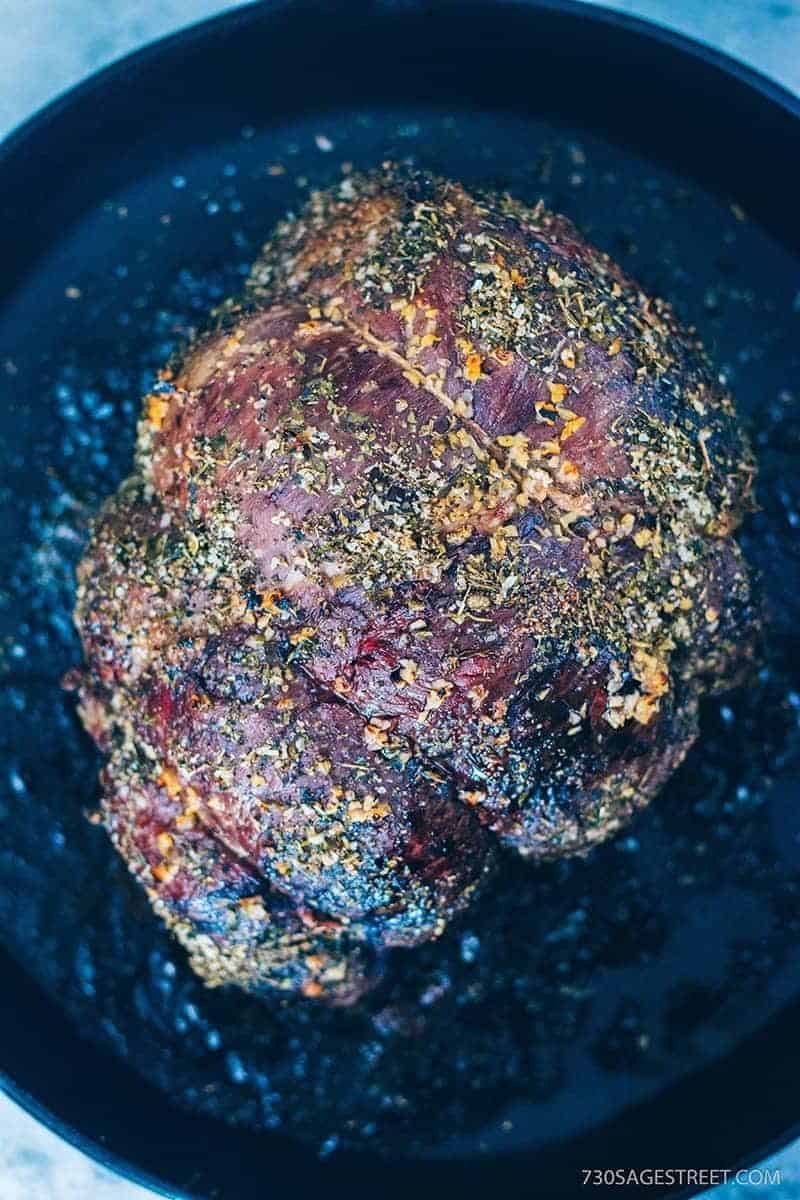 How do you cook a bottom round roast?
Do you know how to cook a bottom round roast so it isn't tough? I had very little knowledge about kitchen and cooking tips until I met my husband, but I am slowly learning how to be a better cook thanks to him.
The best way to cook any cut of meat that has a tendency to be on the tough side is low and slow. You can prepare it with a marinade ahead of time or do a dry rub prior to cooking. I don't recommend slow cooking a bottom round roast unless you are looking for a roast that has more of a pot roast or pulled pork texture.
If you are looking to slice it like roast beef, you must cook your bottom round roast in the oven. The roast will also lose some of its inherent flavor in a slow cooker. But, if you are looking for a bottom round roast slow cooker recipe, check out this one: Mississippi Roast. You have to register to see the recipe, but it's free. For a slow cooker beef recipe with a different cut of meat, you can check out this low carb beef brisket recipe.
So, we are going to cook our bottom round roast in the oven low and slow as I mentioned. You can use a Dutch oven or an oven-safe pan like a cast iron skillet. You can sear the roast on the stove top, or in the oven. I find searing on the stove top to be messy so I prefer to start it on high in the oven to cook the outside quickly and seal in the natural juices of the meat.
Should you bring your roast to room temperature?
Some people recommend letting beef come to room temperature before cooking. I don't do this or like this theory (read why) so the longest I let the beef sit out is around 10 minutes. I open up the package, add a dry rub, and just let it sit for those few minutes so the Kosher salt in the dry rub can help brine the surface. You can also brine the roast in the fridge overnight.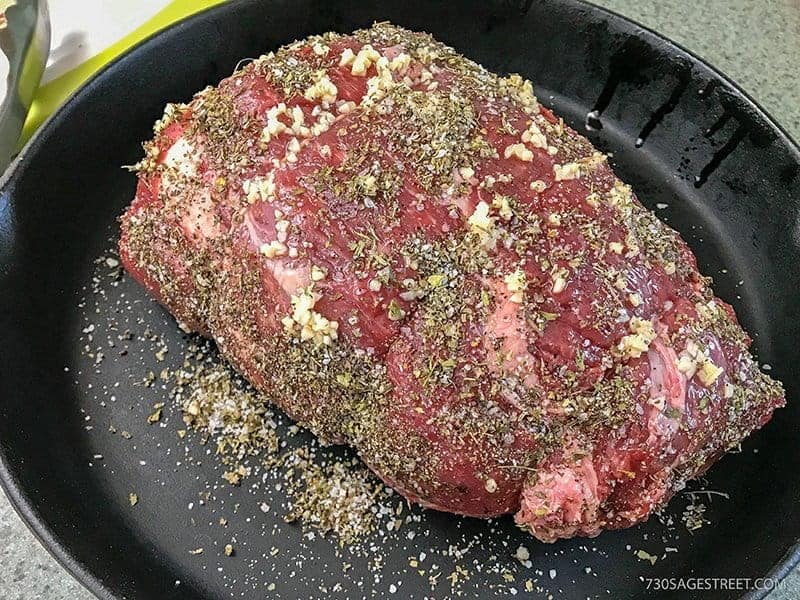 How long do you cook a bottom round roast in the oven?
I really don't like to give a flat-out time for cooking for a roast because so many factors will affect the cooking time. Your elevation, your oven (and if it is calibrated correctly or not), how thick your particular piece of meat is, and more.
For cooking "low and slow" a good rule of thumb for bottom round roast cooking time per pound is 2 hours per lb.
But this is just a guide to help you estimate cook time. You really need to be diligent about checking the internal temperature regularly to ensure you don't over-cook your roast. Get yourself a good thermometer, and check often. I usually start checking once I reach the "halfway" point of that rule of thumb time.
How do you Cook a Bottom Round Roast?
The instructions below tell you how to cook a bottom round roast medium rare. It's the best way to preserve the tenderness and the flavor of the beef. If you don't like to eat it medium-rare, you can always reheat the pieces of the roast in a small amount of beef broth.
Preheat oven.
Remove the roast from the fridge and remove its packaging.
Place the roast on a cutting board.
Brush the entire surface of the bottom round roast with oil.
Rub the entire roast with a dry rub (recipe below). Alternatively, you could use an overnight brine or marinade.
Place the roast in a Dutch oven or cast iron skillet (or another oven-safe pan).
Cook a short time to sear the outside.
Reduce heat.
Cook until it reaches your desired internal temperature.
Slice and serve.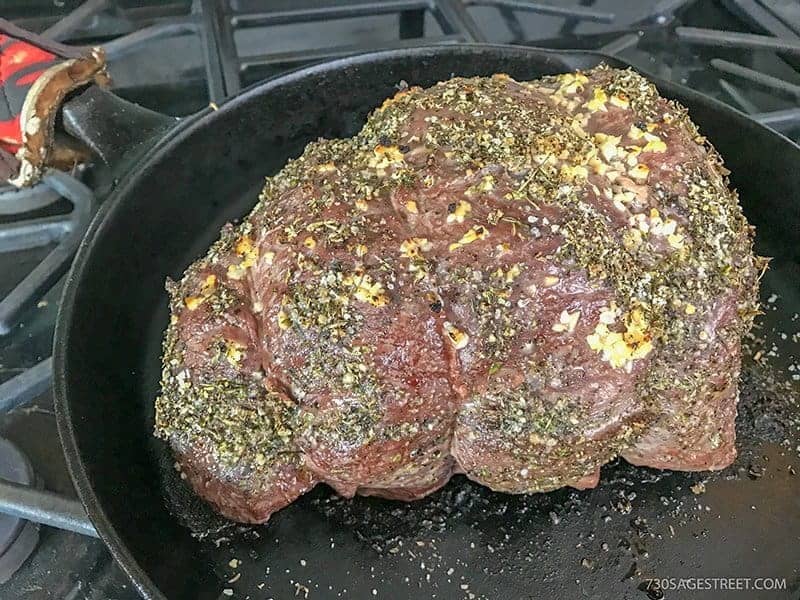 This will cook a bottom round roast to barely medium-rare. It should be flavorful and not tough. Again, it won't be as tender as steaks or other cuts of beef, but it won't be tough either. If you prefer a more medium or well-done cook to your roast, you can slice it, and warm it in beef broth until it reaches your preferred level of done.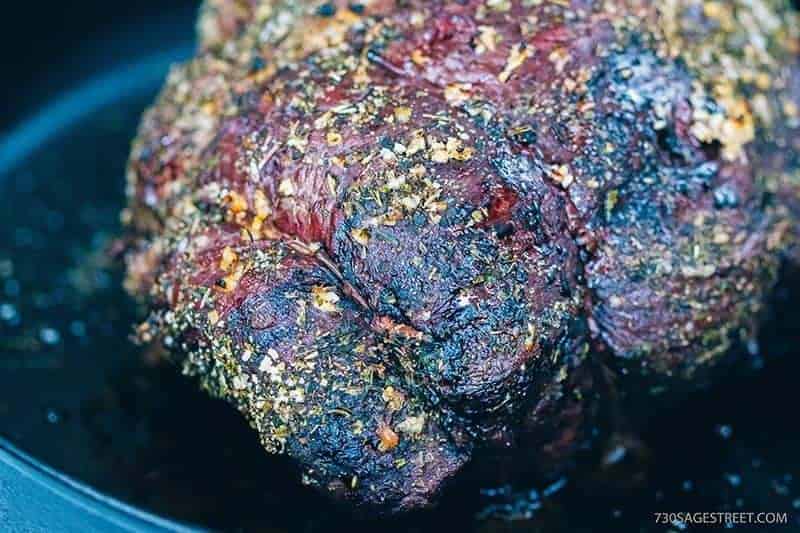 Bottom Round Roast Recipe
This recipe is naturally low carb, as are most roast or steak recipes. Seasonings have some small amount of carbs, but it's really negligible.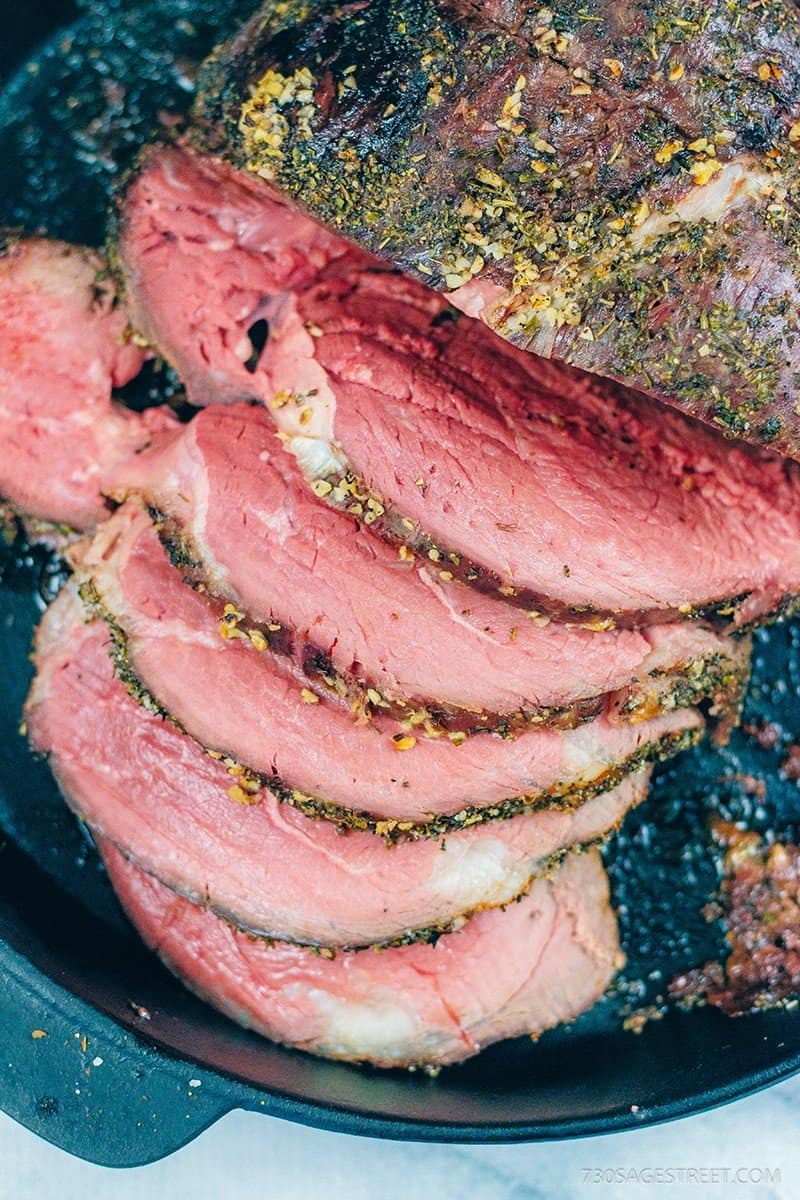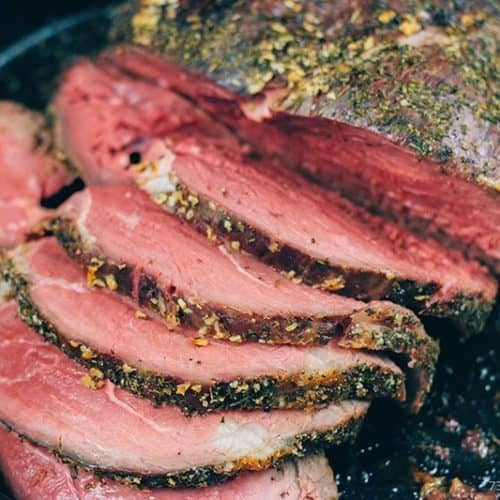 Low Carb Garlic and Herb Bottom Round Roast
Bottom round roast is a cut of meat that is affordable but has a tendency to be pretty tough. Learn how you cook a perfect, tender, medium-rare bottom round roast that can be sliced nicely.
Print
Pin
Rate
Total Time:
6
hours
10
minutes
Instructions
Preheat the oven to 450 degrees F.

Remove the fully thawed roast from the fridge and remove it from the packaging.

Place the bottom round roast on a cutting board.

Brush the entire surface of the roast with olive oil (you can use avocado oil as well).

Combine all of the seasonings in a small bowl.

Rub the seasonings over the entire surface of the roast – top, bottom and all sides.

Place the roast in a cast iron skillet.

Cook for 20 minutes at 450 degrees.

Reduce heat to 170 degrees F and continue cooking.

Cook the roast until the internal temperature reaches around 135-140 degrees (medium-rare is 145 degrees but the roast will cook as it is cooling).

Slice and serve if you want to serve it medium-rare.

If you want to serve it medium or medium-well, slice the roast in the cast iron pan, pour 2 cups of beef broth in and heat on the stove over low heat until the slices reach the desired level of done.
Notes
The cooking time of this recipe is going to vary depending upon the actual size of your roast. If it gets done too early, allow to cool, then serve it at dinner time using step 12 above.
Nutrition
Calories:
299
kcal
|
Carbohydrates:
1
g
|
Protein:
56
g
|
Fat:
15
g
Nutrition or specific diet information shown is an estimate or best guess and is for information only. 730 Sage Street is not responsible for the factual accuracy of any nutrition information, calculations or claims.