Learn how to steam vegetables like broccoli, carrots, and cauliflower with these 4 easy, foolproof steaming methods. In less than 15 minutes, you'll get tender, crispy steamed vegetables!
Steamed vegetables are a versatile side dish that is light, healthy, and complements heavier dishes perfectly. Steamed broccoli, carrots, and cauliflower topped with a nice cheese pair perfectly with my bottom round roast recipe.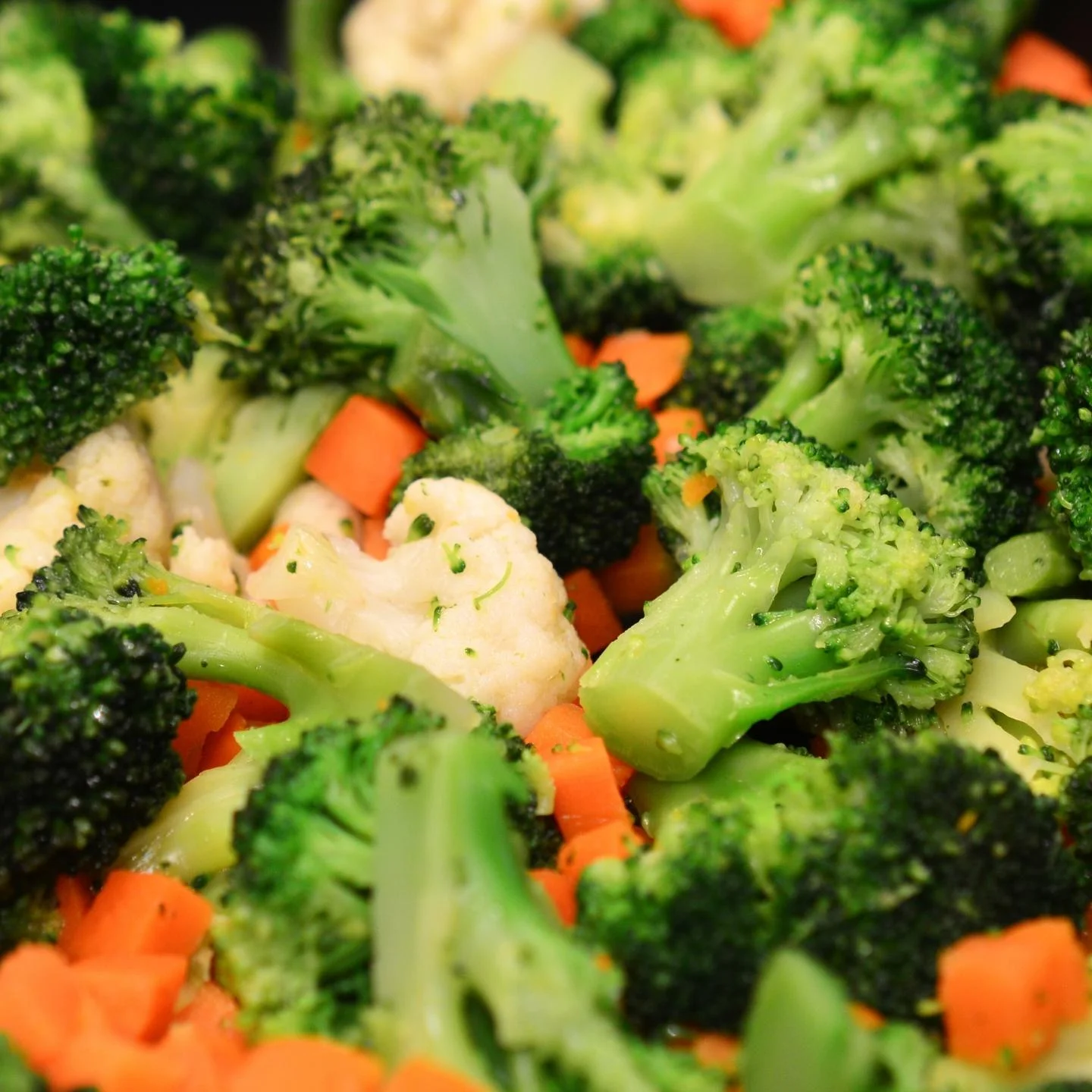 As a side dish recipe, steamed vegetables pair perfectly with pork recipes, chicken recipes and help balance out a protein-heavy main course.
Contents
Which vegetables can I steam?
You can steam any vegetable from zucchini to asparagus, green beans to baby bok choy. The only difference is that some veggies hold up nicely when steamed while others break down too quickly.
I almost always pick my main dish first and pair steamed veggies to balance out my meal. For example, steamed broccoli and carrots are lovely with my ranch pork chops with homemade ranch seasoning.
How long does it take to steam veggies?
The cooking time varies depending on the veggie. Soft vegetables like cauliflower and broccoli cook quickly, while denser ones like potatoes require a bit more time for that perfect crunch. You might find this list helpful:
Spinach: 3 minutes
Peas: 3 minutes
Green beans: 4-5 minutes
Broccoli, cauliflower florets: 5 minutes
Zucchini: 5-6 minutes
Asparagus: 5-6 minutes
Bell pepper, carrots, sliced celery: 6-8 minutes
Brussels sprouts: 8-10 minutes
Chopped kale and collards: 10 minutes
Artichoke: 20-30 minutes
Whole potatoes: 20-30 minutes
What you need
Steaming vegetables on a stovetop is a very simple technique. You only need a deep pan or pot with a lid, colander, or steamer basket. The steamer or colander should nicely fit inside the pot if you have an adjustable steamer basket, the better as it can fit any pot or pan.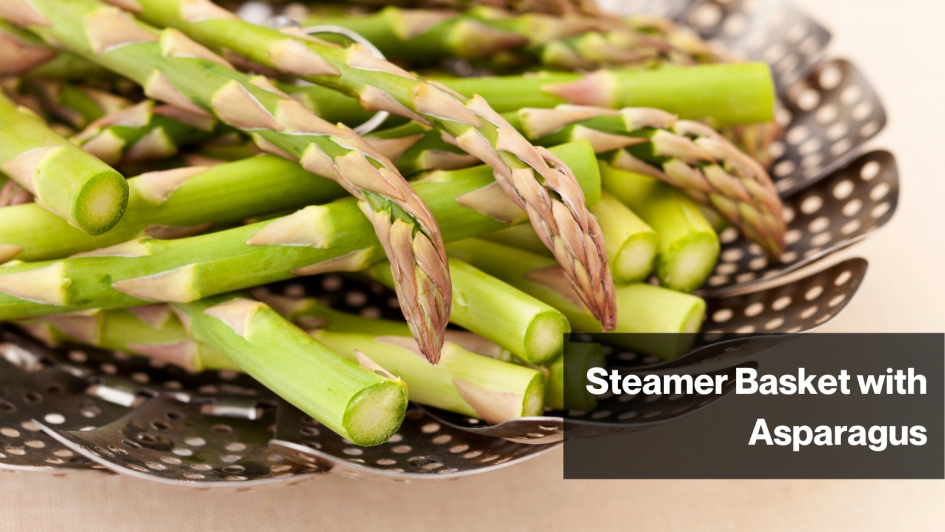 How to Steam Vegetables
Below, I'll break down three easy ways to steam vegetables, how to prepare each vegetable, and discuss recommended cooking times for each. By the end, you'll be able to steam vegetables like a professional.
Preparing the Veggies
Preparing vegetables is just as easy as steaming them. After washing your vegetables under running water, cut the large ones into bite-sized pieces. Leafy greens like spinach, collards, and kales don't require any chopping; you can steam them whole.
It's best to cut root vegetables like carrots and turnips into even-sized chunks so they cook quickly and are done simultaneously.
When it comes to broccoli and cauliflower, cut the heads into florets. You can further cut the larger cauliflower florets into smaller pieces.
How to steam vegetables on the stovetop
If you're steaming mixed vegetables, you should start with the harder ones first, then add the more tender ones after a few minutes.
A quick example, check the time chart. You'll notice carrots take about 7 minutes, while broccoli takes about 5 minutes. Add your carrots first, and add your broccoli 2 minutes later. Easy!
Step 1
The steaming process is as easy as adding about 1 inch of water into the pan. The water level should, however, not go above the steamer basket bottom. Bring water to a boil, add your veg, then cover the pan.
Step 2
Set a timer on your stove, microwave, or phone. This is essential to avoid overcooking and requires less monitoring.
How to steam vegetables in a microwave
Steaming veg in the microwave is just as quick and easy as stovetop steaming.
Also, the concept is the same. Place your vegetables in a microwave-safe bowl and add about 2-3 tablespoons of water. Cover with microwave-safe plastic wrap and poke a few holes so that steam can escape.
Depending on the power of your microwave, expect a time range between 2 - 6 minutes on average.
How to steam vegetables in a ricer cooker
If you own a rice cooker, you likely noticed the white steamer basket. And you can cook rice AND steam vegetables at the same time.
For the best results, follow the instruction manual included with your ricer cooker. If you lost it, or can't find it, try the following:
Step 1
Add 1.5 cups of water to the inner pot.
Step 2
Place the white steamer basket into the inner pot.
Step 3
Add uniformly cut vegetables to the steamer basket.
Step 4
Close the lid and select the steam function.
Notes: Each steamer will vary. I recommend monitoring yours for your desired doneness. Once you know, you'll have perfectly tender, crispy, and amazingly delicious vegetables every time with minimal effort.
How to steam vegetables in an Instant Pot
Instant pots are here to stay, and for a good reason. And you guessed it. You can use your IP just as you would a steamer basket on the stove.
Step 1
Set the valve to sealing.
Step 2
Pressure cook on high/manual
Step 3
Set your timer to 0 minutes. Yes, ZERO!
Step 4
It will have steamed up considerably by the time you reach pressure. Make a fast release and season as needed.
Steaming Tips
Size matters: Keep in mind, bigger veggies take longer to cook.
Uniform sizes: Make sure to keep the vegetables the same size, so they cook evenly.
Root veggies: Combine and steam root vegetables together.
Mixed vegetables: Start with harder vegetables that take longer first, then add the rest later.
Avoid over steaming: Use a timer and never stop learning!
Fresh or frozen: Use either. Just be mindful as frozen have more water.
Seasoning Steamed Vegetables
Besides incorporating garlic, salt, pepper, and oil sauce into your meal, there are other ways to add a punchy kick to steamed veg and make them a more enjoyable meal. Here are a few ideas;
Ginger - infusing the tangy freshness of ginger into your dish will make it irresistibly tasty.
Vinegar/wine -a splash of vinegar or wine adds complexity and depth to vegetables, especially sweet ones like carrots.
Soy sauce - adding soy sauce is a great way to add umami flavor to vegetable side dishes.
Sesame oil - this nutty condiment can add a punch of flavor to any vegetable recipe.
Herbs - sprinkling parsley, thyme, and other spices on top of steamed will make this side dish an ultimate taste treat.
Easy steamed carrots and broccoli
If you're looking to sneak in more veg into your meals, this is a perfect combo. We drizzled some garlic and olive oil to infuse a bit of flavor and flair to the mixed vegetables. Say goodbye to those bland and boring steamed veggies recipes. And the beauty of it? It requires almost no clean-up.
This is one of my favorite side dish recipes for stir-fries, grilled steak, or chicken. The combo is not only packed with nutrition but also adds a nice tender-crisp texture to any meal. It creates a balanced and harmonious flavor that will have people going back for seconds and even thirds when appropriately steamed.
Give this recipe a try if you need a simple, healthy side dish to serve with steak or any piece of meat. I'm pretty sure you'll love it as much as I do.
This steamed vegetables recipe is also one of the perfect side dishes for ham to put on your table in holiday season!
How to steam broccoli and carrots
Here's how to steam broccoli florets and carrots while keeping them nice, crisp, and flavorful. We'll be using the traditional stovetop method in this recipe.
Prep time: 10 minutes
Cook time: 10 minutes
Serving: 4
Ingredients
1 cup fresh broccoli, chopped
1 cup baby carrots
3 cloves garlic, minced
¼ teaspoon salt
¼ cup olive oil
If you want to experiment with flavors, try these options:
Flavored oils like Tuscan Herb, Basil, Mediterranean
Swap olive oil for butter
Step-by-step instructions
Follow the above steps of adding water to the pan, bringing it to boil then adding the vegetables.
Steam your veg for about 6-8 minutes or until crisp-tender.
While the vegetables are steaming, add the oil, garlic, and salt to a saucepan.
Sauté for about 3-4 minutes or until garlic is fragrant over medium-high heat
Drizzle over the steamed vegetables once they're done. Sometimes I squeeze some lemon juice on top and give it a good stir for a refreshing finish
Serve and enjoy your flavorsome vegetables.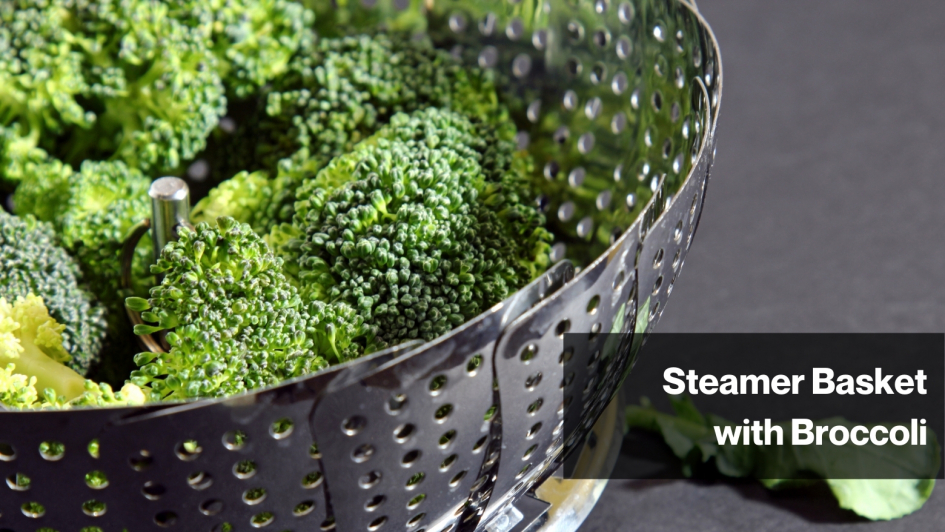 📋 Recipe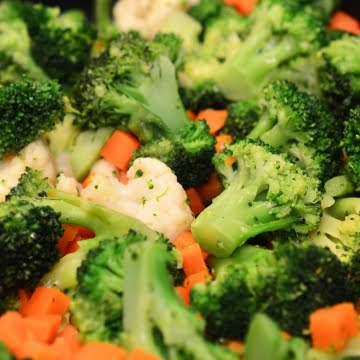 Steamed Vegetables Recipe
Learn how to make perfectly steamed vegetables every time. From steamed broccoli and carrots to steamed asparagus. Easy, healthy, and the perfect side dish for any meal.
Print
Pin
Rate
Share
Ingredients
1

cup

chopped fresh broccoli

1

cup

baby carrots

3

cloves

minced garlic

¼

teaspoon

salt

¼

cup

olive oil
Instructions
Put water in bottom of steamer pot and add veggies to the steamer basket. Add lid to steamer basket.

Bring water to a boil.

Steam veggies for about 10 minutes or until fork tender.

While veggies are steaming, add garlic, salt and olive oil to a small saute pan.

Saute until garlic is fragrant, 2-3 minutes.

Pour over steamed veggies.

Serve.
Nutrition
Calories:
142
kcal
|
Carbohydrates:
5
g
|
Protein:
1
g
|
Fat:
14
g
|
Saturated Fat:
2
g
|
Sodium:
178
mg
|
Potassium:
157
mg
|
Fiber:
2
g
|
Sugar:
2
g
|
Vitamin A:
4555
IU
|
Vitamin C:
21.9
mg
|
Calcium:
25
mg
|
Iron:
0.5
mg