This homemade ranch seasoning mix is a great way to spice up any meal. It only takes 5 minutes to prep and requires just a few essential ingredients. What's more, it's fresher, more flavorful, and cheaper than store-bought packets.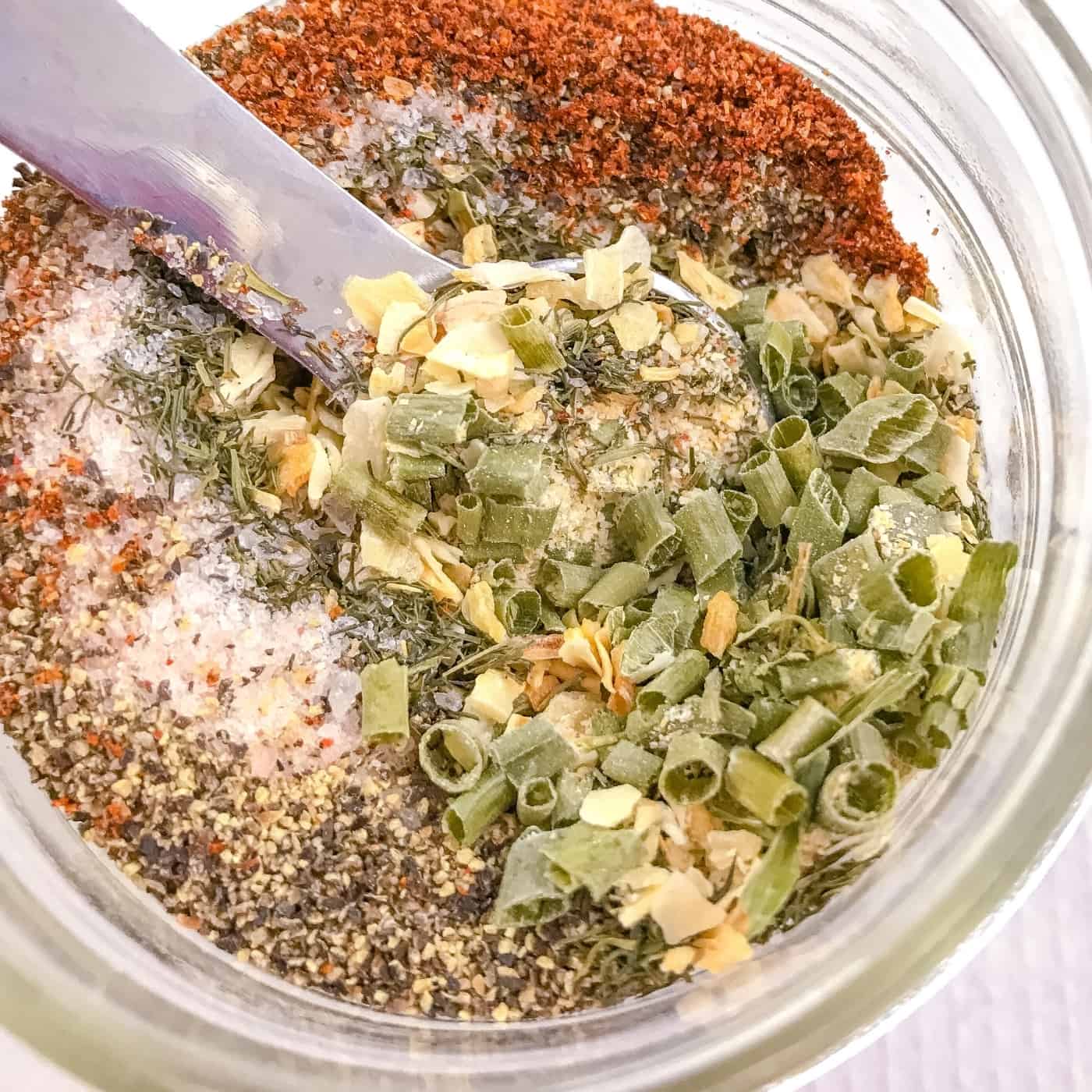 Contents
If your looking for tasty seasonings try my authentic taco seasoning and homemade adobo seasoning in your next family meal. Or give this a try on my air fryer cauliflower bites for the perfect appetizer or snack.
I love hidden valley ranch seasoning and this ranch seasoning recipe is a near perfect match. I use it to season just about everything from grilled steak, stir-fries, chicken, pork chops, ground beef, mash potatoes. They all get the ranch seasoning. I also sprinkle some over pizza, fries, macaroni, and cheese to put a new spin on flavor.
It's truly my secret weapon for pumping up flavors to meals. A sprinkle or pinch can easily transform a plain dish into something spectacular and exciting.
It's a cinch to make and uses only 8 ingredients. And most probably, you have all of them in your kitchen pantry to whip up a batch. What's even better is that no tools are involved. You only need the ingredients and an airtight container. That's basically it.
Ready to give this hidden valley ranch seasoning a try?
Why you should make your own seasoning
I don't dispute the convenience of store-bought packets. Heck, sometimes, when I feel lazy or unmotivated, I go to the grocery store at the corner and pick up a packet. While it rarely happens, I do use the packets from time to time. And that's perfectly okay. But I can assure you there's nothing quite like making your seasoning mix.
I've been making my spice blends since way back. Check out my taco seasoning recipe in case you missed it. Once you discover the perks of making your seasoning mix, you won't go back to packaged blends. Besides the easiness of it all, homemade versions are;
Customizable
First of all, making your seasoning mix allows you to modify it to your liking. If you want it a bit spicy, you can turn up the heat. Don't like a specific spice or herb? Leave it out. In short, making your spice blend from scratch gives you the freedom to play around with the recipe.
It's also a little harmless and fun way to tap into your creative side. And, of course, the bragging rights make it all worth it.
Tastier and fresher
Additionally, homemade spice mixes are fresher and more flavorful than the packets in the store cause there's no way of telling how long they've been sitting on the shelves.
What's more, made-from-scratch blends are all-natural- no fillers or additives.
Save money
And lastly, you get to save a few coins by blending your spices. It's not an awful lot, and sometimes you might not even save anything, but it always lasts longer than store-bought packets.
So why not start with this ranch mix recipe?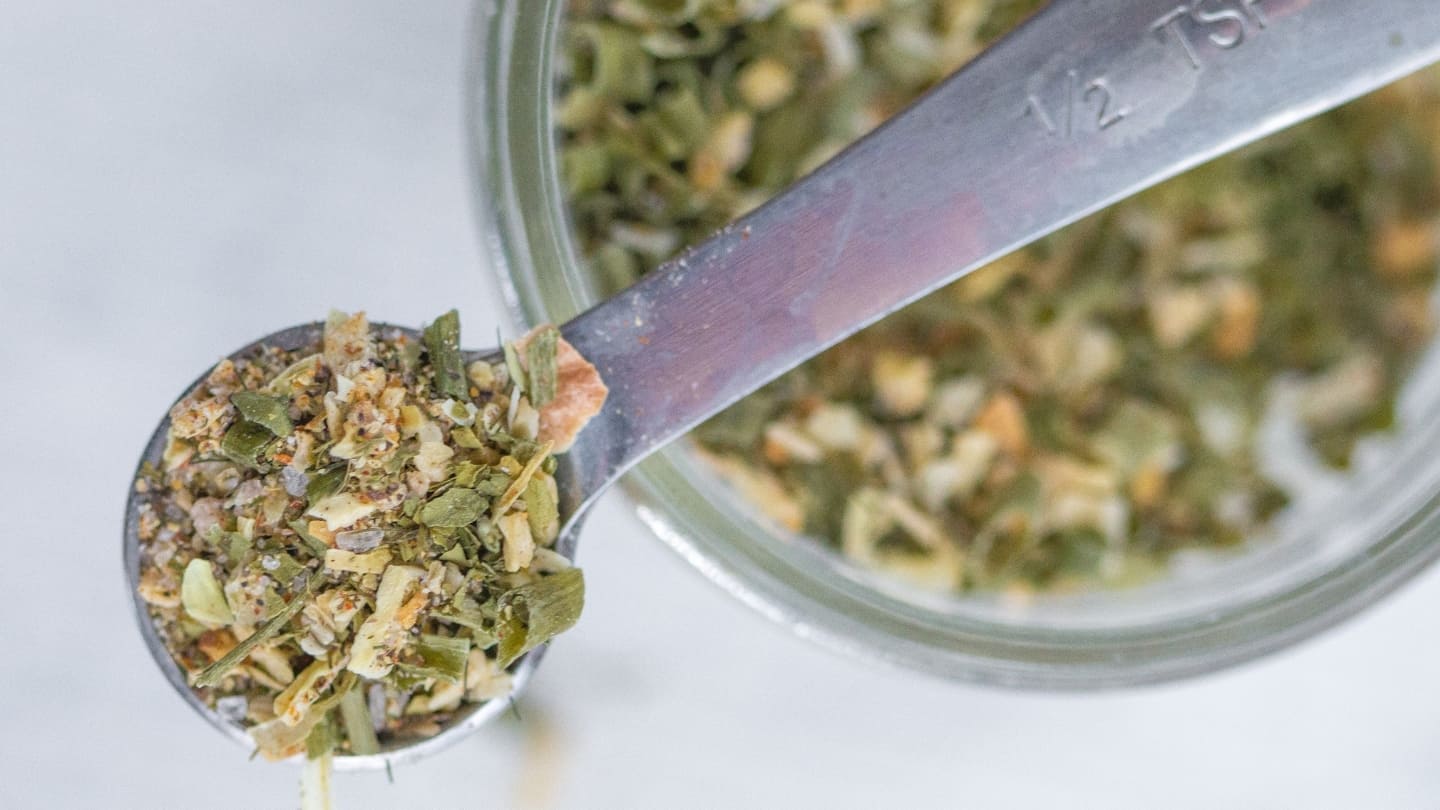 🍽 What you need
2 tbsp. dried parsley
1 tbsp. dried chives
2 tsp. garlic powder
2 tsp. minced dehydrated onion
1 tsp. dried dill weed
1 tsp. sea salt
1 tsp. Ground black pepper
½ tsp. chili powder
If you don't have dried minced onion on hand or don't have time to make it at home, use onion powder or onion flakes. It works just as fine.
Remember you can make as much or as little as you like.
🔪 How to make
Homemade ranch mix can make any meal better, and it only takes 10 minutes to make. Here's the recipe;
In a small bowl, mix all the ingredients until well combined. If you want a finer consistency, you can pulse in a food processor or spice grinder. If you don't have either, a blender will work just as great.
Transfer seasoning mix to an airtight container or spice jar to preserve the freshness and quality. Don't forget to label the jar to avoid confusion.
It's important to note that 2-3 tablespoons of this dry ranch seasoning mix are equivalent to 1 ranch packet. So use accordingly.
📖 Ranch dressing
You can use the seasoning mix to make a homemade ranch dressing mix which is incredibly versatile. Serve it with just about anything. It's perfect for marinades, salad dressing, and dips for veggies. Pizza and spicy hot wings with ranch dip are absolutely faves. I can't get enough of the combo.
In a jar or bowl, mix 2 tablespoon homemade ranch seasoning, ½ cup mayonnaise, ½ cup sour cream, and ½ cup buttermilk. Whisk until the ingredients are well combined. If you used a bowl, pour it into a jar and refrigerate.
You can now enjoy your dressing mix. The homemade ranch maintains its freshness and flavor for up to a week in the fridge.
Besides salad dressing, marinades and dips, you can use this dressing mix in casseroles, soups, sauces, and even ice creams!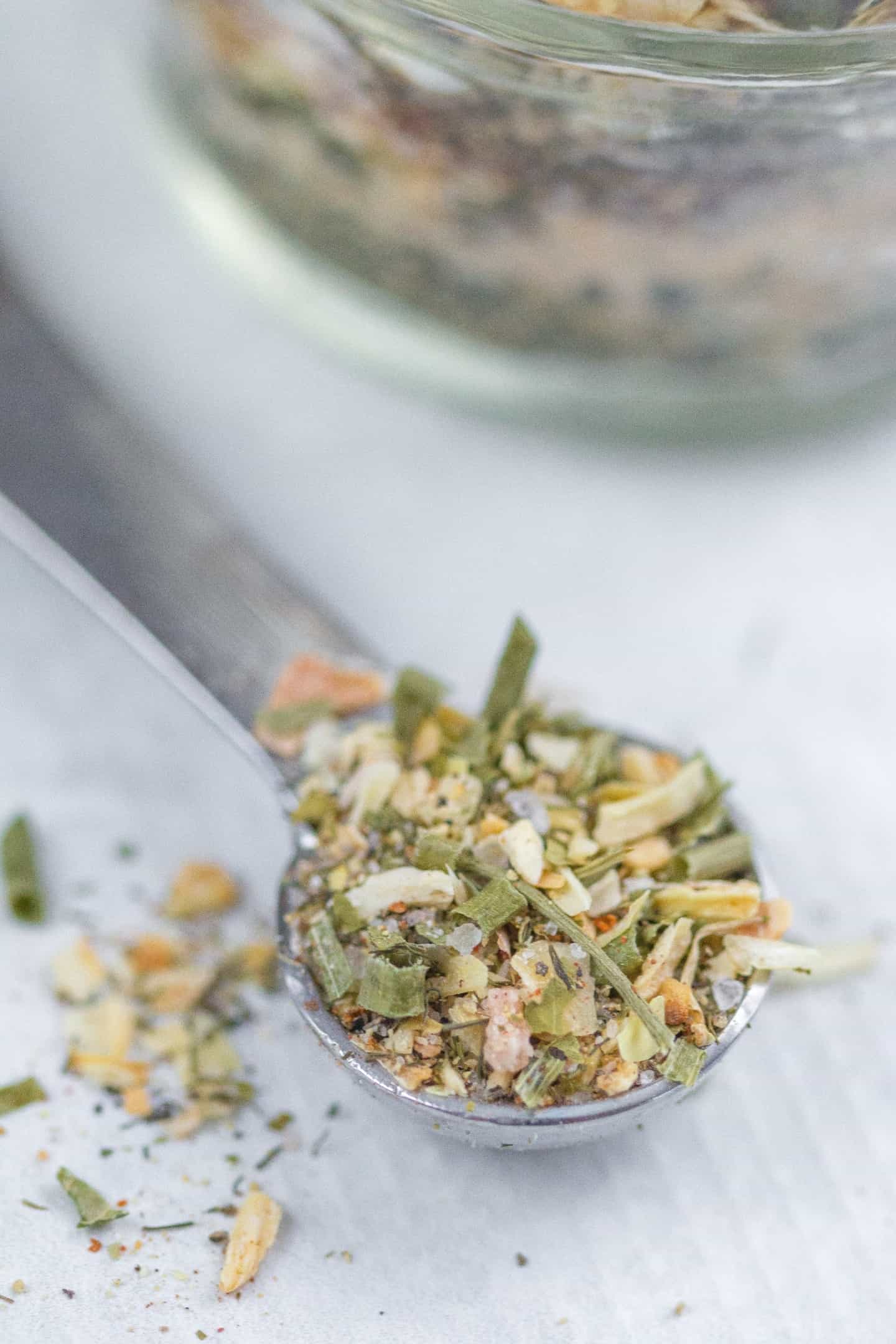 🥗 Seasoning your meals
These are great ways you can use your homemade ranch seasoning mix. It tastes fantastic on;
Low carb hot wings - there's nothing more divine than some spicy chicken wings dipped in creamy, flavorful ranch dressing.
Ranch Pork Chops - the combination of homemade ranch seasoning, some cream, and butter makes these pork chops incredibly delicious.
Cream Cheese Pinwheels - the distinctiveness of this seasoning mix adds a new dimension of flavor to these low carb pinwheels.
Check put my easy sweet and smoky dry rub for ribs recipe. Trust me it is sooo good in a smoked pork ribs or for pulled pork!!
💭Helpful tips
Don't limit yourself. This seasoning mix recipe only uses 8 ingredients but feel free to experiment and create your version. Add, reduce or omit whatever to suit your taste.
Make a big batch to gift your family and friends. It's also helpful to attach the recipe to the jars in case they want more.
If you're new to spice blending, you may want to whip up a small batch for a start.
🥫 Storage
While spice blends can last up to a year, I'd recommend not using this homemade ranch seasoning mix for more than 6 months. I believe it loses its oomph after the 6-month mark.
Keep your container away from direct sunlight and heat. Do not store next to your stove or above your dishwasher ( it will clump up when exposed to increased humidity). Also, never attempt to freeze your homemade ranch seasoning mix.
👪Serving size
This homemade ranch seasoning mix makes 2 servings, and it is so much better than those ranch seasoning packets at the store. It's fresher, tastier, and you can scale up or down to suit your needs.
So if you're looking to add depth to any dish minus the creaminess of ranch dressing mix, give this seasoning mix recipe a try. I guarantee it'll become your new favorite spice blend.
Plus, you can always switch it up and make a nice creamy home cook ranch dressing for your dips and marinades.
📋 Recipe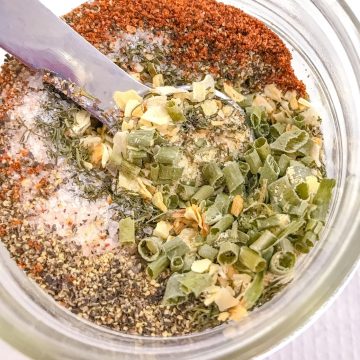 Homemade Ranch Seasoning
This homemade ranch seasoning mix is a great way to spice up any meal. It only takes 5 minutes to prep and requires just a few essential ingredients. What's more, it's fresher, more flavorful, and cheaper than store-bought packets.
Print
Pin
Rate
Share
Ingredients
2

tablespoon

dried parsley

1

tablespoon

chives

2

teaspoon

garlic powder

2

teaspoon

minced dehydrated onion

1

teaspoon

dill weed

1

teaspoon

sea salt

1

teaspoon

black pepper

½

teaspoon

chili powder
Instructions
Combine all ingredients in an air-tight jar

2-3 tablespoon is equivalent to 1 packet of store-bought ranch seasoning mix

Combine with sour cream, mayo, Greek yogurt or other dairy base for use as a dip or in a recipe.
Nutrition
Calories:
37
kcal
|
Carbohydrates:
8
g
|
Protein:
1
g
|
Sodium:
1184
mg
|
Potassium:
159
mg
|
Fiber:
1
g
|
Sugar:
2
g
|
Vitamin A:
295
IU
|
Vitamin C:
6.6
mg
|
Calcium:
31
mg
|
Iron:
0.7
mg