This dry rub for ribs has a delicious smokey, spicy, and sweet flavor that is perfect for oven-baked ribs. The rub is easy to make using 6 ingredients and can be stored in an airtight container for future use.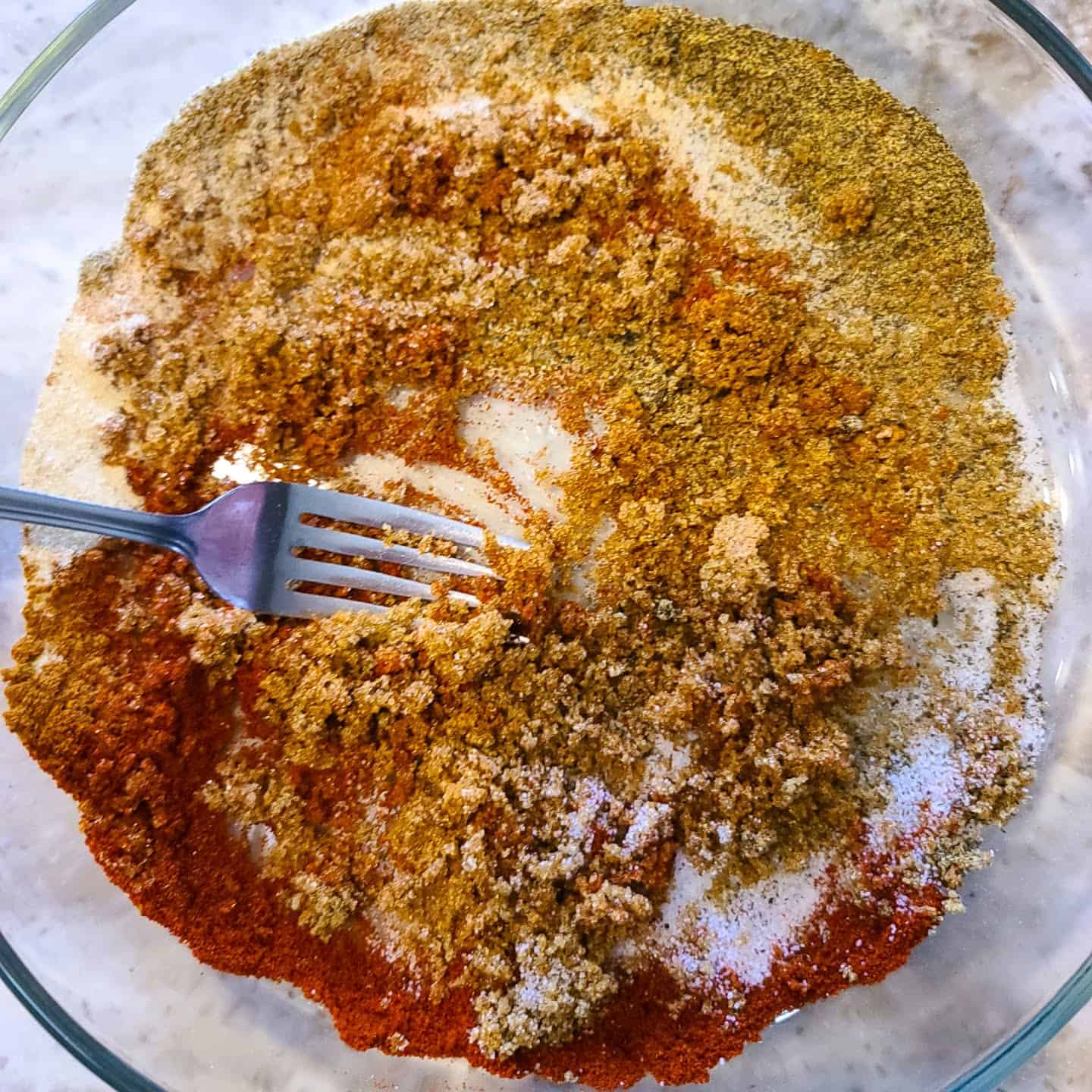 Contents
🌟 Why this recipe works
Looking for the perfect seasoning for your smoked pork ribs? Look no further than this delicious rib rub recipe! With just the right balance of salt and sugar, along with cinnamon, paprika, onion powder, and cayenne pepper. This dry run is also perfect for any pulled pork recipe.
This seasoning provides the perfect sweet and savory flavor that will have your guests coming back for more. Plus, the deep brick red color will make your ribs stand out from the rest!
Making a homemade dry rub is far superior and easier to make with just a few ingredients than premade shop-bought dry rubs that contain far too much salt, and the mixture of spices is never balanced right.
There are many different recipes for dry rubs for baby back ribs, and they can be made with either fresh or dried herbs. The most important thing to remember when making a dry rub is not to oversalt the meat, as this will make it tough.
So whether you love classic brown sugar BBQ sauce flavors or are looking for a tasty new twist on oven ribs, give this delicious dry rub a try and enjoy the best fall-off-the-bone rib dinner!
🍽 Key ingredients
The key to making tender ribs is to use the right blend of spices. This dry rub recipe uses a combination of common pantry spices.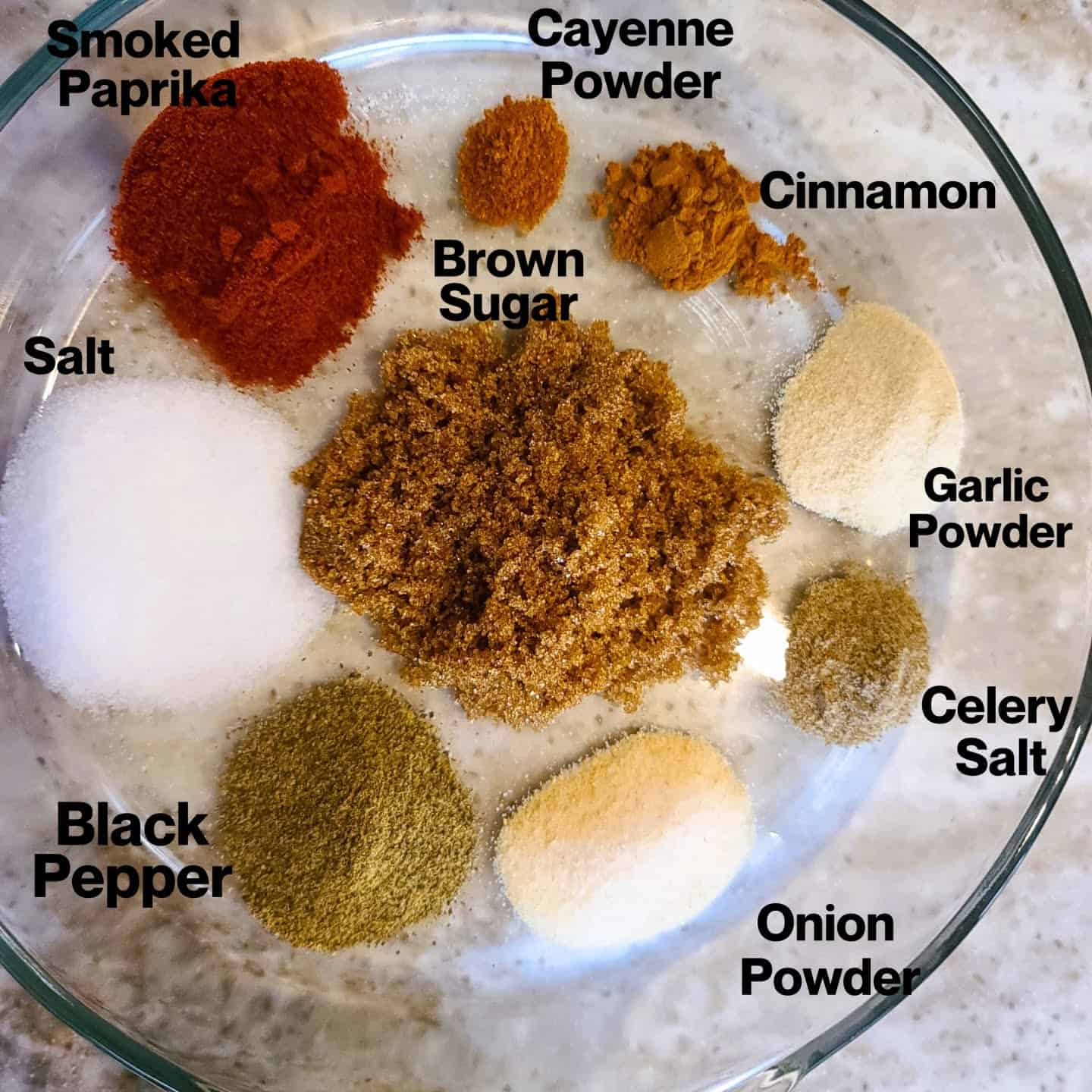 Spice flavors - Spices like cayenne is added to give a little bit of heat, while the smoked paprika adds that delicious smoky flavor.
Sweet flavors - Brown sugar and cinnamon are added to the rub to help balance out the flavors and add a touch of sweetness.
Savory spices - The onion powder, garlic powder, celery salt, and pepper help enhance the ribs' meaty flavor, making them extra savory and delicious.
Substitutions
Paprika
If you don't have smoked paprika on hand, regular paprika or Hungarian paprika will work.
Sugar
You can also use other types of sugar instead of brown sugar, such as granulated sugar or coconut sugar.
🔪 How to make
This dry rub is so easy to make, and the smokey, sweet flavor really enhances beef or pork ribs when left to marinate for a few hours.
Preparations
To make the dry rub, simply combine all ingredients in a small bowl and mix until well combined. Then, rub the mixture all over the ribs, getting it into all of the nooks and crannies.
💭 Recipe tips
Let the flavors develop.
If you can, let the dry rub sit on the ribs for at least 30 minutes before cooking. This will help let the flavors of all of the spices develop and deepen.
Experiment with the spices
Try experimenting with the spices to find your favorite combination. Adjust the amount of sugar to spice ratio and also salt.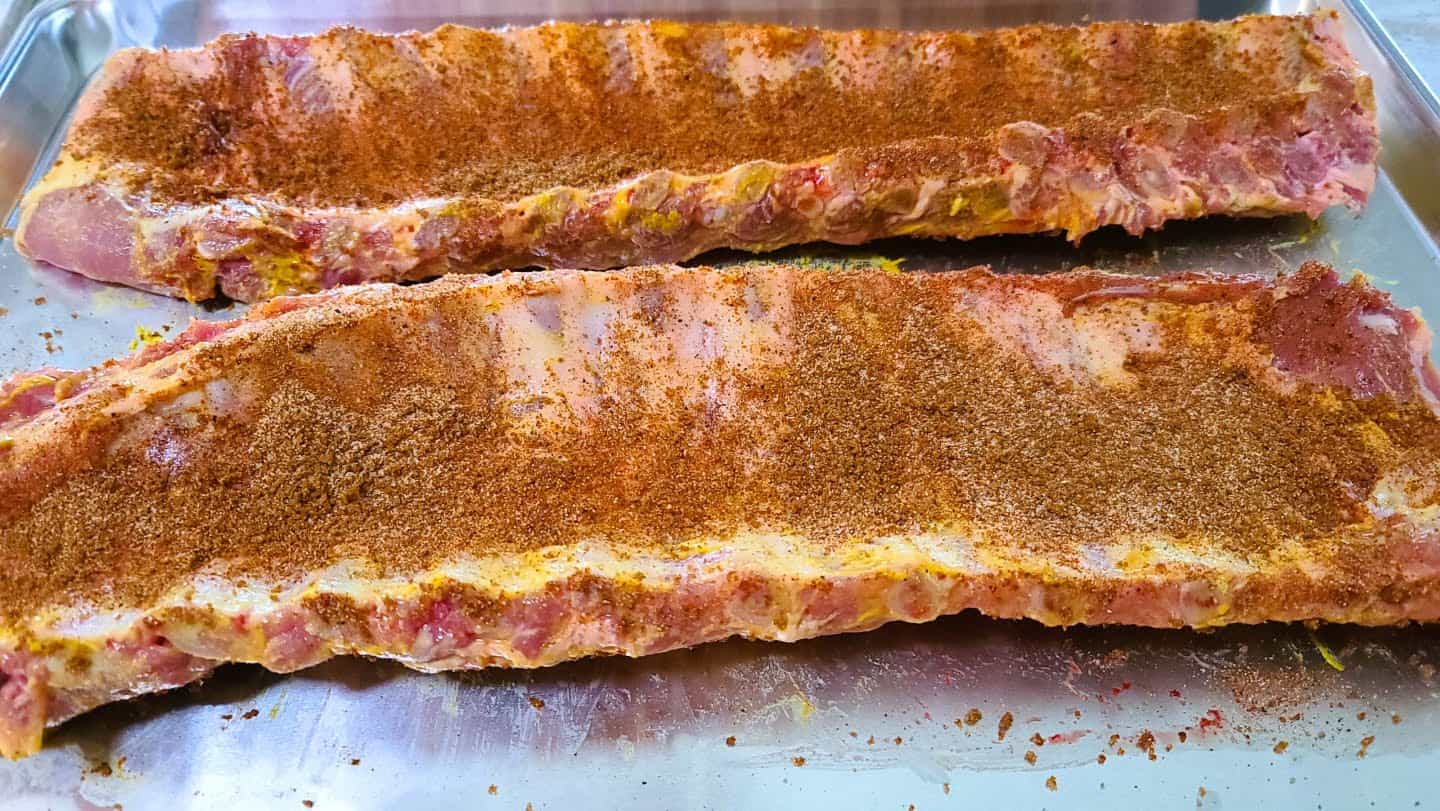 📖 Recipe Variations
There are many ways to make a dry rub for ribs, and some are sweeter than others, while some can be made super hot. Try some of these delicious variations using the same recipe.
Chinese flavored ribs
Substitute the smoked paprika for 3 teaspoons of Chinese 5-spice, a teaspoon of garlic powder, and a teaspoon of ground ginger for an extra flavorful Chinese-inspired rib rub.
Spicy cowboy ribs
Add 2 teaspoons of chipotle powder and use half the amount of sugar to create spicy cowboy-style ribs.
Honey-glazed ribs
Add 3 tablespoons of honey to the dry rub and brush the ribs with additional honey during the last 10 minutes of baking for deliciously sweet and sticky ribs.
🙋 Frequently asked questions
Can you make the dry rub for slow-cooker ribs?
Yes, you can make the dry rub for slow-cooker ribs by combining all of the ingredients in a bowl and mixing until well combined. Then, rub the mixture all over the ribs and place them in the slow cooker. Cook on low for 6-8 hours or on high for 4-6 hours.
What other meats can you use your own dry rub on?
Dry rubs can be used on many different types of meat, such as chicken, pork, beef, or lamb. They can also be used on vegetables, such as roasted potatoes or carrots to give them a smokey, sweet flavor.
🥫 Storing
This dry rub is perfect for storing and using on several recipes throughout the year because of its long-lasting shelf life.
Room temperature - Transfer the dry rub into an airtight container or jar and even zip-lock bags for up to 6 months in a cool, dry place away from direct sunlight.
Freezer - you can freeze dry rubs in airtight containers or zip-lock bags for up to 6 months. Just make sure to squeeze as much air out the zip-lock bag as possible before sealing it.
🍳 Related Recipes
Love this dry rub for ribs recipe? Check out more easy recipes below.
👪 Serving size
This dry rub for ribs recipe will provide enough to smother over several racks of ribs, and it's the perfect blend of spices to create flavorful and tender ribs. The recipe is easy to follow and can be easily customized to your liking.
The dry rub can be stored for up to 6 months, making it a great recipe to have on hand. Whether you're looking for a classic dry rub or something with a little more flavor, this recipe is sure to please.
Try one of my easy recipes for your next family meal! And if you have any questions, I'm here to help!
📋 Recipe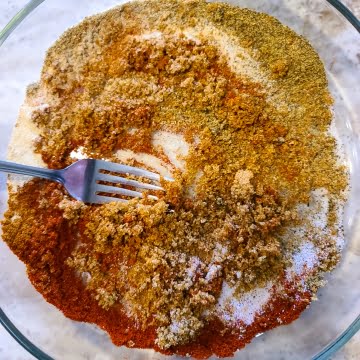 Ingredients
⅓

cup

brown sugar

2

teaspoons

kosher salt

2

teaspoons

black pepper

2

teaspoons

smoked paprika

1

teaspoon

garlic powder

1

teaspoon

onion powder

½

teaspoon

cinnamon

½

teaspoon

celery salt

¼

teaspoon

cayenne pepper
Instructions
To make the dry rub, simply combine all ingredients in a small bowl and mix until well combined.
Nutrition
Calories:
53
kcal
|
Carbohydrates:
14
g
|
Protein:
1
g
|
Fat:
1
g
|
Saturated Fat:
1
g
|
Polyunsaturated Fat:
1
g
|
Monounsaturated Fat:
1
g
|
Sodium:
974
mg
|
Potassium:
52
mg
|
Fiber:
1
g
|
Sugar:
12
g
|
Vitamin A:
367
IU
|
Vitamin C:
1
mg
|
Calcium:
19
mg
|
Iron:
1
mg