Breadcrumbs with pork rinds have a crispy crunch and are super easy to make. This is my SECRET ingredient that makes any breaded recipe BETTER in every way.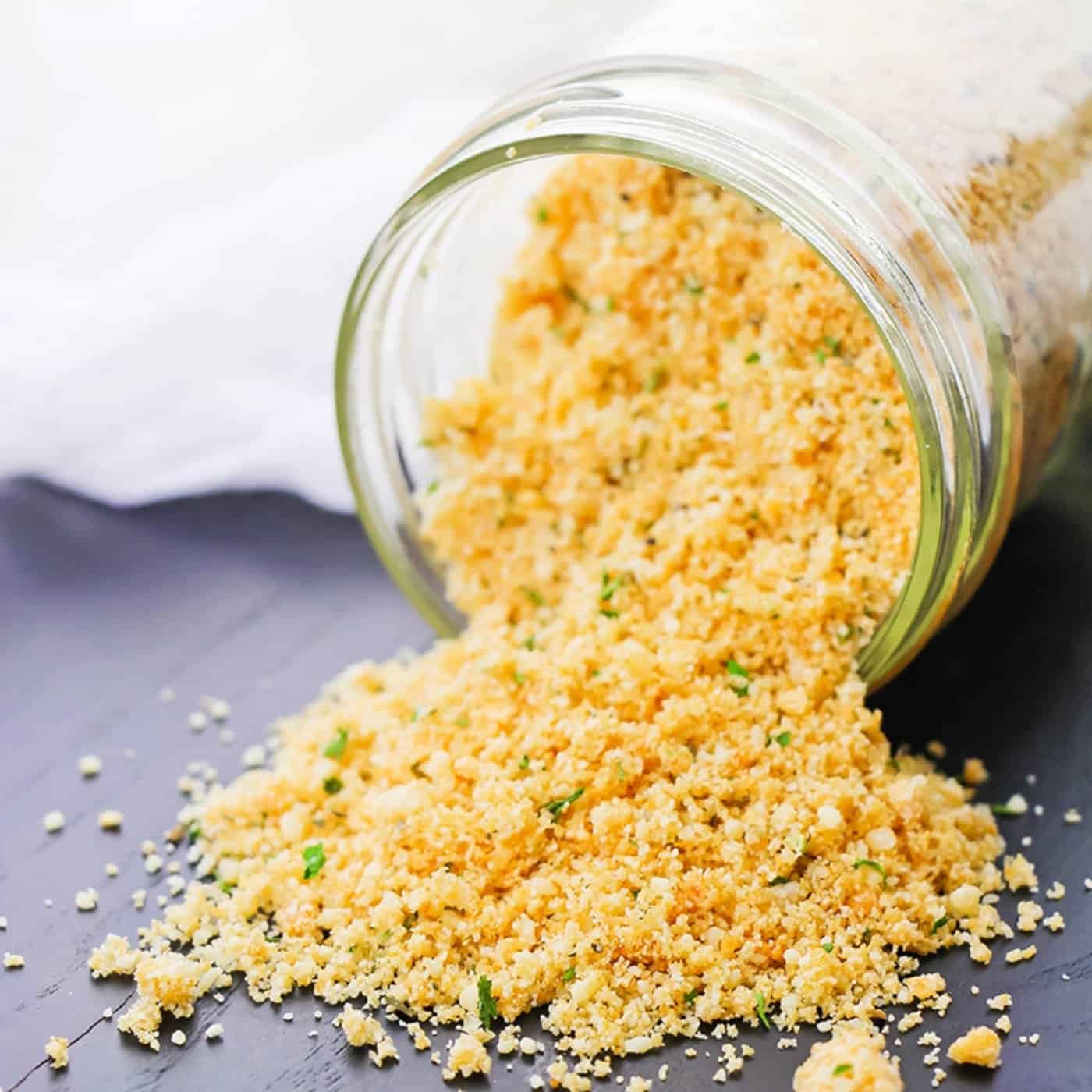 Forget breadcrumbs and panko, both of these options have issues. I've used both of these and you'll end up with a soggy breading that lacks the crispy, crunchy texture we all want.
Take your breaded recipes to the next level with pork rinds! Ya, they might smell funny, but trust me, they work fantastic as breadcrumbs.
My absolute favorite, chicken tenders, use this exact breadcrumb recipe. This super easy no-fail recipe is delicious, crunch, and a great alternative to fried chicken.
Contents
⭐ Pork Rind Breadcrumbs
This breadcrumbs recipe made from pork rinds is perfect for satisfying my cravings. You can use this substitute for breadcrumbs to give extra texture, coating, and binding food.
Who doesn't like crispy chicken or nuggets or crunchy veggies? I always look out for suitable substitutes to enjoy my favorite dish.
There is a range of tasty recipes you can prepare using gluten-free breadcrumbs. I use these breadcrumbs to prepare many recipes, such as crispy hamburger patties, breaded chicken, topping broccoli casseroles, onion rings, baked fish, crusted shrimps, and much more.
Surprisingly, you won't even realize these breadcrumbs contain pork skin because of the recipe's parmesan cheese and Italian seasoning blend. The delicious seasonings and herbs used to prepare the breadcrumbs in this recipe also enhance the flavors of my snacks and meals.
The simple recipe with hassle-free prep - you can't miss it. You will be ready with the whole batch of breadcrumbs within 10 minutes. Fast enough, right?
You can give your meals the perfect crunch you desire by trying breadcrumbs made with pork rinds.
🍽 What You Need
For this breadcrumb recipe the key ingredient pork rinds, comes in many different varieties and flavors. I use original pork rinds when preparing recipes.
🔪 How to make Breadcrumbs
Breadcrumbs with pork rinds are easy to make, taste amazing, and produce the perfect crispy texture every time. Learn how to make these fantastic breadcrumbs with my step-by-step guide detailed pictures, and tips.
Step 1
Add your favorite pork rinds in a food processor and blend finely.
Step 2
Transfer the crushed rinds into a large bowl.
Step 3
Add dried parsley, basil, oregano, garlic powder, onion powder, black pepper, salt, and parmesan cheese to the rinds. Mix all the ingredients well using a spatula.
Step 4
Pour this mix into a jar. Use to coat your food like the traditional breadcrumbs or store in the refrigerator for later use.
Step 5
Bite into your crispy meals like before!
Note: About the only thing I use real breadcrumbs for are pie crusts and any recipe that does not require cooking, frying, or baking breadcrumbs.
Tips for Breadcrumbs
Make sure you crumb the fried pork skin in a food processor on a high pulse. This way, you will get finely and uniformly crushed breadcrumbs.
Alternatively, you can fill the pork rinds in a plastic bag and thoroughly smash them with a rolling pin to achieve that perfect texture.
You can increase or decrease the seasoning quantity in the mix to get the desired flavor profile.
It is recommended to fill the prepared crumbs blend in a glass mason jar with a tightly sealed lid to keep all the air out.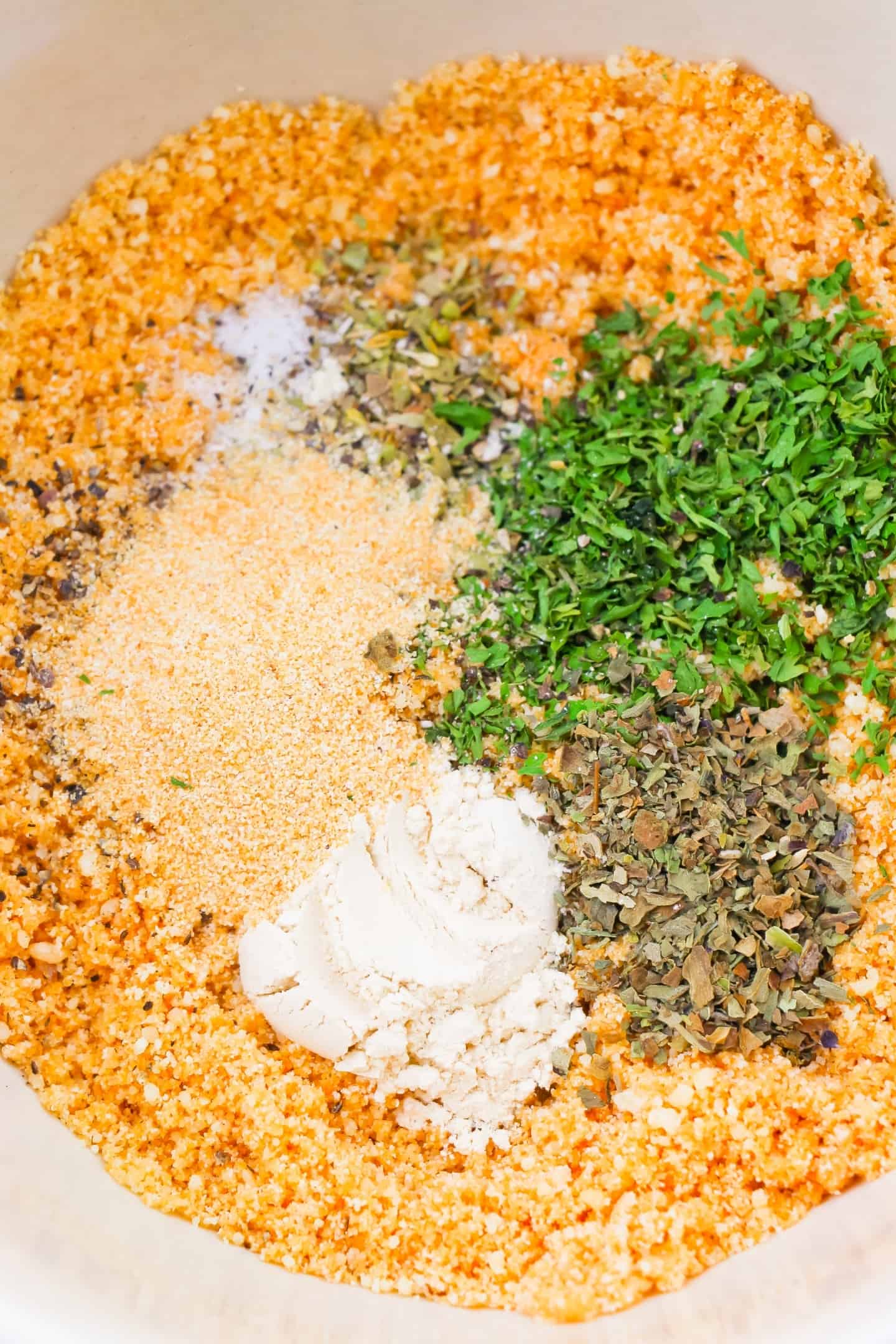 📖 Easy Breadcrumb Variations
There are an array of ways to give some extra punch to the pork rinds crumbs. Satisfy your taste buds by trying these recipe varations:
Taco Seasoning
This authentic taco seasoning combined with breadcrumbs is pure genius. Try making chicken tenders with breadcrumbs and taco seasoning.
Ranch Seasoning
This homemade ranch seasoning is another fun and delicious variation. Now you can make hidden valley ranch flavored breadcrumbs. Imagine the possibilities!
Smoked Paprika
You can add smoked paprika for a smoky flavor to your crumbled pork rinds. This will also add a touch of heat to your breadcrumbs.
🥗 What to Serve With
Use these breadcrumbs to prepare any cooked, fried, or baked meal. My favorites include:
Baked chicken tenders with pork rinds are my all-time favorite appetizer to give a twist to the traditional fried meal. Bind the tender chicken strips with your freshly prepared breadcrumbs and bake in a preheated oven and enjoy.
Why not an Italian meatballs with Italian seasoned breadcrumbs? You can't say no to this delicious bowl of Italian pork meatballs dunked into creamy and rich tomato sauce.
Also, check out my juicy pork sirloin roast recipe and best shaved pork recipes collection that you can pick for your next meal.
🙋 Frequently Asked Questions
Ratio for breadcrumbs vs pork rinds?
Substitute breadcrumbs for pork rinds at 1:1 ratio. As a volume measurement these ingredients are nearly identical. I'd also recommend using a food processor which results in a much finer texture and consistent results.
What is the best breadcrumb substitute?
Without a doubt, pork rinds is the best substitute for breadcrumbs. Others will suggest rolled oats, cornflakes, potato chips, pretzels, crackers, nuts, seed, and even coconut. And while these all work, they only sort of work.
🍳 Related Breadcrumb Recipes
Check put my easy sweet and smoky dry rub for pork ribs recipe. Trust me it is sooo good in a smoked pork ribs or for pulled pork!!
🥫 Storing Breadcrumbs
Store your breadcrumbs so you always have some on hand. To maintain the crispiness and taste, store the breadcrumbs in an airtight container.
In the Fridge
You can store these homemade breadcrumbs in an airtight jar in the refrigerator for around 3 months without any worry. If stored in the freezer, they will keep for up to 6 months.
👪 Serving Size
This gluten-free breadcrumbs recipe provides 4 servings. Fulfill all your baking and cooking requirements with these delicious and crunchy breadcrumbs!
Run the fork on your patty, and you will get that crackling sound. Also, unlike regular breadcrumbs, the aromatic seasoning will make you fall in love with the breadcrumbs with pork rinds.
Even if you are out of breadcrumbs, you can prepare this recipe in a jiffy.
📋 Recipe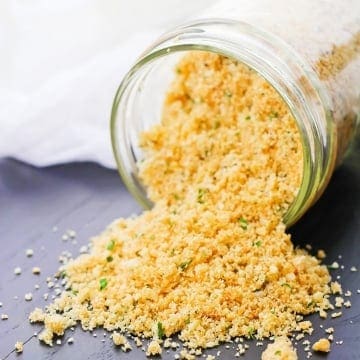 Pork Rind Breadcrumbs
Breadcrumbs with pork rinds have a crispy crunch and are super easy to make. This is my SECRET ingredient that makes any breaded recipe BETTER in every way.
Print
Pin
Rate
Share
Ingredients
2

cups

pork rinds

-

crushed

2 ½

cups

Parmesan cheese

-

grated

2

teaspoons

garlic powder

2

teaspoons

onion powder

½

teaspoon

salt

¼

teaspoon

black pepper

3

teaspoons

dried parsley

1

teaspoon

dried basil

1

teaspoon

dried oregano
Instructions
Combine all ingredients in a large bowl.

Pour into a jar and store in refrigerator until ready to use. Use cup for cup like you would traditional breadcrumbs.
Nutrition
Calories:
332
kcal
|
Carbohydrates:
4
g
|
Protein:
31
g
|
Fat:
20
g
|
Saturated Fat:
11
g
|
Cholesterol:
55
mg
|
Sodium:
1552
mg
|
Potassium:
97
mg
|
Fiber:
0
g
|
Sugar:
0
g
|
Vitamin A:
490
IU
|
Vitamin C:
0.7
mg
|
Calcium:
761
mg
|
Iron:
1.1
mg