This meatloaf with pork rinds, stuffed with mozzarella cheese, is easy to make, absolutely delicious, and super tender. This easy and affordable dinner idea is fantastic for family dinner meals.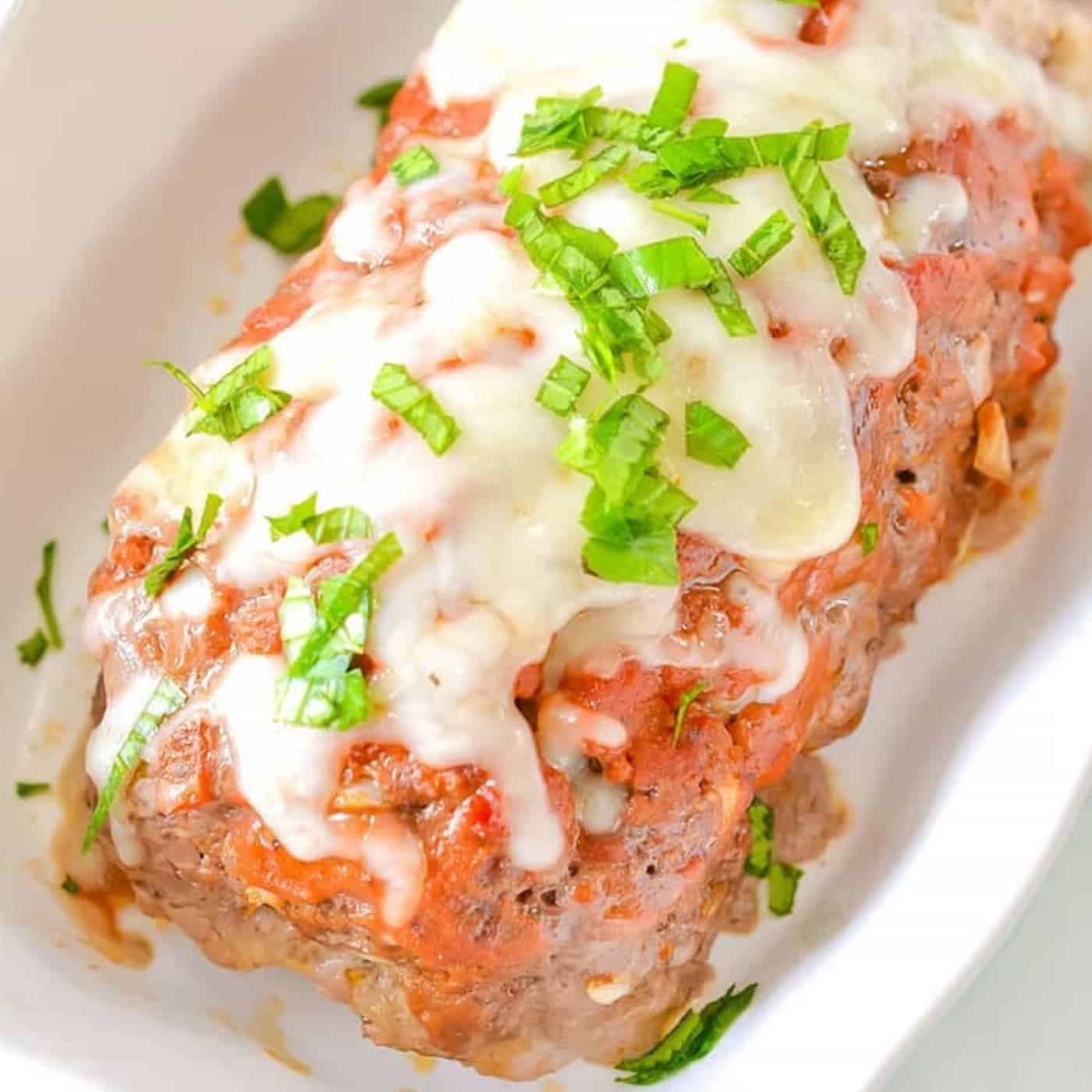 Contents
⭐ Meatloaf with pork rinds
This meatloaf recipe combines lean ground beef, pork rind breadcrumbs and stuffed with mozzarella cheese. This combination gives it a nice gooey cheese center, and the low-carb pork rinds add a lovely texture. Top this off with a homemade marinara sauce, and you're all set.
You can't go wrong with meatloaf. It is a breeze to make, everyone loves it, and it is an affordable meal you can make any night of the week.
This low-carb comfort food version of meatloaf is a must-try for home cooks looking for more keto dinner ideas.
🍽 Key ingredients
We're using ground beef here, but you can use ground turkey if you want to.
We also use Italian seasoning, but if you can't find it at your local store, use some dried herbs, like oregano, rosemary, and parsley.
🔪 How to make
Learn how to make a healthy meatloaf that tastes just like the classic comfort food you know and love. Follow the step-by-step instructions below and enjoy!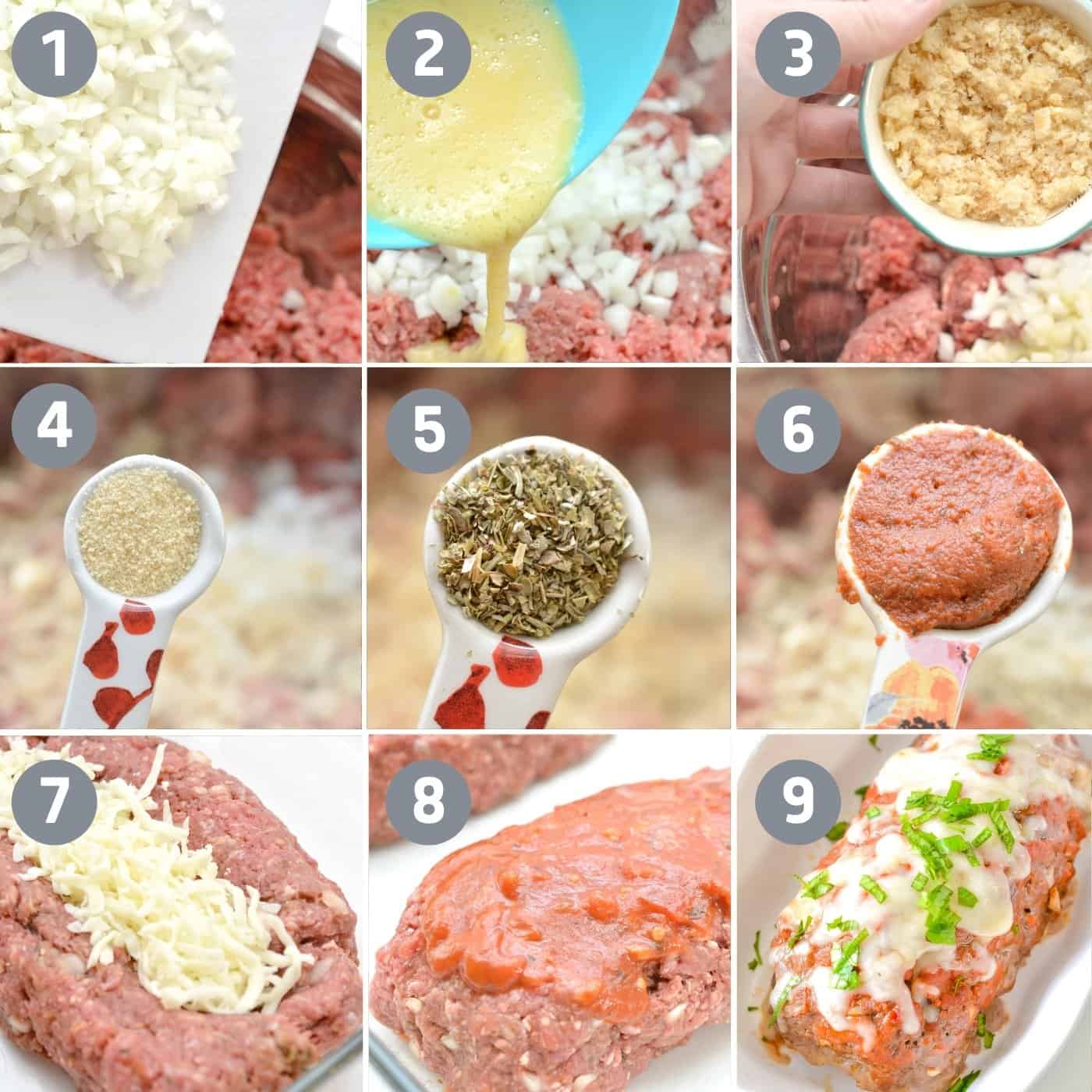 Instructions
Preheat the oven to 350°F (177°C).
Grab a large mixing bowl and combine the ground beef with the chopped onion.
Add the beaten egg to the meat mixture.
Add the Keto breadcrumbs.
Add garlic powder.
Add Italian seasoning.
Add tomato paste, salt, and pepper. Mix all of the ingredients using your hands until thoroughly combined.

Split the mixture in half and form two oval-shaped loaves. Doing this will help the internal temperature of the meatloaf cook evenly and quicker.
Make a well in the center of each oval meatloaf mixture and fill it with ½ cup of mozzarella cheese.

Cover the cheese with the meatloaf mixture so that the cheese is stuffed in the center of each loaf.
Transfer each meatloaf to a sprayed non-stick loaf pan and top with ¼ cup marinara sauce.
Bake them for 30 minutes first, add the remaining mozzarella cheese on top of each loaf pan, bake for another 5-10 minutes to melt the cheese.
For ground beef, the internal temperature should be at least 160°F (71°C).
📋 Recipe variations
You can still enjoy the same meatloaf recipe but with ground turkey for people who do not eat beef.
Worcestershire sauce is something I use to give my meatloaf an extra layer of flavor! You don't need too much of it. A tablespoon of Worcestershire sauce is enough.
Another variation to marinara sauce is sugar-free ketchup which you can use to pour over the meatloaf. I prefer marinara on my meatloaf, but sugar-free ketchup is common to spread over it and then bake it.
If you don't have low-carb breadcrumbs, you can use any of these alternatives to bind with the ground beef:
Almond flour - I like using almond flour when baking, but for binding with meat, not so much. Almond flour can be used, but I recommend using half the amount of breadcrumbs as the flour absorbs a lot of juice.
Coconut flour - Another breadcrumb substitute that I use in baking! Coconut flour is OK for meatloaf, but I advise using only 100g per 2lb beef to avoid over-flavoring.
Flaxseed meal - Great for a nutty keto recipe! If you enjoy a nice nuttiness to your meal, then ground flaxseed is an excellent alternative to breadcrumbs in this low-carb meatloaf recipe with zero net carbs!
Crushed Pork rinds - A great alternative to breadcrumbs! Get a bag of unflavored pork rinds, blend them in a food processor, add the crushed pork rinds to the meat mixture, and enjoy the juicy flavors combine. Or use my breadcrumbs made with pork rinds in this recipe.
🥗 What to serve with
This recipe would go great with mashed cauliflower and a side of steamed veggies or my sweet potatoes in the air fryer.
Mashed cauliflower is an excellent alternative to potatoes when you're watching the carb count and goes perfectly well with keto meatloaf recipes! Chop, boil, and puree one large cauliflower head, then in a small pan, mix the mashed cauliflower with 50 grams grated parmesan cheese, 1 teaspoon garlic, and 1 teaspoon onion powder, 4 tablespoons unsalted butter, and 1 cup of water until it is smooth.
Sautéed or steamed vegetables are my preferred side dish to accompany this juicy low-carb meatloaf as they are simple to prepare. There is a wide range of veggies to choose from, but I like to chop up asparagus, bell pepper, broccoli, mushrooms, green beans, corn, and carrots into bite-size pieces, and then sauté them with a dash of soy sauce.
Recently I fell in love with air fryer recipes and for this fantastic meatloaf I would definitely recommend to pair with my crispy brussel sprouts.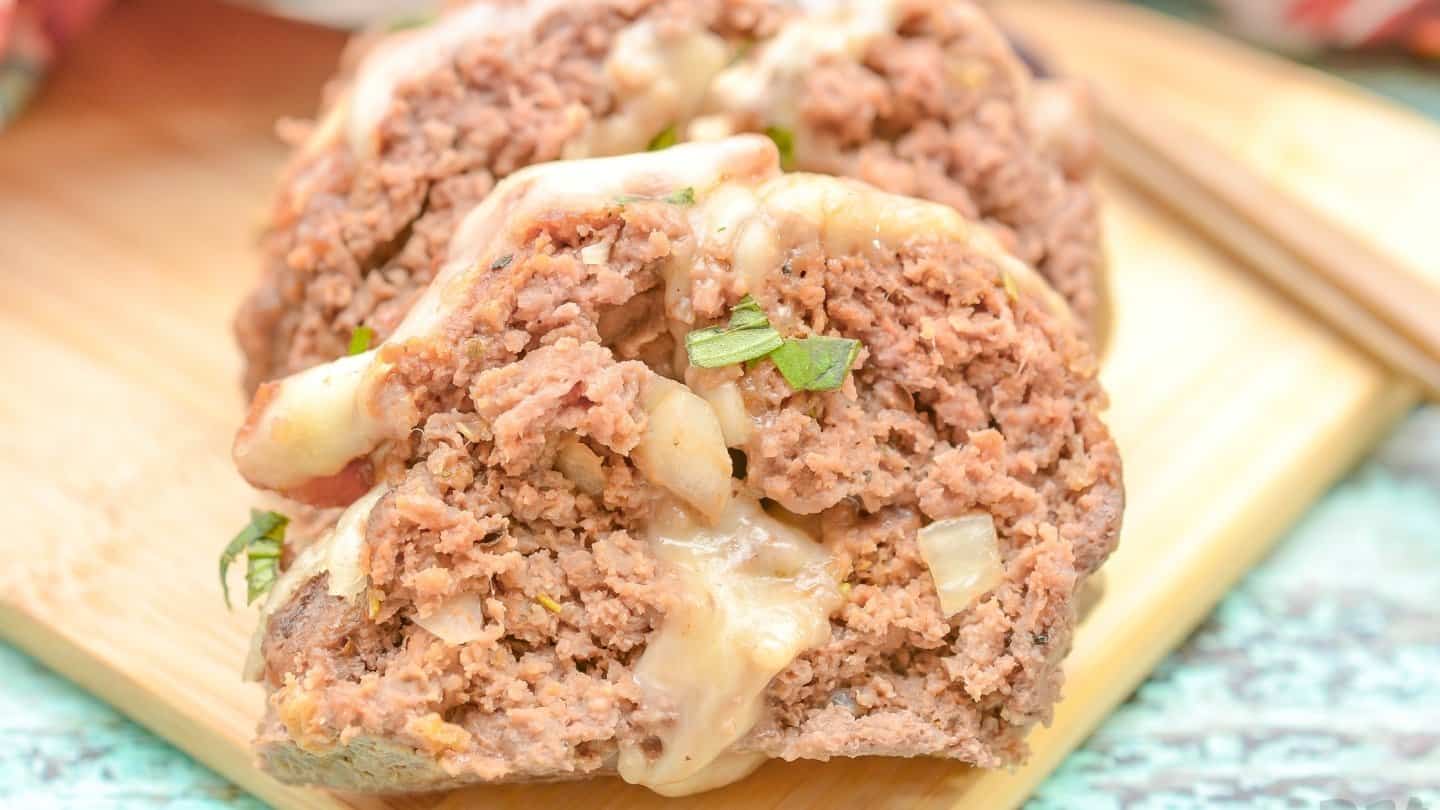 ⏲️ Make ahead
All you need to do to make this recipe in advance is make the meatloaf as instructed in this article, but without adding the marinara sauce over it, as this is the last step before baking it. Once you have formed it into a loaf shape, place it in a greased loaf pan and store it in the fridge until it is time to bake.
🥫 Storage
Low-carb uncooked meatloaf can stay in the fridge for up to 2 days for maximum freshness. You can also store it in the freezer for up to 6 months.
If you have leftovers or meal prep, consider storing meatloaf in the fridge or freezer for quick and easy dinner meals.
👪 Serving size
This recipe serves 8 and is super easy to double or triple. I often make one for dinner and freeze one or divide it up for easy meal nights.
Although keto meatloaf is slightly different from traditional meatloaf, it is delicious and perfect for people eating low-carb meals as part of a low-carb diet. Plus, kids love it as much or more than we do.
📋 Recipe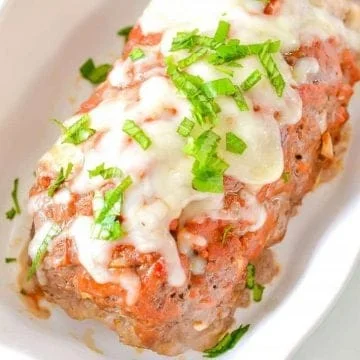 Keto Meatloaf
This Keto meatloaf recipe, stuffed with mozzarella cheese, is easy to make, absolutely delicious, and super tender. This low-carb and Keto-friendly dinner idea is a delightful take on healthy comfort food.
Print
Pin
Rate
Share
Ingredients
2

pounds

ground beef

1

egg

-

beaten

½

cup

breadcrumbs (pork rinds)

1

small

onion

-

chopped

1

teaspoon

garlic powder

1

teaspoon

Italian seasoning

¾

teaspoon

salt

¼

teaspoon

black pepper

3

tablespoon

tomato paste

1-¼

cup

mozzarella cheese

-

shredded, divided

½

cup

marinara sauce

-

no sugar added
Instructions
Preheat oven to 350°F (177°C).

In a large mixing bowl, combine the ground beef with the chopped onion.

Add in beaten egg and the low carb breadcrumbs.

Add garlic powder, Italian seasoning, salt and pepper.

Using your hands (with or without gloves) Mix all of the ingredients together until fully combined.

Form the meat mixture into two smaller oval shaped loaves. This will help them cook more quickly and evenly.

Make a divet down the center of each oval loaf of meat. Place ½ cup of mozzarella cheese into the center of each meatloaf, and close the extra meat up over it, so that the cheese is stuffed into the center of the loaves.

Add each meatloaf to a loaf pan and spray with a non-stick spray. I like coconut oil spray.

Top each of the meatloaves with a ¼ cup of marinara sauce.

Bake for 30 minutes. Remove from oven, and top each one with half of the remaining mozzarella cheese. Return them to the oven and cook for an additional 5-10 minutes until the cheese is bubbly and the meat is cooked throughout.
Notes
For ground beef, the internal temperature should be at least 160°F (71°C).
Let it rest for 30 minutes before slicing with a serrated bread knife. (As it cools down, the meat forms better, making it easier to cut.)
Nutrition
Calories:
343
kcal
|
Carbohydrates:
4
g
|
Protein:
22
g
|
Fat:
25
g
|
Saturated Fat:
9
g
|
Polyunsaturated Fat:
0
g
|
Monounsaturated Fat:
0
g
|
Trans Fat:
0
g
|
Cholesterol:
103
mg
|
Sodium:
452
mg
|
Potassium:
449
mg
|
Fiber:
0
g
|
Sugar:
2
g
|
Vitamin A:
210
IU
|
Vitamin C:
3.4
mg
|
Calcium:
52
mg
|
Iron:
2.7
mg