Delicious steamed broccoli is one of my go-to healthy side dishes for quick mid-week dinners. And because of this I know the importance of seasonings for steamed broccoli.
Steaming broccoli is the healthiest way to cook it, keeping all of the goodness in and ensuring it keeps its yummy crunch. The best part is, that it is ready to season in under 10 minutes!
I love to season my steamed broccoli florets and here I have found 23 delicious ideas for steamed broccoli seasoning, that will mean you can enjoy broccoli multiple times a week and never get bored of the taste.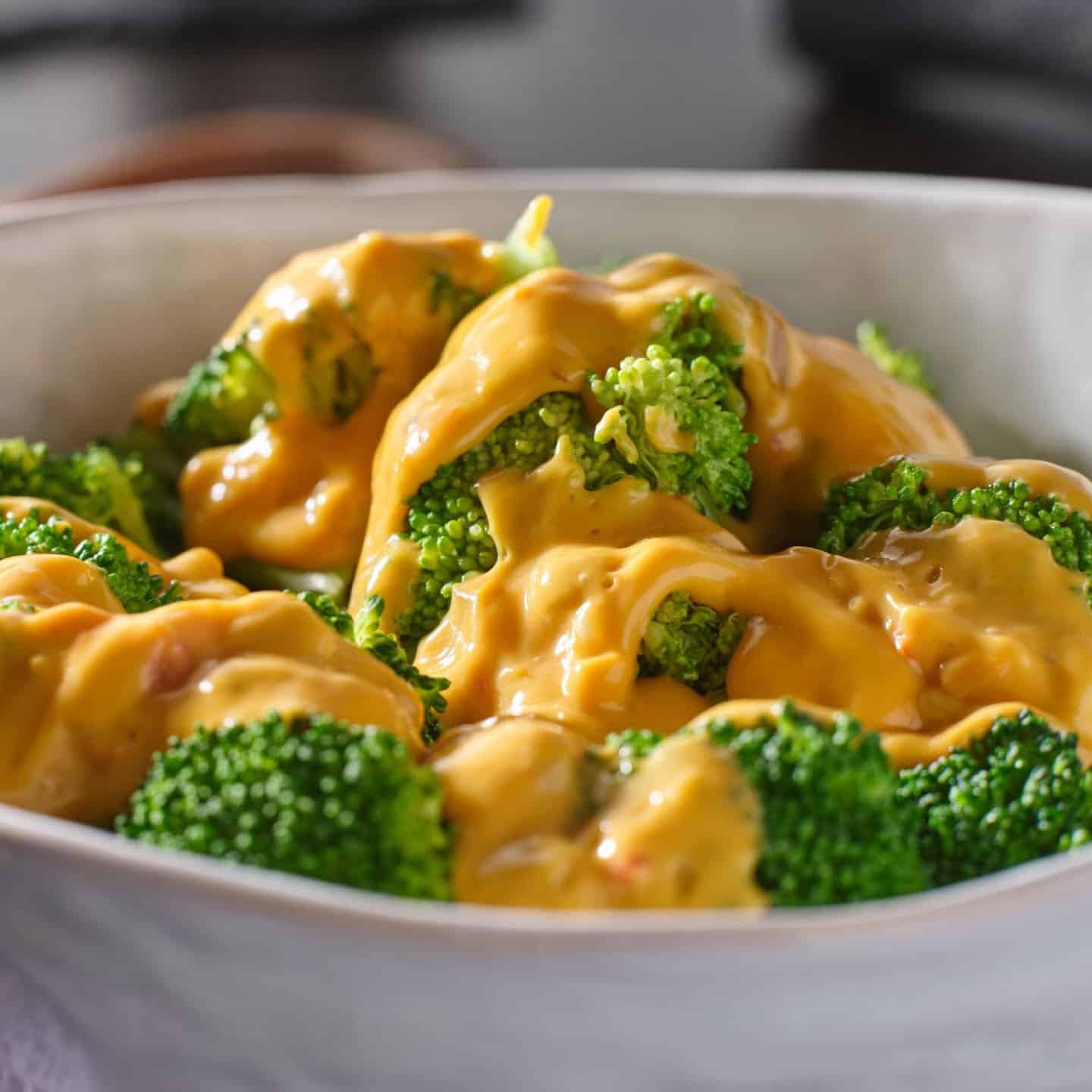 Contents
How to season steamed broccoli
The best way to season steamed broccoli is to start with perfectly crisp florets, steamed using whichever method you prefer. Your broccoli should be firm yet tender with just the right amount of bite, this takes under 10 minutes of cook time. Then the seasonings are up to you!
First, season your steamed broccoli with salt and pepper, and maybe a dash of garlic salt, then add layers of flavoring. If you're wondering what to season steamed broccoli with for dinner tonight, it depends on what you're serving it with and what you're craving.
You can choose to keep it simple and gourmet by tossing your broccoli in olive oil, with garlic, lemon juice, and a dusting of parmesan cheese. Or you might want to try something more complex with spicy Asian or Indian flavorings.
I have collated 23 simple and interesting recipes that will give you so many ideas for what to put on steamed broccoli.
Most of these seasoning ideas use just a handful of ingredients and take only a few minutes of preparation time. They are all guaranteed to transform your side dish into the star of the show.
Here are the best ways to season steamed broccoli!
Grab your steamer basket and get ready to make this delicious steakhouse-style steamed broccoli. Using just three ingredients, this recipe transforms your broccoli into a gourmet, restaurant-quality side dish.
Simply mix rich melted butter, minced garlic, and grated parmesan cheese and toss to coat your steamed florets. You'll have a perfectly seasoned appetizer in minutes that will please the pickiest of taste buds.
If you're short on time, you could skip the minced garlic and substitute it for garlic salt, just remember to compensate and reduce salt levels when you are adding salt and pepper before serving.
This recipe for how to season steamed broccoli is a favorite because it's so simple yet so flavorful. It uses zesty lemons and olive oil to transport your dish to the Mediterranean in just a few minutes.
The lemon juice and zest are the stars of the show, pairing perfectly with your bright green broccoli florets to make the perfect summer side dish. If you're looking for a healthy and delicious seasoning for steamed broccoli, this one is for you.
If you want to keep your steamed broccoli healthy and light, but still so delicious you'll crave second helpings then try this spicy and zingy recipe.
You just need three ingredients and 5 minutes to add spice and flavor to your broccoli with red pepper flakes, kosher salt, and olive oil.
A super simple, quick, and tasty way to add seasoning to your veggies, whether you're using fresh or frozen broccoli florets.
I love to make this steamed broccoli recipe with rich, melted brown butter sauce and the nutty bite of finely chopped walnuts mixed with the cooked broccoli. Every mouthful is a taste sensation.
This is a delicious way to serve broccoli and it's one of my go-to comfort foods made with just a few simple ingredients and ready in a couple of minutes.
Try it tonight and add it to your list of all-time favorite ways to season broccoli.
This is another take on a brown butter sauce to season broccoli but it's flavored with soy sauce, which adds a deep salty tang to every mouthful.
I like to serve this delicious and quick seasoned broccoli alongside steaks and grilled chicken, it is an impressively tasty appetizer considering the broccoli is seasoned with just two ingredients!
This recipe calls for roasted broccoli, but why go to the bother of turning on your oven, when you can steam your fresh broccoli in only a few minutes using a stovetop steamer, or even a microwave? Take your hot broccoli florets and coat them in the delicious melted brown butter and soy sauce mixture and serve pronto for a crisp-tender crunchy side that will please a crowd.
This is an easy and deliciously healthy way to season broccoli that pairs well with any Asian-inspired weeknight meal, and the best bit is, that even kids love it.
The whole recipe can be made in under 10 minutes, including steaming the broccoli florets. The key is a tasty, savory mix of sesame oil and miso paste, which pairs beautifully with the garlic and ginger base to make a great taste sensation.
Try this Chinese broccoli tonight and I know it'll become one of your favorites.
I love to excite my taste buds at dinner time by exploring different flavor groups. In this recipe, you use three simple ingredients to give your dark green broccoli a spicy, curry flavor.
Choose how much spice you want to add with your curry powder, I prefer medium heat, but you can go for mild if you prefer. Then simply mix this with ground ginger, salt, and oil to create a seasoning to toss the broccoli florets in before serving.
This recipe suggests using roasted broccoli but I prefer to steam broccoli, then add the seasoning mix. It takes less prep time, is healthier, and keeps the broccoli crunchier, which I think makes it even more delicious.
This is the yummiest and simplest dressing you can make to season your bright green broccoli with. It takes just a handful of ingredients and a couple of minutes to mix and you have a healthy side dish that will keep people coming back for more!
In this recipe, you use garlic powder, salt, and lemon juice mixed with extra-virgin olive oil to create a dressing that is a sublime way to season broccoli florets.
Did you know, homemade teriyaki sauce is surprisingly easy to make? And of course, it is so flavorful and is miles healthier than the shop-bought variety. The best part is, that it tastes absolutely delicious poured as a seasoning over broccoli.
This recipe is free from refined sugars and is simpler than you would think, using just 6 ingredients. Combine soy sauce, balsamic vinegar, and pure maple syrup to make a deliciously tangy, sweet, and salty sauce that will make you wish you had more broccoli to pair it with!
In just 5 minutes prep time your homemade teriyaki sauce will be ready to go, what are you waiting for?
Add a taste of the Orient to your crisp-tender broccoli florets with this refreshing and healthy Japanese sesame seasoning.
The delicious toasted savory notes of sesame oil and roasted sesame seeds combine with sweet honey and the piquancy of rice vinegar to create a delicious and moreish dressing in just a couple of minutes.
This is such a simple and impressive recipe to whip up when you're short on time but want something tasty to accompany your dinner. I like to pair it with grilled salmon or beef stir fry and noodles or fluffy rice.
Want to wow your friends and family with an Asian-inspired recipe for seasoned broccoli, that uses the freshest and zestiest ingredients? Then look no further than this lemon and ginger broccoli recipe.
Grab your grater because you'll be combining fresh lemon juice with grated lemon zest and fresh ginger to create a spicy, tangy seasoning that your taste buds will love.
This steamed broccoli recipe takes just a few minutes to prepare and it's so packed with flavor that you'll want to make it again and again.
No more thinking of broccoli as just a side dish, let's make it the star ingredient of your dinner with this gorgeous, lightly seasoned broccoli served on a bed of warm brown rice and topped with deliciously tangy sesame and ginger sauce.
The whole bowl takes about 25 minutes cook time and is simple enough for anyone to make. Combine sesame seeds and oil with fresh lime juice and maple syrup to form the basis of your sauce, not forgetting the spicy ginger root that gives this recipe a real tangy kick!
This is such a good recipe for when you want a lighter dinner that's full of goodness and flavor in equal measures.
Here is another interesting way to season your broccoli using just a handful of ingredients to create a flavor-packed accompaniment that would go well with any grilled meat or fish main course.
I love using smoked paprika as a seasoning because it has such delectable smokey notes. In this recipe, you combine it with extra virgin olive oil, kosher salt, and freshly ground pepper and toss your cut broccoli in it.
You can roast your florets as the recipe suggests, but I think steaming works best as it soaks up the seasonings better and keeps the calories lower.
This is a flavor combination I had never tried on broccoli before, but it's a winning one. You need just three ingredients to create a zesty and buttery seasoning that will make your florets utterly moreish.
The addition of fresh or dried basil adds a bright note to the tried and tested lemon juice and butter combination.
All of this in just the time it takes to steam your broccoli, what are you waiting for?
I adore salads, and my favorites are hearty, packed with veggies, and oh, so satisfying. Cut the broccoli into mini florets, then lightly steam it so it retains its crunch. The star of the show in this recipe is the dreamy, creamy avocado dressing which keeps fresh in the fridge for up to 4 days.
You only need a few ingredients and a mixing bowl to make this delicious broccoli seasoning. Grab your mayonnaise, avocado, lemon juice, and the usual salt and pepper and you can whip up a divine dressing in no time at all.
Honestly, it's like eating a comforting, creamy bowl of pasta but it's broccoli salad!
I love Chinese restaurant-style broccoli with this fabulous garlic and ginger flavored oyster sauce.
The sweet-savory kick of sesame and ginger mixed with the original tang of oyster sauce tastes absolutely gorgeous smothered over steamed broccoli.
Pair these Chinese greens with Asian mains like sticky chicken wings or pork belly and you will have a mouth-watering feast to share.
For me, any dish topped with golden breadcrumbs signals comfort. In this recipe, you strike the perfect balance of crunchy bright green broccoli with golden brown garlicky breadcrumbs.
This easy recipe only calls for breadcrumbs and garlic, sauté them together in olive oil and make a toasty and luscious topping for broccoli that you need to try next time you are craving something healthy but also a little bit indulgent.
Broccoli and blue cheese is a match made in flavor heaven! I love to make this simple sauce and pour it over my broccoli, but you can also use it as a dipping sauce at parties and serve your cut and steamed florets on the side for your guests to dip as they please.
For such a rich and creamy sauce, the ingredient list is very simple. Start with your favorite blue cheese, depending on how punchy you like it. Combine it with soft cream cheese, milk, and garlic powder over medium-high heat to produce a silky sauce you'll want to serve again and again.
This 5-ingredient peanut butter sauce for broccoli combines the toasted flavor of nuts with intensely savory miso to make an interesting and flavorful accompaniment to your steamed broccoli.
You can pour this right over your greens and serve as a side to Asian-style mains, or pour it in a bowl and let everyone grab and floret and dip for themselves.
I like adding a little kick by sprinkling in some chili powder, when I am mixing all the other ingredients, give it a try for yourself and let me know what you think.
Take your broccoli on a trip to Greece with this sweet and savory lemon honey butter seasoning for broccoli.
First, steam broccoli then quickly add butter, honey, and lemon juice to coat the hot florets and you'll have deliciously seasoned vegetables to serve alongside any of your favorite mains.
Don't forget to sprinkle lemon zest and toasted almonds on top before you serve, they look beautiful and add another layer of crunch that you can't miss out on.
When I need to serve dinner in a pinch, I like to make this quick cheese sauce that kids love served over broccoli.
You only need butter, half and half, and shredded cheese plus a few other seasonings you have in your store cupboard to whip up a creamy cheese sauce that's so delicious you won't ever make it from a packet again.
The best bit is, that even the pickiest eaters will eat their greens and that's a reason to give this recipe a try next time you're serving broccoli.
If you're wondering what to put on broccoli when you would like to make a rich cheesy sauce, but need it to be dairy-free. This is the method for you.
Did you know you can use almonds and nutritional yeast to create the creamy, cheesy texture and flavor of traditional cheese sauce without any dairy?
The best part is, it's all made in a food processor, so there's no cooking. Just steam your broccoli, blend your sauce and you're ready for dinner.
This is so yummy, I had to include it even though it suggests roasting. I prefer to steam my broccoli because I like the texture better.
Combine the bacon and pine nuts and toast them in a pan, then season your steamed broccoli with the deliciously savory bacon and pine nut mixture. Don't forget to sprinkle with salt and fresh black pepper then add the final ingredient: freshly grated parmesan- delicious!
I adore these flavors together and they add a gourmet edge to my veggies that I think is worthy of any dinner party menu.