Whole roasted cauliflower makes the perfect side-dish, is super easy and tastes great. You can make this whole roasted cauliflower recipe in your air fryer, instant pot or oven and while each method is slightly different, they all taste amazingly delicious.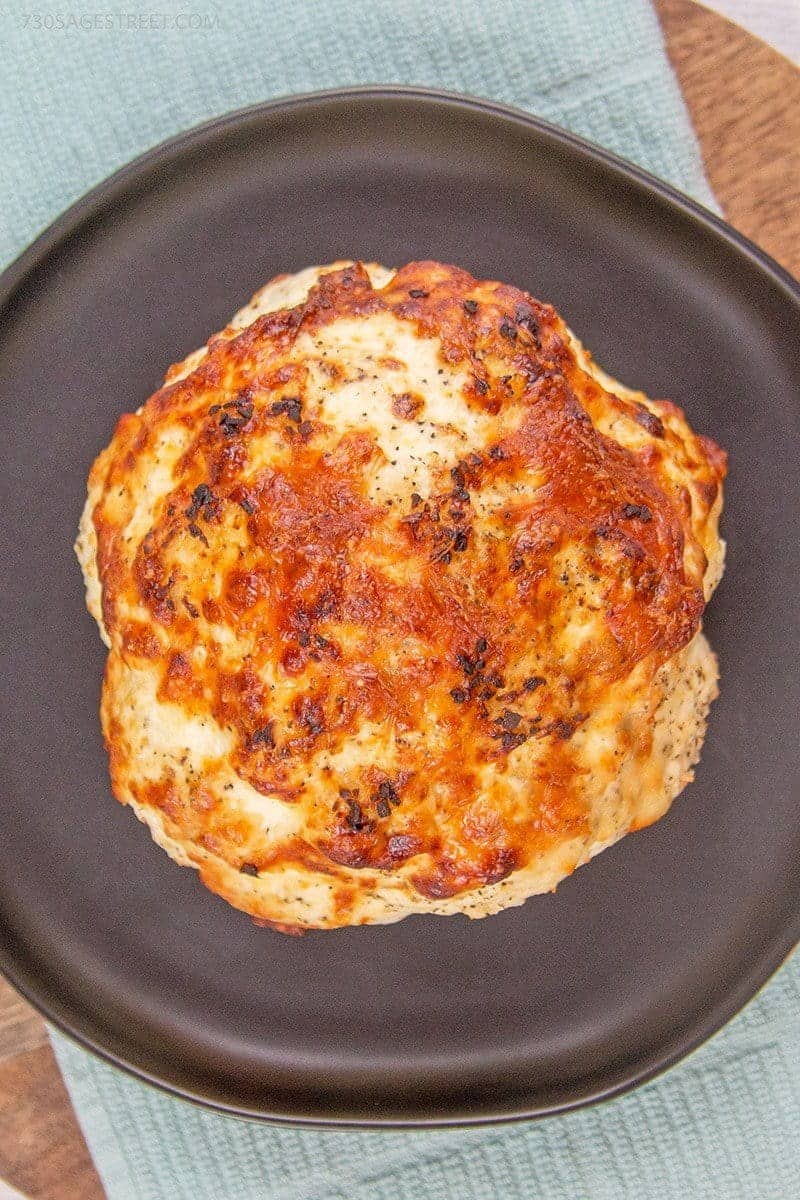 I love this side dish with my Keto Pork Chops with Homemade Ranch Seasoning. Lets learn how to make the best whole roasted cauliflower side-dish for you and your family.
Jump to:
Why we love cauliflower
If you want something that's low carb, easy to make, accessible, and a side dish for the entire family (meat-eaters included), then we have just the thing for you! If your looking for appetizer ideas try my air fryer "cauliflower" bites for nice crispy snack or my cauliflower casserole for a quick and easy meal.
Cauliflower is an amazingly good, healthy green that doesn't seem to see too much mainstream attention in the culinary world. I, for one, think it's a shame. Not only do they taste amazing, but a well-prepared head of cauliflower looks so good! It's sure to impress anyone from your family to your dinner guests.
What you need
These recipes to make whole roasted cauliflower are simple and easy to make. There are very few ingredients and none that are too difficult to find. This list serves as a guide for all three cauliflower recipes, but you should always feel free to explore as you go. That being said, these are the basic ingredients for a great whole roasted cauliflower dish.
1 Head Cauliflower (whole)
Shredded Parmesan cheese (a quarter cup)
Sour Cream (a third of a cup)
Salt (1 teaspoon)
Pepper (1 teaspoon) (I like to use ground black pepper)
Minced Garlic (1 teaspoon)
Air fryer whole cauliflower
Air fryers have become far more popular recently, and for a good reason. Offering quick, easy meals with a distinctly crispy finish every time, they effectively remove the need for deep frying. This is amazing, as it makes every meal that much healthier, and doesn't taste far off. So for our first recipe/cooking method (and my personal favorite method), we'll be looking at the air fryer parmesan whole roasted cauliflower recipe.
The preparation of this low carb cauliflower recipe is quick and easy.We're going to start off by prepping the cauliflower head. The first step is to remove all the leaves from the cauliflower head as neatly as you can. They're not needed for this particular recipe. But keep them handy in the fridge. They're healthy and make a good snack.
Step 1
Next, you're going to want to remove as much of the stem as you can get out without compromising the whole structure. Carefully cut it out and store it, as it can also be used in preparing vegetable stock.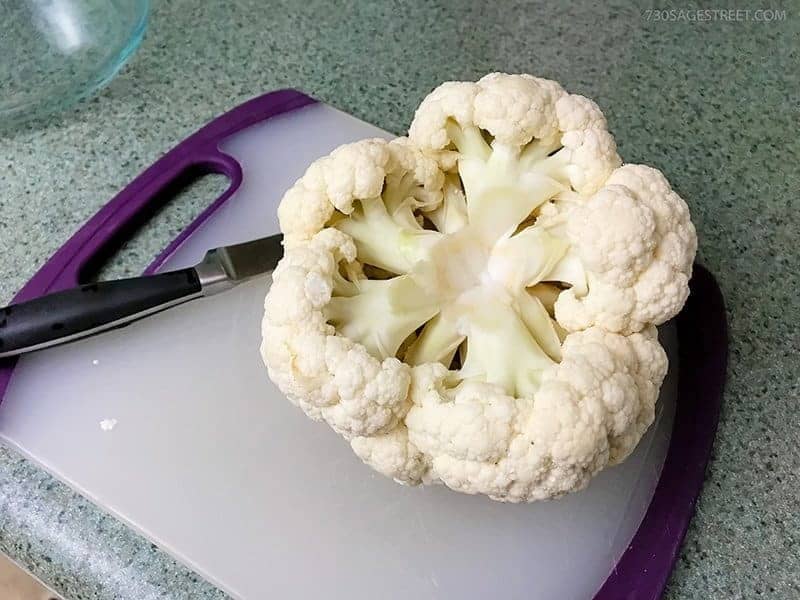 Step 2
Next, it's time for the other main ingredients. Take the sour cream and parmesan cheese, mix the two ingredients in a bowl, and add all the minced garlic, salt, and pepper. Mix them all until you get a satisfactorily homogenous sauce.
Step 3
When this is ready, it's time to spread the sauce. In a baking dish or on a baking sheet, spread the sauce as evenly as possible across the whole cauliflower head. Try to avoid uneven spread and neglecting the bottom. You're going to want to make sure that the spread is done and not dripping any of the sauce before moving on to the next step.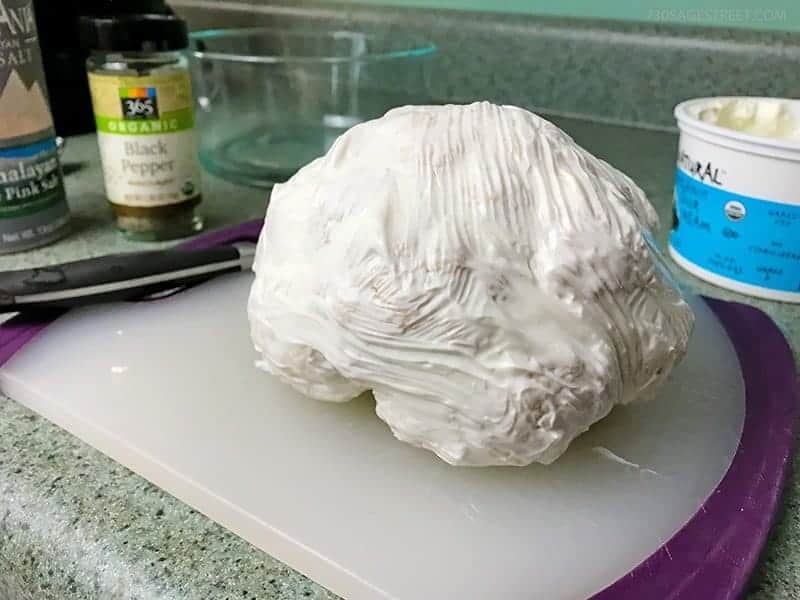 Step 4
Now it's time to put our whole cauliflower head into the air fryer. Place it gently in the basket of the air fryer and then close it. It's going to be roasted whole.
Step 5
Set the air fryer temperature to about 350 degrees with a 15-minute timer. While it's in the air fryer, you'll need to check it periodically to make sure it doesn't overcook. Take it out when it's done. You're aiming for a nice, warm golden brown. Serve the roasted cauliflower whole.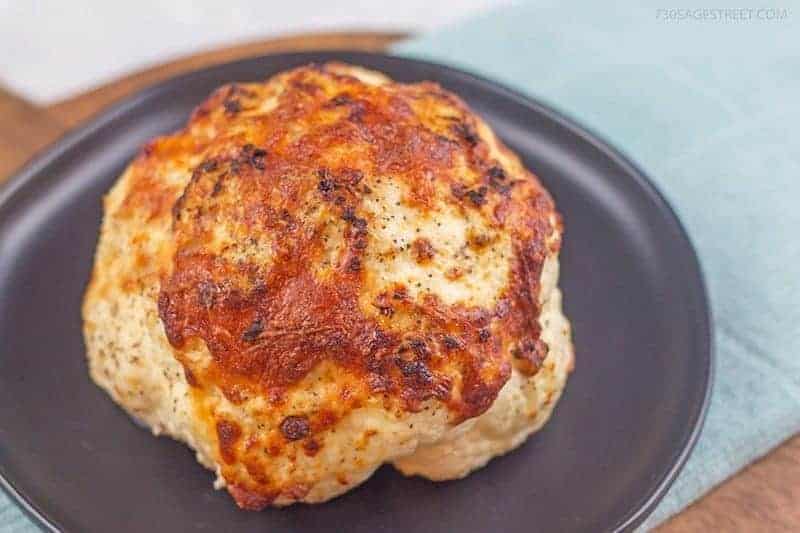 Air Fryer Tips
The spices given here are our recommendations, but there's no need to go strictly by the book. It's really up to personal preference. Remember, experimentation gives the best results! Next time will always taste better.
When coating the cauliflower head, it's best to go around the head in a circle from side to side and then coating the top side and bottom side separately. For even better results, you can make use of a basting brush to coat the cauliflower head. Remember to ensure that there isn't any dripping before moving on to roasting the head of cauliflower.
Some air fryer recipes tell you to preheat your air fryer before placing the cooking item in. This is not the case for this cauliflower recipe. In fact, it's quite the opposite. Do not heat up the air fryer prior to the whole cauliflower head being placed in it.
Due to the wide range of air fryer products on the market, a slightly higher or lower temperature or time than prescribed here might work better for your model. Experience and experimentation will teach you the best way, and a less than satisfactory result the first time is no reason to give up. You'll get it next time.
And there you have it. An absolutely delicious, low-carb whole head of cauliflower recipe that can serve as a main dish or side dish at your next dinner party. I personally love this recipe, as the kids will only be about 1 episode into a TV show in the time it takes to make this recipe.
Curious about air fryers?
Check out the best selling air fryers and opt for the XL or XXL models.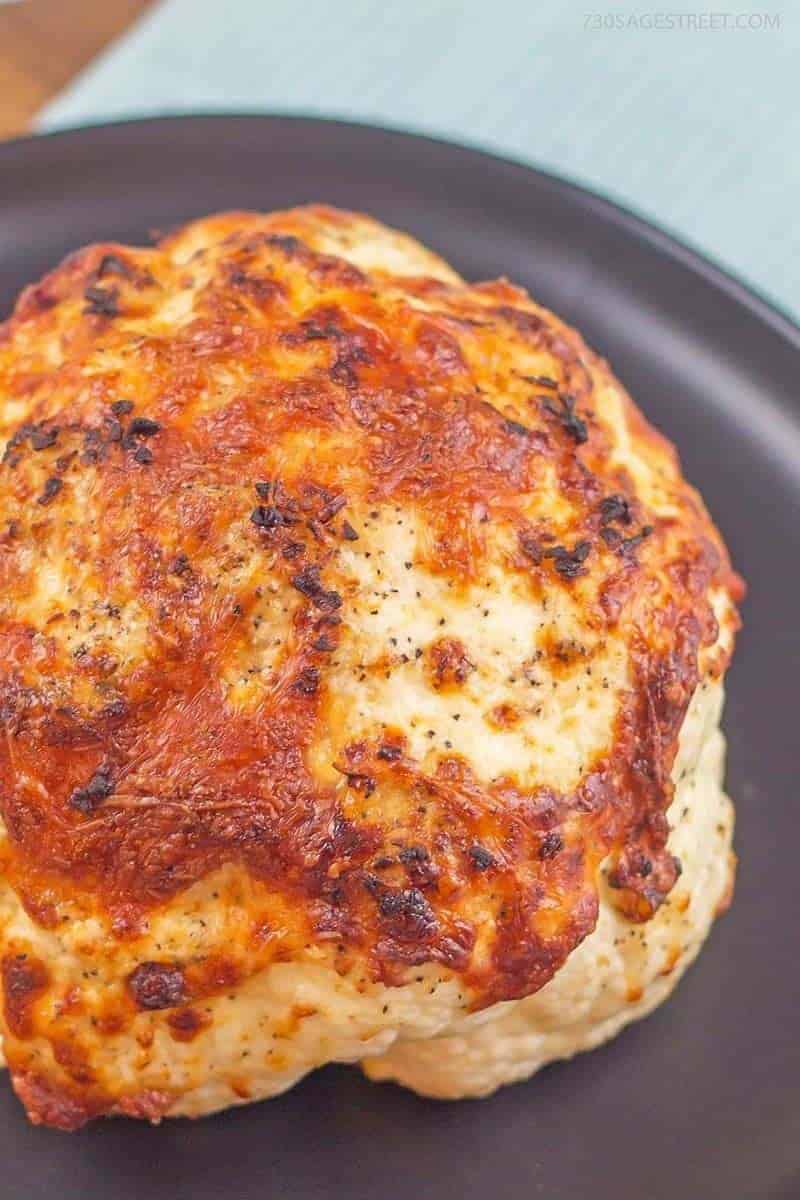 Oven Baked Whole Cauliflower
As much as I love air fryers, not everyone has one. And even if you do, you might prefer to use a more traditional method. So for our second recipe, we're going to be looking at how to make a low carb Oven-Roasted Cauliflower. This is an easy recipe, not too dissimilar to the first, but with some more room for experimentation, seeing as you're not hindered much like with the air fryer.
However, this does have the longest prep time of any recipe we're covering here, coming to more than 90 minutes total time. It also drops some ingredients and adds some to experiment with. The recipe calls for a cast-iron skillet, aluminum foil, and in some cases, even a dutch oven! We won't be using the dutch oven here, but the other two should be available, otherwise check my alternative roasting pans for options. On the bright side, this one looks best on a recipe card!
Instructions:
Preheat the oven to 375 degrees Fahrenheit.
Prepare the cauliflower head per recipe instructions, removing the leaves and and the stem and core, but leaving the rest of the structure intact.
Instead of our previous mixture, we're going to coat the cauliflower head with olive oil this time. The olive oil makes for a good base with less of distinct kick than the cheese and garlic combination, making it more versatile. This is more fitting for a meal that could be a main dish or a side dish.
Coat the cauliflower head evenly with the olive oil, then apply salt to taste. Be sure to use a good amount however. The other ingredients will be absent here, to leave a more blank canvas for a sauce or other side dish. We will discuss how to fill out that canvas later.
When this is done, place the head in a cast iron skillet, making sure the olive oil isn't dripping at this stage. Then cover the entire head of cauliflower with aluminum foil. Make sure it's a tight fit.
Put the cauliflower into the oven and let it cook covered for about 30 minutes. This helps with even cooking in the oven throughout the head of roasting cauliflower.
After this, remove the aluminum foil and continue to cook it till golden brown. This should take about an hour in the oven max. By now a knife should be able to pass through with no trouble.
Take the cast iron skillet out of the oven, and it's ready. Now it's time to pair it with sauce of your choice and maybe some aromatic herbs.
There you have it; a thoroughly well cooked cauliflower. It's well worth the almost 90 minutes cook time that the recipe calls for.
Instant Pot Whole Cauliflower
Yet another fantastic variation of the same Whole Roasted Cauliflower recipe, this involves the use of an instant pot. While still similar to the other two, this has the added advantage of an even faster cook time than the first and a more relaxed texture than the second, making it the easiest way to fit this delicious recipe into a meal plan.
Instructions:
The initial stage of the recipe remains unchanged.
After prepping and spicing, place the cauliflower in a steamer basket. Pour a cup of water into the instant pot and place the trivet inside the chamber.
Now place the basket with the cauliflower head inside onto the trivet.
Put the lid in place and set the Instant pot to pressure cook at high pressure for 5 minutes.
When it is finished, go ahead and serve.
Alternatively, if you still want some extra crunch and texture to your cauliflower head, you can finish the cook with a spell in the oven. Preheat the oven to about 350 degrees Celsius while the cauliflower head is pressure cooking. Then put it on a parchment paper platter, slather it with your choice of glaze (like maple syrup or leftover sauce) and put the cauliflower in the oven for 10 minutes, or till golden brown.
And that's how you make whole roasted cauliflower with an instant pot. Being the quickest way to make roasted cauliflower, the extra step in the oven is highly recommended . But even without it, this whole roasted cauliflower recipe is excellent in a pinch.
Curious about instant pots? Check out the best selling instant pots and opt for 6 Qt or higher. And some of the newer models are 11 in 1 with air fryer, roast, bake, dehydrate and more.
What to serve with
Roasted Cauliflower can be enjoyed with a wide range of side dishes and sauces. My personal favorites as far as pairing goes is any sufficiently spicy sauce with an equally well done chicken recipe. The recipes also lend themselves to pairing with herbs and grated cheese. Yogurt is also a surprisingly good way to accompany the dish.
I serve this whole roasted cauliflower with keto pork chops with homemade ranch seasoning and even my chicken enchilada casserole pairs perfectly.
Storage instructions
Roasted cauliflower can be frozen and kept for good periods of time. The best way to do this is to cut it into conveniently sized pieces (cauliflower steaks) and freeze them. Then you can reheat them in an oven at your convenience.
As promised, I've outlined three easy whole roasted cauliflower dishes that are healthy, filling, and taste great. Surely this will become a family favorite side-dish that everyone will enjoy.
Cooking note
This recipe is for a standard single-function air fryer and requires a small tweak when using a multi-device cooker like the Instant Pot 11-in-1 or Ninja Foodi 9-in-1 cooker. I recommend pressure cooking your whole roasted cauliflower for 3 minutes on low. Drain and apply the seasoning to the cauliflower head. And finally, AIR FRY for 10 minutes at 350 degrees. - Thank you Kelsea
📋 Recipe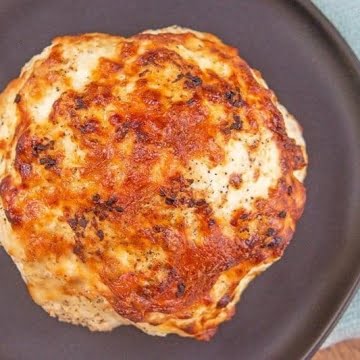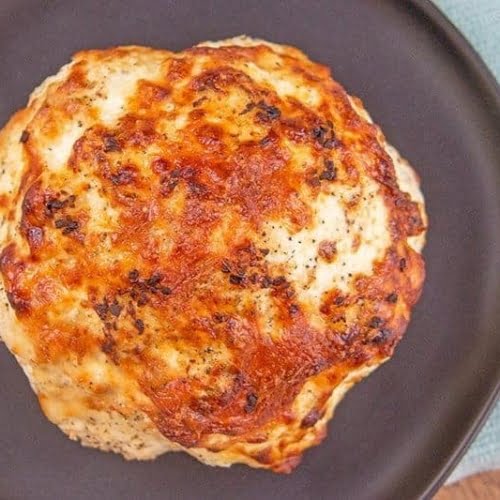 Whole Roasted Cauliflower - Air Fryer, Oven Baked, Instant Pot
The dish we're going to be looking at is Whole Roasted Cauliflower. Not only are these an economical buy and easy to find, but they also taste great! And we're not going to look at just one Whole Roasted Cauliflower recipe, but three different recipes, each exploring a different way to prepare it.
Ingredients
1

whole

cauliflower

⅓

cup

sour cream

¼

cup

shredded Parmesan

1

tsp

salt

1

tsp

pepper

1

tsp

minced garlic
Instructions
Remove all the leaves from the head of cauliflower.

Cut as much of the stem out of the whole cauliflower as you can.

In a small bowl, mix the sour cream, Parmesan and seasonings together.

Spread seasoning mixture over the entire surface of the cauliflower.

Place into the basket of the air fryer. DO NOT preheat the air fryer.

Set the air fryer temperature to 350 degrees.

Fry for about 15 minutes, checking the cauliflower regularly to make sure it doesn't over-cook.

Serve whole and allow diners to cut off pieces to their liking.
Notes
I serve this whole roasted cauliflower with my Keto pork chops with homemade ranch seasoning and even my chicken enchilada casserole pairs perfectly.
Curious about air fryers? Check out the best selling air fryers and opt for the XL or XXL models.
Curious about instant pots? Check out the best selling instant pots and opt for 6 Qt or higher. And some of the newer models are 11 in 1 with air fryer, roast, bake, dehydrate and more.
Nutrition information shown is an estimate and is not to be assumed to be accurate. If accurate information is required for your diet or lifestyle, please calculate the nutrition yourself using a tool you trust.


Serving:
6
g
|
Calories:
63
kcal
|
Carbohydrates:
20
g
|
Protein:
2
g
|
Fat:
5
g
|
Saturated Fat:
3
g
|
Cholesterol:
14
mg
|
Sodium:
697
mg
|
Potassium:
27
mg
|
Fiber:
10
g
|
Sugar:
1
g
|
Vitamin A:
170
IU
|
Vitamin C:
0.2
mg
|
Calcium:
95
mg
|
Iron:
0.1
mg
Information shown is an estimate and is for information only. 730 Sage Street is not responsible for the factual accuracy of any nutrition information, calculations or claims.
Tried this Recipe?
Save it to your board today!