Air fryer whole roasted cauliflower makes the perfect side-dish and with a golden layer of parmesan it tastes great. Preparation is easy and cooking whole cauliflower in air fryer leaves that fantastic crispy parmesan cheese and perfectly roasted cauliflower.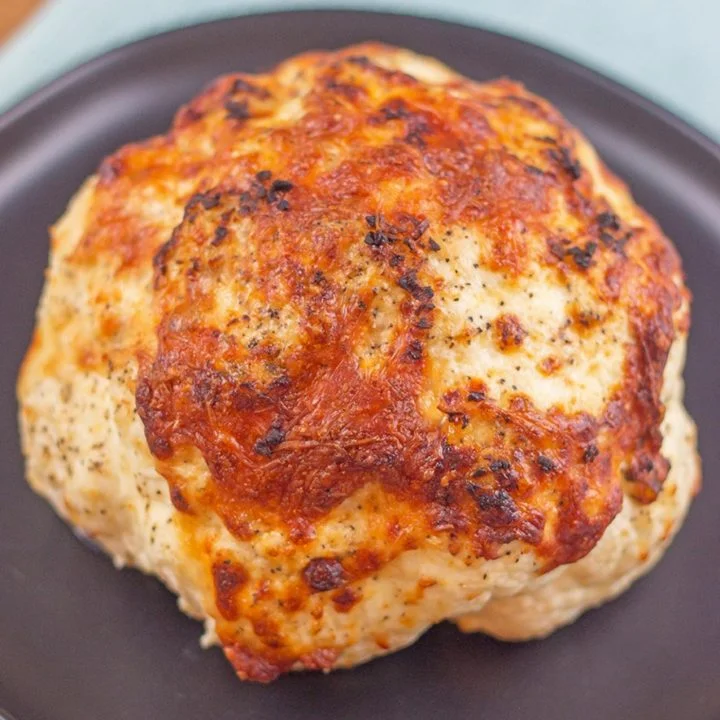 I love this side dish recipe with my ranch pork chops! Lets learn how to make the best air fryer roasted cauliflower side-dish for you and your family.
Contents
🌟 Air Fryer Whole Roasted Cauliflower
If you want an healthy recipe that is easy to make, accessible, and a side dish recipe for the entire family (meat-eaters included), then we have just the thing for you!
If your looking for appetizer ideas try my air fryer "cauliflower" bites for nice crispy snack or my cauliflower casserole recipe for a quick and easy meal.
Cauliflower is an amazingly good, healthy green that doesn't seem to see too much mainstream attention in the culinary world. I, for one, think it's a shame.
Not only do they taste amazing, but a well-prepared head of cauliflower looks so good! It's sure to impress anyone from your family to your dinner guests.
To roast a WHOLE cauliflower you'll need a decent sized air fryer, in the 6 quart range. Otherwise, pop over to my air fryer cauliflower bites, which is perfect for smaller 2-5 quart air fryers.
Both recipes taste fantastic and make a great cauliflower side dish! If you wish to make this recipe in a smaller air fryer, just break your cauliflower down into bite sized pieces.
Air fryers have become far more popular recently, and for a good reason. Offering quick, easy meals with a distinctly crispy finish every time, they effectively remove the need for deep frying.
This is amazing, as it makes every meal that much healthier, and doesn't taste far off. So for our first recipe/cooking method (and my personal favorite method), we'll be looking at the air fryer parmesan whole roasted cauliflower recipe.
🍽 What you need
Whole roasted cauliflower is easy to make in an air fryer with a few simple ingredients.
🔪 How to Make Crispy Air Fryer Cauliflower
Whole roasted cauliflower is easy to prepare and cook using an air fryer. Learn how to make this easy air fryer recipe with my step-by-step instructions, detailed process shots, and helpful cooking tips.
Preparation
The preparation of this light side dish is quick and easy. We're going to start off by prepping the cauliflower head. The first step is to remove all the leaves from the cauliflower head as neatly as you can. They're not needed for this particular recipe. But keep them handy in the fridge. They're healthy and make a good snack.
Step 1
Next, you're going to want to remove as much of the stem as you can get out without compromising the whole structure. Carefully cut it out and store it, as it can also be used in preparing vegetable stock.
Note: my whole cauliflower head is about 6-8" wide, or medium sized, and fits in my 6 quart air fryer with room to spare.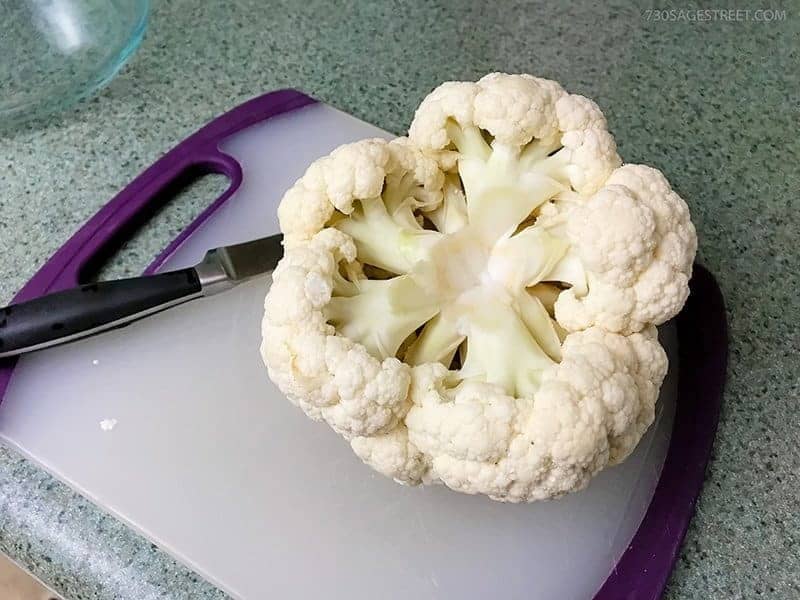 Step 2
Next, it's time for the other main ingredients. Take the sour cream and parmesan cheese, mix the two ingredients in a bowl, and add all the minced garlic, salt, and pepper. Mix them all until you get a satisfactorily homogenous sauce.
Step 3
When this is ready, it's time to spread the sauce. In a baking dish or on a baking sheet, spread the sauce as evenly as possible across the whole cauliflower head. Try to avoid uneven spread and neglecting the bottom. You're going to want to make sure that the spread is done and not dripping any of the sauce before moving on to the next step.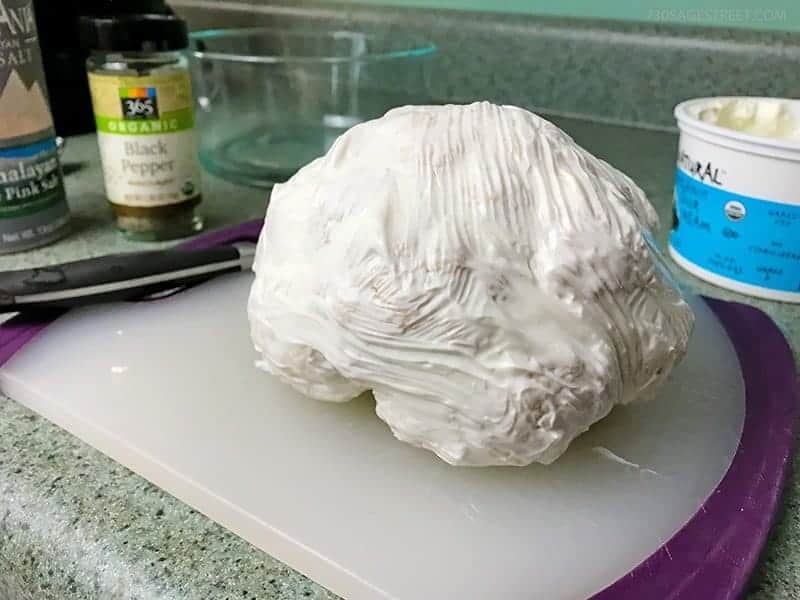 Air Frying Instructions
Now it's time to put our whole cauliflower head into the air fryer basket. Place it gently in the air fryer and then close it. It's going to be roasted whole.
Step 1
Set the air fryer temperature to about 350 degrees Fahrenheit (177 degrees Celsius) with a 15-minute timer.
Step 2
Check your cauliflower every 5 minutes to ensure it doesn't overcook. Take it out when it's done. You're aiming for a nice, warm golden brown. Serve the roasted cauliflower whole.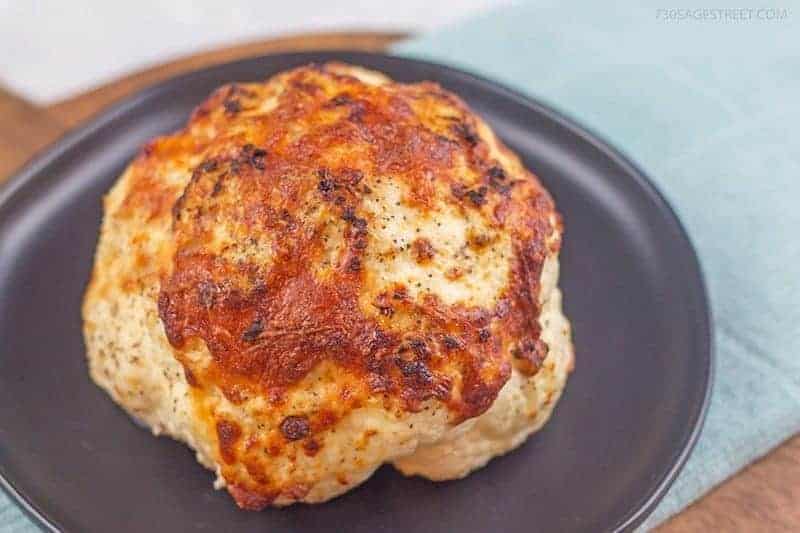 Step 3 - Optional
No air fryer brands works the same and the technology, air flow, temperatures and internal operations are slightly different. I use the 7 quart Philips Premium Air fryer XXL and while it is on the expensive side of air fryers, it is amazing.
Because of the above, first results can vary from air fryer to air fryer. When your whole cauliflower is ready, fork test for doneness and internal tenderness.
It may be perfect and most times it is. But for certain air fryers it may be underdone (finish in the oven) or overcooked (reduce heat by 50 degrees Fahrenheit) and make adjustments.
💭 Air Frying Tips
The spices given here are our recommendations, but there's no need to go strictly by the book. It's really up to personal preference. Remember, experimentation gives the best results! Next time will always taste better.
When coating the cauliflower head, it's best to go around the head in a circle from side to side and then coating the top side and bottom side separately. For even better results, you can make use of a basting brush to coat the cauliflower head. Remember to ensure that there isn't any dripping before moving on to roasting the head of cauliflower.
Some air fryer recipes tell you to preheat your air fryer before placing the cooking item in. This is not the case for this cauliflower recipe. In fact, it's quite the opposite. Do not heat up the air fryer prior to the whole cauliflower head being placed in it.
Due to the wide range of air fryer products on the market, a slightly higher or lower temperature or time than prescribed here might work better for your model. Experience and experimentation will teach you the best way, and a less than satisfactory result the first time is no reason to give up. You'll get it next time.
And there you have it. An absolutely delicious, whole head of cauliflower recipe that can serve as a main dish or side dish at your next dinner party. I personally love this recipe, as the kids will only be about 1 episode into a TV show in the time it takes to make this recipe.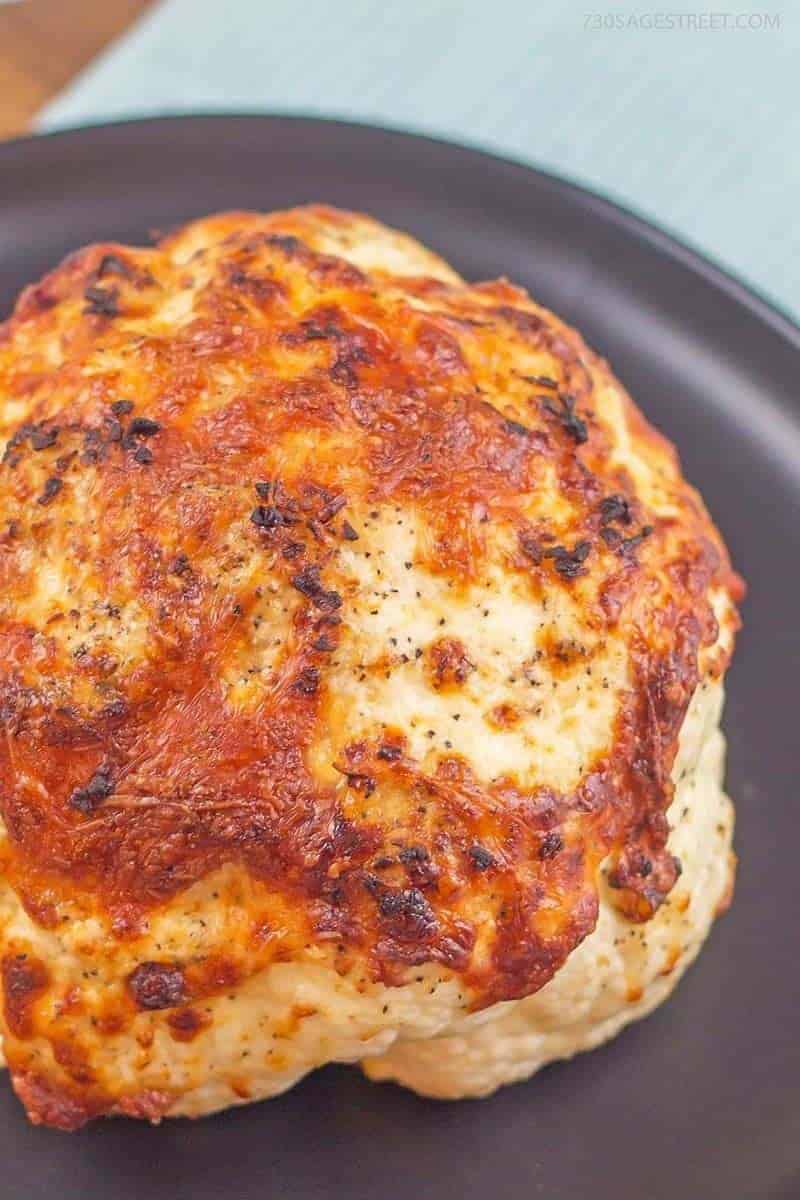 📖 Easy Roasted Cauliflower Variation
Try air fryer cauliflower steaks if your air fryer is under 6 quarts. You can roast cauliflower, otherwise try my cauliflower steaks with cream cheese recipe.
🥗 What to serve with
Roasted whole cauliflower can be enjoyed with a wide range of side dishes and sauces. My personal favorites as far as pairing goes is any sufficiently spicy sauce with an equally well done chicken recipe.
The recipes also lend themselves to pairing with herbs and grated cheese. Yogurt is also a surprisingly good way to accompany the dish.
I serve this whole roasted cauliflower with my creamy ranch pork chops and even my chicken enchilada casserole pairs perfectly. I love eating roasted cauliflower with creamy and saucy dishes. This recipe is one of the perfect side dishes for ham to put on your table in holiday season!
This would also go well with roast beef and leftover roast beef recipes.
🧊 Storing and ♨️ Reheating
Roasted cauliflower can be frozen and kept for good periods of time.
The best way to do this is to cut it into conveniently sized pieces (cauliflower steaks) and freeze them. Then you can reheat them in an oven at your convenience.
📝 Cooking Note
This recipe is for a standard single-function air fryer and requires a small tweak when using a multi-device cooker like the Instant Pot 11-in-1 or Ninja Foodi 9-in-1 cooker.
I recommend pressure cooking your whole roasted cauliflower for 3 minutes on low. Drain and apply the seasoning to the cauliflower head. And finally, AIR FRY for 10 minutes at 350 degrees. - Thank you Kelsea
📋 Recipe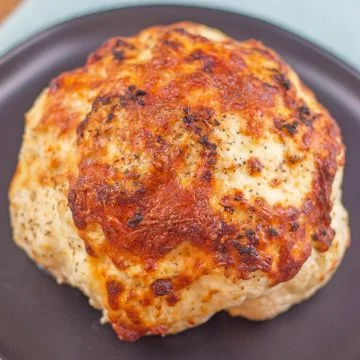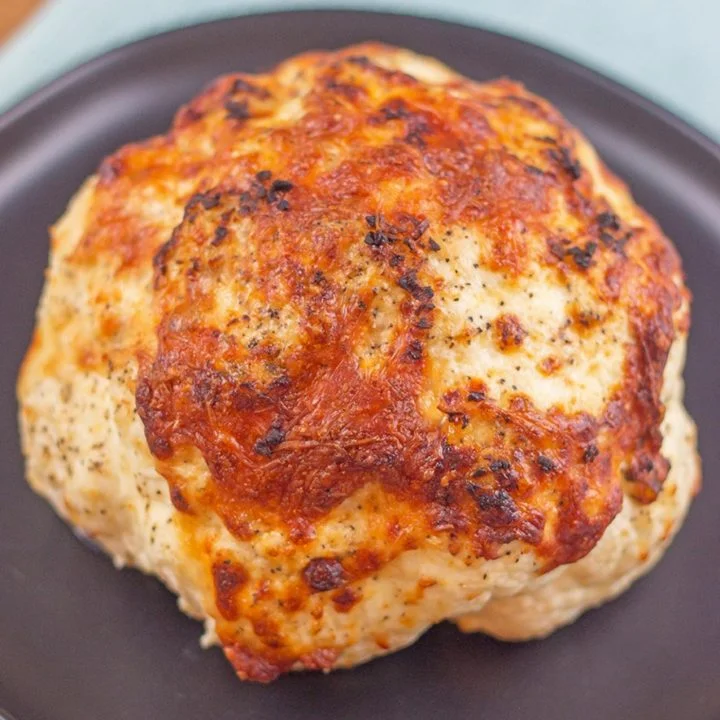 Air Fryer: Whole Roasted Cauliflower
Thanks to my air fryer, whole roasted cauliflower makes the perfect side-dish. Preparation is easy and air frying whole cauliflower leaves a fantastic crispy parmesan cheese flavor.
Print
Pin
Rate
Share
Equipment
7 Quart Air Fryer

Cutting Board

Chef's Knife

Mixing Bowl
Ingredients
1

whole

cauliflower

⅓

cup

sour cream

¼

cup

shredded Parmesan

1

teaspoon

salt

1

teaspoon

pepper

1

teaspoon

minced garlic
Instructions
Remove all the leaves from the head of cauliflower.

Cut as much of the stem out of the whole cauliflower as you can.

In a small bowl, mix the sour cream, Parmesan and seasonings together.

Spread seasoning mixture over the entire surface of the cauliflower.

Place into the basket of the air fryer. DO NOT preheat the air fryer.

Set the air fryer temperature to 350 degrees Fahrenheit (177 degrees Celsius)

Fry for about 15 minutes, checking the cauliflower regularly to make sure it doesn't over-cook.

Serve whole and allow diners to cut off pieces to their liking.
Notes
I serve this whole roasted cauliflower with my ultra creamy ranch pork chops and even my chicken enchilada casserole pairs perfectly.
I recommend pressure cooking your whole roasted cauliflower for 3 minutes on low. Drain and apply the seasoning to the cauliflower head. And finally, AIR FRY for 10 minutes at 350 degrees. - Thank you Kelsea
Nutrition
Serving:
6
g
|
Calories:
63
kcal
|
Carbohydrates:
20
g
|
Protein:
2
g
|
Fat:
5
g
|
Saturated Fat:
3
g
|
Cholesterol:
14
mg
|
Sodium:
697
mg
|
Potassium:
27
mg
|
Fiber:
10
g
|
Sugar:
1
g
|
Vitamin A:
170
IU
|
Vitamin C:
0.2
mg
|
Calcium:
95
mg
|
Iron:
0.1
mg