It is quite challenging to keep tweens and teens under control when you have them around in your home, especially during the holidays. Movies are an easy way for parents to bring the entire family together, and you should give it a try too. Below is a curated list of the 100 Best PG 13 Movies and TV you and your kids will find entertaining, interesting, and provide entertainment for hours.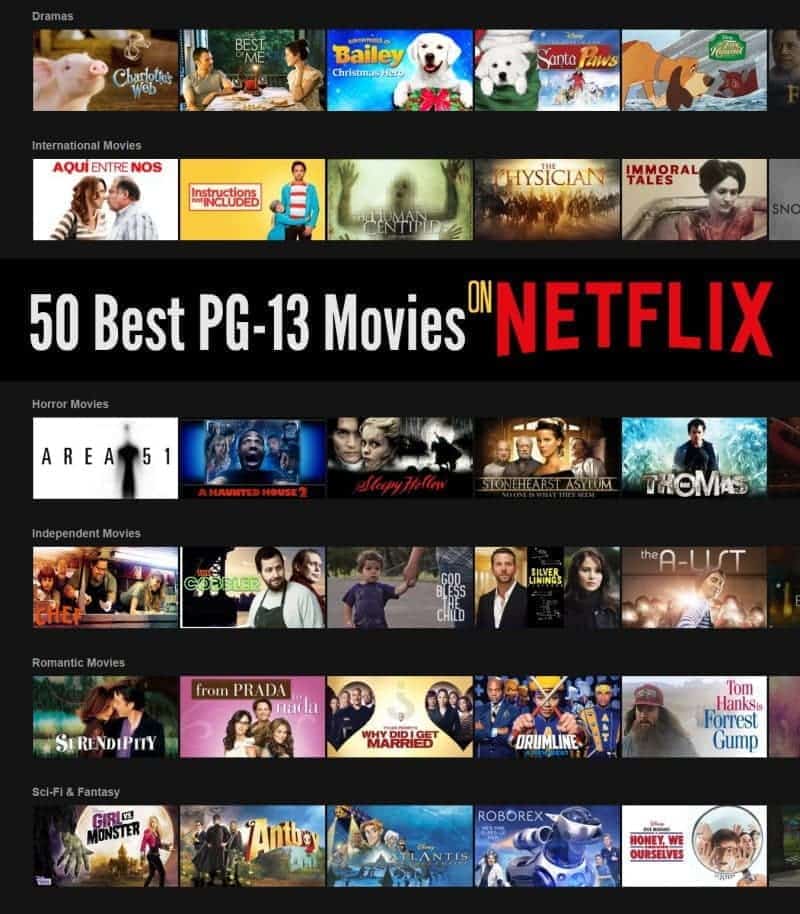 The tween and early teen years are a stressful time all around for parents but finding movies, they will want to watch that are age-appropriate aren't always easy which is why I decided to put together a list of the 100 Best PG 13 Movies and TV on Netflix. This list was recently updated on Feb 20th, 2021, and with your help, we can continue to keep this list up to date.
Teens and tweens don't want anything to do with kids movies, and they yearn to watch adult movies that really stretch the boundaries of what they should watch.
Kids are exposed to so much more than is age-appropriate these days, it's reassuring to be able to provide them with some entertainment options that you feel comfortable with and that they won't groan and roll their eyes over.
They may roll their eyes at YOU - they are teenagers, but these are some good pg-13 movies and TV series on Netflix.
How old do you have to be to see a PG 13 movie?
While there are no PG-13 rules from a legal perspective, kids under 13 can be prohibited from seeing a PG-13 movie in a theater if not accompanied by an adult. It is ultimately the decision of the parent what they deem acceptable for their kids to be exposed to.
PG-13 movies may have:
Nonsexual nudity
Very little profanity
Bloodless violence
There are some PG 13 movies that I let my 10-year-old watch and some that I would prefer that my 14-year-old didn't watch. I think when it comes to PG 13 movies, you just have to watch them first to decide if you are comfortable allowing your teen or tween to watch them.
When you think about it, funny pg-13 movies are a solid option for everyone. Good movies for 13-year olds on Netflix that the whole family will enjoy.
100 best PG 13 movies on Netflix
Regular movies on Netflix
Here are the movies for kids in Netflix. You should allow your tweens and teens to see if they are above 13 years of age.
Best movies for 13-14 year olds include:
Year: 2020
Director: Harry Bradbeer
Stars: Millie Bobby Brown, Sam Claflin, Henry Cavill, Louise Partridge, Adeel Akhtar, Frances de la Tour, Helena Bonham Carter, Burn Gorman, Susan Wokoma, Fiona Shaw
Genre: Mysteries, Action, Adventure, Crimes
Rating: PG-13
Enola Holmes refuses to walk in the shadow of her popular brother. She is intelligent, brave, and defies the norm that limits women's involvement in certain things in her time. One day, she discovers that her mother is missing and searches for her against all odds. She is faced with obstacles, but her bravery and tactics will help her solve the puzzle and help a young lord in the process.
Year: 2020
Director: Laura Terruso
Stars: Sabrina Carpenter, Jordan Fisher, Liza Koshy, Michelle Buteau, Keiynan Lonsdale, Drew Ray Tanner
Genre: Dance, Comedy, Drama
Rating: PG-13
A teen movie on Netflix released in August 2020 starring a high school senior who seems to be high achieving to attend the same college as her late father. Her college application got rejected as it is the same as many others, and she will have to prove herself from another angle. she joins a dance team and refines her dancing until she competes at a competition.
Year: 2020
Director: Elissa Down
Stars: Sofia Carson, Wolfgang Novogratz, Donna Lynne Champlin, Eva Hauge, Rex Lee
Genre: Dance, Comedy, Drama
Rating: PG
After failing at a Broadway audition, April, a dancer grudgingly returned home and accepted to train a group of unruly young dancers for a big competition. I feel the beat of a comedy-drama film makes the list of the best pg 13 movies on Netflix without a doubt.
Year: 2020
Director: Glen Keane
Stars: Cathy Ang, Phillipa Soo, Ken Jeong
Genre: Musical, Science fiction, Fantasy
Rating: PG
Over the moon is an animated musical fantasy where a brave Fei Fei builds a rocket to travel to the moon to show that the moon goddess truly exists. It is one of the movies that top the list of movies for kids on Netflix.
Year: 2015
Director: Rob Letterman
Stars: Jack Black, Dylan Minnette, Odeya Rush, Ryan Lee, Steven Krueger, Halston Sage, Jillian Bell, Caleb Emery
Genre: Horror, Action, Adventure
Rating: 7+
This is a horror-filled adventure movie where a teen is sad that he has to move to a small town. He soon gets a crush on his new neighbor, whose dad is a writer, and he writes scary fiction that will later become real. A must watch pg-13 movies on Netflix for younger ones.
Year: 2015
Director: Sean Cisterna
Stars: Ana Golja, Sarah Fisher. Asha Bromfield, Robbie Graham-Kuntz, Jennifer Beals, Lamar Johnson
Genre: Drama, Family, Sport
Rating: PG-13
It is one of the best pg 13 movies that is based on a true story. After a car accident that nearly destroyed her dreams, Ariana Berlin, a 14-year-old, finds new hope and confidence through hip-hop dance and, with time, revived her movements and got recalled into gymnastics. One of the reasons to watch the movie is that it teaches children the importance of courage and not giving up.
Year: 2019
Director: Sean Cisterna
Stars: Spenser Locke, Missi Pyle, Sherri Shepherd, Bailey Chase, Alyvia Alyn, Lind, Max Ehrich, Corbin Bleu, Kathleen Rose Perkins
Genre: Drama
Rating: PG-13
Amberley Snyder, a car accident survivor, now paralyzed from her waist down, will have to work hard to regain her passion for the sports activity she's passionate about- rodeo riding. Will she make it? Will her determination be worth it in the end? Find out when you watch the movie.
Year: 2018
Director: Andy Serkis
Stars: Christian Bale, Cate Blanchett, Benedict Cumberbatch, Naomie Harris, Andy Serkis, Matthew Rhys, Frieda Pinto, Rohan Chand
Genre: Adventure, Drama, Fantasy
Rating: PG-13
Mowgli's disappearances in the jungle when he was a little boy gave him a chance to learn the jungle's laws. Having been raised by a mother wolf among animals and being taken care of, he lived happily except for tiger Shere-Khan who was after him but later killed by a buffalo.
Year: 2009
Director: Rajkumar Hirani
Stars: Aamir Khan, Madhavan, Sharman Joshi, Mona Singh, Kareena Kapoor
Genre: Comedy, Drama
Rating: PG-13
3 idiots movie is one of the classic comedy-drama films that will make you laugh during the entire film. Rancho was an engineering student with his two friends who decide to look for him and recall their past college experiences. They also recall how he had inspired them to see things differently and be passionate against all odds. He made them chase their own dreams, and eventually, they too become successful.
Year: 2018
Director: Ian Samuels
Stars: Shannon Purser, Kristine Froseth, RJ Cyler, Loretta Devine, Giorgia Whigham, Alice Lee, Lea Thompson, Alan Ruck, Mary Pat Gleason, Chrissy Metz
Genre: Comedy, Drama
Rating: PG-13
Romance comedy teens film centers on a smart but unpopular and unattractive Sierra and her popular classmate Veronica. Jamey, a football player from another high school, met Veronica and asked for her phone number, but Veronica gave Sierra's number instead of hers. Sierra then develops an interest in him after a few chats. How will this end?
If you love movies about high school love, this is one of the best pg 13 movies. Get on Netflix to watch it.
Year: 2019
Director: Bruno Garotti
Stars: Maisa Silva, Filipe Bragança, Fernanda Paes Leme
Genre: Romance, Comedy
Rating: 7+
After her parent's divorce, this teen decided to carve her own course by being a DJ as she moves in with her aunt. She closed her heart to love until a singer fell in love with her mix, and something begins in this pg 13 movies.
Year: 2018
Director: Brandon Camp
Stars: Gabriel Bateman, Darby Camp, Kiele Sanchez, Jerod Haynes, Gralen Bryant Banks, Angus Sampson, Will Rothhaar, Jim Gleason, Brady Permenter, Benji
Genre: Drama
Rating: 7+
Benji is an orphaned puppy loved by two young kids, but his role in their lives is about to change when robbers kidnap them. The determined puppy comes to the rescue and restores happiness in the family. This is one of the must include movies to watch on Netflix.
Year: 2019
Director: Bret Haaland, Micah Gunnell, James Yang, Leo Riley, George Gipson (Depending on the seasons and the episodes)
Stars: Tyler Posey, Charlet Chung, Renée Elise Goldsberry, Jorge Diaz, Camille Ramsey, Luke Youngblood
Genre: Animation, Action, Crimes
Rating: PG-13
Fast and furious spy racers Rio is an animated series that features Tony Toretto and his adventurous friends. A government agency sent them to break into a top-secret racing league that wants to gain control over the world.
Year: 2019
Director: Nzingha Stewart
Stars: Ava Michelle, Griffin Gluck, Sabrina Carpenter, Paris Berelc, Luke Eisner, Clara Wilsey, Anjelika Washington, Rico Paris, Angela Kinsey, Steve Zahn
Genre: Romance, Comedy
Rating: 7+
Jodi is the tallest girl in school, making her a victim of bullying and jabs from her school mates. This makes her feel insecure, coupled with her father's worry that her condition may be a medical issue since her sister Harper is of an average height. A new guy comes to their school, and Jodi is interested in him but can't find a way to talk to him. Jodi is caught in a web of relationships between Stig, Schipper, and Dunkleman before homecoming but finally finds out an amusing secret about Dunkleman.
Year: 2020
Director: Brett Haley
Stars: Auli'i Cravalho, Justina Machado, Rhenzy Feliz, Fred Armisen, Carol Burnett, Judy Reyes, Taylor Richardson, C.S. Lee
Genre: Drama
Rating: PG-13
An American drama film based on the novel "Sorta like a rockstar," where Amber, a homeless high school girl, keeps her secret from friends while running different jobs to keep up. She sleeps with her mother, Becky, on the bus she drives until they were discovered. The mother had no choice but to move in with Oliver, an alcoholic who abuses Amber, but Amber refused to move in with them. The story continues with this pg 13 movies on Netflix.
Year: 2008
Director: Tom McGrath and Eric Darnell
Stars: Ben Stiller, Chris Rock, David Schwimmer, Jada Pinkett Smith, Sacha Baron Cohen, Cedric the Entertainer, Andy Richter, Bernie Mac, Alec Baldwin, Sherri Shepherd
Genre: Animation, Adventure, Comedy
Rating: PG-13
Madagascar Escape 2 Africa is one of the sequel movies of Madagascar. It is a pg 13 movie and also one of the kids movies in Netflix. The penguins reassemble an old worn-out plane that gives the zoo animals, including Alex, Morty, and the rest, a chance to escape from Madagascar. They make it to Africa, where for the first time, they meet their species. They find how wild the wild is and wonder if the wild is better than the zoo.
Year: 2016
Director: Yuen Woo-ping
Stars: Michelle Yeoh, Donnie Yen, Harry Shum Jr., Natasha Liu Bordizzo, Jason Scott Lee, Eugenia Yuan , Roger Yuan, JuJu Chan, Chris Pang , Woon Young Park, Darryl Quon
Genre: Action, Drama, Martial Arts
Rating: PG-13
Crouching tiger hidden dragon is a film set in the 19th century. Crouching tiger focuses on a man called Chow Yun-Fat, a warrior of the Qing Dynasty in China. He gave his sword to his lover Michelle Yeoh to keep it safe but is stolen. He sets out to look for it, and from his chase, he ends up in the House of Yu, where everything changes.
Year: 2016
Director: Mike Flanagan
Stars: Kate Bosworth, Thomas Jane, Jacob Tremblay, Annabeth Gish, Dash Mihok, Topher Bousquet
Genre: Horror, Drama, Thriller, Supernatural
Rating: PG-13
Mark and Jessie are excited to foster an eight-year-old boy Cody but little did they know that Cody was not a normal boy. Cody is scared of falling asleep, but Jessie just sees it like a normal fear that children have. But as days pass, the couple becomes shocked when they realize that Marks dreams and nightmares become real.
Year: 2019
Director: Kyle Newacheck
Stars: Adam Sandler, Jennifer Aniston, Luke Evans, Gemma Arterton, Adeel Akhtar, Luis Gerardo Méndez, Dany Boon, Terence Stamp
Genre: Romance, Drama, Action, Mystery, Comedy
Rating: PG-13
Facing marriage challenges, the New York City cop and his wife decide to go for a European vacation to reignite the spark in their marriage. An encounter happens that makes them be framed for the murder of an elderly billionaire.
Year: 2018
Director: Rhiannon Bannenberg
Stars: Debby Ryan, Genevieve Hegney, Andrew Creer, Naomi Sequeura, Valerie Bader, Aaron Jeffery, Jeremy Lindsay Taylor, Danielle Carter, Junue Tsukakoshi, Marcus Graham
Genre: Drama
Rating: PG-13
The Riptide is a family drama full of lessons, and you can enjoy watching with your teens. It centers on Cora, a passionate 18-year-old model raised by a strict mom who focuses more on her modeling career than her emotional stability. Things spiral out of control when a video of her falling down the stairs goes viral and ruins her career. She travels to Australia, where her aunt stays to begin her life again. There she feels welcome and begins to learn how to surf, which eventually leads to Tom's relationship, her instructor.
Year: 2015
Director: Lana Wachowski and Lilly Wachowski
Stars: Mila Kunis, Channing Tatum, Sean Bean, Eddie Redmayne, Douglas Booth, Edward Hogg, Maria Doyle Kennedy
Genre: Action, Adventure
Rating: PG-13
Jupiter ascending is one of the superhero movies that is pg 13, where Jupiter Jones is the main character who does house cleaning for people's houses but doesn't know that she is different. Since she was born under signs that showed she has a great future. Caine arrives on earth to search for Jupiter and show her destiny, which puts her next in line for an inheritance that could change the cosmos' balance.
Year: 2019
Director: Louise Alston
Stars: Sofia Wylie, Tiarnie Coupland, Trae Robin, Gemma Chua-Tran, Ashleigh Ross, Yasmin Honeychurch, Raj Labade, Christopher Kirby, Melissa Bonne, Kate Box
Genre: Comedy, Family movie
Rating: 7+
Cory Bailey is a science geek ready to spend summer at sea but finds herself at a soccer academy where she has to play with the local team and win the national tournament.
Year: 2020
Director: Owen Trevor
Stars: William Lodder, Anastasia Bampos, Darius Amarfio-Jefferson, Richard Roxburgh, Frances O'Connor, Dan Wyllie, Cooper van Grootel, Damian de Montemas
Genre: Sport, Family movie
Rating: 7+
A wild teenager discovered his interest in a high-speeding go-kart race and followed his heart until he gets identified by a former racer who's also the race track owner. The ex-racer becomes his coach, and he gets help from his friends also to win at the nationals.
Year: 2019
Director: Kate Melville
Stars: Tiya Sircar, Chad Connell, Marco Grazzini, Jesse Camacho, Mark Camacho, Elana Dunkelman, Kelly Hope Taylor, Kenny Wong, Daniela Sandiford, Christina Tannous
Genre: Drama, Family movie
Rating: 7+
Kate, a reporter, always searching for the next big story, got a chance to uncover the story behind the mysterious person dropping goodies at people's front door. This person is nicknamed a good samaritan (good Sam for short) and is already thought of as a miracle or answer to needs. Kate is skeptical and believes that this person must expect something in return for his good deeds. Kate finds love while uncovering the story.
Year: 2019
Director: Sophie Lanfear
Stars: David Attenborough
Genre: Documentary
Rating: PG
Our planet is an animated series documentary that reveals the planet's beauty by examining the effect of climate change on living creatures. It is one of the best pg 13 movies on Netflix for your kids
Year: 2019
Director: Nahnatchka Khan
Stars: Ali Wong, Randall Park, James Saito, Michelle Buteau, Vivian Bang, Keanu Reeves, Susan Park, Daniel Dae Kim, Karan Soni, Charlyne Yi
Genre: Romance, Comedy
Rating: PG-13
After not speaking for 15 years, two childhood sweethearts Marcus and Sasha, run into each other in San Francisco. Although they live in different worlds, their old sparks are still there.
Year: 2011
Director: Steven Spielberg
Stars: Emily Watson, Tom Hiddleston, Benedict Cumberbatch, David Thewlis, Peter Mullan, Niels Arestrup, Jeremy Irvine
Genre: Action, Drama, History, Adventure, War
Rating: PG-13
If you love pets and horses, Warhorse is a great film to watch. It shows how Albert and his horse Joey are separated in World War 1. Albert's father sells Joey to the British Cavalry and, in his journey, changes people that he meets along the way. On the other hand, Alberts searches for Joey on the battlefields of France to bring him home. Will he find Joey? Watch the movie to know.
Year: 2014
Director: Lasse Hallström
Stars: Hellen Mirren, Om Puri, Manish Dayal, Charlotte Le Bon
Genre: Drama, Comedy
Rating: PG
Hassam is a talented and self-taught culinary novice living in India, is displaced, and settles in a french village with his family. They open up an eatery for Indian dishes, making a proprietress Madame Malloryof a restaurant nearby, angry. Fights erupt between the two, but later Mallory sees the talent that Kadam has and takes him.
Year: 2017
Director: Peter Chelsom
Stars: Garry Oldman, Asa Butterfield, Carla Gugino, Britt Robertson
Genre: Science Fiction, Romance
Rating: PG-13
The first human to be born on Mars, Gardner Elliot starts an online friendship with Tulsa, who lives in Colorado. he finally gets back to earth and experiences the fun of earth and everything he used to read about it. Unfortunately, doctors discover that his organs cannot function on earth, and has to return. This makes him sad, and together with Tulsa, they ran away to find out more about his existence.
Year: 2018
Director: Anne Fletcher
Stars: Danielle Macdonald, Jennifer Aniston, Odeya Rush
Genre: Comedy, Drama, Musical
Rating: PG-13
The film shows the life of a plus-size teenage daughter whose mum is a former beauty queen. She signs up for her mum's pageant to revolutionalize it and the small town.
Year: 2016
Director: Gerard Barrett
Stars: Chloë Grace Moretz, Jenny Slate, Thomas Mann, Tyler Perry, Carrie-Anne Moss, Richard Armitage
Genre: Biography, Drama
Rating: PG-13
Susannah, a journalist at the New York Post, begins to hear voices in her head and seizures. As days pass by, she becomes more insane, and her behaviors change drastically. She gets misdiagnosed, but a particular doctor gives her a diagnosis that helps her build her life again.
Year: 2012
Director: Wayne Blair
Stars: Chris O'Dowd, Deborah Mailman, Jessica Mauboy, Shari Sebbens, Miranda Tapsell, Tory Kittles, Eka Darville
Genre: Musical, Comedy, Drama
Rating: PG-13
In 1968, a girl group consisting of 4 members set out to Vietnam to entertain the US troops. They come to learn a lot about war, friendship, and love.
Year: 2018
Director: Baltasar Kormákur
Stars: Shailene Woodley, Sam Claflin
Genre: Action, Adventure, Biography, Drama, Romance
Rating: PG-13
Tami and Richard didn't know that they were to face one of the most significant hurricanes in history when they set to sail. After the storm, Tami wakes to find Richard hurt and their boat in bad condition. Tami must gain strength to save the man she loves and herself.
Year: 2007
Director: Matthew Vaughn
Stars: Claire Danes, Michelle Pfeiffer, Robert De Niro, Charlie Cox, Sienna Miller, Ricky Gervais, Jason Flemyng, Rupert Everett, Peter O'Toole
Genre: Romantic, Fantasy, Adventure
Rating: PG-13
A young man Tristan, set to win the heart of his beloved Sienna, venture into the realm of fairies to get a fallen star. He finds the fallen star, but it was not what he expected as it was a woman Yvaine. she has powers that are wanted by the sons of aking and an evil witch.
As our children get older this list will provide us with a way to bond over movies that don't cross a line I am uncomfortable with and give them the satisfaction that they aren't being forced to watch "baby" shows.
Year: 2020
Director: Jeff Orlowski
Stars: Skyler Gisondo, Kara Hayward, Vincent Kartheiser
Genre: Documentary, Drama
Rating: PG-13
A mixture of documentary and drama that explains the impact of social networking and the danger it does. The social dilemma is a must watch pg 13 movie to help your children know more about social media.
Year: 2008
Director: Adam Brooks
Stars: Ryan Reynolds, Abigail Breslin, Rachel Weisz, Kevin Kline, Isla Fisher, Elizabeth Banks, Liane Balaban, Derek Luke, Adam Ferrara, Annie Parisse
Genre: Romantic, Comedy
Rating: PG-13
In the middle of divorce proceedings, Abigail Breslin, a daughter of the divorcees, asks her father, Will Hayes, about his life before marriage. He flashes back to 1992, the times that he was involved with three women. Watch this Netflix pg 13 to know how he ended up choosing Abigail's mother as his wife instead of the other two women.
Year: 2020
Director: Grant Sputore
Stars: Clara Rugaard, Rose Byrne, Hilary Swank
Genre: Science Fiction, Horror, Drama, Thriller
Rating: PG-13
A young teenager is raised by a robot that is specially designed to repopulate Earth. The relationship is threatened by a stranger who arrives with shocking news.
Year: 2011
Director: Shawn Levy
Stars: Hugh Jackman, Dakota Goyo, Evangeline Lilly, Anthony Mackie, Kevin Durand
Genre: Science fiction, Sport, Drama
Rating: PG-13
Developments of the world lead to the growth of robots, which took over the boxing ring. It made a prizefighter Charlie Kenton lose his job and do another job of converting scrap metal to low-end fighters. The money was barely enough to make ends meet, and he ended up teaming up with his estranged son, Max, to build and train a championship robot.
Year: 2004
Director: Nick Cassavetes
Stars: Ryan Gosling, Rachel McAdams, James Garner, Gena Rowlans, James Marsden, Joan Allen. Sam Shepard, Kevin Connolly
Genre: Romance, Drama
Rating: PG-13
A classic movie set in the 1940s where a mill worker Noah Calhoun and a rich girl Allie fall in love but unfortunately, their parents disapprove of the relationship. Noah goes to serve in the military in World Was 2, and Allie involves with another man. A few years later, Noah returns to the country when Allie's marriage is not okay.
Year: 2018
Director: Susan Johnson
Stars: Lana Condor, Noah Centineo, Janel Parrish, Anna Cathcart, Andrew Bachelor, Trezzo Mahoro, Madeleine Arthur, Israel Broussard, Emilija Baranac, John Corbett
Genre: Romance, Comedy, Drama
Rating: PG-13
It is one of the teen comedy romance pg 13 movies on Netflix that will keep your eyes glued on TV. It focuses on Lara Jean's love story, where she writes love letters about all the boys she's ever loved. The letters are for her eyes only, but all the love letters are sent to all the boys one day. Her life goes into chaos when all the boys confront her one by one.
Year: 2016
Director: Sunao Katabuchi
Stars: Rena Nōnen, Yoshimasa Hosoya, Natsuki Inaba, Minori Omi, Daisuke Ono, Megumi Han, Shigeru Ushiyama, Mayumi Shintani, Nanase Iwai, Tengai Shibuya III
Genre: Animation, War, Drama
Rating: PG-13
A young spirited 18 years old woman is married to a man she doesn't even know and faces the struggles of living in Hiroshima during World War 2.
Year: 2019
Director: Castille Landon, Roger Kumble, Jenny Gage
Stars: Jennifer Gibgot, Courtney Solomon, Mark Canton, Aron Levitz, Anna Todd, Meadow Williams, Dennis Pelino
Genre: Romance, Drama
Rating: PG-13
Tessa Young is an average girl dutiful daughter, dedicated to her studies and a loyal girlfriend to her high school sweetheart. Starting her first semester of college, Tessa meets a mysterious and rebel guy Hardin Scott. Her experiences with Scott opens up her world, and she is left questioning herself and what she wants in life.
Year: 2010
Director: Roger Michell
Stars: Rachel McAdams, Harrison Ford, Diane Keaton, Patrick Wilson, Jeff Goldblum
Genre: Romance, Comedy
Rating: PG-13
Becky Fuller is hired as a producer for a morning news program, "Daybreak," and decides to revitalize the show by adding an anchorman Pomeroy to work with his co-host, Diane. The two hosts end up clashing, and Pomeroy refuses to do lifestyle news. Becky, on the other hand, struggles to save her job and relationship.
Year: 2018
Director: Charles Stone III
Stars: Megalyn Echikunwoke, Eden Sher, Lyndon Smith, Gage Golightly, Matt McGorry, Marque Richardson, Alessandra Torresani, Naturi Naughton, Nia Jervier, Robert Curtis Brown
Genre: Comedy, Dance, Drama
Rating: PG-13
Jamilah is a very talented college girl not only in step dance but also in her studies. Though black, she helped her white colleague who had embarrassed the institute for their step dance incompetence. She enabled them even to win the competition.

Year: 2017
Director: Dan Harris
Stars: Liam James, Sarah Steele, Austin P. McKenzie
Genre: Comedy, Drama
Rating: PG-13
The three teenagers in the play are strangers, facing different problems but decided to work together to deal with and expose their issues. Despite the significant issues they were dealing with, they could joyfully speak them up with a lot of confidence.
Year: 2016
Director: Jeff Nichols
Stars: Michael Shannon, Joel Edgerton, Kirsten Dunst, Adan Driver, Jaeden Martell, Sam Shepard
Genre: Science Fiction, Thriller, Drama
Rating: PG-13
Midnight Special is one of the Netflix pg 13 films where a young boy with special powers is on the run with his father because the government and some religious extremists are pursuing them.
Year: 2014
Director: James Marsh
Stars: Eddie Redmayne, Felicity Jones, Charlie Cox, David Thewlis, Simon McBurney, Emily Watson, Maxine Peake, Harry Lloyd, Guy Oliver-Watts, Abigail Cruttenden
Genre: Drama
Rating: PG-13
The theory of everything movie happens in the 1960s where a Cambridge university student Stephen Hawking falls in love with Jane Wilde, also a fellow collegian. At 21, Hawking learns he has motor neuron disease and has little time to live. He and his girlfriend defy odds and break new grounds in the medicine and science field. Watch it to know more about what they achieved.
Year: 2008
Director: Steven Spielberg
Stars: Harrison Ford, Cate Blanchett, Karen Allen
Genre: Action, Adventure
Rating: PG-13
Indiana Jones movie happens during the Cold War. A famous archeologist Indiana Jones is returning from his latest adventure and finds out his job is in jeopardy. On his way, he met Mutt, who wants Indian Jones to help him find the Crystal Skull of Akator, which he agrees, and they go to Peru.
Year: 2011
Director: Stephen K. Bannon
Stars: Sarah Palin, Joe Biden, Pamela Anderson, and other figures as themselves in this documentary
Genre: Documentary
Rating: PG-13
The undefeated movie looks at how the U.S government persecuted native Americans Americans and tried to erase Indian culture. The story is about Jim Thorpe and the Carlisle Indian School Football Team. Find out more about the movie on Netflix.
Now that you have a full list of PG 14 Kids Netflix movies to keep them engaged for the holidays, maybe you can even focus on yourself while your kids are being entertained.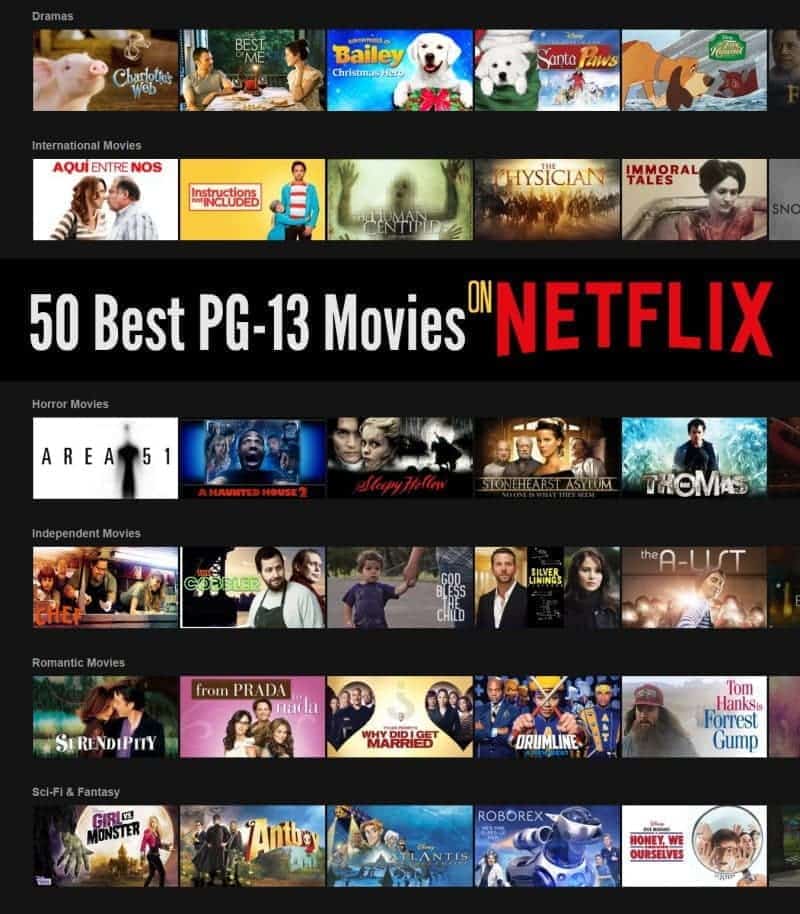 Best PG-13 Netflix Originals
Here are several recommendations of best PG-13 movies originally made by Netflix.
Year: 2017
Director: Seth Gordon
Stars: Jennifer Jason Leigh, Keir Gilchrist, Michael Rapaport
Genre: Comedy, Drama, Coming-of-age
Rating: PG-13
This comedy-drama Netflix original series was commonly known as Antarctica. It tells a journey of an autism kid named Sam, who desperately wants to have a girlfriend, date her, and have a relationship like other people. The whole series show us how he manages his feeling to his crush while maintaining relationships with his family and friends.
Year: 2020
Director: Edward Zwick, Jeffrey Reiner, Bronwen Hughes, David Boyed, Charlotte Brandstrom, Jet Wilkinson
Stars: Hilary Swank, Josh Charles, Vivian Wu
Genre: Science fiction, Romance, Drama
Rating: PG-14
The Oscar winning cast, Hilary Swank plays as a space commander, who works on a mission to Mars with some crews from different nations. There are a lot of breathtaking space scenes that will entertain the audience although some of them maybe too intense for some younger viewer.
Year: 2019
Director: Chiwetel Ejiofor
Stars: Maxwell Simba, Chiwetel Ejiofor, Aïssa Maïga
Genre: Documentary, Biography, Drama
Rating: PG-13
This movie receives an Oscar nominee since it contains messages that will move the hearts of its viewers. This is one of the best movies to watch with parents as it can foster discussions between parents and children. It tells a true story on how a young engineer, William, tries to build a wind turbine from scratch in an effort to enable people in his village harvest a successful crop.
Year: 2020
Director: Brad Silberling, Pamela Romanowsky, Fred Savage
Stars: Midori Francis, Austin Abrams, Dante Brown
Genre: Romance, Comedy
Rating: PG-13
Dash & Lily are two teenagers who have a crush to each other. They have a notebook, where they exchange messages and dares. The conflicts arise when they realize that this world is not only about both of them. They have to deal with exes, friends, and family members.
Year: 2017
Director: Julian T Pinder
Stars: -
Genre: Documentary
Rating: PG-13
This environmental documentary is produced by the legendary actor, Leonardo DiCaprio, rated 100% in rotten tomatoes and 6.6/10 in IMDb. Viewers can see what truly happen during California fire from the eyes of the firefighters. A great movie selection for the whole family with teenagers and tweens.
Year: 2020
Director: William Acks, Sam LaCroix, France Costrel, Melissa Wood
Stars: -
Genre: Documentary
Rating: PG-13
Gamers will definitely love this series as it portrays the history of legendary video game tittles, including the innovators and the story behind their making. The genre of the movie is Science documentaries and is quite popular among US teenage viewers.
Year: 2020
Directors: Sue Ding
Stars: Naia Cucukov, Gale Galligan, Sarah Kuhn, C. B. Lee, Yumi Sakugawa, Phil Yu
Genre: Documentary
Rating: PG-13
This movie is the Asian version of The Baby-Sitters Club. If you love the Baby-Sitters Club, you must love this movie as well although the discussion focuses more on Claudia Kishi, a Japanese-American character in the movie.
Year: 2020
Director: Mark Romanek
Stars: Darby Stanchfield, Connor Jessup, Emilia Jones
Genre: Horror, Supernatural, Thriller
Rating: PG-13
3 siblings and their mom have to move to their ancestor's home after the unexpected death of their father. In their new home, they discover so many magical keys with different powers. They soon realize that the keys may contribute to their father's death. This horror fantasy movie is a perfect choice for family movie nights.
Year: 2016
Director: Shawn Levy
Stars: Winona Ryder, David Harbour, Finn Wolfhard, Millie Bobby Brown, Gaten Matarazzo, Caleb McLaughlin, Noah Schnapp, Sadie Sink, Natalia Dyer, Charlie Heaton, Joe Keery, Dacre Montgomery, Maya Hawke, Priah Ferguson, Cara Buono, Matthew Modine, Paul Reiser, Sean Austin
Genre: Horror, Supernatural, Thriller
Rating: PG -13
Get ready for the best Halloween series on Netflix right now, Stranger Things. After the disappearance of a boy in Hawkins, Indiana, more and more extraordinary occurrences happen, from the appearance of a mysterious girl called Eleven to terrifying lab's experiments.
Year: 2020
Director: Norman Buckley
Stars: JoAnna Garcia Swisher, Brooke Elliott, Heather Headley
Genre: Romance, Drama
Rating: PG-13
This romantic dramas is made based on a book under the same tittle, written by Sherryl Woods. There are three female best friends get each other's back as they experience roller coaster relationships and career lives. There are a lot of heartwarming scenes as the friendship get stronger--something that we can relate to in our real life.
Year: 2018
Director: Brian Volk-Weiss
Stars: -
Genre: Documentary
Rating: PG-13
The show will attract teens with interest in toys and entrepreneurships as the documentaries picture the journey of popular toys like Ninja Turtles, Power Rangers, My Little Pony, and more. Not only the success stories, the movies also explain the challenges and failure the inventors' experience along the way.
Year: 2020-2021
Director: Takashi Kamei, Kazuma Shimizu, KOJI
Stars: -
Genre: Animation, Science Fiction, Action
Rating: PG/7+
Transformer: War for Cybertron Trilogy consist of "Siege", "Earthrise", and "Kingdom", are a great family anime movies to watch together. Like the movie, the animation also tells the war between Autobots and Decepticons. The characters of Optimus Prime, Bumblebee, Megatron, and Wheeljack constantly appear in the trilogy.
Year: 2020
Director: N/A
Stars: -
Genre: Mystery, Crimes, Drama
Rating: PG
Although some scenes can cause trauma to some children due to emotional dramas from real-case abductions, disappearances, murders, and paranormal activities, many teens and tweens find it interesting to watch the series. Each episode will tell a different mystery with in depth interviews with those involving in the real events.
Year: 2020
Director: Alice Wu
Stars: Leah Lewis, Daniel Diemer, Alexxis Lemire
Genre: Drama
Rating: PG-13
This low budget romantic comedy movie has hypnotized many teens all over America and become a hit. It starts when a not-so-popular football player, Paul Munsky, asks an introvert girl in his school, Ellie Chu, to write a love letter to the girl he has a crush with. Ellie sets up a date between Paul and Aster, but it turns to be a total disaster. Then, Paul asks Ellie to teach him literature, so he can approach Aster properly. Although the plot is quite ordinary but the ending is such a sweet twist.
Year: 2018
Director: Andy Cadiff, Jeff Melman, Victor Gonzalez, Phil Lewis, Trevor Kirschner, Katy Garretson, Jody Margolin Hahn, Kelly Park, Gloria Calderon Kellett, Erika Kaestle
Stars: Paris Berelc, Isabel May, Tiffani Thiessen
Genre: Sitcom, Comedy
Rating: PG
Alexa and Katie are best friends who support each other to face whatever comes in lives. They both start high school together and agree to hide the fact that Alexa is battling cancer. They both even shave their hair bald and wear wigs during Alexa's treatment.
Year: 2019
Director: Louise Leterrier
Stars: Taron Egerton, Nathalie Emmanuel, Anya Taylor-Joy
Genre: Fantasy, Adventure, Science Fiction
Rating: PG
In the world of Thra, three brave Gelflings try to unite their clans in order to save their planet and fight against the dark tyrant leader, Skeksis. During their quest, the three Gelflings have to face many obstacles, like solving the mysterious symbols.
Year: 2019
Director: Masahito Kobayashi
Stars: Mikako Tabe, Soki Matsumoto, Takayuki Yamada
Genre: Animation, Drama
Rating: PG/10+
There are plenty of heartwarming scenes in this stop-motion animation. Kaoru is an ordinary girl with everyday problems most teenagers face. However, she always find a comfort in her brown bear friend, Rilakkuma. With her other stuffed friends, Korilakkuma the white bear and Kiiroitori the yellow chick, they go from one daily life adventure to another and create memories.
Year: 2018
Director: Jeremy Garelick,
Stars: Sam Ashe Arnold, Cole Sand, Briana Reed, Brittany Garms
Genre: Comedy
Rating: PG/7+
A group of four teenagers are on the trip to a Comic-Con to meet their the author of their favorite comic, Starcrasher. However, they get banned for life from Comic-Con because two of them try to sneak in. Later, they plan to have an "literature event" to get the attention of the comic author to come. The event turns into the best party ever.
Year: 2018
Director: Christine McConnell
Stars: Christine McConnell, Colleen Smith, Adam Mayfield
Genre: Sitcom
Rating: PG-13
Christine McConnel is a baker who love to create odd creatures and weird wicked looking food. On Halloween, she makes lots of edible spiders. On a birthday she bakes a fairy batwings cake. And on a dinner date, she creates wolf-claw donuts.
Year: 2018
Director: Shinji Higuchi
Stars: Misaki Kuno, Tomoyo Kurosawa, Maki Kawase
Genre: Animation, Adventure, Action, Drama
Rating: PG-13
A rookie pilot, Hisone Amakasu, meet a dragon named Masotan in the air base. The dragon disguises as a plane and chooses Hisone as his pilot. Soon, Hisone's career in the Air Self-Defense Force changes for good.
Year: 2018
Director: Morita to Jumpei
Stars: Konomi Suzuki, Yukari Tamura, Misaki Kuno
Genre: Animation, Drama, Musical
Rating: PG-13
The musical anime movie is about the power of songs owned by two girls with different characters, Rin and Finis. With a war setting on the background, the two girls can heal people and control fire, wind, and water. In each episode, they reveal more and more power in their song.
The Best Family Movies on Netflix
In the following movies, you will find the list of the best family movies to watch on Netflix in the United States.
Year: 2017
Director: Sydney Freeland
Stars: Rachel Crow, Ashleigh Murray, Sasheer Zamata
Genre: Adventure, Crimes, Drama
Rating: PG-13
In an effort to make end meet and pay the bills without the presence of their mother, two teens, Deidra and Laney, create a plan to rob a nighttime train that passes by their house. They board the train, choose boxes, and take things. Despite the actions, both sisters also have to deal with tons of teenager's issues at school.
Year: 2011
Director: Gore Verbinski
Stars: Johnny Depp, Isla Fisher, Abigail Breslin, Stephen Root
Genre: Animation, Comedy, Adventure
Rating: PG
Like typical wild wild west movie, Rango tells a story of a pet chameleon that mistakenly appointed as a sheriff to save a western town, Dirt. With a legendary actor, Johnny Depp, as the voice of Rango, teens and tweens will get entertained with hilarious humor and funny adventure of the chameleon's journey to find who is behind the missing water in town.
Year: 2021
Director: Michael Fimognari
Stars: Lana Condor, Noah Centineo, Janel Parrish
Genre: Romance, Comedy
Rating: PG-13
Viewers rate this movie as one of the best romantic comedies in Netflix. The storyline is quite light and enjoyable for teens to watch--about a high school girl, Lara Jean, who has to decide between going to a University that is closer to her boyfriend or a University that she likes. Her boyfriend breaks her up until he finally makes his mind up and writes a love letter, along with a proposed contract to sign.
Year: 2019
Director: Joe Murray, Cosmo Serguson
Stars: Carlos Alazraqui, Tom Kenny, Mr. Lawrence, Charlie Adler
Genre: Comed
Rating: PG-13
This movie is adapted from a classic cartoon with the same tittle. This time, Rocko returns to his hometown in the 21st century after being trapped in space for 20 years. He doesn't enjoy the O-Town so much so he tries to find the creator of his favorite show with the attempt to bring the show back.
Year: 2016
Director: John Lee
Stars: Paul Reubens, Joe Manganiello, Jessica Pohly
Genre: Comedy, Adventure
Rating: PG-13
Pee Wee Herman finally goes on his first holiday ever after he meets Joe Mangeniello. He travels across the country to New York to attend his new friend's birthday in his old Fiat 600 car. On his journey, he meets 3 bank robbers that turn his holiday plan into an unexpected adventure.
Year: 2021
Director: David Yarovesky
Stars: Winslow Fegley, Lidya Jewett, Krysten Ritter
Genre: Horror, Fantasy
Rating: PG/7+
This movie is a kind of kids friendly Halloween movie that can be watched with the whole family. A fan of scary stories, Alex, creates Nightbooks, which consists of all scary story he has written himself. One day, he decides to stop writing scary stories and burn the book. On his way to the furnace, he finds a magical apartment's room that leads him to a scary adventure he has never imagined.
Year: 2017
Director: Jake Kasdan
Stars: Dwayne Johnson, Kevin Hart, Jack Black
Genre: Adventure, Action, Drama
Rating: PG-13
This time, the Jumanji game suck four high school students into the video game. They are trapped in their adult avatars as completely different individuals. They have to work as a team to finish the game together in order to escape from the jungle.
Year: 2015
Director: Mark Osborne
Stars: Jeff Bridges, Rachel McAdams, Paul Rudd, Bud Cort, James Franco
Genre: Drama, Adventure
Rating: PG-13
A young girl has a elderly neighbor who was once a pilot. He tells her a story of his encounter with a little prince in Sahara desert. The story excites her so much that she is disappointed with the twist at the end of the story. She wishes that she has never met the old neighbor or heard the story of the little prince.
Year: 2016
Director: Steven Spielberg
Stars: Mark Rylance, Ruby Barnhill, Penelope Wilton
Genre: Drama
Rating: PG
The BFG stands for the Big Friendly Giant, a movie about the friendship of an orphan girl with a kind-hearted giant. Like other Disney's movie, The BFG is rich of moral messages that can make you weep easily.
Year: 2005
Director: Jon Favreau
Stars: Jonah Bobo, Josh Hutcherson, Dax Shepard, Kristen Steward
Genre: Drama, Science Fiction, Adventure
Rating: PG
Two brothers, Walter and Danny, play a old board game they found earlier in their basement. The board game, Zathura, has the ability to affect the real world as they play it. They soon realize that Zathura brings his house, and all the people inside, in outer space. They have to win the game to return back to their normal lives.
Year: 2017
Director: Jos Humphrey, Steven Garcia, Andrew Duncan, Johnny Darrell
Stars: Mark Edwards, Katie Griffin, David Berni, Seán Cullen, Patrick McKenna, Clé Bennett
Genre: Science Fiction, Adventure
Rating: PG
A high school student, Flint Lockwood, is so fond of invention. Together with his best friend (Sam Spark), his father (Tim), and the monkey (Steve), they have fun in a sci-fi teen adventure to create things that sometimes seem unrealistic.
Year: 2020
Director: Sam Fell and Chris Butler
Stars: Kodi Smit-McPhee, Tucker Albrizzi, Anna Kendrick
Genre: Horror, Adventure
Rating: PG
An extraordinary boy, Norman, who has an ability to talk with the dead tries to save his hometown, Blithe Hollow, from zombies who are risen due to an unexpected annual ritual. In his effort to save the town, Norman finds out the ugly truth that he realizes he is the only one that can break the curse.
Year: 2012
Director: Chris Renaud and Kyle Balda
Stars: Danny DeVito, Ed Helms, Taylor Swift
Genre: Family, Drama, Animation
Rating: PG
One of the famous Dr. Seuss' classics, The Lorax, hits American Netflix in 2020. Lorax has the mission to save his world from a greedy the Once-lar who likes to cut down trees and replace them with artificial ones for profit.
Year: 2016
Director: J. A. Bayona
Stars: Lewis MacDoughall, Sigourney Weaver, Felicity Jones, Toby Kebbell, Liam Neeson
Genre: Fantasy, Drama
Rating: PG-13
A Monster Calls is a dark fantasy movie of a kid who gets a lot of bullies at school and has to care for his terminally ill mom at home. He encounters with a talking giant tree who promises him three stories. In return, he has to tell the fourth tale.
Year: 2021
Director: Amy Poehler
Stars: Hadley Robinson, Lauren Tsai, Patrick Schwarzenegger
Genre: Drama
Rating: PG-13
Vivian is a 16-year-old high schooler who is sick of sexism in her surroundings. She creates a zine, entitled Moxie, and distributes it at her school to raise awareness of unfair treatments women often face. This movement is somehow not supported by the principle until Vivian receives a letter from a girl who was raped by the most popular guy at school.
Year: 2020
Director: Kris Pearn
Stars: Will Forte, Maya Rudolph, Ricky Gervais, Alessia Cara, Terry Crews, Jane Krakowski, Martin Short, Seán Cullen
Genre: Animation, Comedy
Rating: PG
Four siblings are raised by two selfish parents who neglect their physical and emotional needs. The four finally make a plan to 'get rid' of their parents and create a 'perfect family' on their own. Their parents survive and return home with a crazy plan to sell the house.
Year: 2007
Director: Adam Shankman
Stars: John Travolta, Queen Latifah, Nikki Blonsky, Michelle Pfeiffer, Christopher Walken, Amanda Bynes, James Marsden, Brittany Snow, Zac Efron
Genre: Drama, Musical, Comedy
Rating: PG
This musical comedy is full of top ratted actresses and actors. The storyline contains strong messages on racism and discrimination as Tracy Turnbald, a plus sized teenager who loves singing and dancing, gets an opportunity to star a TV dance show. She finds out that there are a lot of discriminations against women of colors and plus sizes.
Year: 2015
Director: Tim Johnson
Stars: Jim Parsons, Rihanna, Steve Martin
Genre: Science Fiction, Comedy, Adventure, Drama
Rating: PG
Home is a movie about a friendship between an alien named Oh with a teenage girl named Tip. Oh mistakenly invite the entire galaxy for a party that he runs away avoiding troubles. He meets Tip, who apparently hates Boov (the entire Oh's species). They both help each other. Oh helps Tip finds her mother, and Tip helps Oh to win over Gorg species, Boov biggest enemies. If you like the movie, you can also watch Home series on Netflix. In the series, Oh moves in Tip's house on earth and becomes a part of her family.
Year: 2021
Director: Michael Rianda
Stars: Danny McBride, Abbi Jacobson, Maya Rudolph
Genre: Animation, Science Fiction, Adventure, Comedy
Rating: PG-13
Rick Mitchell plans a family cross-country car trip to take his daughter, Katie, to college and create a stronger family bonding. On the way to the college, they have to deal with evil robots that try to capture them. As they escape, the father and daughter reveal their love for each other.
Year: 2017
Director: Bong Joon-ho
Stars: Tilda Swinton, Jake Gyllenhaal, An Seo Hyun
Genre: Science fiction, Action, Adventure, Drama
Rating: PG-13
This movie reminds us how awful and greedy the human species is. A little girl, Mija, has a super pig named Okja that attracts the attention of Mirando Corporation. This company brings Okja to NYC, and Mija tries to rescue it. Apparently, the company is under investigation for mistreating animals by Animal Liberation Front. Although this movie is rich in environmental messages, there are many explicit words and horrible scenes of animals being captured.
Year: 2020
Director: Jude Weng
Stars: Kea Peahu, Alex Aiono, Lindsay Watson
Genre: Adventure, Action, Comedy
Rating: PG
Kids will find this hilarious adventure movie so entertaining. Two siblings go to O'ahu, Hawaii, where they can finally reconnect with their native heritage and cultures. Pili finds her grandpa's diary and learns that there is a lost pirate treasure on the island. Then, they plan a quest in search of the treasure.
Year: 2020
Director: Kirsten Johnson
Stars: Richard Johnson (Dick) and Kristen Johnson
Genre: Adventure, Horror
Rating: PG-13
The documentary movie is about an elderly named Dick, who has dementia, and his daughter, Kristen. Both of them know that Dick's time is almost over, so they want to create a documentary to prepare themselves for Dick's death in such a comedy.
Year: 1975 (Jaws), 1978 (Jaws 2), 1983 (Jaws 3-D), and 1987 (Jaws: The Revenge)
Director: Steven Spielberg, Jeannot Szwarc, Joe Alves, and Joseph Sargent (each directed one of all in the franchise)
Stars: Roy Scheider, Robert Shaw, Richard Dreyfuss, Lorraine Gary, Murray Hamilton, Dennis Quaid, Bess Armstrong, Simon MacCorkindale, Louise Gossett, Jr., Lance Guest, Mario Van Peebles, Karen Young, Michael Caine
Genre: Adventure, Horror
Rating: PG-13
These are the best thriller classics you can find on Netflix. Each movie tells about a giant sea creature that terrorizes people who are in its territory. A lot of blood and horrific actions make parents accompany their kids watching the franchise.
Year: 2010
Director: Harald Zwart
Stars: Jaden Smith, Jackie Chan, Taraji P. Henson
Genre: Action, Drama, Martial Art
Rating: PG
Adapted from the classic and one of the best action movies, The Karate Kid (1984), this movie portrays the journey of a young kid, Dre, who tries to defend himself from bullies. He meets a Kung-Fu master who teaches him not only to fight but also to understand himself better.
Year: 2018
Director: Jon Hurwitz & Hayden Schlossberg, Jennifer Celotta, Josh Heald, Steve Pink, Michael Grossman, Lin Oeding, Steven Tsuchida,
Stars: Ralph Macchio, William Zabka, Xolo Maridueña
Genre: Action, Drama, Martial Art
Rating: PG-13
The series is also adapted from the classic martial art movie Karate Kid (1984) with more sense of humor and drama. Johnny Lawrence intends to reopen his Karate dojo, Cobra Kai, to regain his past. The reopening of the dojo brings a lot of familiar things in his past back, including his old enemy, Daniel LaRusso.
Year: 2018
Director: Patrick Harkins, Jim Shield, Dan Berlinka, Neil Wilkinson
Stars: Lisa Ambalavanar, Ellie Duckles, Savannah Baker
Genre: Drama, Mystery, Thriller, Supernatural
Rating: PG-13
Several teenagers go to a camp on a remote island when they encounter supernatural activities. The center of the story revolves around the rivalry between Mia and Amber. Mia discovers that a year earlier, a camper girl died in one of the cabins.
Year: 2010
Director: Edgar Wright
Stars: Michael Cera, Mary Elizabeth Winstead, Kieran Culkin
Genre: Romance, Action, Comedy
Rating: PG-13
A young musician, Scott Pilgrim, is trapped in a triangle love relationship. He later breaks up with his girlfriend, Knives Chau, and pursues the other one, Ramona Flowers. Knives blame Ramona for the breakup while Scott realizes that he has to defeat all of Ramona's seven exes to win her heart.
Year: 2018
Director: Noam Murro
Stars: James McAvoy, Nicholas Hoult, John Boyega, Olivia Colman
Genre: Animation, Drama, Adventure
Rating: PG-13
A colony of rabbits is in search of a safer place to live. In the journey, they face so many threats and obstacles. They finally find a perfect place to settle down, but they receive another fatal attack. This dark animation has many jaw-dropping scenes that will terrify you badly.
99. Denise the Menace
Year: 1993
Director: Nick Castle
Stars: Walter Matthau, Mason Gamble, Joan Plowright
Genre: Comedy, Family
Rating: PG
Dennis is a little brat that can drive anyone crazy. He has to stay with the Wilsons when his parents go out of town. Mr. Wilson can't stand his behavior, but when a robber is in action in his house, Dennis is the one who can stop him.
100. Havoc
Year: 2022
Director: Gareth Evans
Stars: Tom Hardy, Forest Whitaker, Timothy Olyphant, Justin Cornwell, Jessie Mei Li, Yeo Yann Yann
Genre: Action, Thriller
Rating: PG-13
You've got to wait to enjoy this movie that has many great casts. Havoc will exclusively air on Netflix in 2022. The film is about a corrupt system in a town that makes a detective untangle the high-level conspiracy and save a politician's son. Stay tuned for more updates.
Now that you have a complete list of PG 13 Kids Netflix movies to keep them engaged for the holidays, you can focus on yourself while your kids are entertained. Sign up for your Netflix account and check the list above made by top filmmakers.