It is quite challenging to keep tweens and teens under control when you have them around in your home, especially during the holidays. Movies are an easy way for parents to bring the entire family together, and you should give it a try too. Below is a curated list of the 50 Best PG 13 Movies you and your kids will find entertaining, interesting and provide entertainment for hours.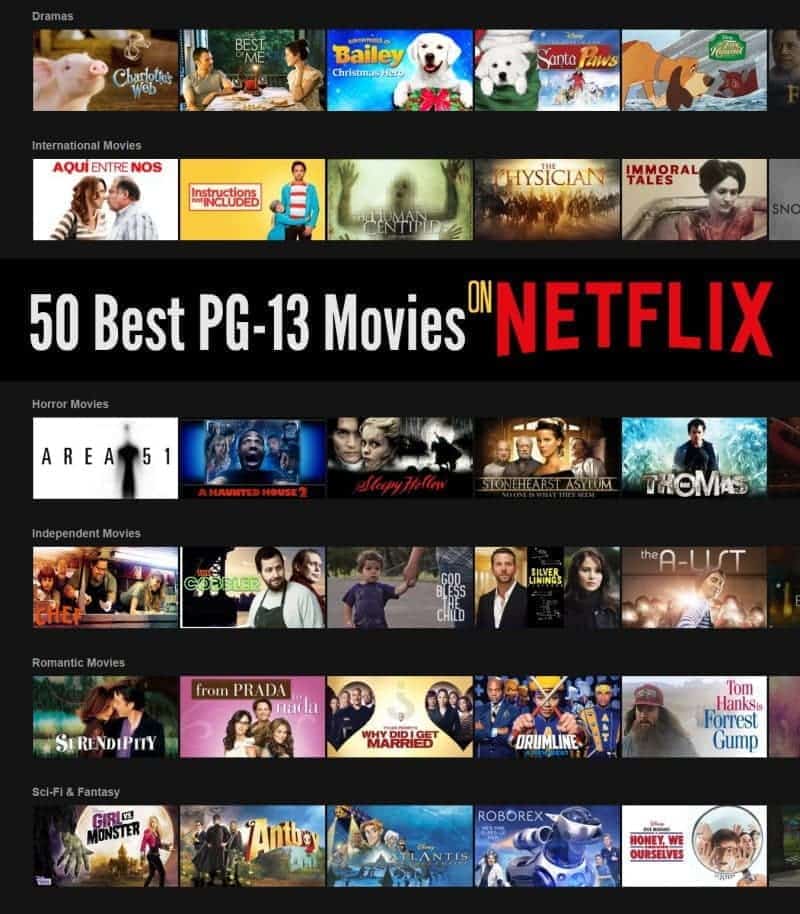 The tween and early teen years are a stressful time all around for parents but finding movies, they will want to watch that are age-appropriate aren't always easy which is why I decided to put together a list of the 50 Best PG 13 Movies on Netflix. This list was recently updated on Feb 20th, 2021, and with your help, we can continue to keep this list up to date.
Teens and tweens don't want anything to do with kids movies, and they yearn to watch adult movies that really stretch the boundaries of what they should watch.
Kids are exposed to so much more than is age-appropriate these days, it's reassuring to be able to provide them with some entertainment options that you feel comfortable with and that they won't groan and roll their eyes over.
They may roll their eyes at YOU - they are teenagers, but not at these 50 PG 13 movies on Netflix.
How old do you have to be to see a PG 13 movie?
[While there are no PG-13 rules from a legal perspective, kids under 13 can be prohibited from seeing a PG-13 movie in a theater if not accompanied by an adult. It is ultimately the decision of the parent what they deem acceptable for their kids to be exposed to.
PG 13 movies may have:
Nonsexual nudity
Very little profanity
Bloodless violence
There are some PG 13 movies that I let my 10-year-old watch and some that I would prefer that my 14-year-old didn't watch. I think when it comes to PG 13 movies, you just have to watch them first to decide if you are comfortable allowing your teen or tween to watch them.
50 best PG 13 movies on Netflix
Regular movies on Netflix
Here are the movies for kids in Netflix. You should allow your tweens and teens to see if they are above 13 years of age.
Enola Holmes refuses to walk in the shadow of her popular brother. She is intelligent, brave, and defies the norm that limits women's involvement in certain things in her time. One day, she discovers that her mother is missing and searches for her against all odds. She is faced with obstacles, but her bravery and tactics will help her solve the puzzle and help a young lord in the process.
A teen movie on Netflix released in August 2020 starring a high school senior who seems to be high achieving to attend the same college as her late father. Her college application got rejected as it is the same as many others, and she will have to prove herself from another angle. she joins a dance team and refines her dancing until she competes at a competition.
After failing at a Broadway audition, April, a dancer grudgingly returned home and accepted to train a group of unruly young dancers for a big competition. I feel the beat of a comedy-drama film makes the list of the best pg 13 movies on Netflix without a doubt.
Over the moon is an animated musical fantasy where a brave Fei Fei builds a rocket to travel to the moon to show that the moon goddess truly exists. It is one of the movies that top the list of movies for kids on Netflix.
This is a horror-filled adventure movie where a teen is sad that he has to move to a small town. He soon gets a crush on his new neighbor, whose dad is a writer, and he writes scary fiction that will later become real. A must watch pg 13 movies on Netflix for younger ones.
It is one of the best pg 13 movies that is based on a true story. After a car accident that nearly destroyed her dreams, Ariana Berlin, a 14-year-old, finds new hope and confidence through hip-hop dance and, with time, revived her movements and got recalled into gymnastics. One of the reasons to watch the movie is that it teaches children the importance of courage and not giving up.
Amberley Snyder, a car accident survivor, now paralyzed from her waist down, will have to work hard to regain her passion for the sports activity she's passionate about- rodeo riding. Will she make it? Will her determination be worth it in the end? Find out when you watch the movie.
Mowgli's disappearances in the jungle when he was a little boy gave him a chance to learn the jungle's laws. Having been raised by a mother wolf among animals and being taken care of, he lived happily except for tiger Shere-Khan who was after him but later killed by a buffalo.
3 idiots movie is one of the classic comedy-drama films that will make you laugh during the entire film. Rancho was an engineering student with his two friends who decide to look for him and recall their past college experiences. They also recall how he had inspired them to see things differently and be passionate against all odds. He made them chase their own dreams, and eventually, they too become successful.
Romance comedy teens film centers on a smart but unpopular and unattractive Sierra and her popular classmate Veronica. Jamey, a football player from another high school, met Veronica and asked for her phone number, but Veronica gave Sierra's number instead of hers. Sierra then develops an interest in him after a few chats. How will this end?
If you love movies about high school love, this is one of the best pg 13 movies. Get on Netflix to watch it.
After her parent's divorce, this teen decided to carve her own course by being a DJ as she moves in with her aunt. She closed her heart to love until a singer fell in love with her mix, and something begins in this pg 13 movies.
Benji is an orphaned puppy loved by two young kids, but his role in their lives is about to change when robbers kidnap them. The determined puppy comes to the rescue and restores happiness in the family. This is one of the must include movies to watch on Netflix.
Fast and furious spy racers Rio is an animated series that features Tony Toretto and his adventurous friends. A government agency sent them to break into a top-secret racing league that wants to gain control over the world.
Jodi is the tallest girl in school, making her a victim of bullying and jabs from her school mates. This makes her feel insecure, coupled with her father's worry that her condition may be a medical issue since her sister Harper is of an average height. A new guy comes to their school, and Jodi is interested in him but can't find a way to talk to him. Jodi is caught in a web of relationships between Stig, Schipper, and Dunkleman before homecoming but finally finds out an amusing secret about Dunkleman.
An American drama film based on the novel "Sorta like a rockstar," where Amber, a homeless high school girl, keeps her secret from friends while running different jobs to keep up. She sleeps with her mother, Becky, on the bus she drives until they were discovered. The mother had no choice but to move in with Oliver, an alcoholic who abuses Amber, but Amber refused to move in with them. The story continues with this pg 13 movies on Netflix.
Madagascar Escape 2 Africa is one of the sequel movies of Madagascar. It is a pg 13 movie and also one of the kids movies in Netflix. The penguins reassemble an old worn-out plane that gives the zoo animals, including Alex, Morty, and the rest, a chance to escape from Madagascar. They make it to Africa, where for the first time, they meet their species. They find how wild the wild is and wonder if the wild is better than the zoo.
Crouching tiger hidden dragon is a film set in the 19th century. Crouching tiger focuses on a man called Chow Yun-Fat, a warrior of the Qing Dynasty in China. He gave his sword to his lover Michelle Yeoh to keep it safe but is stolen. He sets out to look for it, and from his chase, he ends up in the House of Yu, where everything changes.
Mark and Jessie are excited to foster an eight-year-old boy Cody but little did they know that Cody was not a normal boy. Cody is scared of falling asleep, but Jessie just sees it like a normal fear that children have. But as days pass, the couple becomes shocked when they realize that Marks dreams and nightmares become real.
Facing marriage challenges, the New York City cop and his wife decide to go for a European vacation to reignite the spark in their marriage. An encounter happens that makes them be framed for the murder of an elderly billionaire.
The Riptide is a family drama full of lessons, and you can enjoy watching with your teens. It centers on Cora, a passionate 18-year-old model raised by a strict mom who focuses more on her modeling career than her emotional stability. Things spiral out of control when a video of her falling down the stairs goes viral and ruins her career. She travels to Australia, where her aunt stays to begin her life again. There she feels welcome and begins to learn how to surf, which eventually leads to Tom's relationship, her instructor.
Jupiter ascending is one of the superhero movies that is pg 13, where Jupiter Jones is the main character who does house cleaning for people's houses but doesn't know that she is different. Since she was born under signs that showed she has a great future. Caine arrives on earth to search for Jupiter and show her destiny, which puts her next in line for an inheritance that could change the cosmos' balance.
Cory Bailey is a science geek ready to spend summer at sea but finds herself at a soccer academy where she has to play with the local team and win the national tournament.
A wild teenager discovered his interest in a high-speeding go-kart race and followed his heart until he gets identified by a former racer who's also the race track owner. The ex-racer becomes his coach, and he gets help from his friends also to win at the nationals.
Kate, a reporter, always searching for the next big story, got a chance to uncover the story behind the mysterious person dropping goodies at people's front door. This person is nicknamed a good samaritan (good Sam for short) and is already thought of as a miracle or answer to needs. Kate is skeptical and believes that this person must expect something in return for his good deeds. Kate finds love while uncovering the story.
Our planet is an animated series documentary that reveals the planet's beauty by examining the effect of climate change on living creatures. It is one of the best pg 13 movies on Netflix for your kids
After not speaking for 15 years, two childhood sweethearts Marcus and Sasha, run into each other in San Francisco. Although they live in different worlds, their old sparks are still there.
If you love pets and horses, Warhorse is a great film to watch. It shows how Albert and his horse Joey are separated in World War 1. Albert's father sells Joey to the British Cavalry and, in his journey, changes people that he meets along the way. On the other hand, Alberts searches for Joey on the battlefields of France to bring him home. Will he find Joey? Watch the movie to know.
Hassam is a talented and self-taught culinary novice living in India, is displaced, and settles in a french village with his family. They open up an eatery for Indian dishes, making a proprietress Madame Malloryof a restaurant nearby, angry. Fights erupt between the two, but later Mallory sees the talent that Kadam has and takes him.
The first human to be born on Mars, Gardner Elliot starts an online friendship with Tulsa, who lives in Colorado. he finally gets back to earth and experiences the fun of earth and everything he used to read about it. Unfortunately, doctors discover that his organs cannot function on earth, and has to return. This makes him sad, and together with Tulsa, they ran away to find out more about his existence.
The film shows the life of a plus-size teenage daughter whose mum is a former beauty queen. She signs up for her mum's pageant to revolutionalize it and the small town.
Susannah, a journalist at the New York Post, begins to hear voices in her head and seizures. As days pass by, she becomes more insane, and her behaviors change drastically. She gets misdiagnosed, but a particular doctor gives her a diagnosis that helps her build her life again.
In 1968, a girl group consisting of 4 members set out to Vietnam to entertain the US troops. They come to learn a lot about war, friendship, and love.
Tami and Richard didn't know that they were to face one of the most significant hurricanes in history when they set to sail. After the storm, Tami wakes to find Richard hurt and their boat in bad condition. Tami must gain strength to save the man she loves and herself.
A young man Tristan, set to win the heart of his beloved Sienna, venture into the realm of fairies to get a fallen star. He finds the fallen star, but it was not what he expected as it was a woman Yvaine. she has powers that are wanted by the sons of aking and an evil witch.
As our children get older this list will provide us with a way to bond over movies that don't cross a line I am uncomfortable with and give them the satisfaction that they aren't being forced to watch "baby" shows.
A mixture of documentary and drama that explains the impact of social networking and the danger it does. The social dilemma is a must watch pg 13 movie to help your children know more about social media.
In the middle of divorce proceedings, Abigail Breslin, a daughter of the divorcees, asks her father, Will Hayes, about his life before marriage. He flashes back to 1992, the times that he was involved with three women. Watch this Netflix pg 13 to know how he ended up choosing Abigail's mother as his wife instead of the other two women.
A young teenager is raised by a robot that is specially designed to repopulate Earth. The relationship is threatened by a stranger who arrives with shocking news.
Developments of the world lead to the growth of robots, which took over the boxing ring. It made a prizefighter Charlie Kenton lose his job and do another job of converting scrap metal to low-end fighters. The money was barely enough to make ends meet, and he ended up teaming up with his estranged son, Max, to build and train a championship robot.
A classic movie set in the 1940s where a mill worker Noah Calhoun and a rich girl Allie fall in love but unfortunately, their parents disapprove of the relationship. Noah goes to serve in the military in World Was 2, and Allie involves with another man. A few years later, Noah returns to the country when Allie's marriage is not okay.
It is one of the teen comedy romance pg 13 movies on Netflix that will keep your eyes glued on TV. It focuses on Lara Jean's love story, where she writes love letters about all the boys she's ever loved. The letters are for her eyes only, but all the love letters are sent to all the boys one day. Her life goes into chaos when all the boys confront her one by one.
A young spirited 18 years old woman is married to a man she doesn't even know and faces the struggles of living in Hiroshima during World War 2.
Tessa Young is an average girl dutiful daughter, dedicated to her studies and a loyal girlfriend to her high school sweetheart. Starting her first semester of college, Tessa meets a mysterious and rebel guy Hardin Scott. Her experiences with Scott opens up her world, and she is left questioning herself and what she wants in life.
Becky Fuller is hired as a producer for a morning news program, "Daybreak," and decides to revitalize the show by adding an anchorman Pomeroy to work with his co-host, Diane. The two hosts end up clashing, and Pomeroy refuses to do lifestyle news. Becky, on the other hand, struggles to save her job and relationship.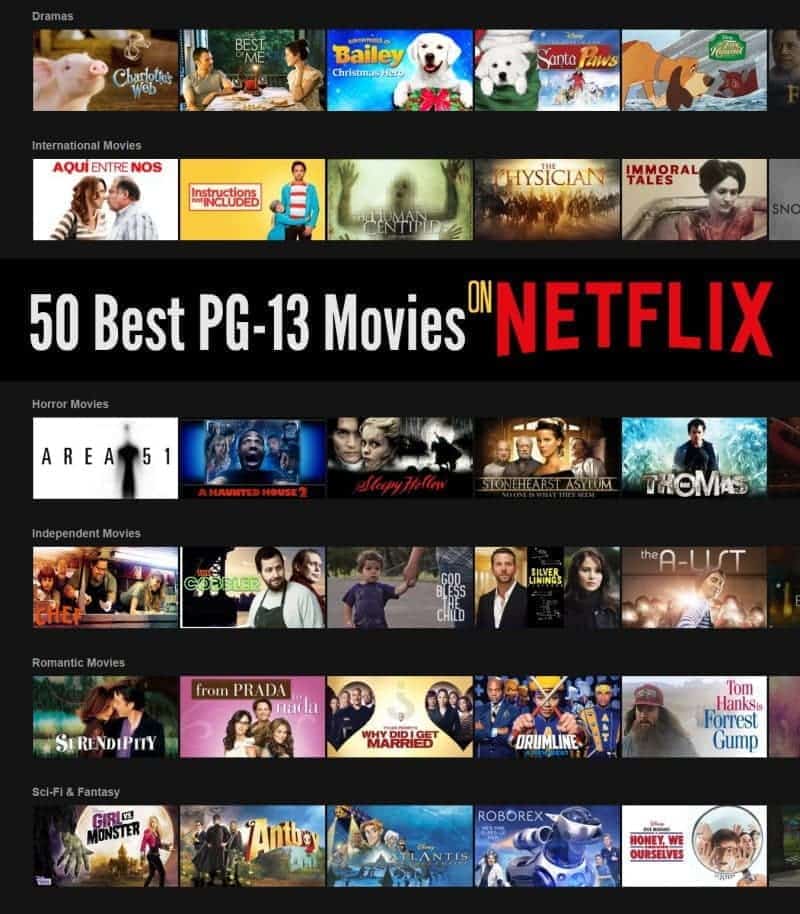 Jamilah is a very talented college girl not only in step dance but also in her studies. Though black, she helped her white colleague who had embarrassed the institute for their step dance incompetence. She enabled them even to win the competition.

The three teenagers in the play are strangers, facing different problems but decided to work together to deal with and expose their issues. Despite the significant issues they were dealing with, they could joyfully speak them up with a lot of confidence.
Midnight Special is one of the Netflix pg 13 films where a young boy with special powers is on the run with his father because the government and some religious extremists are pursuing them.
The theory of everything movie happens in the 1960s where a Cambridge university student Stephen Hawking falls in love with Jane Wilde, also a fellow collegian. At 21, Hawking learns he has motor neuron disease and has little time to live. He and his girlfriend defy odds and break new grounds in the medicine and science field. Watch it to know more about what they achieved.
Indiana Jones movie happens during the Cold War. A famous archeologist Indiana Jones is returning from his latest adventure and finds out his job is in jeopardy. On his way, he met Mutt, who wants Indian Jones to help him find the Crystal Skull of Akator, which he agrees, and they go to Peru.
The undefeated movie looks at how the U.S government persecuted native Americans Americans and tried to erase Indian culture. The story is about Jim Thorpe and the Carlisle Indian School Football Team. Find out more about the movie on Netflix.
Now that you have a full list of PG 14 Kids Netflix movies to keep them engaged for the holidays, maybe you can even focus on yourself while your kids are being entertained.