The tween and early teen years are a difficult time all around for parents but finding movies they will want to watch that are age appropriate isn't always easy which is why I decided to put together a list of the 50 Best PG 13 Movies on Netflix. This list was originally published on Sept 30, 2015 and was been updated as of March 26, 2018. The latest update for this list was December 30, 2018.
Teens and tweens don't want anything to do with kids movies and they yearn to watch adult movies that really stretch the boundaries of what they should watch.
Kids are exposed to so much more than is age-appropriate these days, it's reassuring to be able to provide them with some entertainment options that you feel comfortable with and that they won't groan and roll their eyes over.
They may roll their eyes at YOU – they are teenagers, but not at these 50 PG 13 movies on Netflix.
If you don't have Netflix and need a device to be able to use it check this one out —> watch Netflix on my TV.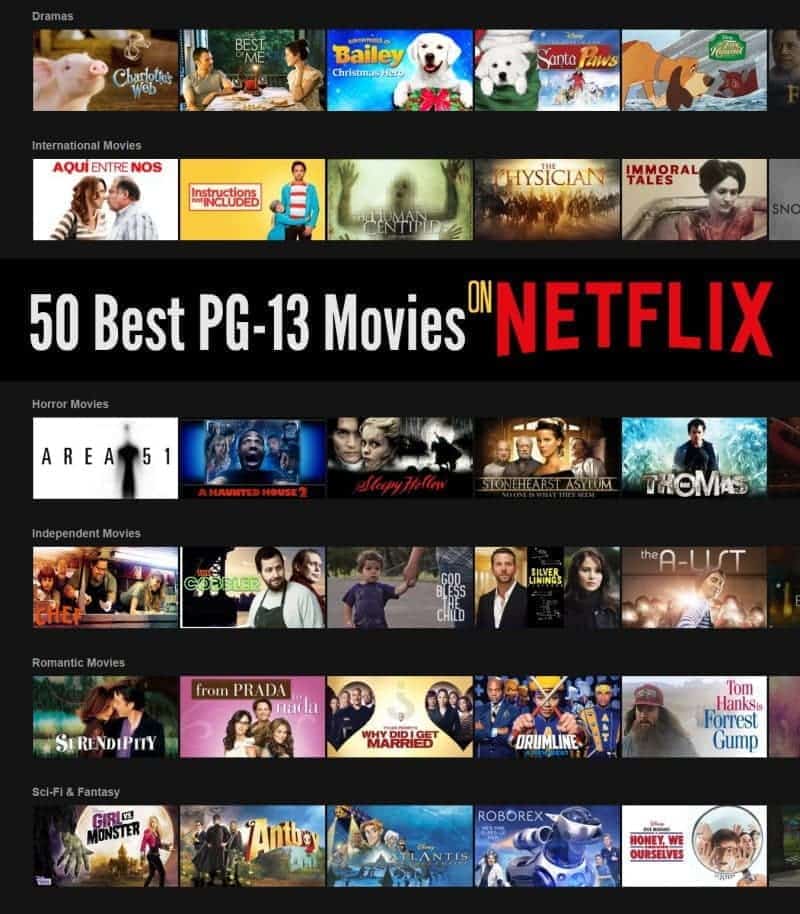 How old do you have to be to see a PG 13 movie?
While there are no PG 13 rules from a legal perspective, kids under 13 can be prohibited from seeing a PG 13 movie in a theater if not accompanied by an adult. It is ultimately the decision of the parent what they deem acceptable for their kids to be exposed to.
PG 13 movies may have:
Nonsexual nudity
Very little profanity
Bloodless violence
There are some PG 13 movies that I let my 10 year old watch, and some that I would prefer that my 14 year old didn't watch. I think when it comes to PG 13 movies, you just have to watch them first to decide if you are comfortable allowing your teen or tween to watch them.
The list below is just a handful of movies rated PG 13 that you can find on Netflix. There are hundreds more available, you can find them by typing PG 13 into the search bar.
50 Best PG 13 Movies on Netflix
(updated as of 12/30/2018)
1. Batman
1. The Boy
2. The Hunger Games: Catching Fire
2. 13 Going on 30
2. Barely Lethal
3. Lara Croft: Tomb Raider
4. Transformers: Age of Extinction
4. Captain America Civil War
4. 47 Metres Down
5. Forrest Gump
5. Can't Buy Me Love
5. So Undercover
6. Mission: Impossible
6. Before I Wake
7. Twilight
7. The Waterboy
8. The Addams Family
8. Bring It On
8. The Outcasts
9. The Sixth Sense
10. Batman & Robin
10. Thor: Ragnarok
11. Hellboy
12. World War Z
12. Talladega Nights: The Ballad of Ricky Bobby
12. Black Panther
13. Undefeated
14. Bruce Almighty
14. The Unborn
15. The Aviator
15. Guardians of the Galaxy Vol. 2
16. What's Eating Gilbert Grape
16. Definitely, Maybe
16. Dumplin'
17. 50 First Dates
17. Doctor Strange
17. Mowgli: Legend of the Jungle
18. Ghost
18. Wild Hogs
18. Click
19. Wayne's World
19. Next
19. Samson
20. Tommy Boy
20. Guess Who
20. Brain on Fire
21. Teenage Mutant Ninja Turtles
21. Beautiful Creatures
22. Men In Black II
22. Men In Black
22. Catwoman
23. Clear and Present Danger
23. The Cobbler
24. Mean Girls
24. The Host
24. Star Wars: The Last Jedi
25. Hitch
25. The Exorcism of Emily Rose
25. The Golden Compass
My son is 11 and already asking if he can watch certain movies. As he gets older, this list will provide us with a way to bond over movies that don't cross a line I am uncomfortable with and give him the satisfaction that he isn't being forced to watch "baby" shows as he calls them.
26. Crocodile Dundee
26. Undercover Grandpa
27. Ferris Bueller's Day Off
27. The Giver
27. Bruce Almighty
28. Big Daddy
28. Adventures in Babysitting
28. Billy Madison
29. The Longest Yard
29. The Pursuit of Happyness
29. The Break Up
30. Left Behind
30. The Chaperone
Amazon also has a huge selection of PG 13 movies. Some of them can be purchased or rented, but there are a lot that are part of Amazon Prime that you can watch for free with your membership.
31. G.I. Joe Retaliation
31. Love and Honor
32. RoboCop
32. The New Daughter
32. 47 Meters Down
33. XXX
33. Dragonheart: Battle for the Heartfire
34. Deep Impact
34. I Am Number Four
35. Click
35. I Now Pronounce You Chuck and Larry
35. Scary Movie 3
36. Anger Management
36. Mad Money
37. White Chicks
37. The Lovely Bones
38. Anchorman 2: The Legend Continues
38. The Bucket List
38. Pearl Harbor
39. My Best Friend's Wedding
39. King Kong
40. Mr. Deeds
40. Small Soldiers
40. Avengers: Infinity War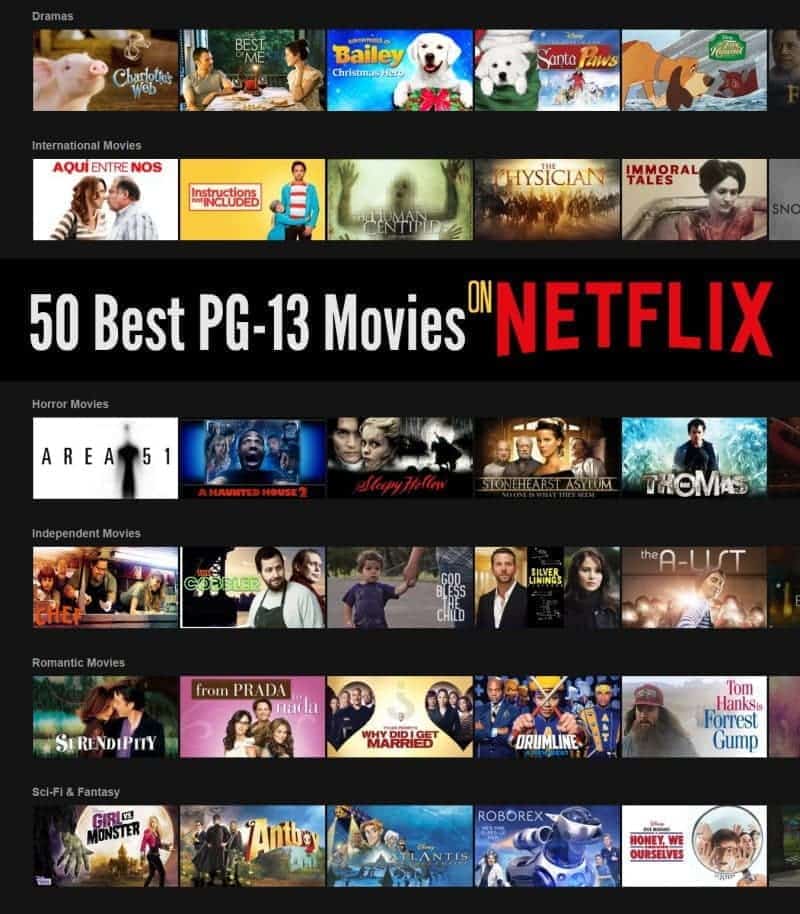 41. Serendipity
41. How to Lose A Guy in 10 Days
42. Hardball
42. Pirates of the Caribbean: Dead Men Tell no Tales
43. The Monster Squad
43. Stardust
44. Black or White
44. The Reunion
44. Mr. Woodcock
45. I, Frankenstein
45. License To Wed
45. The Haunting of Molly Hartley
46. Without a Paddle
46. Meet the Parents
47. The Journey of August King
47. Meet the Fockers
48. Ondine
48. 42
49. The Others
49. Rogue One: A Star Wars Story
50. Black Sheep
50. Charlie St. Cloud
How many of these PG 13 movies have you seen?
This post is part of my participation in the Netflix Stream Team #StreamTeam.