Whether for the holidays or special occasions, we bring you the best easy side dishes for ham! The juicy tenderness of ham should be enjoyed with a delicious side dish for the ultimate dining experience.
These ham side dishes range from potato dishes to roasted veggies, and I've selected the best to grace your dinner table.
My list of dishes to serve with ham starts with whole mashed potatoes with cream cheese.
This classic side dish is a favorite for many families and takes less than five minutes to prepare!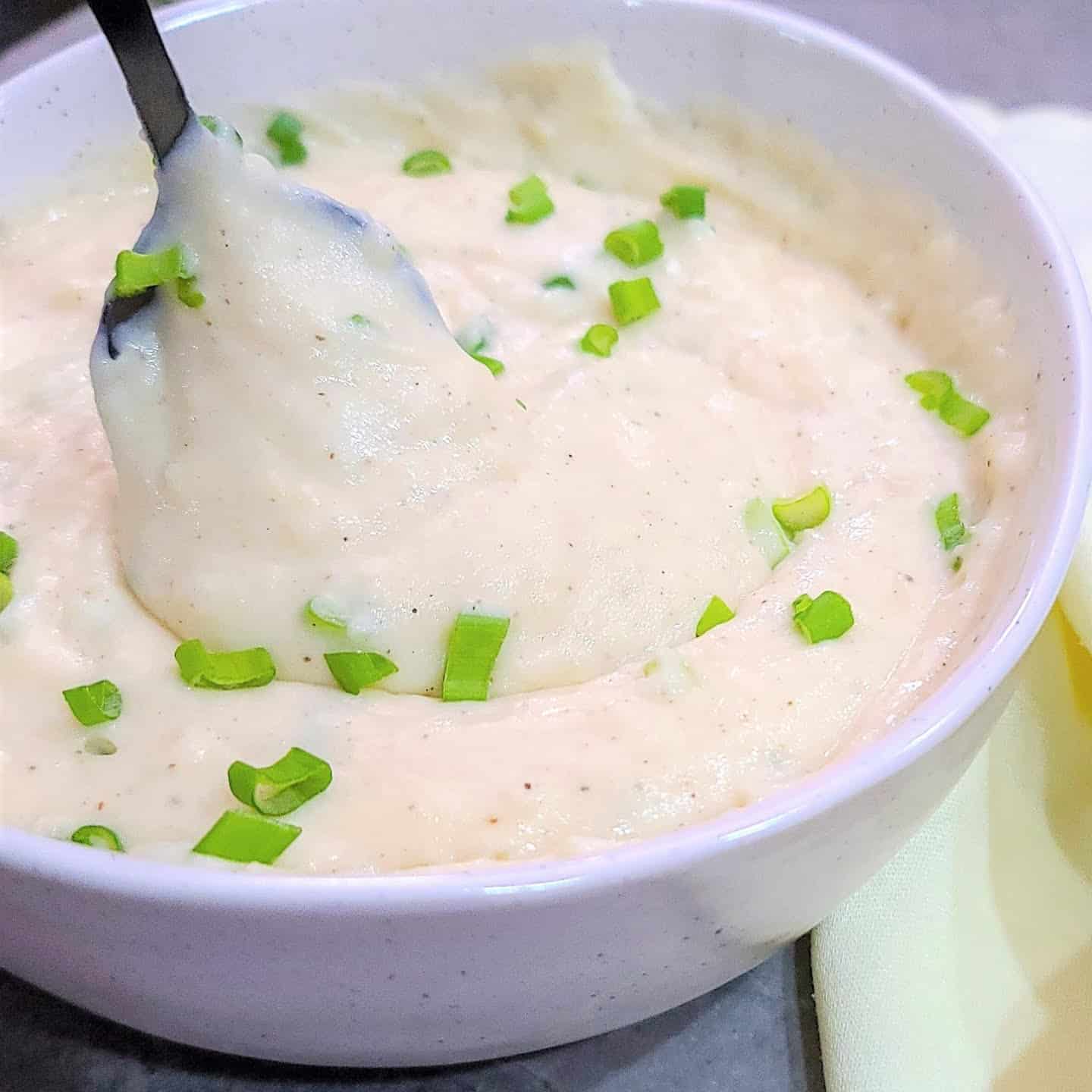 This delicious creamy mashed potatoes dish sets the standard for several other tasty side dishes with its savory flavors.
In less than five minutes, you can have a combination of white potatoes, cream cheese, butter, milk, and seasonings ready to serve with ham!
Top this side dish with finely chopped green onions, and have an amazing dinner.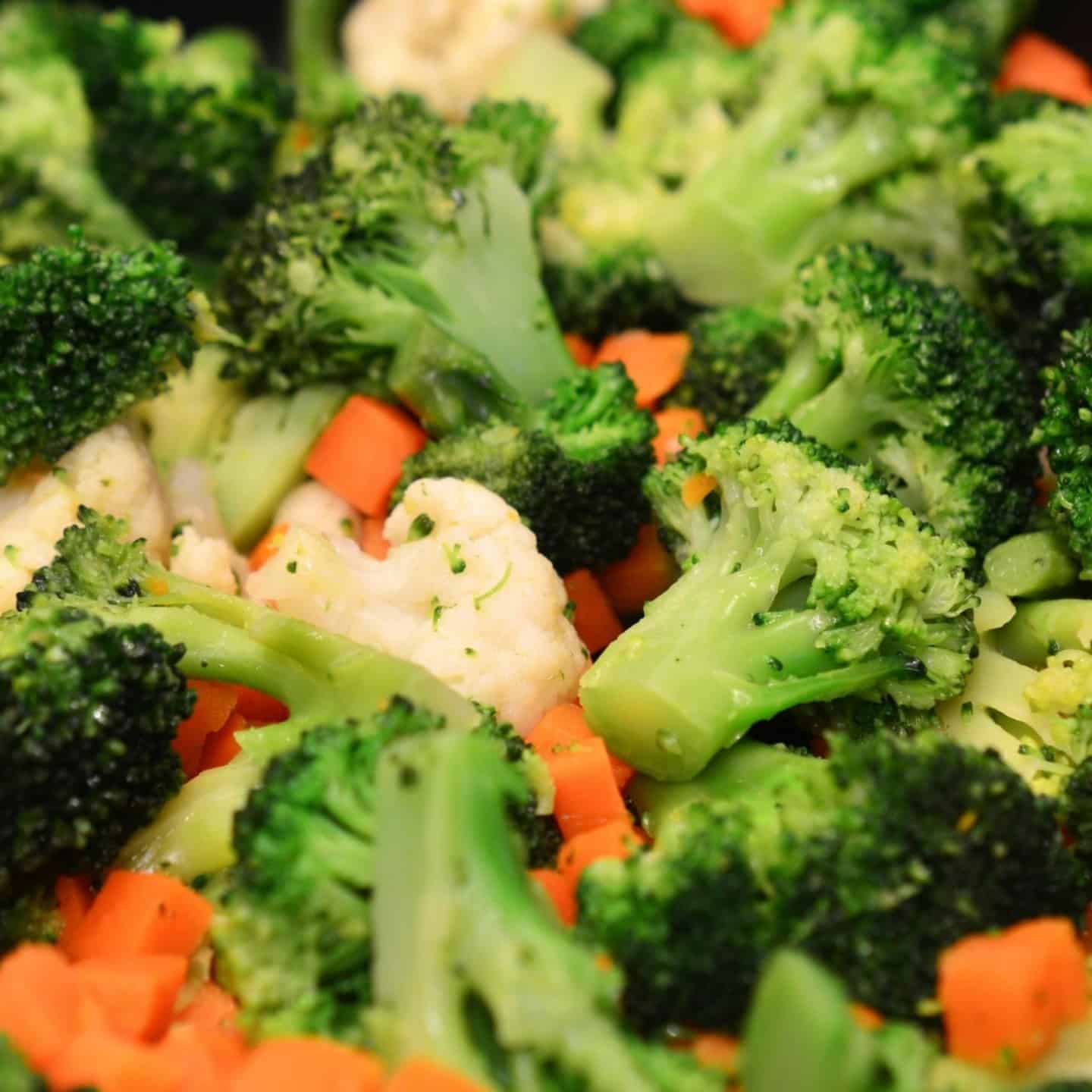 Veggies are a welcome addition to main meat dishes, and you can be flexible with your choice of vegetables.
For instance, you can have this recipe's combination of cauliflower, carrots, and broccoli topped with cheese to pair perfectly with your ham.
The addition of veggies like brussels sprouts will take more time; hence you should pick a suitable steaming method to ensure all veggies are properly cooked.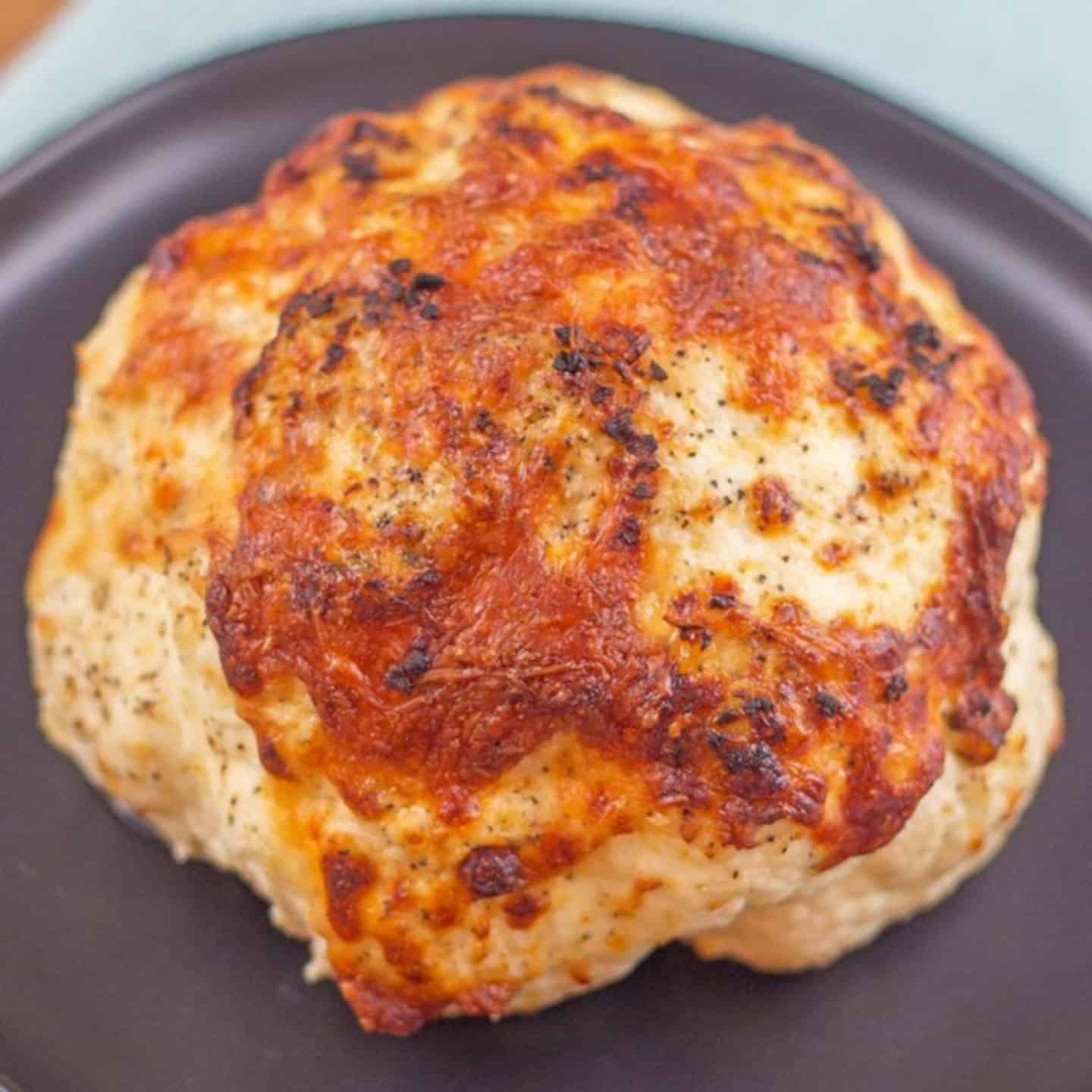 Undoubtedly, roasted veggies are top on the list of delicious side dishes for ham.
This cauliflower and parmesan cheese recipe gives you a crispy and perfectly roasted cauliflower.
It requires only a few simple ingredients, including whole cauliflower, sour cream, shredded parmesan, minced garlic, pepper, and salt.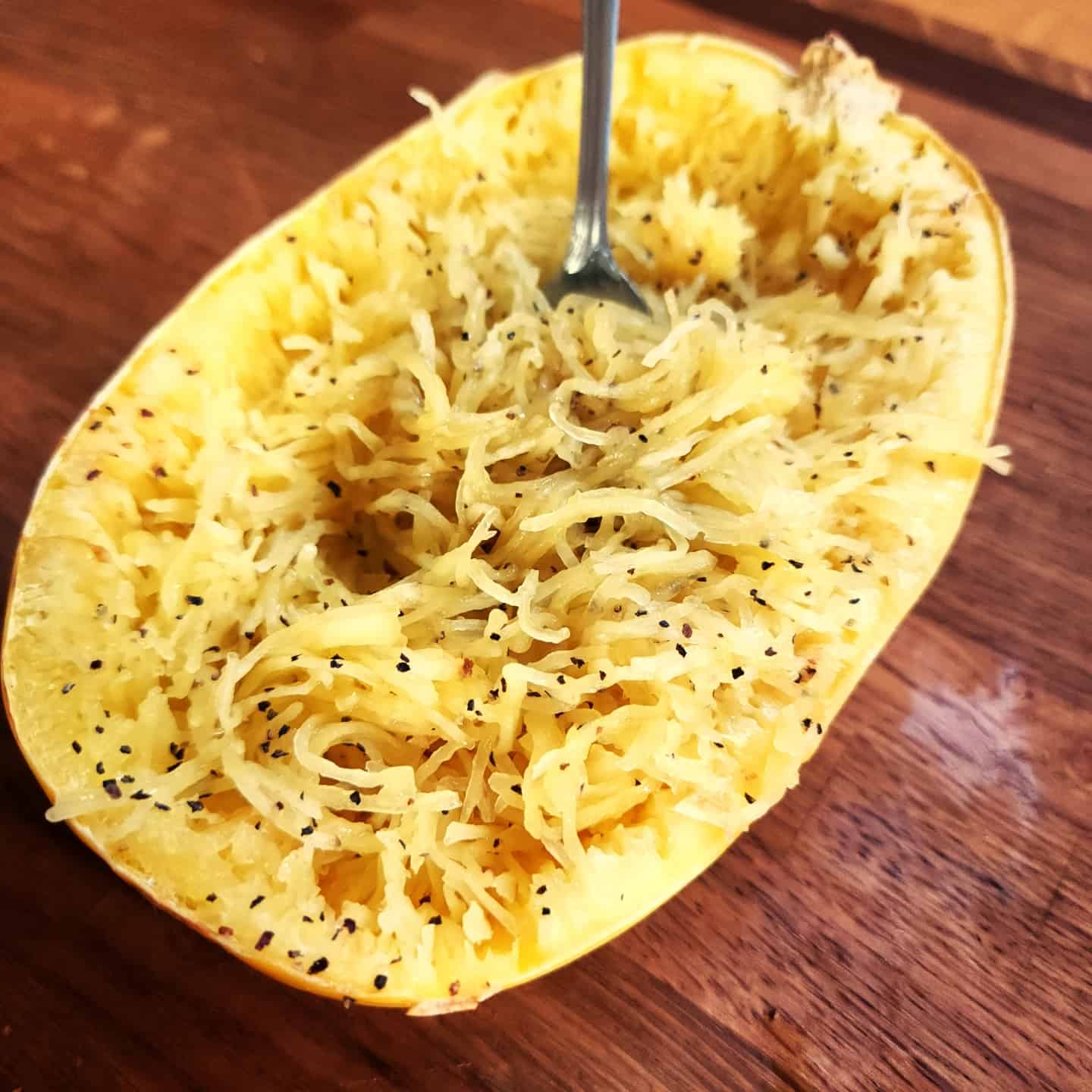 This healthy, fluffy, and delicious pasta alternative is a hit with tender roasted ham. It's super easy to cook, and you can use about four different methods to prepare it.
You'll also find it flexible, accommodating add-ins such as the classic tomato sauce or fresh herbs and spices.
Serve with a lovely slice of ham, and enjoy!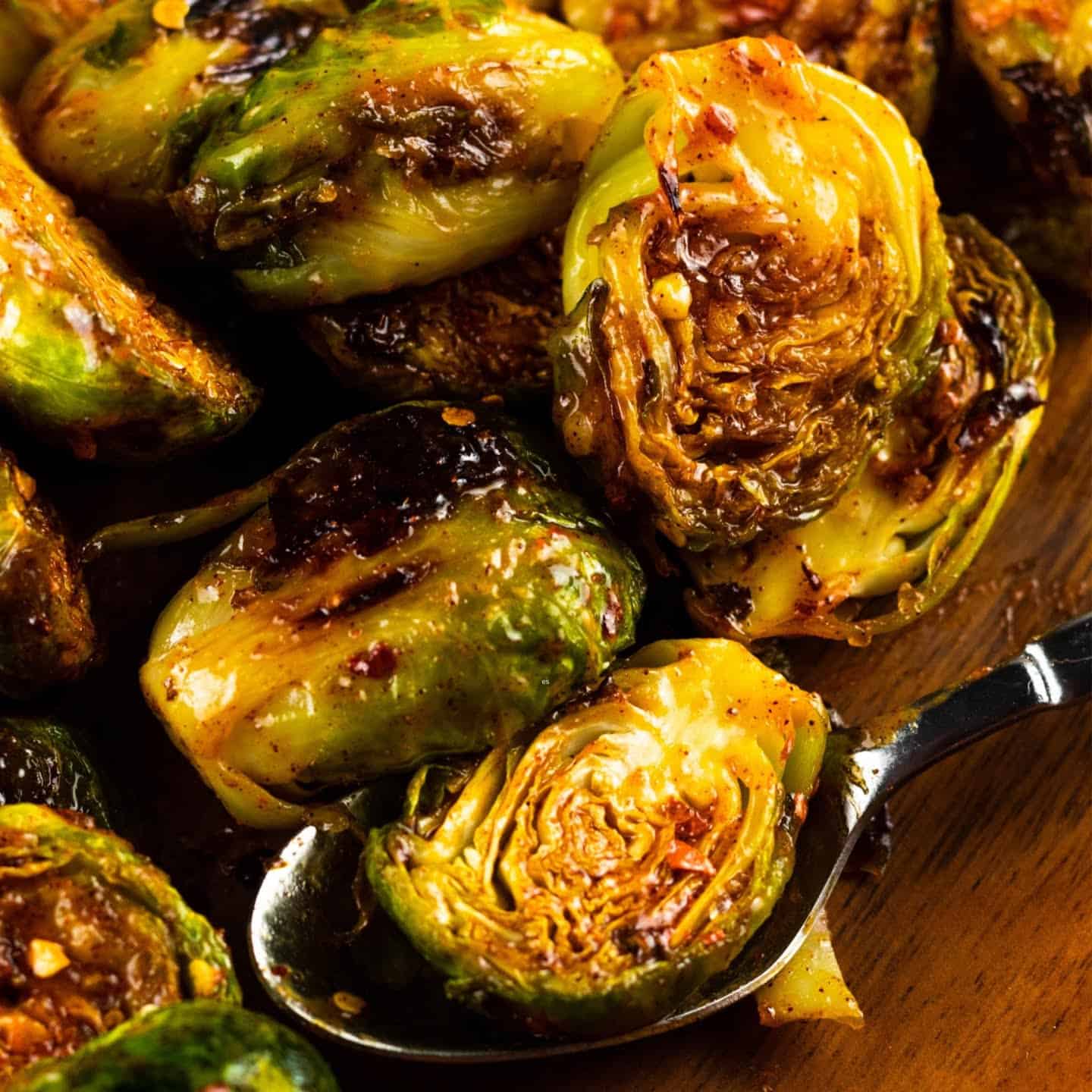 These roasted Brussels sprouts are the definition of a flavor-packed side dish!
They're roasted with delicious spices and seasonings, including smoked paprika, chipotle powder, sea salt, red pepper flakes, maple syrup, coarse salt, honey, and chili powder.
Your ham dinner will be nothing short of a treat with this side dish and its rich flavor.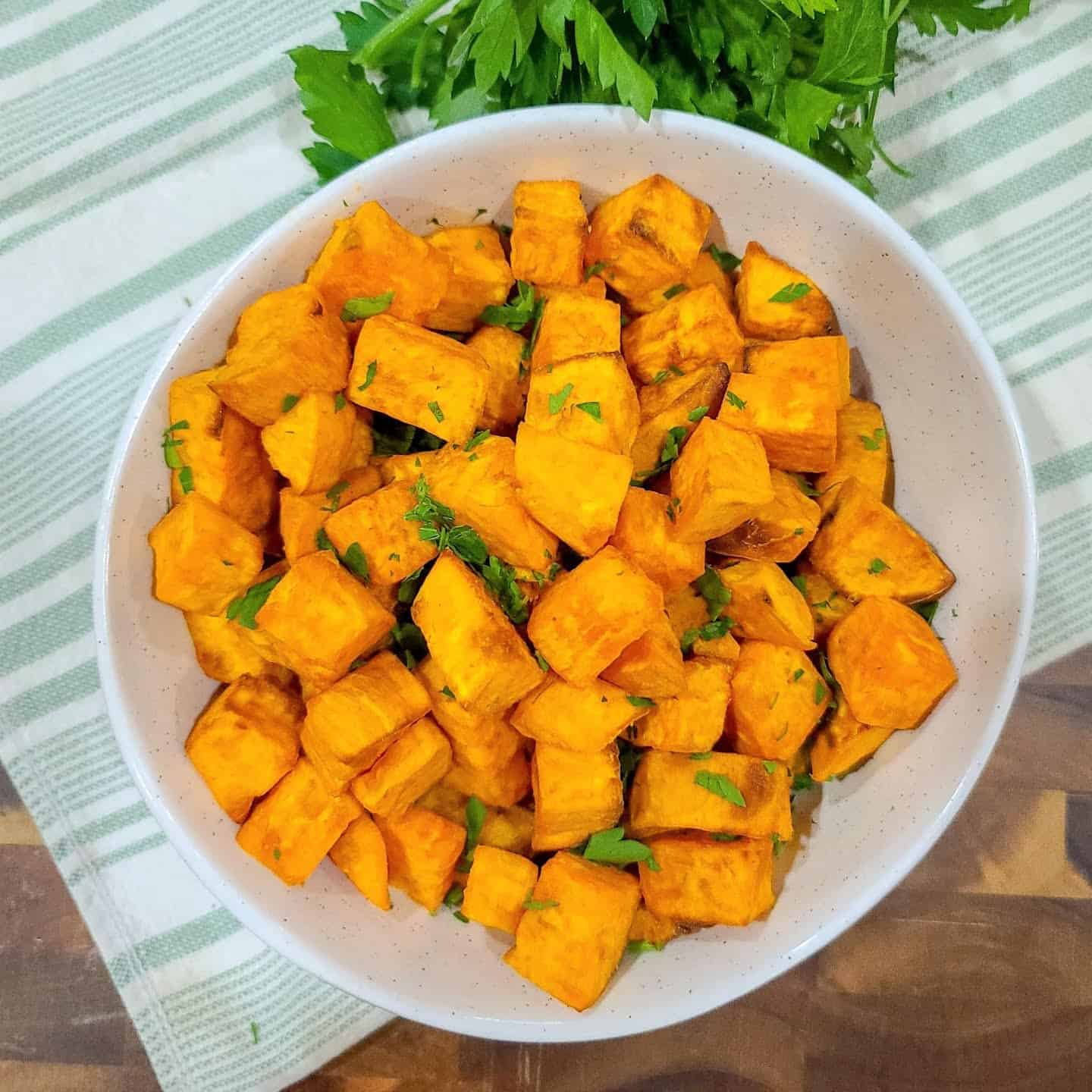 The sweet flavor of sweet potatoes makes the perfect balance for your salty ham. You'll also enjoy amazing crispiness from the use of a fryer, and you can have this ready in less than 20 minutes!
Your ingredients for this recipe include sweet potatoes, pink Himalayan salt, and olive oil. Serve hot with ham, and enjoy!
These cubes also pair amazingly with tacos, and you can see these delicious easy sides for tacos for better taco Tuesdays!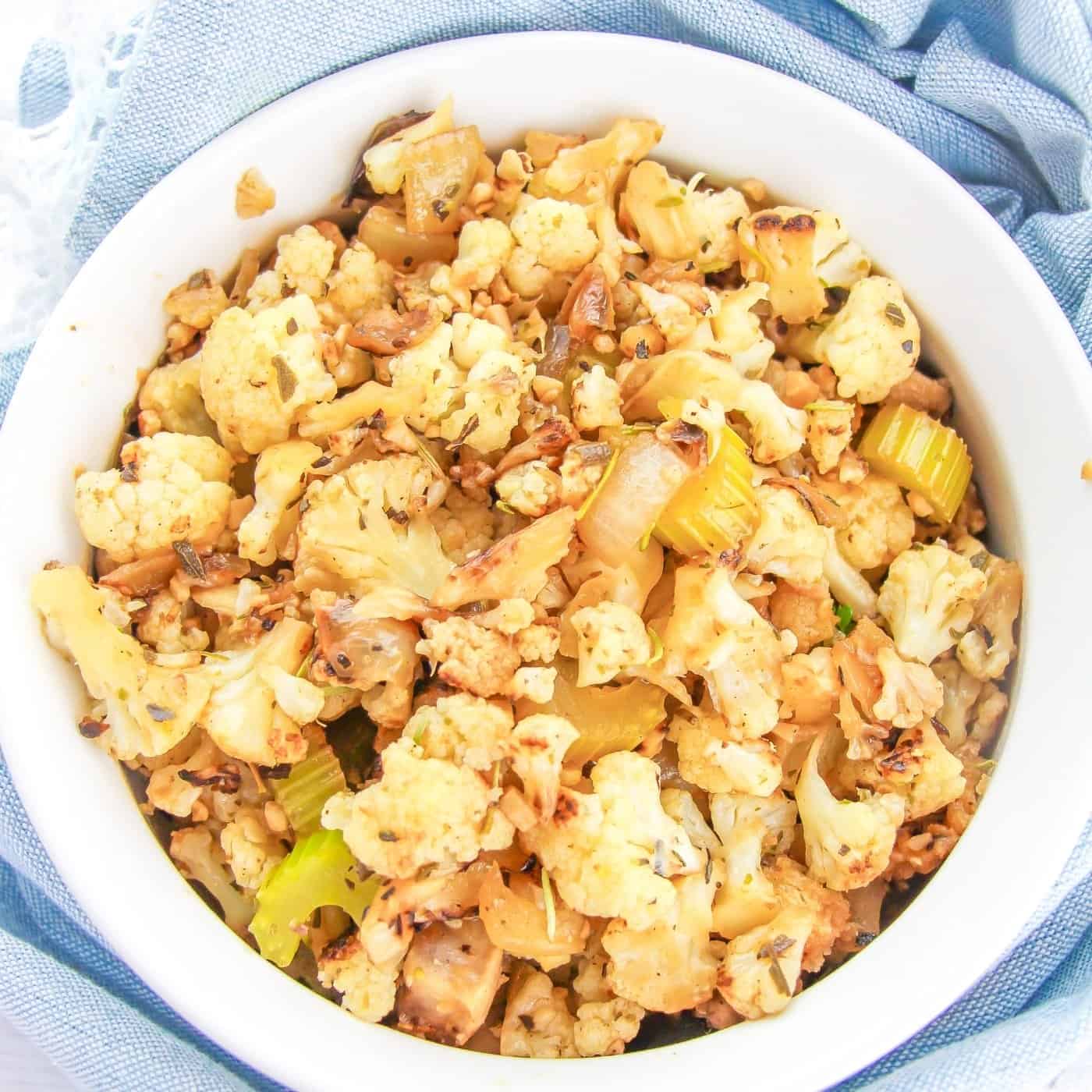 If it's a holiday meal with the whole family gathered, you definitely want to try this crowd-pleasing cauliflower stuffing.
It's especially perfect for easter ham, incorporating a range of ingredients and flavors.
Some for these ingredients include black pepper, fresh thyme, pork rinds, turkey or chicken broth, sliced mushrooms, celery, olive oil, and marjoram. Ensure not to keep the heat too low to avoid soggy cauliflower and mushrooms.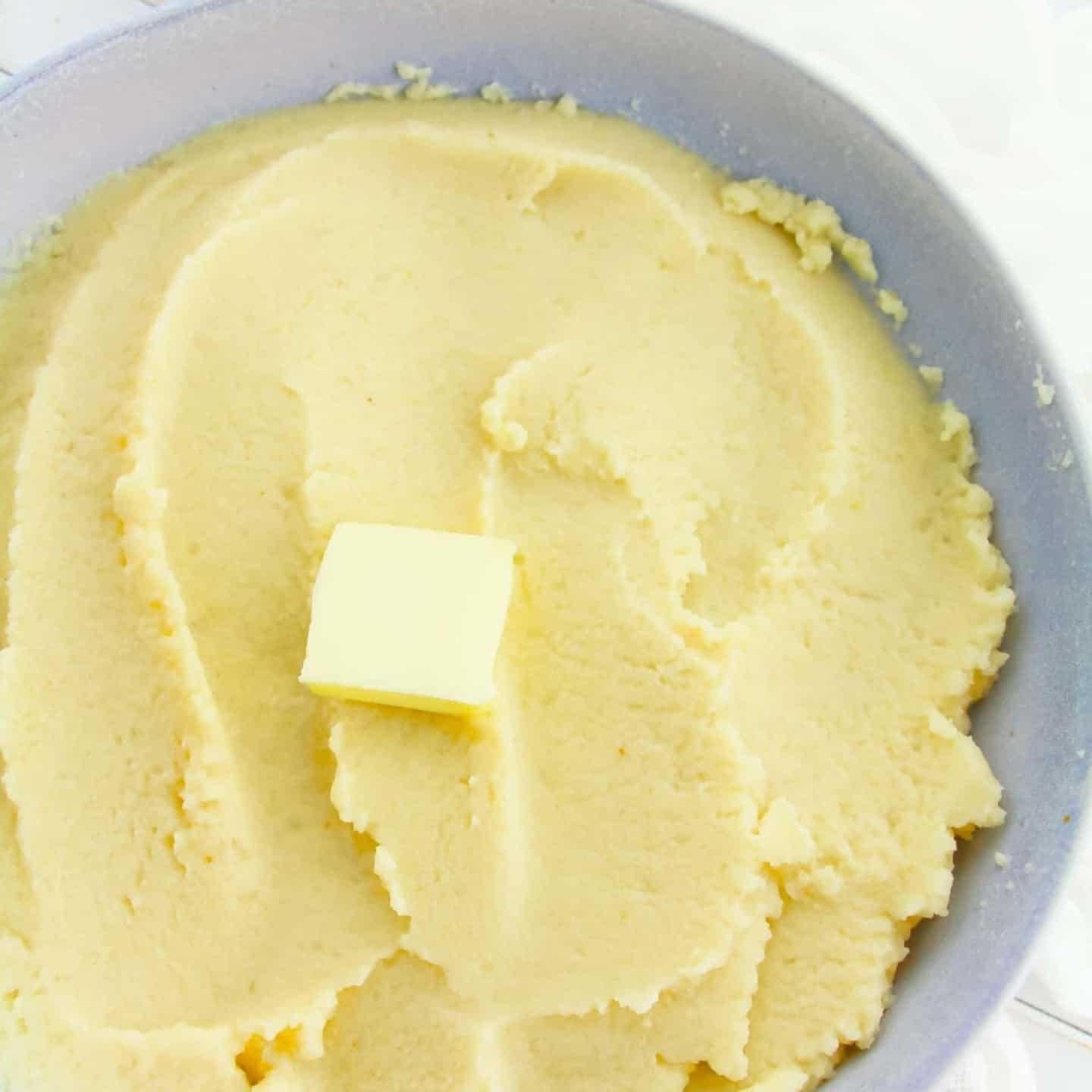 This potato-mashed cauliflower will have you licking your plate clean with its simply amazing taste.
It's made with a few ingredients, including rice cauliflower, unsalted butter, kosher salt, black pepper, and garlic.
So, get your food processor out and get to making this creamy, buttery side dish1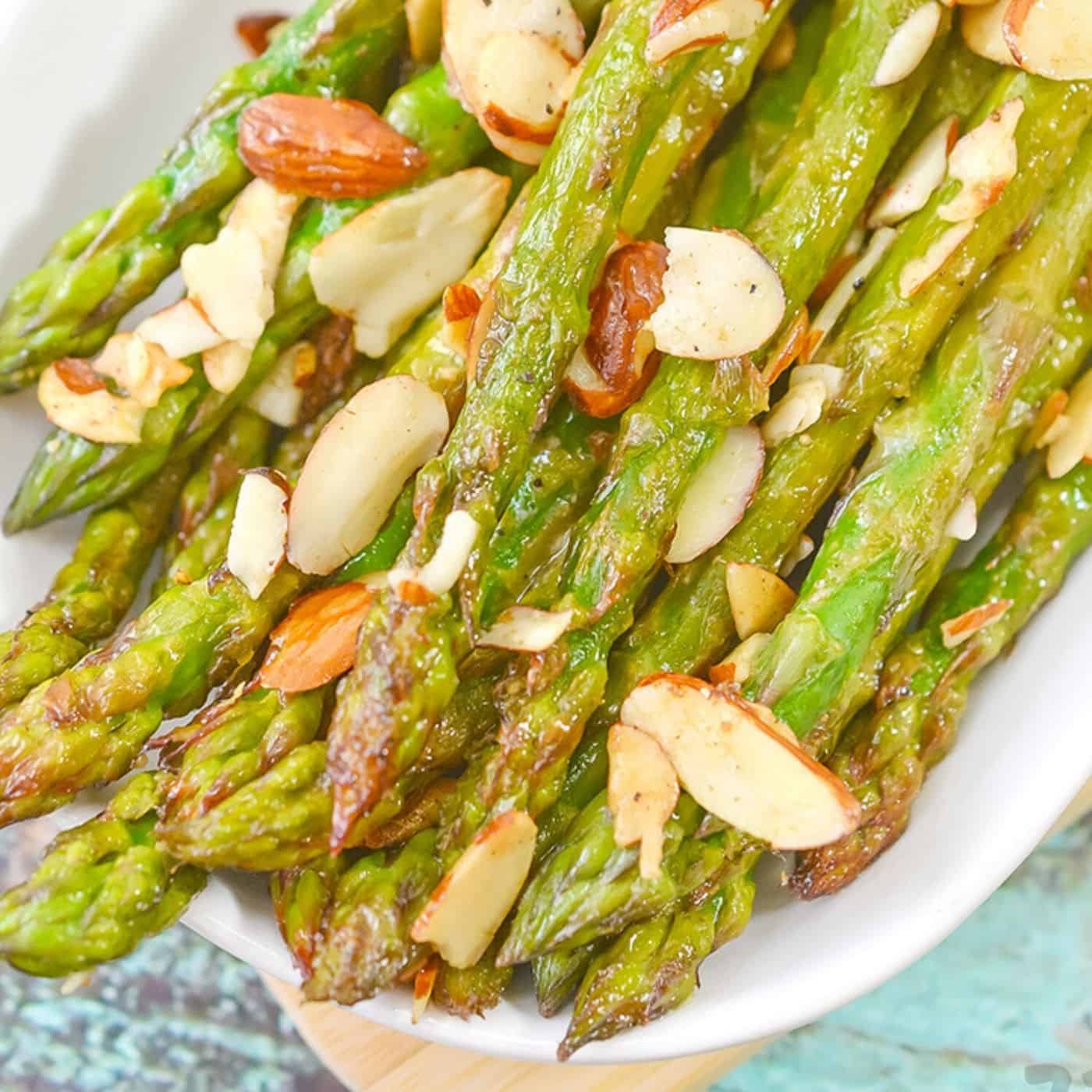 Within 20 minutes, you can have this delicious side dish ready to serve with ham and enjoy.
It takes simple ingredients and pairs nicely with your ham dinners. Get asparagus spears, butter, lemon juice, pepper, and almond, and you're set to enjoy a complete ham dish.
Top with melted butter and toasted almonds!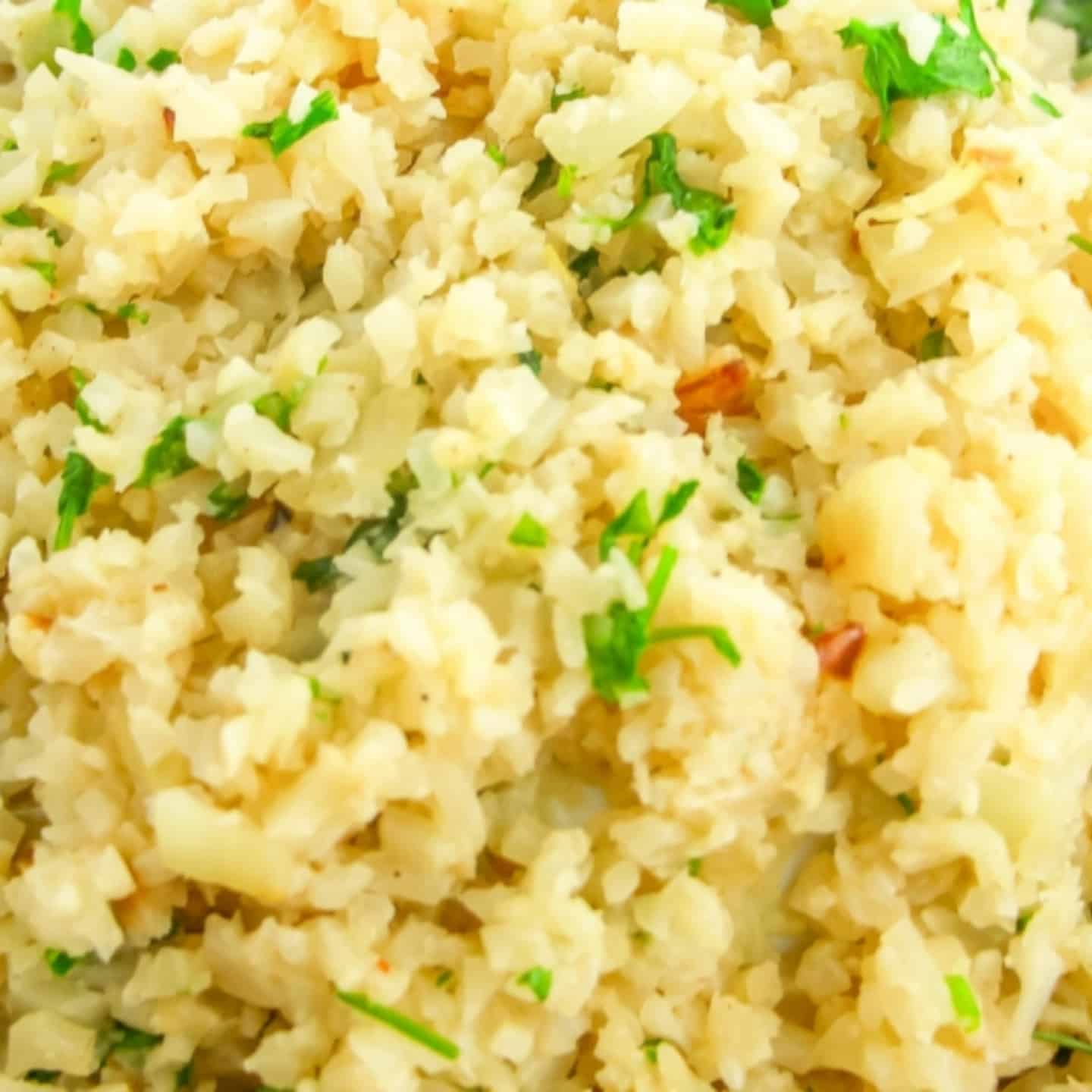 This dish is refreshing, colorful, and flavorful to serve as the perfect side dish for ham.
You'll be pleasing your taste buds with ingredients, including vegetable broth, cumin, fresh cilantro, lime juice, riced cauliflower, and white onion.
It's a beautiful addition to the holiday table that will definitely earn you cheers! For even more delightful additions to your holiday table, check out these easy Christmas cookie recipes with few ingredients.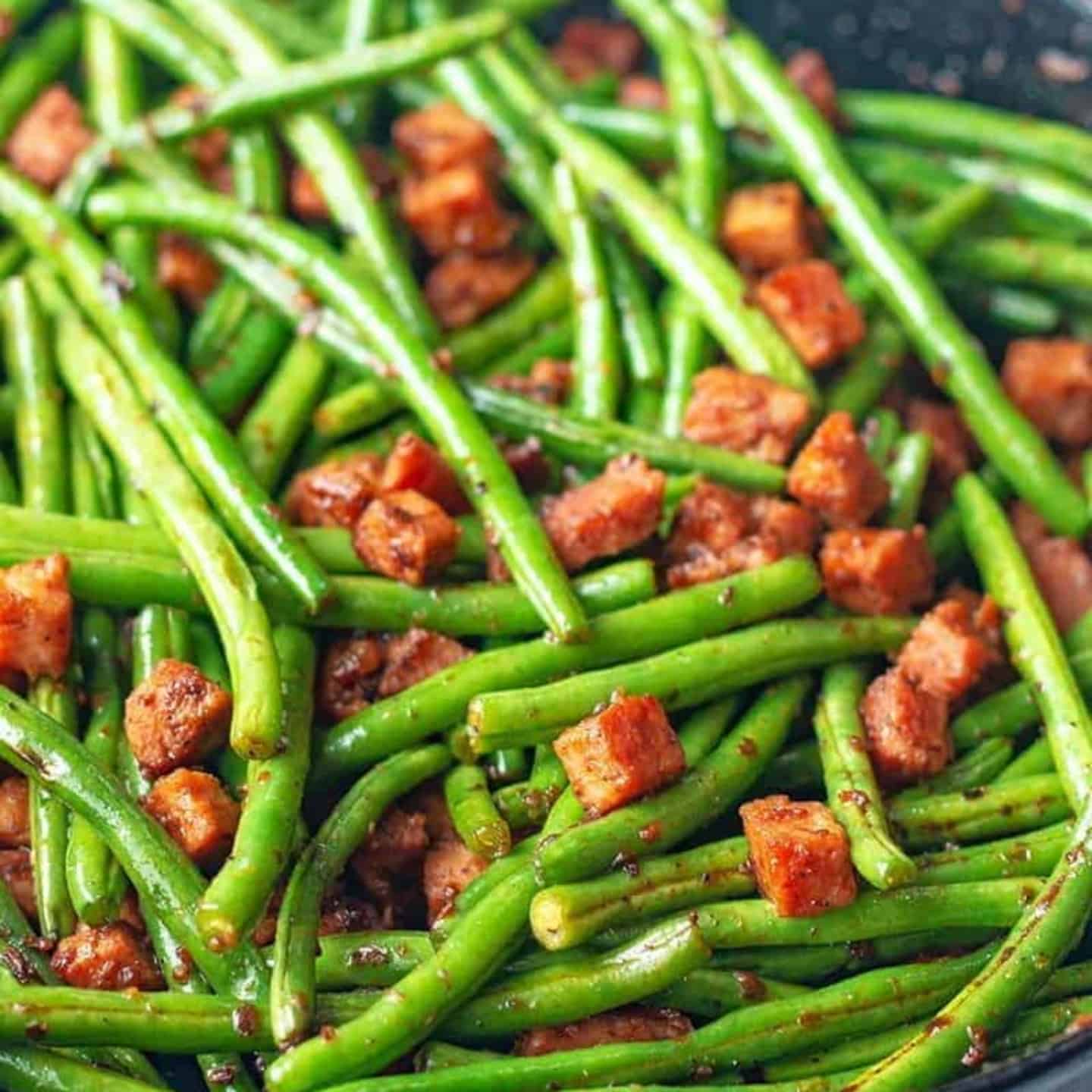 You can have pieces of your juicy ham sauteed and seasoned with green beans for a fine dining experience.
It's super easy, with a prep time of 30 minutes, and you're guaranteed to love this dish till the last bite!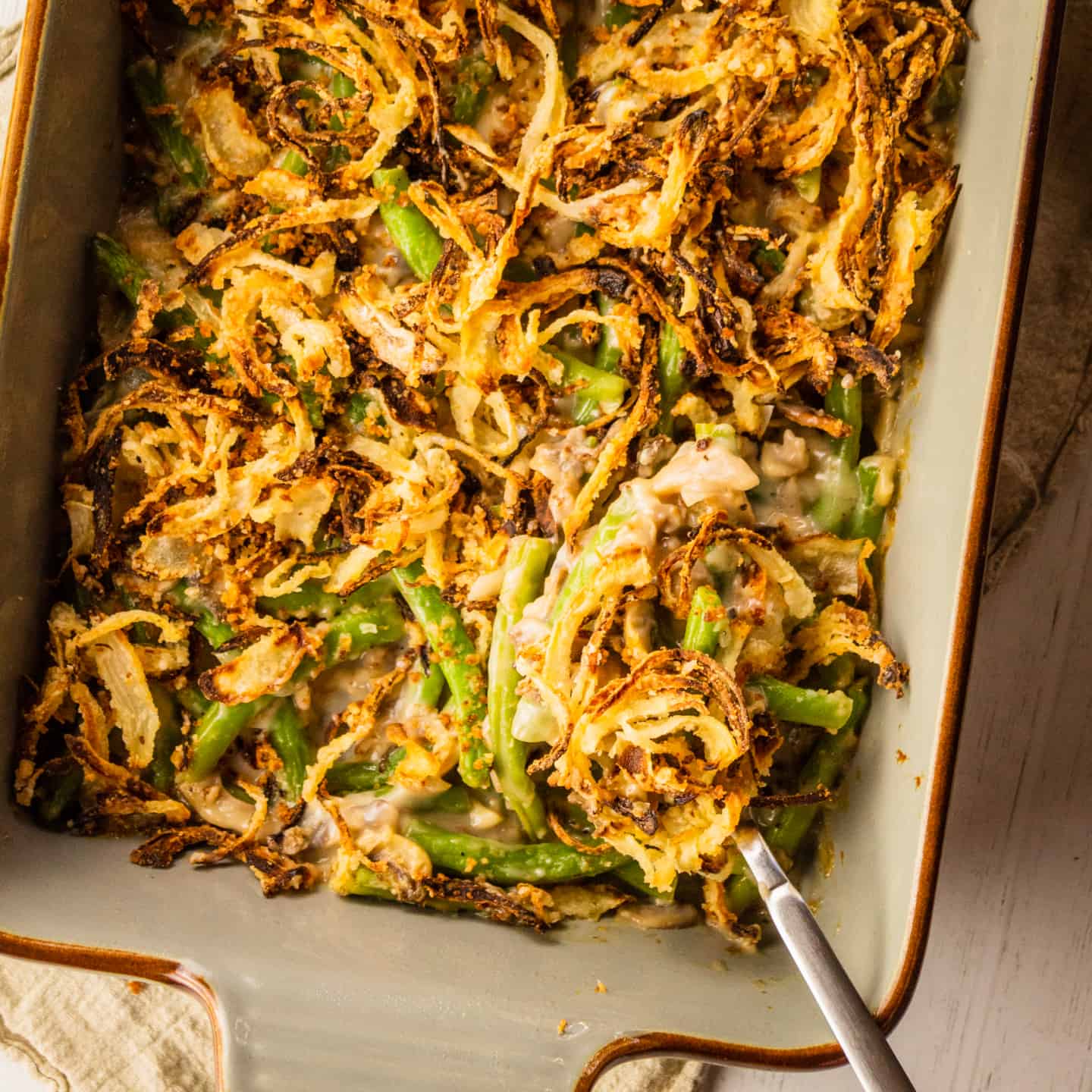 Casseroles are a delight with the amazing flavors they bring to your taste buds.
You will especially enjoy this green bean casserole made with fresh green beans, canned cream of mushroom, Worcestershire sauce, fried onions, pepper, and sharp cheddar cheese.
It takes only 30 minutes to cook and serve to enjoy with your ham!
This dish's delicious filling of creamy sweet potatoes and crumbly topping makes it the perfect dish to pair with your juicy ham dinner.
It combines ingredients, including brown sugar, chopped pecans, sweet potatoes, soft butter, evaporated milk, and vanilla.
Bake for about 40 minutes, and enjoy!
You'll absolutely love this scalloped potatoes recipe, incorporating russet or Yukon gold potatoes, sharp cheddar cheese, non-fat milk, flour, butter, paprika, and chopped chives or parsley.
Serve immediately with your baked ham, and enjoy!
This is a family favorite made with simple ingredients but gives you the best flavors to pair with your ham dinner.
You'll have this dish ready in under an hour, and you should bake it till it's golden brown.
Serve warm to enjoy!
Enjoy your flavorful ham with a soft butter dinner roll for a fine dining experience.
With this recipe, you'll have the side dish ready in an hour, and with ingredients, you can easily get it from your pantry.
These ingredients include melted butter, honey, milk, dry yeast, sea salt, and all-purpose flour.
With cornbread edges and a soft casserole middle, this yummy dish will have you absolutely satisfied.
It's super simple to make, and you'll have a delicious dish to go with your ham in about an hour.
Spoon it onto a plate and enjoy!
These thinly sliced potatoes are incorporated with thyme, butter, and garlic and then roasted to golden-brown perfection.
The amazing side dish takes a cook time of about an hour, and you can enjoy it with a kosher salt garnish.
Ensure you cool for at least ten minutes before serving.
If you love soul food dishes, you'll enjoy these perfectly seasoned collard greens to go with your ham.
For this recipe, you'll need bacon ends, seasoning salt, jalapeno pepper, chicken broth, and minced garlic for the best garlic flavors.
Serve warm, and enjoy!
This is a super quick side dish made with roasted asparagus and grated parmesan cheese.
It takes 15 minutes to make, and you'll enjoy it with a sprinkle of kosher salt, lemon zest, and even more parmesan.
These oven-roasted carrots with honey glaze are the definition of a colorful and tasty side dish.
You'll love cutting into these juicy carrots and savor everything until the last bite. ingredients you need are rainbow carrots, melted butter, honey, garlic powder, dried thyme, salt, and pepper.
Serve warm with ham, and enjoy!
In about 20 minutes, you could have this delicious bowl of leek soup with no cream to enjoy with your ham.
It incorporates leeks, butter, potatoes, vegetable broth, chives, salt, and pepper.
Ensure to serve hot with cheese or chives sprinkled on top.
These hard-boiled eggs combined with mayonnaise, Dijon mustard, white balsamic, paprika, and kosher salt will definitely put a smile on your face.
Each bite of this side dish with your ham tastes like heaven, and you'll have a swell time sharing this with the family.
It takes only 17 minutes to make, and you should enjoy it topped with chives!
This salad is filled with refreshing veggies that make it perfect for summertime and comes with a delicious creamy dressing.
You'll get flavors from peas, crispy bacon, red onion, milk, sugar, and Miracle Whip to enjoy with your ham dinner.
Refrigerate for at least an hour before serving!
Baked beans are the side dish for many meat dishes, and ham is one of the perfect ones to pair it with.
This side dish is quite easy to make, taking only 10 minutes of preparation time and 40 minutes cook time.
Ingredients required are ground beef, onion, bell peppers, pork & beans, barbecue sauce, ketchup, brown mustard, soy sauce, and bacon slices.
Creamed spinach is one of the side dishes for ham that brings ultimate comfort to your soul. The side dish combines fresh spinach, spices, creamed cheese, and cheese.
You can also use fresh spinach, which you'll have to thaw and dry as much as possible.
Season the dish with salt and pepper, and enjoy!
Mac and cheese are one of the most flexible side dishes you can have as a side dish for ham.
You can incorporate spices as much as you want and serve them with your preferred toppings.
This recipe incorporates panko bread crumbs as toppings, giving your meal a new depth in flavor!
This delicious broccolini with grated parmesan cheese and garlic will put a smile on your face on the first bite.
The broccolini is first sauteed and then steamed to get a well-cooked and perfectly seasoned side dish.
Serve with a squeeze of lemon and a drizzle of olive oil.
You'll absolutely love this potato salad, giving you an unmatched flavor profile from its combination of ingredients.
With Yukon gold potatoes, hard-boiled eggs, mayonnaise, and yellow mustard, among others, you already know it's a side dish sure to please the crowd!
This applesauce is simply the best way to enjoy ham during fall.
It takes about 30 minutes to make and incorporates ingredients you can easily fetch from your pantry.
Also, all you need to have this prepared is n instant pot and an immersion blender.
The flavors and textures from this make-ahead side dish will have you licking your plate clean!
It's a yummy dish made with a wild rice blend, vegetable broth, olive oil, white onion, white wine, and mushrooms.
Serve hot with your ham dinner, and enjoy!
If you want something sweet to go with your ham dinner, this pineapple stuffing recipe is the one for you.
It's a super easy and flavorful side dish with minimal prep time and few ingredients. These ingredients include crushed pineapple, white sandwich bread, butter, sugar, and eggs.
Bake in the oven for an hour till it's golden brown, and serve with ham.
This dish serves excellently as an appetizer, dessert, and side dish for ham.
It brings sweet favors to your salty baked ham, creating the perfect balance to please your taste buds.
The tarts are easy to make, with only 40 minutes of cook time required.
A simple green salad is a healthy alternative to enjoy with ham, incorporating veggies of your choice and preferred creamy dressing.
This recipe uses a bright lemon dressing and a few of the best tender veggies!
Braised cabbage remains one of the finest side dishes to serve with meat, such as this amazing bottom round roast and ham!
It's a simple dish to assemble in minutes and leave to simmer for about an hour or more in a large saucepan.
This dish is healthy, flavorful, and best enjoyed warm with ham.
Sides for ham takeaway
These are the best easy side dishes for ham to explore at any season of the year! Share with your family and friends to have that complete and enjoyable dining experience with ham.