Cabbage is a tasty and nutritious vegetable perfect for shredding and using in a wide variety of dishes. From savory soups to hearty casseroles, these 21 shredded cabbage recipes will satisfy your cravings and keep you feeling full and energized.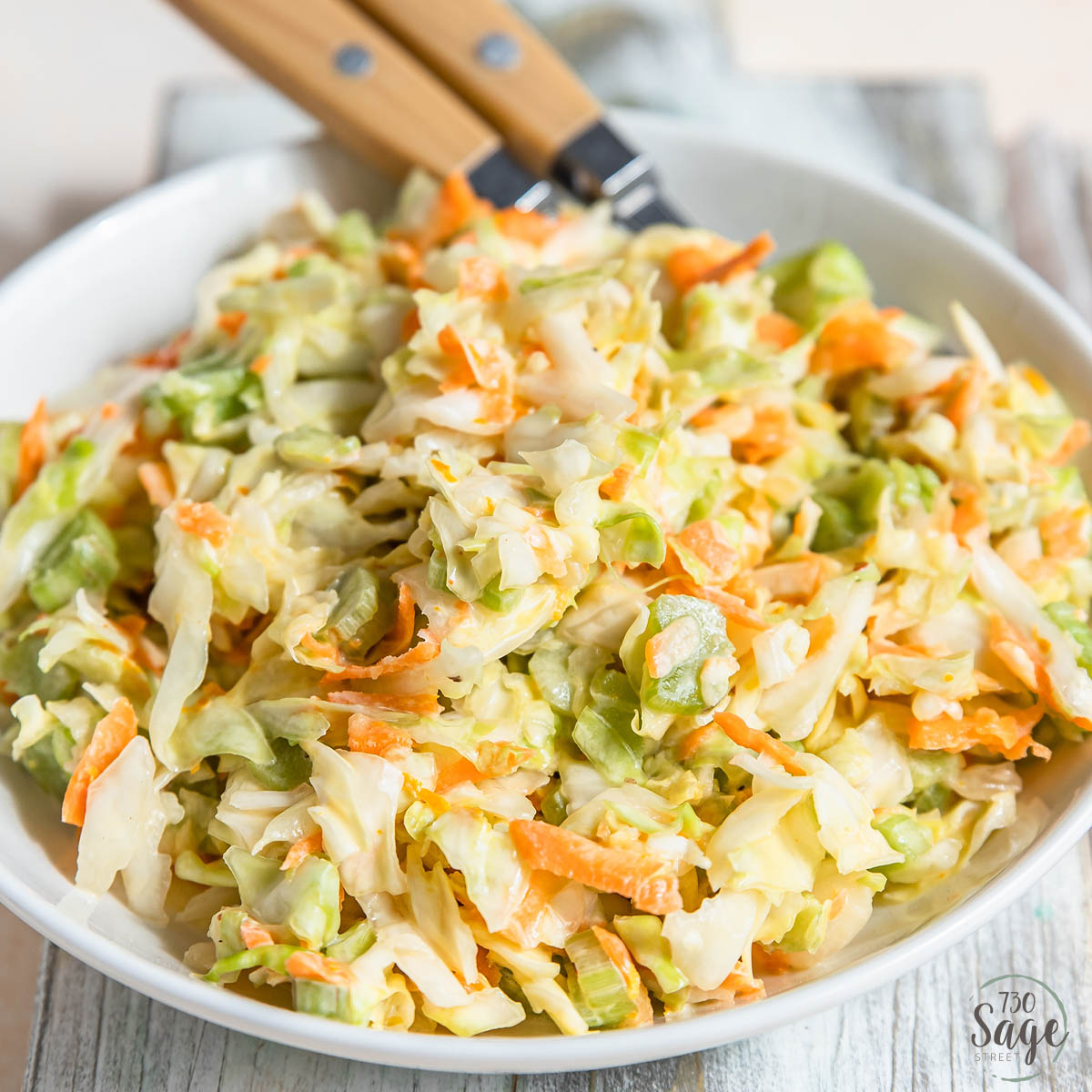 Whether you're looking for a healthy side dish or a comforting main course, these recipes will inspire you to get creative in the kitchen and explore all the delicious ways to use shredded cabbage. So grab a head of cabbage and get ready to cook up a storm with these mouthwatering recipes!
How Do I Properly Shred Cabbage?
To properly shred cabbage, start by cutting off the stem and removing any damaged outer leaves. Cut the cabbage in half, then cut each half into quarters.
Use a sharp knife to slice the cabbage as thinly as possible, either by cutting it into long strips or by using a mandoline slicer. You can also use a food processor with a shredding attachment to make the job easier.
What Are Some Different Ways To Use Shredded Cabbage
There are many different ways to use shredded cabbage in recipes! You can use it as a base for salads, add it to stir-fries and soups, stuff it in tacos and wraps, or even use it as a low-carb alternative to noodles in dishes like lasagna.
Additionally, shredded cabbage can be used to add crunch and texture to sandwiches and burgers or even fried up as a side dish or topping.
21 Shredded Cabbage Recipes
Here is a collections of tasty 21 Shredded Cabbage Recipes:
This Simple Sautéed Cabbage is the perfect side dish for a low-carb meal. This easy recipe combines shredded cabbage, sautéed onions, garlic, and smoked paprika, resulting in a delicious and flavorful dish that is both savory and healthy.
The cabbage is cooked to perfection, soft yet with a slight crunch, and the smoked paprika and garlic add a subtle depth of flavor. This recipe is also incredibly easy to make, with just a few simple steps, making it perfect for a quick and easy side dish.
This Easy Sausage & Cabbage Skillet recipe is a quick and easy meal that you can prepare in under 30 minutes. Shredded cabbage is sautéed until tender, then combined with sliced cooked sausage, garlic, and seasonings. The result is a delicious and hearty dish that is perfect for a weeknight dinner.
The sausage adds a savory and smoky flavor, while the cabbage adds a nutritious crunch. Add a little heat with some crushed red pepper flakes for an extra kick of flavor.
This Cabbage Stir Fry recipe is packed with nutritious and delicious ingredients that come together for a perfect flavor. Thinly sliced cabbage, ginger, garlic, grated carrots, and yellow onion are sautéed in sesame oil until they are wilted and softened.
Then, ramen noodles are added along with a homemade stir fry sauce and cooked until they are well coated and combined. This flavorful dish is topped with sweet chili sauce, making it perfect for those who love a bit of heat.
This delicious and healthy recipe is perfect for anyone who loves Asian flavors. The dish is made by sautéing ground pork with Chinese 5 spice, green onions, garlic, ginger, and red chili, then adding shredded cabbage, carrots, and bean sprouts to the mixture. The final touch is the addition of seasoned rice vinegar, sesame oil, and tamari, creating a flavorful and savory sauce that coats the ingredients perfectly.
This Dish can be topped with fresh cilantro, green onions, and sesame seeds for added flavor and texture.
These Shredded Cabbage Pancakes are a savory and simple way to enjoy cabbage in a delicious new form. This easy recipe combines shredded cabbage, diced yellow onion, baking powder, flour, eggs, and chopped fennel fronds or dill, creating a flavorful and nutritious mixture that is perfect for frying up in a skillet.
The pancakes are crispy on the outside and tender on the inside, making them a satisfying and tasty treat. This recipe is quick and easy to make, making it perfect for a healthy breakfast or brunch.
This recipe is made using shredded green cabbage, minced garlic, finely sliced red onion, olive oil, shredded parmesan cheese, and salt and pepper. The result is a delicious and flavorful dish that is perfect for a quick and easy weeknight meal. The cabbage is wilted in a large skillet with garlic and onion, creating a savory and fragrant base.
The addition of shredded parmesan cheese adds a delicious and cheesy flavor, making this dish extra special. This recipe is versatile and can be served as a side dish or piled onto toasted bread with an egg for a complete meal.
This cabbage casserole recipe is a savory and creamy dish that's perfect as a side dish or even as a main meal. The quiche-like batter is loaded with cabbage, green onions, and dill, which adds a fresh, herbaceous flavor to the dish. The cheesy golden crust is sure to please with its slight cheese pull when hot and fresh out of the oven.
The shredded cabbage is the star of this dish, adding a satisfying crunch and subtle sweetness. Serve with a garnish of green onions for an added touch of freshness.
This recipe is packed with flavor and uses simple ingredients, making it a great option for a busy weeknight dinner. The stir fry sauce is made with a combination of low sodium soy sauce, oyster sauce, hoisin sauce, and Chinese cooking wine, among other ingredients. The beef is browned and then cooked with the sauce, shredded cabbage, and carrots, creating a dish that is both savory and satisfying.
This cabbage and carrot stir fry is a simple and healthy side dish that's full of flavor. Shredded cabbage and carrot are sautéed with onion, garlic, bell pepper, and thyme, then cooked in vegetable broth and a whole Scotch Bonnet pepper for added heat. The result is a tender and flavorful stir fry that's perfect to serve alongside your favorite protein. Make it your own by adjusting the spice level to your liking and enjoy a low-carb, low-calorie side dish that is also vegan and gluten-free.
This Cucumber Cabbage Salad recipe is a perfect combination of crunchy and refreshing. This simple cabbage salad recipe is mainly shredded cabbage, cucumbers, and green onions tossed in an easy vinegar cabbage salad dressing. Ukrainian weddings often serve this salad because it is easy to make and delicious. Thinly shred the cabbage with a mandoline slicer, slice the cucumber into thin triangles, and combine with green onions.
Whisk together the salad dressing ingredients and pour over the cabbage mixture. Toss together and serve immediately or refrigerate for two hours before serving.
Try this Chinese Cabbage Salad recipe! Featuring a homemade sesame dressing, this salad is loaded with shredded cabbage, grated carrot, yellow bell pepper, green onion, cilantro, mandarin oranges, chow mein noodles, chopped almonds, and red onion. The sesame dressing is the perfect complement to the vegetables and adds a ton of flavor. This salad is easy to make and is a great option for a light and refreshing lunch or dinner.
This Lebanese-style dried mint shredded cabbage salad is a quick and easy weeknight side dish. The garlicky lemon vinaigrette adds a tangy punch of flavor that pairs perfectly with the crispness of the cabbage. Simply shred the cabbage, chop up some tomatoes and jalapeno peppers, sprinkle with dried mint, and mix it all together with the dressing. The salad can be stored in an airtight container in the fridge for up to 5 days, making it perfect for meal prep or a quick side dish.
This flavorful Coconut Curry Cabbage recipe is perfect for those who love a little spice in their life. Shredded cabbage, onion, and carrot are simmered in a creamy coconut milk sauce with fragrant spices like coriander, turmeric, and cumin. This vegan and gluten-free dish can be served with rice, potato or roti. Enjoy the satisfyingly tender, fully cooked cabbage and the delicious, thick sauce that coats the veggies.
This Pan Fried Herb Butter Cabbage recipe is an Irish classic that will delight your family. Shred green cabbage and season it with homemade herb butter made from unsalted butter, garlic powder, lemon juice, and freshly ground black pepper. Then, melt the herb butter in a pan and add the cabbage, cooking it until it's tender. Serve as a side dish with your favorite main course, such as chicken or fish.
This Shredded Cabbage Soup Recipe is a comforting, nutritious soup that is perfect for cold weather. The flavorful soup is made with concentrated beef broth, and filled with healthy vegetables including cabbage, carrots, potatoes, and celery. The soup is low in fat and high in fiber, making it a great option for those following a low-fat diet. The recipe is easy to make, and requires just 20 minutes of active work.
Simply melt butter, sauté onions, add broth, vegetables, and seasoning, and let it simmer for 90 to 120 minutes. This delicious soup can be served with crusty bread or as a light dinner. The recipe can be easily adapted for vegetarians and vegans by using vegetable broth and plant-based butter.
Thinly sliced cabbage and yellow onions are sautéed in bacon drippings until tender and caramelized, then seasoned with black pepper, nutmeg, and sea salt. Garlic and crispy bacon are added towards the end of the cooking process, giving the dish an extra boost of flavor and texture. This dish is perfect for anyone looking for a low-carb, low-calorie, and gluten-free side dish that's both tasty and satisfying. Try it with roasted chicken or grilled fish for a complete and balanced meal.
This crispy, tangy, and lemony slaw is made with shredded cabbage, grated carrots, and thinly sliced red onions, all coated with a flavorful mix of lime juice, oregano, and salt. Toss everything together and allow it to rest for 15 minutes before serving to let the flavors meld together. This easy-to-make salad is the perfect accompaniment to any Mexican-inspired meal, and the bright and bold flavors will make your taste buds dance.
This delicious recipe features crumbled ground beef cooked with minced garlic and onions, diced tomatoes, tomato sauce, and a generous amount of chopped cabbage. The blend of seasonings such as garlic powder, salt, and pepper adds a depth of flavor to the dish, while the vinegar and Worcestershire sauce create a tangy and savory taste. Simply cover the pot, bring it to a boil, reduce the heat, and let it cook until the cabbage is tender.
This vegetarian cheesy cabbage casserole is a comforting and delicious dish perfect for any meal. Thinly sliced cabbage is massaged with salt and fresh dill, then baked with a batter of beaten eggs, plain yogurt, olive oil, flour, and baking soda. The whole dish is then topped with shredded mozzarella cheese and baked to perfection in a 9-inch baking pan. The result is a golden, bubbly, and cheesy casserole that is sure to satisfy your cravings.
This Spicy Shredded Cabbage recipe packs a flavorful punch and is a great way to use up any leftover cabbage you may have. The dish is cooked with diced tomatoes, onions, bay leaf, cinnamon, cloves, and paprika which provide a spicy and savory flavor.
The cabbage is sauteed with the other ingredients and then simmered in stock for 25 minutes, allowing the flavors to meld together perfectly. The result is a tender, slightly spicy, and deliciously unique cabbage side dish that is perfect for serving with your favorite protein.
Shredded Cabbage with Sliced Pork is a hearty, traditional Polish dish that's perfect for a cozy winter meal. This recipe features a variety of meats, including pork ribs, beef, and diced pork, as well as sauerkraut, mushrooms, and prunes for a unique and delicious flavor. The ingredients are cooked together with spices, including allspice, bay leaves, and pepper, and Madeira for an extra layer of complexity.
Frequently Asked Questions About Shredded Cabbage
Can You Freeze Shredded Cabbage?
Yes, you can freeze shredded cabbage. To do so, blanch the shredded cabbage in boiling water for 1-2 minutes, then plunge it into ice water to stop the cooking process. Drain well and store in airtight containers or freezer bags for up to 8 months.
How can I make shredded cabbage last longer in the fridge?
To make shredded cabbage last longer in the fridge, store it in an airtight container or a sealed plastic bag. You can also add a paper towel to help absorb excess moisture and keep the cabbage from wilting. It's best to use the shredded cabbage within a week of purchase.
Can I substitute other types of cabbage in recipes that call for shredded cabbage?
Yes, you can substitute other types of cabbage in recipes that call for shredded cabbage. Green, red, and Napa cabbage are all good options, and each will give a slightly different flavor and texture to the dish.