If you're looking for delicious recipes out of the ordinary to cook with your piece bottom round steak, these 17 bottom round steak recipes are sure to please.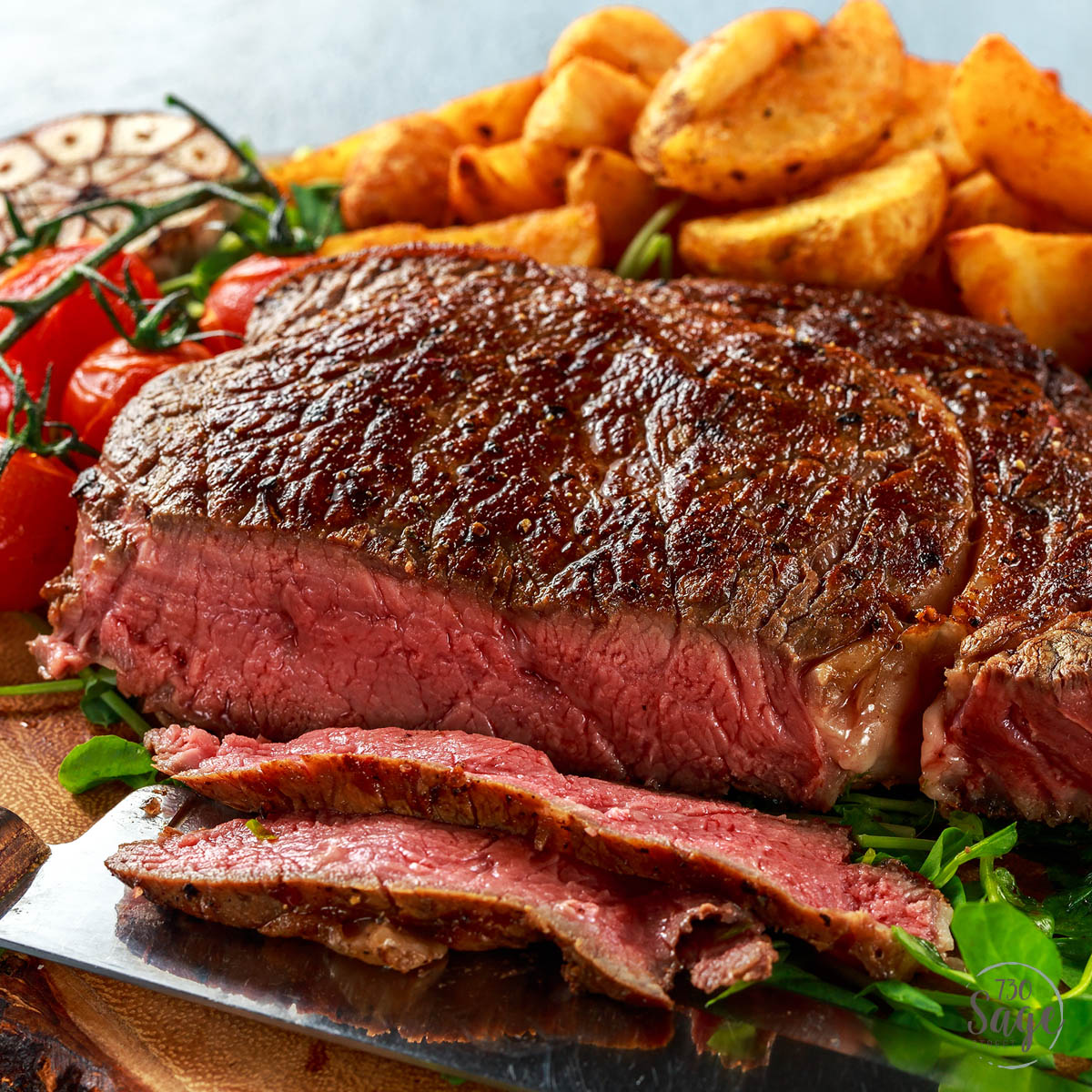 From Mexican recipes like carne asada tacos and fajita steak salad to beef fried rice and kebabs, there are lots of new creations to satisfy your appetite.
No matter which recipe you go for, I am sure you will love making it home to delight your family and friends. So, fire up the grill or stove and get cooking!
For ideas of what to serve with steak, check my complete collection of easy side dishes to eat with your juicy round steaks.
🙋 Frequently Asked Questions
What Is Beef Bottom Round Steak?
Beef bottom round steak is a cut of meat that comes from the hindquarters of the cow. It's one of the tougher cuts of meat, but it's also quite flavorful. When properly cooked, it can be quite tender and melts in your mouth.
What Is Beef Bottom Round Steak Used For?
Beef bottom round steak is often used in stews, soups, and slow cooker recipes because it benefits from long cooking times. It can also be grilled, pan-fried, or oven-roasted.
How Do You Tenderize Bottom Round Steak?
There are a few different ways that you can tenderize beef bottom round steak. One way is to pound them with a meat mallet or tenderizer, and another way is to marinate the steak for a few hours before cooking. You can also cook the steak slowly over low heat to help tenderize it.
Red wine and round steak are a perfect combination in this delicious Italian roasted beef recipe.
The bottom round roast in this meal gets cooked low and slow with numerous spices and flavors that enrich the gravy along with the Barolo wine that makes the beef fall apart and melt in your mouth.
The aroma from this dish will have your family and friends gathered around the table in no time!
These easy carne asada tacos are full of flavor and perfect for your next Mexican-inspired meal.
The bottom round steak is marinated in a flavorful blend of orange juice, lime juice, minced garlic, cumin, beef broth, and more before being grilled to perfection.
Serve them on soft tortillas with your favorite toppings for a delicious taco night.
This recipe for easy Instant Pot round steak is the perfect comforting weeknight meal with only two additional ingredients of onion and mushroom soup.
The tender bottom round steak is cooked in a savory gravy with mushrooms and onions until it is tender and falling apart.
It only takes 25 minutes to make this delicious round steak meal and is best served over mashed potatoes, steamed rice, or noodles for a complete meal.
These pan-fries steaks with delicious gravy are so tender and easy to make with pantry staples.
The round steak pieces are floured and fried until nicely browned and slow cooked with a rich beef and wine broth that is simple divine.
Slovenians love the dish because it has layers of flavors that kids and adults love and it's pure comfort food that usually is eaten for Sunday dinner. It is usually served with peas and fresh bread to mop up the delicious creamy beef gravy.
This delicious Swiss steak recipe is a classic comfort food dish that is easy to make and won't break the bank to feed the whole family.
The bottom round steak is first tenderized, coated, browned, and then simmered in flavorful stewed tomatoes and bell pepper gravy until it is melt-in-your-mouth tender.
Serve it over mashed potatoes or egg noodles for a complete meal that everyone will love.
20 minutes, pantry staples, and a few Asian-inspired spices like ginger, oyster sauce, and sesame oil are all you need to make this heavenly good beef fried rice recipe with bottom or top round steak.
It is loaded with veggies, tender beef, and rice that has been cooked in a savory sauce.
This is a great recipe to use up any leftover steak you have and makes a perfect weekday meal.
This Fajita Steak Salad is a fun and easy way to turn a classic steak dinner into a healthy, flavorful salad!
The steak is marinated in a spicy sauce of chipotle powder, garlic powder, onion powder, and cumin before being cooked to perfection and served on top of a bed of crisp salad, making this round steak recipe a winner in my book and anyone else who tries it.
It's budget-friendly, healthy, and guaranteed to be a hit with your guests.
If you want the best flavorful and drool-worthy round steak recipe, you have to check out this sous vied and smoked bottom round roast.
The slow-cooked method of cooking food submerged in water in a sealed bag gives this bottom round roast a fantastic texture that is hard to beat.
It's then smoked for hours over indirect heat, infusing it with a rich, smoky flavor that is out of this world.
The fiery adobo sauce combined with fork-tender bottom-round beef cooked in the instant pot is perfect for game day.
Beef barbacoa is an authentic recipe to cook round steak or other meats in a spicy beer sauce that is utterly irresistible.
This recipe is also fantastic for a large crowd because it can be made ahead of time and reheated when you're ready to serve.
Shish kebabs are always a huge hit at BBQs, and this recipe for bottom-round roast shish kebabs is no different.
Kebabs are easy and fun to make. All you need to do is cut the beef roast into cubes and marinate them in an acidic marinade of Worcestershire sauce, soy sauce, olive oil, lemon or orange juice, and spices such as garlic, onion, or chili powder and salt and pepper.
Thread the beef onto skewers with or without vegetables like peppers and onions and grill until they are slightly charred and cooked to your liking.
This smothered round steak recipe is a classic comfort food dish that is easy to make and so flavorful.
The bottom round steaks are first browned and then simmered in a creamy sauce made from the pan drippings, beef broth, heavy cream, caramelized onions, and seasonings until the steak pieces are melt-in-your-mouth tender.
Serve it over mashed potatoes or egg noodles for a complete meal that everyone will love.
Inexpensive cuts like bottom and top round steak may be a tough cut, but when marinated properly like in this London broil Lebanese style recipe, the meat becomes so tender you can cut it with a butter knife!
A Lebanese-style marinade is robust and herbaceous with lots of fresh parsley, oregano, minced garlic, black pepper, and a touch of sweetness from the cinnamon.
Once the steaks have marinated for a minimum of 1 hour, they get grilled over medium-high heat for 5 minutes until medium-rare and served on flatbread with a fresh arugula salad. It's easy and incredibly tasty.
Get your slow cooker or Dutch oven ready for this sublime pepper round steak recipe in an Asian-inspired gravy.
It is made with a bottom or top round steak that is first browned and then simmered in a savory gravy made from vegetable oil, soy sauce, beef broth, garlic, ginger, and onion.
The steak is melt-in-your-mouth tender, and the gravy is so good you'll want to lick the plate clean.
Bottom round steak recipes don't get much better than this crispy parmesan breaded steak recipe that takes less than 15 minutes to make.
The round steak is breaded in a mixture of seasoned breadcrumbs and parmesan cheese and then pan-fried until it is golden brown and crispy.
It's best served with country-style white gravy, mashed potatoes, or green beans for a delicious Italian-style meal that the whole family will love.
Everyone loves a good steak and gravy dinner because it's pure comfort food, but if you want to take it to the next level, try this air fryer country-fried round steak recipe.
Dredging bottom round steak in egg mixture and a flour mix and then air frying them results in a better crust on the outside and succulently juicy meat.
You will fall in love with this recipe after the first bite. I promise! It's even healthier than the standard shallow frying method as air frying doesn't need any oil, meaning it's a winning recipe for everyone to enjoy!
Kubdari is a Georgian dish usually made with venison, beef, or pork that is wrapped in dough and then baked or fried.
It's similar to a turnover or empanada and is usually filled with spices, onions, and herbs. Although it can be quite technical to fill and shape the dough, it's definitely worth the effort.
The Kubdari is absolutely delicious and looks amazing when cooked properly, which will get you lots of amazing reviews from your guests.
This chili cheese round steak skillet recipe is an easy one-skillet meal similar to a stir-fry that is hearty and comforting.
It's the perfect recipe for less expensive cuts of meat such as round steak, venison, cube steak, and more.
An easy blend of spices combined with tomatoes, onions, and cheddar will make this round steak recipe a family favorite.
🍳 Related Recipes
Check out these juicy and delicious roast recipes; pick one to impress you guests in your next gathering.
Check my collection of best round steak recipes for more ideas.