If you're looking for new inspirational ways to cook that tough but flavorful round steak, you've come to the right place as we dive into 21 round steak recipes made to impress.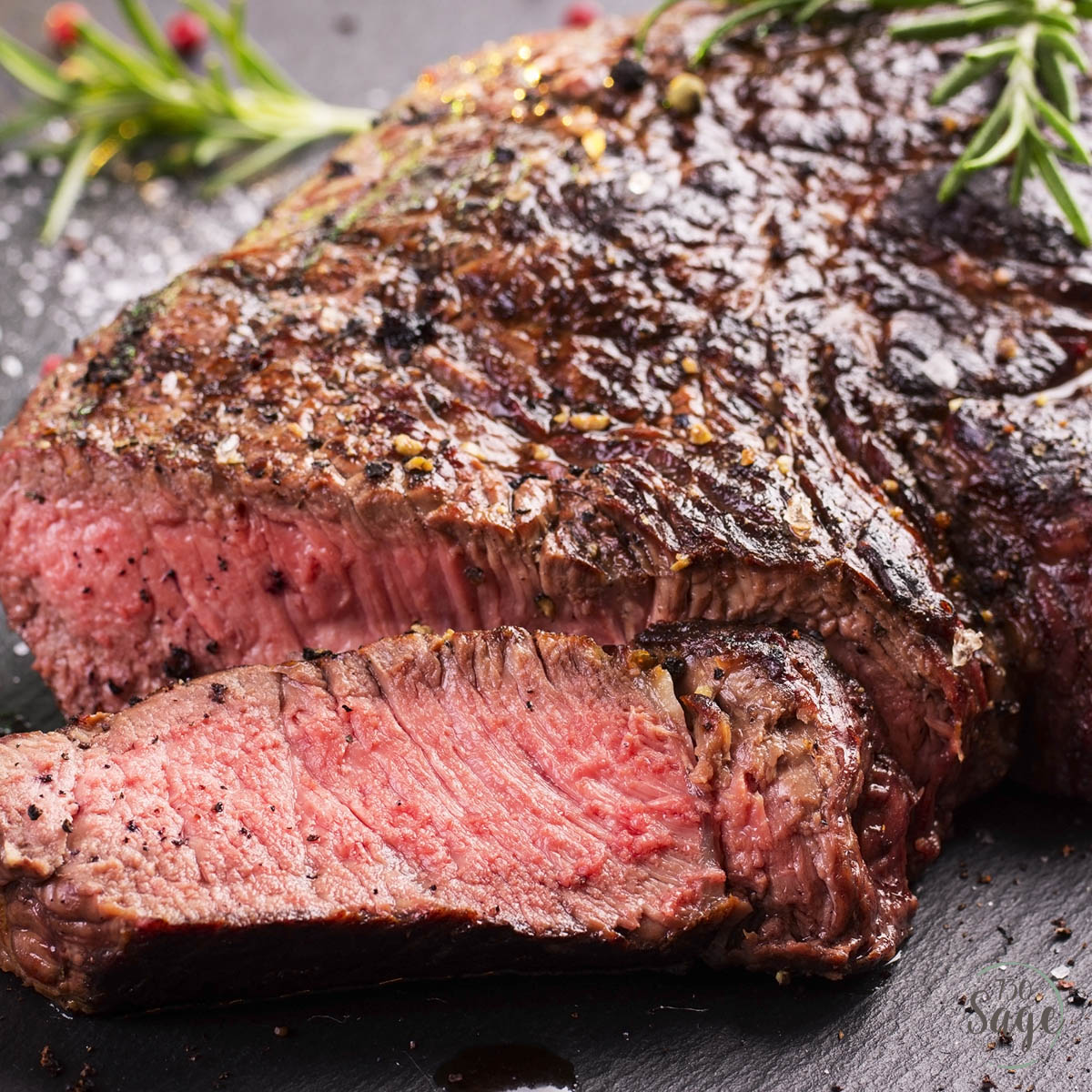 When it comes to steak, there's no one-size-fits-all approach. The best way to cook a steak depends on the type of steak you're working with. That's why we've gathered our best recipes for cooking round steak, so you can find the perfect method for your next meal.
Whether you're looking for a classic grilled steak, a hearty stew, or a simple pan-fried steak, we've got a recipe for you. And since round steak is a relatively tough cut of meat, we've included a few tips on how to tenderize it before cooking. So no matter how you like your steak, we've got you covered.
For ideas of what to serve with steak, check my complete collection of easy side dishes to eat with your juicy round steaks.
🙋 Frequently Asked Questions
What is round steak?
A round steak comes from the rear end of the cow at the top of the leg. The "round" is a huge lean piece of meat that is cut up into different cuts like the eye of round, top round, and bottom round.
The round is also one of the toughest parts of the cow because it is one of the most worked muscles and therefore requires different cooking methods compared to typical ribeye and sirloin steak.
What is a round steak good for?
Round steak is a versatile cut of beef that can be used for a variety of recipes, including stews, stir-fries, and pan-fried. When choosing a round steak, look for one that is reddish-brown in color with well-marbled fat.
Is round steak the same as sirloin?
No, round steak is not the same as sirloin. Sirloin is a higher quality cut of beef that is more tender and flavorful. Round steak is a leaner, tougher cut of beef that is best suited for slow-cooking methods like braising or stewing.
Is round steak cheap?
Yes, round steak is a relatively inexpensive cut of beef. It is an ideal choice for budget-minded cooks who are looking for a hearty, flavorful beef recipe.
Get ready to enjoy a delicious steak dinner with one of these 21-round steak recipes.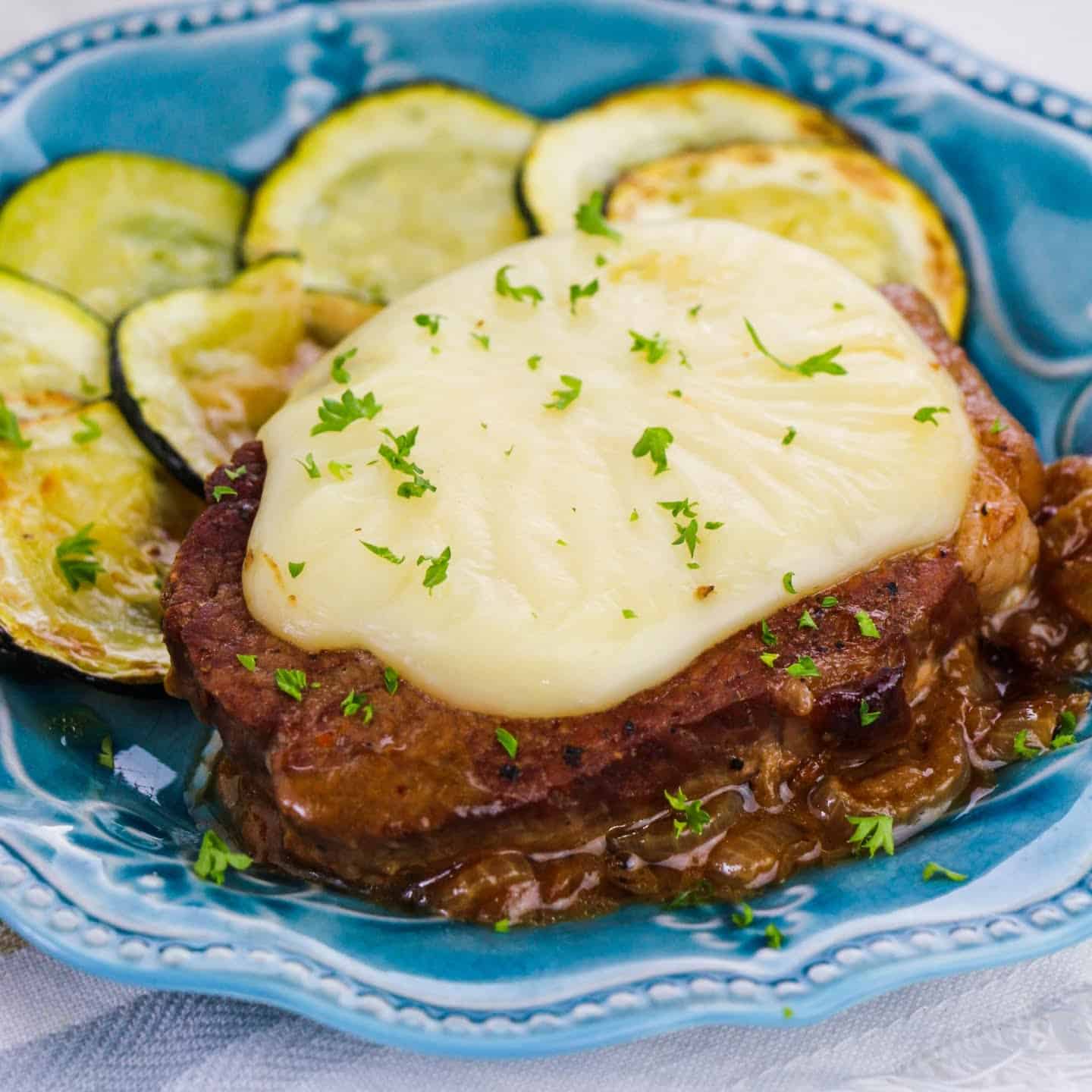 Say hello to your new favorite onion gravy smothered steak recipe that is perfect for busy weeknights and easy to cook.
This recipe features tender round steak that is smothered in a rich and flavorful creamy onion gravy and topped with slices of mozzarella cheese. It's a hearty and comforting meal that the whole family will love.
Plus, it's easy to make and only requires a few simple ingredients.
If you love chicken fried steak, you'll definitely love country-fried round steak and gravy.
The trick to getting the steaks tender is to bash them with a meat mallet, rolling pin, or a ceramic cup until the meat feels tender. Then, simply coat them in egg mixture and a flavorful flour mixture for frying in a hot pan.
The recipe also comes with a homemade gravy recipe made with pan drippings and cream. Serve the golden, crispy steaks and country gravy with mashed potatoes for an unforgettable delicious dinner.
This steak fingers recipe is similar to the previous fried steak recipe, but the round steak is cut up into finger-sized pieces and coated in crunchy saltine crackers.
They have a crunchy texture on the outside and a juicy center that is absolutely delicious. They're great for party food, potlucks, BBQs, game-day, or any occasion you fancy a delicious snack.
You can easily prepare these in less than 30 minutes using minimal ingredients. Plus, kids and adults go crazy for them. Serve them with your favorite dipping sauce.
This steak and onion grilled cheese sandwich is the ultimate comfort food dish. It's easy to make, hearty, and so satisfying.
The recipe features thinly sliced round steak that is cooked until tender, sautéed onions and cheddar cheese, sandwiched in between 2 slices of Italian bread, and pan-fried until the cheese melts and the bread is nicely toasted.
Serve with pickles and some chips on the side for a delicious and filling meal.
This asparagus beef stir fry is full of Asian flavors like soy sauce, ginger, and garlic that give the dish so much depth in flavors.
The tender beef is cooked in a skillet with crisp vegetables and served over cauliflower rice, steamed rice, or egg noodles for a healthy and flavorful dish that is perfect for a quick and easy weeknight meal.
It takes 20 minutes to prepare and tastes way better than any restaurant takeout stir-fry.
This smoked top round steak is juicy, tender, and full of flavor. It's rubbed with a homemade spice blend that gives it a nice smoky flavor, and then it's cooked at a low temperature in a smoker until it reaches the perfect temperature.
The heat is then turned up to 450F to give the steak a caramelized crust and grill marks. This recipe is simple to follow and yields amazing results.
Serve with your favorite steak side dishes, and enjoy.
Roll-ups are one of the easiest and most flavorful recipes that you can make in the crock pot, instant pot, or Dutch oven.
The recipe uses top or bottom round steak pieces rolled up with bacon and mustard and cooked in the instant pot for 30 minutes with vegetables, red wine, and beef broth gravy.
Add a spoonful of sour cream at the end for the best German-style round-roast dinner.
If you don't have time during the evening to make a delicious meal, try this slow-cooker creamy mushroom round steak dish that is perfect for throwing everything in the pot and letting the machine do all the work.
This recipe takes 8 hours, meaning it will cook all day while you're at work and be ready when you get back.
The recipe uses fresh cremini mushrooms, canned mushroom soup, and dry onion soup mix for an intense mushroom flavor that pairs so well with the tender beef, which after 8 hours of cooking, is fork tender!
The smokey, sweet marinade and the crisp vegetables are an amazing combo in this sheet-pan bourbon steak recipe with Brussel Sprouts and sweet potatoes.
The bourbon gives the steak a nice flavor, and the brown sugar in the marinade caramelizes on the surface of the meat for sweetness.
The recipe only takes an hour to make, and everything is prepared in the same baking dish for ease of cleaning and washing up. You and your family will love the smokey bourbon flavors in this dish!
This crockpot recipe for creamy round steak is the perfect way to cook a delicious and hearty meal with minimal effort.
The beef is cooked at a low temperature in the crockpot until it's tender and juicy, and then it's simmered in a creamy sauce made with tomatoes, onions, mushroom cream soup, and a variety of herbs.
This recipe is simple to follow and yields amazing results. Serve over mashed potatoes or rice for a complete meal. Enjoy!
Braising is a great cooking method to infuse flavor in round steak recipes, and this recipe for wine-braised round steak is certainly one for the recipe book!
The beef is first browned in a skillet with olive oil and simmered over medium heat in a red wine sauce made of beef broth, thyme, and butter.
The result is a tender and juicy steak that is full of flavor. This recipe takes about an hour and a half to make, but it's definitely worth the wait.
This Asian-inspired slow cooker recipe for pepper steak is great for a midweek treat that's full of rich flavors.
Slow cooking is the best way to break up the connecting tissues of round steak to make it fall apart. The low temperature and flavorful juices from the peppers, sugar, garlic, ginger, broth and soy sauce infuse into the meat, which tenderizes it, resulting in drool-worthy goodness.
My family loves this recipe, and I am sure yours will do too. Serve it with some toasted sesame seeds and steamed rice for best results.
This Instant Pot Mongolian beef recipe is so easy and only takes 15 minutes to make! You just need to dump all the ingredients into your Instant Pot and let it do its thing. The result is a flavorful, tender beef dish that's perfect for a weeknight dinner.
The rich sweet flavors of soy and hoisin sauce, brown sugar, and fresh ginger combine to create a delicious sauce that coats the beef perfectly.
And the best part is that you don't have to spend hours slaving over a hot stove. Just set it and forget it!
All you need for this tender steak bites recipe is 6 ingredients and a slow cooker/crockpot.
You can even add broccoli, carrots, and other vegetables to go with it, or just keep the steak as small serving-size pieces for enjoying with the gravy.
It's the perfect recipe to serve with egg noodles for a light low-carb dinner.
Beef stroganoff is a classic dish that's hearty, satisfying, and perfect for a cold winter night. And this recipe, made with mushroom condensed soup, is sure to become a new family favorite.
The beef, sour cream, soup, and fresh onions are all cooked on low heat in a closed skillet until the beef is tender and the sauce has thickened. Then it's served over a bed of egg noodles or rice.
This recipe is simple to follow and yields amazing results. So, if you're looking for a delicious and comforting stroganoff recipe, look no further!
This crockpot recipe for Swiss steak is the perfect way to cook a delicious and hearty meal with minimal effort.
The beef is coated in flour, salt, and pepper and cooked at a low temperature in the crockpot for 6 to 8 hours with diced tomatoes, Worcestershire sauce, sliced onions, and garlic.
Serve the swiss steak with green beans, mashed potatoes, or sweet potato fries for a healthy filling meal.
You may have realized that we like crockpot dinner's in this article, and that's because slow cooking not only makes tough steak like top and bottom round easier to eat, but it's hassle-free, just like this round steak dinner!
Steak recipes like this are always a favorite with the guests and cooks because all you need to do is peel and quarter a few russet potatoes and carrots, and put them in the crockpot with the round steak.
Add the brown gravy mix of mushroom and onion soup, a touch of seasoning, and away you go. Simplicity in cooking and excellence in flavor is what you get with slow cooker dinners like this. Enjoy!
If you can't decide between chili and soup for dinner, we have the perfect recipe for you in the form of Southwestern steak soup.
It's made with all the classic chili ingredients like black beans, corn, crushed tomatoes, red pepper, and chili powder. But instead of having a thick consistency, it is watered down slightly to resemble soup by adding extra cups of beef broth.
What's great about this recipe is that it only requires 10 minutes of prep work and 35 minutes to cooking time, meaning you can easily whip this hearty soup up on busy weeknights.
If you're looking for round steak recipes that combine Asian and smokey flavors, then this teriyaki marinated round steak is perfect for you and your taste buds.
The steaks get marinated with the usual Asian ingredients along with sesame oil, sherry, and red pepper flakes for heat.
This recipe is perfect for a summertime barbecue. But, it's also hearty enough to be a winter meal served with some steamed rice and vegetables. No matter what time of year it is, this recipe is sure to please.
Pies are what comfort food is all about when the colder weather comes around, and there's no pie better welcomed than a succulent fork-tender round steak pie oozing with flavor and goodness.
The garden veggies, round steak, and gravy are a good combination in pie recipes, and this one is no different.
Give your guests the winter pot pie of their dreams. Or make it even better with individual pot pies, so you can save them for eating over the following days.
Last on our list of delicious round steak recipes is this rather different but extremely tasty steak and egg burrito.
This hearty burrito is filled with a mixture of fresh mushrooms, garlic, onions, parsley, and ultra-thin slices of marinated steak, wrapped up in an egg roll tortilla.
It's not your everyday burrito, but it tastes so good and is lower in carbs than flour tortillas, so whether you're on a diet or not, you can enjoy this steak egg burrito.