Shopping for the cheapest beef cuts, but not sure if you are getting the best deal? We'll give you the complete rundown on the cheapest cut of beef per pound to feed your family and help you save money.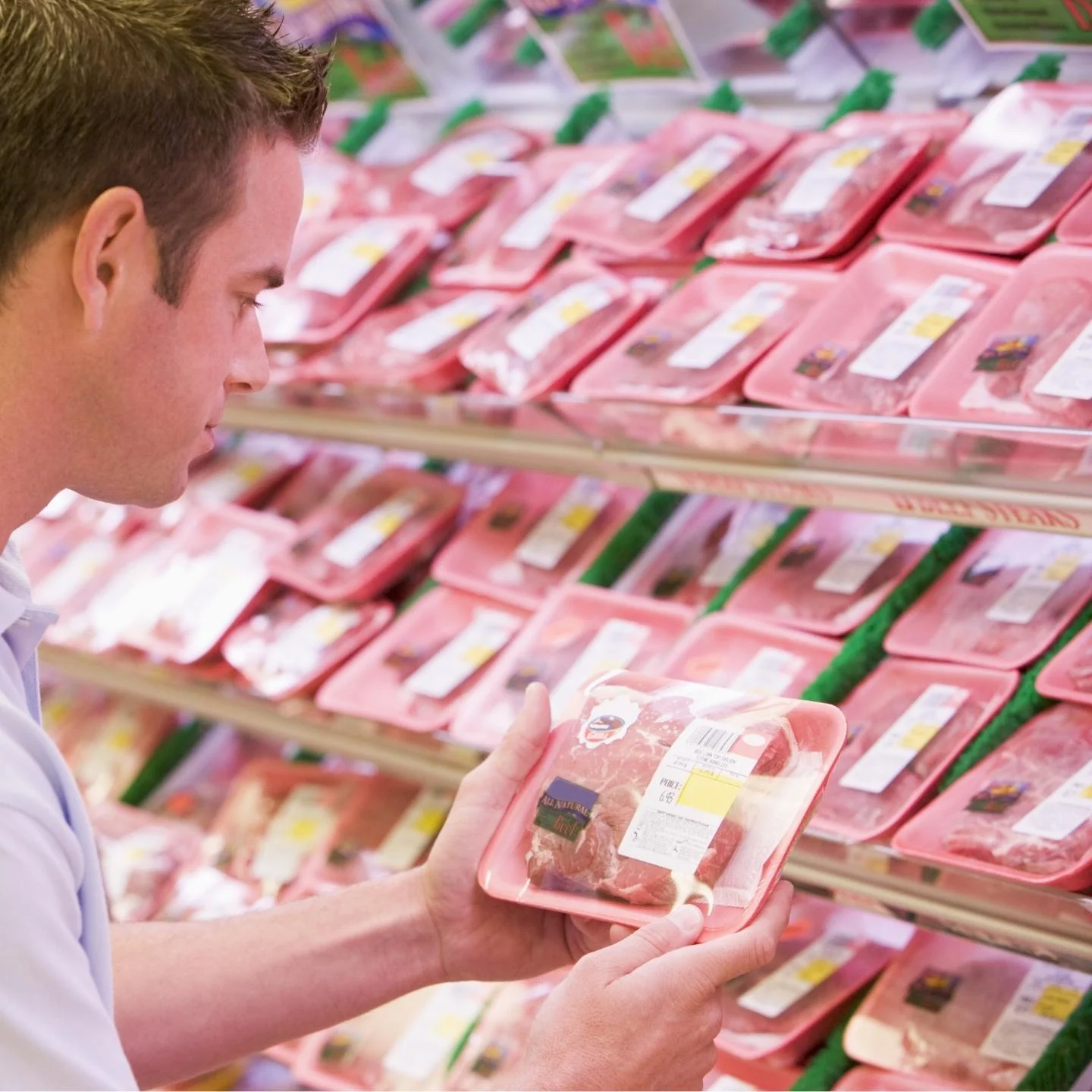 Save money by preparing recipes with few ingredients or browse my list of cheap dinner ideas for inspiration.
Contents
Cheap Cuts of Beef for Families
Everyone loves to save money when grocery shopping while still getting the best quality meat.
The key is knowing what beef roast to buy, when to buy, and how much each beef cut should cost. With this information on hand, finding the cheapest beef cuts is easy.
Getting this right for families on a food budget can positively impact everyone from better meals, more food, and even high-quality food.
Finding cheap beef cuts is no longer an issue nowadays, with many grocery stores and butchers offering weekly deals and meat packs at reasonable prices to attract shoppers.
Although, if you find yourself overspending on beef and want to make some adjustments without sacrificing quality, keep on reading for the best tips and secrets to find the beef cut suited for all your home cooking needs.
Buy Bulk Beef
Buying beef in bulk is one of the best ways to stock up on meat and save money. Typically you'll see at least one opportunity per week to take advantage of sales, discounts, and special offers. Make them count!
I always check the packaged meat isles for 2 for 1 offer or discounts on sirloin steak for grilling, round roast for slow cooking, or cubed steak for stews.
It's the best way to take advantage of price reductions to save yourself some dollars and stock up the freezer with quality beef.
If you have a weekly plan, then bulk-buying makes perfect sense as it prepares you for the weeks ahead, and with many inexpensive cuts out there to choose from, there are always offers available at your local butcher or grocery store.
Note: Does your family have a dedicated freezer? Take buying in bulk a step further by buying larger cuts and breaking them down at home.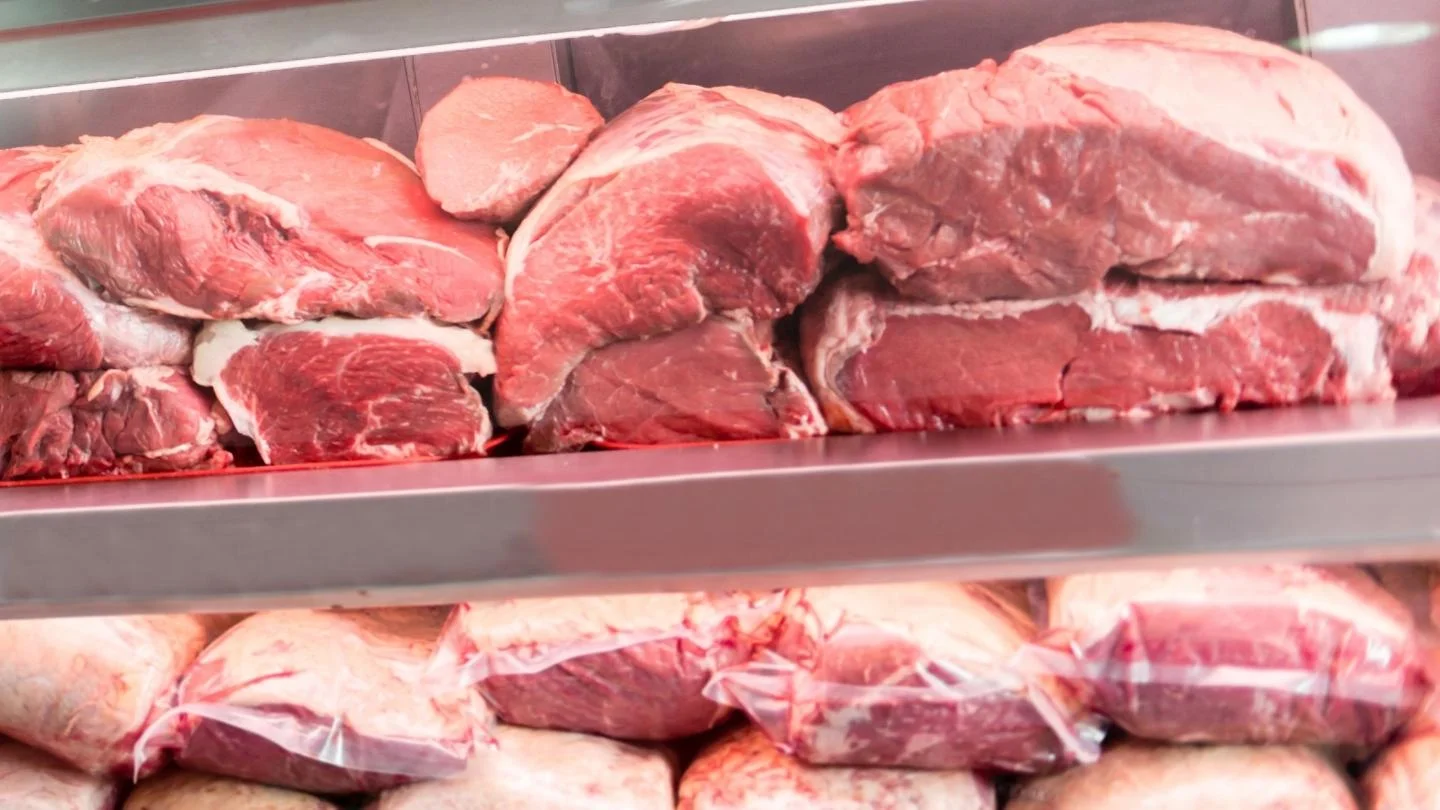 Buy Lean Cuts of Beef
Lean cuts of beef are always the least expensive options. Looking for a delicious lean cut to cook for the family and not sure what's the best beef cut to buy?
Lean beef cuts don't have to cost an arm and a leg, and with juicy cuts like chuck steak, round steak, and arm chuck roast available for less than $6 per pound and packed with beefy flavor, you can easily make a succulent dish and save on beef. Check my collection of best round steak recipes for more ideas.
Once you've found a roast, try this roast beef recipe and learn how to cook melt in your mouth roast beef from start to finish with a fantastic brown gravy.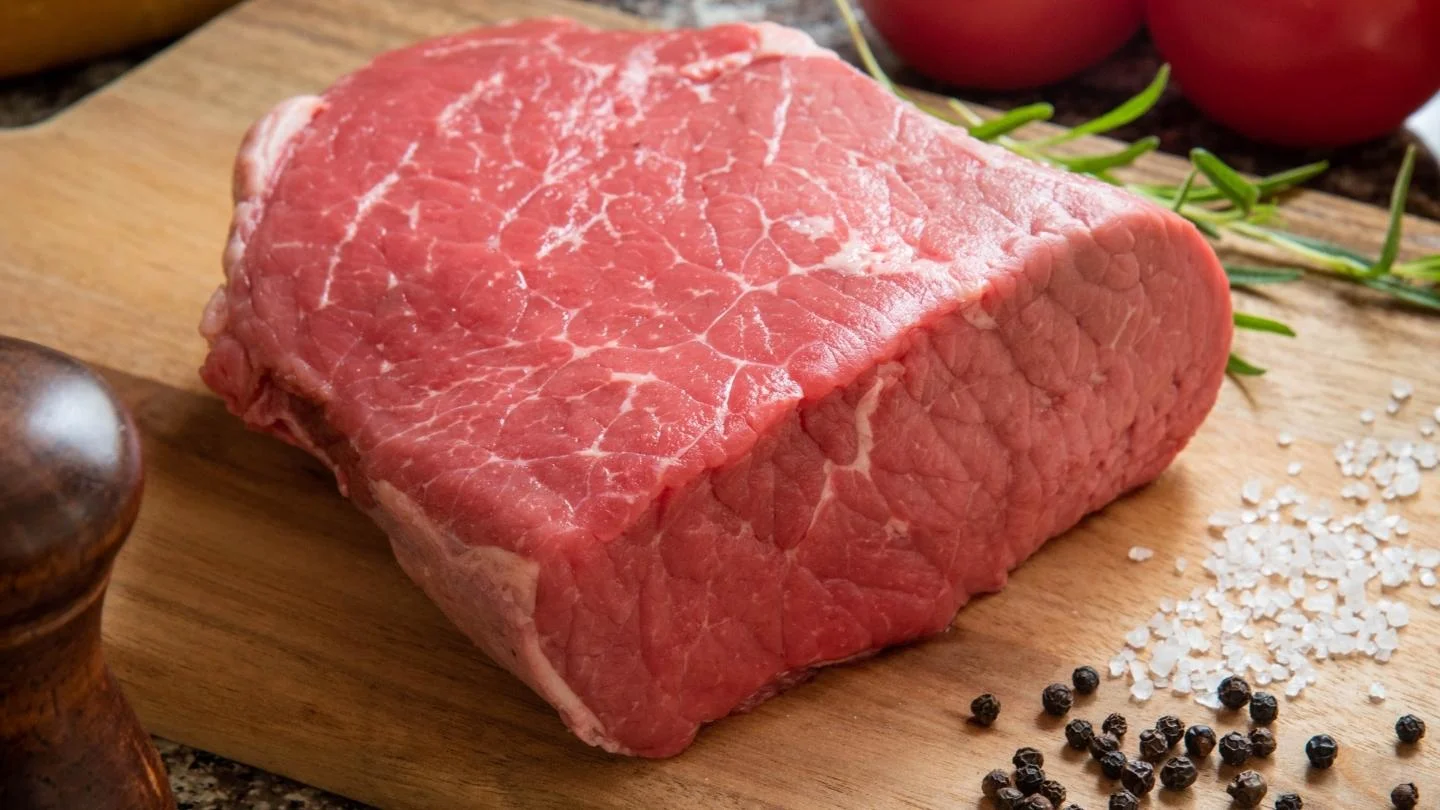 Here's a list of the best affordable tender cuts to look out for:
Skirt Steak
Also known as flank steak or hanger steak is thin, boneless, lean, and excellent value a tender beef cut. This thin, flavorful cut stays tender and juicy when grilled in a hot skillet.
Chuck Eye Steak
Similar to rib-eye steak, but half the price! Chuck eye steaks are tender with a savory flavor and have good marbling making them perfect for skillet cooking and grilling.
Sirloin Tip Steak
Located near the tip of the sirloin, this lean cut is great for absorbing flavors from marinades. You can find Sirloin tip lean roast, which is heavenly slow roasted and sliced thinly.
Stew Meat
Stewing beef, as the name suggests - is best slow-cooked in stews and is one of the cheaper cuts available. Stew meat is full of cubed or minced flavor and becomes tender the longer it is cooked.
Blade Steak
Also known as top blade is an economical beef cut in the shoulder area and yields rich flavors perfect dicing for casseroles and stews or sliced into strips for stir-fry. Blade steak is also great on the grill and can be found in shops as Flat Iron Steak.
Tri-tip Steak
Part of the sirloin beef cuts on the bottom side that is extremely flavor when roasting or smoked. Tri-tip tastes best when slicing thin and has some connective tissue running through the meat resulting in juicy, tender meat.
Top Round Steak
Located in between the bottom round and the eye round - this steak is an affordable, cheap cut mostly found in burgers because it's lean and tender, but it can also be found cubed for stewing as it cooks well in sauces. You can make a delicious mouth-watering onion gravy smothered steak in only 30 minutes!
Bottom Round Roast
This beef cut has a melt-in-your-mouth texture when roasted low and slow. The result is medium-rare roast beef with a lovely pink meat from edge to edge. A bottom round roast is widely available and is perfect for large families as it is incredibly affordable at around $5 per pound.
Shoulder Steak
Again, an inexpensive chuck cut with lots of flavors, perfect for crock pot cooking on low temperatures. Although when marinated for several hours can also be grilled.
Rising Beef Prices
Beef prices are soaring, and there is no relief in sight. Meatflation worsens thanks to a perfect storm of drought, supply shocks, labor shortages, and feed prices, all impacting national meat prices.
Like those mentioned above, cheap cuts of beef vary in price from $4 to $6, Which is relatively inexpensive compared to filet mignon steaks $17.25, Tenderloin $13.32, or ribeye roast for $10.18, as seen below.
Beef Prices Compared
So you have your food budget for the week, and you're ready to go food shopping - but how do you even know how much to spend on the right cut of beef and what's a good deal now that beef is reaching the highest prices ever?
We used the USDA Agricultural Marketing Service to identify beef prices and trends and help you understand and identify deals and save money buying cheap beef cuts.
Weekly and Monthly Beef Reports
We'll focus on the beef market prices since the majority of us buy beef at major supermarkets. This includes informational pricing on all beef cuts, focusing on roasts due to their lower price point per pound. Buy bulk!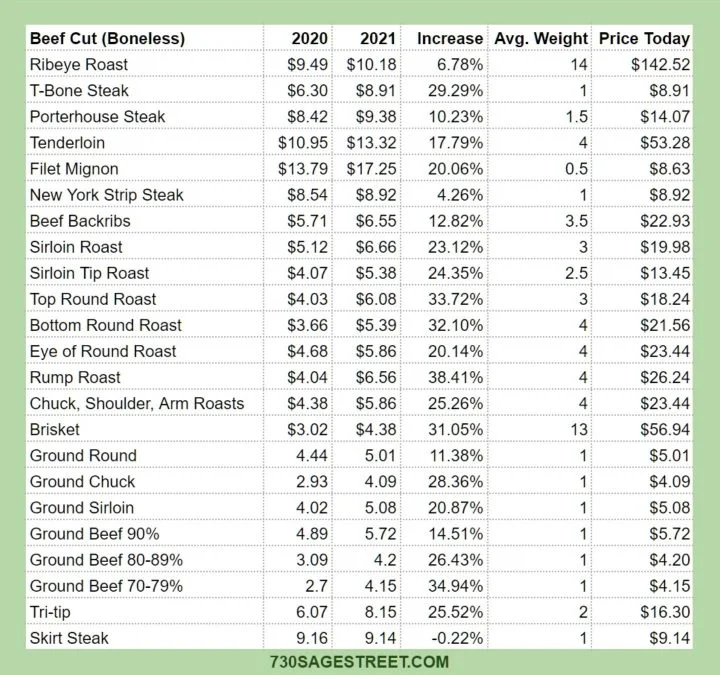 Reduce Food Waste
Don't let your expensive meat become food waste! This is the easiest way to stretch your budget and save money on BEEF and meat in general.
When you cook a roast, try one of these 25 proven leftover roast beef recipes. A single roast can easily provide 2-3 masterful meals for the entire family.
Frequently Asked Questions
What is the cheapest cut of beef?
The cheapest cut of beef is Brisket at $4.38 per pound. This is primarily due to the size of this cut. An average brisket weighs 13 pounds and costs $56.94, making this the best cheap cut of beef today.
Cheep beef cuts to smoke include brisket, which can take 12-24 hours to cook. For this reason my smoked tri-tip is fantastic and is ready in about 2 hours.
What is the least expensive beef roast?
One of the cheapest roasts you can find is a top or bottom-round roast. It is cheap because it's a lean cut, and can become tough and chewy if cooked on high-heat.
This cut is best cooked low and slow as it needs time in the oven to tenderize it - but once accomplished, the flavors and textures are drool-worthy! Another cut that costs the same price is sirloin roast.
How to shop for the cheapest beef
Always look out for deals and offers in your local grocery store and butchers! There are always weekly deals available to be snapped up, and most of the time, the closer they are to their sell-by-date - the prices get slashed in half.
Here are the top hacks, tips, and tricks to find cheap beef:
buy 2 for 1
buy bones
buy yellow tags, reduced price
find and use coupons
try cheaper cuts of beef
buy lean cuts of beef
buy frozen meat
grind your own meat
source your own meat locally
buy whole and break it down
buy meat in bulk via a cow share
buy a dedicated freezer and stock up
How do you buy cheap beef
Let us know in the comments, share your wisdom and help others save money, feed their families, and enjoy home-cooked meals.