Most probably you all know about rump roast. Some call it bottom round roast; others call it beef round roast, but whatever you call it, this economical cut of meat often steals the show at Sunday or holiday dinner tables.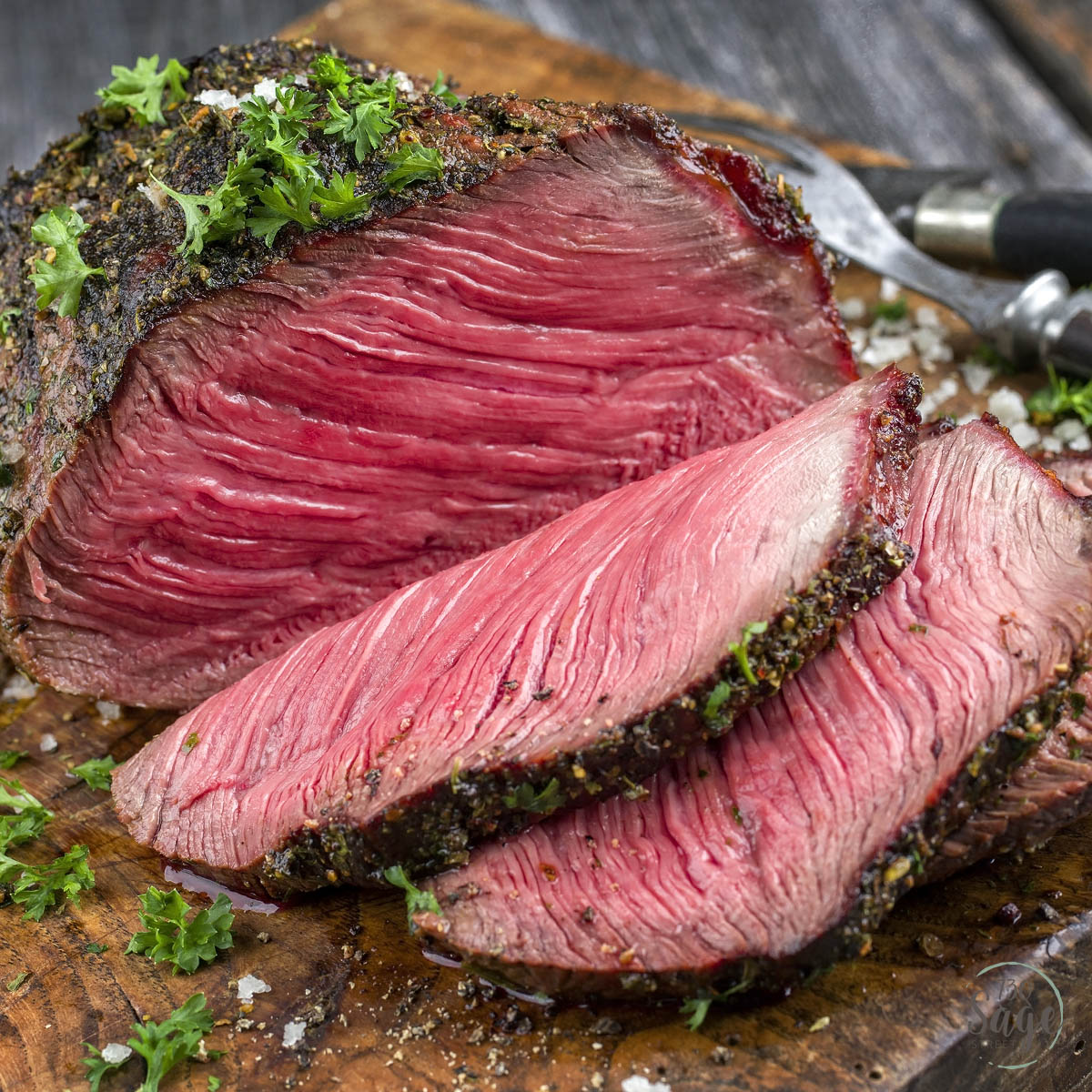 It always feels like an occasion, yet it's incredibly easy to prepare, whether you go the oven, barbecue, stovetop, pressure cooker, or low and slow method.
Plus, the meat makes great leftovers beef recipes. You can make fantastic roast beef sandwiches, sliders, enchiladas and even salad.
Frequently Asked Questions
What is a rump roast?
Rump roast is a very lean cut of meat from the rear end of a cow. It's frequently used for roast beef.
Is a rump roast the same as a chuck roast?
No, they are not the same cut. The chuck roast comes from the shoulder, and the rump roast is taken from the hindquarter. Plus, beef chuck is labeled as "lean," whereas rump roast is referred to as "extra lean" since it has little or no fat.
To provide beef roast lovers with some inspiration, we've rounded up some of our favorite rump roast recipes to change up your dinner routine.
From classic grilled rump roast to pot roast and mushrooms, these rump roast recipes are sure to please your hungry crowd.
Wonderfully juicy, flavorful and fall-apart tender, this slow cooker recipe will literally melt in your mouth! Everyone in your family will love it
Roast beef is braised low and slow with garlic, carrots, yellow onion, beef broth, red wine and fresh rosemary.
And it's incredibly easy to whip up - just set it up in the morning and you'll have dinner waiting to be served when you come home.
This meaty instant pot dinner is guaranteed to be a hit with everyone at the table. Everything about it is perfection.
Seared roast beef is cooked in a rich broth seasoned with chili sauce, paprika, Worcestershire sauce and brown sugar. It's tender. It's mildly spicy. It's full of flavor.
Crusty garlic bread, mashed potatoes, or cornbread muffins make a great accompaniment to mop up all the delicious juices.
This is home-style cooking at its best. It's easy, tasty and can be prepared on the barbecue or in the oven.
The aroma and flavor of the garlicky herb rub gives a delicious kick to the rump roast that's sure to tickle even the most tired taste buds.
It's a perfect easy weekday or weekend meal.
This drool-worthy slow cooker French dip recipe features tender, thinly sliced cooked roast beef, gooey cheese and lots of golden onions layered on toasted French rolls. It's comfort food at its best.
Serve warm with the delectably delicious cooking liquid for a melt-in-your-mouth experience.
This recipe makes 6 sandwiches, so you probably need a large slow cooker if you're cooking for a bigger crowd.
If you prefer to cook rump roast on the grill, try this fantastic grilled rump roast with garlic black pepper rub crust. Prepare this at your next grilling party and it is sure to be a hit.
You add a drop of hickory smoke or smoke paprika for a delicious smoky flavor if you wish.
Use the leftovers to make sandwiches. Be sure to slice the roast thinly against the grain with a sharp knife for best-ever beef sandwiches.
Full of spicy goodness, this rump roast recipe will absolutely rock your world.
It gets its heat from the jalapenos, red chili flakes and chili powder, but you can easily adjust the heat from mild to numbingly hot if desired.
This recipe is so easy to prepare and you can make it in a slow cooker or roaster, too. It's delicious served over rice, tacos, or burrito bowls.
Marinated in brown sugar, olive oil, garlic, Worcestershire sauce, salt and pepper, this oven-baked recipe boasts juicy, unbelievably tender and bursting with flavor rump roast meat.
This roast beef recipe is one of the best.. Don't forget to put a roasting pan underneath to catch the drippings to serve with the roast.
Chuck roast or round roast also works well in this recipe if you happen to have either on hand.
A simple seasoning rub of garlic powder, onion powder, salt and pepper transforms this roast beef into a crowd-pleaser.
This savory, smoky, perfectly juicy and tender meat is scrumptious served with a macaroni salad, coleslaw, or piled high on roast beef sandwiches.
Looking to impress your guest at a dinner party? This oven roast beef with a show-stopping gravy is just the ticket.
Juices from the meat and beef broth combine to create an easy-to-make gravy with a wonderful depth of flavor.
It tastes amazing out of the oven, but is also delicious cold tossed in a salad or served between two slices of toasted bread with caramelized onions, juicy tomatoes and horseradish mayonnaise.
This brilliant garlic and thyme rump roast with beer-infused gravy, carrots and potatoes is an instant winner. And it could not be easier.
All you have to do is brown the meat over medium-high heat on a stovetop. Dutch oven or any heavy-bottomed oven-safe pan works in this recipe.
Prepare the gravy and toss in the seared meat, potatoes and carrots. Bring to boil, then transfer to the oven and cook to medium-rare perfection.
Remove from oven, allow the entire roast beef to rest for a few minutes on a cutting board, slice it up and enjoy! That's pretty much it!
With the speedy power of instant pot, you can enjoy this meaty, succulent and flavorsome dish any night of the week.
It's ridiculously easy - takes just 5 steps to complete (slicing and resting time included). You'll also love the incredible flavors the simple gravy brings to the meal.
This is a great recipe to serve a crowd or for a weeknight dinner with a side of vibrant salad.
Take your bottom round roast to a new level of deliciousness with this mouth-wateringly delicious recipe.
The herb spice mix is the crowning glory of this dish. It adds a wonderful depth of flavor that pairs well with the creamy, spicy horseradish sauce.
Garnish with watercress and serve with the roasted veggies for a satisfying dinner. This is one of those oven-roasted recipes that you'll be making again and again.
This quick oven recipe yields the perfect lamb rump roast. It only takes 6 minutes to prep and 20 minutes of cooking time. The oven does most of the work for you! Roasting beef doesn't get any easier or quicker than this.
To amp the flavor up a bit, use celery salt instead of kosher. Also, feel free to add your favorite spice rub.
*Tip: for a perfectly cooked beef every time, always use a meat thermometer to check the doneness of your meat. Remove roast from heat 5 degrees less than your desired internal temperature.
If you're looking to entertain friends over the weekend, this pot roast and potatoes recipe should do the trick.
Roast beef and root veggies get cozy in a wine bath with balsamic vinegar, olive oil and beef stock.
It's richly aromatic, SO tender and ready to be served over a bed of horseradish mashed potatoes.
If you're craving spicy, this slow cooker chili-rubbed roast beef with chipotle gravy recipe will transport you to spice heaven.
The slow cooking intensifies the spicy flavors, taking your dish to bolder, delicious heights.
It features paprika, ancho powder, cayenne pepper, beer, flour and chipotle peppers in adobo sauce to create a thick, spicy sauce worthy of roast beef.
The rich, spicy gravy is perfect for spooning over a side of our deliciously rich and creamy mashed potatoes.
Skip the slow cooker, instant pot, oven and cook rump roast in an air fryer instead. True to its name, it's super easy and cooks in just 30 minutes.
With just 3 ingredients, it comes out of the fryer with a gorgeous golden-brown crust, blushing pink interior and is stunningly juicy. It's perfect for hectic weeknights when you're craving something hearty and juicy to sink your teeth.
This air fryer recipe also makes a great filling for tacos and burritos.
Seasoned with only black pepper, mushroom soup and celery salt (seasoned salt of your choice), this crockpot recipe surprisingly packs a punch.
You'll also love the earthy flavors the portobello mushrooms gives this simple dish. You'll savor every bite!
It's delicious and satisfying as it is, but you can serve with dinner rolls to mop all the goodness.
A Dutch oven or large skillet and a few basic ingredients will turn your inexpensive cut of meat into something really special.
One bite of this perfectly cooked, super tender meat with a fantastic gravy and you'll be hooked!
It also makes a great sub for ground beef in BBQ sandwiches, tacos and quesadillas.
Everyone will enjoy this slow cooker roast beef with prosciutto and figs. While it looks fancy, it's incredibly easy to prepare.
Simply top roast beef with prosciuttos. Combine the rich orange balsamic sauce in a small bowl, pour over roast, add figs on top, cover and let the slow cooker work its magic.
This is an impressive recipe for all kinds of get-togethers and parties.
Take your roast beef up a notch with this simple recipe. You only need olive oil, tons of crushed garlic, breadcrumbs, chopped parsley, salt, pepper, and of course, a thermometer.
It's delicious rolled up in a tortilla, stuffed in a bun, or tossed in a salad with a mustardy vinaigrette.
More Roasts to Try!
Try one or all of these roast beef dishes seasoned and cooked perfectly. Including my collection of best eye of round roast recipes and top round roast recipes.