Don't want to waste any of your leftover roast beef? We've got you covered. Whether for lunch the next day or dinner, these recipes will give you dinner for the next two nights!
With these fantastic leftover roast beef recipes you may even find a culinary masterpiece that is even better than what was originally served up.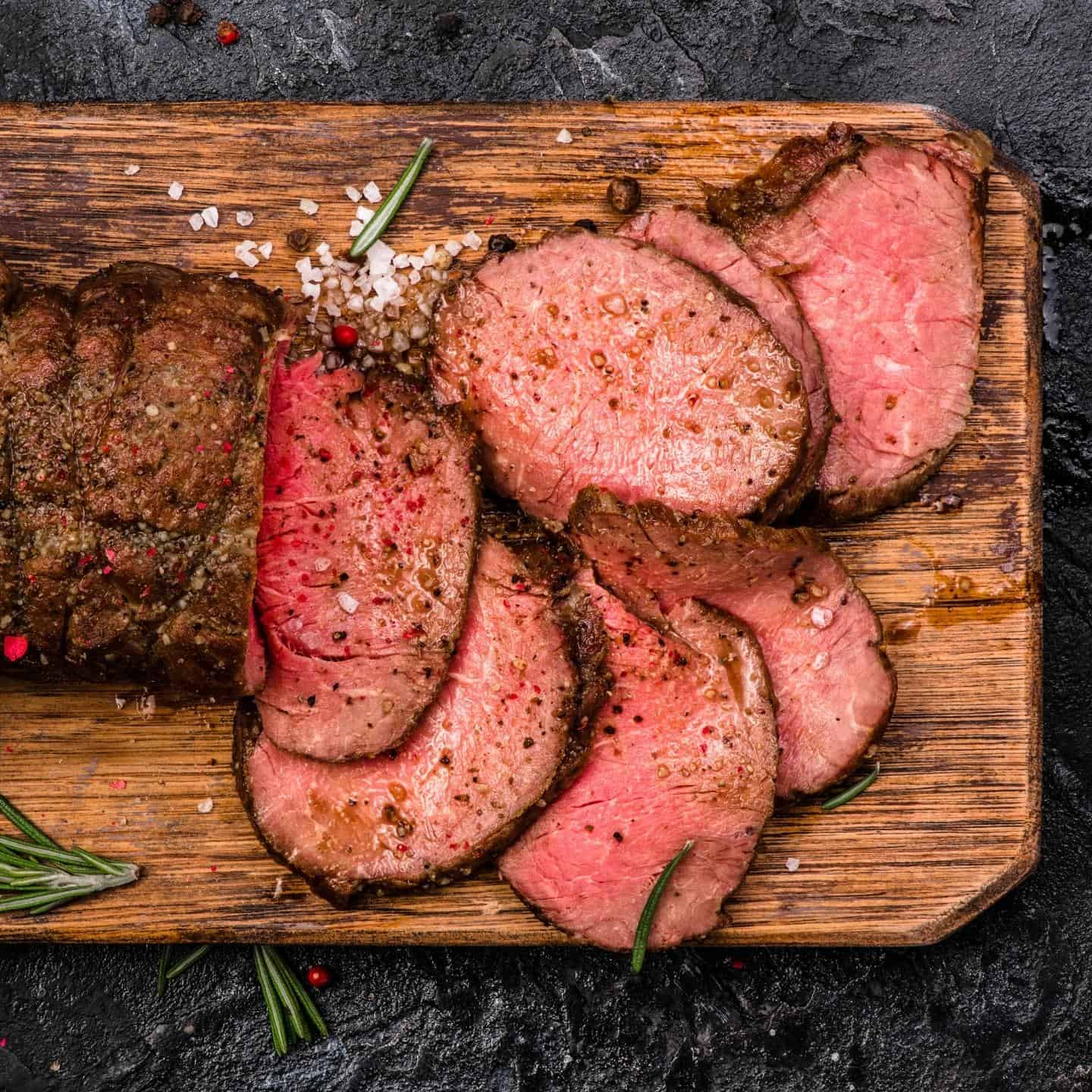 If you happen to be wondering what to do with leftover roast beef, but haven't made a roast yet. I have the perfect bottom round roast recipe to get you started.
Try my low and slow cooking method ensures you'll have perfectly cooked roast every time. And if your a beginner, how to cook roast beef step by step recipe will help you achieve the perfect beef flavor and tenderness.
🥩 What to do with leftover roast beef
Roast beef sandwiches are the quickest and easiest ways to use leftover roast beef. And while I prefer mine with a nice Dijon muster or creamy horseradish sauce, the kids not so much.
At least this way, we can all do our own thing! My kids love this easy leftover roast beef sliders recipe with caramelized onions.
Below, I've curated 25 fantastic roast beef recipes along with a few cooking tips to help store, moisten, and turn leftover roast beef into the perfect meal.
🙋 Frequently Asked Questions
Can you freeze leftover cooked roast beef?
Absolutely! you can freeze in small portions or one piece, but I highly recommend the former. Wrap the slices of meat tightly with aluminum foil or freezer-specific wrap, then transfer to air-tight containers or heavy-duty freezer bags.
The roast meat will last up to 6 months in the freezer.
How do you moisten leftover roast beef?
There are different ways you can go about this:
In a Slow cooker or crockpot
Place the leftovers in a crockpot, add water or broth and cook on low for about 3 to 4 hours.
In the Oven
Place the meat in a baking dish, sprinkle a few tablespoons of broth or water, and cover. Toss it in a preheated 250F oven and bake for 8-15 minutes, until heated through.
On the Stovetop
Place the wrapped roast beef in a metal bowl. Boil half a pot of water, then place the metal bowl inside and cover. If it was refrigerated, wait for about 5 minutes before removing it from the pot. For frozen beef, give it about 20 minutes.
Take a Look ↓↓↓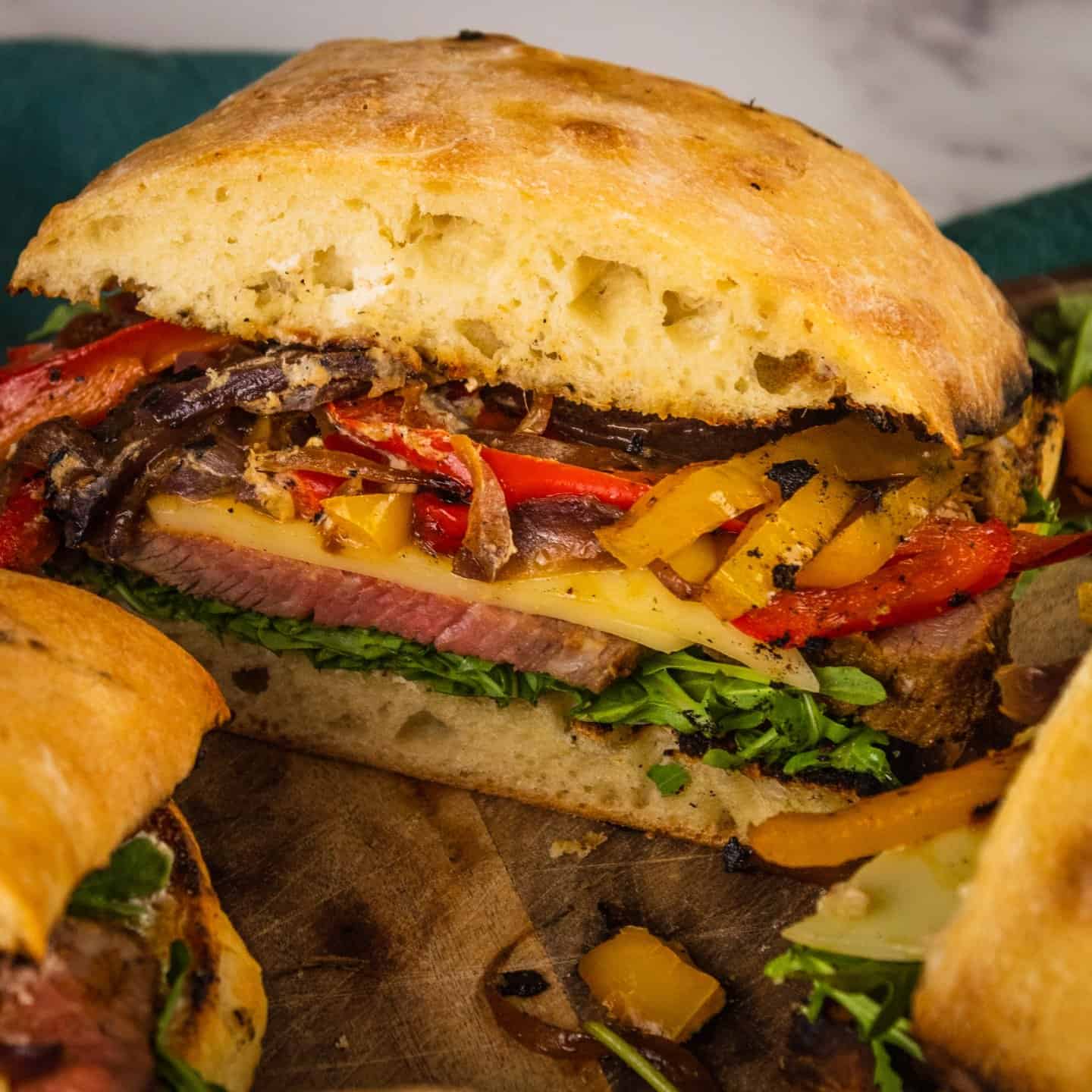 This delicious tri-tip sandwich is perfect for a summer cookout!
It features thinly sliced tri-tip roast, grilled onions and peppers, fresh arugula, and a zesty horseradish sauce. Yum!
The ciabatta bread is the perfect bun for all of these flavorful ingredients. So fire up the grill and get ready to enjoy a fantastic sandwich with leftover roast beef!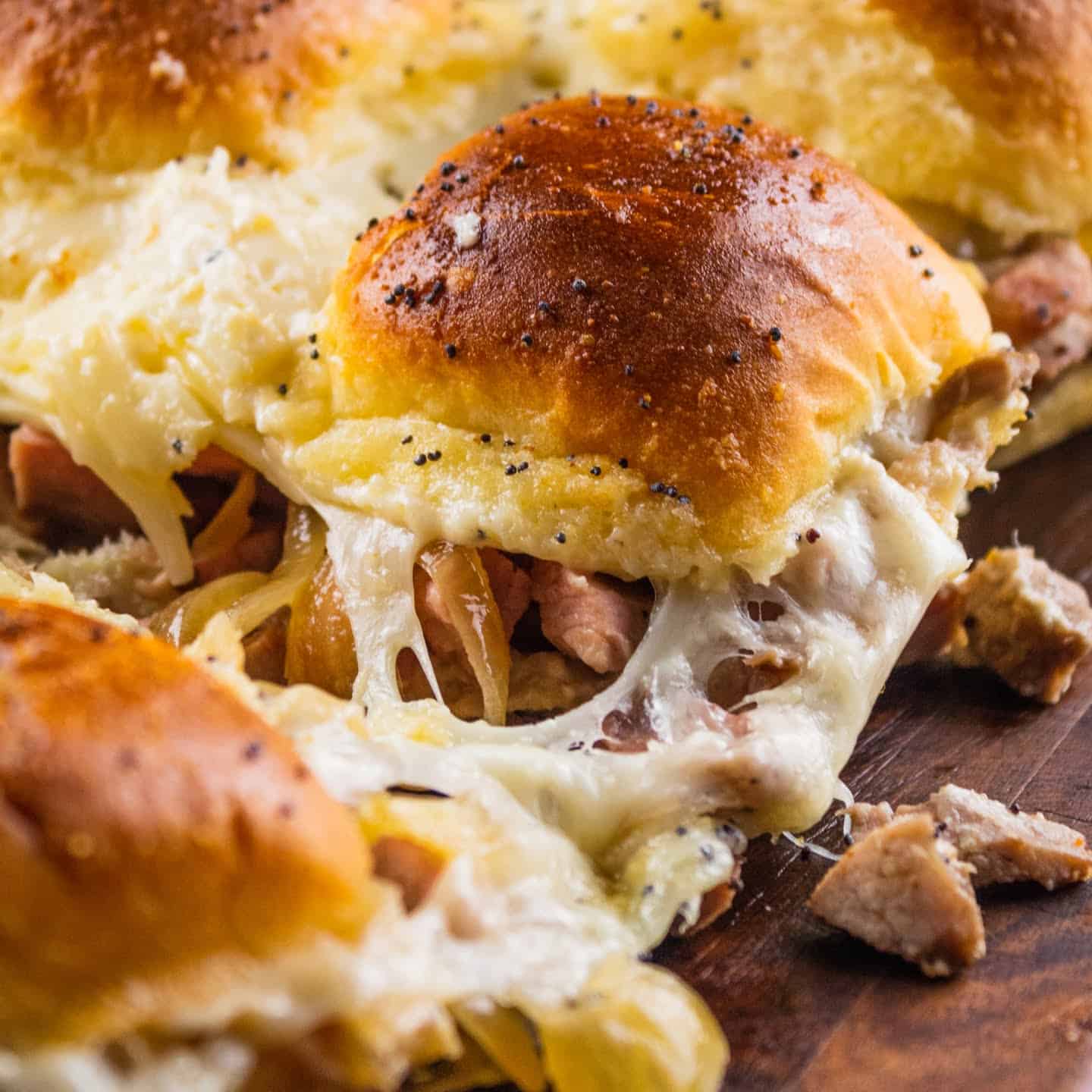 These cheesy beef sliders made with perfecly cook roast beef are the perfect finger food for any party.
The flavors of horseradish, caramelized onions and Swiss cheese balance beautifully, making them completely irresistible. And the smell when they bake is heavenly.
Serve them alongside onion rings, potato chips or baked beans.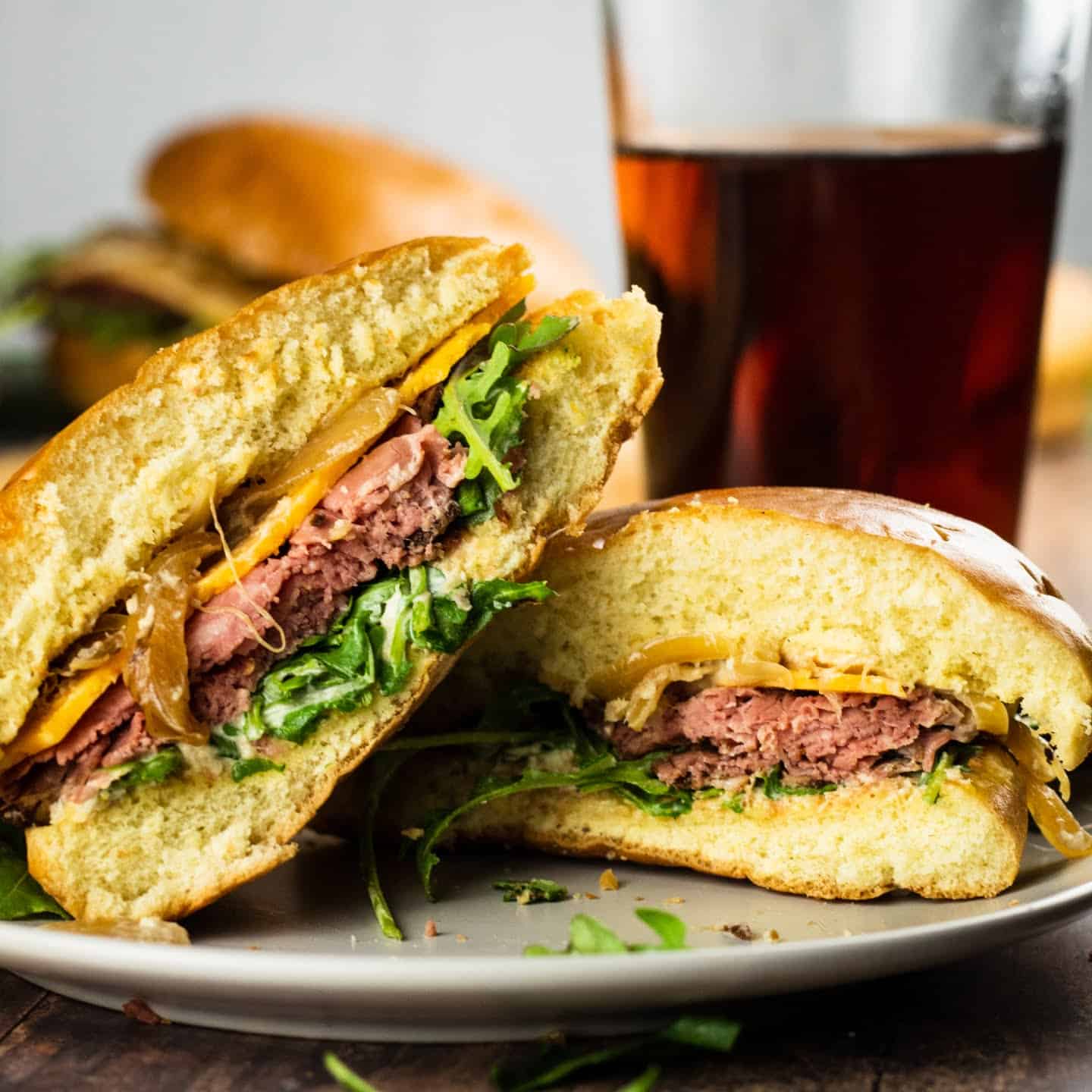 This easy roast beef sandwich recipe uses the bottom round roast leftover from last night. You can also make with my eye of round roast. It teams up with fragrant caramelized onion, arugula , and horseradish for a deliciously satisfying dish.
You may not want to eat roast beef leftovers any other way again.
While it is traditionally served over egg noodles or rice, beef stroganoff is also incredibly tasty with mashed potatoes or green veggies like spinach, sautéed green beans, or roasted broccoli.
Skip takeout and make these street tacos at home. The recipe is quite simple, but it got all the tasty fillings everyone will love -pico de gallo, cheese, avocados, and lettuce. Oh-so good! But you're free to garnish with your favorite toppings.
Did I mention this leftover roast beef recipe only takes 30 minutes, start to finish?
If you like French onion dip sandwiches or French onion soup, you'll also love this noodle bake version packed with melty cheesy goodness.
Besides bursting with flavor, this recipe only takes 45 minutes of prep and cooking time. Saucy leftover roast beef, cooked noodles, and mushrooms are mixed in a bowl before going into the oven and baked to golden perfection.
This is definitely a winner for a comforting weeknight meal.
If there's one meal you can never go wrong with is classic sloppy joes. Kids love it; adults love it - everybody loves it! So how about you ditch takeout and make these savory and sweet sloppy joes that pack a large flavor punch?
Chop up leftover roast beef into bite-size pieces, simmer in a flavorful sauce and slap some on a warm bun. Easy peasy!
Serve with crispy potato chips drizzled with melted cheese or creamy potato salad to complement your messy, delicious dish.
While it's an obvious option, this classic American sandwich is still my favorite recipe for using leftover roast beef. The savory sautéed onions, saucy shredded beef, and gooey, melty cheddar cheese sandwiched between super crispy and buttery bread is pure delight.
Serve this magical goodness with pot roast gravy, classic tomato soup, or refreshing green salad.
Cooked too much roast beef last night? Shred meat into chunks, fry with olive oil, onions, celery, potatoes, then add roasting pan gravy made from the drippings of the roast.
Salt and black pepper are the only seasonings you need, but you can add your favorite spices if you wish.
With a total time of 20 minutes, you'll have a mouthwatering Southern-style beef hash for breakfast or brunch before you know it.
Serve it with scrambled eggs, steamed veggies, or green salad, and you're fueled up for the better part of the day.
Why get takeout when you can transform those roast beef leftovers into these creamy, cheesy enchiladas? While the recipe calls for cream of mushroom soup, feel free to use cream cheese or heavy cream for a similar creamy texture.
Almond is also a great alternative if you're looking for a gluten-free option.
Serve with Spanish rice, crisp-tender sautéed vegetables, or refreshing cucumber tomato avocado salad for a satisfying, tasty dinner.
Give your leftover roast beef second life and make this hearty, richly flavored beef shepherd's pie. The recipe calls for butter, pot roast gravy, lots of veggies, and a creamy mash potato topping- the very definition of comfort food heaven.
This is one of those leftover roast beef recipes you'll want to enjoy again and again.
In contrast to the classic chicken noodle soup made with leftover chicken rotisserie, this roast beef version is chunkier and heartier. It's a perfect meal to warm you up on a cold winter day.
This one-pan wonder combines meat, pasta, and veggies simmered in a flavorful sauce and finished off with parsley.
Turn last night's leftover roast beef into another complete meal? Why not! In a skillet, sauté onions and garlic, add the leftovers, canned tomatoes, wine, and fresh herbs. Add cooked pasta into the sauce and cook for a few minutes.
Transfer to baking dish, sprinkle your favorite go-to shredded cheese(s) on top, broil for a few minutes, and voila, dinner is ready!
This ragu pasta bake is about to become a family favorite for busy weeknight dinners.
One of the easiest ways to use up leftover roast beef is to transform it into a comforting soup.
Beef roast pairs with barley, beef broth, frozen peas, and other veggies for a satisfying, nutritious weeknight dinner your whole family will love.
Serve with traditional crusty garlic bread or switch things up with butter-roasted sweet potatoes or eggplant parmesan. Yum!
Robust herbs, potatoes, beef stock, and plenty of vegetables make a rich base for this warm and hearty soup.
Browning the leftover roast beef lends rich flavors and color to the soup, while the lovely and buttery puff pastry sitting on top adds an irresistible finishing touch and gives it a serious visual wow factor.
This soup has everything there is to love about beef pot pie. I guarantee your whole family will love it.
Make these irresistibly delicious cornish pasties with the leftover roast in less than an hour.
This will be a massive hit with everyone, so if you're feeding a hungry crowd, be sure to double or triple the recipe!
This Tex-Mex classic is one of those meals that pleases everyone at the table. The beauty of it is that anything you have on hand can find its way into the tortilla wraps.
In this leftover version, the roast beef is cooked in a spicy tomato-based sauce, then paired with rice, beans and mixed with lettuce to add a bit of crunch.
A dollop of sour cream gives the burritos a tangy kick, while the guac and shredded cheese provide a nice balance to the spicy beef roast
If you're looking for a simple, healthy yet delicious way to use up your leftover roast beef, try this 15-minute salad with a touch of shallot vinaigrette. The beauty of it is that you can also put your leftover roasted vegetables to good use. Plus, any salad toppings goes!
Combine the leftovers with fresh veggies or fruits, then drizzle the vinaigrette to add a punch of flavor.
Enjoy the salad as a meal on its own or serve as a side to just about any main dish. It pairs incredibly well with soup, pizza, and pasta.
Switch things up and make these amazingly flavorful horseradish beef roll-ups that only need 7 ingredients. Because the meat is already cooked, this recipe comes together in just 10 minutes!
All you need to do is make the cream sauce in a large bowl and then spread it equally on the floured tortillas. Add the leftover roast beef, cheese, and lettuce; wrap them up tightly the burrito style and serve!
These yummy bites are a must-add to your appetizer/snack list.
Yes, you can totally transform your leftover roast beef into stuffed baked potatoes. These savory delights have been a family favorite for years. I serve them at parties, potlucks, game nights, and they are always a huge hit.
Serve them at your next dinner party, and it'll be the talk of the table!
This is usually one of my go-to meals when using up leftover roast beef. It's incredibly easy to make, packs loads of flavor, and can be served with many sides.
Diced roast beef is simmered with curry powder, coconut cream, chopped onions, garlic, ginger, and tomatoes in this soul-nourishing dish. After 30 minutes, you can enjoy this delicious dish.
It's best served with white rice, fresh Naan bread, or spicy potatoes.
This flavorful, creamy, almost sinful soup is one of my go-to leftover roast beef recipes when I'm looking to indulge in decadent comfort food.
The wild rice and mushrooms are the heart and soul of this recipe, adding both flavor and texture to the soup. The recipe uses just enough heavy cream to give the soup a silky smooth richness without racking up the calories.
To serve, garnish with chopped parsley or grated parmesan cheese for an elegant finish.
Here's yet another quick and insanely delicious leftover beef recipe that's begging to be part of your dinner repertoire. It's rich and deeply comforting- a perfect option to chase away the chill.
You'll enjoy every filling spoonful of this hearty, mildly spiced stew - we promise! Mashed cauliflower is heavenly on the side.
This family-friendly roast beef chili recipe is quick, easy, and absolutely delicious. It combines the meat, three beans, tomatoes, and onions for a nourishing, satisfying dinner. This will quickly become a weeknight dinner regular!
You can top it with your favorite flavors or serve it with jalapeno cheddar cornbread, garlic fries, or green salad with a splash of soy sauce.
When it comes to leftover roast beef recipes, this beef and sweet potato curry is always a great idea. It's seriously delicious and satisfying with complexity from a blend of spices and lime juice.
The chili flakes add a kick of heat to this dish, but to make it kid-friendly, reduce the amount or leave it out altogether.
Even if you don't have sweet potatoes on hand to make this satisfying dutch oven meal, it's worth giving it a try.
There is no need to head to a Thai restaurant to get this deeply flavored salad. Blend the roast beef leftovers with toasted rice powder and fish sauce dressing for a flavorsome meal.
It makes a fantastic low-carb lunch or dinner option.
Grab your sheet pan and tart shells, and let's make some savory pot pie tarts! This recipe requires only 8 ingredients and these little baked goodness are on the table in just 40 minutes.
You won't be able to resist these tasty and filling beef tarts -they're a little bit of heaven.
Related Roast Beef Recipes
Check my delicious roast beef recipes for your next meal.
If you are looking for more meat recipes inspiration you should check these two collection of best delicious meals: easy ground beef recipes and the best ground bison recipes you'll find anywhere.
Helpful Cooking How-tos
If your learning to cook or just brushing up on your skill set, here are four fantastic kitchen how-tos to help out.
Looking for more delicious beef recipes? Check out my collection of recipes using beef stew meat and eye of round roast recipes.