The best way to cook any form of meat, whether pork shoulder, roast beef, brisket, chicken, turkey, or even lamb, is LOW AND SLOW! Slow roasting is the foolproof way of achieving succulent, tender meat every time without overcooking it.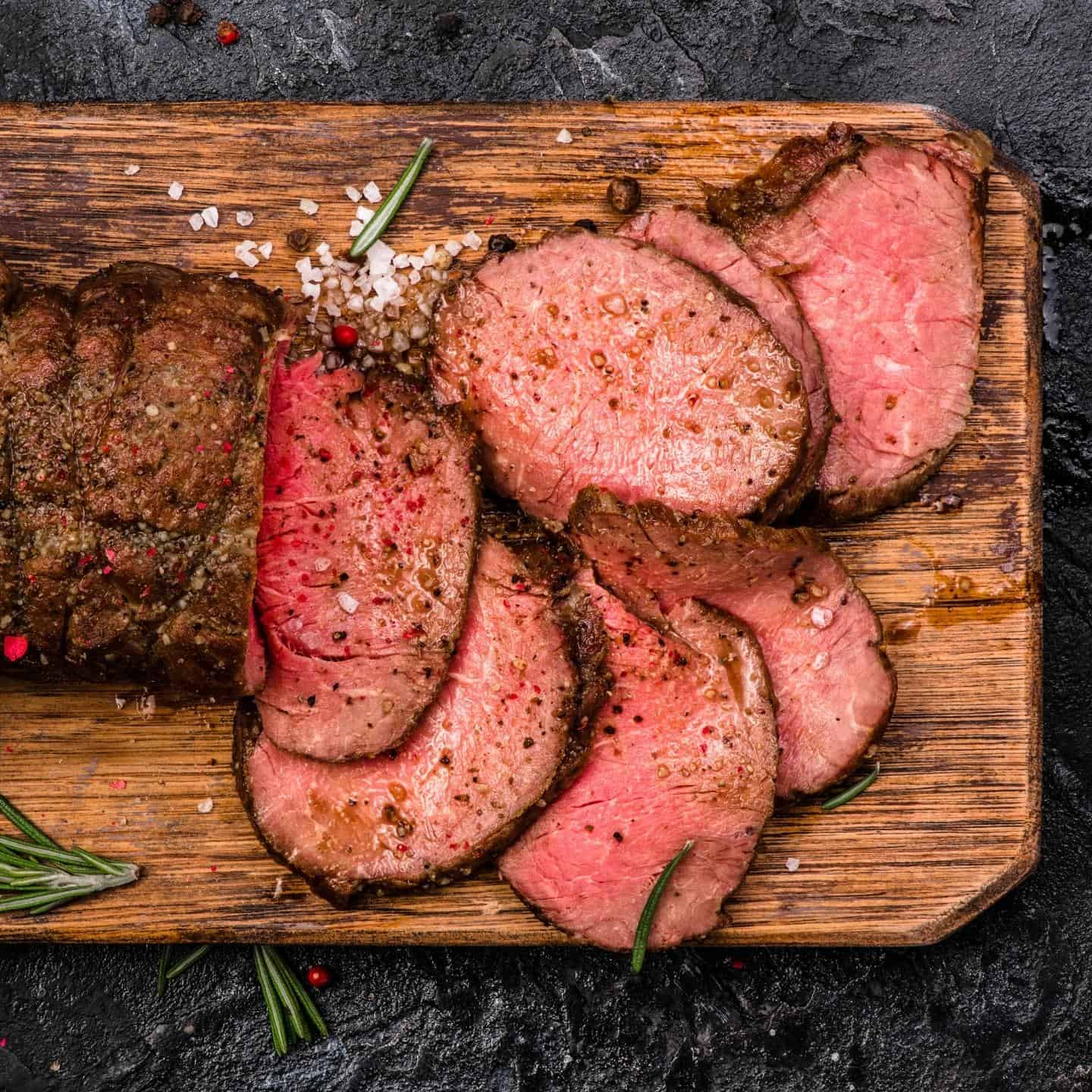 Contents
Keeping the internal oven temperature at a low heat of 170-225 degrees cooks meat at low heat, meaning the proteins firm up slowly, resulting in tender meat.
Cooking beef at a nice, low temperature doesn't even require the most expensive cut. Check out my guide to cheap beef cuts and how to save money on beef.
With the help of slow cookers and oven roasting at low temperatures, you can achieve fantastic flavors and textures from inexpensive cuts. Take an inexpensive bottom round roast and learn how to cook roast beef into into a deliciously tender and juicy meal for the whole family.
Slow roasting with an oven thermometer is a complete game-changer for home cooks to get the best results from their meats with more meat flavor and moisture.
The taste... Well, imagine a wonderfully browned salted crust on top with a juicy pink center that you can cut with a butter knife! Well, maybe not a butter knife, but you get the picture! It's drool-worthy!
Low and Slow Cooking Method
If you have never tried slow cooking various meats, you will be impressed after just one attempt - literally! Cooking food, and especially roast beef at lower temperatures, can give you outstanding results every time. Here are the best tips on how to do it.
Principles
By dropping the oven's internal temperature or using a slow cooker, you effectively reduce the chances of overcooking. Unfortunately, this happens far too often for chefs and home cooks when cooking at higher temperatures.
Take baby back ribs, for example - the longer they are cooked for at a low temperature, the more tender they become. The meat falls off the bones, whereas baking them at a high temperature always results in chewy meat that sticks to the bone, and bits get stuck in your teeth.
In culinary terms, slow cooking gives you way more leeway on timing as the cooking is happening at such a slow pace. You can forget about it without being too nervous about it being burnt or overcooked.
Temperature (Fahrenheit)
As a rule of thumb, it is best to slow cook meats at a minimum of 170 degrees Fahrenheit and a maximum of 225. However, you may go as low as 150 degrees Fahrenheit for smaller cuts of red meat under 3 pounds.
Whether you are using an electric, gas, or convection oven, the cooking time and temperature may vary. Setting the oven to its lowest temperature will yield the best results.
The most significant temperature is the meat's internal temperature. You'll need a meat thermometer or probe to check the meat's internal temperature throughout the cooking process.
Knowing your meat's internal temperature is the difference between overdone, tough, chewy meat and perfectly cooked, juicy, and tender meat.
Red Meat
Perfect for beef, pork, lamb cooked low and slow to medium-rare.
150 - 170 for cuts under 3 pounds and 2 hours per pound
170 - 200 for cuts over 3 pounds and 2.5 hours per pound
For perfect browning, reverse sear on high heat for 10 minutes.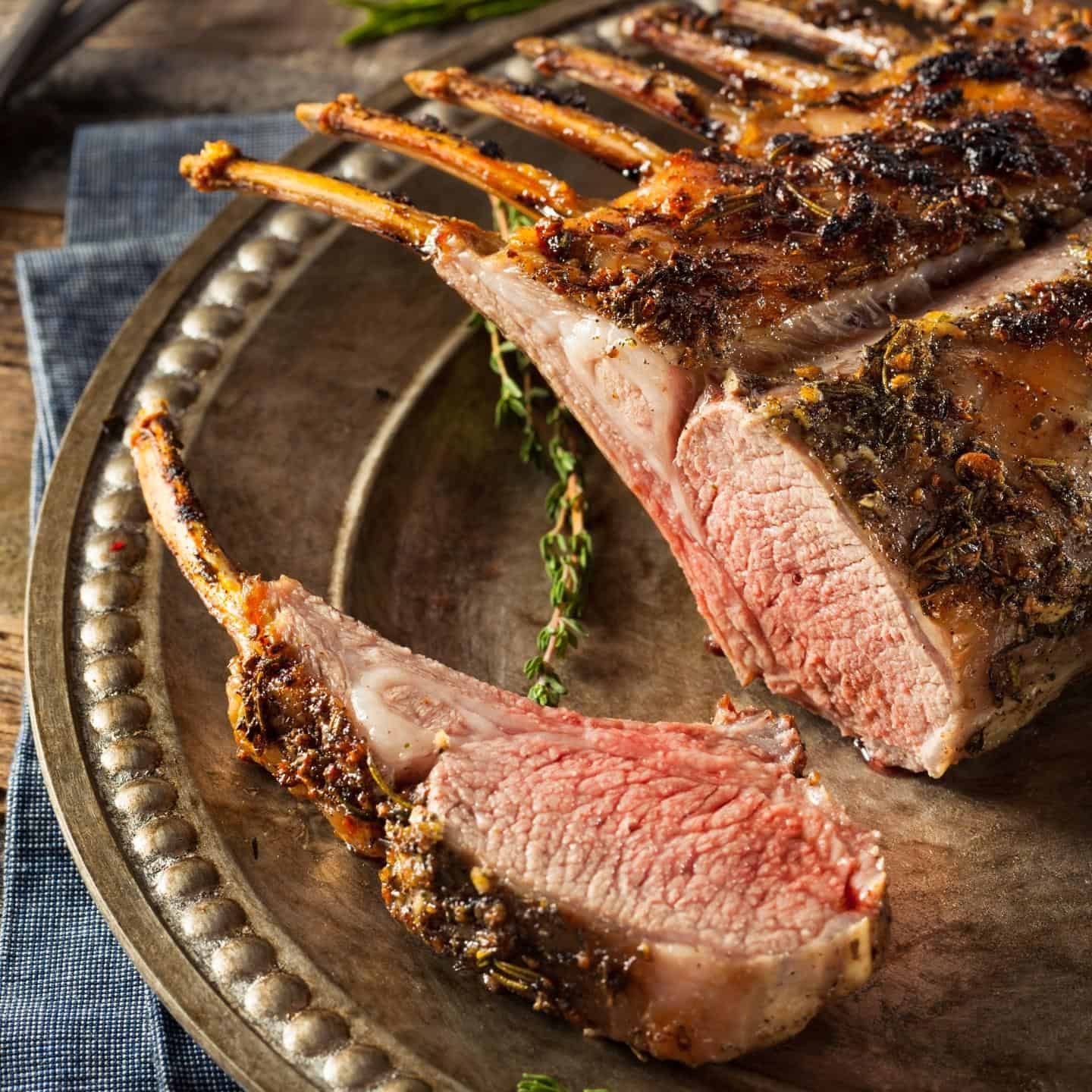 White Meat
We recommend a slightly higher temperature to cook turkey, chicken, or white cuts of meat low and slow. The USDA states a turkey must reach 165 degrees Fahrenheit to be safe.
200 for 40-50 min per pound, finish on high-heat for 10 min
225 for 30-35 min per pound, finish on high-heat for 10 min
250 for 25-30 min per pound
Note: A meat thermometer is critical and required as white meat must reach 165 degrees Fahrenheit for safe eating.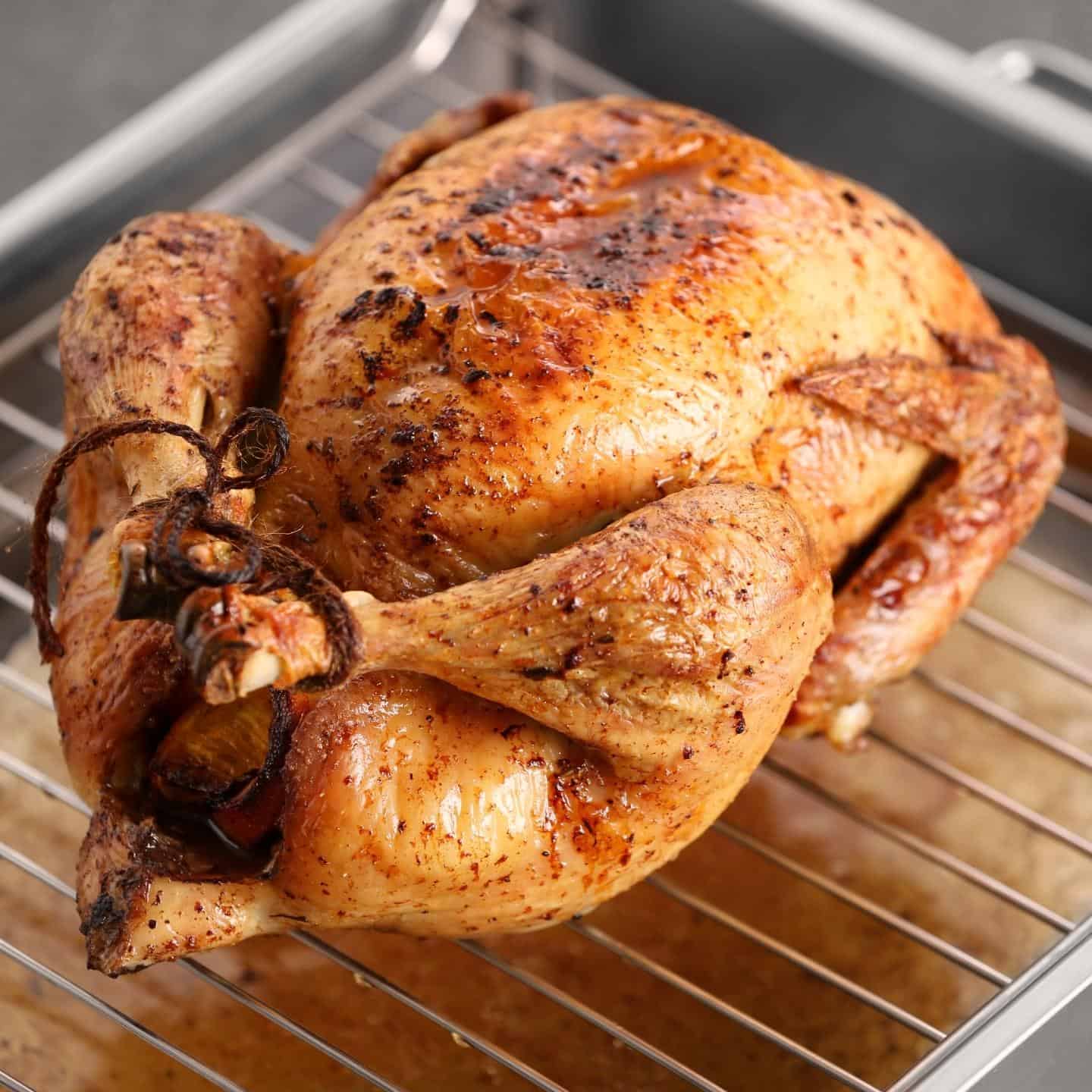 What to Cook
You can cook most meats nice and slow, and it will be tender after several hours, but the bigger cuts are the best for slow cooking in the oven, slow cooker, or smoker if you have one.
Speaking of smokers, they give meats more flavor from the wood and retain more moisture, which is by far my favorite way to cook my smoked tri-tip recipe.
There are lots of cheap beef cuts that'll save you money that still taste great if cooked properly using the right method. For slow roasting chuck arm, flank, skirt, sirloin tip, and bottom round are great beef cuts. Prices vary from $5 to $6 per pound, ideal for families on a budget.
Cooking Tips
For the best result, read and follow your recipe and read the instructions to avoid a tough and chewy dinner. Cooking low and slow is not a difficult technique and an easy way to ensure your meat is never overcooked.
Here are a few tips and tricks I use when cooking low and slow:
Use a dry rub
This step is important for infusing all those delicious spices into the meat while roasting in the pan.
Brining
Whichever method you choose, dry brining or wet brining, both infuse and tenderize in a way that increases moisture retention.
Scoring
If your meat has a thick fat layer like pork ribs or shoulder, scoring it in a crisscross pattern will result in crispy saturated fat. Ensure not to score the fat too deep into the meat, and rub some coarse salt and brown sugar into the fat to caramelize it.
Reverse Searing
Forget everything you've learned in the past and sear your meat at the end. This searing method delivers more even cooking, better browning, more tender meat, and more flexibility.
Meat probe
Invest $25 and buy a meat thermometer! You likely spend over $1,000 annually on beef, pork, and chicken alone, and this simple and inexpensive piece of kitchen equipment can guarantee perfectly cooked meat every time.
Regardless if you're cooking tri tip in the oven or preparing my drool worthy smoked tri-tip, these cooking tips will help ensure your recipe is a success.
Did you know?
Searing does not lock in juices at all; it merely adds flavor.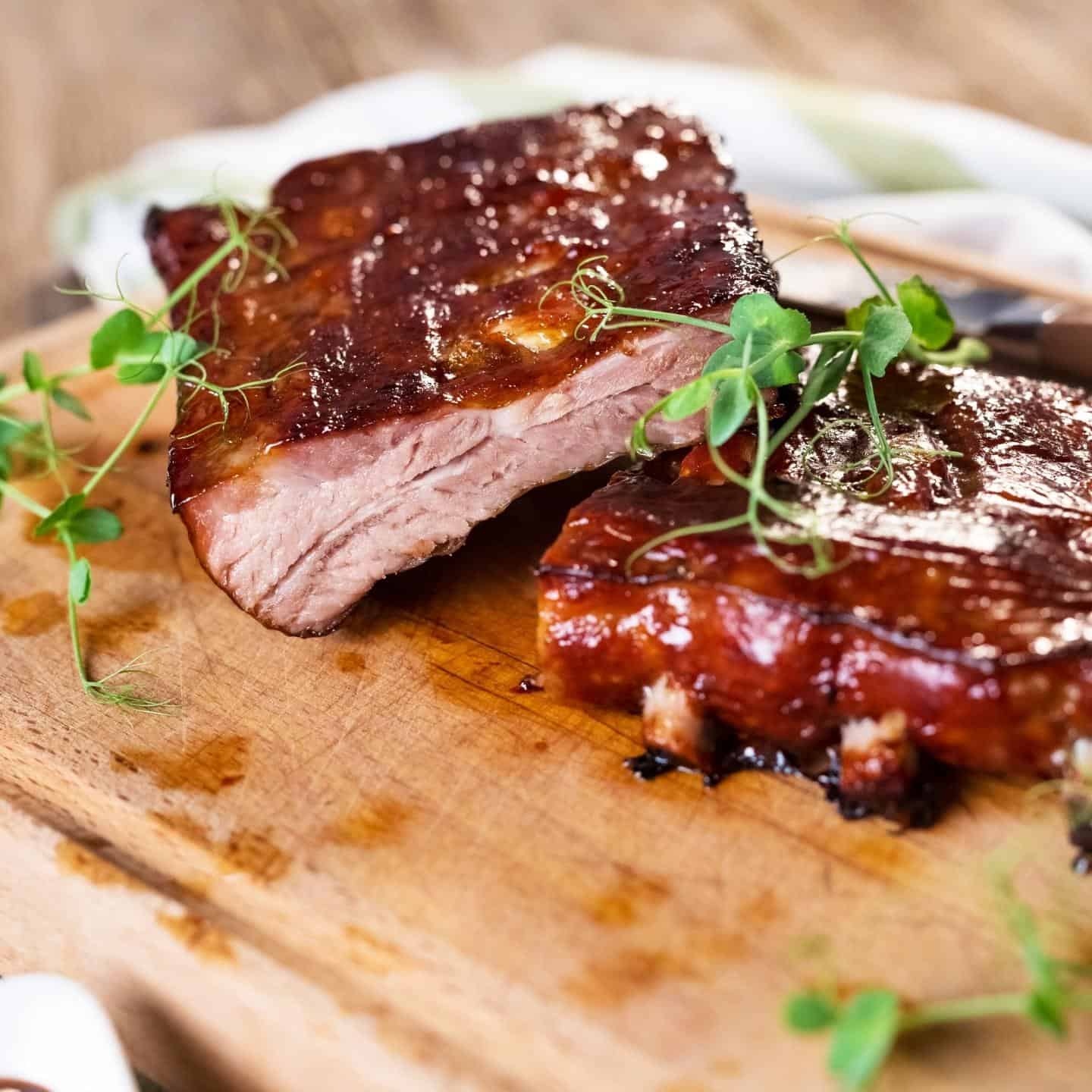 How to Cook Low And Slow in the Oven
Slow cooking meats in a roasting pan, baking sheet, or dutch oven is how meat lovers love their meats, from the crust to the juicy, tender center. From oven-baked ribs smothered in bbq sauce to chuck roasts, low and slow is the way to go!
Preparation
Step 1
Remove the unthawed meat from the fridge, open and drain off excess liquid, and transfer to a cutting board. Allow the meat to rest for 10-30 minutes to remove the chill from the fridge.
Step 2
Dry the meat thoroughly, apply olive oil, and season liberally with salt and pepper or a dry rub of your choice of seasoning.
Step 3
Place meat in a roasting pan like a V rack for large cuts of meat, and smaller cuts of meat in a Dutch oven or cast-iron skillet is perfect.
Step 4
Insert your meat probe into the thickest part of the meat and set your alarm for your desired temperature.
Cooking Low and Slow
Step 1
Preheat the oven to 170 degrees Fahrenheit (76 degrees Celsius) for 2 - 2.5 hours per pound. If your oven does not go this low, set it to the lowest available temperature setting.
Step 2
Monitor your meat probe or check with an instant-read meat thermometer throughout the cooking process.
Step 3
When your meat reaches the desired internal temperature, remove it from the oven, cover it with aluminum foil, and let it rest for 10 - 30 minutes.
Reverse Sear
Step 1
Preheat your oven to 500-550 degrees Fahrenheit or the highest available setting.
Step 2
Sear your meat for 10 minutes or until golden brown and crispy on the outside.
Serve
When cooking low and slow and finishing with a reverse sear, your meat is ready to serve as soon as you remove it from the oven.
What does it mean to cook low and slow?
Cooking low and slow means cooking meat at a low temperature between 170 - 225 degrees Fahrenheit for an extended period. At this low temperature, red meat takes 2 hours per pound, while white meat takes 40 minutes per pound, which is considerably longer than high-heat cooking.
Low and slow is the preferred cooking method when preparing cheap beef cuts, lean meat, and ribs.
Does slow cooking meat longer make it more tender?
Yes, meats generally become more tender the longer they are cooked at a slow temperature. This is because the proteins in meats firm up at a slower rate during cooking, resulting in textures being easier to chew.
The low heat breaks down the connective tissues within meats like chuck, which helps them fall apart and stay moist throughout the cooking process.
Can you cook at a lower temperature for longer?
Yes, you can cook meats at a low temperature for a long time, and they will stay juicy throughout. Brisket, for example, can be smoked for 72 hours at low temperatures, and the flavor and texture are incredibly delicious.
As long as the oven, smoker, or slow cooker's set temperature is between 170-225 degrees Fahrenheit. It will turn out beautifully every time.
Can you cook a roast at 170 degrees?
Yes, it is best to roast larger cuts of meats at 170 for 2.5 hours per pound. Sometimes I leave bigger roasts at 4 pounds in the oven overnight or the smoker for 24 hours, which tastes incredible.
Low and Slow in the Oven vs. BBQ
Both cooking methods return equally tender, juicy, and delicious meat. Overall the results are about the same. Smoked tri-tip or roast will have a similar texture and doneness when cooked low and slow in the oven or BBQ. Still, each method has distinct differences worth considering.
Smoker Low and Slow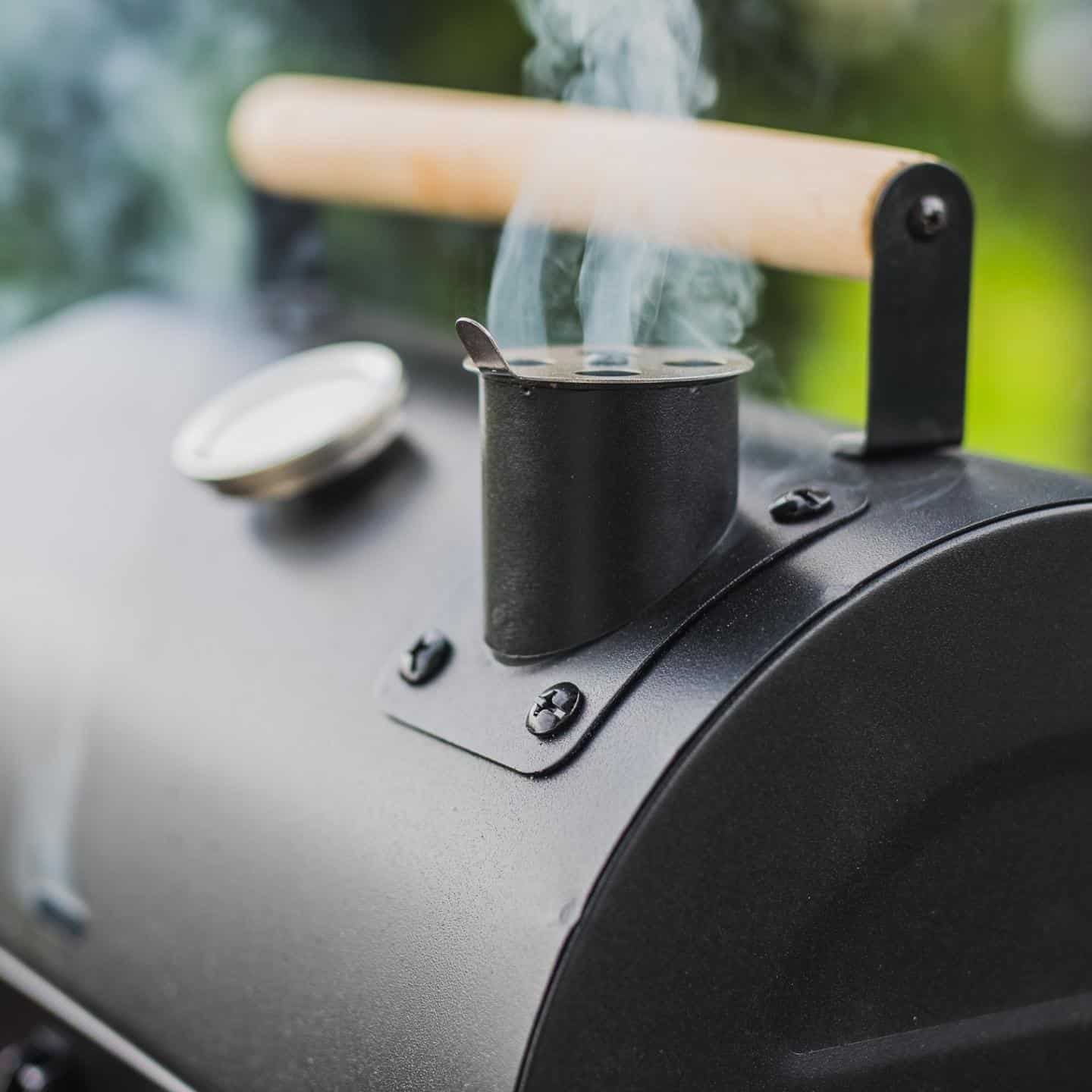 The principal difference is the smoky taste, smoke ring, and nice bark when smoking low and slow on the BBQ. Of course, to achieve this, you'll need a dedicated smoker, wood, and other BBQing accessories ranging in price.
Of course, if you own a smoker and have experience smoking meat low and slow. In that case, I highly recommend my epic smoked tri-tip recipe with a homemade marinade, dry rub, and cooked low and slow to perfection.
Weather is always a factor when smoking outdoors.
Oven Low and Slow
The most obvious is equipment. You likely own an oven capable of cooking low and slow. Most ovens offer a temperature around 170-225 degrees Fahrenheit while some ovens come with a warm setting.
This all-year-round option is ideal for beginners and produces noteworthy results without the constant attention when using a BBQ. And for those only gifted with a short BBQing season, you can still prepare amazing ribs, roasts, turkeys, and steaks on the coldest days.
Related Cooking How-tos
Cooking methods like low and slow are part of the picture. You'll still need a proven recipe and ingredients to match. If your cooking beef, here are 25 leftover roast beef recipes to get you started.
What you need
The equipment and accessories required to cook low and slow in the oven versus a smoker are very different.
Oven
If you're cooking cuts of meat larger than 4 pounds, consider using a v rack or flat rack that help hold the meat in place and improves air circulation. Otherwise, check my 7 roasting pan alternatives for additional options.
Smoker BBQ
To smoke meat low and slow, you'll need a BBQ, hardwood, and a few accessories, which can range from hundreds of dollars well into the thousands.
The top smoker brands like Traeger and Weber are worth every penny. While top entry level brands like Victory and Camp Chef are worth considering.
Meaty Benefits of Cooking Low and Slow
Whatever you decide, low and slow in the oven, bbq, or slow cooker, the results will be mouth-wateringly delicious. Your meat will be juicier, more flavorful, and more tender as a result, and I genuinely hope you found this how-to cook low and slow guide both helpful and inspiring.