From rare, medium-rare, to well done, I've got you covered. Learn how to determine the degree of doneness and the best ways to cook beef perfectly every time.
The internal temperature of cooked beef is a fantastic indicator of doneness. Let's go through each, and I'll explain beef types, varying doneness temperatures, and the best equipment to use.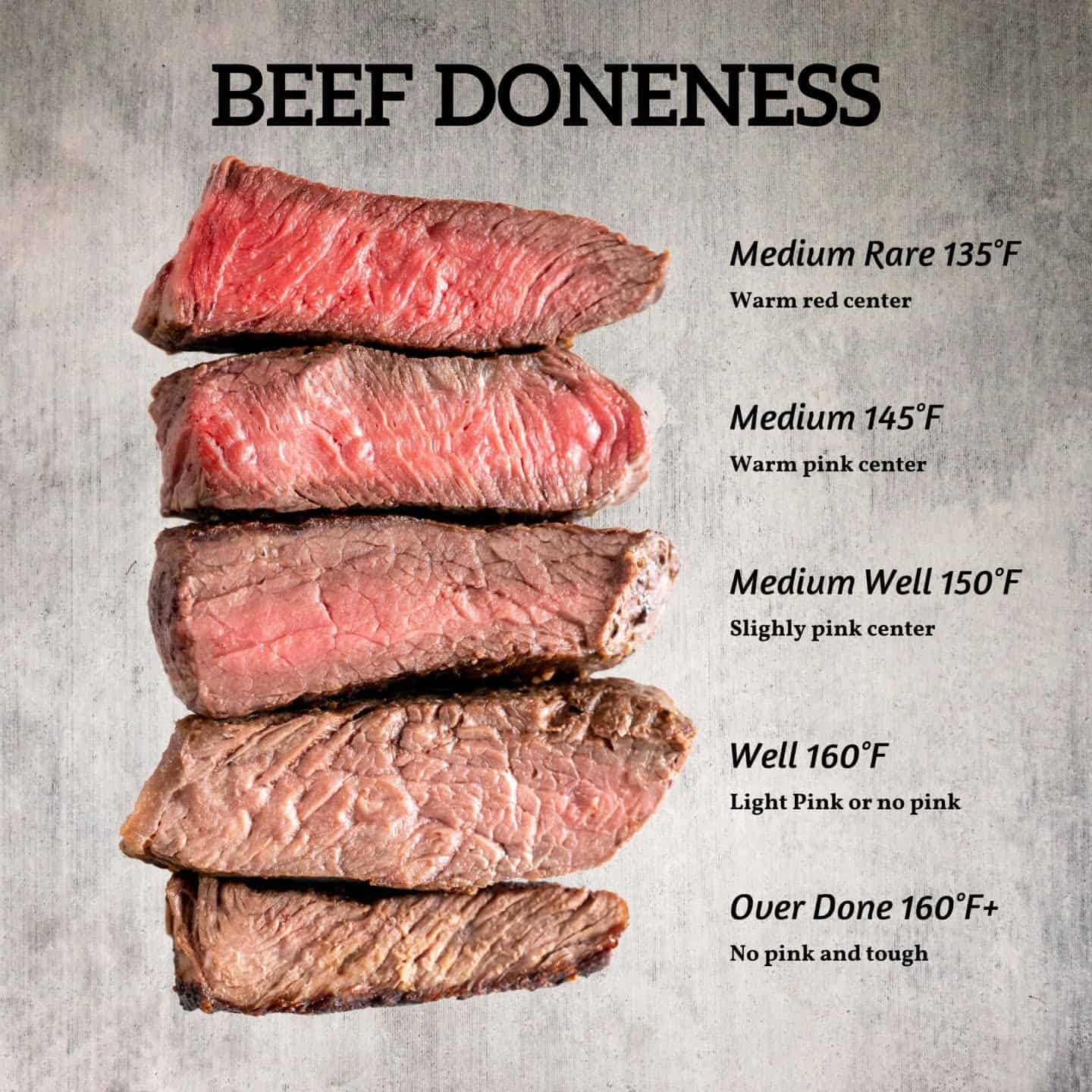 Contents
Why Doneness Matters
Because when you cook steak, rump roasts, and beef in general, you want it to meet your expectations.
And the secret to perfectly cooked beef and achieving the exact internal temperature you're praying for is a MEAT THERMOMETER. We'll talk about this in a bit.
That being said, you still need to know how to use your meat thermometer (great article for beginners) or meat probe to achieve the perfect beef internal temp.
And the main reason doneness matters to me is my desire to cook delicious melt-in-your-mouth beef for my family and friends. I love it.
What's the Proper Temperature for Cooking Beef?
These are the exact cooking temperatures I use every day. When your beef reaches the internal temperature below, remove it from the oven or stove and let it rest.
120°F (49°C) - Rare
125°F (52°C) - Medium Rare
135°F (57°C) - Medium
140°F (60°C) - Medium Well
150°F+ (66°C+) - Well Done
Note: The USDA recommends steaks and roasts be cooked to 145°F (medium) and then rested for at least 3 minutes. To ensure food safety, ground beef should be cooked to a minimum of 160°F (well done). Be sure to check with a thermometer, as color alone is not a foolproof indicator.
What is the final doneness temperature of beef?
Your beef will continue to cook once removed from the heat source. Expect a 5-10°F increase in your final doneness.
125°F (52°C) - Rare
135°F (57°C) - Medium Rare
145°F (63°C) - Medium
150°F (66°C) - Medium Well
160°F+ (71°C+) - Well Done
Internal Temperature of Steak
For steak, insert a meat thermometer or meat probe horizontally. Then wait for the internal temp for steak to read 125°F (medium-rare), 135°F (medium), 140°F (medium-well), and 150°F (well-done). As soon as you hit your desired steak done temp, remove the steak from the heat, and let rest 5-10 minutes before serving. While resting, your steak will continue to cook, increasing your final doneness temperature by 5-10°F.
Internal Temperature of Ground Beef
As outlined by the USDA and my experience preparing and cooking ground beef, I always cook ground beef to a safe 160°F (71°C).Meat exposed to air, specifically ground beef, must be thoroughly cooked before eating. This includes recipes that use ground beef as the base, like hamburgers, meatballs, and meatloaf, to name a few. Lastly and most importantly, the color of ground beef isn't a reliable indicator of doneness. Use a meat thermometer to ensure you've reached a safe minimum ground beef done temp.
Internal Temperature of Roasts
For roasts, insert an oven-safe meat thermometer or meat probe into the thickest part of the beef before cooking. I find inserting the thermometer horizontally for roasts provides the most consistent result. Another option is an instant-read thermometer for easy internal temp beef. And while not oven-safe, still easy to use and provide consistent results. To avoid drying out your roast, start checking the internal temperature at the halfway mark and repeat every 30 minutes.
How to properly use a meat thermometer
If you're learning to cook or just starting, consider reading how to use a meat thermometer for a step-by-step guide.
Quick tips for using a meat thermometer:
Insert the meat thermometer horizontally
Always insert it into the thickest part of the beef
Avoid touching fat or bone
The Best Digital Meat Thermometers
No joke, these are hands down the best of the best digital meat thermometers.
Fantastic Beef Recipes
I cook beef a lot for family and friends. Here are a few of my all-time favorite beef recipes.
Related Cooking How-Tos
If you're learning to cook or expand your skill set, check out my kitchen how-tos for step-by-step instructions.