Wondering how to combine gift cards? Keep reading!
Do you have gift cards lying around or in your purse or wallet with a small balance left on them?
Have you been carrying them around for a while, unsure how to use them? Wondering how to combine gift cards?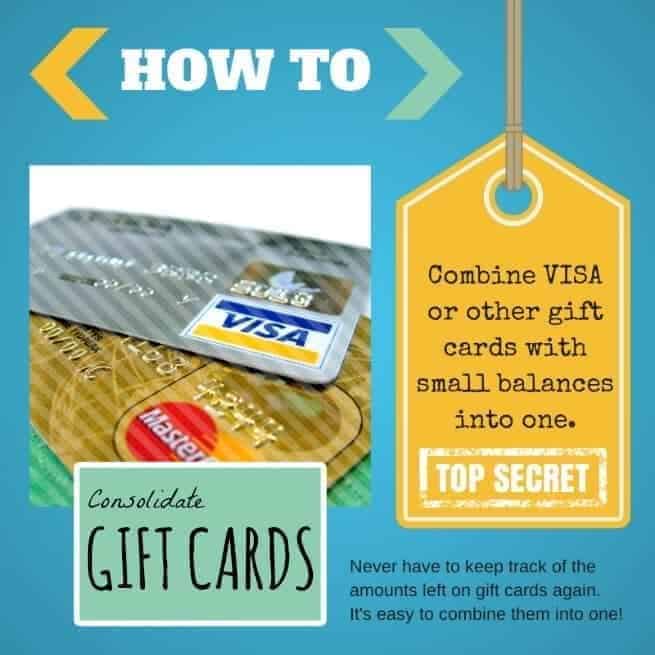 Contents
You can't just take them to the store and use them because you have to know exactly how much is left on them, and often it's just not worth the effort to deal with using a $2.49 gift card than having to use your credit card for the rest of your purchase. Not to mention the dirty looks you'll get from the customers waiting in line behind you.
Well, I have a solution for you if you have a small amount left on a gift card so you can make sure those balances don't go to waste, you don't annoy anyone, and you don't waste a ton of time and energy trying to figure out a way to indicate how much is left on each card, so you have it easily accessible when you go to the store.
This solution only works on gift cards with a credit card logo such as Visa, Mastercard, or American Express. Any card you can use at ANY store.
How to combine gift cards
Note: You may have to REGISTER the card with the bank in order to use it, especially with American Express. So if the transaction doesn't go through, you may have to call the issuing service and assign your name, address and phone number to the card. Make 100% sure they match your Amazon account.
The newest update is simpler than 'email gift card' method previously used to combine various kinds of gift cards.
1: Gather all your old gift cards that still have small balances on them. No amount is too small. Get them all!
2: Check the amount of the balance of every gift card you have. You MUST know the exact amount to be able to complete the process.
3: Log in to your account and go to the gift cards page on Amazon.com. Select Amazon 'Reload Balance Page'.

4: Grab one gift card and type the EXACT amount you have in it. The good news is there is no minimum amount. You can really use up every cent you have in each of your various Visa gift cards. Then hit 'Buy Now'.

5: Choose 'Add Card'. After that you have to enter all the required information, including the card number, Name on card, and Expiration date. Always double check every single thing your write. Then, choose 'Add your card'.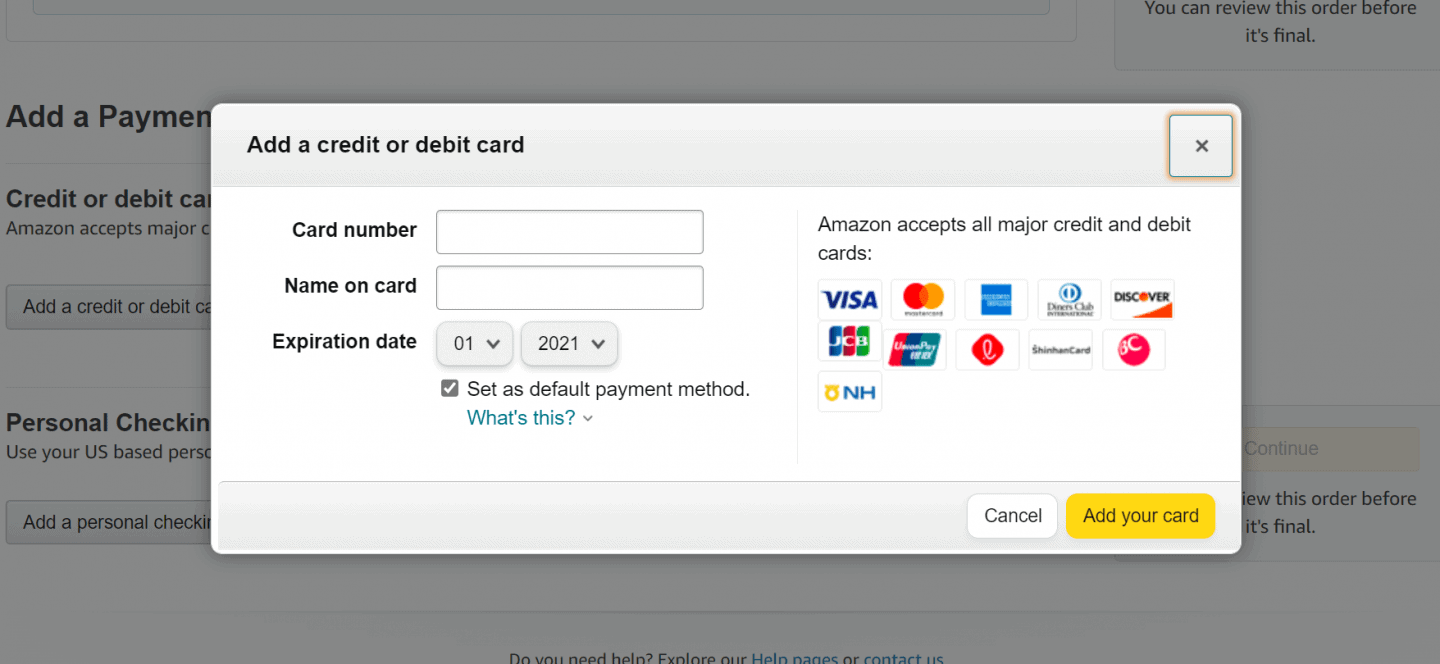 6: Enter your address information and then select 'Use this Address' button.
7: Click 'Add Card'.
8: Make sure you receive this message: 'Thank you, your reload order is placed.'
9: Repeat the steps above for each of the gift cards you collected that have small balances on them.
10: After you add all your Visa gift cards (Mastercard or American Expressgift cards can also be added by using the above steps) you MUST clean up and remove all of the cards to avoid further issues.
Now you have all of your miscellaneous small balance gift cards added up in a single location, and you can easily use them on a purchase when you checkout items listed on your online shopping cart on Amazon.com.
The good news is there is no more minimum amount to be added to your balance, unlike the old 'email gift card' method that could only accept at least $1.
Moreover, there is no expired gift card balance so that you can save your money until your next purchase. With simpler steps and a more convenient process, you can easily combine all of your small gift cards.
Combine visa gift cards
You can also use your Visa gift cards to purchase an e-Gift Card on Amazon. Then your gift card balance will automatically be reloaded with the exact balance you previously had on your Visa gift card. This method is slightly complicated, but can always work as a great solution to combine all your Visa gift cards.
1: First, you have to know the exact amount you have on your gift card.
2: Log in to your Amazon account and select 'Amazon Gift Card' tab.
3: Choose 'e-Gift Card'.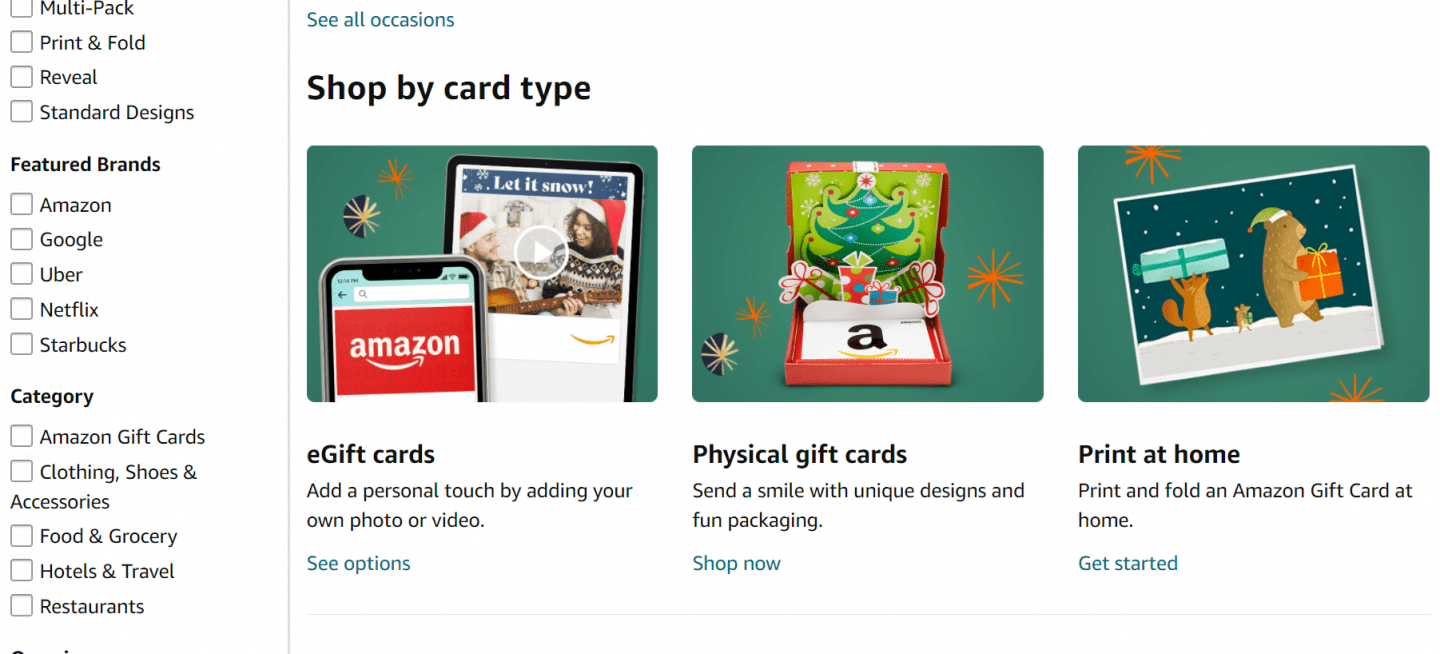 4: Choose 'standard' gift card under 'Gift Card Design'
5: Enter the EXACT amount of your Visa gift card.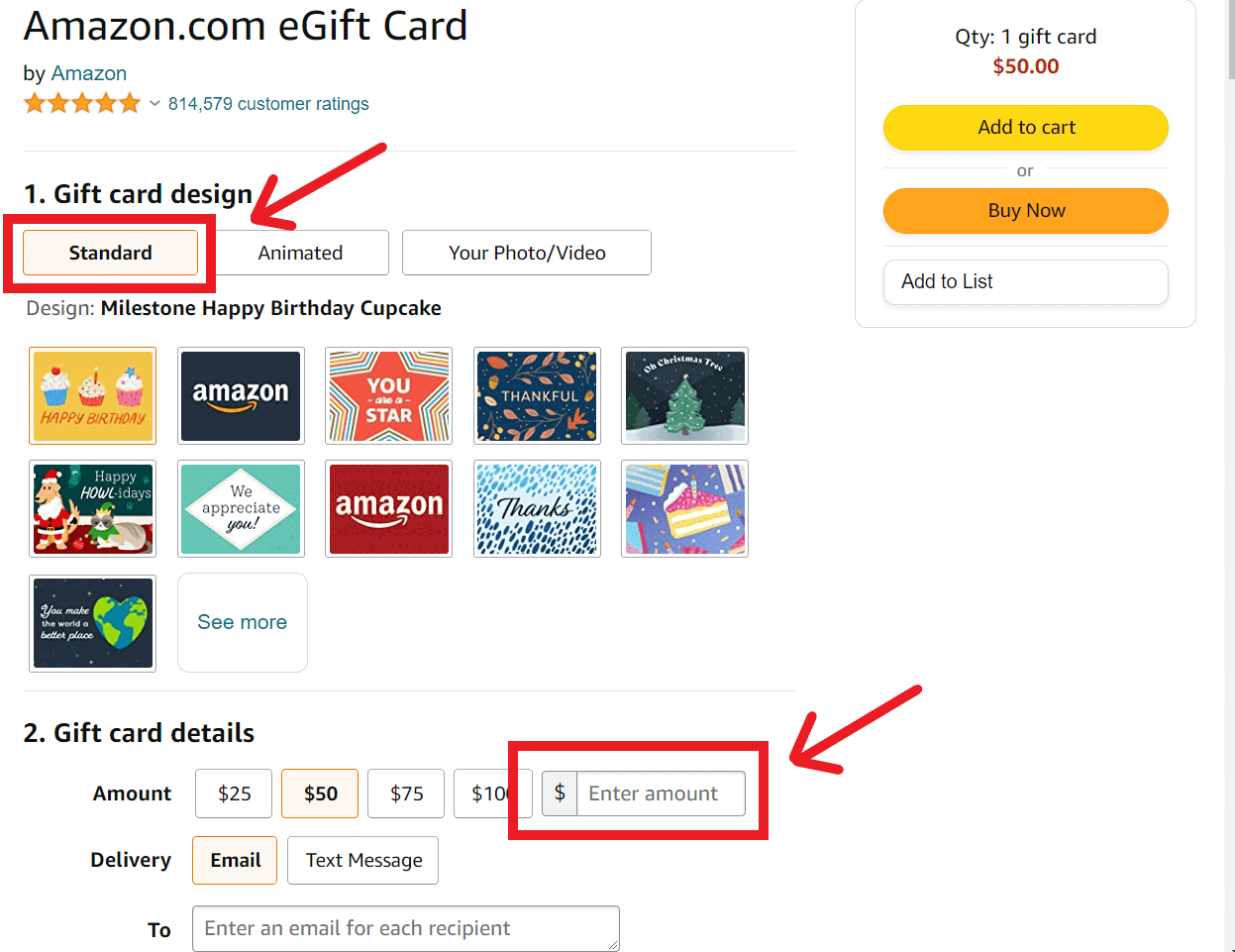 6: Click 'Buy Now' and then 'Add a credit or debit card.'
7: Make Sure the gift card is selected.
8: Hit 'Place your order.'
9: Go to your email, open the email from Amazon and choose the 'Apply to your Amazon Account' button.
10: Your Visa gift card balance has been added to your Amazon gift card balance.
How to redeem your gift cards
1: Collect all your gift cards that still have small balances on them.
2: Log in to your account. Create one if you don't have an Amazon account.
3: Go to the gift cards page on Amazon.com and select 'Redeem an Amazon Gift Card'.
4: Grab one of your gift cards and enter the claim code. If you are unsure what the claim code is, follow this guide: The amazon claim code consists of 14 or 15 characters (can be letters and numbers). You don't need to type the dash (-). If you have physical cards, peel the coating and find the 14 or 15 characters claim code on the back of the card. For a printed gift card, you can find the claim code on the receipt. Double-check the claim code every time you enter one.
5: Hit 'Apply to your balance.'
6: The balance in the gift cards will be added to your Amazon gift card balance.
7: Repeat all the steps for other gift cards you have.
How to add a balance
Forget the complicated steps and reload the balance with your debit cards, credit cards, or prepaid cards. There is no minimum amount and much fewer steps now.
Go to 'Add funds to your gift card balance.'
Enter payment info with the exact amount you want.
Your balance is added in less than 5 minutes, and you can directly purchase by clicking 'buy now.'
Alternative way to add money
If you don't have a debit, credit, or prepaid cards, there is another alternative you can follow:
Go to a participating store.
Access your barcode. First, access 'View your barcode' on your 'Amazon Cash' from your smartphone or print your barcode, then save it to your home screen or your digital wallet.
Show the barcode to the cashier in the store. You can also provide your phone number connected to your Amazon account.
Give the cashier the amount you want to add to your Amazon gift cards.
How to set your auto-reload
The auto-reload setting will add funds to your Amazon gift card balance automatically. You can set it under two circumstances:
On a scheduled time that you set.
Whenever your balance is below an amount you set.
These are the simplest steps to auto-reload your gift card:
Go to 'Auto-reload setting.'
Choose a reload type.
Input the amount and choose how often you wish to add a balance to your gift card.
Choose a payment method.
Click 'Save.'
This way, you will feel more comfortable making an online purchase as you always have a sufficient balance.
How to make a gift card purchase
You can also shop gift cards and give them to the people you love or your clients as a present for special occasions, like birthdays, thanksgiving, Christmas, weddings, etc. Visit Amazon gift card shop and choose among many options available, including e-gift card, physical gift card, or print-at-home version.
You can also customize your purchase by adding photos, choosing the box, bag, envelope, or tag. Decide which gift card you wish to purchase and select all the choices you want to customize your gift card.
For your convenience, an Amazon gift card has no expiration date. It also has no fees. The best thing is you can have FREE one-day shipping if you click the shipping option when you checkout for your physical gift card.
What if your gift card got rejected?
The reasons can be one of the following:
The dollar amount is too low.
The prepaid card is not issued in the US.
You buy from merchants outside America.
It has not been registered. If it happens, register your billing address with the card issuer. Complete the registration by looking for a contact website or phone number on the back of the card.
Can you stack Amazon gift cards?
Yes, you can stack your Amazon gift cards by adding them to your balance. Click 'Add Balance' and add your Amazon gift cards one by one. During checkout select 'Use Your Amazon Balance' to complete your payment.
Things to consider
Although using gift cards give you a lot of advantages to purchasing online or in a traditional grocery store, you have to understand the following things for a more comfortable shopping experience:
Multiple store gift cards can be used, but only one bank card is accepted in a single transaction because there is only one bank or credit card field.
If you use one bank card and a store gift card, make sure that they cover the entire amount you need. Otherwise, your purchase will be rejected.
Although nearly all brick-and-mortar businesses accept multiple cards (Visa, MasterCard, and American Express), but in Amazon, we cannot use multiple accepted cards. However, we can only use one accepted card and an Amazon gift card together in a single purchase.
Ensure that the combination of store gift cards and the accepted bank card covers the full amount of the transaction. Otherwise, your purchase cannot be processed.
Listen to what a gift card expert, Shelley Hunter, said, including using a general-purpose gift card to purchase an e-gift card (such as Amazon or Walmart gift cards) to be used to buy products on a particular site.
In a specific case, you can use a little creativity. Place an order by phone and ask customer service to use up all the balance in your gift card. Then you can pay the rest by using your accepted credit card.
Some gift cards are issued by a third-party provider like Cashstar, such as Walmart or Target. Consider that a different company has a different set of rules in using gift cards. You have to understand that every gift card is the property of its respective owners.
Amazon's Gift Card Updates
I try to keep this article updated with Amazon changes. Would you mind letting me know if anything changes, and I'll update this article for the next reader?