Get ready to savor the flavor of juicy, succulent sausage links with our collection of 21 delicious recipes! Whether you prefer classic breakfast sausage, spicy chorizo, or smoky bratwurst, these recipes will have your taste buds singing. From mouthwatering breakfast casseroles to flavorful skillet dinners, these recipes make the perfect meal any time of day.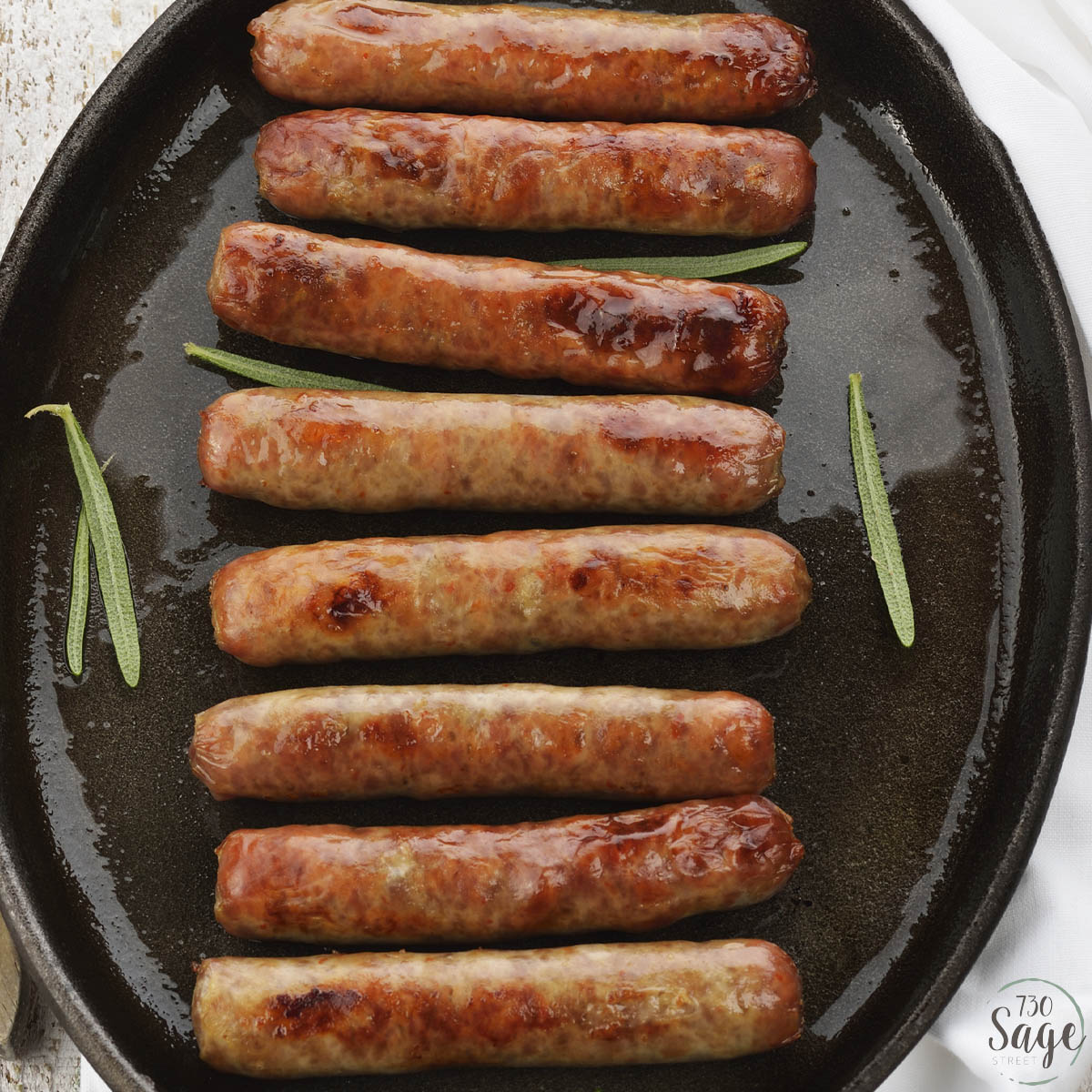 So fire up the grill, heat up the oven, or get out your trusty skillet and get ready to indulge in the savory goodness of these sausage link recipes.
What Are The Best Ways To Cook Sausage?
There are several methods for cooking link sausage, and the best way may depend on personal preference and the type of sausage. Here are a few options:
Grilling: Grilling is a popular method for cooking link sausage, especially during the summer months. Heat the grill to medium heat, and cook the sausage for about 6-8 minutes on each side, or until it's cooked through and browned on the outside.
Pan-frying: To pan-fry sausage links, heat a little bit of oil in a skillet over medium heat. Add the sausages, and cook for 10-12 minutes, turning occasionally, until they're browned and cooked through.
Baking: Baking sausage links in the oven is a convenient and easy method. Preheat the oven to 350°F, and place the sausages on a baking sheet. Bake for 25-30 minutes, or until they're cooked through and browned.
What Is The Healthiest Way To Cook Sausages?
Grilling, baking, and boiling are generally considered the healthiest ways to cook sausages as they don't require the use of additional oil or fat. Grilling and baking allow excess fat to drip away, while boiling helps to reduce the amount of fat in the sausage.
It's also important to choose leaner cuts of sausage, such as chicken or turkey, over higher-fat options like pork or beef, and to consume them in moderation as part of a balanced diet.
21 Sausage Links Recipes
Here is a list of the best 21 Sausage Links Recipes:
If you're looking for a sausage that packs a punch, these Texas Hot Links are the perfect choice. Made with a combination of venison and fatty pork, this spicy sausage recipe is sure to please any meat lover.
The secret to this recipe is the mix of spices, including paprika, cayenne, thyme, and garlic, which give it a distinctly Southern flavor. Whether you're making them for a party or just to stock up your freezer, these sausage links are easy to make and perfect for any occasion.
This Air Fryer Sausage Links recipe is perfect for those busy mornings when you don't have a lot of time to cook. With just a few simple steps, you can have perfectly cooked sausage links in less than 15 minutes. The beauty of this recipe is how simple and hassle-free it is.
Simply place your sausage links in the air fryer and let it work its magic. No need to dirty up a pan or spend a lot of time monitoring the cooking process. And with the air fryer, you'll get that perfect crisp exterior and juicy interior that we all love in our sausages.
The combination of mango sausages and spicy black beans gives this dish a unique and delicious twist. To make the creamy sauce, simply sauté onion and jalapeño pepper in butter, add milk and spices, and thicken with cornstarch. Stir in the sour cream and cheese until melted, and then toss in the cooked pasta shells and sliced and sautéed link sausages. Add in the spicy black beans for an extra kick of flavor. Serve with avocado, tomatoes, hot sauce, and chopped cilantro for a fresh finish.
This Cheesy Sausage and Rice Skillet recipe is perfect for those busy weeknights when you need a quick and delicious meal that the whole family will love. With just a few simple ingredients like Hillshire Farm Beef Polska Kielbasa, diced tomatoes with chiles, uncooked rice, chicken stock or water, butter, and colby jack cheese, you can whip up a hearty and flavorful dish that's ready in no time.
Simply slice and brown up the kielbasa, add in the tomatoes, rice, butter, stock, salt, and pepper, bring to a boil, then reduce to simmer and cook for 15-20 minutes. Once the rice is cooked, remove from heat and stir in the cheese for an extra gooey and delicious finish. Serve this skillet up with a fresh green salad for a complete meal that will leave everyone satisfied. Enjoy!
Try this Italian Sausage and Peppers recipe! The combination of flavorful chunks of sausage, diced tomatoes, garlic, oregano, basil, red and green bell peppers, and onion make this dish both savory and satisfying. Brown the sausage in a pan before adding in the onion and peppers to cook until softened. Then, slice the sausage into pieces and return it to the pan with the remaining ingredients, cooking until the sausage is cooked through and the sauce is thickened.
This Oven-Roasted Sausage and Potatoes recipe is a must-try for anyone looking for a filling and flavorful meal that's easy to make. With just a handful of simple ingredients, including Italian sausage links, baby potatoes, and bell peppers, this one-pan dish is perfect for those nights when you don't have a lot of time to cook. The veggies and sausage roast in the oven, giving them a crispy texture that's hard to resist. And the addition of white wine adds a unique and delicious flavor that brings everything together.
This easy one-pan recipe combines sliced sausage links, bell pepper, onion, and rice, all flavored with a combination of spices, chicken broth, and tomato sauce. The dish is quick to make and can be ready in just 30 minutes, making it perfect for busy weeknights. The result is a flavor-packed, savory dish that everyone will love. Top it off with some fresh parsley and serve it hot for a meal that's sure to be a hit with the whole family!
Try this Spicy Smoked Sausage Alfredo Bake! Made with pasta, smoked sausage, and a creamy, cheesy sauce, this dish is sure to please everyone. Cook the pasta and while it cooks, make the sauce by melting butter, adding garlic and flour, and whisking in chicken broth and half and half.
Season with spices and stir in Parmesan and mozzarella cheese until smooth. Slice the sausage and add it to the sauce along with the cooked pasta. Pour everything into a baking dish, top with mozzarella cheese, and broil for 2-3 minutes until bubbly and golden.
Indulge in the delicious and comforting flavors of this Smoked Sausage and Cheesy Orzo recipe. Smoked sausage is cooked to perfection with a mix of onion, garlic, and bell pepper, while bite-sized broccoli florets add some greens to the dish. The orzo pasta is cooked until tender and then added to the skillet with the sausage and vegetables. The dish is brought together with a creamy and cheesy sauce made with milk and shredded cheddar cheese.
This Sheet Pan Hasselback Kielbasa recipe is a delicious and easy way to get a complete meal on the table in no time. Perfect for busy weeknights, the dish features two rings of kielbasa nestled in a bed of vegetables and potatoes, all brushed with a flavorful mustard-based topping. The Hasselback technique is used to slice the kielbasa, allowing it to cook more evenly and soak up all the delicious flavors of the dish.
With a mix of sauerkraut, fingerling potatoes, red bell pepper, onion, and garlic, this sheet pan meal is both nutritious and satisfying. The mustard mixture adds a tangy and sweet element that ties the dish together. Serve this delicious and fuss-free meal warm, garnished with fresh parsley.
This Slow Cooker Little Smokies recipe is the perfect appetizer for any game day or party. Made with cocktail sausages links, honey-flavored barbecue sauce, brown sugar, vinegar, and beer, this dish is easy to make and addictive to eat. Simply combine the ingredients in a slow cooker and cook on high for 2 to 3 hours until the sausages are warmed through. Serve them warm and watch them disappear in no time.
These Smoked Sausage Kolaches are the perfect savory snack for any occasion. Made with smoked sausage links, crescent rolls, and a blend of cheese and spices, these pastry bites are both delicious and easy to make. The rolls are brushed with a creole butter mixture and topped with an everything seasoning mix, then baked until golden brown. Garnish with green onions and parsley, and serve with a tangy creole mustard dipping sauce.
These cocktail or mini sausages are coated in a mouthwatering sauce made with honey, sesame oil, soy sauce or tamari, balsamic vinegar, and dijon mustard. After being baked in the oven for 20-25 minutes, they come out perfectly browned and cooked through, ready to be garnished with sesame seeds and chopped coriander. Whether you're hosting a party or simply looking for a tasty snack, these Honey Sesame Sausages are sure to satisfy. Give this recipe a try and discover a new favorite appetizer!
This Sausage and Hash Brown Casserole is the perfect breakfast or brunch dish for feeding a crowd. Made with Bob Evans® refrigerated hash brown potatoes, eggs, sausage, and cheese, this casserole is easy to make and satisfying to eat. The potatoes are baked and topped with a mixture of eggs, milk, baking powder, and diced onion, and then sausage is added on top before baking until firm and cooked through. The casserole is then topped with shredded cheese and parsley and baked until the cheese is melted and bubbly.
These Maple Glazed Breakfast Sausages are the perfect combination of sweet and savory. Made with uncooked pork breakfast sausage links, the sausages are coated in a delicious mixture of maple syrup, brown sugar, and butter, with optional cinnamon and nutmeg for added flavor.
Simply place the sausages in a baking dish, pour the sauce over them, and bake in the oven for 35-40 minutes, turning occasionally to ensure they are well coated. Once done, let them sit for a few minutes before serving hot, with the sauce if desired. Give this recipe a try for a tasty twist on classic breakfast sausages!
This fun and tasty Pancake-Wrapped Sausage on a Stick recipe is a great way to start your morning! Cook breakfast sausage links until they are fully cooked, and set them aside. In a mixing bowl, whisk together flour, sugar, baking powder, and salt. In a separate bowl, mix milk, egg, vanilla, butter, and maple syrup. Add wet ingredients to the dry ingredients and stir until well combined.
Preheat canola oil in a saucepan, dip the cooked sausages into the pancake batter, and then deep-fry until golden brown. Remove from oil and let cool for a minute or two before serving. This pancake-wrapped sausage recipe is a fun and unique twist on traditional breakfast fare that will delight both kids and adults!
This grilled sausage recipe is a classic that's perfect for summer cookouts or game day. Simply preheat your grill for indirect cooking and arrange your sausage links on the indirect heat side, close the lid and let cook for 4-5 minutes. Then, flip and cook for another 4-5 minutes until an instant-read thermometer inserted in the center of the sausage registers 150 degrees F.
Next, move the sausage to the direct heat and grill for an additional 2-3 minutes per side, or until the internal temperature reaches 160 degrees F and the sausage is charred to your liking. Serve on a toasted bun with your favorite toppings like grilled peppers and onions, sauerkraut, mustard or Dijonnaise, and ketchup. Adjust cooking time for sausage of varying thickness, and always use an instant-read thermometer to ensure food safety.
This recipe is for grilled sausage skewers that are coated in a delicious barbecue sauce. The ingredients include 6 links of fresh sausage, which are arranged in a spiral shape and held together with wooden skewers that have been soaked in water. The sausages are then brushed with barbecue sauce and grilled over medium heat for 7 to 10 minutes before being flipped and brushed with more sauce.
This recipe is for a hearty and flavorful one-pan meal featuring Jalapeño & Cheddar Smoked Sausage, potatoes, vegetables, and cheddar cheese. The sausage is first browned in olive oil and set aside. The potatoes are then sliced and fried in the same pan before being simmered in milk and water with salt and pepper. After 10 minutes, the thawed vegetables and smoked sausage are added to the pan and simmered for another five minutes. The dish is finished off with a generous sprinkle of cheddar cheese.
This Instant Pot Italian sausage recipe is a simple and quick way to cook juicy and delicious sausages. You'll need 5 links of raw Italian sausage, mild or spicy, olive oil, and chicken broth. After browning the sausages on both sides in olive oil, set them aside on a plate.
Pour chicken broth into the Instant Pot and set the sausages on a rack. Pressure cook for 6 minutes, do a natural release for 10 minutes, then release any remaining pressure. This recipe is perfect for a quick weeknight dinner or a meal prep option.
This recipe is for beer-simmered sausage with onions and peppers. The ingredients include sausage links, beer, sliced onions and bell peppers, and olive oil. The sausage is simmered in beer for 15-20 minutes, then browned in a large pan with olive oil. While the sausage browns, onions and peppers are cooked in the same pan until translucent. Once the sausage is browned, it is served immediately with the cooked onions and peppers.
Frequently Asked Questions About Sausage Links
Can I Boil Sausage Links?
Boiling is not the healthiest way to cook sausage links, as it can cause them to become waterlogged and result in a loss of flavor. However, you can poach sausage links in water, broth or beer to add flavor without adding extra fat.
Should I Remove The Casing From Sausage Links Before Cooking?
It's generally best to leave the casing on sausage links while cooking, as it helps to retain moisture and flavor. You can remove the casing after cooking if desired.