A top round roast is a leaner cut of meat similar to a bottom round and chuck roast that is tender and juicy when cooked properly, and these 20 best top round roast recipes will help you do just that!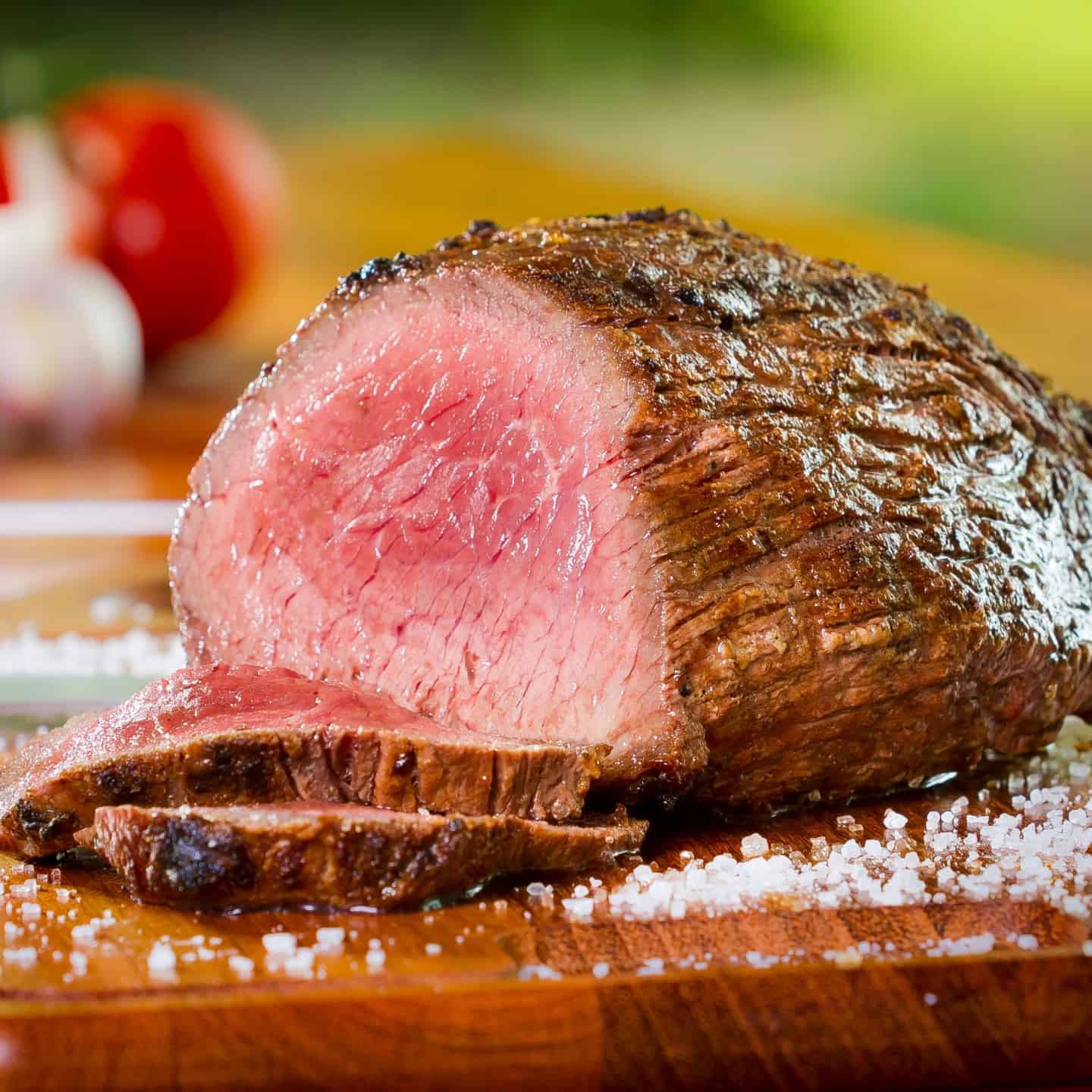 From classic roast beef to smoked recipes and more unique flavor combinations, these inspirational recipes will have your family and friends silenced at the table with every bite!
Bacon makes everything better, and this beer and bacon top round roast recipe is no exception.
The bacon adds a delicious smoky flavor to the beef, while the beer and vinegar give it a tangy kick that also tenderizes the beef roast as it cooks. It's seasoned perfectly and is slow cooked in the oven or crock pot to allow the flavors to infuse into the meat.
This is the perfect meal for any occasion and will leave everyone at your table speechless!
This slow-cooker spicy top round roast is the perfect recipe for those who like a little bit of heat.
The pepperoncini and sauce give the beef a nice spiciness, while the beef broth and tomato paste help to create a flavorful and rich sauce. This dish is best served with some hearty sides like mashed potatoes or roasted vegetables.
Whether you're looking for a new roast beef recipe to try or you're just wanting something a little bit different, this slow-cooker spicy top round roast is sure to please. Give it a try today!
This herb seasoned top round roast is a delicious and easy-to-make recipe that is perfect for any occasion.
The roast is rubbed with a blend of herbs and spices and roasted in the oven for 2 hours until it is juicy and tender.
The resulting roast beef is packed with flavor and is served with a creamy shallot sauce that is sure to be a hit with your family and friends.
The balsamic vinegar, basil, and garlic are the perfect flavor combo for this smoked round-roast beef recipe.
Seasoned liberally with salt, pepper, and garlic and smoked low and slow to give a delicious depth of flavor.
This smoked roast is sure to be a hit with everyone who tries it, and any leftover roast beef makes tasty sandwiches for food prep.
This garlic herb top round roast is a simple and flavorful recipe that is perfect for any occasion!
The roast beef is rubbed with a blend of garlic, herbs, and spices and roasted in the oven in a roasting pan with a meat thermometer for 2 hours until it reaches a medium-rare internal temperature of 1130F.
The resulting roast beef is packed with flavor and is juicy and tender. Serve this roast with your favorite sides, and enjoy!
Unlike most round-roast beef recipes on this list that are cooked low and slow, this juicy top round recipe only requires 1 hour and 15 minutes of cooking time.
The beef has a wonderful aromatic crust on top from a mixture of herbs and spices and is first cooked on high heat to create a golden crust and then on medium heat for an hour until it's perfectly pink.
The fast cooking method makes it perfect for a midweek roast!
Use your instant pot to make this delicious French onion pot roast recipe that takes just over an hour and results in a tender beef.
It's the perfect comfort food for a winter evening. The beef is cut into cubes and cooked in a rich gravy made with onions, garlic, and beef broth.
Serve with a side of mashed potatoes or rice for the perfect family meal.
Slow cooking is the best way to make sure beef is perfectly tender every time, and when it is cooked in onion soup, Worcestershire sauce, spices, and beef broth, like this balsamic roast beef recipe, it is infused with delicious flavor.
The balsamic glaze gives the beef a lovely sweetness and depth of flavor that takes this dish to the next level. It's the perfect recipe for a winter dinner party or Sunday roast.
To make it even more special, serve with roasted vegetables and mashed potatoes. Enjoy!
This beef and broccoli recipe is perfect for those midweek nights when time is limited to whip up a delicious meal after a busy day!
It's easy to prepare by throwing everything together in the crockpot and letting it cook roast beef for you while you're at work.
Then simply come home, carve the Asian-infused beef top round, and serve it with the broccoli and sweet beef broth.
If you want the best-shredded beef for your next taco night, this sesame top round roast recipe is for you!
The recipe is super easy, and all you need to do is cook beef in an aromatic mixture of soy sauce, sesame oil, rice wine vinegar, tomato paste, brown sugar, ginger, garlic, onion, sesame seeds, and beef broth in the slow-cooker.
Shred the beef and spoon over the sweet sauce. You can make the sauce thinner with more beef broth, then just assemble your tacos with your favorite toppings and enjoy.
Provencal braised top round roast beef is a French dish that is packed with flavor.
The beef is slow-cooked in a red wine and tomato sauce with mushrooms, onions, olive oil, garlic, fresh thyme, and fresh rosemary, resulting in a tender and delicious dish that is packed with flavor.
The beef roast is best sliced thin and served with potatoes and vegetables.
Three ingredients are all you need for this stunning Coca-Cola beef top round recipe!
To make this tender beef infused with the sweetness of Coca-Cola, preheat oven to 300F and pour onion soup mix over the top round beef with the Coca-Cola in a roasting pan, and cover with aluminum foil.
Bake for 4 hours, and Voilà, you have a flavorful roast that is perfectly cooked from JUST 3-ingredients!
If you have never tried sous vide roast beef before, you should definitely give this recipe a try!
Sous vide means vacuum sealing roast beef in a bag and cooking it in water, then searing it in a hot pan to caramelize the outside. Using this cooking method can turn any cheap cut of meat into the best prime rib, and this recipe is spot on!
It tastes so good on sandwiches with some caramelized onions and cheese slices.
The fusion of flavors in this recipe is very powerful and the end result is a very tasty and juicy piece of meat.
The key ingredients in this roast beef recipe are garlic, coriander, ginger, and lemon.
The addition of beef broth adds a beefy flavor which compliments the fragrant herbs and spices. The dish is usually served with rice or couscous.
This marinated beef top round recipe is so flavorful, and the air fryer cooking method makes light work of turning this inexpensive cut of meat into the most tender piece of meat.
Apart from 4 hours of marinating the beef in fresh rosemary, black pepper, lemon juice, garlic, and Worcestershire sauce, the air frying takes all of 14 minutes.
Air frying is the quickest cooking method for cooking beef that also produces tender meat and a golden crisp coating. If you have an air fryer, I recommend giving this delicious recipe a try!
Rotisserie roast beef is one of the best ways to enjoy juicy beef with a delicious crackling coating with smokey flavors in every bite.
The meat is liberally rubbed with a dry rub and smoked on a spit for one and a half hours.
Cooking the round roast beef on a spit results in the entire roast having an even charred color, plus the juices circulate inside, keeping it super moist and tender.
Light up your BBQ and prepare yourself for the most amazing recipe that oozes flavor.
This roast beef recipe uses sweet and tangy ingredients like balsamic vinegar, honey, soy sauce, red wine, and a steak spice blend to provide the authentic barbecue marinade.
Slice it thin and pile it high on a sandwich with Monterrey Jack cheese, pickles, and onions for the ultimate sandwich.
This recipe for Jack Daniels Tennessee honey flavored top round is an absolutely delicious and flavorful way to cook beef.
The beef is marinated in a mixture of Jack Daniels Tennessee honey whiskey, apple cider vinegar, extra virgin olive oil, and garlic powder, then grilled with a barbecue-flavored dry rub to give it a lovely charred coating.
The tender meat melts in your mouth and will have your guests drooling over the aroma!
Pan-fried marinated top round roast beef is a great way to enjoy tender homemade beef when camping, and all you have is a portable gas stove.
No need for an oven or BBQ with this simple recipe. Just marinate the roast with a savory and spicy rub for a few hours to tenderize it, and cook it on a hot pan.
This medium-rare roast is so flavorful and beginner-friendly, that you'll be wanting to save this recipe to your cookbook when planning your next camping trip!
We've saved the best till last with this Italian-inspired recipe!
With only a few herbs, red wine, and salt and pepper required, it is easy to make but takes several hours of cooking to produce the best flavor that infuses all the way into the meat.
The red wine helps to tenderize the meat as it cooks and produces a wonderful dark and rich color on the meat. Serve it with roasted potatoes and green for a typical Italian family dinner everyone will love!
🍳 Related Recipes
These easy dinner recipes will keep everyone satisfied.
🙋 Learn how to cook the most tender and juicy beef recipes
You are welcome to explore how to cook my popular beef recipes in your next meal.