If you're looking to step up your chicken game, these diced chicken recipes are sure to be your new jam. Well, you know the best things come in small packages! Dice up those chicken breasts & thighs, and let's make some delicious recipes you'll want to make them forever.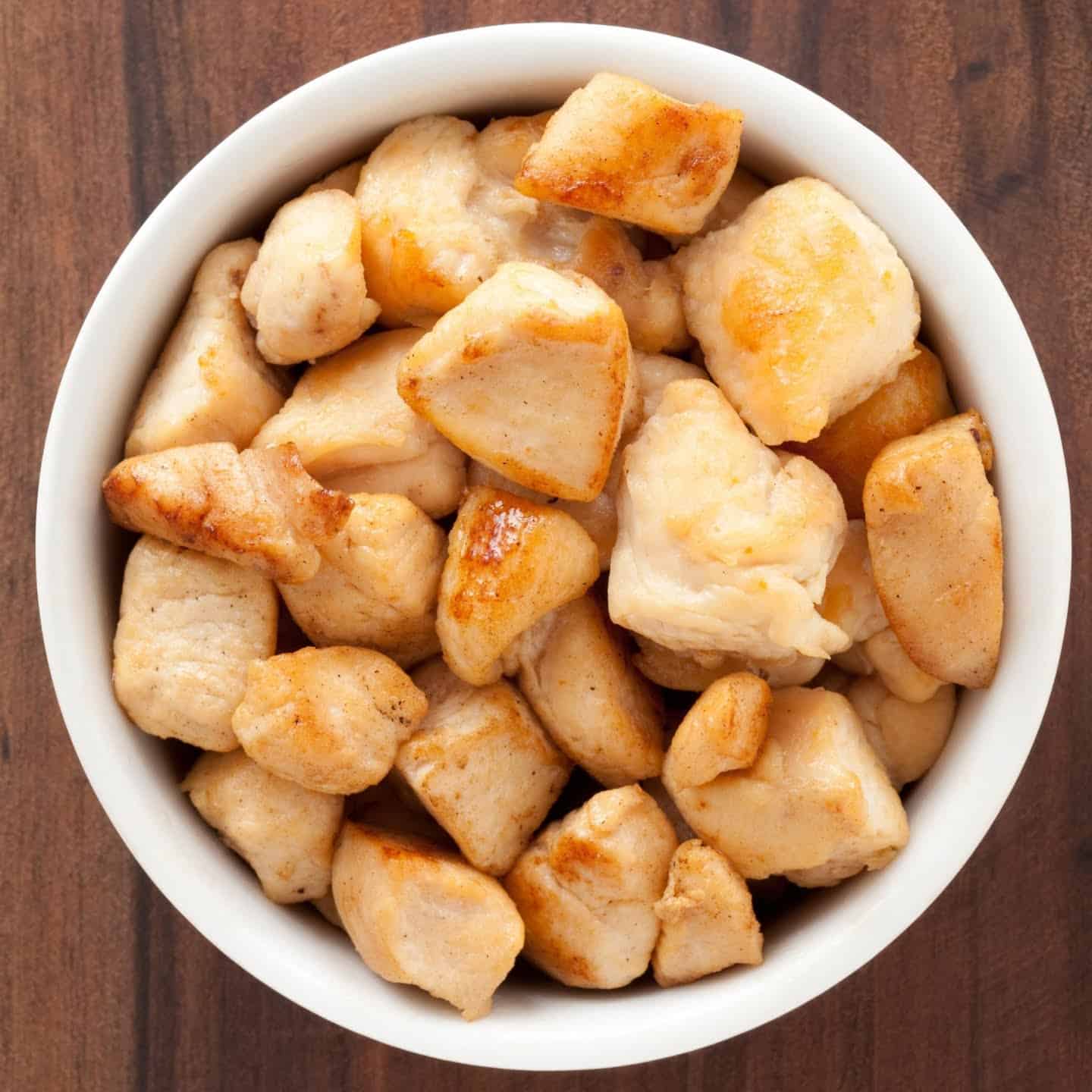 This compilation of mouthwatering recipes with diced chicken ranges from juicy chicken skewers to gooey chicken casserole, spicy Thai-inspired chicken, and crispy chicken nuggets.
And if that isn't enough, explore these fantastic diced chicken recipes, chicken casserole recipes with few ingredients
So whether you're looking for appetizers to serve at parties, impressive recipes for special occasions, or quick dinners for busy weeknights, this list has the answer.
Frequently Asked Questions
How do you keep diced chicken moist?
Basting prevents the chicken from drying out and distributes the fluids equally throughout the cooking process. Take the chicken out every 20-30 minutes to baste it with oil or butter while grilling or baking it.
How long does cooked diced chicken last in the fridge?
Cooked chicken should be consumed within three to four days after it is prepared, according on the USDA. It can last up to two months in the freezer.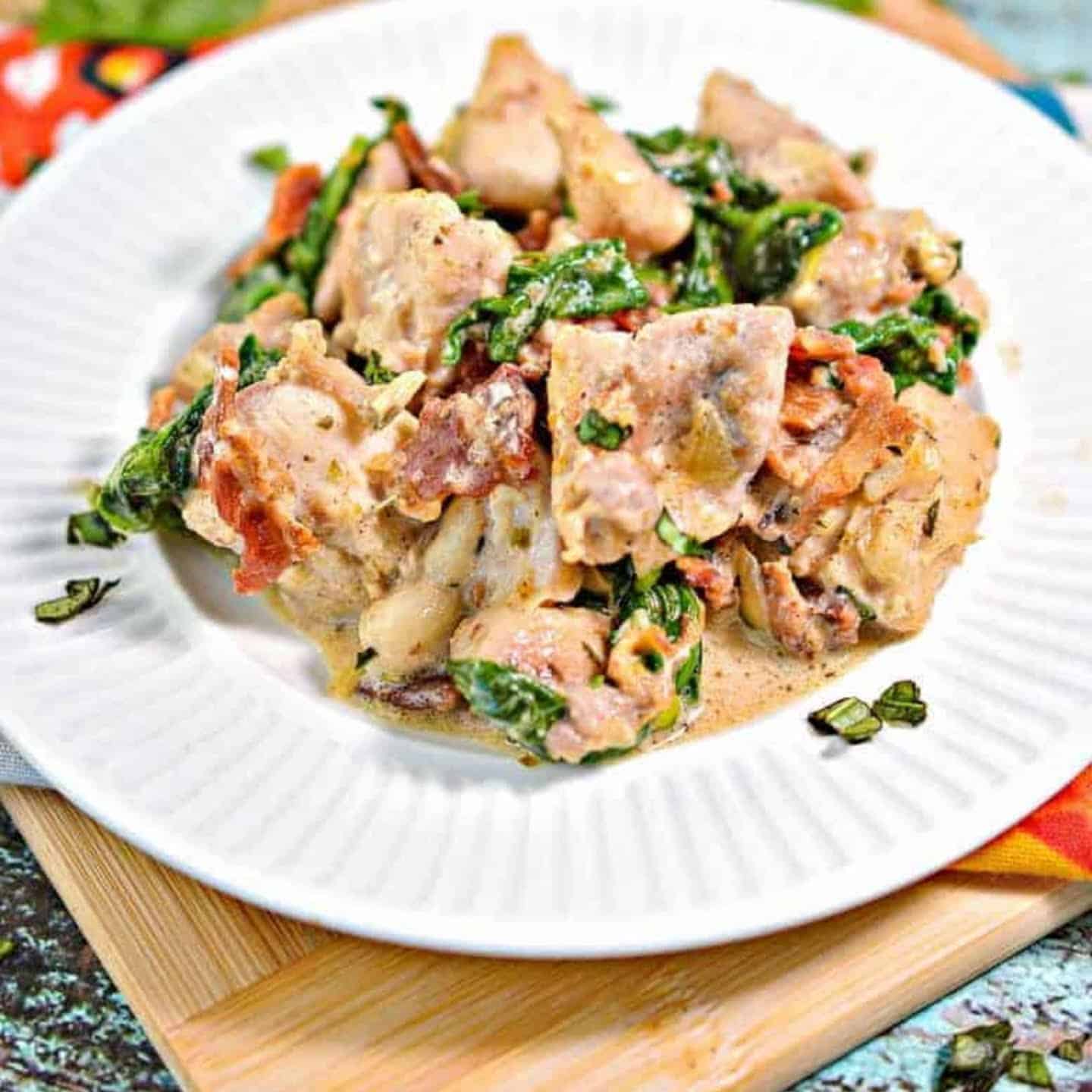 This creamy chicken carbonara tastes amazing, and every bite will literally melt in your mouth.
Diced chicken is browned in bacon greases, adding tons of flavor, then smothered in a garlic parmesan sauce with spinach and bacon.
Serve this fantastic chicken recipe over a steaming bowl of Chinese rice or cilantro lime cauliflower rice. A nice simple green or fruit salad would also make a perfect side dish.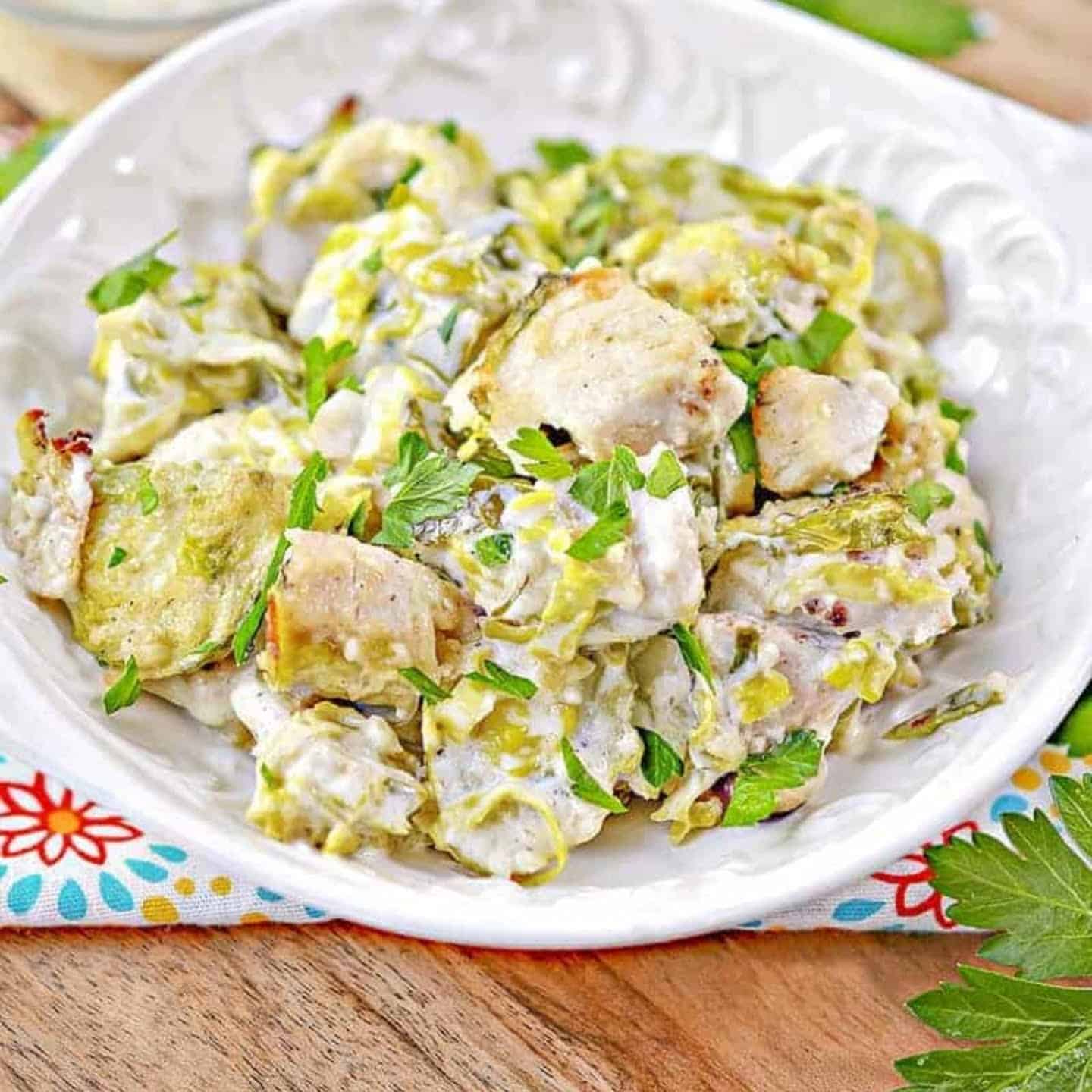 Chicken breasts, brussels sprouts, minced garlic, heavy cream, parmesan cheese, butter, salt, and pepper is all you really need to make this delicious casserole.
Garnish with fresh parsley or green onions and serve with your favorite roasted or steamed veggies.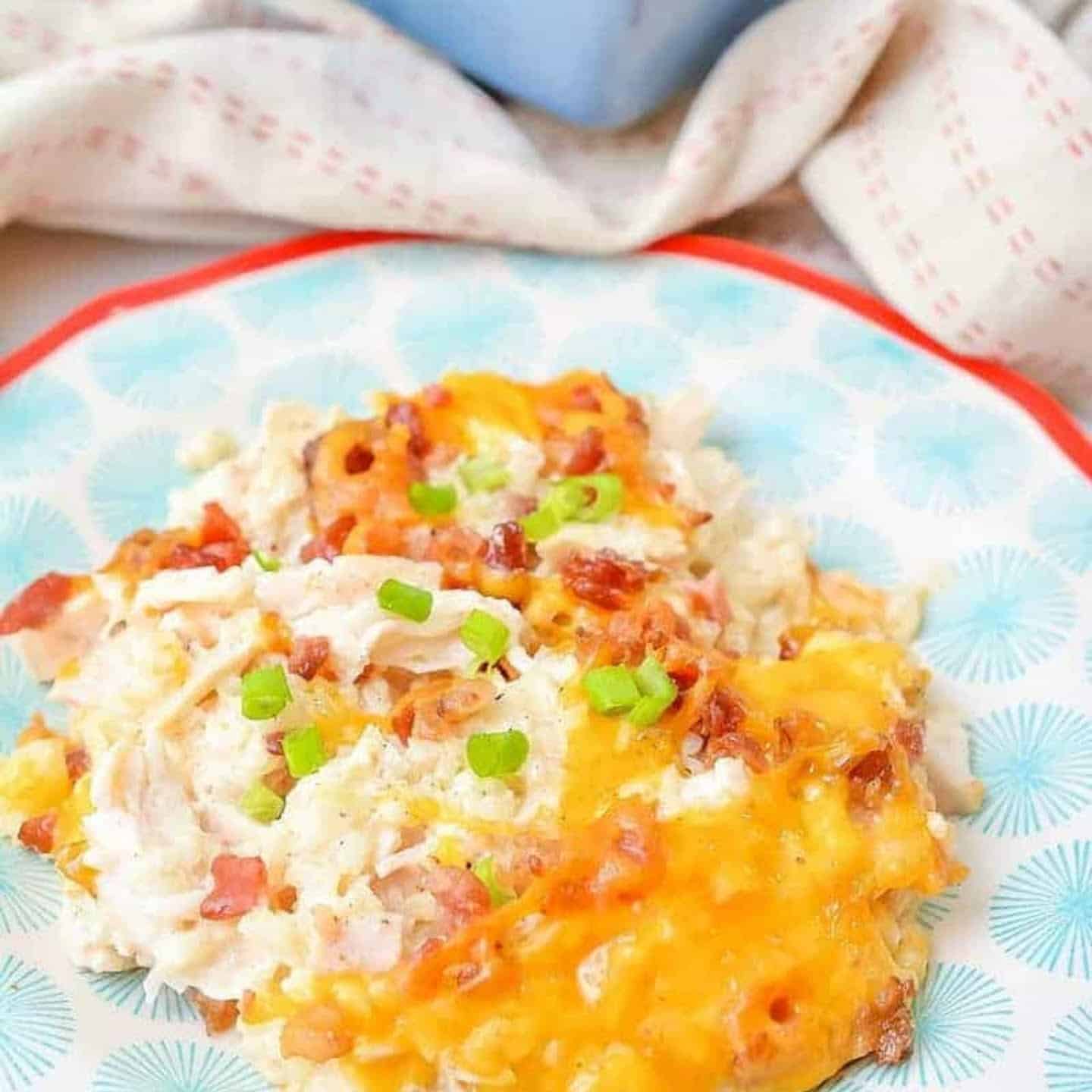 If you're looking for ways to get your kiddos to eat their veggies, try this easy chicken and cauliflower recipe.
Bursting with cheddar cheese, heavy cream, bacon, and seasonings, this will be a new family favorite!
This winning combo comes together in just 45 minutes, perfect for a satisfying weeknight dinner.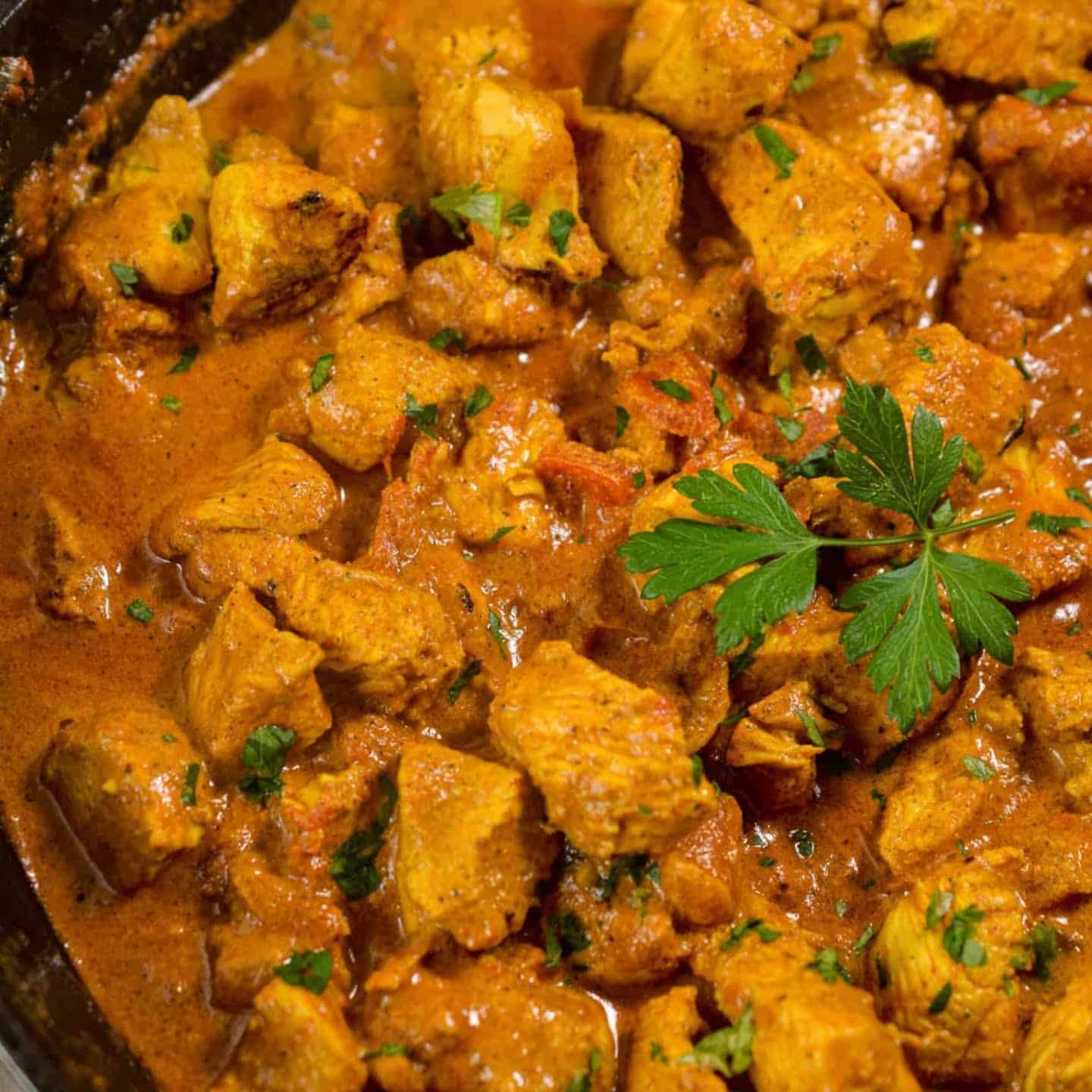 You'll want to add this flavor-packed chicken in creamy spiced butter sauce to your dinner rotation.
It has all the delicious flavors of traditional Murgh Makhani but so much easier for an easy weeknight meal. Plus, it's low carb, gluten-free, and paleo!
My family loves this chicken recipe served with garlic naan bread and greens. There are never any leftovers!
Craving Thai food but don't want to spend the money ordering in? This spicy Thai basil chicken recipe should do the trick.
You can make it at the comfort of your home with just a handful of ingredients and 25 minutes of your time. It's family-friendly and loaded with tons of flavor - a perfect weeknight meal.
The recipe calls for both light and dark soy sauce, but you can either.
This mouthwatering teriyaki chicken and broccoli recipe tastes like the one served at Panera Bread but healthier.
Diced chicken thighs and steamed broccoli in sweet teriyaki sauce are topped with sesame seeds and fresh cilantro and served over cilantro lime brown rice and quinoa.
I guarantee your family will request this amazing recipe time and again.
These drool-worthy baked chicken nuggets will please anyone who loves a good nugget. They're ultra-crispy, super flavorful, perfectly dippable, and truly irresistible.
You can whip up these classic treats in less than an hour with only 4 essential ingredients.
Pair it with tangy honey mustard, gooey nacho sauce, or vibrant buffalo sauce and relish its unique flavors.
Busy weeknights beg for something easy like this chicken noodle casserole recipe. This comforting casserole is one of our favorite diced chicken breast recipes.
It's easy to put together, wonderfully satisfying, and has fantastic flavor. It's sure to please kids and grown-ups alike.
Go ahead and add it to your list of comforting chicken recipes.
There can't be better finger food to serve a hungry crowd than these tasty bite-size chicken bites.
Paired with some dipping sauce or condiment, these little bites will keep your guests satisfied (and impressed) until dinner time.
The recipe calls for Land O Lakes butter with olive oil, but simply use butter or olive oil if you don't have it on hand.
Get creative in the kitchen with this creamy and super crunchy bang bang chicken.
Panko-coated chicken breasts are drenched in the delectable sauce then baked for about 20 minutes until golden brown and crispy.
Fantastic flavor, impressive, and easy to put together- this is the perfect alternative for a classic chicken nugget.
Pan-fried crisp-tender diced chicken and roasted cashews are smothered in sweet and sour sauce to make a deliciously easy dinner.
Made in just one large skillet, you can have this tasty meal on the table in about 35 minutes!
This one-pan dish is perfect with a side of sautéed veggies like green beans or rice or zucchini noodles.
Why wait 40 minutes or more for your delivery to arrive while you can make this authentic Chinese dish in just 25 minutes?
It features chicken breasts, bell peppers, roasted peanuts, onions, rice vinegar, sesame oil, and soy sauce.
If you like your food extra spicy, add more dried red chilies or red pepper flakes.
Making chicken breasts tastier can be as simple as tossing them in black pepper sauce.
With the addition of bok choy, bell pepper, and onions, this easy stir fry meal is not only colorful and delicious but also healthy.
This chicken recipe is delicious on its own but can make a tasty addition on top of steamed rice.
Looking for healthy diced chicken recipes? Give this chicken zucchini bake a try. It combines diced chicken with mushrooms, zucchini, eggs, cheese, and sour cream.
It's hearty, cheesy, packed with flavor, and bakes up in just 30 minutes!
The Italian cheese blend adds a 'magic' touch to this tasty comfort food. Don't skimp!
This is hands down the best honey garlic chicken recipe EVER. It's ridiculously easy to make, too. Simply coat the chicken breast with corn starch, salt, and pepper; heat canola oil and lightly brown the chicken pieces.
Deglaze the pot, if necessary, return chicken, add the honey sauce and cook for about 2 minutes.
Dinner is ready to eat in just 15 minutes! Serve over steamed rice and leafy greens for a complete meal.
Juicy, tender, and bursting with flavor, these grilled BBQ chicken kabobs will please everyone at your next barbecue.
The chicken marinates in the easiest(and tastiest) homemade BBQ sauce then grilled to perfection in under 30 minutes.
Pair these with creamy coleslaw or fresh cucumber salad.
Enjoy all your favorite Tex-Mex flavors in a bowl of chicken taco and rice. Taco seasoning, cheddar Jack, poblano peppers, and pico de gallo are the stars of the show that liven up the dish.
Feel free to add your favorite taco toppings or set up a taco bar for everyone to customize their bowl.
This is one of my favorite ways of spicing up bland chicken breasts. Give it a try, you won't be disappointed.
A warm bowl of lemon-ginger chicken and rice soup is our family staple when feeling under the weather.
Tangy ginger and tart lemon give the chicken soup a refreshing twist that you'll love.
This soup is deeply comforting and filling enough to be a meal in itself but a crusty bread to soak up all the goodness is never a bad idea.
Spicy gochujang sauce made with sesame oil, soy sauce, brown sugar, garlic, and gochujang add tons of flavor to the crispy golden brown diced chicken.
It's oh-so-good; you'll never want to cook chicken any other way.
Instead of takeout, why not try making this crunchy Japanese fried chicken popularly known as Karaage at home? It requires only 5 ingredients, is extremely easy to make, and rivals your favorite takeout joint.
The savory flavors of soy sauce, mirin, and minced garlic all come together to give the diced chicken such a fantastic flavor while keeping it juicy.
Serve alongside your favorite dipping sauce and watch as people devour it.
Take your Mexican night to a whole new level of deliciousness with this no-fuss Doritos chicken casserole recipe.
This creamy and zesty bake is a true crowd-pleaser with layers of diced chicken, tortilla chips, sour cream, cream sauce, and loads of cheese.
Save your takeout guy a trip and make this copycat version right at home. Made with honey-garlic chicken and zesty Asian-inspired slaw, these crunchy wonton tacos are just as good as the one you'd order.
They'll make you want to ditch takeout for good! The wonton shells are baked, not fried, for a healthier, less fuss version.
Serve these delicious treats at your next game night, dinner party as an appetizer, or a hearty snack.
You can have this comforting and healthy chicken wild rice casserole on the table in just 45 minutes. And best of all, you only need a few pantry staples!
The casserole is packed with tender boneless skinless chicken thighs, wild rice, butternut squash, spices, and finished off with parmesan cheese for a yummy filling dinner.
Spice up your dinner with this satisfying chicken broccoli ziti recipe. Adding the crowd-pleasing creamy sauce gives the pasta a nice cheesy flavor, creamy texture, and just the right hint of savory.
Finish with a squeeze of fresh lime juice, if desired.
Simple yet elegant chicken salad with creamy dressing is the ultimate meal when you want to impress but short on time and energy.
Crunchy water chestnut, fresh grapes, and flavorful diced chicken breast are a classic trio that will keep you and your guests full.
Feel free to add whatever nuts, fruits, or vegetables you have on hand to give your salad some extra crunch and nutrients.
Forget about canned soup and whip up this insanely delicious and soul-warming homemade version in just 30 minutes.
Cooked chicken, earthy mushrooms are lifted by the slightly sweet, peppery thyme, while the carrots and celery add a pop of color and nourishment.
Adding rice or pasta transforms this flavorful chicken soup into a hearty meal. Perfect for chilly winter nights.
Switch things up from the usual teriyaki chicken and make this sweet and savory barbecue pineapple chicken instead.
All you need is diced chicken breasts, pineapple chunks, BBQ sauce, onion, bell peppers, jalapeno, salt, and pepper.
It's incredibly easy to put together -30 minutes of cooking time, and dinner is served.
Make this one-pan dish when you need a simple, quick, and healthy meal for dinner tonight.
Let the cubed chicken pieces sit in the sweet and savory barbecue-inspired marinade for at least 30 minutes for a more flavorful dish your entire family will love.
Chicken and rice combo always make a simple and satisfying meal, while cheese makes everything taste better.
In this recipe, white rice is combined with boneless skinless chicken, cheddar cheese soup, diced tomatoes, and green chilies, then topped with a blend of mozzarella and cheddar cheese.
And the best part about this delicious recipe? It's ready in 20 minutes or less - a serious win-win!
This Indonesian-inspired chicken stew will soon become a family favorite with its seductive flavors of creamy coconut milk, sliced green onions, lime juice, cilantro, minced garlic, and ginger.
I like to add some rice to make the meal more filling. Pasta or quinoa works well too.
If you want to turn up the heat, feel free to add more cayenne pepper.
Related Chicken Breast Recipes
Easy, simple, and delicious recipes using chicken breast. If your looking for ideas, my easy chicken breast recipes with few ingredients is a great start. Otherwise these fantastic recipes are wonderful options.
Check out my collection of stuffed chicken breast recipes for more ideas.