These easy chicken casserole recipes with few ingredients will help you fix delicious dinners on busy weeknights! Chicken casseroles are some of the easiest dishes to make, and you still get the best flavors to satiate your cravings.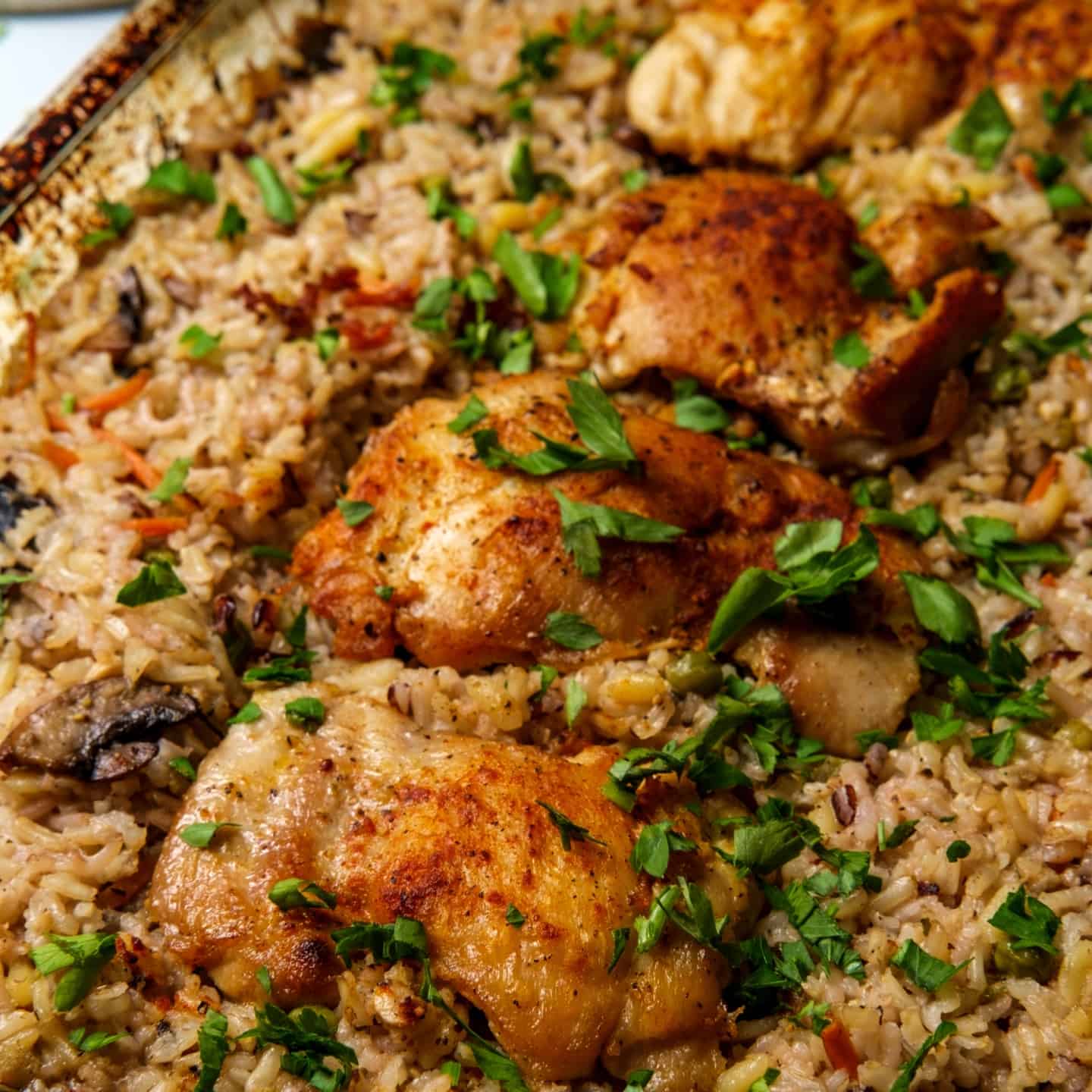 I bring you the best of these easy chicken casserole recipes for you to enjoy with the whole family!
My list of delicious chicken casserole recipes is started with the Chicken Bacon ranch casserole.
It's a budget-friendly family favorite that can be made in one dish with only six ingredients.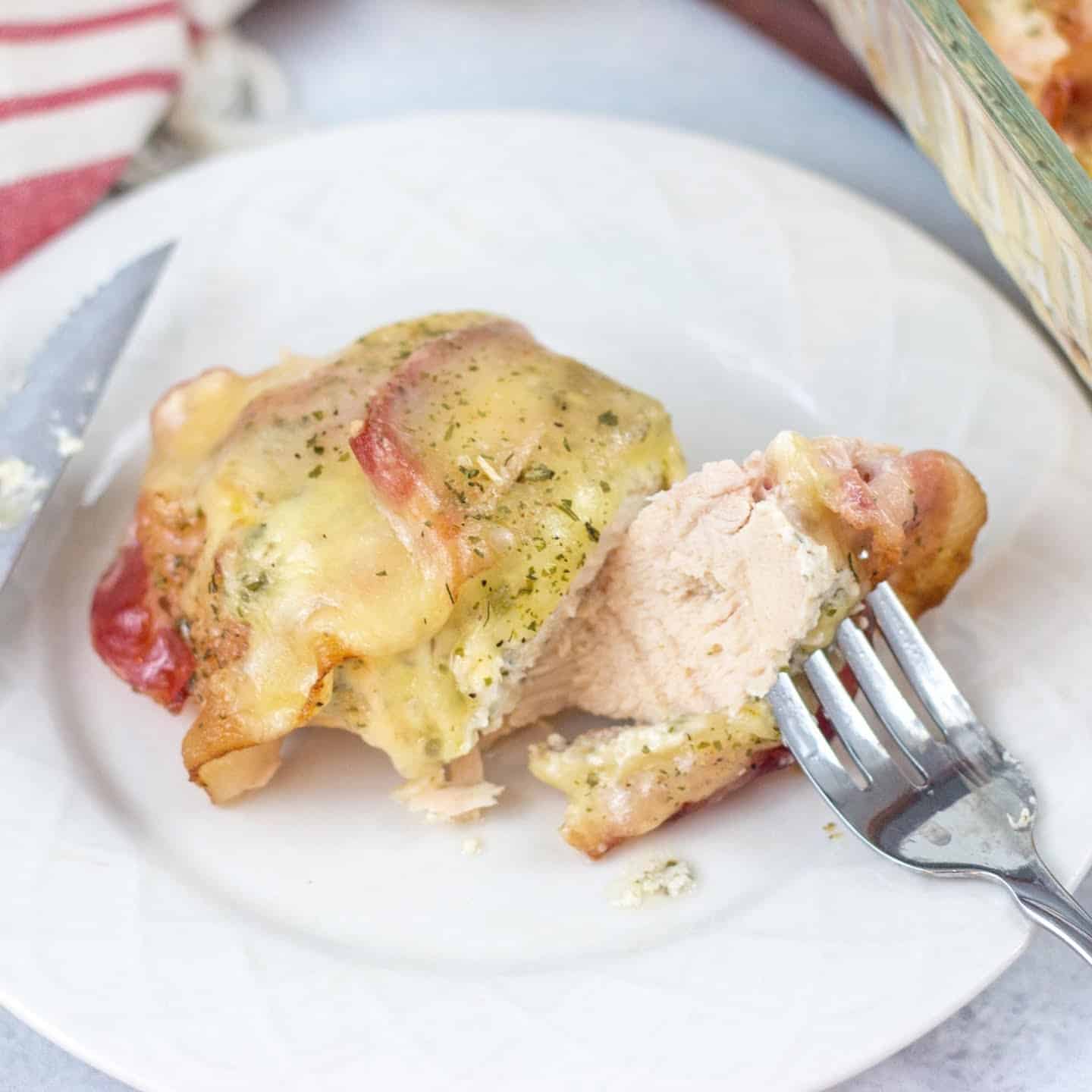 This one-pan dish combines different flavors and textures, from the juicy chicken to the crispy bacon and creamy ranch dressing.
It's the chicken casserole recipe that could feed a crowd on a busy weeknight.
The ingredients required for the flavorful dish include chicken breasts, ranch seasoning, bacon slices, sour cream, mayo, and shredded cheddar cheese. Serve with green beans & ha or cauliflower stuffing to enjoy.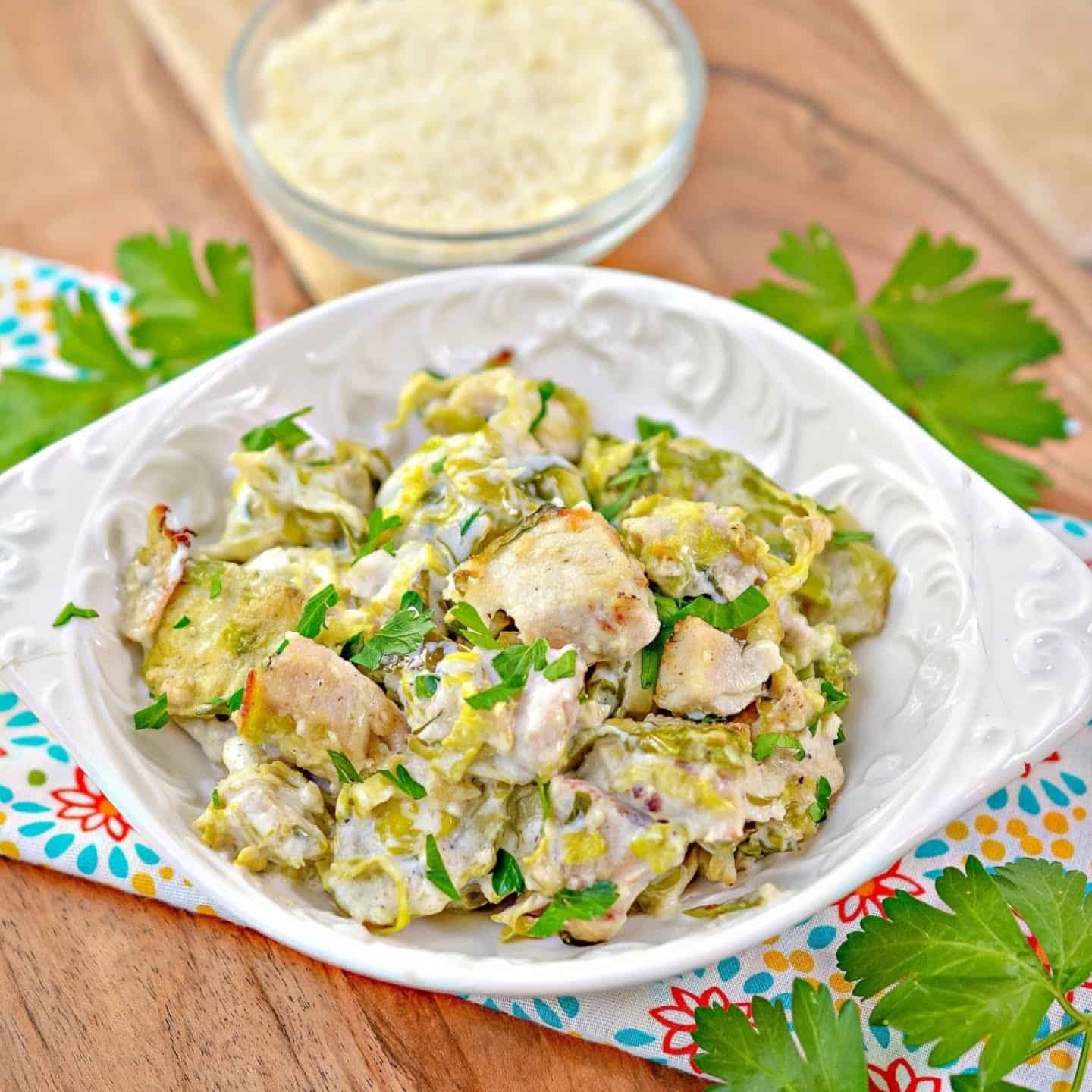 This casserole dish gives you a healthy way to enjoy your chicken casseroles. It's as flavorful as it's healthy, incorporating a homemade alfredo-like sauce to give you unmatched flavors.
You can get your leftover rotisserie chicken, shredded cheese, sprouts, and creamy sauce from your pantry to start cooking.
It takes less than 30 minutes to cook and enjoy with cauliflower rice or mashed potatoes.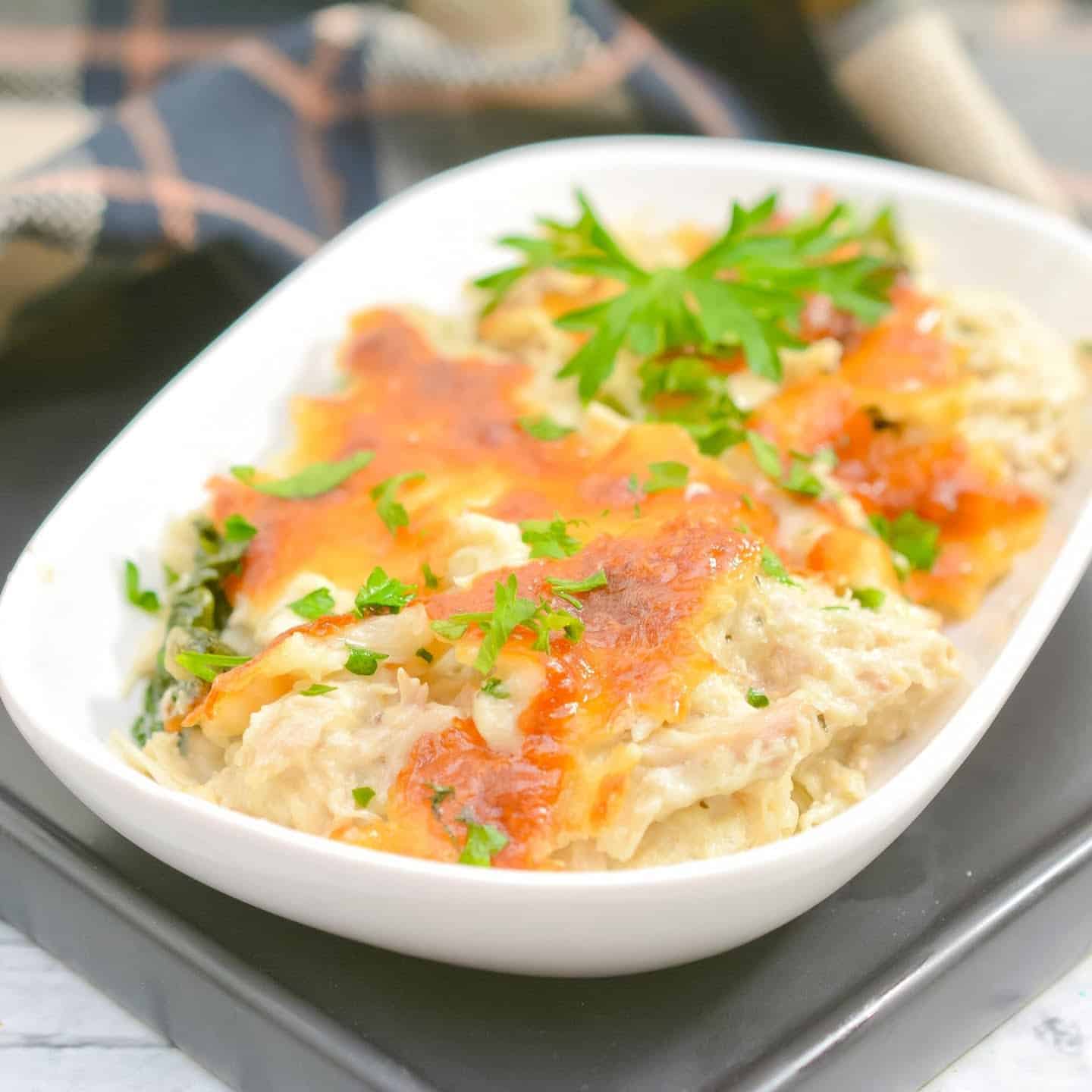 This creamy chicken casserole is flavorful, nutrient-rich, and absolutely comforting as dinner.
Moreover, it's not time-consuming, with only 30 minutes of prep time, combining fresh spinach, shredded leftover chicken, cheese, pepper, and a delicious creamy sauce.
The creamy casserole should be baked till the cheese is golden brown and then served with fresh parsley.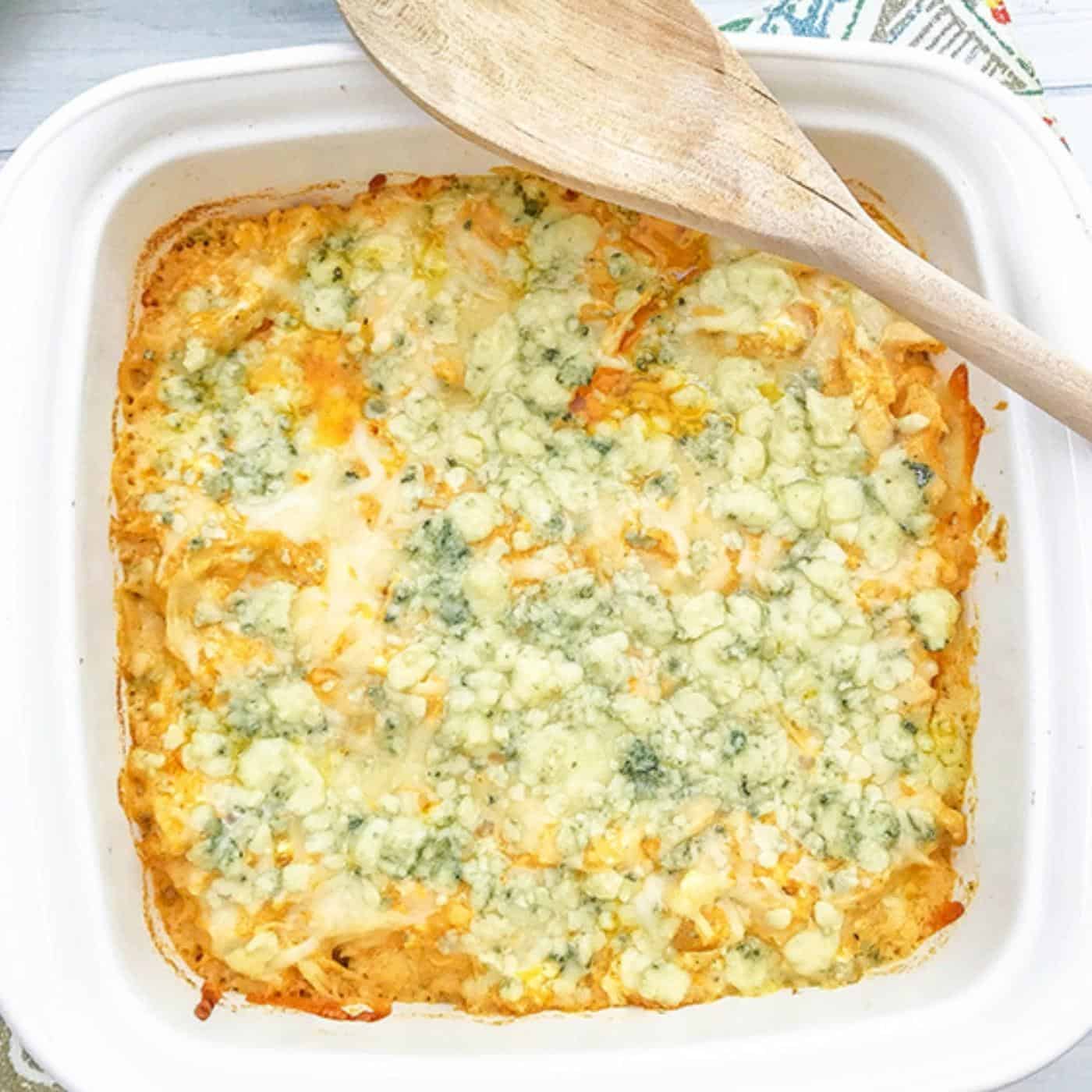 This delicious chicken casserole recipe is made with a cream cheese mixture, shredded chicken breasts, buffalo wing sauce, and cauliflower rice.
Your chicken mixture must be well-prepared and seasoned. As such, it's a flexible recipe to accommodate seasonings such as Italian seasoning, garlic powder, mayo, and cream of chicken soup.
Shredded and ground chicken make a huge difference in dishes, and you'll see how with these amazing easy ground chicken recipes with few ingredients.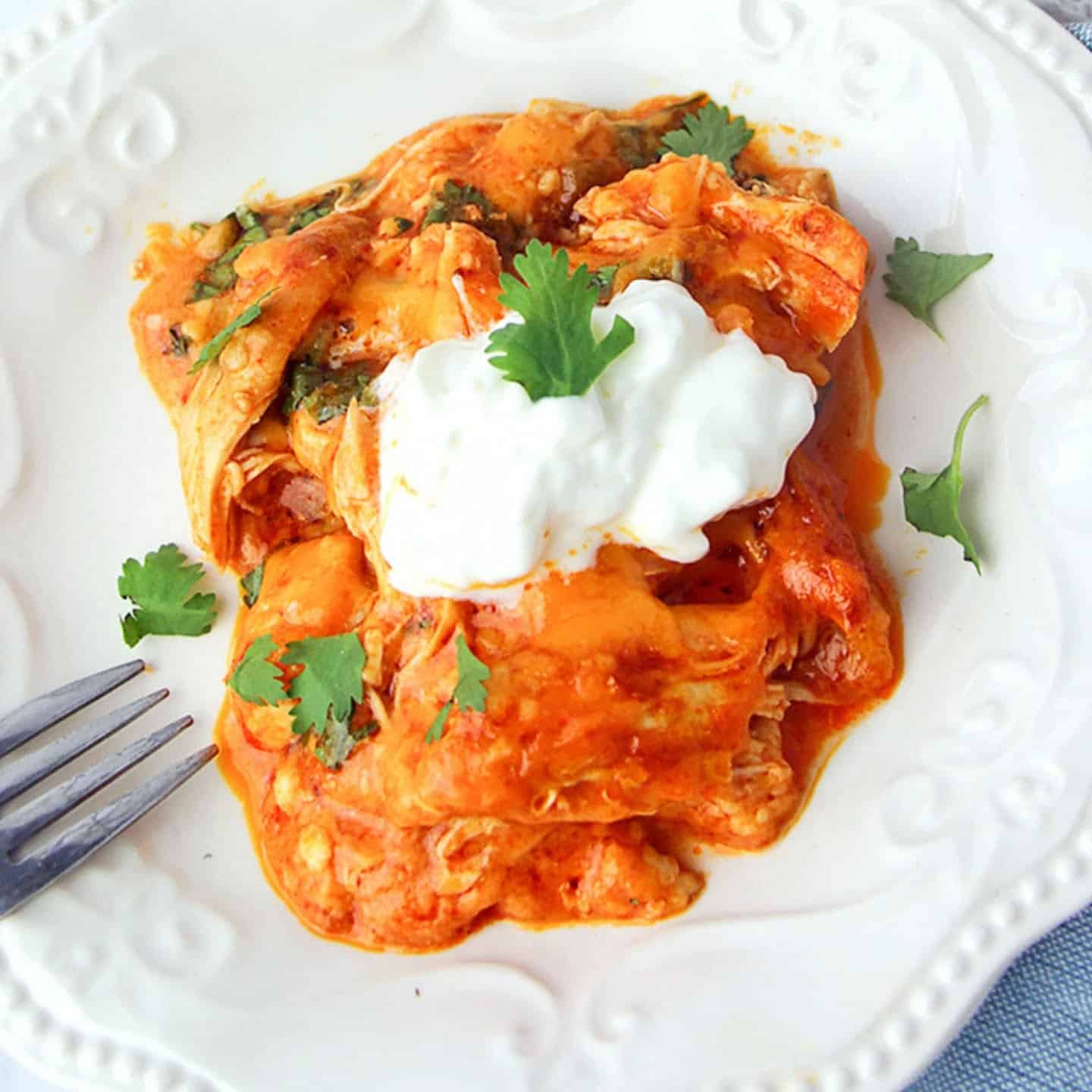 You'll have a swell time with this easy recipe that calls for tender chicken, enchilada sauce, green chiles, feta or queso fresco, and shredded cheddar cheese.
Combine these ingredients in a pan and bake for about an hour till it's golden brown.
Only five ingredients combine in this great recipe to give you a simply fantastic casserole dish.
These ingredients include canned condensed cream of chicken soup, canned cream of mushroom condensed soup, melted butter, and dry stuffing mix.
This comfort food is ideal on cold days, and it takes only thirty minutes to bake in the oven.
The chicken noodle casserole is a classic recipe the family loves, packing a load of flavors with each bite.
With a cooking time of less than an hour, your main ingredients include egg noodles, cooked chicken, cream of chicken soup, cream of mushroom soup, and veggies.
So, get your baking dish and preheat your oven to get the easy casserole going!
Get out your baking dish and cooking spray to make this super-flavorful and easy casserole! If you have cooked chicken leftovers, your work is already halfway done with adding a few other ingredients.
These include cream of chicken soup, melted butter, stuffing mix, zucchini, and sour cream. The recipe is quite flexible, and you can add your preferred seasonings, including onion powder, green onions, salt, and pepper, to enhance the flavors.
See these easy Zucchini casserole recipes for more mouth-watering zucchini casseroles!
When we're talking perfection and simplicity in a dish, this casserole recipe takes the title with its amazing flavors and simple ingredients.
The recipe calls for instant rice, onion soup mix, chicken breasts, canned cream of chicken soup, and cream of mushroom.
The green chili chicken casserole is another super simple recipe you'll love and enjoy for its amazing taste.
In under 30 minutes, you'll have it ready to serve with your favorite side dishes.
Ingredients required for this chicken casserole recipe include shredded chicken, taco seasoning, diced green chili, green salsa, cottage cheese, and Colby jack cheese. You can sprinkle it with diced green onions to enjoy!
Tater tots bring their unique taste to chicken casseroles, and you'll absolutely love this recipe.
It's a chicken mixture of frozen tater tots, taco seasoning, Mexican blend cheese, mixed veggies, and sour cream.
Keep in an airtight container to store in a fridge and reheat whenever you want.
When you think of a super-quick one-pan casserole dish to enjoy with your family, think of this potato ranch chicken casserole.
The recipe includes ingredients such as gold baby potatoes, chicken breasts, ranch dressing, Mexican cheese blend, and green onions.
Ensure to bake until the cheese has melted and is bubbly before serving.
If you want to make your partner feel special, try this baked chicken pasta made with just five ingredients.
These include penne pasta, pasta sauce, panko bread crumbs, chicken breasts, and parmesan cheese.
Bake for about 40 minutes till golden brown, and serve warm with an elegant side dish.
The unique taste of ritz crackers in this chicken casserole makes the dish an absolute delight.
With melted butter, sour cream, cream of chicken soup, chicken broth, sour cream, and the ritz cracker, dinner is set and ready to satiate your cravings.
This flavorful casserole dish combines cooked chicken, chicken soup, sour cream, mild cheddar cheese, chili peppers, and corn tortillas.
Bake for about one hour till the cheese browns lightly.
Serve with your preferred side dish and enjoy it warm.
This crescent roll casserole takes only 30 minutes to make with primary ingredients, including crescent dinner rolls, chicken soup cream, chicken, and cheese.
It's an easy and flavorful dinner option to share with your family and friends.
Ensure to top it with more cheese before serving!
This delicious casserole dish takes its name from its cooking style, and it's made with only five ingredients.
It's a mixture of long-grain wild rice, cream of mushroom soup, cream of celery soup, chicken breasts, and water.
Ensure to cook till wild rice absorbs all liquid, and serve warm.
If you're having a busy weeknight, this chicken hashbrown casserole is your savior, with lots of yummy flavors and cheesy goodness.
Get frozen hashbrowns, shredded cheddar cheese, cream of chicken soup, sour cream, cooked chicken, and melted butter.
Sprinkle with crushed cornflakes to enjoy! Leftovers can be stored in an airtight container in the fridge for up to a week.
You get a delicious tender chicken to enjoy with your family and friends with this casserole recipe.
The recipes needed for this dish include boneless, skinless chicken breasts, mayonnaise, dry ranch seasoning dressing, shredded cheese, and panko bread crumbs.
Ensure to bake till chicken is well-cooked.
You can make this delicious casserole ahead and keep it frozen in a freezer for a long while to reheat at your convenience.
The chicken burrito casserole is a quick fix for busy nights, requiring only shredded chicken, white chili beans. green salsa, cheddar or jack cheese, and corn tortillas.
Bake in the oven for at least 25 minutes till everything's well-cooked.
Asides from seasonings, this dish takes spaghetti, Rotel tomatoes, cream of mushroom soup, cream cheese, and shredded cheese.
It's a simple dish to make, and it packs a lot of flavors to make you come back for more.
This chicken casserole recipe is different in its combination of flavors and ingredients.
It's a simple casserole dish of chicken breasts baked in pesto, Italian-style diced tomatoes, basil, and Mozzarella cheese.
It's best enjoyed with roasted potatoes, breadsticks, and sauteed asparagus.
If you're still wondering what to have for Pizza nights, this chicken pizza casserole is your go-to recipe!
It combines chicken breasts, minced garlic, marinara sauce, cream cheese, and mozzarella to make a delicious casserole dish.
Bake until the cheese has melted before serving.
The chicken Fajita casserole lets you enjoy fine Mexican cuisine on a busy night. It takes less than an hour to make and will surely satisfy your cravings with each bite.
Chicken casserole takeaway
These are some of the easy chicken casserole recipes with few ingredients that you can quickly make and enjoy on busy weeknights. They're inexpensive to make, like these delicious shrimp casserole recipes, and will give you all the desired flavors in a casserole. If you'd love to explore more casserole options, see these delicious Mexican casserole recipes with few ingredients.