These easy ground chicken recipes with few ingredients are everything you need to make a special meal! Ground chicken is a much healthier alternative among proteins, adding a mild but delicious flavor to your dish.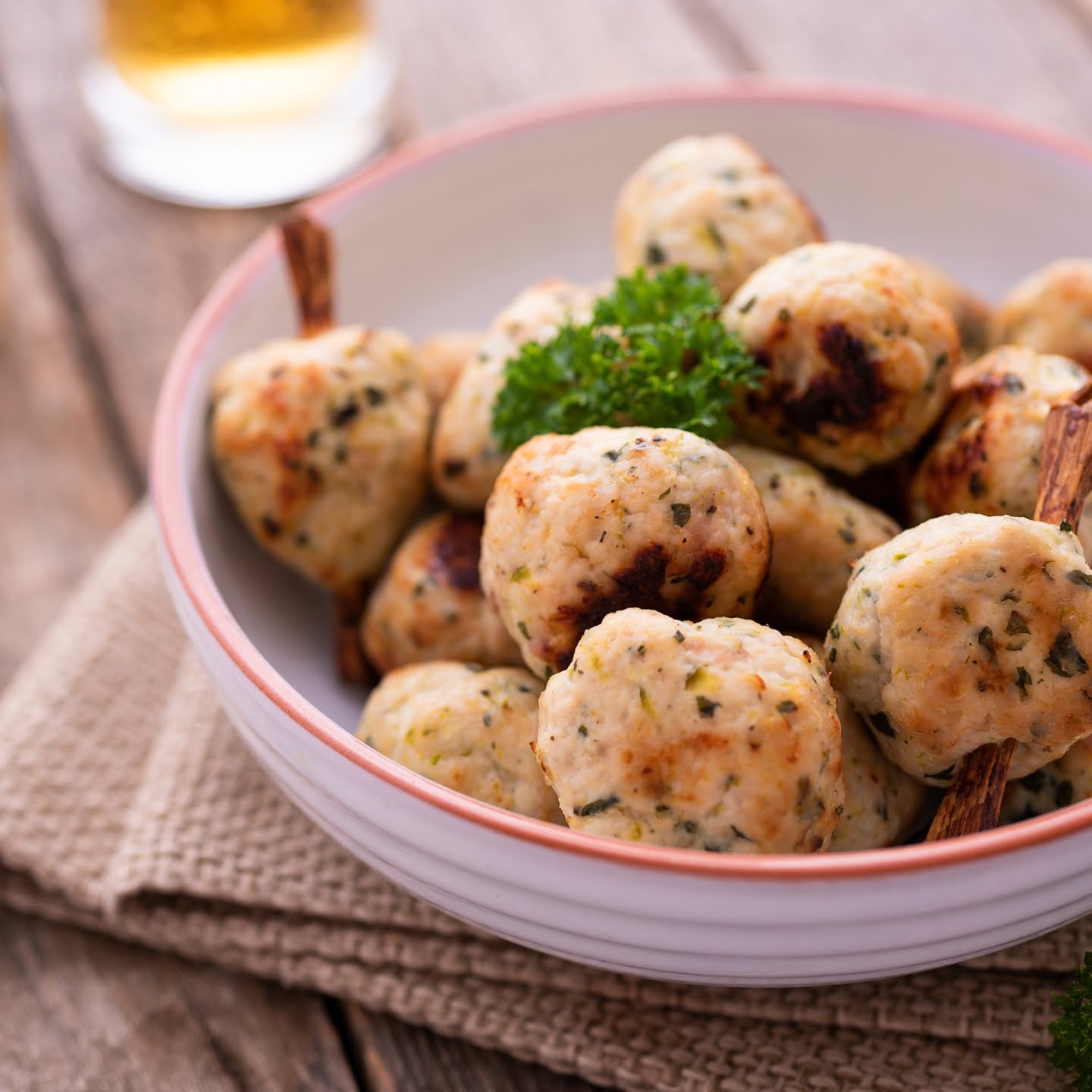 The recipes you'll encounter on this list fit perfectly for every occasion, and you can get them ready in just a few minutes.
From hearty soups to delicious casseroles, you have something absolutely delicious to look forward to!
For more easy dinner ideas make with ground meat check out my ground beef and rice recipes with few ingredients and my easy ground beef recipes.
And if that isn't enough, explore these fantastic diced chicken recipes and chicken casserole recipes with few ingredients
Our ground chicken recipes list starts with white chili with ground chicken and sour cream.
This hearty soup made with ground chicken is the perfect bowl of comfort to have on a busy weeknight.
The healthy dinner option is made with a few ingredients, including ground chicken, white beans, chicken broth, olive oil, and a host of seasonings.
Top the bowl of chili with shredded cheese, chopped cilantro, avocado pieces, and tortilla chips to enjoy!
These sloppy joes are easy to make, gluten-free, delicious, and serve as the perfect option for dinner.
The recipe features seasoned ground chicken with a flavorful and tangy barbecue sauce served with buns.
You can make this ground chicken recipe in less than 40 minutes, and if desired, serve it with pickled jalapenos or cheese.
Ground chicken meatballs with spicy and savory firecracker sauce is that tasty meal you want to have on special occasions.
The delicious meal requires minimal work, ingredients, and just about 30 minutes to put together.
Your ingredients for these savory Firecracker chicken meatballs include red pepper flakes, ground chicken, panko breadcrumbs, onion powder, paprika, garlic, salt, and pepper. These meatballs are popularly mixed with ground sausage, and you can explore better with these ground sausage recipes.
These homemade chicken burgers are the best you can have on a weeknight with the family. The ground chicken in these burgers is an excellent substitute for red meat in your burger patties.
This chicken burger recipe takes only 20 minutes to make and has simple ingredients you can fetch from your pantry.
Serve the chicken burgers with toppings of your choice, and enjoy! Ground bison also go well with burgers, and you can explore some of these amazing ground bison recipes!
These butter chicken meatballs rank high on our healthy ground chicken recipes, delivering unmatchable flavors compared to any other Indian cuisine.
With flavors from authentic spices, you do not need excesses of cream and butter.
Make your butter marsala sauce perfect, have the ground chicken properly seasoned, garnish with cilantro, and serve over rice.
This pasta dish is quite popular, serving as an excellent choice for special occasions and date nights.
It's an absolutely delicious baked meal of pasta, ground chicken, parmesan cheese, butter croutons, marinara sauce, seasonings, and mozzarella cheese.
Your total cook time is about 30 minutes, and you can serve garnished with more crouton crumbs and parmesan!
The Italian wedding soup is a classic recipe that features delicious chicken meatballs and pasta in a bowl of well-seasoned soup.
It's a flexible recipe that accommodates veggies of your choice, and you can have the special soup ready in about an hour.
Add spinach leaves and parmesan, serve with crusty bread, and have a wonderful dining experience.
The Thai basil chicken is a spicy chicken recipe made with a few ingredients but delivers a load of wholesome flavors with each bite.
It's one of the great ground chicken recipes to have on a busy weeknight, with only ten minutes of cooking time.
Serve over rice, and enjoy.
Nothing satisfies your cravings better on a Tuesday night than these ground chicken tacos!
Ground chicken absolutely beats ground beef in flavors in this taco, incorporating other ingredients like bell peppers, taco seasoning, veggies, and corn tortillas.
Serve them hot with cheese, lime, or Greek yogurt!
When you think of a game day spread, think of these baked chicken parmesan meatballs.
They're super flavorful and will get the cheer going with your friends and family.
The recipe is also easy to make, and you can have it ready to serve with your favorite dipping sauce in about 35 minutes!
You'll typically use ground meat for your meatloaf, but this substitute ground chicken meatloaf takes the flavors to a new level.
It's made with a few ingredients, including oatmeal, ketchup, parmesan, and mozzarella cheese.
It is a great dinner option, and you can eat it with a side dish of your choice.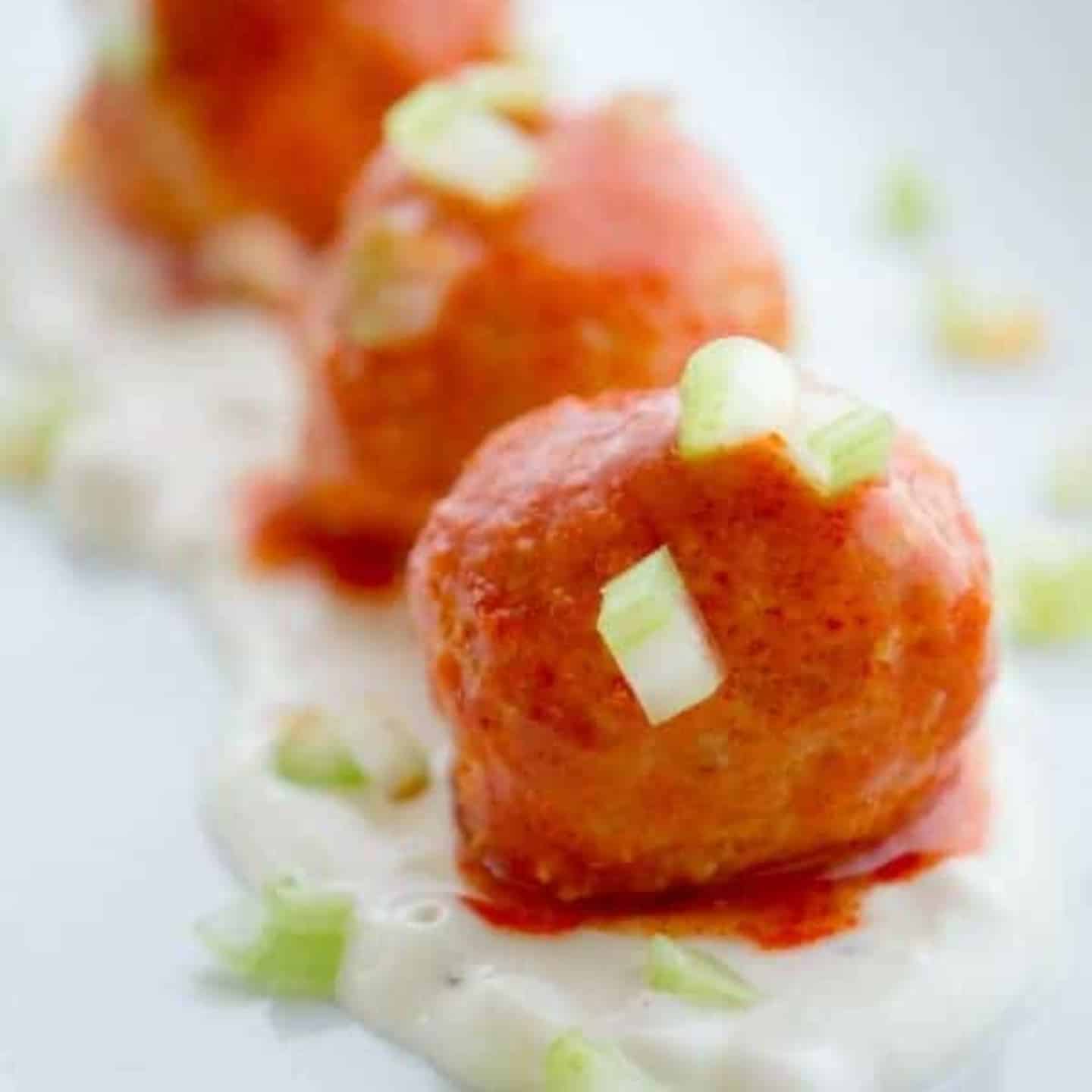 These meatballs are on top of our easy ground chicken recipes, giving you the best flavors in a bite-sized meatball.
The dish requires ground chicken breast from your meat grinder, bread crumbs, hot sauce, blue cheese, black pepper, and salt to prepare.
For the garnish, you can have finely chopped celery to go with it or make a blue cheese sauce for dipping. See more chicken breast deliciousness with these amazing chicken tenderloin recipes!
This ground chicken stir fry recipe gives you satisfying flavors in a record time of about 20 minutes! It's
Asian-inspired and flexible to accommodate your preferred veggies in a stir-fry. Your ingredients include ground chicken, red & green capsicum, green onions, sesame oil, soy sauce, brown sugar, garlic, and cooking wine.
Serve over cauliflower rice, and enjoy!
If you love a good mac and cheese meal, this will be your new best favorite recipe! It's a simple combination of ground chicken, Monterey jack cheese, chickpea pasta, and buffalo cheese sauce.
It's super simple to make, taking 30 minutes in cook time.
Other ingredients required include cheddar cheese powder, ranch seasoning, Greek yogurt, and onions.
These stuffed peppers combine sweet bell peppers, Italian seasoning, brown rice, and melty cheese to make a savory dinner for your friends and family.
You can use as many veggies as you want in the mix and top it with as much grated cheese as you want.
It takes about 20 minutes to cook, and you should serve it warm to enjoy.
Baked chicken egg rolls are a delight, incorporating some of the best ingredients to dish amazing flavors.
These include veggies, hot sauce, water chestnuts, and coleslaw mix. You can also opt for the healthier option of lean ground chicken and still get the same fantastic taste.
These egg rolls are perfect for game day or appetizers at your gatherings.
This decadent Indian dish incorporates a lot of veggies with ground chicken and rich coconut milk.
The coconut milk is your main ingredient to hold all veggies and fresh herbs you want to put into the dish.
Serve it warm with rice or naan!
Chicken cottage pie is a combination of flavors from cottage pie and chicken pot pie.
It's an absolutely delicious dish of sweet potatoes, veggies, ground chicken, and seasoning.
Bake till the top is golden brown, let it rest for about ten minutes, and then serve.
Get your casserole dish to prepare this amazing meal for breakfast or dinner. It's a ground chicken recipe that incorporates ground chicken, roasted vegetables, and cream cheese spread and baked over grated potatoes.
You'll enjoy this casserole on a cold day, providing much-needed warmth and comfort.
Serve with broccoli, green beans, or salad to enjoy.
Hold off on your ground turkey and ground pork to enjoy these fantastic chicken lettuce wraps.
The recipe is super simple, and you can have a lettuce wrap ready in less than thirty minutes. Your ingredients include ground chicken, ginger, garlic, water chestnuts, soy sauce, sambal oelek, and red bell peppers.
Garnish your lettuce wraps with sesame seeds, cilantro, or green onions.
Chicken Bolognese is an Italian classic filled with sweet and savory flavors that goes perfectly over pasta noodles.
The delicious sauce is quite easy to make, requiring veggies, seasonings, cheese, pasta noodles, and ground chicken.
Serve over pasta, and garnish with cheese and chopped basil.
Replacing beef with chicken for these zucchini boats is a decision you won't regret.
The dish is low in carbs, delicious, and gives a melt-in-your-mouth feel when baked to cheesy perfection.
Serve the boats with scallions or chopped fresh parsley.
This is a decadent dish loved in many homes, and it's a simple hash-like dish typically made with ground meats and served over rice.
You can have this meal ready to eat in less than 50 minutes, and it's best served warmed over steamed white rice.
Top with chopped cilantro, and enjoy! If you'd instead substitute for pork in your Picadillo, see these best ground pork recipes to try today.
This is an easier version of the popular ground orange chicken, taking only a few ingredients and less than 30 minutes to cook.
The dish combines orange marmalade, ground chicken, ginger, bbq sauce, and red chili pepper flakes to deliver a tasty meal.
Serve this in lettuce wraps or over rice to enjoy!
You'll enjoy the best flavors in this ground chicken Salisbury steak, incorporating an amazing homemade mushroom gravy to go with the well-seasoned ground chicken steaks.
It makes for a delicious and super-quick meal with a total cook time of 30 minutes.
It's one of the easy ground chicken recipes you have to share with your family and friends to put a smile on their faces.
You can't go wrong with Teriyaki chicken rice bowls for dinner with the family. The Teriyaki sauce is the key element in the recipe, packing a load of nutrients and flavors to serve over rice.
You can easily fetch the ingredients for this recipe from your pantry, including soy sauce, brown sugar, ginger, rice vinegar, and a few others.
Garnish with sesame seeds, and enjoy!
This is one of the easy ground chicken recipes made in one pan and cooked in 20 minutes!
It's filled with so much flavor from ingredients you can easily get.
Ramen noodles are the choice of pasta/grains, and you can top the delicious meal with chopped peanuts or cilantro.
You'll enjoy this Asian dish made with ground chicken breast in wonton wrappers and cooked in a delicious, flavorful soup.
It's the perfect recipe for comfort, giving you a hearty bowl of soup to enjoy in just 13 minutes.
The easy ground chicken recipe accommodates scallions and spring onions as garnishes.
Chicken meatballs can never be tiring, and they come in this delicious variant of bread rolls.
This recipe is a simple combination of chicken meatballs packed into soft bread rolls and layered with garlic butter sauce.
The deliciousness of these chicken meatballs doesn't stop as it also takes a topping of mozzarella cheese and marinara sauce. Ensure to garnish these chicken meatballs with red pepper flakes or fresh parsley and serve warm.
Ground beef does not compare with the amazing deliciousness ground chicken brings to this dish.
It's a dish packed with your favorite veggies, taco seasoning, spices, and cheeses. You can have this ready to eat in about 25 minutes, and it goes with great options in toppings.
These include sour cream, greek yogurt, lime juice, avocado, and cilantro. If you loved this recipe, you'd enjoy this smoked chicken nachos recipe even more.
The Chicken taco soup is one of the easy ground chicken recipes with few ingredients that you'll absolutely love for its flavors.
With just seven ingredients, you can have this hearty bowl ready to serve and enjoy with the family.
To enjoy, top with sour cream, yogurt, chips, lime, or cheese.
These mini chicken pies will forever win the hearts of many for the deliciousness it brings to the menu.
With perfectly seasoned ground chicken, you'll come for more with each bite of these empanadas.
These potstickers are a delightful meal of steam-fried dumplings made with seasoned, juicy ground chicken stuffed in a Gyoza wrapper.
It comes alongside a tangy sauce to make the best appetizer and light dinner you can wish for.
Serve them warm, and enjoy!
You will love this sesame ground chicken sauce served over rice or with some scallions and sesame seeds.
It's super simple to make with a cook time of only 15 minutes and ingredients you can fetch from your pantry.
Some ingredients required include brown sugar, soy sauce, chili garlic sauce, and chicken broth.
This recipe concludes our list of easy ground chicken recipes with few ingredients, and you'll have no regret making this!
It's a yummy Mexican dish with ground chicken, salsa verde, flour tortillas, spices, and sour cream.
It's the go-to recipe for busy weeknights, as you can have it ready in under an hour!
Ground Chicken recipes takeaway
These are the best easy ground chicken recipes with few ingredients you can get your hands on! The recipes are guaranteed to give you delicious and eventful meals, and you can make them super quick with easily accessed ingredients. If you ever get tired of these ground chicken recipes, you can explore these easy ground beef recipes with few ingredients!