A staple at family gatherings, you won't like to miss on these mouth-watering zucchini casseroles! Thus, we bring you a perfect list of 14 baked zucchini casserole recipes that can cater to all your menu needs.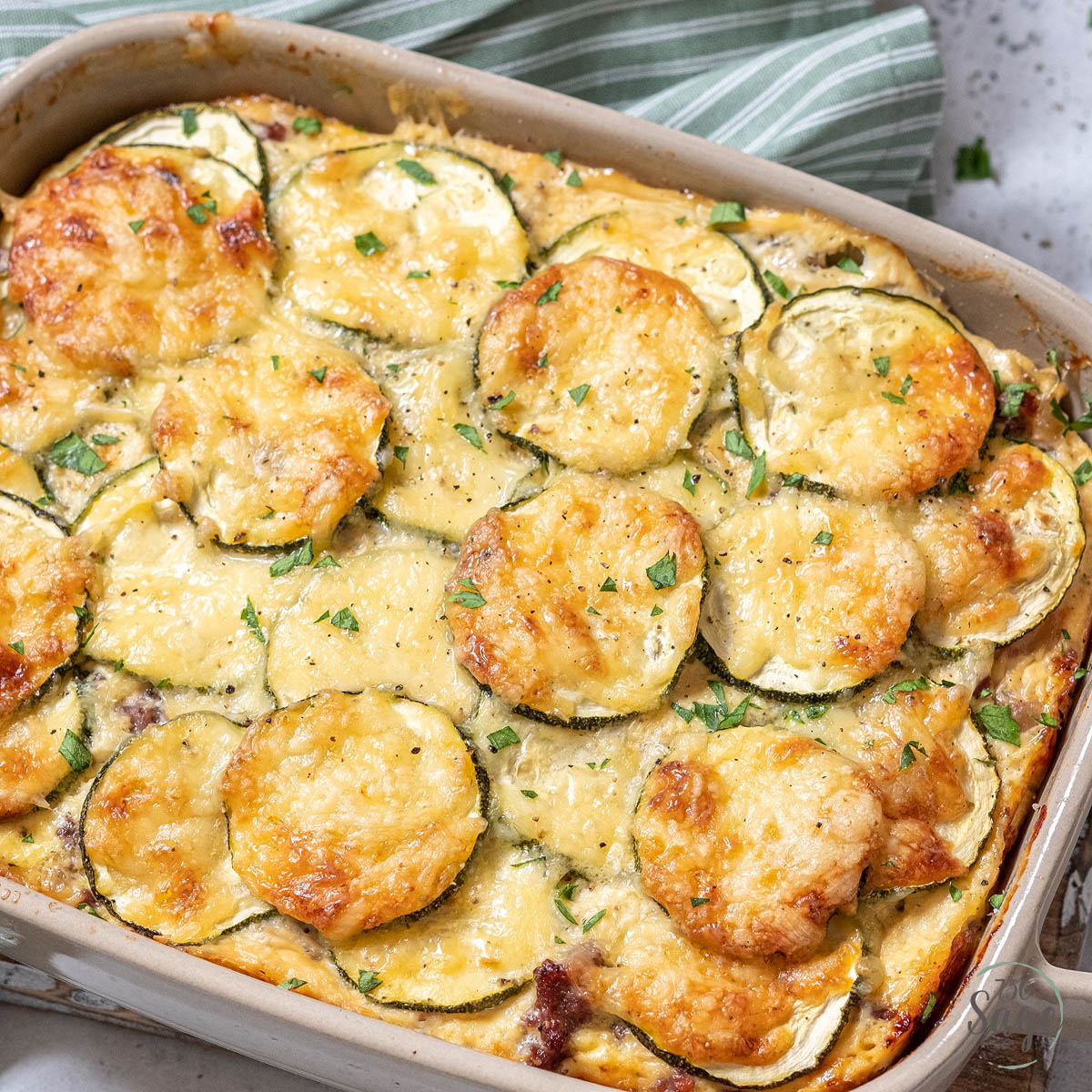 Zucchini season is finally here! A simple yet healthy vegetable, zucchini is undoubtedly a winner. Of course, every parent wants to include zucchini in their kids' food. Now, the question is how to do that? Well, zucchini casserole recipes are a perfect solution for your fussy kids.
When you combine zucchini with other tasty ingredients, you get one of the top favorite American Culinary dishes. You may serve it as a side dish or relish as the main course.
If you are looking for more vegetables recipe ideas check out my best spaghetti squash recipes.
Frequently Asked Questions
How do you keep zucchini casserole from getting watery?
To avoid your zucchini casserole from getting watery, it is advisable to place the sliced zucchini in a small bowl and sprinkle some salt over it. This will help in removing the moisture from the watery casserole. Also, drain the liquid content carefully before cooking the meal.
Can zucchini casserole be frozen?
Yes, you can freeze the zucchini casserole and keep it in the refrigerator overnight. However, ensure that you cook the casserole for some time more than the usual time. Also, if you want to freeze the casserole before baking, you need to thaw it first.
Is it better to freeze zucchini casseroles cooked or uncooked?
It is advisable to freeze uncooked casseroles if they do not have meat. The reason is that baking, re-baking, freezing can alter certain ingredients' texture.
Take a look at our top 14 best zucchini casserole recipes to help you decide on one for your next dinner.
If you are scratching your head for cooking dinner tonite, bring out all those vegetables in the refrigerator and give a tasty surprise to your kids. The vegetable zucchini enchilada casserole dish recipe is a beginner's paradise, but the impression it makes is undoubtedly a pro one!
You need fresh zucchini, onions, cooked tomatoes, and your favorite vegetables. That's it! A perfectly baked zucchini casserole is here on your table. And of course, do not forget to pour melted butter or cheddar cheese to make the zucchini casserole all the more enticing.
So plan an exotic dinner with veggies, especially fresh zucchini, to enjoy a scrumptious flavor.
This recipe's aromatic Italian seasoning will make you love zucchini. Imagine a combination of fresh herbs, tomatoes, sliced zucchini, cheddar cheese, organic flour, and eggs. The result is bound to be outstanding.
You need to preheat oven for baking zucchini in a thin layer. To add the flavor, all you need is the favorite ingredient of Italian recipes, oregano! And who can forget the garlic flavor in Italian dishes?
The recipe prepared would rule your dinner table and your kids are sure to ask for the dish to be prepared again and again.
After trying this recipe, nobody in your family will ever ignore zucchini! So just give this melt-in-mouth recipe a try and see the difference in the opinion. The complete meal is baked with ample mozzarella cheese and shredded zucchini.
This casserole recipe is not just tasty but also really simple to make. You need to use the grated zucchini and a side dish cuisine of delicious yogurt.
This zucchini casserole can be prepared with olive oil within half an hour. You will enjoy this exotic cheesy version of zucchini casserole with your family and friends!
Looking to shed those extra pounds this summer? Don't worry. We got you covered. We have a healthy and lip-smacking chicken zucchini recipe at your service. Make it for brunch or dinner and fill your tummy with a wholesome meal.
To make this baked zucchini casserole, you need chicken breasts, quinoa, fresh zucchini, and pesto sauce topped with mozzarella cheese.
And to top it all, the dish takes only 60 mins to get ready. So by the time you are done with your daily chores, your meal for six will be ready.
Maintain your ketogenic diet with this special summer dish. Seasoned chicken with onion and salt to taste in the skillet is a meal to prepare frequently.
Zucchini adds immense flavors to the dish while chicken cooks on medium heat. Further, heavy whipping cream and Italian seasoning make zucchini casserole worth a treat. Finally, the recipe is bound to leave any keto diet follower speechless.
Prepared within an hour, this keto cheesy zucchini baked casserole is full of the right nutrition and flavors. Have fun with this sizzling dish.
Rotisserie chicken and zucchini rice casserole are recipes you can't ignore. It will force you to lick your fingers to the last bit.
Zucchini mixture in rice and rotisserie chicken will give you a dinner dish that will make your kids fall for the tangy yet sweet taste!
Loaded with diced chicken, shredded Italian seasonings, and kosher salt, it's a recipe that everyone should prepare during a house party.
With serving suggestions of 6, this side dish is all you need when you have some unannounced guests at home. Make the zucchini cauliflower rice dish and startle your guests with your cooking skills. The dish is a sweet amalgamation of zucchini, rice, Greek yogurt, spices, and cheese.
Besides bursting with flavors, this dish only takes 60 minutes. You can serve it with tilapia, chicken, smoked sausages, etc. Your kids are going to love it!
Additional Tip: Store the leftover food in an airtight container and reheat it the other day for breakfast.
If you are in no mood to prepare a full-fledged dinner, but your family members are expecting something new, this is the dish to prepare.
It is as simple as counting on the back of your hand. Simply arrange the zucchini and yellow squash. Season the stacked squash lightly with garlic powder. Sprinkling olive oil over the zucchini and squash evenly will give you a delightful taste in the mouth.
If the slices are thick, cooking may take a few minutes longer. But thin slices may take less time. So keep an eye out for it! The topping will soon crisp up and be golden brown.
If there is one dish that can never go wrong, it is the zucchini tomato casserole recipe. Elders love it, kids love it, and everyone wants it more. All you need to prepare this recipe is zucchini, fresh tomatoes, spinach, spices, and a handful of Italian parsley.
If you are on a diet, this dish will do wonders for you. Its fat content is minimum and shall keep you active the whole day. Eat it the way you want and without compromising on taste and flavors.
The dish is ready within 15 minutes with serving suggestions of 4. So if you have no idea for a lavish dinner or are in no mood to prepare time-taking healthy meals, this vegan recipe is just for you.
This is one recipe that is not only a cheesy treat but full of healthy ingredients! A casserole dish which you can prepare as a primary sidebar as well. Who doesn't adore a cheesy dish? As per cooking experts, cheesy zucchini casserole dishes take some time to prepare, but the results are simply awesome.
Just stack up a greased baking dish, cheddar cheese, eggs, gluten-free bread crumbs, salt, pepper, and other basic ingredients.
A side dish meal, this prepared baking dish has often ruled the menu table when it comes to zucchini recipes.
This recipe has Zucchini as its star ingredient! It's a delicious side dish that can light up any dinner menu!
As the name suggests, minced garlic makes the recipe different from others. Molten butter combined with panko breadcrumbs and lots of mozzarella cheese.
You can't overlook this casserole recipe when you want to include zucchini in a delicious form in your meal. Prepared within half an hour, you need not worry anymore about what to cook when you get those surprise guests.
This amazing zucchini corn casserole recipe is full of your choicest vegetables to give you a mesmerizing dinner recipe. You can even use the marinara sauce as an option, fresh herbs, or shredded cheese to prep a unique casserole meal.
A perfect combination of zucchini and your favorite veggies placed in layers, this dish is surely a winner!
Don't forget to add lots of cheese to get a perfect recipe for your party.
A traditional recipe that brings with it an age-old taste and texture. This gratin side dish is what you need on a lousy day to boost your mood.
Bits of Parmesan cheese and crispy, crunchy panko bread crumbs topping are all that you need to satiate your taste buds. This recipe is all about that bread crumbs crunch.
You need zucchini, parmesan cheese, sour cream, some spices, and a generous topping of gluten free breadcrumbs to prepare this dish. But, rest assured, this dish cooks in almost an hour! Serve it with chicken breasts, pork chops, baked turkey, and amuse your guests with your culinary expertise.
What about people who detest cheese or want a healthier version of easy zucchini casserole? Well, they can surely try Southern Squash Casserole without the cheese.
This basic version of a recipe includes kosher salt, melted butter, sweet onion, whole milk, sugar, and cracker crumbs.
You can serve this recipe with pride on your table and be assured of compliments coming your way.
Related Casserole Recipes
If you like these zucchini casseroles. Try one of these fanstastic easy casserole recipes including my fantastic dorito casserole recipe for your next dinner.