If you're a big fan of Mexican food, these easy Mexican casserole recipes are here to make your dinners more delicious with minimal effort. They're easy to make, but don't skimp on Mexican goodness.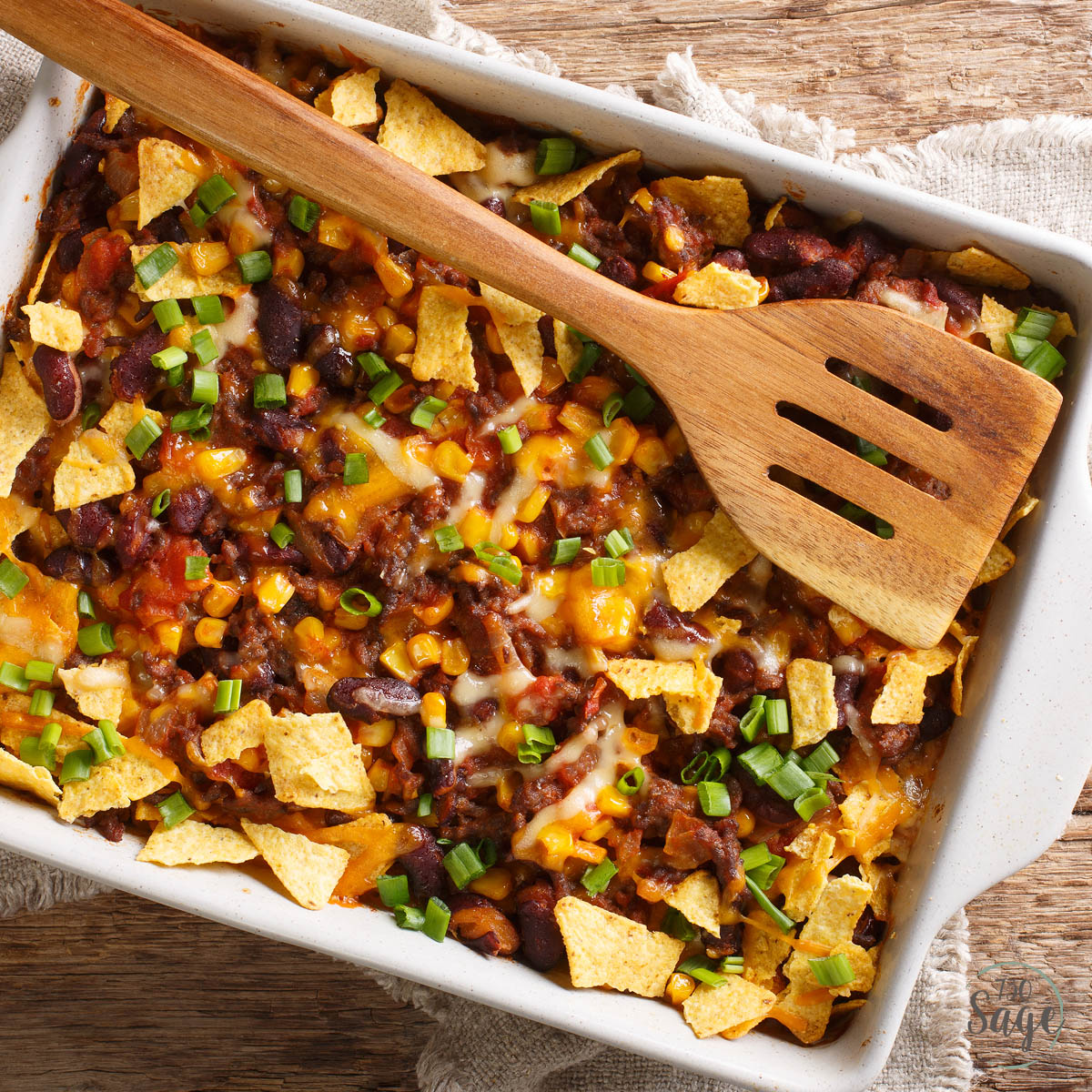 Crunchy tortilla chips, seasoned meats, hearty black beans, spicy green chilis, full of flavor sauces, and lots of cheese - what's not to like about Mexican food?
I've included classics like Mexican chicken casserole, taco rice casserole, and fun twists on the classics like Mexican quinoa casserole. For more healthy options, try the Mexican quinoa casserole.
Love ultra cheesy dishes? Indulge in some queso chicken, king ranch chicken, and more. I'm confident these tasty recipes will please just about everyone.
This beef enchilada casserole has all the delicious flavors you love about enchiladas but is transformed into a scoopable casserole form.
It starts with a base of homemade enchilada sauce, then layered with refried beans, corn tortillas, ground beef, corn, black beans, spices, and shredded cheese on repeat, then baked to melty cheesy perfection.
Every bite is cheesy, meaty, saucy, and SO darn good - even the pickiest of eaters will love it!
Serve with a side of guacamole or salsa for a full fiesta meal.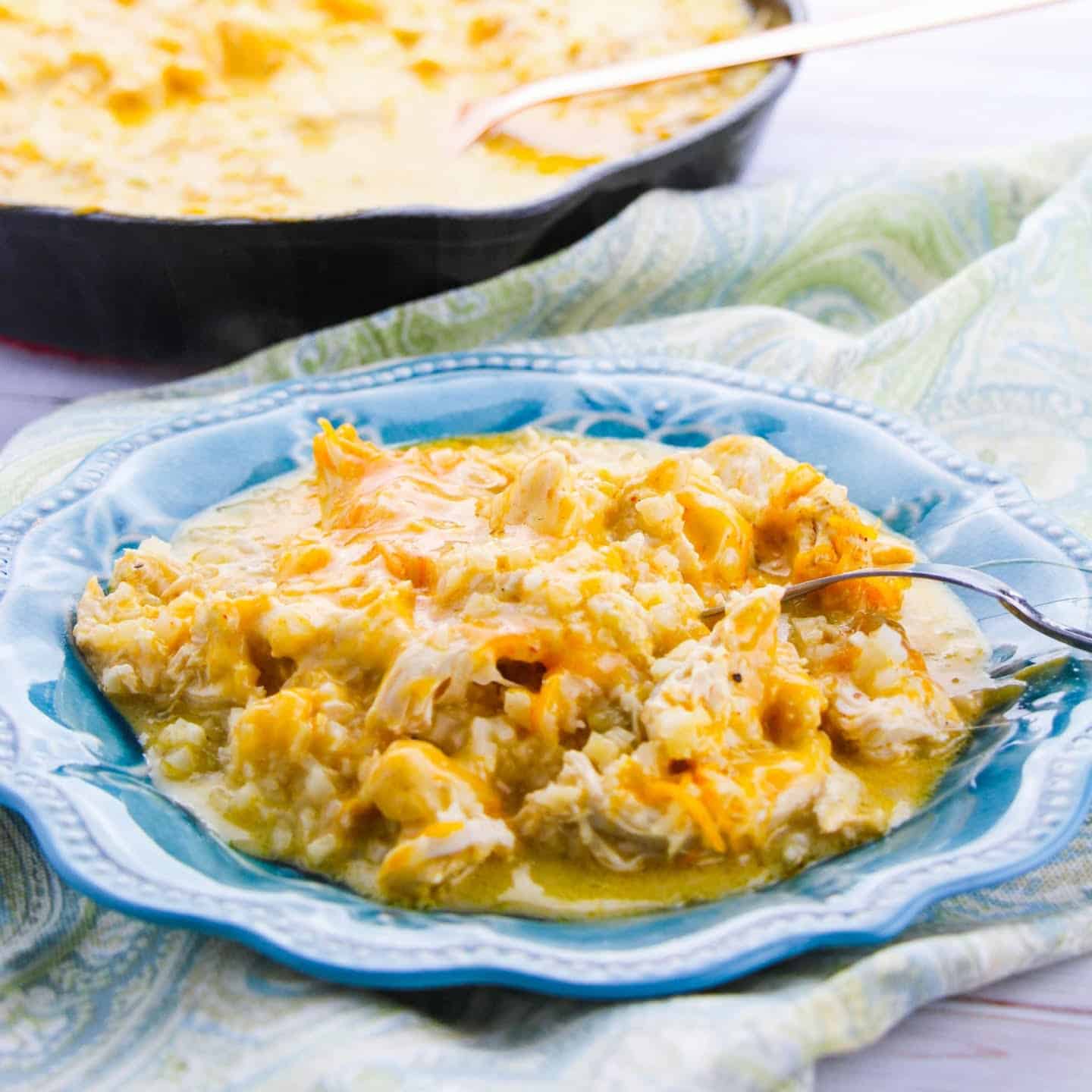 This deliciously rich, comforting dish is guaranteed to please everyone's palate.
Tender chicken breasts are smothered in a rich sour cream sauce with cauliflower and then melted cheese.
Best part? It cooks in one large skillet, and the whole thing takes a mere 35 minutes, start to finish, making it an ideal weeknight dish.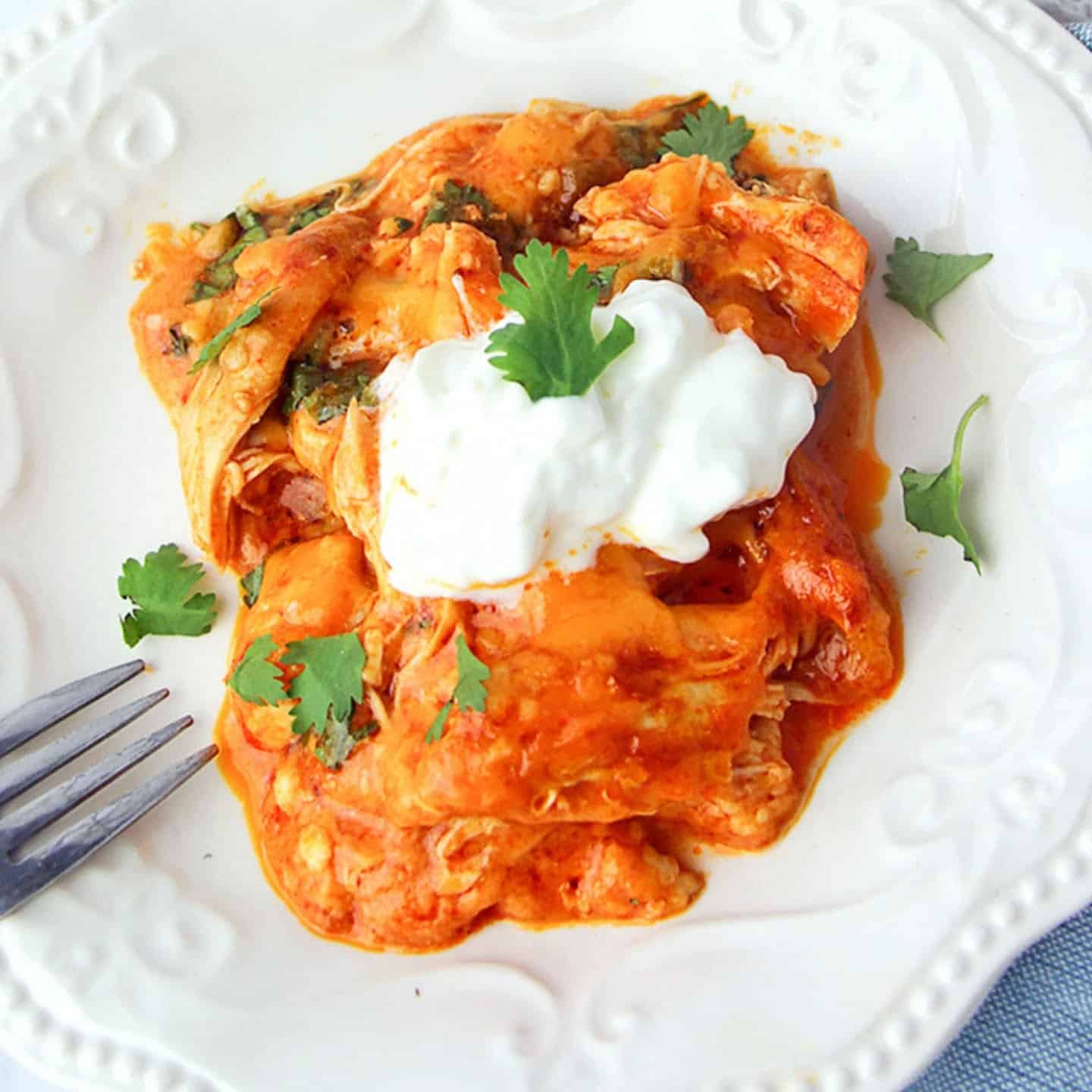 You're also going to love this easy Mexican casserole recipe. It delivers generously on cheesy, spicy flavors with just a handful of ingredients.
We also love it with perfectly seasoned ground beef or full of flavor Italian sausage. You can even try peeled and deveined shrimp.
Serve with a side of Mexican rice or as a hearty dip for tortilla chips.
Poblano peppers make this dish, the better the peppers the better the chili relleno. When these peppers are roasted they taste fantastic.
Another thing this casserole has going for it is how easy it is to make. The authentic version of this recipe is labor intensive. Which is why this recipe is so popular.
This easy Mexican recipe paired with a fresh homemade salsa is hard to beat.
The beauty of this Mexican casserole recipe is that it uses simple ingredients that you already have in your kitchen, and if you don't, you can substitute them with something else.
Plus, it takes hardly any time to throw together and is packed with authentic Mexican flavors that are sure to please.
It's an ideal weeknight dinner solution when you're short on time.
Flour tortillas are stuffed with ground beef, refried beans, and tons of Mexican flavors, then baked casserole-style with flavorful sauce and plenty of cheese.
It's cheesy. It's saucy. It's dreamy and oh-so-good. You'll crave this comfort food again and again.
Pair it with avocado salsa, and you've got a delicious dinner ready in under an hour.
Enjoy the best of both worlds with this easy taco lasagna recipe.
Soft flour tortillas are layered with a seasoned ground beef filling packed with Rotel diced tomatoes chunky salsa, then topped with chopped green onions and a blend of mozzarella & cheddar cheese.
It's insanely delicious and a fun twist on taco Tuesdays! I guarantee your whole family will love it.
This layered casserole recipe has crazy good flavor combinations that you can't pass up. It's made extra creamy and delicious with two kinds of cheese and cream of chicken soup.
If you like it spicy, feel free to add more jalapenos. And for a different flavor twist, use nacho cheese Doritos instead of crushed tortilla chips.
This recipe is destined to become a regular in your dinner rotation.
Once you try this Mexican casserole, you're going to make it on repeat whenever you crave Mexican food.
It has all the flavors of butternut squash and black bean enchiladas but in an easy-to-make casserole form.
This hearty meal is sure to please both kids and adults.
This is the ultimate Mexican casserole. It combined all the fantastic Mexican flavors in one dish - taco seasoning, cheese, green enchilada sauce, cilantro, and did we mention cheese? Lots of it?
The combination of green chiles and jalapenos gives this casserole dish a hint of numbing heat that will impress spicy food lovers. Add more, if desired.
Not sure what to make for dinner tonight? This easy Mexican casserole recipe whips up in an hour. It uses basic ingredients that you probably have in your pantry right now and packs a flavor punch.
Plus, you can add whatever you have on hand or suit your taste. Swap out the chicken for ground turkey or ground beef.
If you need something hearty and comforting, this crowd-pleasing Tex-Mex recipe should do the trick.
It's filled with delicious layers of creamy chicken breasts flour tortilla strips and covered with a gooey layer of cheese to take it over the top.
With 20 minutes of cooking time, you can have this on your dinner table tonight!
For a gluten-free option, use corn tortillas instead.
This easy Mexican casserole will have everyone leaving the dinner table happy, ultra-creamy, super cheesy, and incredibly flavorful.
Boneless chicken breasts are nestled between a bed of queso, Rotel tomatoes & green chilies, and a blanket of pepper jack and cheddar cheese.
And the best part? It only takes a few minutes to prep, and the oven takes care of their rest.
Serve over Spanish rice for an unforgettable Mexican-inspired dinner.
If there's a dish you can never go wrong with is a crunchy and flavorful Doritos chicken casserole.
This recipe is loaded with everything you love - crunchy nacho cheese Doritos, sweet corn, hearty black beans, flavorful taco seasoning, creamy sour cream, rich diced tomatoes, and lots of gooey cheese.
It's soo good, satisfying, and comes together in a snap - a total savior on busy weeknights.
Feel free to top with your favorite taco toppings like guacamole, avocado, black olives, etc.
When it comes to easy casserole recipes, there's nothing better than Mexican chicken tater tot casserole. It's as simple as dumping ingredients in a baking dish and popping it in the oven.
Top with avocados, chopped cilantro, a dollop of sour cream, or Greek yogurt, and you're good to go. It tastes so good with so little effort.
This will become your go-to recipe when you need something quick and yummy for dinner.
One of the best (and easiest) Mexican casserole recipes I've ever tried. It has excellent flavor, incredible texture, and an appealing aroma.
Best of all, it can be thrown together in about 30 minutes, making it a great recipe for weeknight dinners.
Taco seasoning or adobo seasoning work just fine if you're out of fajita seasoning and don't have the spices and herbs to whip it up. The flavor profile will be slightly different, but it'll still taste delicious.
Simple, quick, and bursting with flavor - you'll never be without the ingredients needed for this recipe again.
The flavorful adobo peppers, chipotle sauce, bell peppers, garlicky aioli, and spices make this dish a crowd-pleaser.
It's not only full of savory goodness but vegan as well! Plus, you can customize it with whatever you have on hand.
Wake up your taste buds with this mouthwateringly creamy, cheesy and easy Mexican casserole recipe. And all you need are 7 ingredients, a casserole dish, and 45 minutes, start to finish. What's not to love?
The recipe calls for black beans, but chili beans, pinto beans, and even cannellini beans work equally well.
Top with a generous amount of sour cream and serve with your favorite tortilla chips to scoop up all the goodness.
Boneless chicken breasts, salsa, taco seasoning, cheddar cheese, and cilantro is all you need to make this easy Mexican casserole.
It's warm, comforting, incredibly flavorful, and sure to please your whole family. Feel free to customize it with your favorite mix-ins.
Serve alongside cilantro lime rice and fresh pico de gallo for a complete dinner.
Try this stuffed shells version for a spin on a classic Mexican casserole. Jumbo pasta shells are stuffed with a delicious meat mixture of ground beef, taco seasoning, and cream cheese.
Cover with taco sauce and sprinkle some cheese on top to give the dish extra flavor, then bake to perfection.
Finish it off with some chopped onions or cilantro.
Green chilies, flour tortillas, corn, black beans, and chili powder lend Mexican flavors to this mild kid-friendly Mexican casserole. But you can always add some cayenne powder if you want to kick things up a notch.
Flavor packed and ready in 40 minutes; this is sure to hit the spot on busy weeknights.
If you're looking for a healthy Mexican casserole, we can't think of a better dish than this filling recipe. It's loaded with veggies, plant-based protein, and brimming with amazing flavors that are sure to please everyone at the dinner table.
Leftovers taste even better the next day. It also freezes well, so you can make it ahead of time and pop it in the oven when you're ready to eat.
Skip the usual sautéing, grilling, and roasting zucchinis and make these fun, tasty, and ridiculously easy ground beef zucchini boats instead.
Scoop out the zucchini flesh, stuff with intensely flavored ground beef mixture, sprinkle some mozzarella or cheese of your choice on top, toss in the oven, and voila! Dinner is ready in just an hour. For a little bit of kick, throw in some green chiles or jalapenos.
This Mexican casserole recipe will quickly become a new favorite. While the recipe calls for ground beef, ground turkey, pork, or ground chicken also works nicely.
Love tamales? You're going to love this easy casserole version even more. Plus, there are so many reasons to love this Mexican casserole recipe.
It comes together quickly, is super easy to whip up, uses a handful of Mexican pantry staples, tastes incredible, and is easily customizable to your liking.
Serve with your favorite toppings; I'm partial to guacamole, sour cream, and queso, but salsa, tortilla chips, pickled jalapenos, and feta cheese would also be delicious.
Whether you're a keto dieter or not, you're going to want to make this outrageously delicious jalapeno popper chicken casserole again and again.
It has everything you love and crave in a Mexican casserole- tender chicken breasts, tangy sour cream, crispy bacon, spices, and tons of melty cheese.
Pair it with a simple green salad to round it off.
Bonus Mexican Dessert
Looking for the best dessert to pair with your Mexican casserole recipe. Low and behold the best Mexican flan recipe with only 5 ingredients.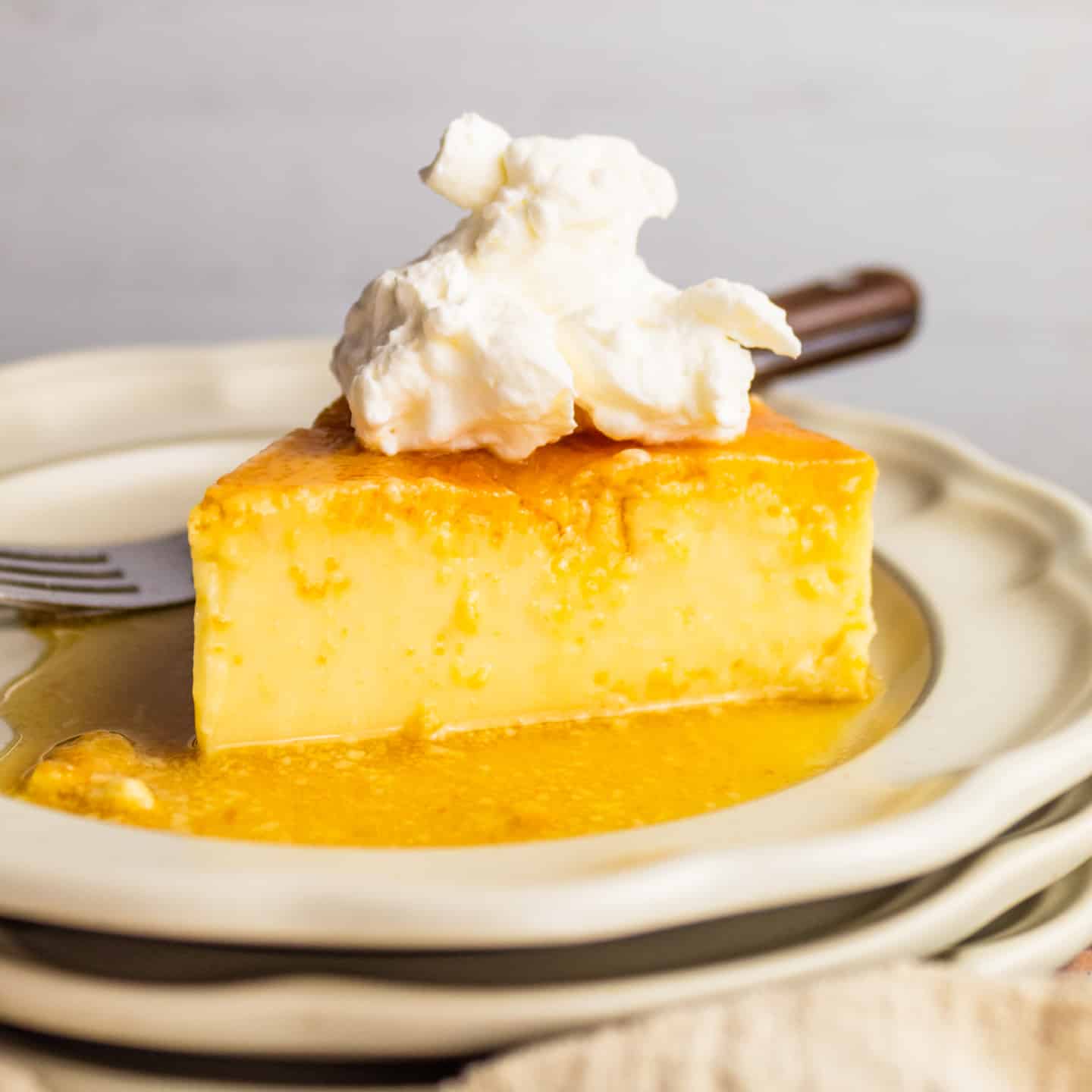 This flan recipe is quite possibly the perfect dessert recipe. It's light, not too sweet, and tastes amazing.
Related Recipe Ideas
I'm confident you'll find an easy family recipe everyone will love! One of my favorite is my shredded chicken tacos recipe and my caldo de res is fantastic.
If you like sour cream, check out my sour cream recipes to include in your next meal.