These easy to make restaurant-style shrimp casserole recipes are the best meals that you can served at a party or a weeknight family meal.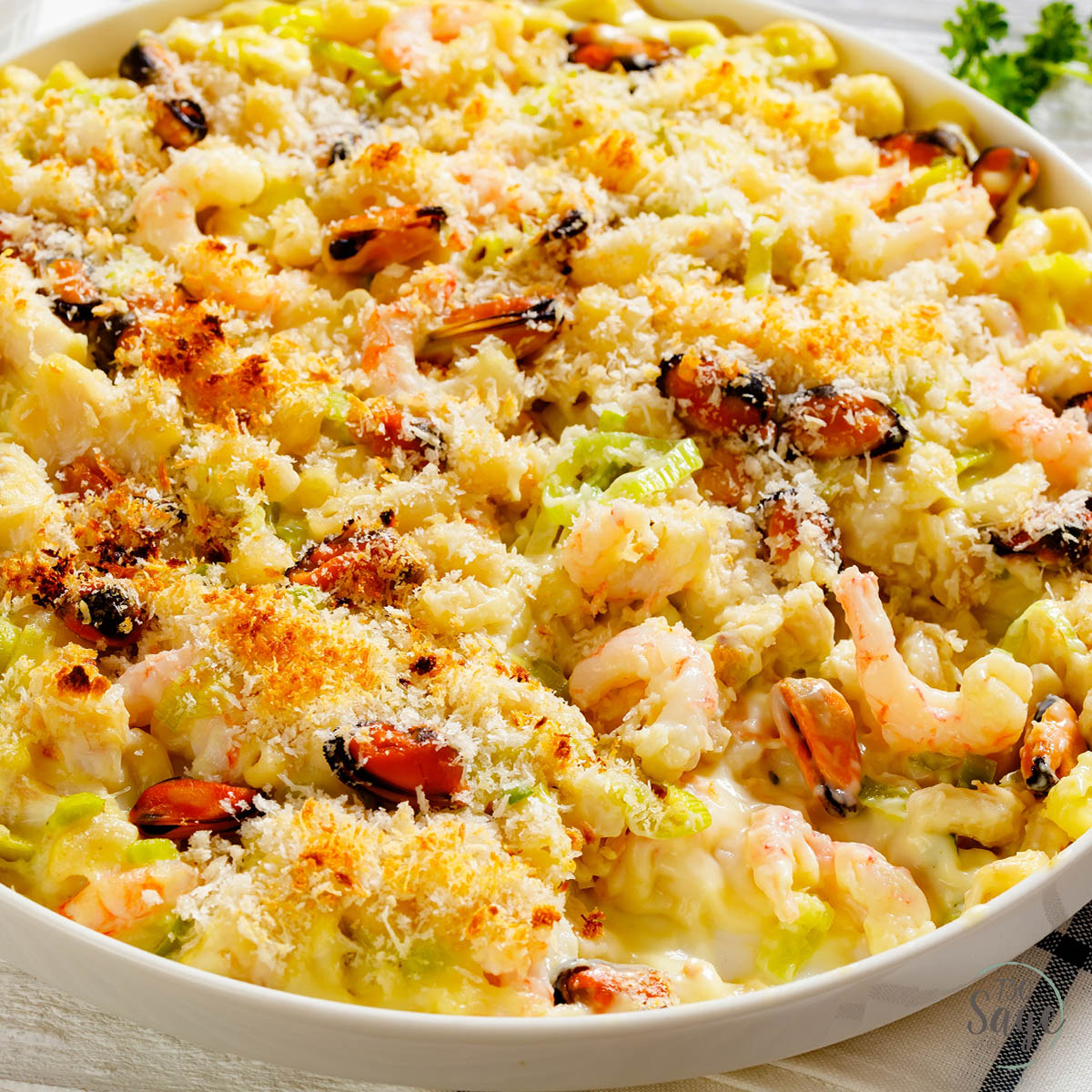 You ate a shrimp casserole dish at a restaurant last weekend and wanna try making it at home, but what about the recipe? Fret not! I have got your back, and there is nothing that you will miss here.
The mouth-watering, luscious dishes are perfect for your get-together and parties. Also, my dorito casserole and spicy shrimp tacos recipes would be great to serve to your friends on a taco tuesday.
Check out the 15 BEST shrimp casserole recipes you can prep for an upcoming house party.
This shrimp and rice recipe has the perfect buttery and creamy taste. It's a one-pan recipe with a marvelous blend of shrimp, cream of mushroom soup, cooked rice, and cheese.
Delicious shrimp cooked with butter, onion, bell pepper, celery, and a touch of cajun seasoning is set to give you a heavenly feeling. The butter adds a lot of flavor to this recipe.
Note: If you miss out on cheddar cheese soup, you can switch it with condensed fiesta nacho cheese soup.
Looking for a simple yet classic dish? Don't look beyond! This recipe from the local restaurant is all about 15 minutes of prep time.
The garlic and cream will be the key ingredients for cooking this casserole in the oven preheated to 375 degrees. Sprinkle some paprika to spice it up, and bake it for 15-20 minutes. Keep some swiss cheese ready for the saucy texture.
Be careful about not overcooking the shrimp. It can be served with rice and broccoli. You can also prepare this a day earlier and refrigerate it.
With spring comes seafood season, and this dish is perfect for soothing your cravings. The shrimp, corn, and potatoes with a mix of cajun flavor will be ready to serve in just 30 minutes.
Heat the pot and add butter and olive oil to a medium saucepan. Saute bell peppers, celery, and potato before seasoning it. Stir the veggies occasionally to avoid them from getting stuck.
Add the cooked shrimp and mix all the ingredients well. You can also add some parsley in the end if you desire.
Spicy shrimp and grits casserole will become your comfort food. You can use stone-ground grits or quick-cooking grits, depending on the availability. And that oodles of gouda cheese, you can't give it a miss!
Before transferring the shrimps to the baking dish, make sure you cook red bell pepper, garlic, tomato, eggs, shrimp, bacon, and other ingredients properly. You can also add Worcestershire sauce and a spoon full of old bay seasoning for a twist.
Additional tip: If you are in a hurry, pre-assemble 24 hours before baking. However, do not forget to increase the baking post-refrigerating.
This casserole is a delight for shrimp and scallops lovers. Add chunks of any white, non-oily fish to enhance the tase. You are surely going to satisfy your seafood craving with this casserole.
Keep some sea salt, paprika, and parmesan ready before baking. Pour a large bowl of cream and swiss cheese into the shrimp mixture. Eat this with wild rice and salad and relish the taste.
The exquisite ingredients make this recipe an ideal option to throw a luxurious dinner party. Treat yourself with this seafood casserole if you get your hands on some good-quality shrimp.
Here's a gluten-free recipe for those on the keto diet. Shrimp scampi is a one-bowl bake recipe for your perfect fancy dinner party. Shrimps swimming in the buttery sauce without any bread crumbs make it a low-carb easy meal.
Toss the ingredients for 5 minutes and set it in the oven. It tastes excellent when served with pasta or bread. Keep lemon wedges on the side for serving.
Lemon juice with shrimp will double the taste and makes it even juicier for you to resist. I'll recommend adding cilantro to attain the desirable fragrance.
Let's give a Scandinavian twist to the usual shrimp casserole recipe by adding artichoke to it. Dill is a popular Scandinavian herb that plays a crucial role in elevating the taste of this dish.
A tablespoon of Worcestershire sauce and 10-15 drops of lemon will bring a tangy flavor to your casserole recipe. Take a bite, and see the food melt in your mouth.
Make sure to use some medium-size shrimp to keep the bites small and relish your dinner better. So surprise your family with this artichoke-inspired recipe, and thank me later.
This wild rice casserole with shrimp recipe will force you to try this on the coming weekend. Get yourself a packet of wild rice now!
Boil the rice and drain it for cooling. In another vessel, add salt and boil the shrimp for a minute. Sauteed onion and bell pepper in the melted butter will boost the flavor profile of this recipe shrimp casserole.
Prepare the mixture by adding all the ingredients and pouring condensed cream of mushroom soup. Top it with half a cup of cheese and bake until bubbly.
Enjoy a retro flavor with this garlic shrimp recipe. Garlic, sherry, and shallot make it a perfect appetizer for parties. You can substitute the sherry with lemon in case of non-availability.
This recipe is different because of its gratin-style method of cooking. You need to simply bake the shrimp in the oven with a luscious topping.
Peeling and deveining the shrimp might demand some effort but cooking this at home will be the most fantastic thing you tried this week. It needs around 25 mins of cooking time before you savor the taste.
One of the creamiest and yummiest shrimp recipes to satisfy your hunger. You can consume this dish with a bowl of green salad to suffice your taste buds.
Once you've sauteed onion, garlic, bell pepper, keep it aside. Time to peel the fresh shrimp. Next, combine a can of shrimp soup, cheese, and black pepper. Mix the cooked rice, vegetables, and other ingredients.
Bake the mixture for 35-45 minutes at a temperature of 350 and serve hot. Enjoy your tasty and creamy shrimp rice bake.
Have you ever thought of preparing a mouth-watering dinner with just 10 mins of prep time? You don't even need to boil Pasta for this creamy recipe.
It is a restaurant-quality dish with an essence of alfredo sauce and white wine. Add tons of cheese and cream to make your guests go wow!
Combine everything in one dish and pop it out in the oven. A perfect warm seafood supper for your get-togethers. Try this dump and bake method for your next house party.
Here is a quick shrimp and crab casserole with an exquisite taste to remember.
Preheat the oven to 350 F. Meanwhile, boil the macaroni and vegetables by adding salt for about 10 minutes. After draining the water add some buttery spread to the pasta-veggie mix.
Cook mushroom in a skillet over medium heat. Combine all the ingredients into the mushroom soup and pour it into the casserole. Sprinkle the bread crumbs over it for that crunchy bite. Cook it in the oven for 25 minutes approx. Enjoy a lavish dinner tonight with your fam!
A perfect rice casserole dish for the summer months. Peel the shrimp and devein before anything else.
Further, saute the veggies in a pan till they are tender. Add salt and pepper as per taste. Cook till the shrimp turns pink and fold it into the rice.
Pour everything into a greased baking dish and add lots and lots of cheese. When the cheese oozes, your old bay shrimp recipe is ready to consume. I can't wait for you to try this at home and enjoy the taste.
One more gluten-free recipe to light up your food table. You can try stuffed shrimp for Christmas eve and cherish the taste forever.
Combine crab meat, garlic, parsley, and lemon for the stuffing. Spread it evenly on the shrimps and bake until the top is golden brown.
You can prep the recipe in the daytime and bake it in the oven to serve hot for your evening party. The crunch from the buttery crabs gives each bite a taste of its own. Now enjoy one of our top shrimp casserole recipes and have a great time.
This baked parmesan shrimp is a replica of the Olive Garden's dish. Melted butter and add raw shrimp with the aroma of parsley will be a delight to taste buds.
Cook pasta and drain it aside for the first step. Pour cream into a saucepan and bring it to a boil. Add the pasta to the cream and shrimp on top of the Pasta.
Sprinkle the baking dish with a few cherry tomatoes, breadcrumbs and cook it for 10-12 minutes. Do not forget to cool the baked dish before serving.
Related Recipes
If you like shrimp or casserole recipes, save one or all of these fantastic recipes.