These spicy shrimp tacos are incredibly delicious that everyone will love, and they're easy to make in less than 20 minutes. The recipe features succulent shrimp coated in a spice mix and caramelized onion & mushroom mixture all wrapped up in a warm tortilla.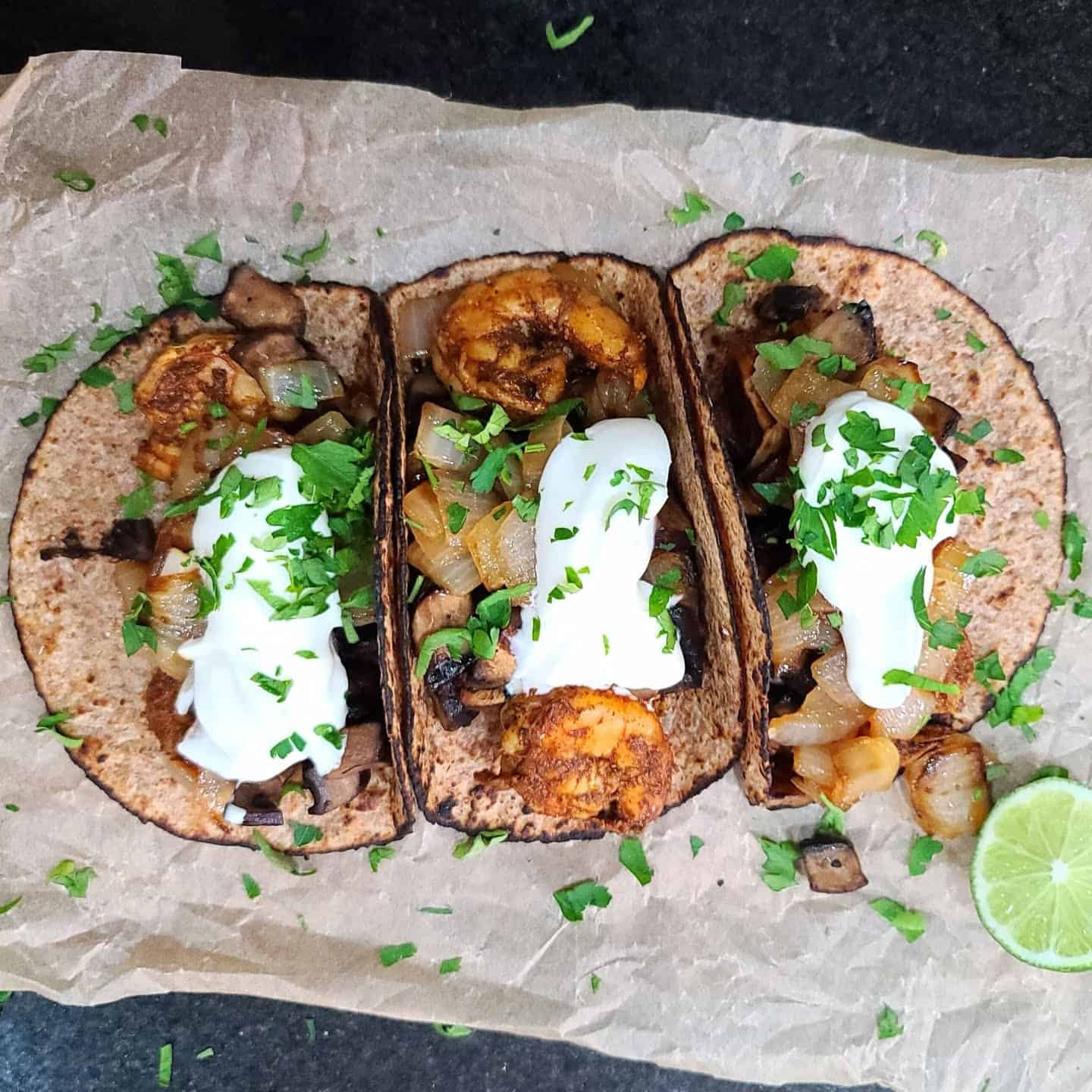 Whether you like them mild or spicy, these shrimp tacos will please everyone at the table. If you like tacos like me, check out my easy shredded chicken tacos.
Contents
🌟 Why this recipe works
If you're in the mood for something a little bit different for dinner tonight, try these easy shrimp tacos that will dazzle your taste buds with a combination of sweet and spicy flavors.
They take less than 20 minutes to prepare using a single skillet and minimal ingredients. They're budget-friendly, great for quick weeknight dinners - and perfect for no-hassle clean-up!
This spicy shrimp taco recipe is made with fresh shrimps coated in a spicy taco seasoning and cooked with caramelized onions and portobello mushrooms, then assembled in a warm tortilla and topped with sour cream, herbs, and lime juice. It's heaven in every bite!
If you're looking to Wow your guests for dinner, these tacos are the best shrimp tacos that any home cook can make! Serve them on their own or with other Mexican side dishes lime cilantro cauliflower rice, lime slaw, salsa, fresh pico de Gallo, or guacamole for a complete Mexican experience. Don't forget to check out my delicious dorito casserole and my chili lime shredded beef recipe with full of mexican flavors.
🍽 Key Ingredients
The key to making the best shrimp taco recipe is using fresh shrimps and mushrooms!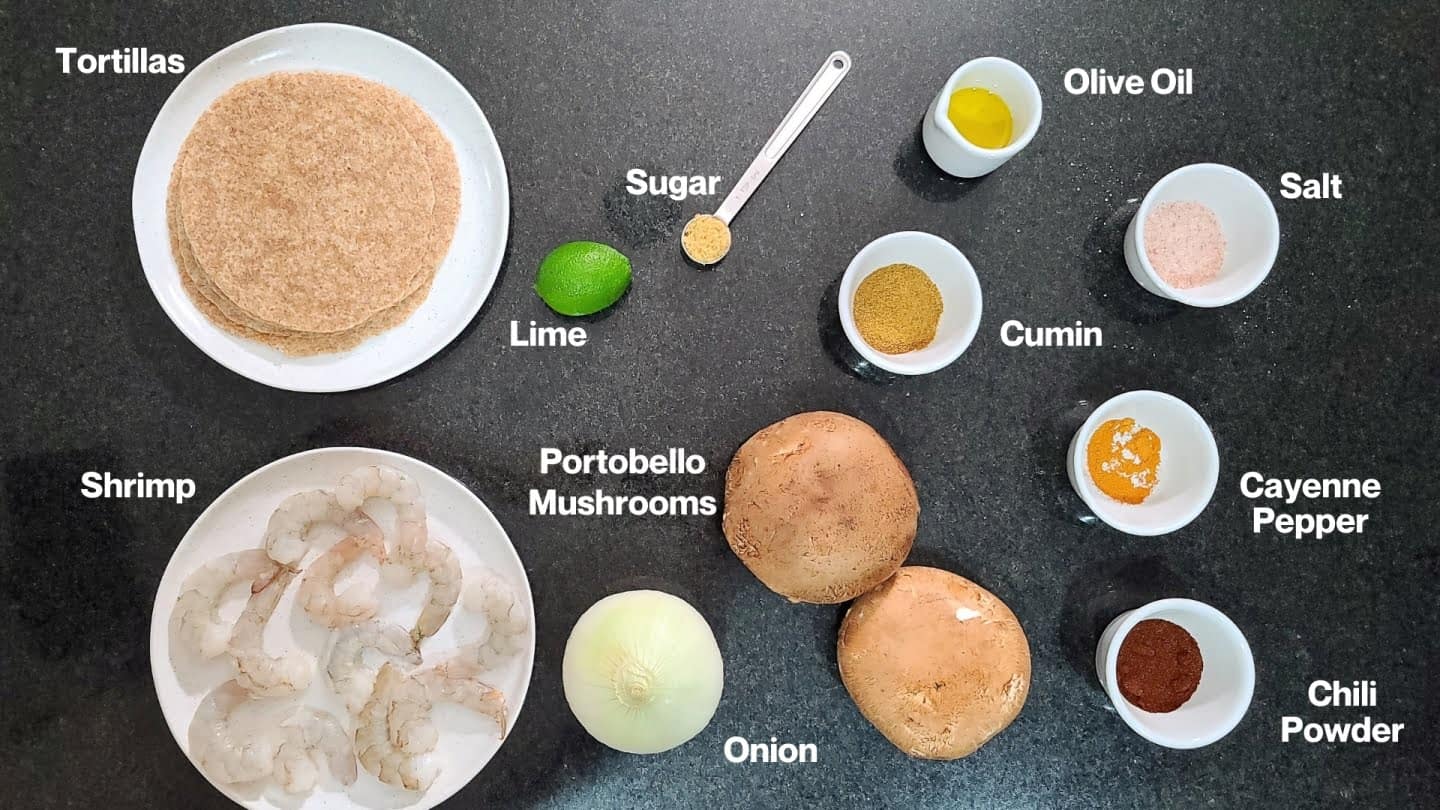 Shrimp: Use fresh raw shrimp that have been peeled and deveined with the tails removed. If you have frozen shrimp, make sure they are completely thawed before coating with the spice mixture.
Mushroom mixture: The mushroom mixture combines caramelized onions, brown sugar, and Portobello mushrooms.
Taco spice mix: To coat the shrimps, combine chili powder, cayenne pepper, cumin, and salt.
Tortillas: For these delicious tacos, we're using integral tortillas.
Toppings: To finish the healthy shrimp tacos, top them with sour cream, fresh cilantro, and a squeeze of lime juice.
Substitutions
Tortillas
Instead of integral tortillas, you could use corn tortillas or flour tortillas.
🔪 How to make
These spicy shrimp tacos are easy to make in less than 20 minutes! It's as easy as cleaning and cooking the shrimp, making caramelized onions, and filling the tortillas.
Preparations
Peel the shrimp in a bowl of water with the tails removed and remove the intestines.
Coarsely chop the onion and mushrooms.
Finely cut the fresh cilantro.
Cooking Instructions
Step 1
Dry the washed shrimps with a paper towel and toss them in the spice mixture.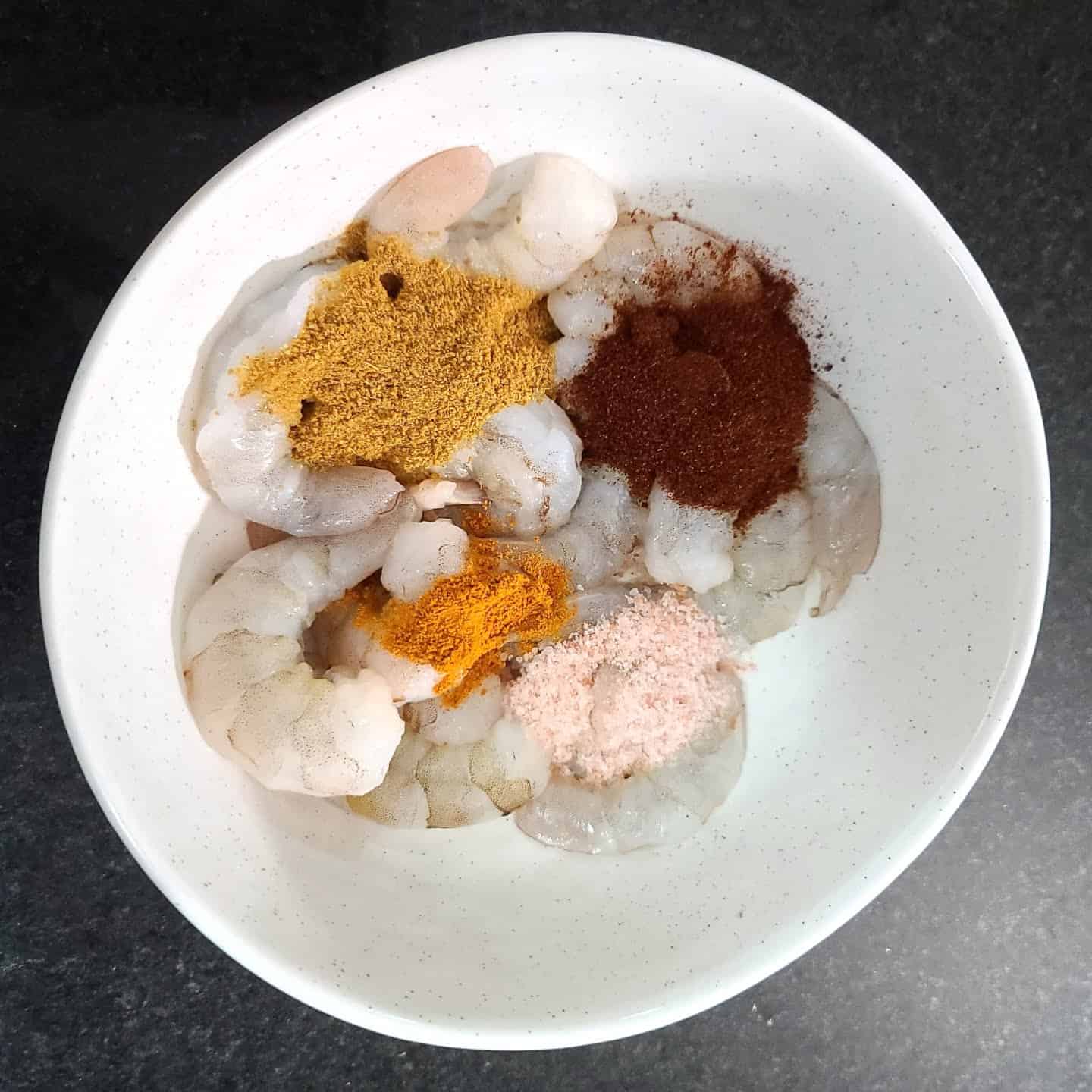 Step 2
Drizzle some olive oil in a large skillet over medium-high heat, and cook shrimp for 5 to 8 minutes until cooked through, then remove and set aside.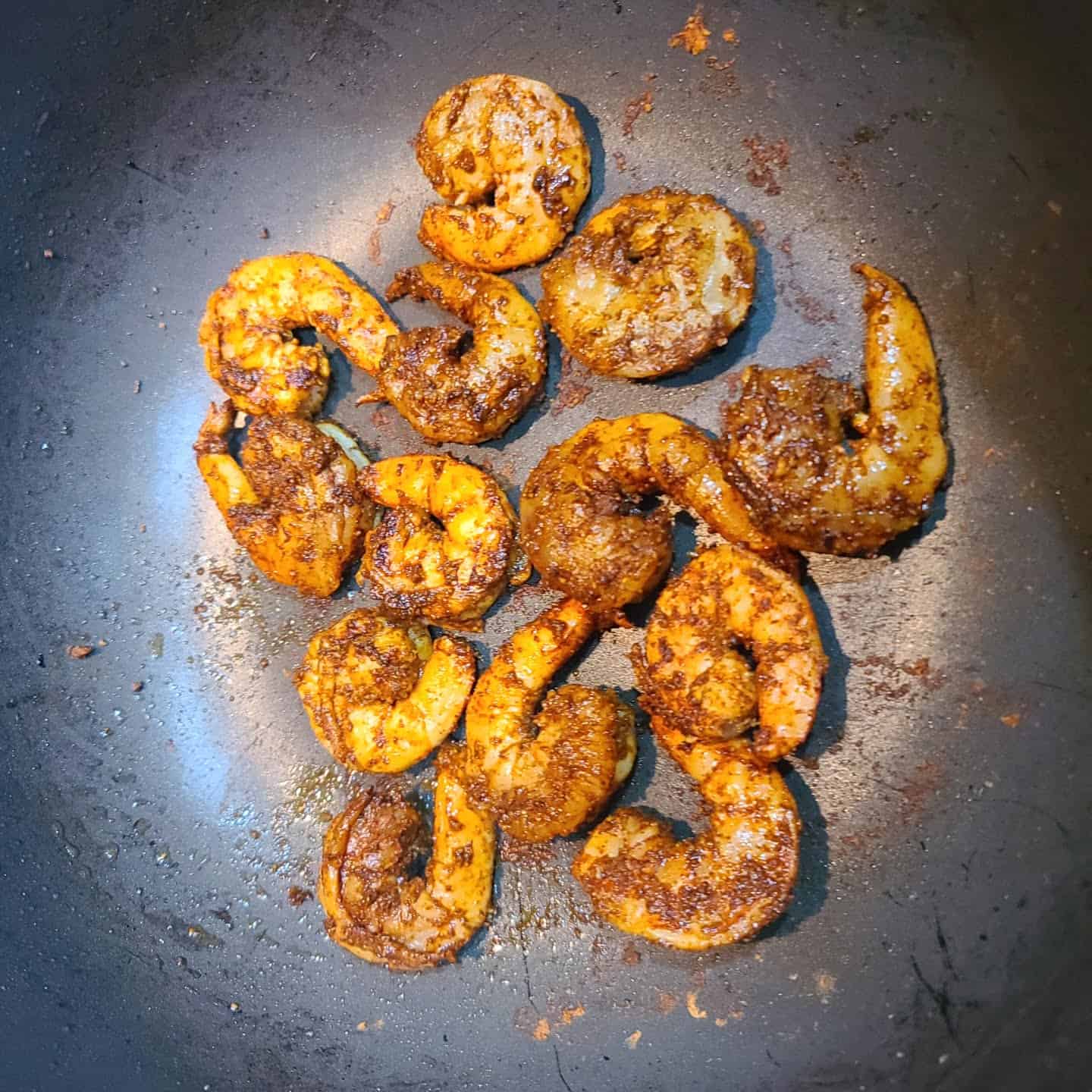 Step 3
Add the onions to the hot skillet and cook until they turn brown and caramelized (around 6 to 8 minutes). Then, add the sugar and continue to mix for a further minute before setting the caramelized onions aside.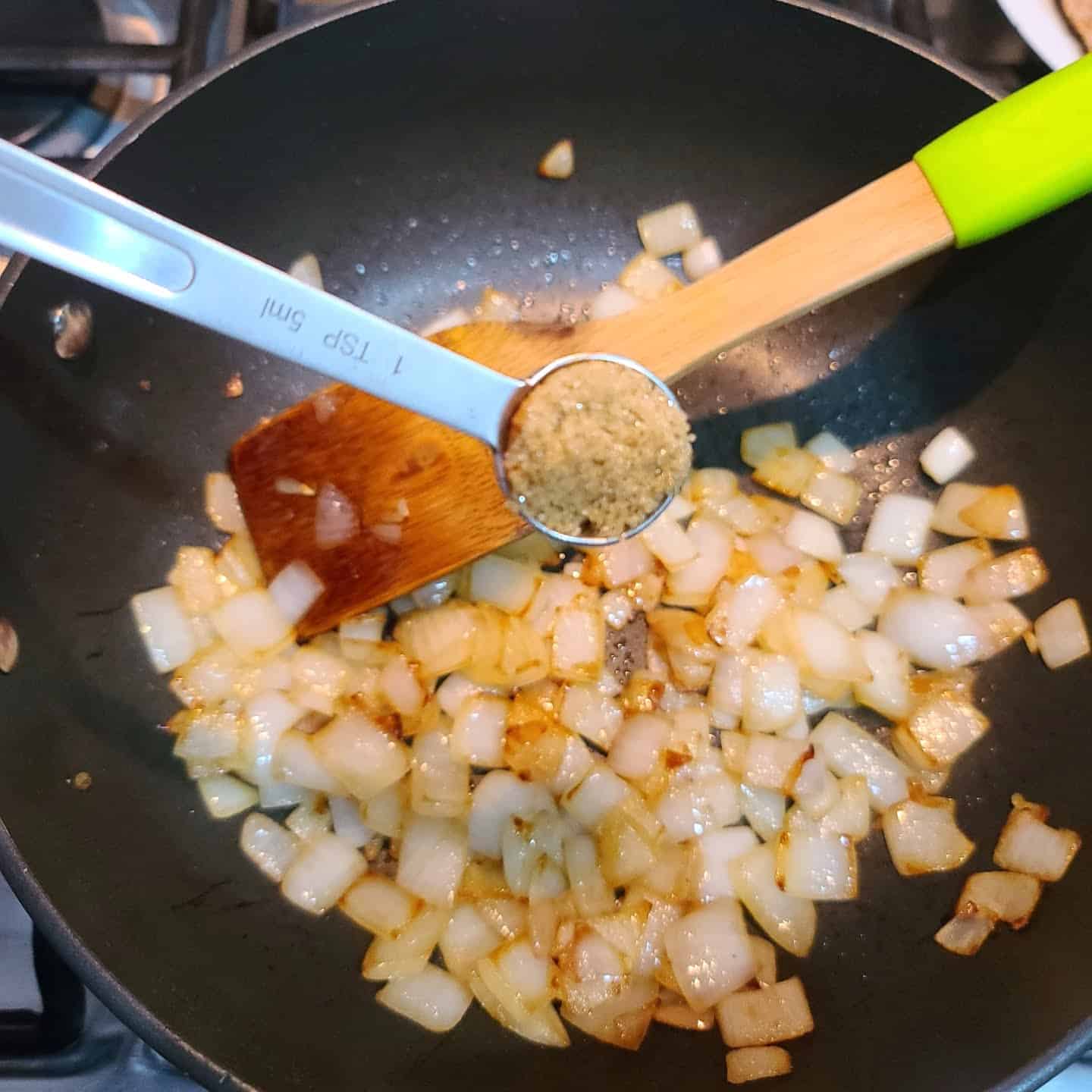 Step 4
Drizzle some more olive oil in the skillet and cook the mushrooms for 3 to 4 minutes until soft and fragrant.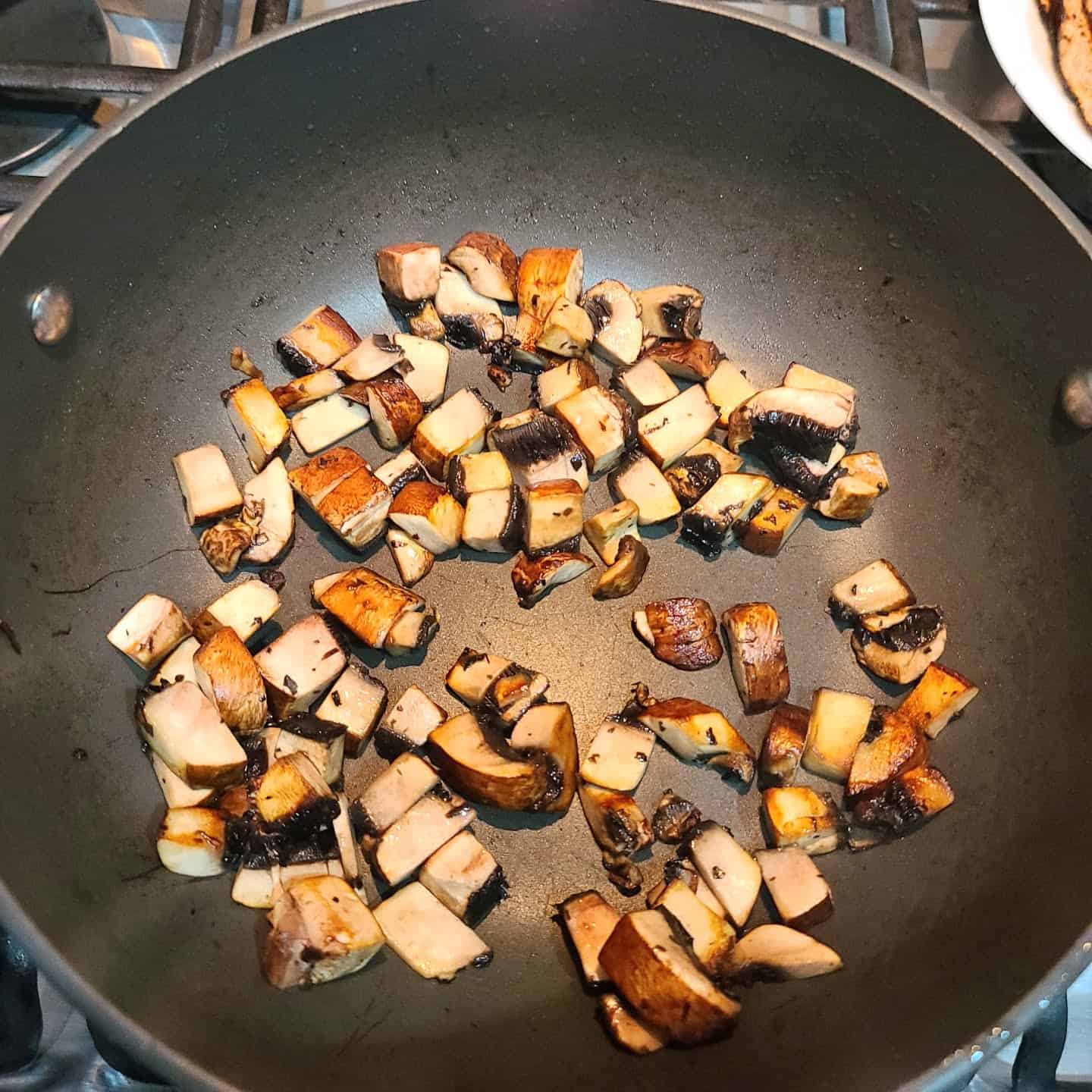 Step 5
Warm the tortillas in a toaster, oven, or burner for 30 seconds to a minute.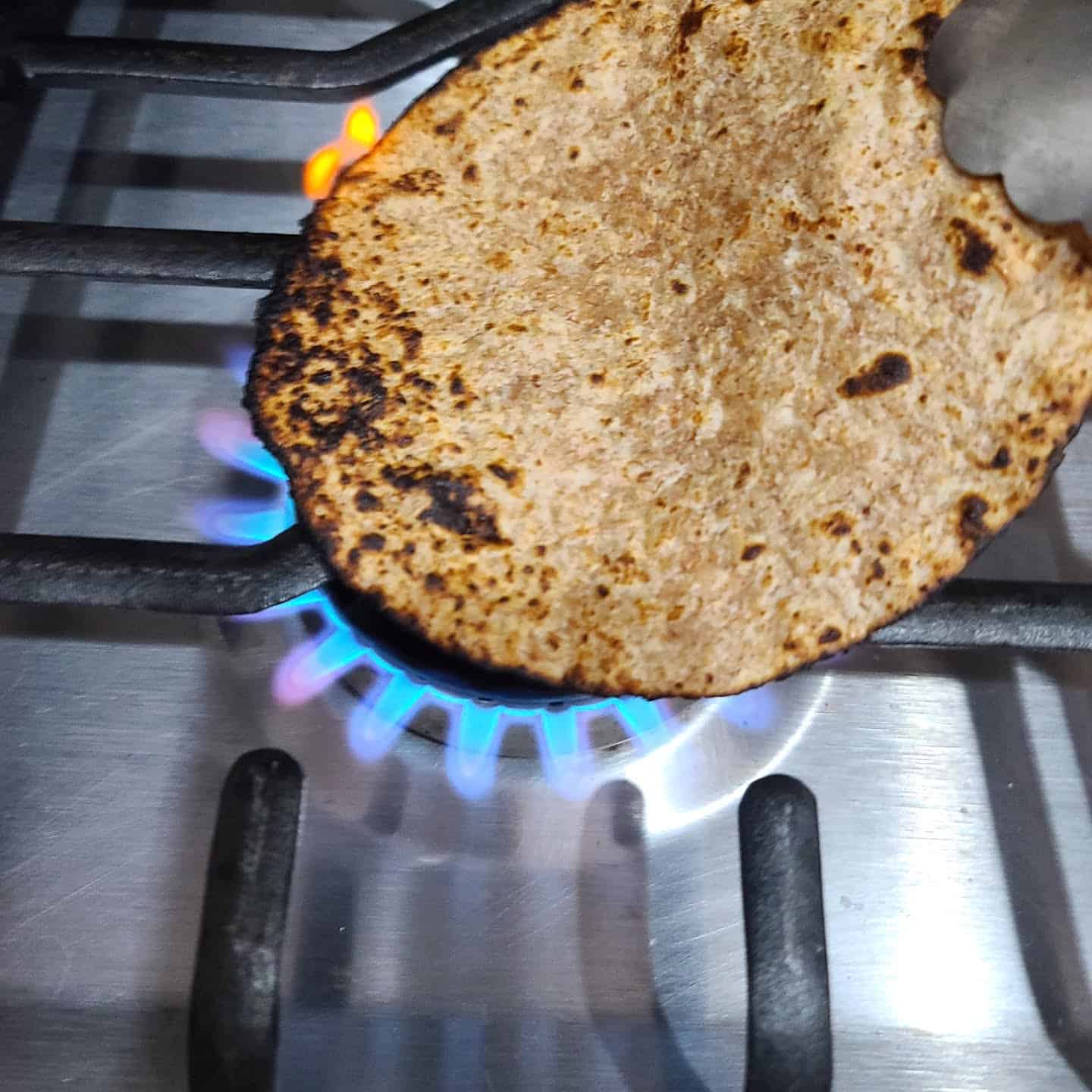 Step 6
Assemble the shrimp tacos with spiced shrimps.
Step 7
Add the cooked mushrooms on top.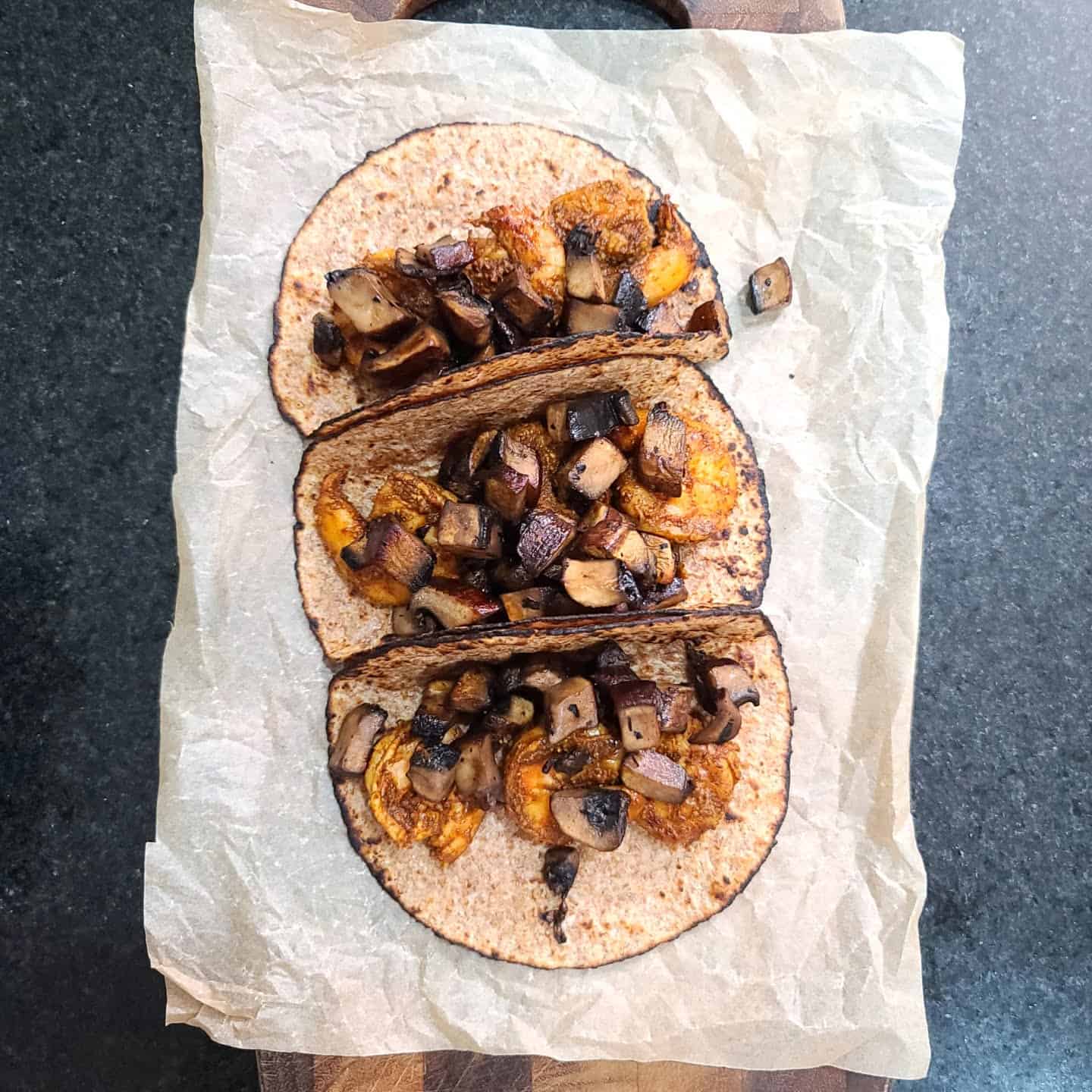 Step 8
Top the tacos with the caramelized onions.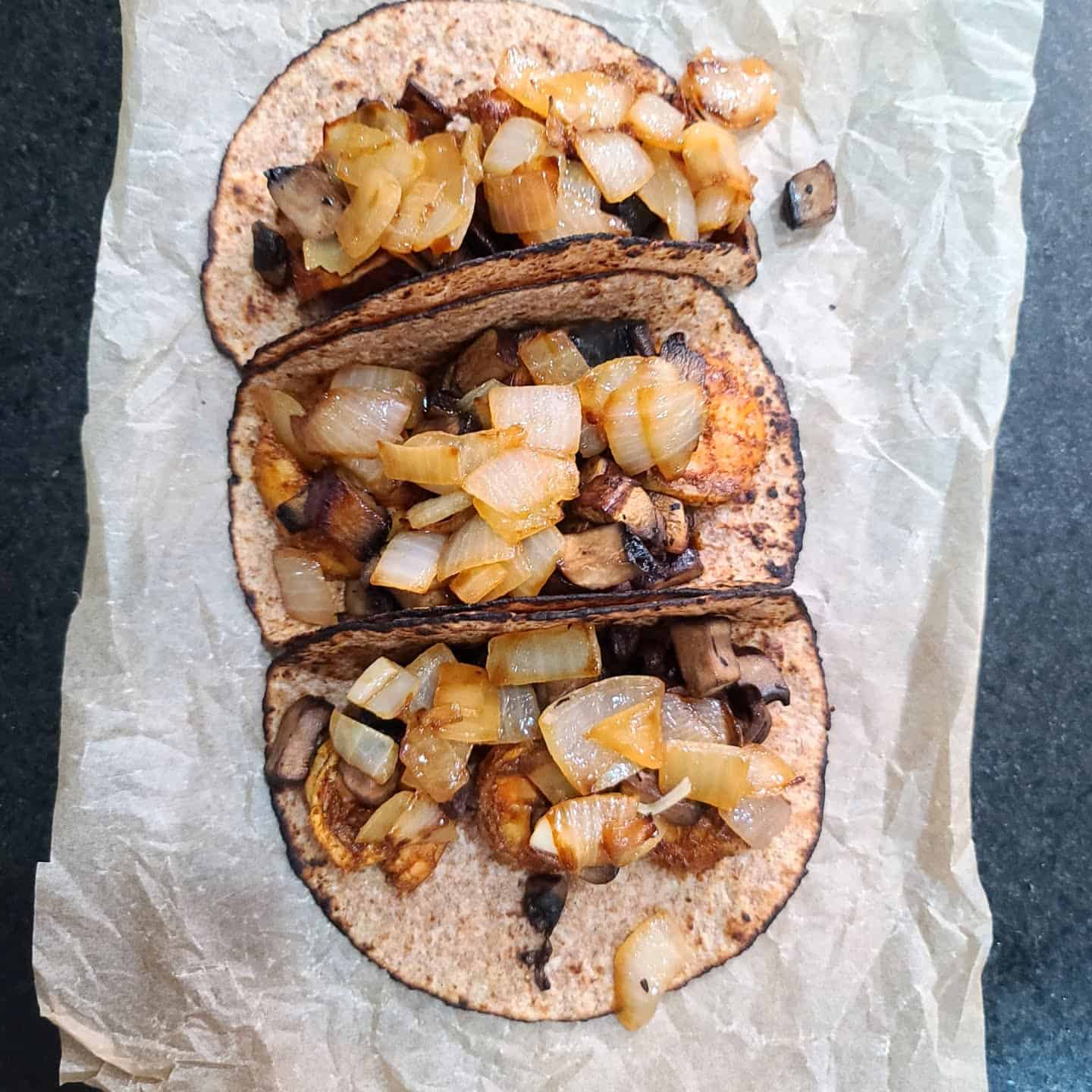 Step 9
Place a dollop of sour cream, and top with a sprinkle of chopped cilantro and a squeeze of lime.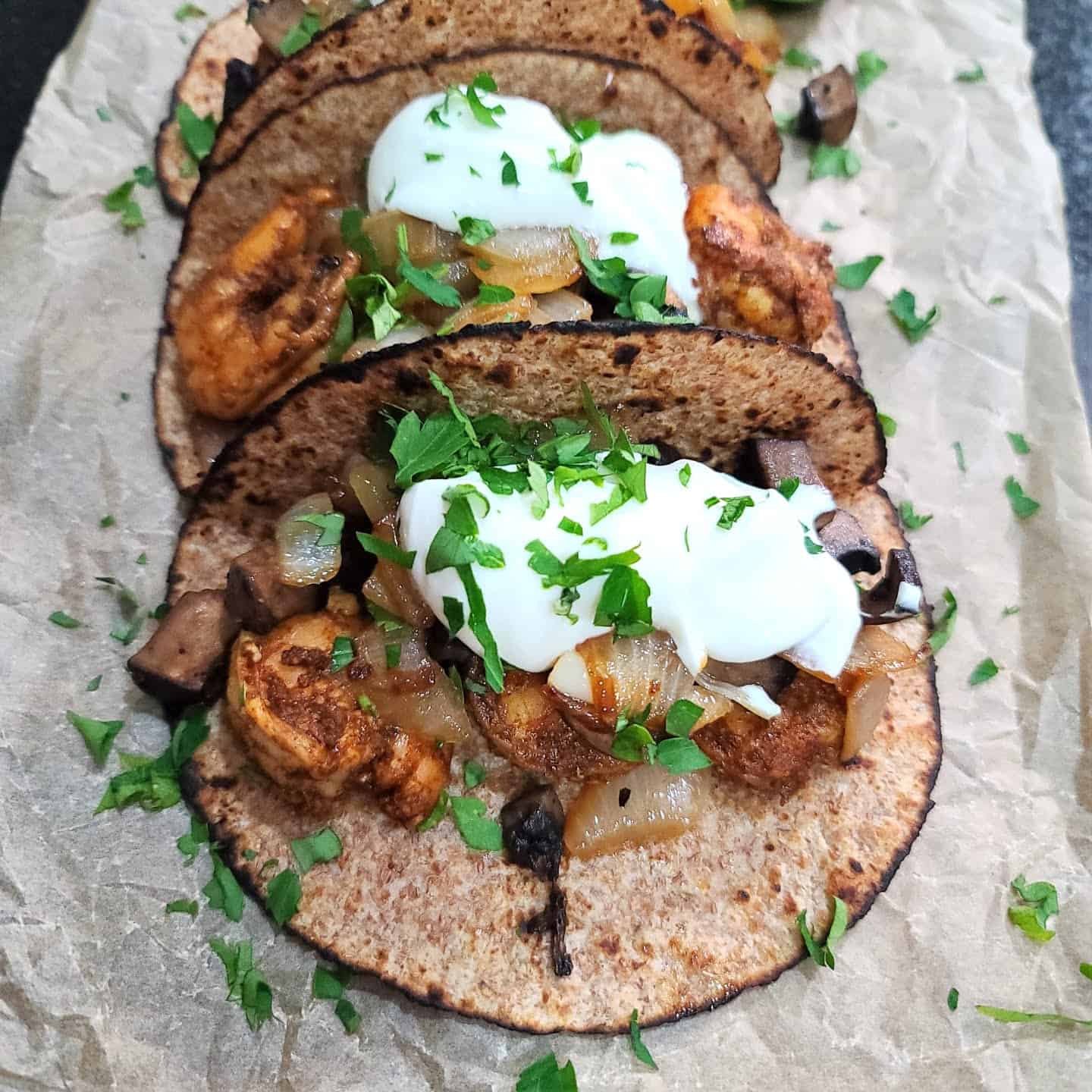 📖 Recipe Variations
These spicy shrimp tacos are versatile and can easily be upgraded for a crispier texture or sweeter flavor. Try these three simple variations using the same recipe.
Asian shrimp tacos
Cook the spice-coated shrimps in a hot skillet with a tablespoon of sesame oil and soy sauce, and serve them with a sprinkle of sesame seeds for a delicious Asian kick.
Beer-battered shrimp tacos
Give your shrimp a wonderful crispy texture by mixing half a cup of flour with the spice mixture and a can of beer. Pour the beer into the flour mixture slowly and mix until a thick batter forms. Dip the shrimp in the batter and cook in hot oil until golden brown.
Breaded shrimp tacos
Add the spice-coated shrimp into the egg wash (2 eggs with 2 tablespoons of milk) and thoroughly coat them with a cup of bread crumbs. Cook them in a hot skillet and toss them frequently until golden brown.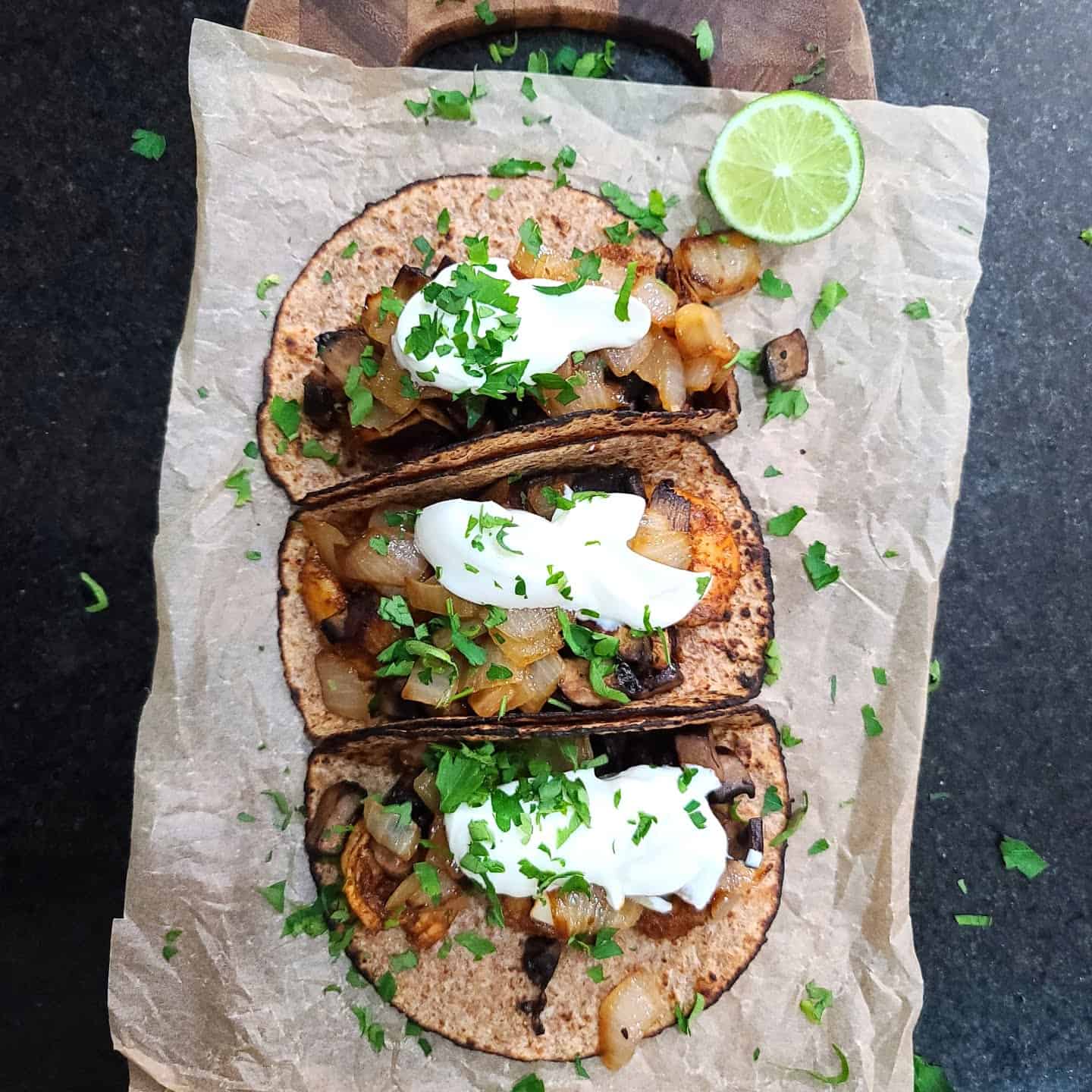 🥗 What to serve with
Spicy shrimp tacos are so delicious on their own! However, if you want to add some crunchy on top or a tasty Mexican side dish for taco Tuesday, try some of these easy recipes!
Slaw
In Mexico, they serve their spicy shrimp tacos with cilantro-lime slaw, a mixture of green cabbage, yogurt, jalapenos, cilantro, lime juice, and seasoning.
Or cabbage slaw, which is similar, but instead of yogurt, they use mayonnaise - red and green cabbage, carrots, garlic powder, and a splash of apple cider vinegar for a tangy twist.
Cauliflower, cilantro, lime rice
If you have cauliflower in the pantry, a great way to make use of it is by making this delicious fragrant cauliflower rice recipe. It's the perfect low-carb side dish to serve with fish tacos, and it's made with cilantro, lime, and garlic - and takes just 20 minutes to prepare.
Chili
One of my favorite side dishes to serve with any Mexican meal is chili, especially with other spicy foods like these spicy shrimp tacos. This 5-ingredient chili recipe is slightly different than most chili recipes because it's made with ground chicken and avocado and is super delicious.
Avocado salad
Make use of those ripe avocados in the pantry with this 5-minute creamy avocado salad with cucumber, lime, and cilantro. You can use this to scoop on top of the tacos or as a healthy side dish to accompany them.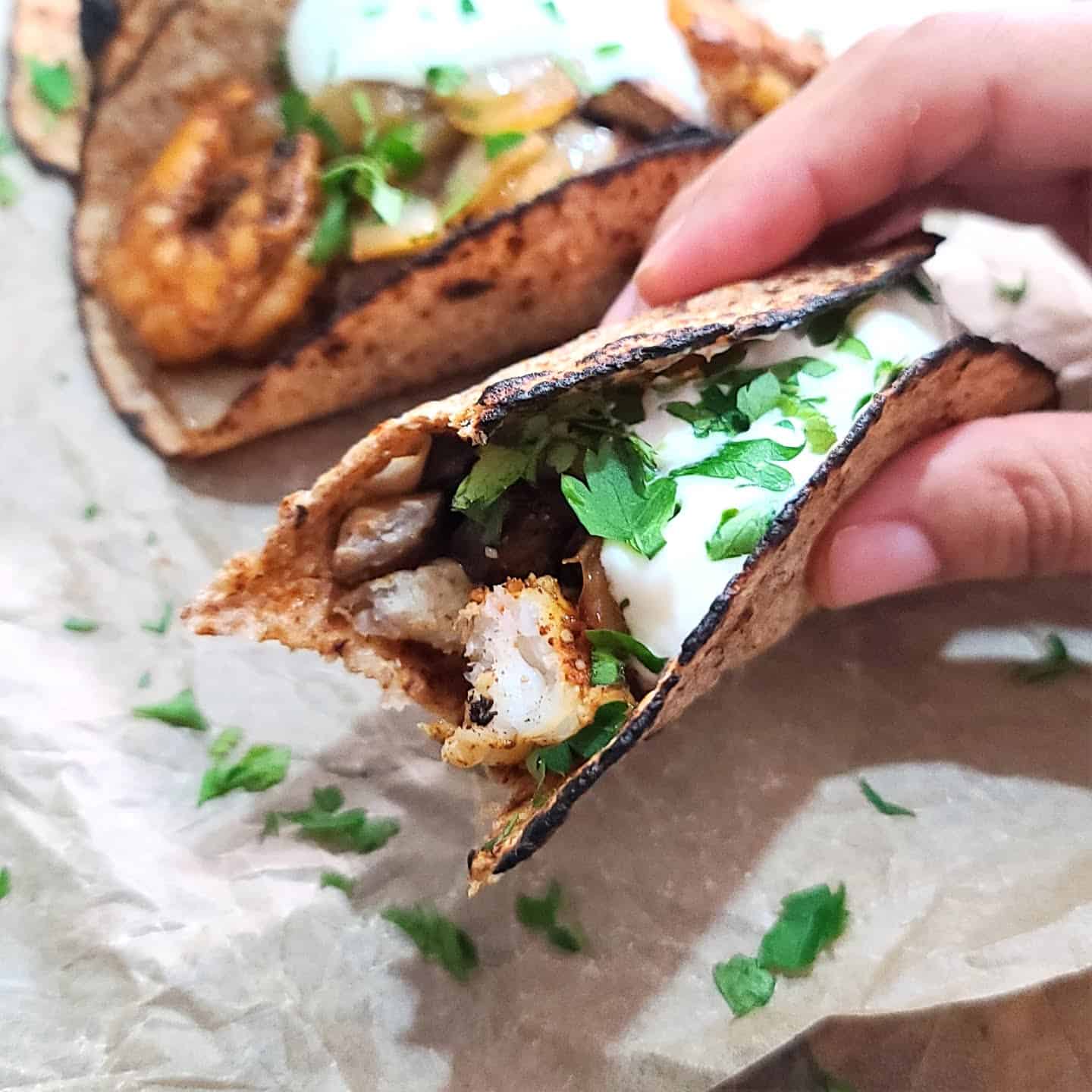 🙋 Frequently Asked Questions
Do you have to devein shrimp?
Yes, it is an important step to remove the shrimp intestines, as the taste is rather unpleasant and will affect the shrimp flavor if cooked without removing it.
Can I use taco shells instead of tortillas?
Yes, taco corn shells are a great alternative to flour or corn tortillas. They are smaller than tortillas, so you will need twice as many taco shells.
🧊 Storing and ♨️Reheating
These spicy shrimp tacos can easily be stored and assembled later or the following day.
Fridge - Allow the cooked shrimp, caramelized onions, and mushrooms to completely cool and store them in separate airtight containers. They will keep in the fridge for up to 3 days.
Freezer - Transfer the leftovers to individual freezer containers and freeze them for up to 4 months. Thaw overnight in the fridge before use
If you only have one container, you can store the leftover shrimp, onions, and mushrooms together.
Reheating - Heat the shrimps, caramelized onions, and mushrooms in a microwave-safe bowl for 1 minute or 2 until piping hot and assemble in warm tortillas. Alternatively, you can reheat the leftovers in a hot skillet for a few minutes.
👪 Serving Size
With this spicy shrimp tacos recipe, you can expect 6 tacos which are enough for 3 people, with each person enjoying 2 tacos. You could easily scale the recipe to make enough mixture for 6 or even 9 people if you have a party.
Spice up your Taco Tuesday with these moreish shrimp tacos that are easy to make in just 20 minutes from start to finish. Very similar to my pulled pork tacos. Check it out!
🎥 Watch how to make it
📋 Recipe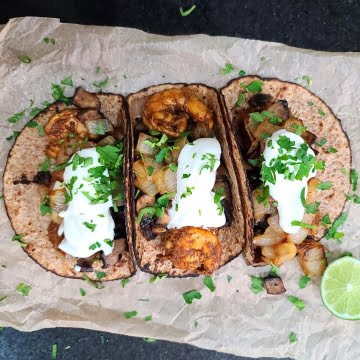 Spicy Shrimp Tacos (Easy 20-Minute)
These spicy shrimp tacos are incredibly delicious that everyone will love, and they're easy to make in less than 20 minutes. The recipe features succulent shrimp coated in a spice mix and caramelized onion & mushroom mixture all wrapped up in a warm tortilla.
Print
Pin
Rate
Share
Ingredients
For the Shrimp tacos
1

lb

shrimp -

peeled and deveined, tails removed

6

units

integral tortillas

2

units

portobello mushrooms

1

medium

onion

1

teaspoon

brown sugar

2

tablespoon

olive oil

cilantro,sour cream and lime wedges for serving
Taco Spice Mix
2

teaspoons

chili powder

2

teaspoons

cumin

¼

teaspoon

cayenne pepper

1

teaspoon

salt
Instructions
Pat the shrimp dry with paper towels. Toss the shrimp in a small bowl with the spice mix to get it coated. Heat a drizzle of oil a large skillet over medium high heat.

Add the shrimp to the hot pan and sauté for 5-8 minutes, flipping occasionally, until the shrimp are cooked through.

Chop onion in squares (big chunks) and cameralized for 5-8 minutes, then add the brown sugar and set aside.

In the same pan, add a drizzle of olive oil and cook the chopped portobelos (same cut in squares)

While this is cooking, you can toast your tortillas in the burner to gives that extra smoky flavor.

Assembly your tacos in this order: Tortillas, Shrimp, mushrooms, caramelized onion, top with sour cream and cilantro. Serve with lime wedges.
Nutrition
Calories:
240
kcal
|
Carbohydrates:
6
g
|
Protein:
31
g
|
Fat:
11
g
|
Saturated Fat:
2
g
|
Polyunsaturated Fat:
1
g
|
Monounsaturated Fat:
7
g
|
Trans Fat:
1
g
|
Cholesterol:
243
mg
|
Sodium:
981
mg
|
Potassium:
510
mg
|
Fiber:
1
g
|
Sugar:
3
g
|
Vitamin A:
482
IU
|
Vitamin C:
3
mg
|
Calcium:
124
mg
|
Iron:
2
mg