The added layers of deliciousness in these stuffed chicken breast recipes are everything you need to switch family dinners and food gatherings!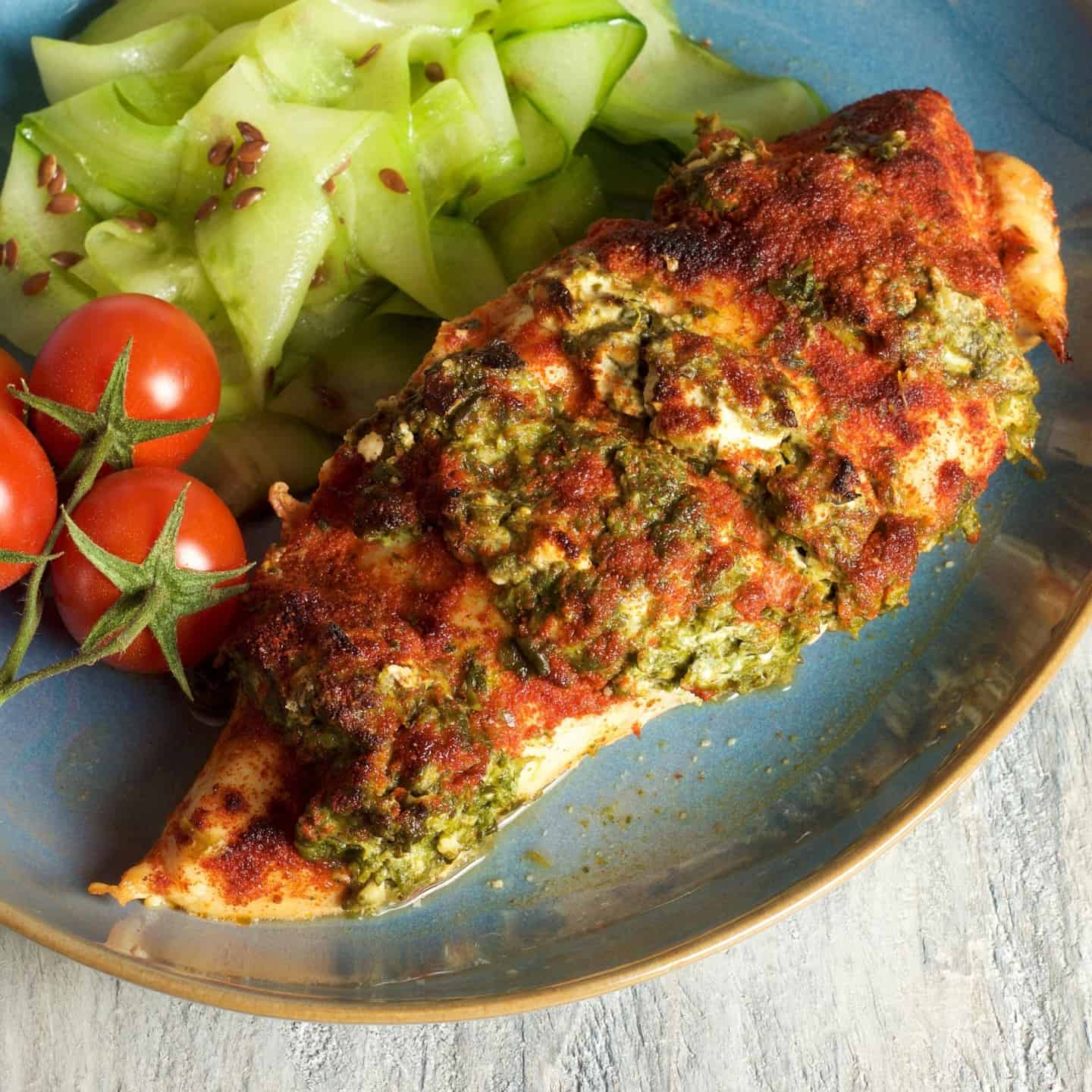 Undoubtedly, chicken breasts are a delight in any cuisine with the flavors and depth they bring to any dish, but they can get boring when it's the same style over and over.
But with these stuffed chicken breasts, you get the perfect meal to put a smile on the face of whoever tries it.
Our tantalizing stuffed chicken breasts have easy recipes you can get done in under an hour and elaborate recipes that are sure to please a crowd.
The bacon-wrapped stuffed chicken breasts is the first recipe on our list that switches up the everyday chicken dish.
This stuffed chicken breast recipe has the flavors, texture, and depth that keep you coming back for more.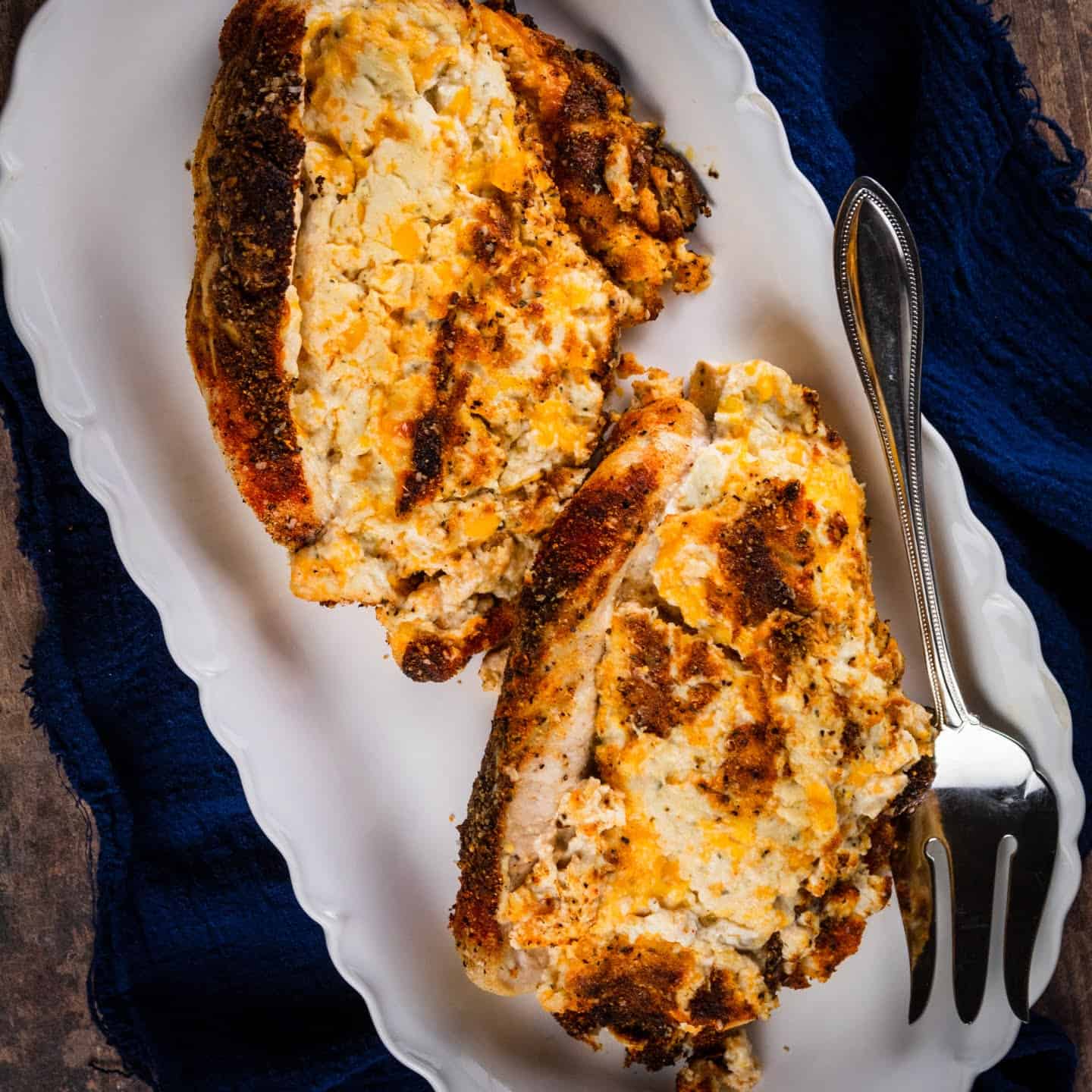 This is the crispy crowd-pleasing dish with delicious cream cheese and ranch dressing filling.
The great recipe is a copycat that promises to taste even better than the original.
The ingredients required for this super tasty dish include chicken breasts, shredded cheddar cheese, onion and garlic powder, ranch seasoning, cream cheese, black pepper, Worcestershire sauce, and salt.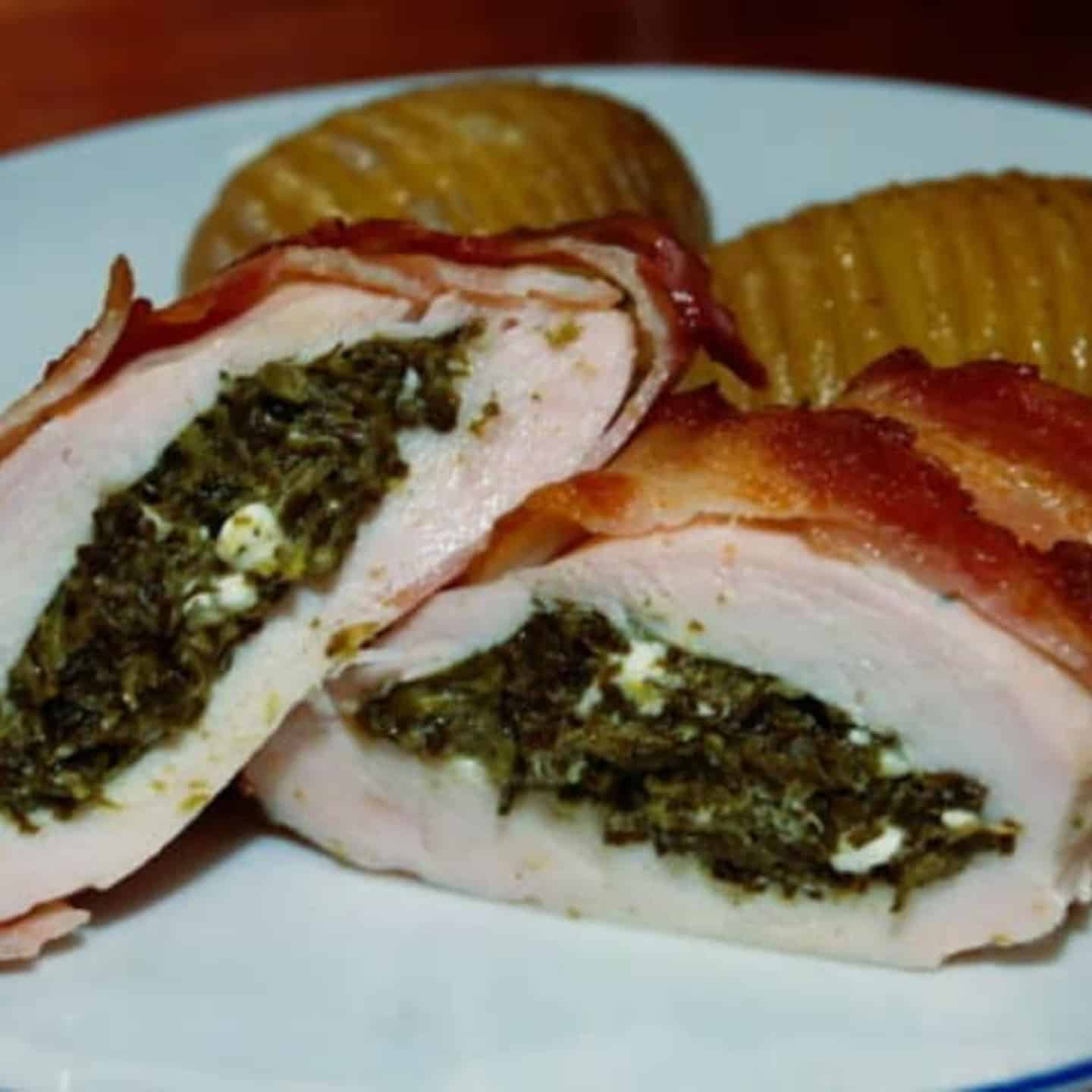 This stuffed chicken breast recipe is nothing short of amazing, with flavors that blend so well to give an absolutely delicious meal.
The dish gives a melt-in-your-mouth feel with the moisture and spices absorbed by the chicken breasts.
It's also stuffed with spinach bringing the meal to a healthy and delicious completion. The ingredients are minimal and include bacon slices, skinless chicken breasts, spinach, parmesan cheese, mayonnaise, and garlic.
The spinach-stuffed chicken breast is an amazing dish you can make in one cast iron skillet!
This amazing meal is made with pan-seared chicken breast with cheese stuffed in it alongside spinach, seasonings, and artichokes.
Get spinach leaves, seasonings, and shredded mozzarella cheese from your pantry, pan-sear your chicken breasts, and bake them until they're golden brown.
If you think the mushroom filling is great in dishes, then you want to try this easy recipe. It's flavorful and comes simmered in a creamy mustard garlic sauce.
The dish is healthy, keto-friendly, and super yummy, with the flexibility to accommodate the toppings of your choice.
Get your oven-safe pan out and get this dish ready with its meal prepping time of 50 minutes.
This olive garden copycat recipe incorporates many ingredients to give one of the best-stuffed chicken breast dishes you can ever taste.
These ingredients include a cheese mixture, sun-dried tomatoes, minced garlic, mashed potatoes, olive oil, baby mushrooms, and a host of other ingredients.
Serve the stuffed chicken marsala over mashed potatoes or garlic, and top it with mushroom sauce.
The chicken cordon bleu is always a welcomed dish on the dinner table with the layers of flavors and texture it brings to your palate.
Get your baking sheet out to accommodate ingredients, including thick chicken breasts, ham slices, swiss cheese, and bread crumbs.
The delicacy is also drizzled with a cream sauce made from butter, flour, milk, chicken bouillon, dijon mustard, Parmesan cheese, and Worcestershire sauce.
If you love veggies with chicken, this quick recipe is healthy, gluten-free, and delicious.
It's made with cut chicken breasts, feta cheese, fresh baby spinach, olive oil, black pepper, and red pepper flakes.
It's super easy to make with a meal prep time of about 30 minutes and fits perfectly as a busy weeknight meal.
This is the chicken breast dish you want to have if you're looking to wow your family and friends at gatherings.
It's an easy recipe to make with minimal ingredients and takes under an hour to cook.
Get free-range chicken breasts and cut through with a large sharp knife, stuff them up with your veggies, cheese, and seasonings, and cook through in your preheated oven.
If you're looking for something simple, healthy, and incredibly tasty with chicken, this is the recipe for you.
It's a beautiful dish that tastes even better as it incorporates goat cheese and mozzarella cheese too!
Season, stuff, and sear chicken breasts in one skillet and transfer to your oven to bake till finally cooked.
Tender and juicy Fajita stuffed chicken breasts sound delicious at any time, and it's sure to satisfy your cravings.
It's filled with seasonings and spices and cooks in under 45 minutes to give you a satisfying dish.
Mix your seasonings in a small bowl, saute your veggies and pepper at medium heat, stuff and sear your chicken, then finish cooking in the oven. Serve with green salad and toppings of your choice!
This recipe incorporates ham, cheese, and lemon butter sauce to make a delicious and filling meal.
You can use your favorite ham and cheese to suit your taste and make the perfect meal.
Ensure not to overcook the chicken to get that juiciness and tenderness you desire.
Fancy a bit of Italian cuisine? Get your recipe notes, baking sheet, and pantry ingredients to get this dish ready in about 40 minutes.
This is one of the chicken recipes with minimal ingredients, including thinly-sliced chicken breasts, prosciutto, provolone, and parmesan cheese, milk, and breadcrumbs.
Cook till your roll-ups are golden brown, and top with fresh parsley.
This stuffed chicken breast recipe is what you want to make to leave an impression.
It's elegant, tasty, rich, and healthy, yet it incorporates a few simple ingredients.
It's a dish you can make in one cast iron skillet in about an hour. Bake till it's well-cooked and cut into rounds before serving.
Casseroles are family favorites, and this recipe incorporates stuffed chicken breasts in a casserole to make a delicious and nutrient-filled dish.
The casserole is made with fluffy quinoa, pizza toppings of your choice, and garlic-herb cheese and pepperoni-stuffed chicken breasts.
Serve hot immediately after cooking, and enjoy!
Chicken breasts and cheese is a mix that can't go wrong, and when baked in balsamic glaze, it's one divine meal that'll have you coming for seconds!
Your cream cheese mixture combines provolone, mozzarella, and Italian blend cheese.
Seasonings include dried thyme, garlic powder, salt, and pepper. Spread balsamic sauce over the chicken and top with fresh basil.
This recipe gives you fantastic flavors from its array of ingredients, and it's surprisingly easy to make!
It incorporates brie cheese, Himalayan pink salt, fresh spinach, ground black pepper, cranberries, and coconut oil.
Serve the chicken breasts hot with roasted potatoes, rice, or quinoa.
This simple stuffed chicken breast recipe takes the win on a busy weeknight.
It's chicken breast stuffed with fresh spinach, cream cheese, bacon, and parmesan cheese.
This is then baked and topped with shredded mozzarella cheese and marinara sauce to give a flavorful dish.
The Caprese stuffed chicken sees tomato slices, mozzarella cheese, basil, herbs, and balsamic vinegar, making a powerful and delicious combo.
It's a super easy dish to make in a skillet, and it's packed with nutrients and flavors to deliver a satisfying meal.
Broccoli is a fantastic vegetable that several people love to incorporate into their dishes, and stuffed chicken is inclusive.
This recipe is super easy to make as much as it's yummy and healthy.
Bake till the chicken is no longer pink and serve hot.
This is another simple stuffed chicken breast recipe with a few ingredients in its preparation.
These include skinless, boneless chicken breasts, dried blueberries, crushed red pepper, BBQ sauce, minced garlic, goat cheese, and fresh rosemary.
Bake in the oven till it reads an internal temperature of 160F and wait 5 minutes before cutting.
This dish has chicken breasts stuffed with Greek-inspired ingredients with feta cheese.
The ingredients, including roasted red peppers, spinach, artichokes, cheese, olives, and black olives, are slow-cooked till your chicken breasts are tender and juicy.
You can experiment as desired with the fillings to make the dish suit your taste.
This recipe makes a creamy, gooey, and delicious stuffed chicken breast dish with the amount of cheese used in its preparation.
It's easy to cook and requires a few ingredients you can easily fetch from the pantry.
Serve hot with fresh basil, and enjoy.
Zucchini remains a favorite vegetable in several families, and you can use it to make delicious stuffings in chicken breasts.
This dish can be made in about an hour, and it promises to be satisfying as much as it's healthy.
If you're a seafood lover, you will find this recipe elegant, enjoyable, and satisfying.
It's the perfect dinner for a date with your significant other that'll leave them smiling and loving you better at the end.
Its ingredients are minimal, and you can serve it with rice pilaf, orzo, and a host of other side dishes.
The Lasagna stuffed chicken is chicken breast stuffed with ricotta and topped with mozzarella cheese and marinara sauce.
It's a dish you can make in about 40 minutes and enjoy immediately!
Cajun cuisine is thoroughly enjoyable, and these chicken breasts are to die for with Cajun-inspired ingredients.
It's with enough spice to warm you up on a cold night and enough flavors to serve a gathering.
It also gives a melt-in-your-mouth feel with the cheese and peppers that go into its preparation.
Primavera stuffing for this dish is veggies, cheese, and seasonings to make your chicken breasts absolutely worthwhile.
The veggies include zucchini, yellow squash, and tomatoes. Your other ingredients include potato, onions, olive oil, mozzarella cheese, Italian seasoning, garlic powder, salt, and pepper.
This dish is perfect on dates and busy weeknights.
This recipe is your go-to if you want a chicken dish that tastes almost like a bagel!
It is packed with nutrients, flavors, and textures, making it a highly satisfying dish.
The meal takes about 40 minutes to get ready, and you can top it with fresh chopped chives if you wish.
This recipe incorporates a mix of sweet potatoes, chicken breasts, and seasoning to make an absolutely delicious dish.
It's best served hot with cream cheese and spring onions.
This is one of the easy weeknight meals with fantastic flavors that are also excellent to share with your companion.
It has a total cook time of about an hour and uses ingredients you can easily fetch from your pantry.
You can serve it with a green salad or garlic bread.
The spice and seasoning you get from these juicy, tender chicken breasts make it absolutely worth your time.
This tender and juicy chicken breast with the combination of melty cheese and jalapeno peppers keep this dish top on the list of satisfying dishes.
Ensure to bake till bacon is crispy for a fine dining experience.
This recipe fills chicken breasts with avocado and sun-dried tomatoes.
The meal is healthy, yummy, and goes great with rice.
Cook in one skillet and transfer to your oven till it's cooked!
Sweet apples and creamy gouda cheese make all the difference in this chicken breast recipe.
It's the ideal meal for a date or small family gathering.
It takes about 45 minutes to cook and is easy to clean up after cooking!
This is another chicken breast recipe that's juicy and flavorful, with an array of condiments and seasonings in its preparation.
The dish is gluten-free and takes about 40 minutes to cook.
The ingredients needed to make this delicious chicken breast recipe include Roma tomatoes, cremini mushrooms, balsamic vinegar, cooking fat, skinless, boneless chicken breasts, olive oil, and fresh basil.
It's an elegant dish that's satisfying for yourself and classy for a date.
Takeaway
These are the best-stuffed chicken breast recipes you can rely on to make your dining experience absolutely worthwhile. Share with your friends and family and see a new level of intimacy and comfort! Also check out my easy chicken breast recipes with few ingredients for more ideas.