I've rounded up my favorite 50 cheap dinner ideas that offer the best value for your dollar. They feature cheap ingredients but still deliver big on taste. And the best part is that you probably have most of them in your kitchen, so you won't need to buy much.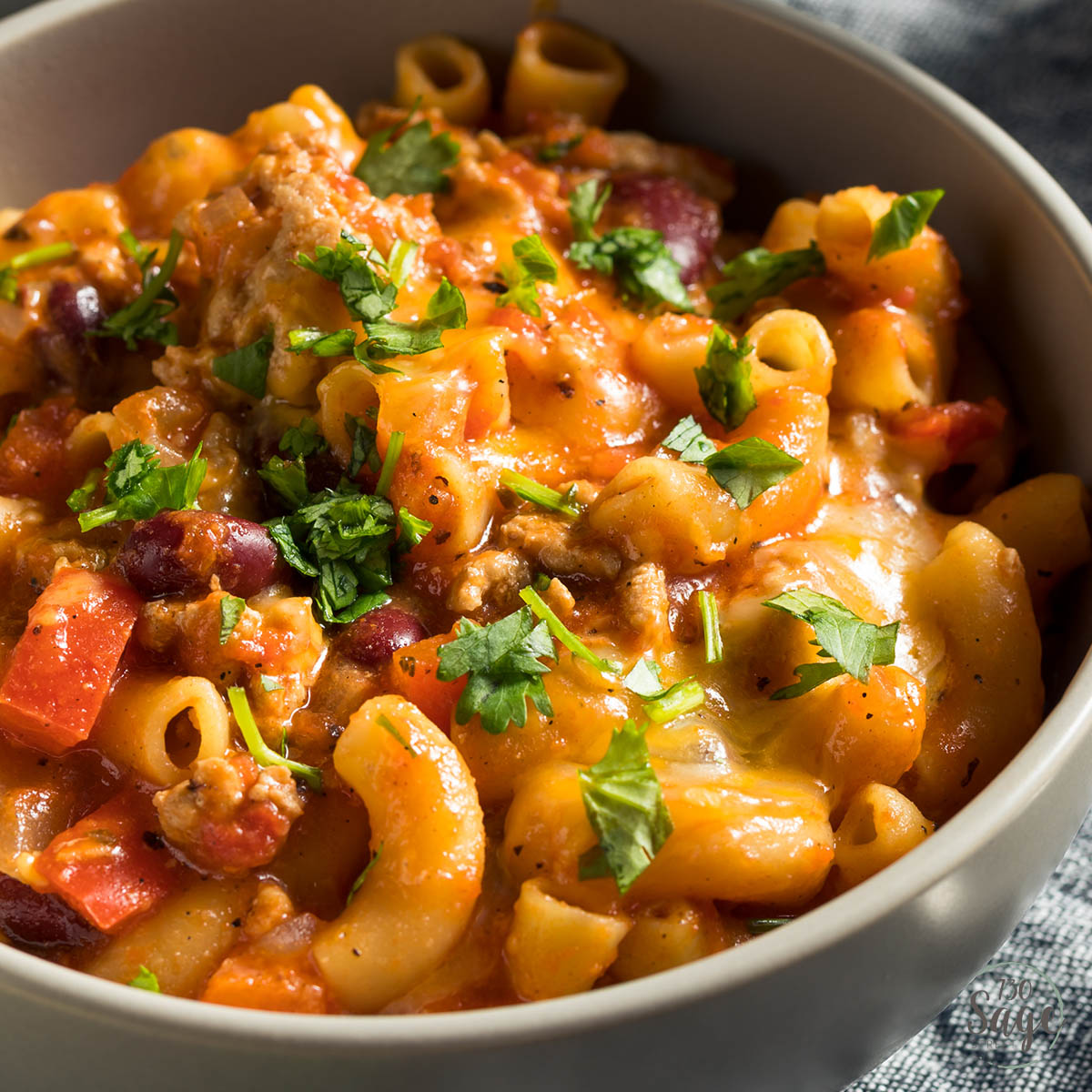 Shopping for beef or meat in general is expensive. Check out my cheap beef cuts article for ideas and inspiration.
Contents
When money is tight, it makes sense to slash your spending at the grocery store. But eating on a budget doesn't mean you have to sacrifice flavor or nutrition. You can still enjoy great meals without breaking the bank.
So whether you're feeding your family or just you and your partner, these cheap meals under $10 will keep everyone satisfied.
These dinner ideas clock in around $10 or less, from pastas to casseroles, stews, and salads. The prices may vary slightly depending on your location or where you choose to shop.
But regardless, they're proof that delicious and nutritious meals don't have to be expensive and are worth trying! Remember, if everything fails, there's always chocolate!
What is the cheapest meal you can make?
Some cheap dinner ideas under $10 below are among the cheapest meals you can make for your family. From pasta and jarred sauce, grilled cheese sandwiches to 5-ingredient chili recipe. They're sure to keep everyone happy and satisfied.
What to cook for under $10?
White Cheddar Mac and Cheese , Buffalo Chickpea Wraps, Bean and Cheese Burritos to name a few. These budget-friendly meals can feed your whole family for just $10. They are roughly calculated with the assumption that you have kitchen staple ingredients like oil, spices and herbs.
What can you cook for $5?
Cabbage and beans, ramen stir fry and lemon pepper chicken sausage & kale stir fry are some of the cheap meals under $5 bucks.
Cheap Healthy Meals
Looking to eat healthy meals under $10 on a budget? These cheap dinner ideas can feed you and your family for just a few dollars per serving without sacrificing flavor. You might just find some new staples to add to your recipe collection.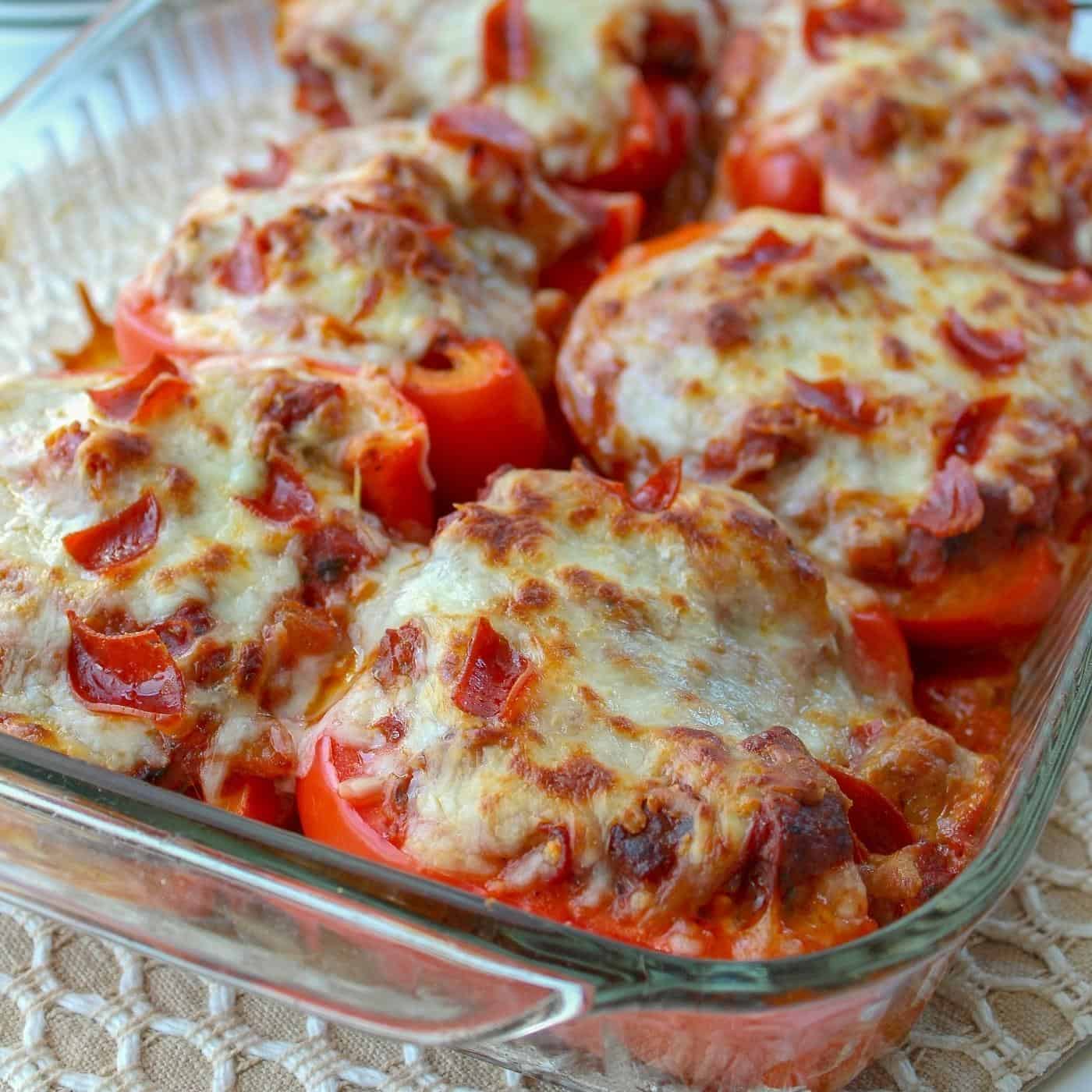 Filled with italian sausage, pizza sauce and peperoni, then topped with gooey mozzarella, these mouthwateringly delicious pizza stuffed peppers will wow your tastebuds and keep your wallet full.
Best of all, they come together so easily and just 30 minutes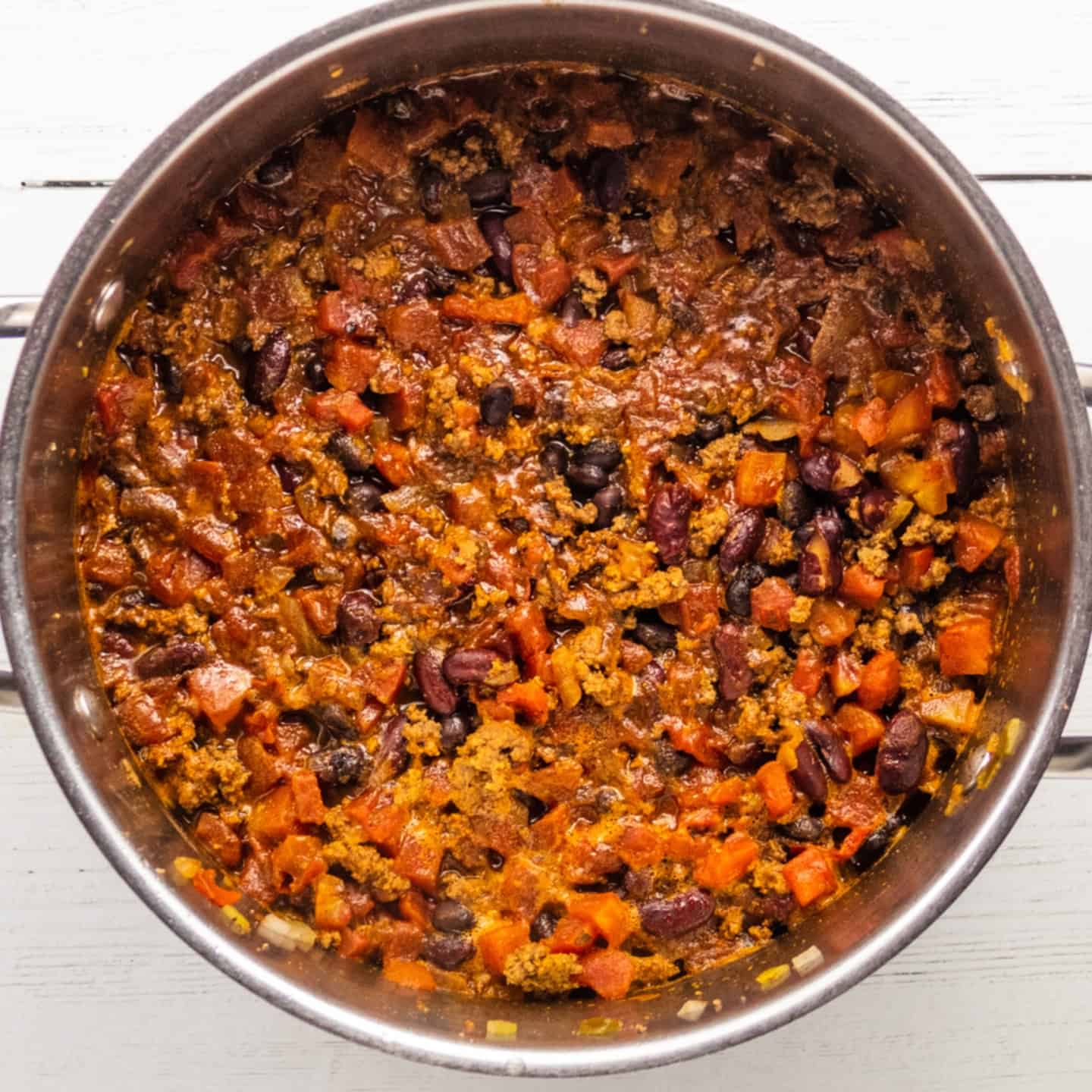 This 5 ingredient chili recipe is comfort food at its finest. It comes together in one pot and has everything you'd want in a hearty stew.
Ground beef is simmered with diced tomatoes and green chiles, hearty beans, warm spice like chili powder.
It's oh-so-good and satisfying - the whole family will be begging for seconds. The part? You can use this chili recipe to make a delicious chili cheese fries.
Made with just 5 ingredients and ready in less than 40 minutes, this casserole recipe is a perfect weeknight dinner.
Chicken breasts combine with bell peppers, cheese and fajita seasoning for a cheesy and savory sensation with every bite. This delicious dish is sure to become a family favorite.
Bite-size chicken breasts are soaked in a herby, garlicky, lemony marinade then grilled to perfection. They are perfectly charred, juicy and overflowing with delicious flavor.
These skewers pair amazingly well with just anything from potato salad to corn on the cob, fried rice, stir fry veggies and more.
This one-skillet recipe is not only flavor-packed and fuss-free but also quick and easy to prepare with just a handful of simple ingredients.
It combines with orzo, broccoli, shallots, rotisserie chicken and cheddar cheese.
If you love spinach dip and looking for new ways to incorporate it into your life, then this is a must-try recipe.
Pasta shells are stuffed with creamy spinach dip then smothered in marinara sauce and cheese. A classic comfort food that will please kids and adults alike.
Better yet, you can prepare this delicious dish ahead of time.
Dress up your leftover rice with some seasoning, corn, black beans and bell pepper for a scrumptious, healthy dinner.
Serve the fried rice as it is or alongside salsa and guacamole for a Mexican-inspired meal.
Healthy, budget-friendly, quick and downright delicious, what's not to love? This ramen stir fry is full of colorful vegetables and easy-to-make sauce made with pantry staples.
Feel free to make it your own with more veggies, if you like.
Satisfy your comfort food cravings with this tomato soup classic. You'll especially love the addition of caramelized shallots. They add an incredible depth of flavor to the dish.
Grab some good crusty bread or grilled cheese sandwich and get ready to mop up every last bit of this cozy bowl of soup.
This recipe has all the delicious flavors of the classic BLT sandwich packed into a rich salad with punchy lemon-herb dressing.
The dressing goes well with just about anything, so feel free to double or triple the batch. This salad doubles as a main or side dish.
With a few everyday ingredients, you can make these juicy, tender and flavor-packed honey-glazed pork chops in no time.
They're affordable, easy to make and guaranteed to be a hit at the family dinner table.
Pair them with mashed cauliflower or steamed vegetables and you'll have a full meal.
Everyone will love this incredibly quick and simple chicken skillet that features chicken breasts coated with a sweet and spicy sauce with sesame seeds.
Serve over quinoa for a tasty, healthy dinner. Brown or white rice also works in this recipe.
Tired of fried and breaded chicken or just looking for a simple yet delicious chicken tenders recipe? Try this one-pan chicken and veggies recipe.
Tangy balsamic vinegar and zesty Italian dressing give this dish so much flavor, and the meat drippings cook the veggies to perfection. This will be a new family favorite.
Cheap Easy Meals (few ingredients and less than 30 minutes)
These cheap dinner ideas under $10 are perfect for busy families. They only take mere minutes to make and with a short ingredient list, some even fewer than 5 ingredients.
Loaded with sweet, garlicky chicken, steamed broccoli and rice, this healthy bowl of goodness is way better than take-out and easy on the wallet, too.
Try it for a well-balanced weeknight meal.
If you have chicken thighs in the freezer, you probably have everything you need to make this insanely delicious grilled maple mustard chicken.
Your family will request this grilled chicken recipe time and time again - it's that good.
This lighter version of mac and cheese only requires 5 ingredients and 30 minutes but still feels special. Everyone will love it, even the picky eaters.
Feel free to swap out broccoli for cauliflower, zucchini, or spinach, if you'd like.
All made in the same pan, this pasta recipe is a game-changer on busy weeknights.
Ground beef and pasta soak up tons of flavor from beef stock, herbs and Worcestershire sauce, then topped with cheese for a fuss-free meal that your entire family will love.
These tender, perfectly seasoned and intensely flavorful Italian turkey meatballs, drenched in rich and saucy tomato sauce, are delicious and make a quick and easy weeknight meal or fun substitute for a light Thanksgiving dinner.
Potatoes, smoked sausage and broccoli combo is always a crowd-pleaser. Topping it with gooey, melty cheese takes it to another level of indulgence that will have everyone asking for seconds.
This recipe feeds three, but you can easily double or triple the batch.
The entire family will enjoy this freezable, budget-friendly one-skillet dish bursting with Southwest flavors.
You're also going to love how incredibly easy it is. It's the perfect no-fuss weeknight meal for four or five.
Coconut milk, diced tomatoes, pasta and a few spices, and you've got a restaurant-worthy meal that's sure to be a hit with the whole family.
If your kids don't like spicy foods, cut down on the red pepper flakes.
Cabbage and beans combo is a budget staple that you can never go wrong with. You only need to add marinara sauce and top with cheese and dinner is ready!
Be sure to make a big batch that will feed your family all week long.
These crunchy and ridiculously good bacon-wrapped asparagus are just begging to be paired with something creamy, tangy, spicy and dippable.
They make the perfect appetizer or side dish for meats, salads and pasta dishes.
You only need kale, chicken sausage, lemon juice & zest, red onion, olive oil and pepper to make this healthy and flavorful stir fry recipe.
Best part? The whole thing takes just 10 minutes. This recipe works equally well with pork or turkey sausage...or whatever sausage you have around.
Cater for your large family or group with this deliciously easy 6-ingredient tortellini casserole. It comes together in a jiffy but tastes as if it took hours.
This Italian-inspired dish is about to become your new go-to weeknight recipe for guests and family alike.
Cheap dinner ideas don't get easier (and cheaper) than this. The recipe starts with Brussel sprouts and only has four other ingredients, including salt and pepper.
Enjoy these brussel sprouts over some creamy mashed potatoes, spaghetti, or alongside roasted vegetables.
If you're trying to incorporate more meatless meals into your menu, these vegetarian stuffed peppers are the way to go.
The meatless crumbles replace the ground meat, but it would also be delicious with lentils.
Serve with a dollop of sour cream or Greek yogurt, avocado and jalapenos for a Mexican affair.
Cheap meals for large families (6-10 servings)
These cheap family meals under $10 answer the question of 'how can I feed a large family cheaply?" so easily. This list covers my slow cooker brisket and a variety of dishes to balance your weekly meals rotation.
Tangy mayo, rich cream of chicken soup and melty cheddar cheese take the flavor of this casserole recipe to new heights.
No mayo on hand? Sour cream, Greek yogurt, pesto and Dijon mustard are excellent substitutes.
Sometimes the simplest dishes are the best. This one-pot wonder uses minimal ingredients you already have in your fridge or pantry shelf.
Feel free to add your favorite spices and herbs for extra flavor. Oregano, Cajun seasoning, fresh dill and cilantro are tasty additions.
This simple, healthy, yet seriously tasty bowl of goodness will satisfy your belly and tastebuds while keeping your wallet full.
The recipe calls for quinoa, but any whole grain will taste great. You can even add beans or meats if you're craving some extra protein.
Sloppy joes are always an economical meal. This crowd-pleaser gets an extra boost flavor from Dijon mustard and Mexican stewed tomatoes.
Every tasty bite will take you back to your childhood.
Looking for easy and cheap dinner ideas to make on the grill for your large family? These Peruvian-style chicken skewers are just the ticket.
Pair these mouthwatering kabobs with a side of coconut rice and salad for a picnic or party to remember.
Nothing is as comforting as a good goulash, and this easy, inexpensive recipe is sure to please everyone at the dinner table.
This recipe serves 10 but double the batch if you're feeding a bigger group. Leftovers can be kept in the refrigerator for up to 4 days. They freeze pretty well too.
Switch up your taco Tuesday with this incredibly flavorful and satisfying crock pot taco soup. You can use any ground meat of your choice in place of chicken or leave the meat out altogether.
Finish it off with a spoonful of sour cream or plain Greek yogurt, a sprinkling of grated cheese, avocado, green onion and salsa. But do you!
You'll love every meaty, saucy, creamy and cheesy bite of this bow tie pasta lasagna. It has all the delicious flavors of lasagna at a fraction of the work.
For a lighter version, leave out the cheese; it'll still taste amazing.
Italian seasoning, paprika, garlic powder, chili powder, salt, pepper and olive oil make a fantastic rub that imparts tons of flavor to the chicken quarters and gives them a nice crispy golden brown color.
Serve this finger-licking good dish as-is (with the vegetables) or add a side salad to round out the meal.
This is a quick, fuss-free, cheap dinner idea you can prepare for when you don't know what to cook. It uses simple, minimal ingredients to great effect and is sure to please your large family.
Loaded with vegetables and flavor, these fritters will disappear within minutes. They're pretty easy to make, too.
Serve with creamy avocado dressing and your favorite salad for a quick, scrumptious dinner.
Pasta dishes are the greatest cheap dinner ideas of all time. This one requires just a handful of ingredients but is not short on flavor.
Plus, it's perfect for non-seafood lovers!
Creamy, warming and comforting, this roasted butternut squash soup will keep everyone satisfied and happy without overloading your budget.
The addition of apple may seem strange, but its sweetness blends well with the savory and warm flavors.
You're going to drool over these slow cooker carnitas. Pork shoulder is cooked low and slow with spices and some juices until juicy and fall-apart tender.
This ultra-flavorful meat will take the carnitas to the next level. Load 'em up with your favorite topping.
Adults and kids love everything cheesy, and these easy beef enchiladas don't skimp. The recipe calls for Borden cheese, but any melty cheese would work perfectly.
A simple and refreshing cucumber tomato avocado salad or tangy Mexican coleslaw makes an irresistible companion to these enchiladas.
Cheap meals for two (couples)
Explore simple and budget meals for two people. Each recipe is ready in 30 minutes or less and with a handful of ingredients. Most of them yield two servings, so you aren't stuck with tons of leftovers. Enjoy!
Rich and garlicky pesto is the crowning glory of this dish. It gives the wraps a gourmet flavor that will leave everyone begging for more.
The best part is that they're easily customizable for whatever you have on hand.
This delicious dish uses bite-size chicken pieces cooked in a sweet, savory and slightly tangy sauce. It packs a major flavor punch and takes barely any time to prepare.
It's perfect as an entrée served with mashed potatoes and a veggie.
Save money on your grocery bill and whip up this ultimate pantry-staple pasta dish. It's creamy, cheesy, slightly spicy and tastes absolutely divine.
This will definitely make everyone happy! It's super easy and quick, too.
Pile high with black beans, red bell pepper, nacho cheese sauce, pico, avocado and red onion, this plate of goodness is flavor and nutrition-packed.
Plus, it's a clever way to get the kiddos to eat their veggies. Feel free to go crazy on the toppings.
With a crispy, golden-seared crust and juicy interior, this cheap dinner recipe is sure to become your new fave.
What's great about this recipe is that it pairs well with just about anything!
If you love Caprese salad, then you'll love this grilled cheese sandwich. Be sure to use fresh basil for a punchy flavor.
These fish fillets are perfectly charred and bursting with amazing flavor thanks to the Cajun seasoning and granulated garlic.
The sweet and spicy pineapple salsa on top rounds out everything.
You can use tuna or salmon if you happen to have them on hand.
This Asian-style dish will give you a gourmet experience on the cheap. Salty and rich miso paste combines with soy sauce, mirin and sesame oil to make a truly spectacular sauce for eggplants.
It's downright delicious and a great recipe to make ahead for last-minute dinners.
Related Budget-Friendly Recipes
If you like this collection of cheap dinner ideas, check out my top affortable meals including my tender delicious raised boneless short ribs slow cooker recipe and my collection of easy chicken breast recipes with few ingredients.