This stuffed peppers without rice recipe is an absolute game-changer for pizza lovers looking for that extra flavor in their meals. The recipe uses red bell peppers for the base, then stuffed with pepperoni, a succulent meat mixture, a homemade tomato sauce, and topped with mozzarella cheese.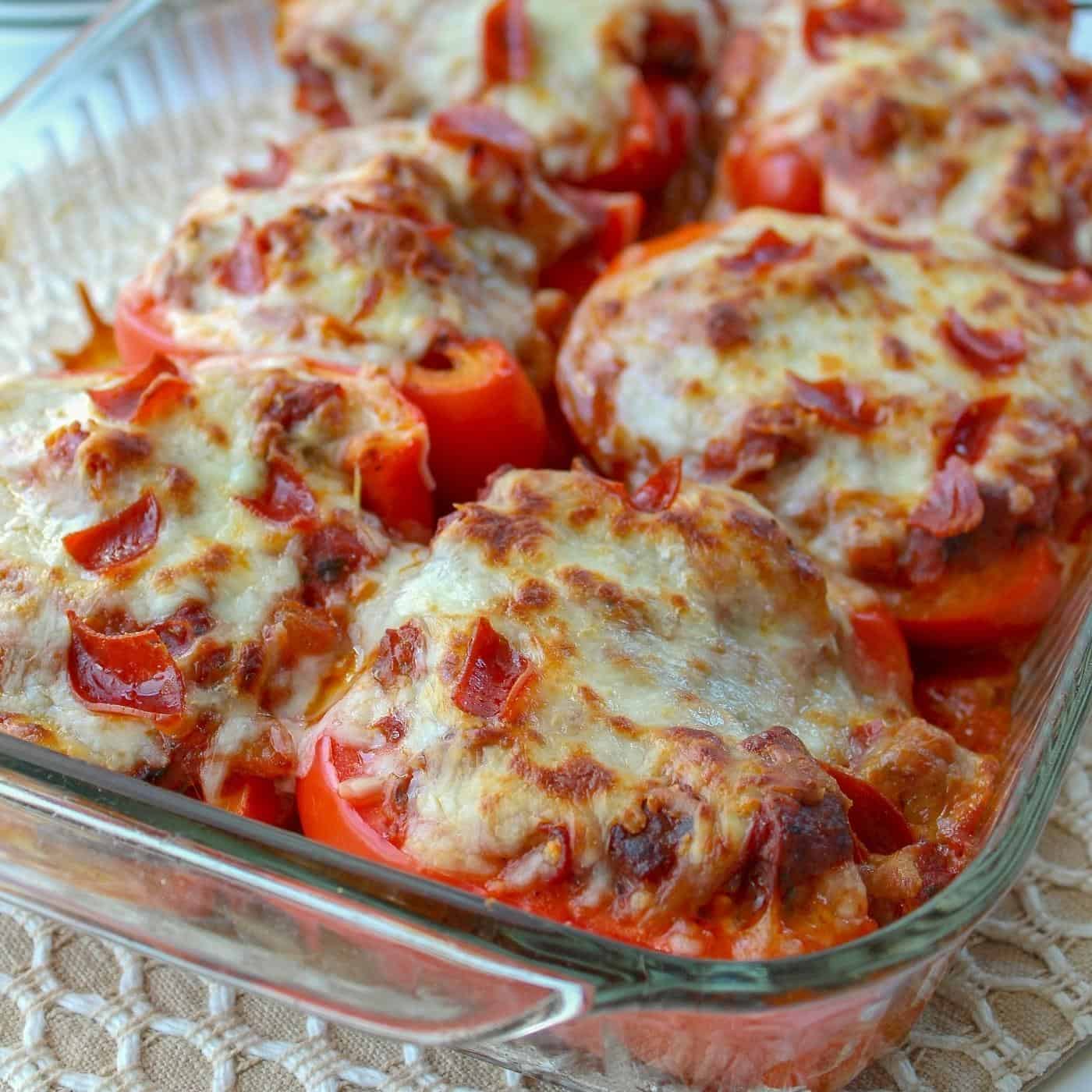 Contents
🍕 Pizza Stuffed Bell Pepper Recipe
Unlike most traditional stuffed pepper recipes with rice filling, this unorthodox method uses classic pizza ingredients instead.
It is far healthier, and you can still use your favorite pizza topping. I like to keep it simple and use sliced pepperoni and a delicious ground beef mixture, as well as mozzarella on top.
I love stuffed pepper recipes because they are incredibly versatile with their ingredients.
This stuffed pepper without rice can easily be made gluten-free, dairy-free, vegan, and sugar-free. This easy stuffed pepper recipe gets the nod every day and is a must-try for people watching their carb count.
🍽 What you need
This recipe that takes 5 minutes to prepare, and is a blended mixture of tomatoes, herbs, and spices. Just grab your favorite pizza sauce and get started!
Red or green bell peppers work well with this recipe, but I prefer red because they have that extra sweetness that goes well with my pizza sauce.
Substitutions
You can use chicken, ground turkey, pulled pork, veal, or any form of meat protein with stuffed peppers.
Stuffed bell peppers are great for using various types of cheese, like cheddar cheese, ricotta cheese, cream cheese, and my personal favorite Bree cheese.
If you're looking to add some healthy veggies to the mix, I sometimes add cooked cauliflower rice, eggplant, or zucchini to the sausage mixture.
🔪 How to make
Learn how to make this easy and affordable stuffed peppers without rice recipe in less than an hour with the guided instructions, top tips
Preparation
Step 1
Cut the large bell peppers in half and gently discard the seeds and part of the stork inside. If the pepper halves do not stand firm, slightly cut the bottoms (very thinly) without making a hole in the bottom so that they sit straight on the casserole dish, ready for stuffing.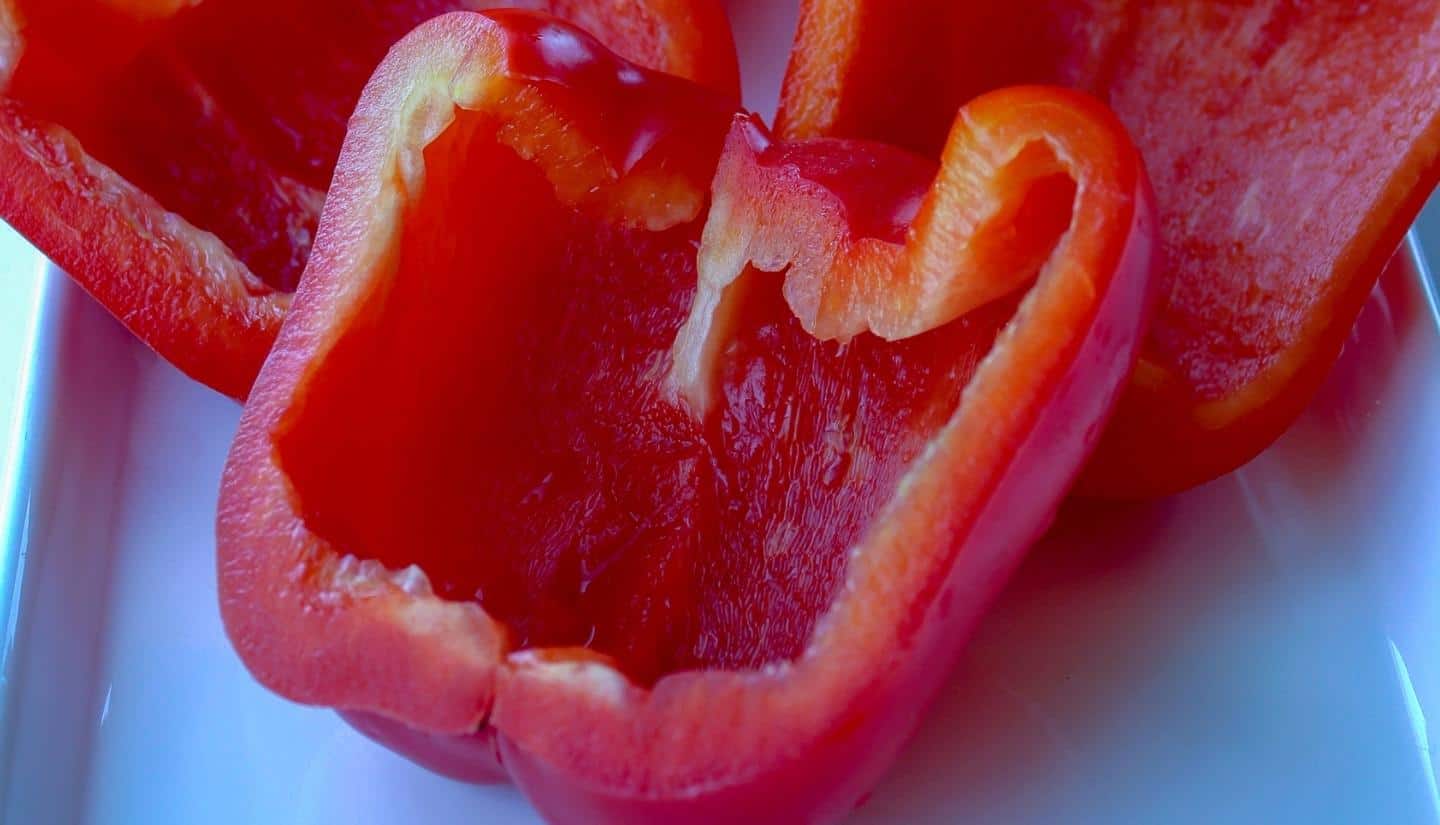 Step 2
Chop the onion and garlic.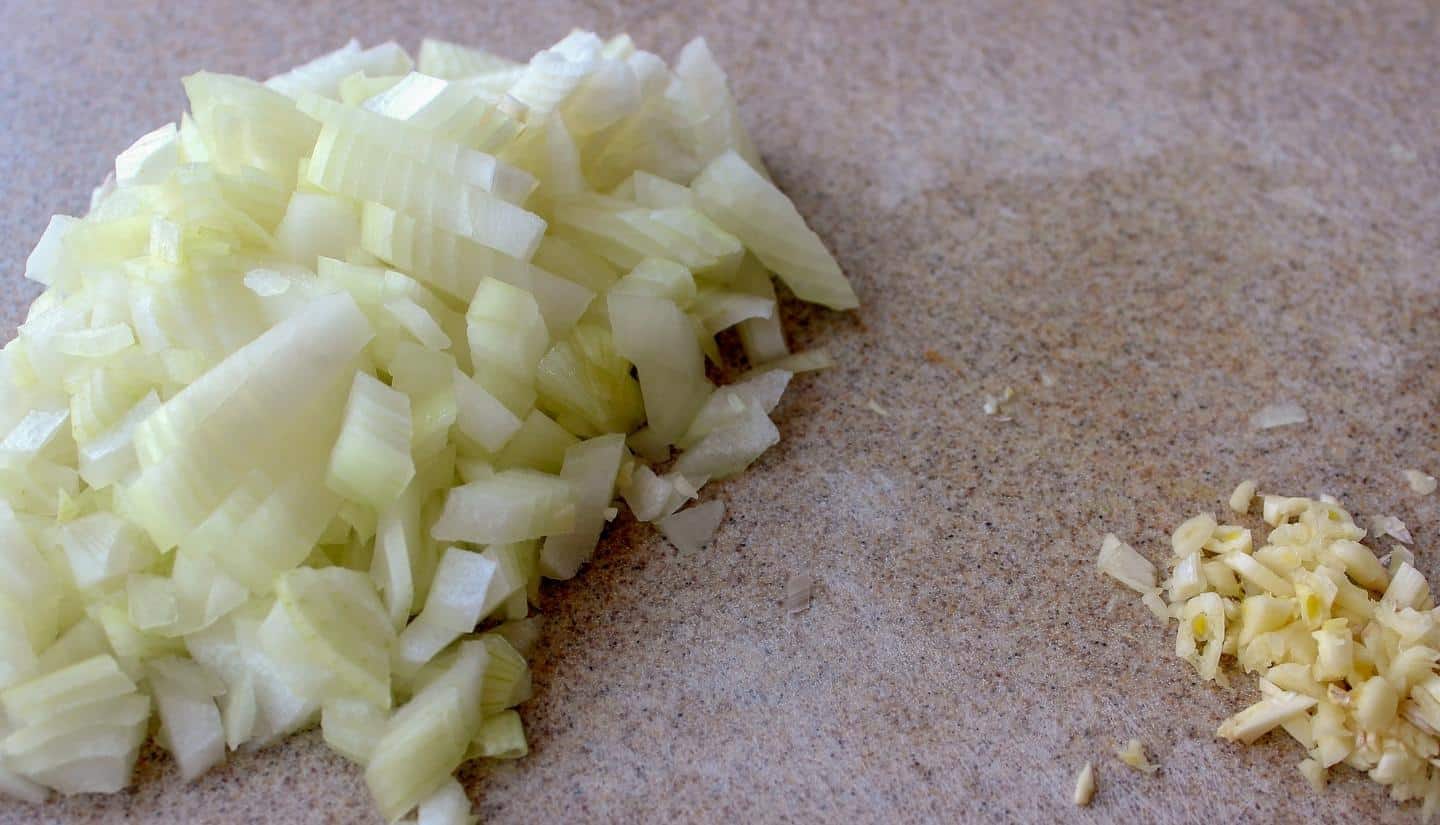 Step 3
Heat the olive oil in the skillet over medium-high heat and brown the sausage for a few minutes, breaking it up into small pieces as it cooks. Once it has browned, transfer it to a bowl.
Step 4
Preheat oven to 375 degrees Fahrenheit (190 degrees Celsius) and grease a casserole dish with cooking spray or melted butter.
Cooking Instructions
Step 1
Add the onions and garlic to the skillet and cook for 3 to 4 minutes until fragrant, then add the cooked sausage, pizza sauce, and herbs. Reduce the heat to medium and let it simmer for 5 minutes until the liquid has reduced and slightly thickened.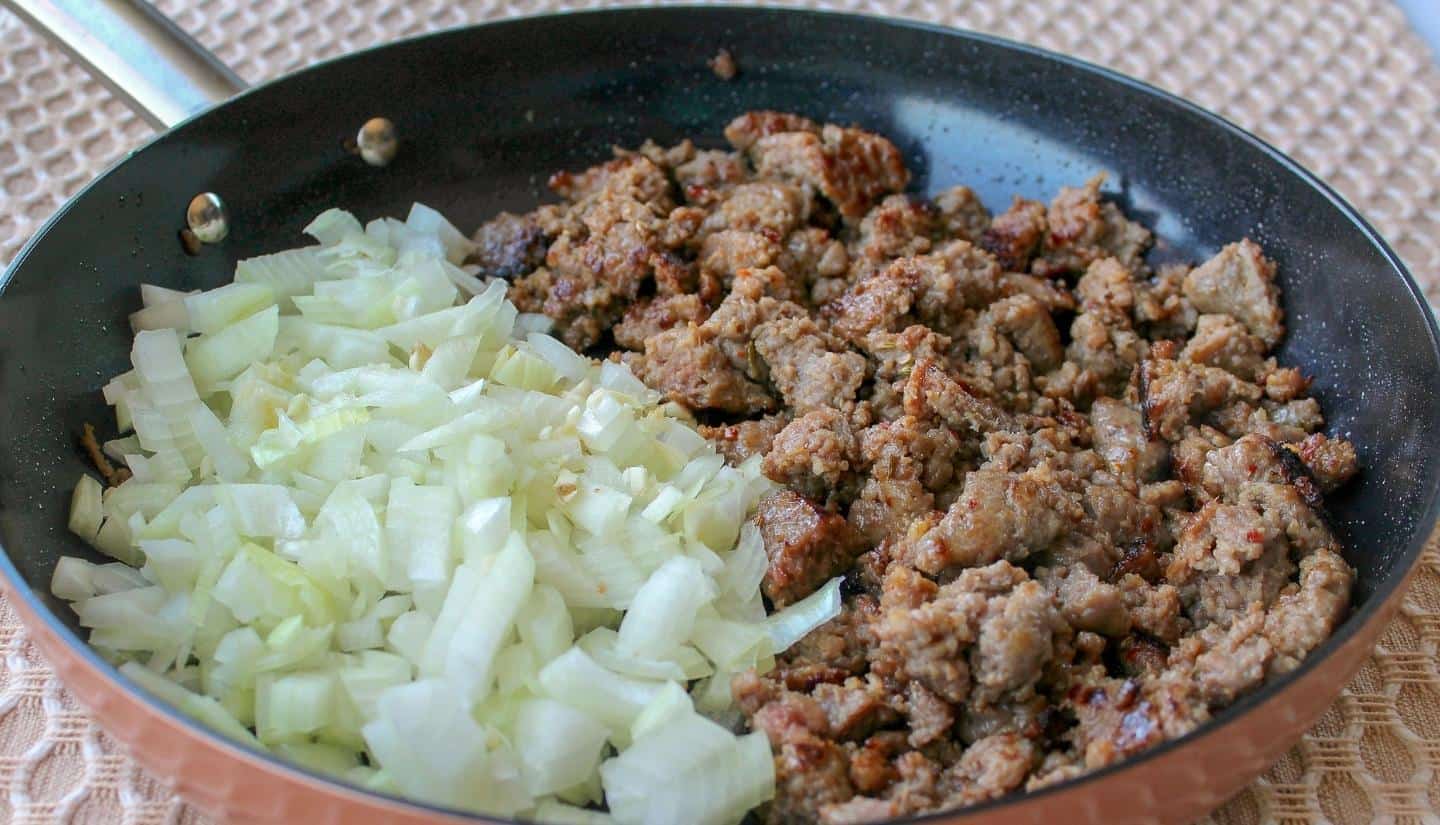 Step 2
Remove the skillet from the heat and add in the sliced pepperoni and ¾ shredded cheese. Mix the ingredients thoroughly and spoon them into the halved peppers.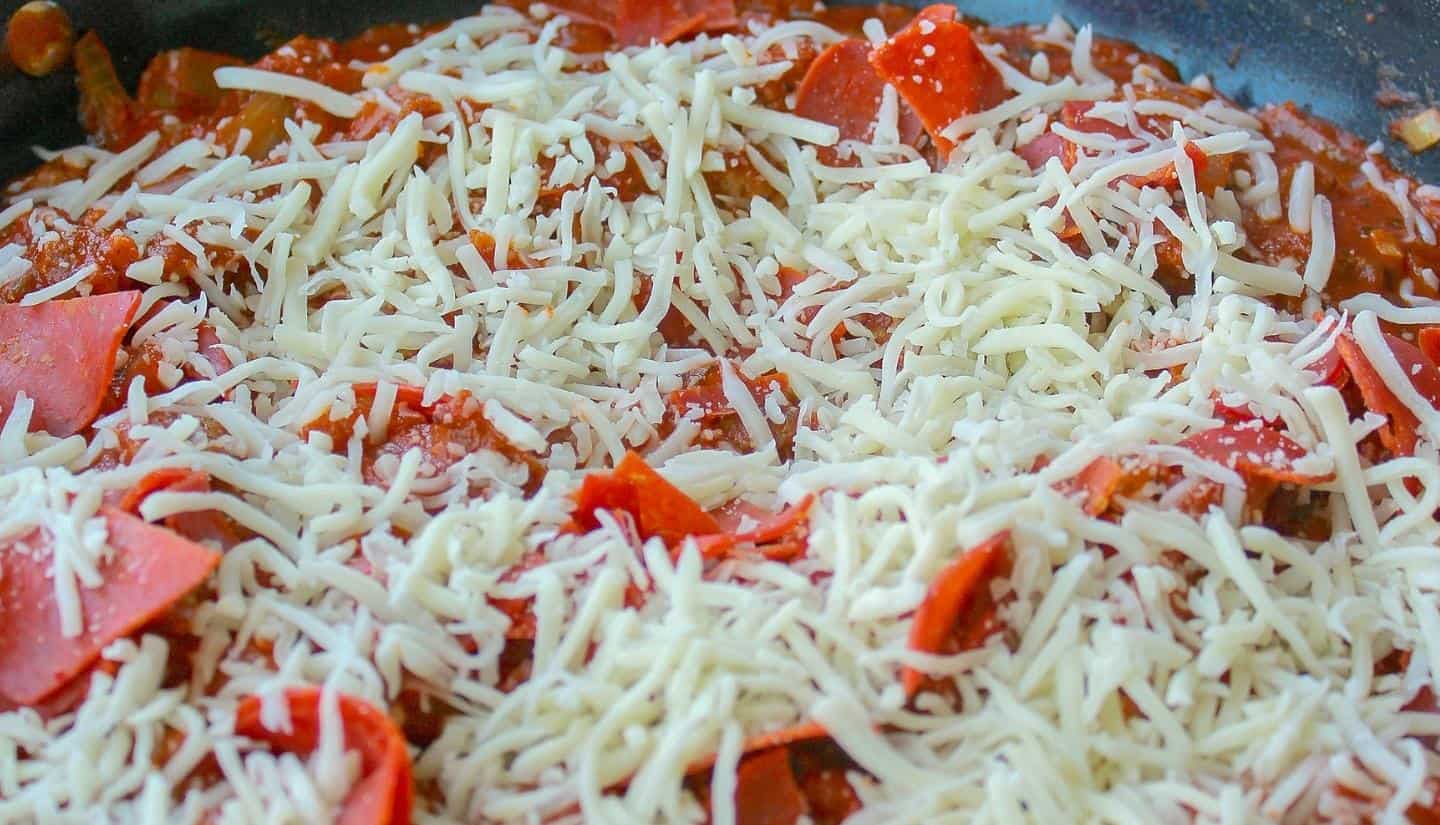 Step 3
You may want to have the peppers already sitting on the casserole dish to fill them or hold them over the skillet and spoon the mixture in that way.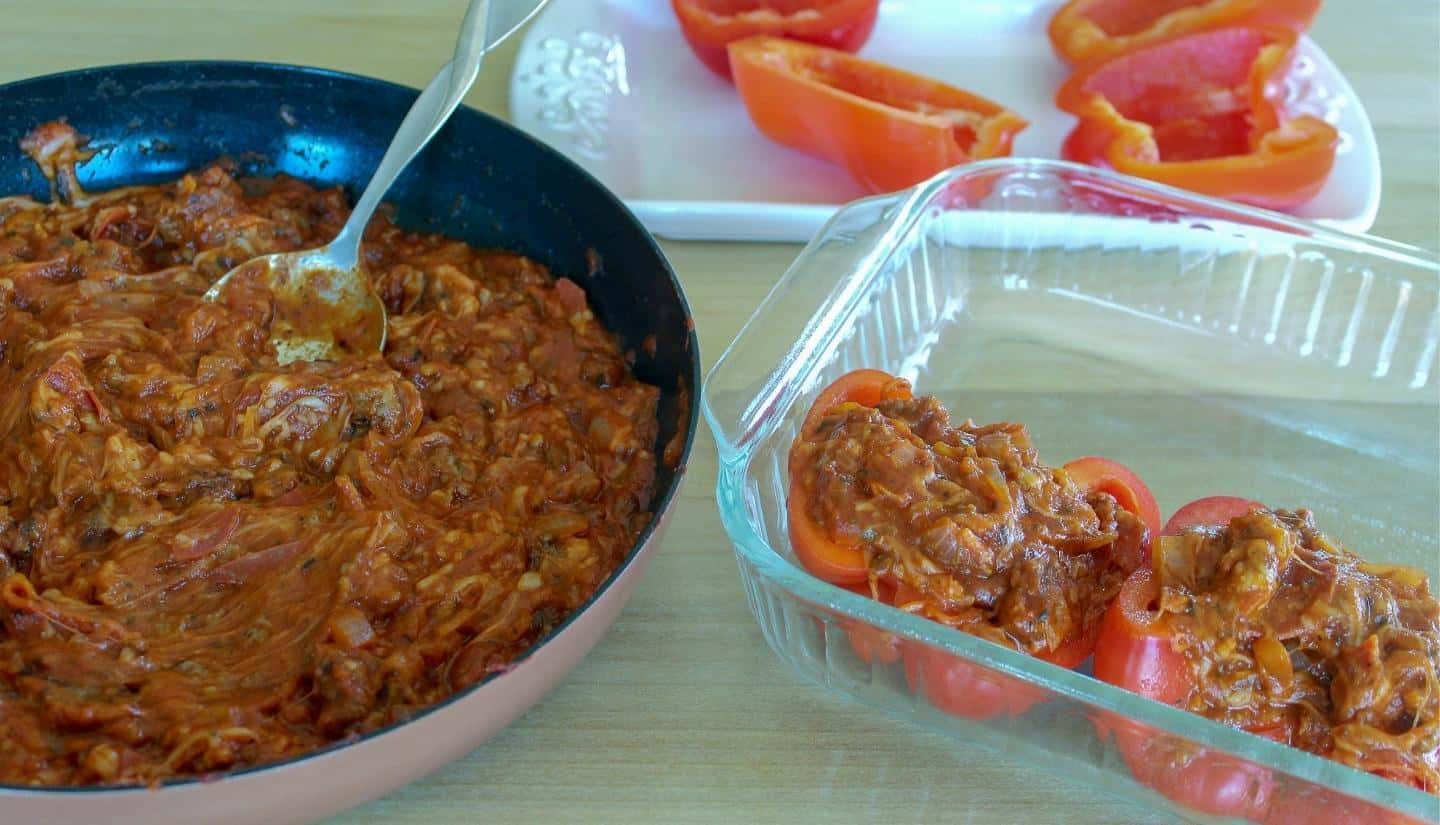 Step 4
Bake the filled peppers for 20 minutes until the peppers have softened, then add the pepperoni halves and remaining cheese.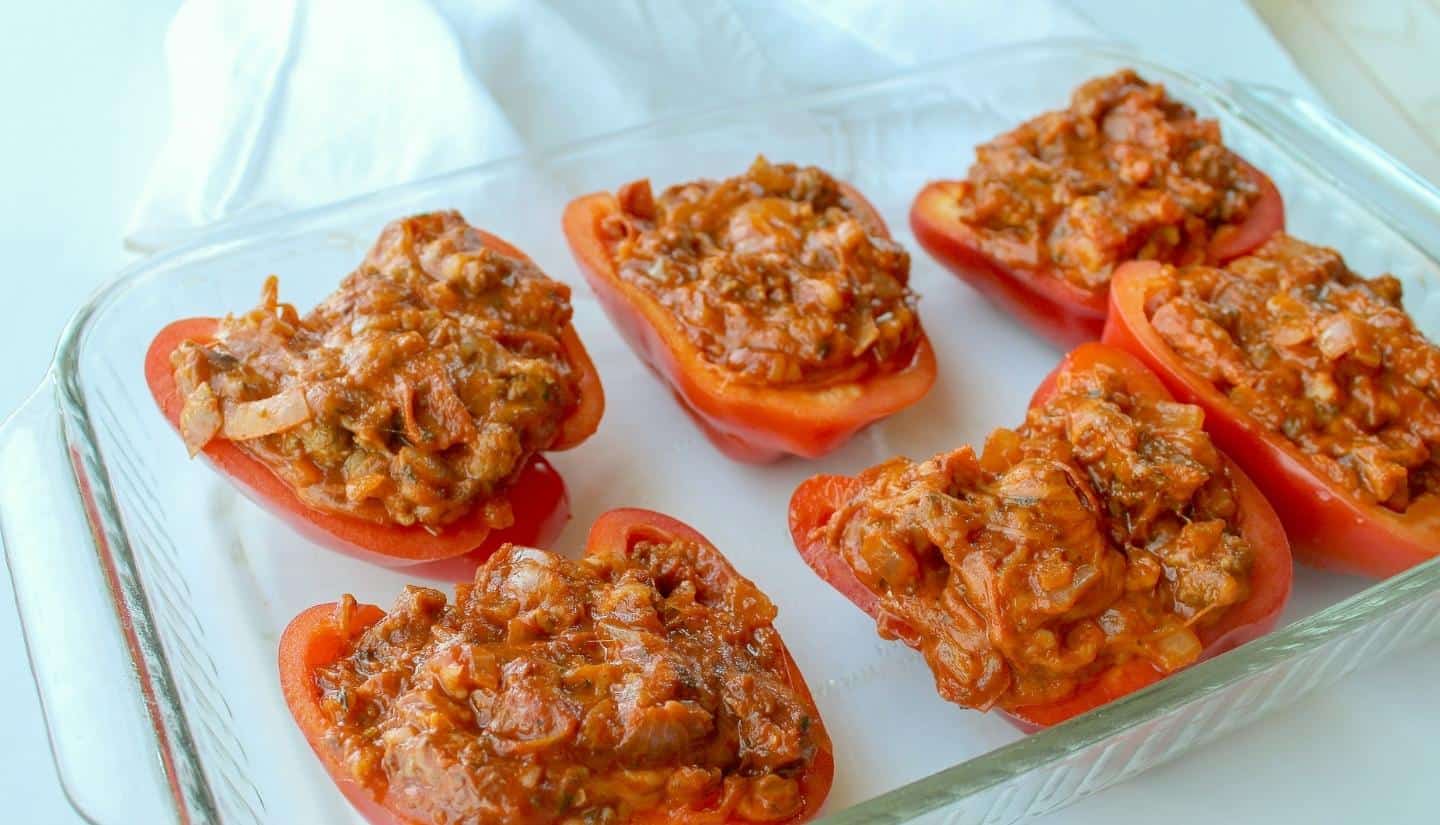 Step 5
Bake again for another 25 minutes until the cheese has melted and looks golden brown.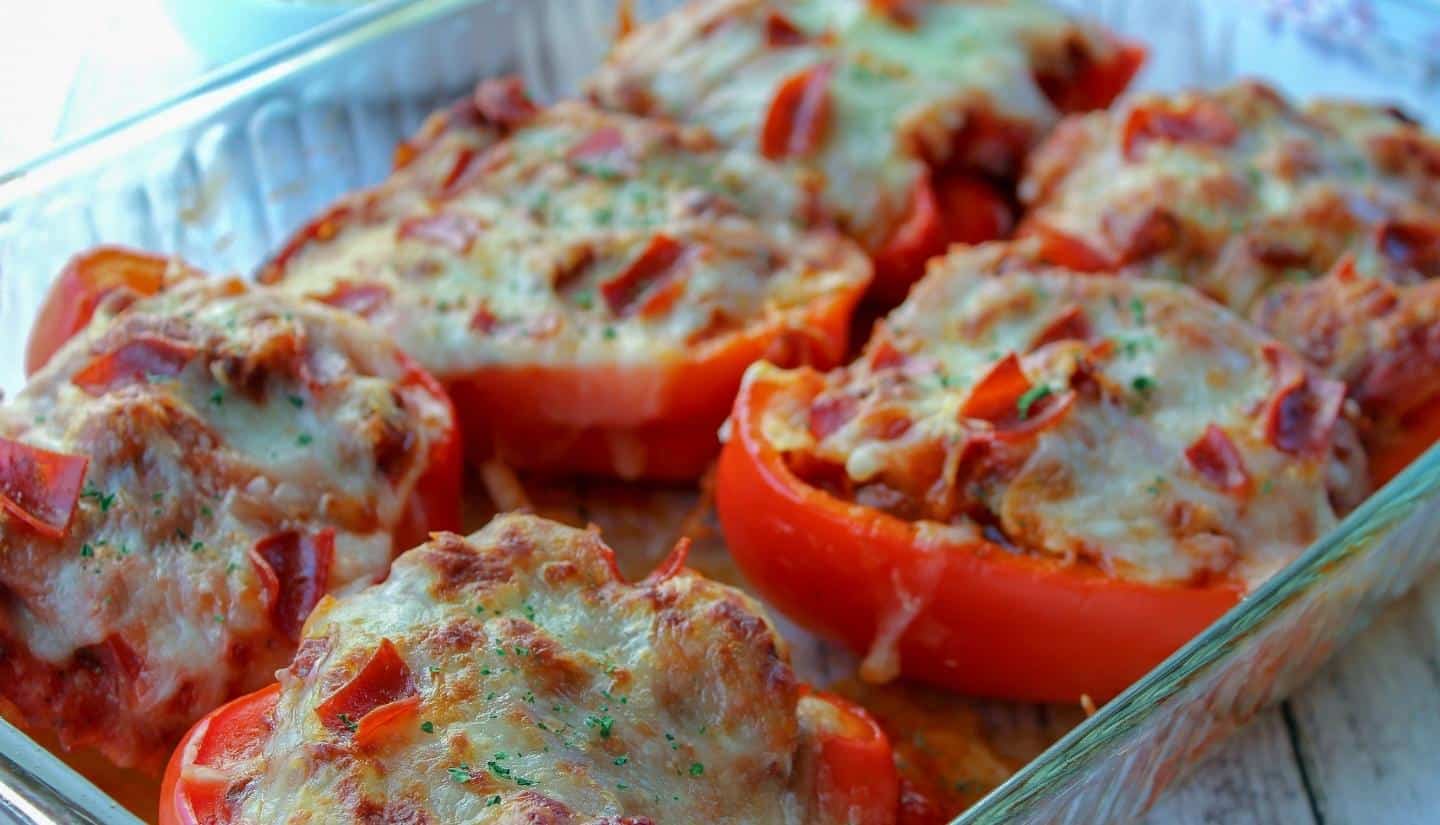 Step 6
Allow the peppers to cool for 2 to 3 minutes before serving.
Garnish - chopped fresh parsley, sour cream, diced tomatoes, or sliced green onions.
🙋 What toppings are best for pizza stuffed peppers?
The choice is yours entirely, whatever you put in your stuffed peppers will do the trick, or whatever you get on your regular pizza order. Sometimes I like to use prosciutto, bacon, and even use goat cheese on occasion
For this particular pizza stuffed peppers recipe, though, let's go with Italian sausage, pepperoni, garlic, oregano, and mozzarella cheese. Alternatively, you could replace the Italian sausage with Turkey sausage instead.
You can absolutely add about 1 cup of cooked quinoa to this recipe and spoon into large and cored bell peppers before baking.
📖 Delicious Variations
If you want more stuffed peppers recipes, then take a look at these variations that use similar ingredients and, as always, taste amazing.
Italian Sausage and Peppers
Combining green peppers and red peppers with spicy Italian sausage and seasoning. This recipe is an absolute Italian classic and a nice variation to the stuffed peppers that use the same ingredients but with the bonus of Italian seasoning.
Quinoa Stuffed Peppers
You can absolutely add about 1 cup of cooked quinoa to this recipe and spoon into large and cored bell peppers before baking.
This version of stuffed peppers is an upgrade to this low-carb stuffed peppers recipe that combines ground beef and sausage mixed with brown rice, diced tomatoes, and lots of herbs. It is a full-on hearty meal your family and friends will enjoy.
🥫 Storing
Easy stuffed peppers are the perfect meal to make in advance, store in the fridge ready for baking later, and store any leftovers.
Store in the Fridge
You can store them in the fridge uncooked wrapped in aluminum foil for up to 24 hours, and any cooked leftovers can be transferred to an airtight container. Bear in mind that after baking them, they will get soggier. Although they still taste amazing, warmed up in the microwave or eaten cold. Cooked leftover stuffed peppers will last up to 2 days.
Store in the Freezer
It is possible to freeze uncooked stuffed peppers for up to 3 months. Just fill them with the mixture, wrap them in aluminum for baking separately or cover the casserole dish in 2 layers of plastic wrap and bake from frozen.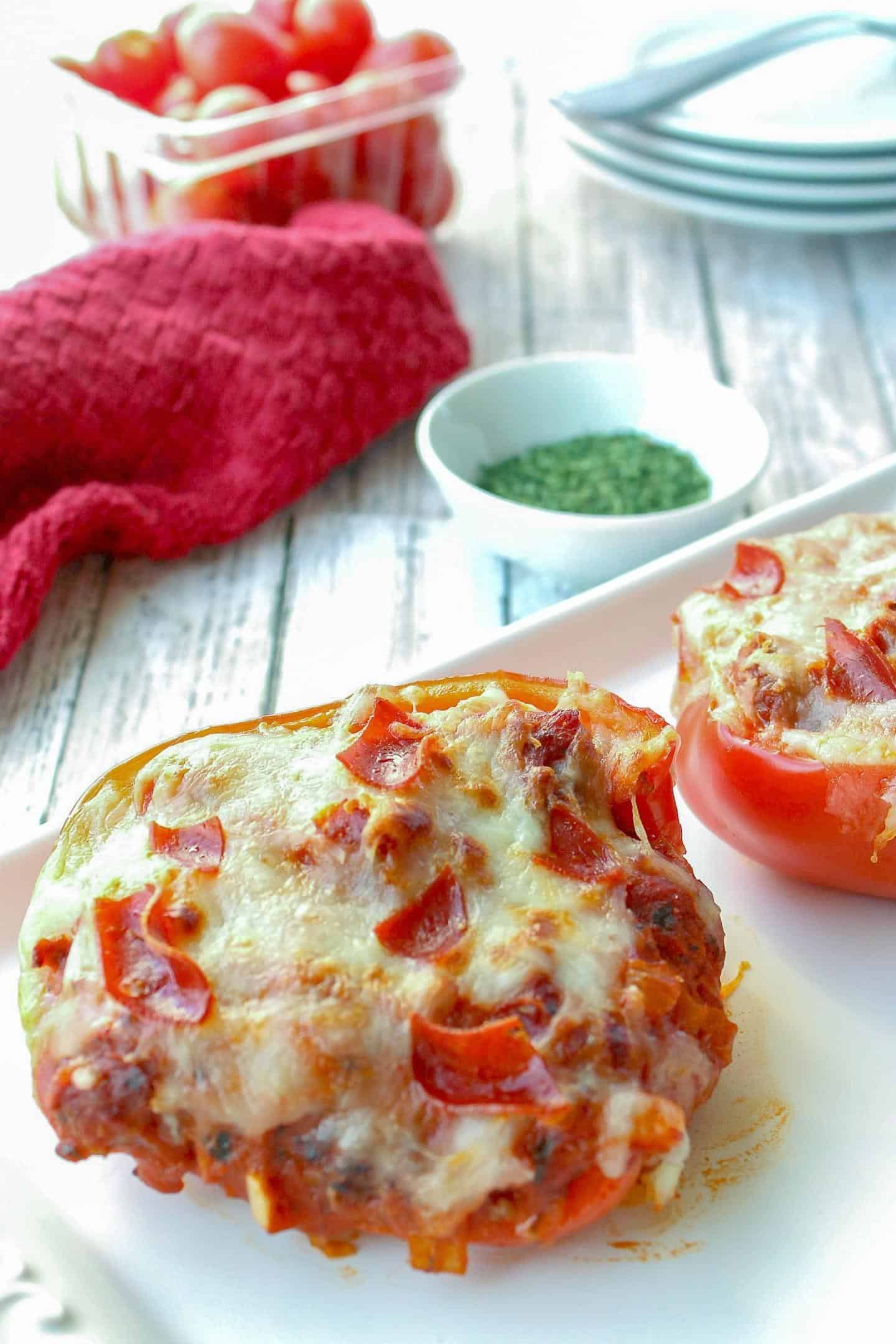 🍲 Sauce Options
It ain't a pizza without the tomato base!
Honestly, use whatever you find easiest. Store-bought pizza sauce might not be the healthiest way to go, but it's cheaper than making your own. If you buy pizza sauce or any tomato-based sauce, make sure to check the nutritional information for added sugar.
Tomato Puree and tomato paste are also great convenient options. What's the difference? Consistency -- that's all. Puree is thick, and paste is not quite so vicious. They're both made by merely cooking and straining tomatoes.
If you really want to make this recipe from scratch go for it. Typically I use tomato sauce, black pepper, salt, onion powder, garlic powder, basil, oregano, parsley, red pepper flakes, and Parmesan cheese. Of course, this is up to you, and you can switch it up based on personal preference.
👪 Serving Size
This stuffed peppers without rice recipe will give you 6 healthy portions or scale up and make more for meal prep and bigger crowds.
Stuffed peppers without rice are irresistible and low in net carbs. Let me know if you try any of the variations and if you love this recipe.
📋 Recipe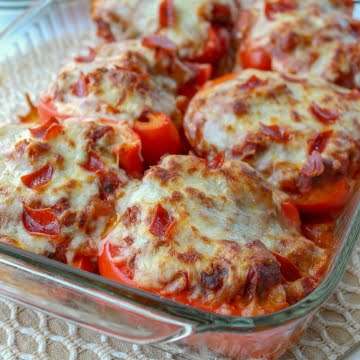 Stuffed Peppers without Rice
This stuffed peppers without rice recipe is an absolute game-changer for pizza lovers looking for that extra flavor in their meals. The recipe uses red bell peppers for the base, then stuffed with pepperoni, a succulent meat mixture, a homemade tomato sauce, and topped with mozzarella cheese.
Print
Pin
Rate
Share
Ingredients
1

pound

Italian Sausage

1

Tablespoon

Olive Oil

1

small

Onion

1

Tablespoon

minced garlic

14

ounces

sugar free pizza sauce

2

teaspoons

dried oregano

3

large

red bell peppers

4

ounces

pepperoni

2.5

cups

grated mozzarella cheese
Instructions
Preheat oven to 375F/190C. Lightly spray a 9" x 13" casserole dish or large baking sheet with olive oil

Heat olive oil in a large frying pan over medium-high heat, breaking sausage apart with a spatula as it cooks. Cook until sausage is nicely browned.

While the sausage cooks, cut 10 pepperoni slices in half and the remaining pepperoni into fourths.

Cut peppers in half and removing the seeds and the stem end.

When sausage is nicely browned, push it to the side and add the onions and garlic. Cook for an additional 2-3 minutes.

Add the dried oregano and sauce into the sausage mixture, turn heat to low, and simmer until the sauce is reduced and thickened.

Turn off heat, let the mixture cool slightly, then add the chopped pepperoni and 2 cups grated Mozzarella, stirring gently so it's well-mixed with the sausage mixture.

Fill each pepper with the pizza mixture. I found it's easiest to hold the pepper in your hand over the pan while you fill and then add it to the baking dish.

Bake for 20 minutes. Remove from the oven and add grated cheese and four pepperoni halves to the top of each pepper. Place back in the oven and bake 25 minutes, or until the cheese is nicely browned, peppers are cooked.
Notes
When buying the bell peppers, try to choose the beautiful ones that are nicely rounded on the bottom and not deformed, as they will need to sit in the oven and hold firm rather than collapse. (It has happened to me many times)
Looking for recipe ideas? I have diverse collection of delicious and easy to make recipes your whole family will love.
Nutrition
Calories:
602
kcal
|
Carbohydrates:
15
g
|
Protein:
28
g
|
Fat:
47
g
|
Saturated Fat:
18
g
|
Polyunsaturated Fat:
1
g
|
Trans Fat:
1
g
|
Cholesterol:
114
mg
|
Sodium:
1474
mg
|
Potassium:
478
mg
|
Fiber:
3
g
|
Sugar:
8
g
|
Vitamin A:
2894
IU
|
Vitamin C:
108
mg
|
Calcium:
275
mg
|
Iron:
2
mg