Impress your friends with this easy bacon wrapped asparagus appetizer or even wrap up a few asparagus spears and create a tasty side dish.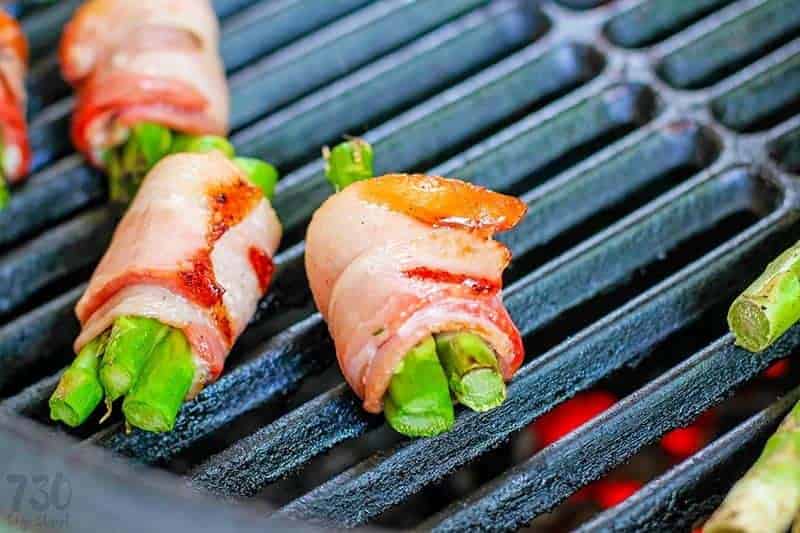 A lot of bacon wrapped asparagus recipes leave the asparagus long and just wrap the bacon around the middle. Well, I like more of a 50/50 ratio with my bacon and my asparagus. So for this recipe, we cut the asparagus down into short pieces. It helps it cook more evenly too. It keeps the ends of the asparagus from burning before the middle finishes cooking.
Jump to:
How do you clean and cook asparagus?
The key to cleaning and cooking asparagus is to get rid of the tough ends. Watch the video below or if you are in rush typically removing 1-2" is enough.
What is the best way to cook asparagus?
You can cook asparagus on the stove top in a frying pan, you can roast it, you can grill it, you can bake it. You can even boil it. It really depends upon your tastes and how much effort you want to put into it.
My husband likes to bake it with Parmesan cheese and garlic. I prefer it wrapped in bacon. The best way too cook asparagus though is definitely with some seasonings and either roasted or grilled. You get the best flavor that way. I really love how the saltiness from the bacon enhances the asparagus.
How should I cook asparagus with bacon?
Bake the bacon wrapped asparagus for 10-15 minutes at 425° F on the middle rack. You can easily tweak the time based on the thickness of your asparagus and bacon. Take out of the oven when the bacon is a lovely golden brown. I also make these on the grill and love the flavor. The extra depth added to both the bacon and asparagus is mouth watering... And surprise, I'm suddenly hungry.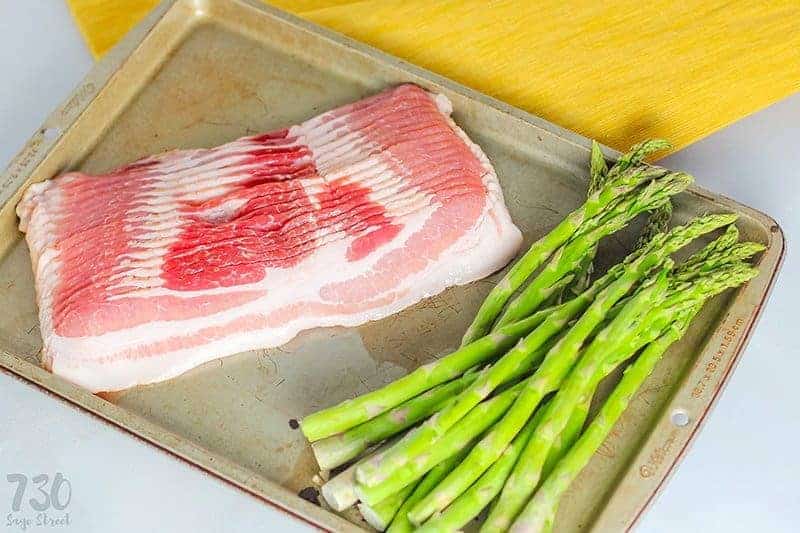 How many carbs in asparagus?
A medium spear of asparagus has around 0.6 grams of carbs. The fiber is around 0.3 grams which makes net carbs for a spear of asparagus 0.3 grams. They are a great low carb veggie, and you add a nice amount of fat and flavor by wrapping them in bacon!
Bacon Wrapped Asparagus Recipe
Prepping and wrapping the asparagus spears is easy. As you can see you chop about 1-2" of the rough stalk from the bottom.
Use between 3-4 pieces of asparagus and wrap with your favorite bacon. Then pop the bacon wrapped asparagus into the oven at 425° F for 10 - 15 minutes on the middle rack.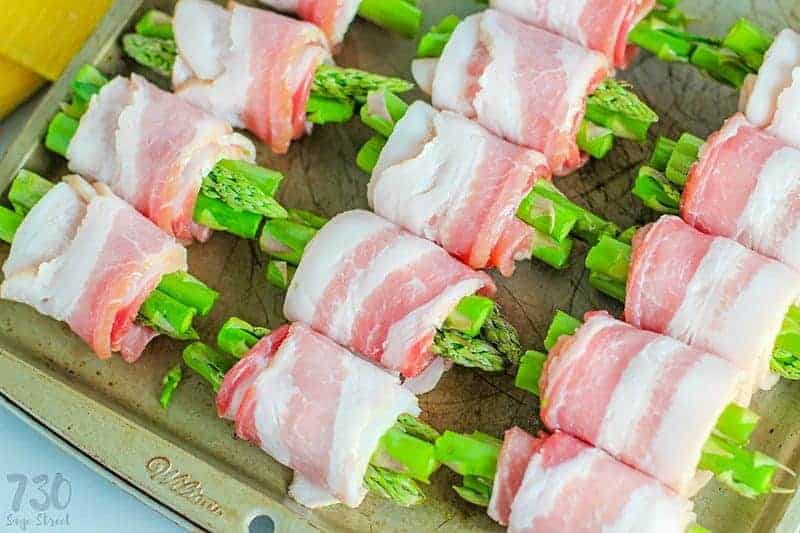 Or throw them on your grill for 10 minutes or until the bacon is nicely caramelized. Grilling adds so much extra flavor that you just can't buy.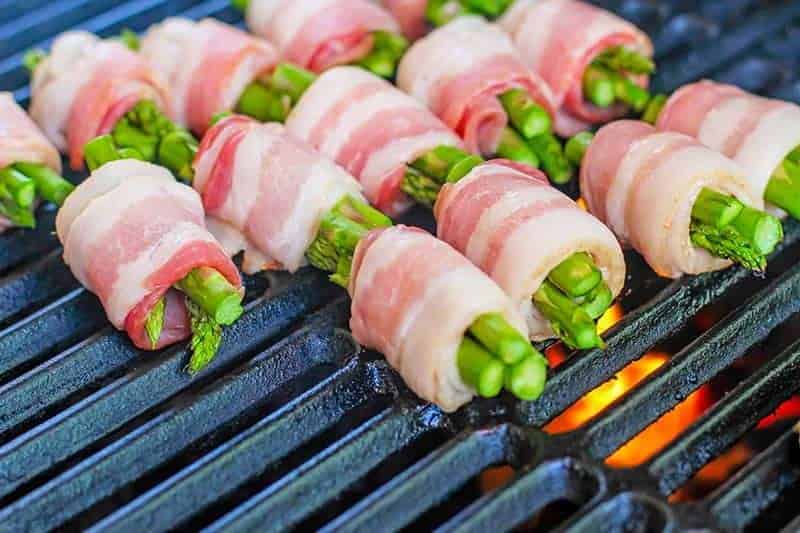 You can already see the bacon and asparagus starting to caramelize. Continue to rotate each bundle every few minutes to ensure they are evenly cooked.
Serve the best bacon and asparagus wrapped bundles as a tasty appetizer or even as a nice side dish.
📖 Recipe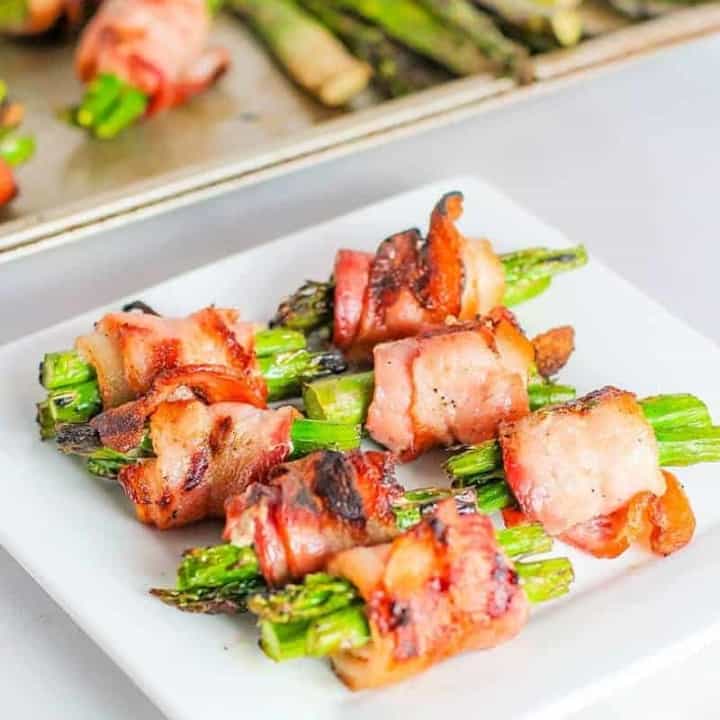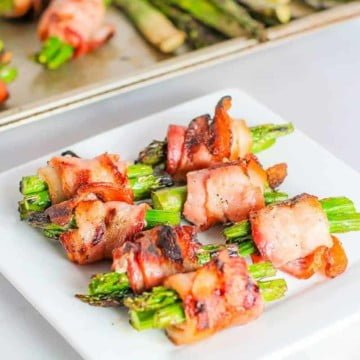 Bacon Wrapped Asparagus (low carb)
Ingredients
1

package

sliced bacon

1

bundle

asparagus
Instructions
Wash clean and dry asparagus. Cut each piece of asparagus into 3 even (or close to even)

pieces.

Wrap each bundle (of 3 pieces) of asparagus with a slice of bacon.
For the grill
For a gas grill, heat grill to 350. For charcoal heat to medium high, making sure the flame doesn't get too high to burn the asparagus.

Place bacon wrapped asparagus into center of grill for 2 minutes, continuously turning.

Remove bacon wrapped asparagus to the outer edges of the grill and continue to cook for 18

minutes with lid closed, for a total cook time of 20 minutes. During that time, turn and flip the

asparagus every few minutes to keep the bacon from burning on any sides.

Remove from grill and serve immediately.
For the oven
Preheat oven to 425 degrees

Place bacon wrapped asparagus on a cookie sheet and roast for 10-12 minutes or until bacon is slightly crispy.
Notes
Nutrition information shown is an estimate and is not to be assumed to be accurate. If accurate information is required for your diet or lifestyle, please calculate the nutrition yourself using a tool you trust.


Calories:
153
kcal
|
Carbohydrates:
0.6
g
|
Protein:
4
g
|
Fat:
14
g
|
Saturated Fat:
4
g
|
Cholesterol:
24
mg
|
Sodium:
243
mg
|
Potassium:
72
mg
|
Fiber:
0.3
g
|
Sugar:
0
g
|
Vitamin A:
15
IU
|
Calcium:
2
mg
|
Iron:
0.1
mg
Information shown is an estimate and is for information only. 730 Sage Street is not responsible for the factual accuracy of any nutrition information, calculations or claims.
Tried this Recipe?
Save it to your board today!
If you love low easy carb bacon appetizers, then I recommend checking out these delicious low carb bacon recipes: