This post was sponsored by Green Giant as part of an Influencer Activation for Influence Central and all opinions expressed in my post are my own.
There are some really weird looking foods in this world and pork tenderloin is definitely on the top of that list. It's really, really weird to look at, especially when raw. My daughter saw the one I had for this recipe sitting in the marinade and she asked "is that a worm?" And she was totally serious. I don't blame her though, it always reminds me of something out of an X-Files episode.
Strange looking but totally delicious, so you just have to get over it.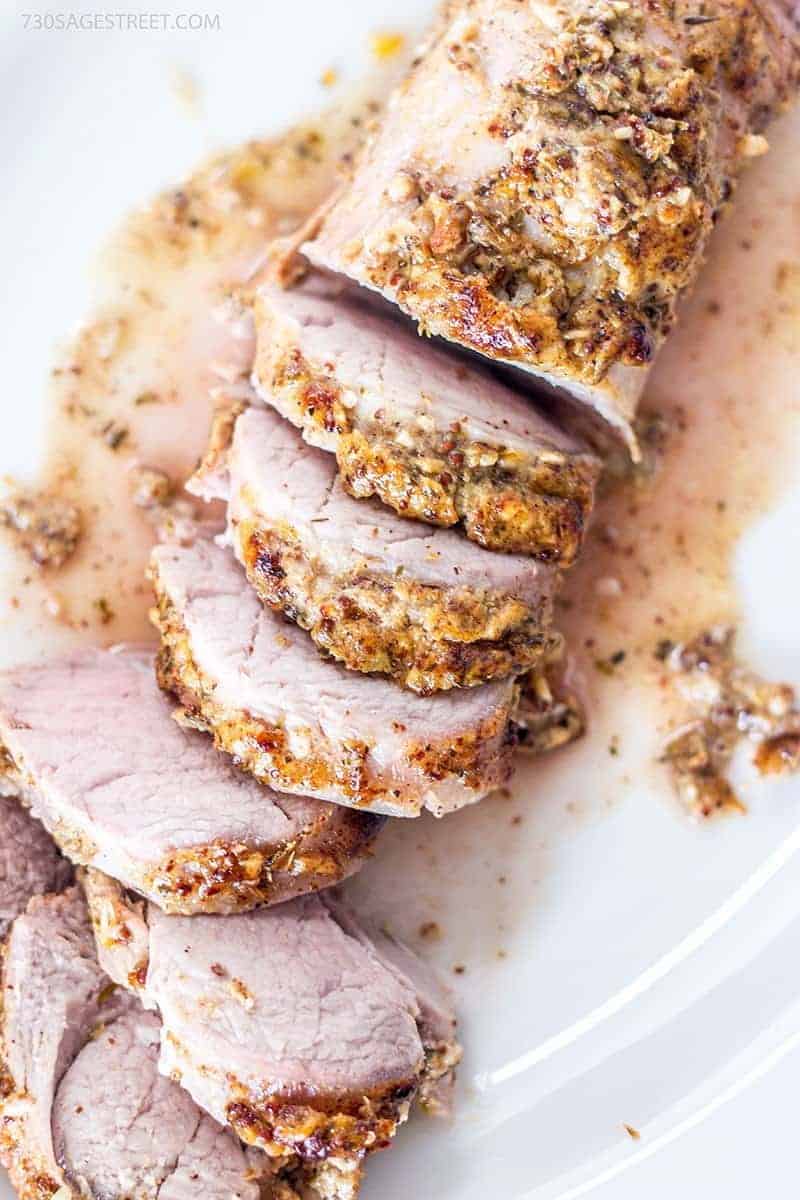 How to Cook Pork Tenderloin
Pork tenderloin is a small, tender cut of meat from the hip area of the pig.
There are a lot of different ways to cook pork tenderloin and plenty of easy pork tenderloin recipes can be found on Pinterest. You can cook it in a slow cooker, in the oven, even Sous Vide. If you are cooking it in the oven, you can sear it on the stove top first, then roast it in the oven, or it can go right into the oven. An overnight pork tenderloin marinade adds great flavor.
I cook it at 400 degrees F for around 30 minutes when it's not seared first. It cooks perfectly, and is tender and delicious.
Low Carb Parmesan Dijon Pork Tenderloin
This baked pork tenderloin recipe is an off-shoot of my very popular Parmesan Dijon pork chops recipe. With a couple of minor modifications it translates very well to the tenderloin and is easier to make because it's a single piece of meat so the final step before cooking goes much faster.
Green Giant Veggie Spirals
I am always looking for fun ways to change up my veggies. Easy and delicious are the most important things. I have to admit that my kids and I are generally really picky about our veggies. I grew up on things like canned corn and canned peas and I really wouldn't touch anything else. Forget frozen peas too. If my TV dinner had peas in it, I wouldn't eat those. I think I just dated myself with the phrase "TV dinner" but that's okay. I have good memories associated with them.
Because of our rather limited vegetable palette, it's quite a challenge to add some variety without a lot of effort. It's really easy to pop open a can of their favorite and just not even deal with it. But I'd like to at least try to expose them to some different tastes and textures. Not to mention keep us from getting bored with our meals.
So I was really kind of excited to try out this great new convenient option – Green Giant® Veggie Spirals.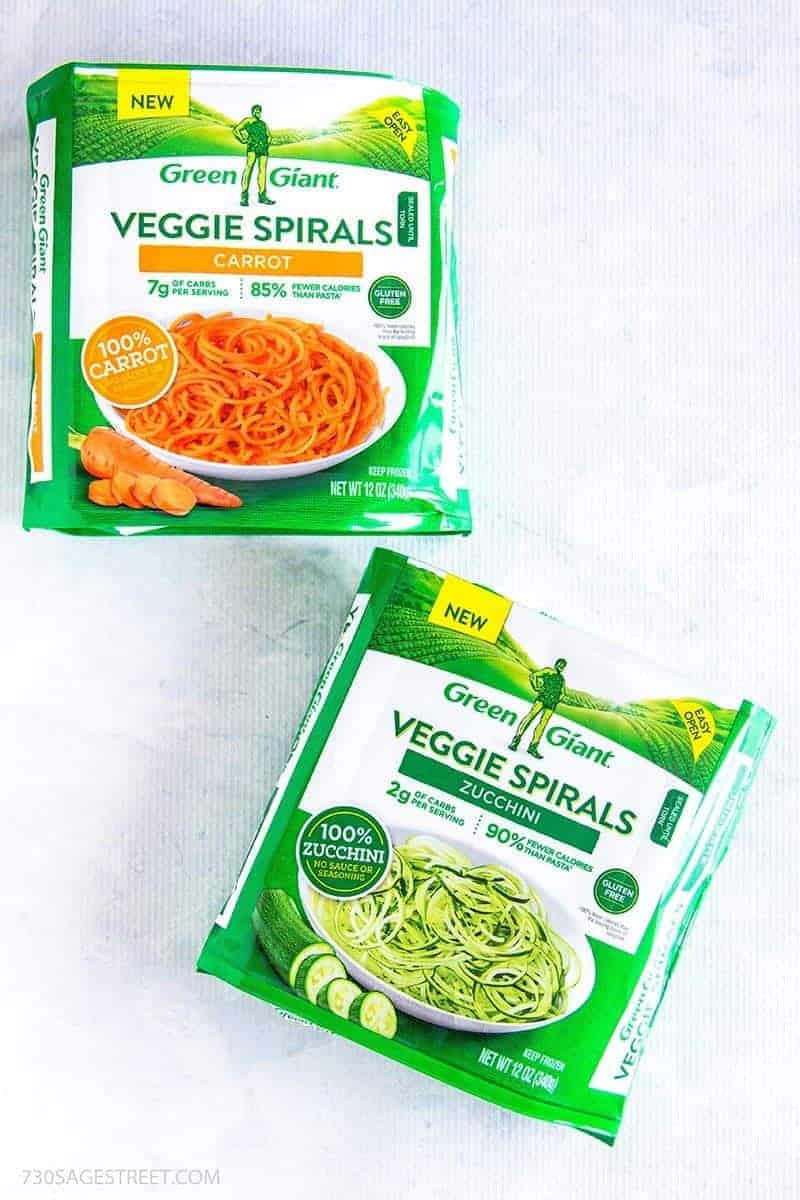 Green Giant Veggie Spirals are 100% vegetables. No sauce, no seasonings, just frozen spiralized veggies frozen and waiting for you to use alongside or part of your favorite recipe. They are a great alternative to traditional pasta because they are gluten free and have 65 percent to 90 percent fewer calories than traditional pasta.
They come in four varieties – zucchini, butternut squash, carrot and beets and they are available at Walmart.
You can cook Green Giant Veggie Spirals on the stove top or in the microwave if you have one. It's an easy two-step process that lets you season them anyway you want, or top them with a sauce or your favorite oil.
Low Carb Parmesan Dijon Pork Tenderloin with Garlic Herb Veggie Spirals
This recipe is fairly quick and easy to make but you do want to marinade the pork overnight for the best flavor. Once you get the pork tenderloin in the oven, you can start working on the veggies spirals. They took around 20 minutes total and the pork took 30 minutes but I also did let it rest for a few minutes. So I'd say wait 10-15 minutes after putting the pork in the oven to make the veggies.
Green Giant Veggie Spirals can go right into a non-stick pan for thawing and sauteing. My cast iron is fairly well seasoned and it probably would have worked fine, but I decided to be a bit of a rebel and add oil and garlic to the pan first. Ooooh garlic smells so good.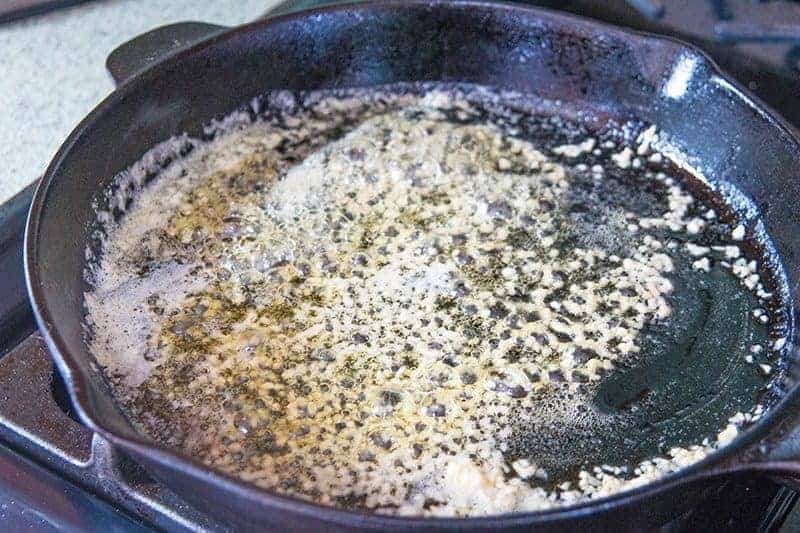 Then I added the veggie spirals (I went with carrot and zucchini) and popped the lid on for 10 minutes or so until the veggies were thawed.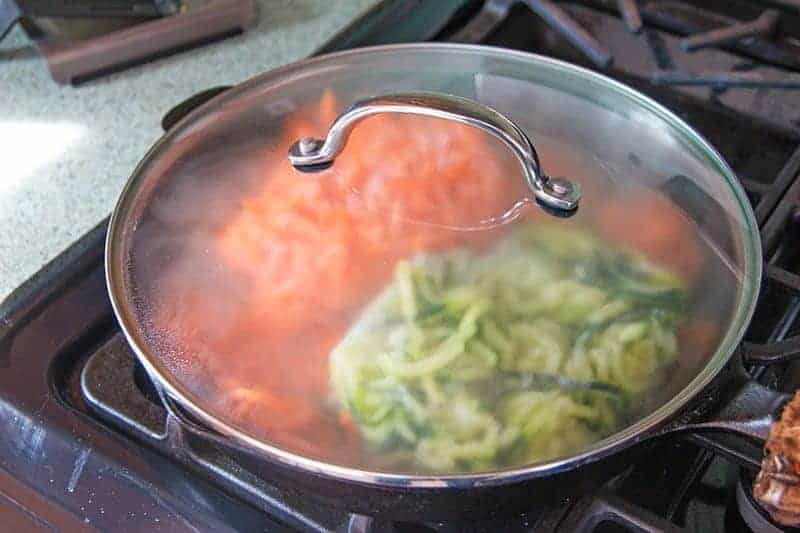 Then I removed the lid, added some seasonings and continued to saute until the liquid was absorbed.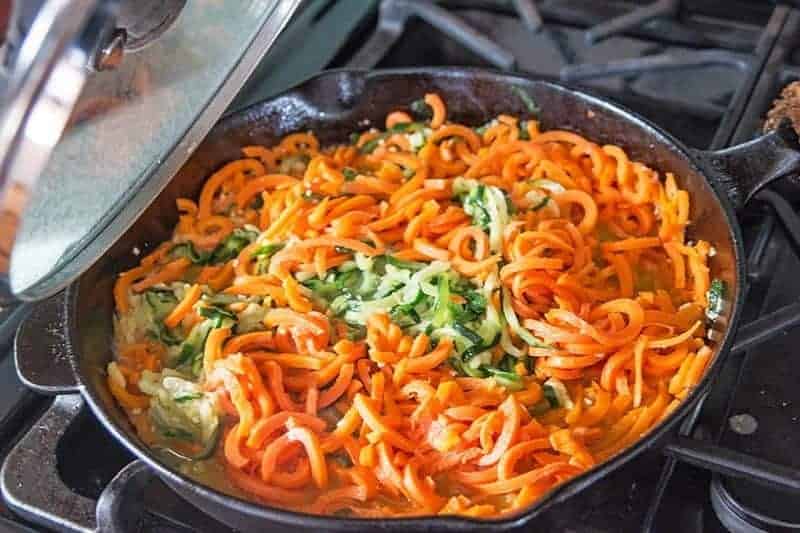 I served it together on an oval plate for presentation sake. It looked so pretty!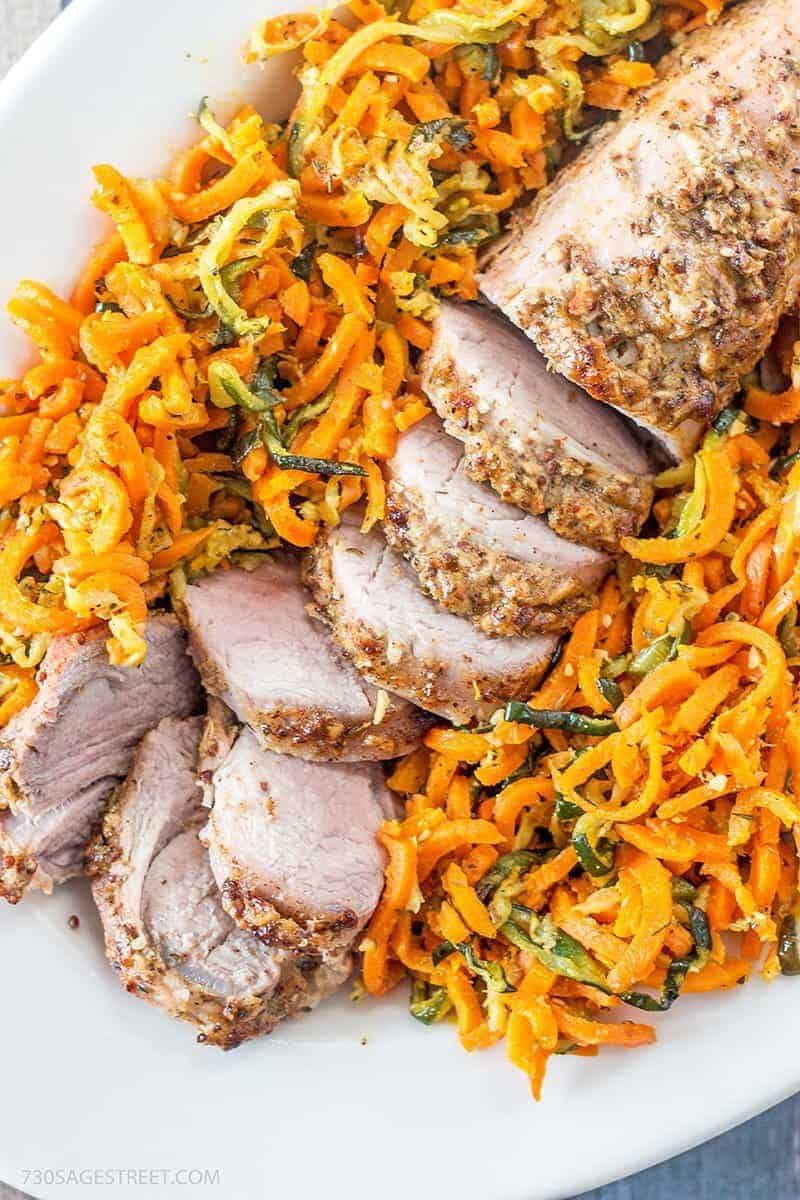 The pork and the veggies were both delicious. The veggies were tender and full of flavor. I was honestly surprised at how good the veggie spirals tasted.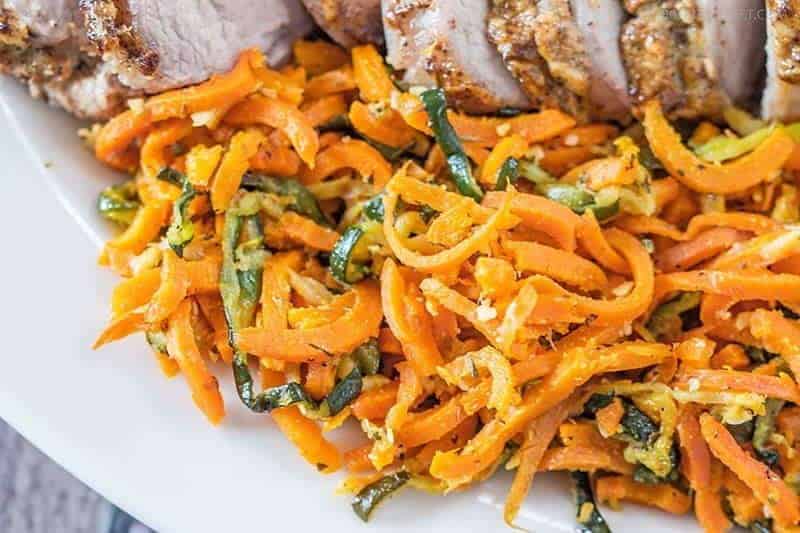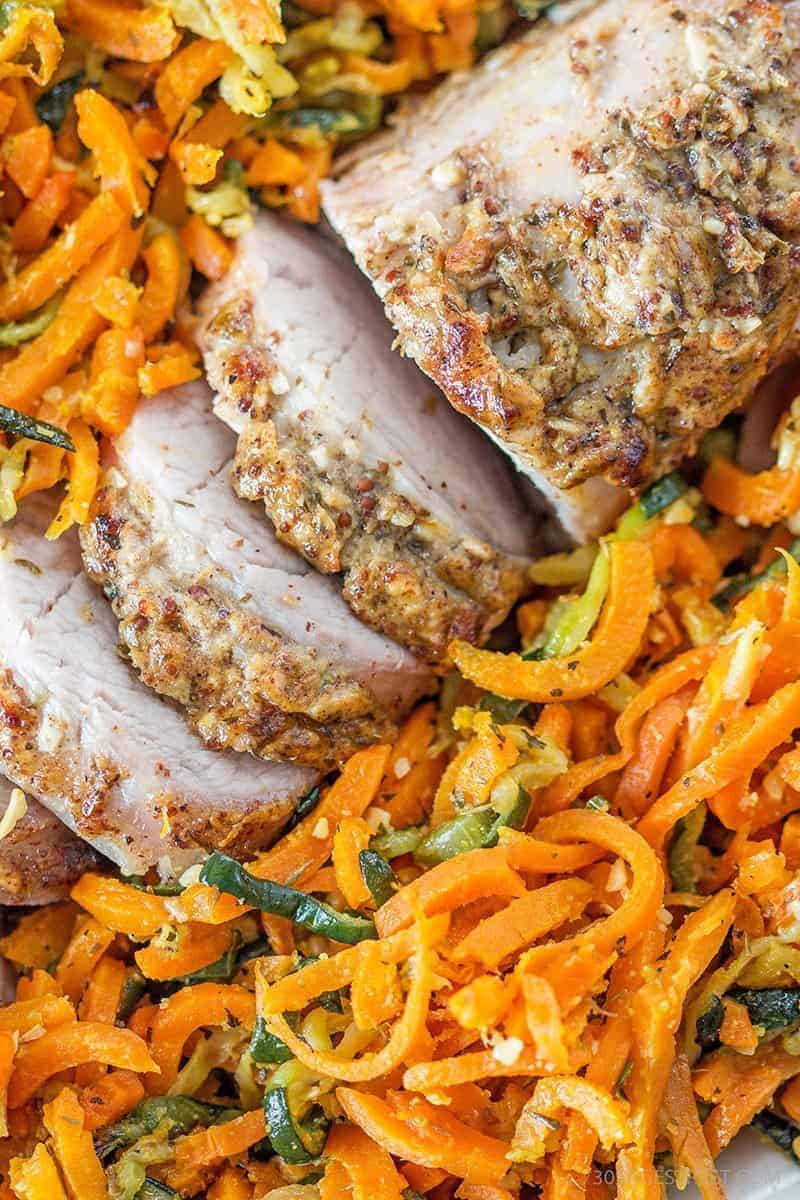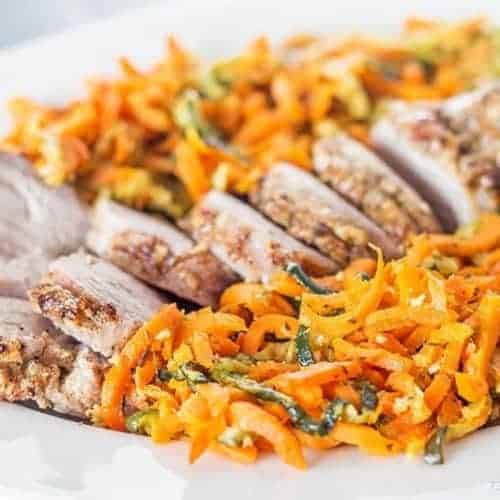 Parmesan Dijon Pork Tenderloin with Garlic & Herb Veggie Spirals
This low carb Parmesan Dijon pork tenderloin recipe is delicious. It's perfectly tender thanks to an overnight marinade. Pairs perfectly with a side dish of garlic herb veggie spirals for an easy dinner.
Print
Rate
Ingredients
Pork Tenderloin
1

large

pork tenderloin

1/3

cup

Dijon mustard

3

tbsp

olive oil

1

tbsp

garlic

minced

1

tsp

dried thyme

1

tsp

onion

dehydrated minced

1/2

tsp

basil

1/2

tsp

oregano

1/4

tsp

Kosher salt

1/4

tsp

black pepper

1-1/2

cups

Parmesan cheese

grated
Instructions
Pork Tenderloin
Combine mustard, olive oil, minced garlic, thyme, minced onion, oregano, kosher salt, black pepper and basil in a small bowl to use as a marinade. Stir until combined. Add pork tenderloin to a zipper bag and pour marinade over chops.

Refrigerate pork overnight.

Preheat oven to 400 degrees F

Spread Parmesan cheese in a shallow dish or pie pan and coat the pork tenderloin on all sides.

Add a flat roasting rack to a shallow dish or cookie sheet and tenderloin on the rack. Or you can use a roasting pan with flat rack.

Bake for approximately 30 minutes (or until pork reaches the recommended internal temperature).

Optional – raise oven rack to top and broil on high until crispy.
Veggie Spirals
In a large skillet, heat butter and olive oil over medium-high heat.

Add minced garlic and saute until fragrant, about 5 minutes.

Add veggie spirals to pan and cover.

Steam veggies over medium-high heat, stirring occasionally for 10 minutes or until veggie spirals have separated and softened.

Combine thyme, garlic powder, oregano, basil, onion powder, salt, pepper and chili powder together in a small bowl.

Add seasoning to veggies and continue to saute until all of the liquid is absorbed.

Plate and serve with pork tenderloin.
Notes
Shredded Parmesan will work too.
Please note that carb values will vary greatly depending upon which Veggie Spirals variety you choose.
Nutrition information shown is an estimate and is not to be assumed to be accurate. If accurate information is required for your diet or lifestyle, please calculate the nutrition yourself using a tool you trust.
Nutrition
Calories:
190
kcal
|
Carbohydrates:
3
g
|
Protein:
4
g
|
Fat:
18
g
|
Saturated Fat:
5
g
|
Cholesterol:
15
mg
|
Sodium:
520
mg
|
Potassium:
39
mg
|
Vitamin A:
195
IU
|
Vitamin C:
1.1
mg
|
Calcium:
120
mg
|
Iron:
0.9
mg
Nutrition or specific diet information shown is an estimate or best guess and is for information only. 730 Sage Street is not responsible for the factual accuracy of any nutrition information, calculations or claims.