If you love pork chops and you're on the hunt for creamy sauces for pork chops, you're in the right place.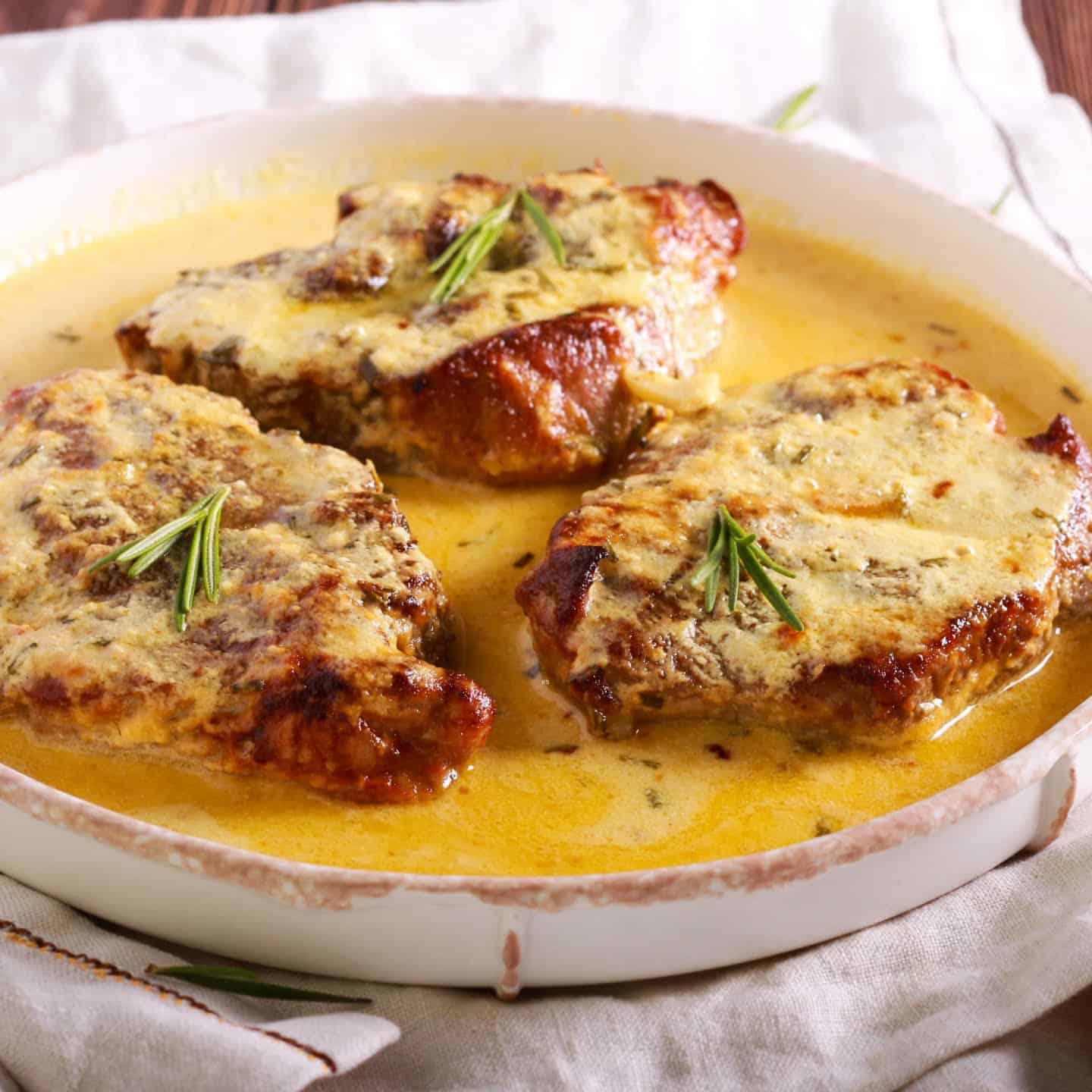 Pork chop, just like steak, needs a good sauce to give it the wow factor. Most people think making restaurant-quality sauce is complex and requires a laundry list of ingredients, but it's quite the opposite really.
You truly only need a few ingredients that you probably have on hand and very minimal effort to whip up a really good sauce, and these speedy 16 recipes prove it.
From classic Dijon cream sauce to mushroom sauce and lemon caper sauce, this list of the best creamy sauce for pork chops is sure to take your pork chops from good to great, whether it's boneless pork chops, bone-in chops, rib chops, loin chops, thick or thin pork chops.
So save this list and pull it when you need to make your pork chops extra special. You'll be happy you did.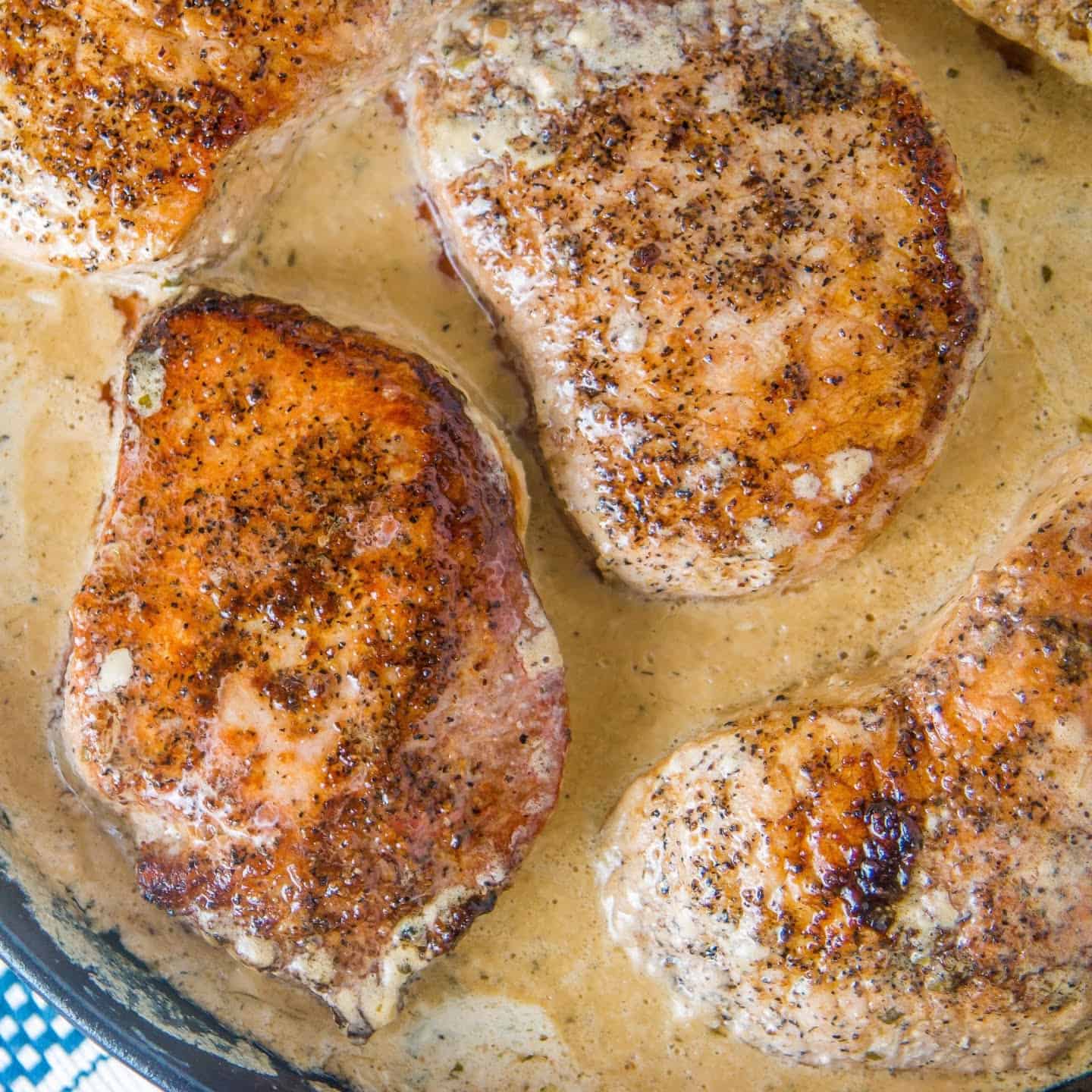 This is one of those recipes that I keep coming back to over and over again.
From the perfectly juicy boneless pork chops to the flavorful, creamy gravy, everything is simply perfection. Plus, it's quick and incredibly easy to make.
The cream sauce is made from the delicious browned bits and juices on the bottom of the pan after searing the meat along with rich, heavy cream, cream cheese, chicken broth, and ranch seasoning.
It's oh-so-good, you'll want to use it on everything!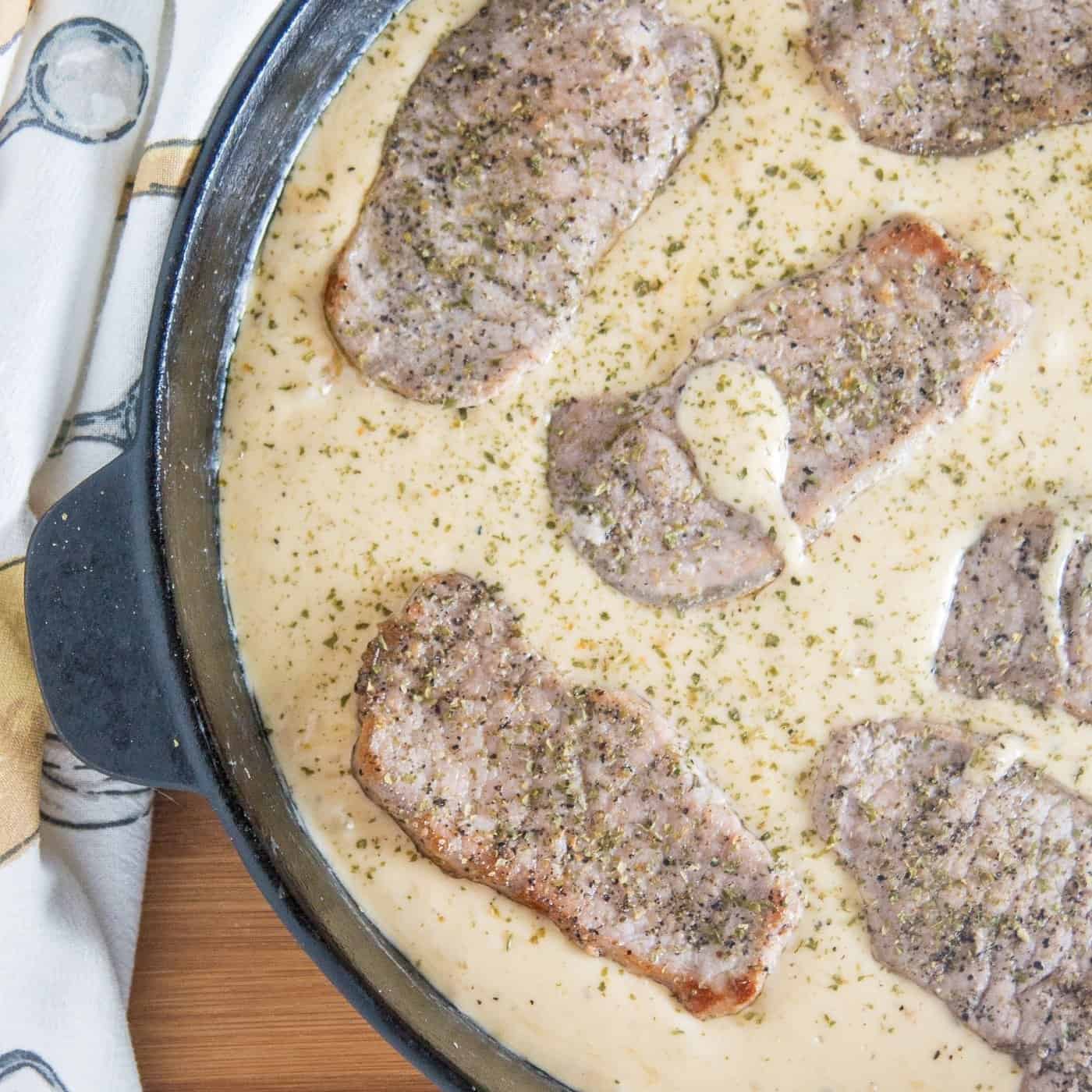 Wondering how to make the best pork chops that never fail to impress? Try this delicious pork chop recipe.
The boneless pork chops are moist and tender with a nice golden crust. And the cream sauce flavored with garlic and parmesan is to die for.
It's delightfully creamy, rich and indulgent- you'll want to eat it with a spoon!
This amazing recipe also works well with bone-in pork chops...so the choice is yours.
This mustardy, garlicky goodness with a hint of sweetness will transform your boneless/ bone-in pork chops or pork tenderloin into a restaurant-worthy meal.
It's super easy to make with ingredients you probably already have on hand. Plus, it's easily customizable. Out of honey? Maple syrup or brown sugar will work in a pinch. Want some spice? Add black peppercorns.
This cream sauce will easily become your new best friend. Guaranteed.
Serve your honey garlic pork chops with mashed potatoes, roasted green beans and a nice bottle of wine for an elegant-enough-for-a-date dinner.
If you're looking to expand your sauce-for-pork-chops repertoire, this is a great place to start.
A splash of whisky, cream, and a little bit of mustard, beef cube, salt and pepper are all you need to make this delicious sauce that pairs beautifully with pork chops and almost any meat.
Not to mention it's deceptively easy to make - it's ready in just 10 minutes. This will surely become a staple in your kitchen.
This cilantro lime cream sauce is pure bliss. It starts with a creamy sour cream and mayonnaise base that's kicked up with lemony cilantro, tangy lime juice, sharp zing of green onions and bold garlic flavor.
A mildly spicy kick from the jalapeños rounds everything out. The sauce is thick, but drizzly and will perfectly smother your sear pork chops.
You can adjust the spice to suit your heat tolerance by removing the jalapeno seeds or leaving them intact.
With its rich flavors, peppercorn sauce makes a delicious accompaniment to a variety of meats and veggies and not just steak. It's absolutely delicious spooned over oven-baked pork chops and even grilled.
Made with peppercorns, Dijon mustard, brandy and cream, the flavor of this cream sauce is everything you'd expect: creamy, savory, spicy and lightly smoky.
The alcohol taste cooks out but keeps its deeply savory flavor - and there's truly no substitute for that.
This is my absolute favorite creamy sauce of all time. It's decadently creamy, bold, punchy and takes almost any dish from ordinary to something special and drool-worthy.
You'll understand what I mean once you've tried this heavenly sauce. Best of all, it's outrageously easy and you can whip it up in just 30 minutes.
The recipe calls for white wine, but you can swap it out for chicken broth or vegetable broth.
Elevate your next pork chop night with this zippy and refreshing lemon caper sauce. It's super easy and ready in just 5 minutes.
The capers give the sauce a salty, lemony, olivey burst of flavor; the lemon zest brings floral citrus notes, the lemon juice adds a bright, tart backbone, while dill gives it a vibrant finish that brings the flavors into focus.
For a lighter version, use Greek yogurt instead of mayo. This easy recipe also works well with lamb chops and chicken.
If you've never tried juicy grilled pork rib chops topped with Alabama white barbecue sauce, you're in for a treat.
It's rich, tangy and full of umami savoriness of mayo, vinegar, horseradish, mustard, and Worcestershire sauce.
For extra flavor, use some of the cream sauce as a marinade for the pork chops or any grilled meat.
This boldly-flavored sauce for pork chops couldn't be easier and more speedy to make.
All you have to do is melt butter in a fry pan, add onions, garlic, pepper and fragrant fresh herbs and cook for about a minute over medium heat. Then add heavy cream until the sauce is all nice and creamy. Season with lemon juice and salt and let it simmer for a few minutes.
The result is a sauce with a perfect balance of tangy and savory flavors with an amazingly creamy texture.
Toss the cream sauce with your perfectly cooked pork loin and you have an easy weeknight meal your whole family will love.
If you have sour cream, mayo, dill, lemon juice, salt and pepper, you have everything you need to make this creamy sauce.
This recipe is the epitome of simplicity- no cooking required. And while it's not muddied with a long list of ingredients, it doesn't compromise the yum factor.
Its bold and refreshing flavors will be a delicious accompaniment to your pork chops. It can also be used as a dip or a sandwich spread. It's a win-win-win!
There's nothing like a drizzle of lemon and garlic butter cream sauce to spruce up pan-fried or oven-baked pork chops.
It infuses the meat with lemony and savory goodness that's sure to have everyone, even the picky eaters at the table will be licking their forks and plates.
Best part? It's whipped up in a snap with just a handful of easy ingredients; olive oil, garlic, wine, cream, and of course, lemon juice and butter.
Dijon mustard, cream and garlic combo is a flavor match in heaven. With the addition of a few basic ingredients like butter, fresh parsley and garlic chives, it perfectly transitions into a garlicky, rich pork chop sauce with a bright finish.
The beauty of this Dijon cream sauce is that you can tailor it to your preference or what you have on hand. If you love your sauces extra spicy, you can toss in some chiles or jalapenos.
You can also add spices or herbs like onion powder and thyme or use garlic powder instead of fresh garlic. This would be fantastic drizzled over baked pork chops.
Impress your dinner guests with pork chops smothered in this out-of-this-world sauce made with crème fraîche, mayo, chives and dill.
Extra rich and creamy, it packs in a new dimension of flavor to complement your pork chop.
Did I mention how easy and quick this recipe is? You just mix everything in a bowl and let it chill in the fridge for a few minutes.
This awesome recipe also doubles as a homemade cream sauce for dunking.
One spoonful of this creamy garlic pork chops sauce and you'll be hooked forever. It's ultra-creamy and rich in flavor with just the right amount of olive oil, wine, garlic, cream and fresh herbs. In other words, magical.
It's ridiculously easy to whip up and quick too. This is a crowd-pleaser, so do yourself a favor and make a little extra sauce.
Pair the garlic pork chops with mashed potatoes or rice and a side of steamed veggies for an easy yet delicious dinner.
Tender boneless chops with a beautiful golden crust drenched in a rich and luscious herby white wine sauce makes this a feast you'll want to make on repeat.
The sauce starts with a base of heavy cream and white wine, then adds fresh thyme, chicken broth and Italian seasoning into the mix, adding savory, earthy and umami notes.
While the cream sauce goes well with pork chops, you'll find plenty of other dishes to put on it too.