Ground beef is a mainstay dish for so many households for a good reason: it's versatile, convenient, affordable, and cooks up fast. There are so many delicious ground beef recipes, but the thing most of us look for and love in a recipe is that it's tasty, easy to make, and uses just a few ingredients.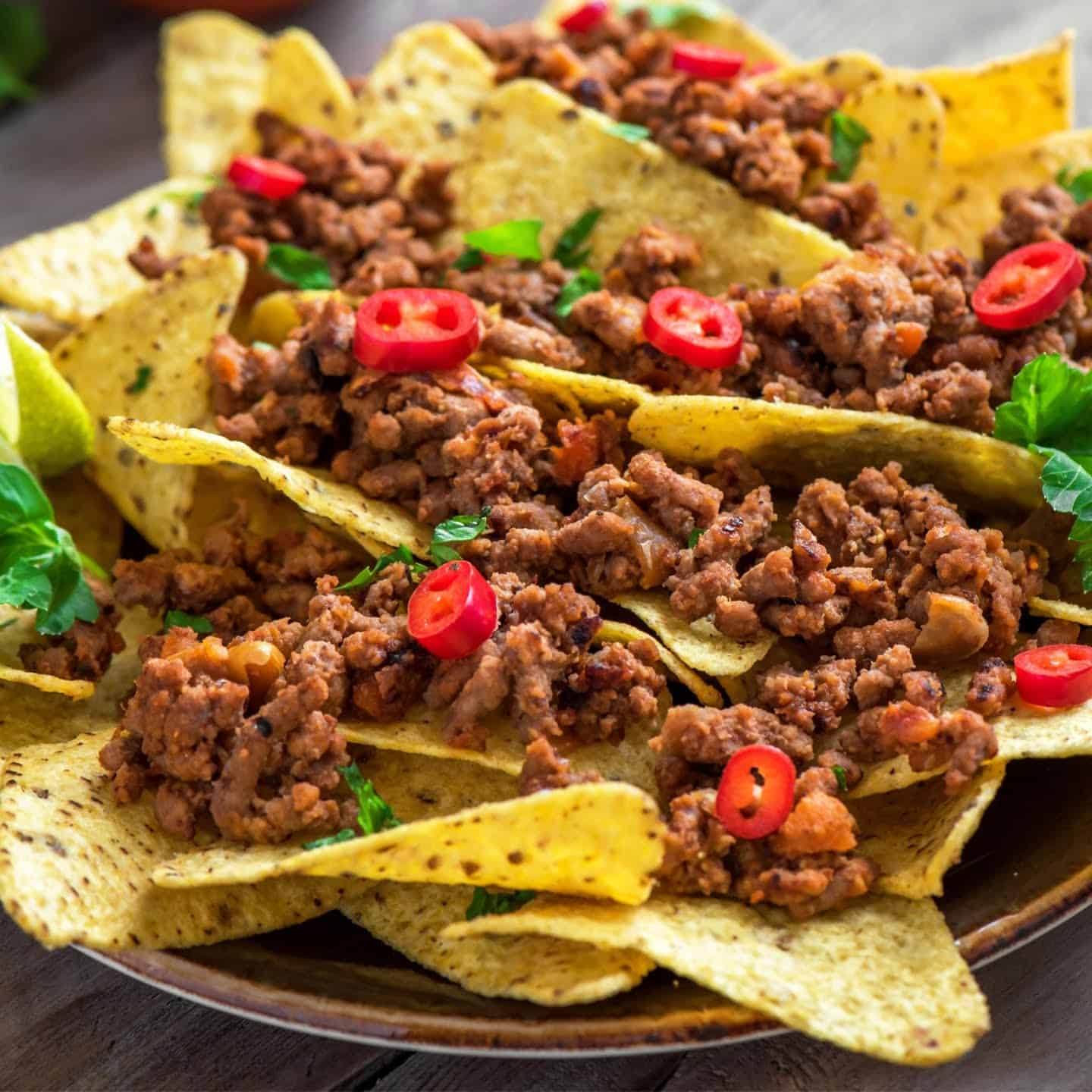 That's why I came up with this list of quick & easy ground beef recipes with few ingredients that's sure to keep your whole fam happy.
Whether you're looking for easy dinner recipes, a quick filling casserole recipe, tasty finger foods or a comforting soup, this roundup has what you're looking for. It also includes low-carb spins on classic ground beef recipes like hamburgers, glazed meatloaf, lasagna, meatballs, and more.
And the best part is that all these easy ground beef recipes use 8 ingredients or less!
If you are learning to cook read internal temperature of beef: degrees of doneness for an in-depth guide to preparing ground beef safely.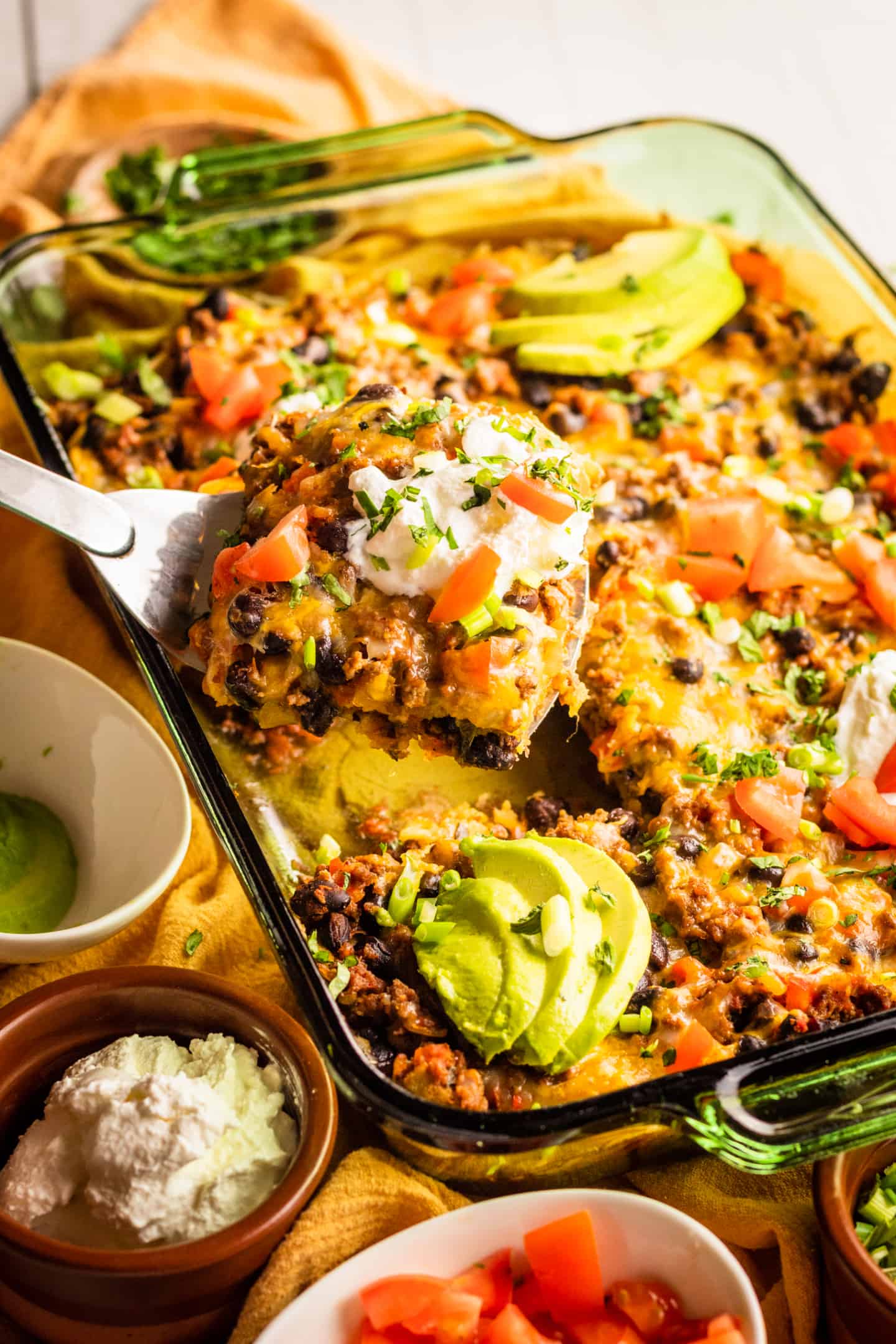 Bake this Mexican-inspired taco casserole in less than 30 minutes tonight.
This easy casserole recipe will satisfy even the pickiest eaters, made with layers of tortillas, juicy ground beef, shredded cheddar, and served with toppings on the side.
Opt for thick corn tortillas because they'll retain their texture and not become soggy when baked.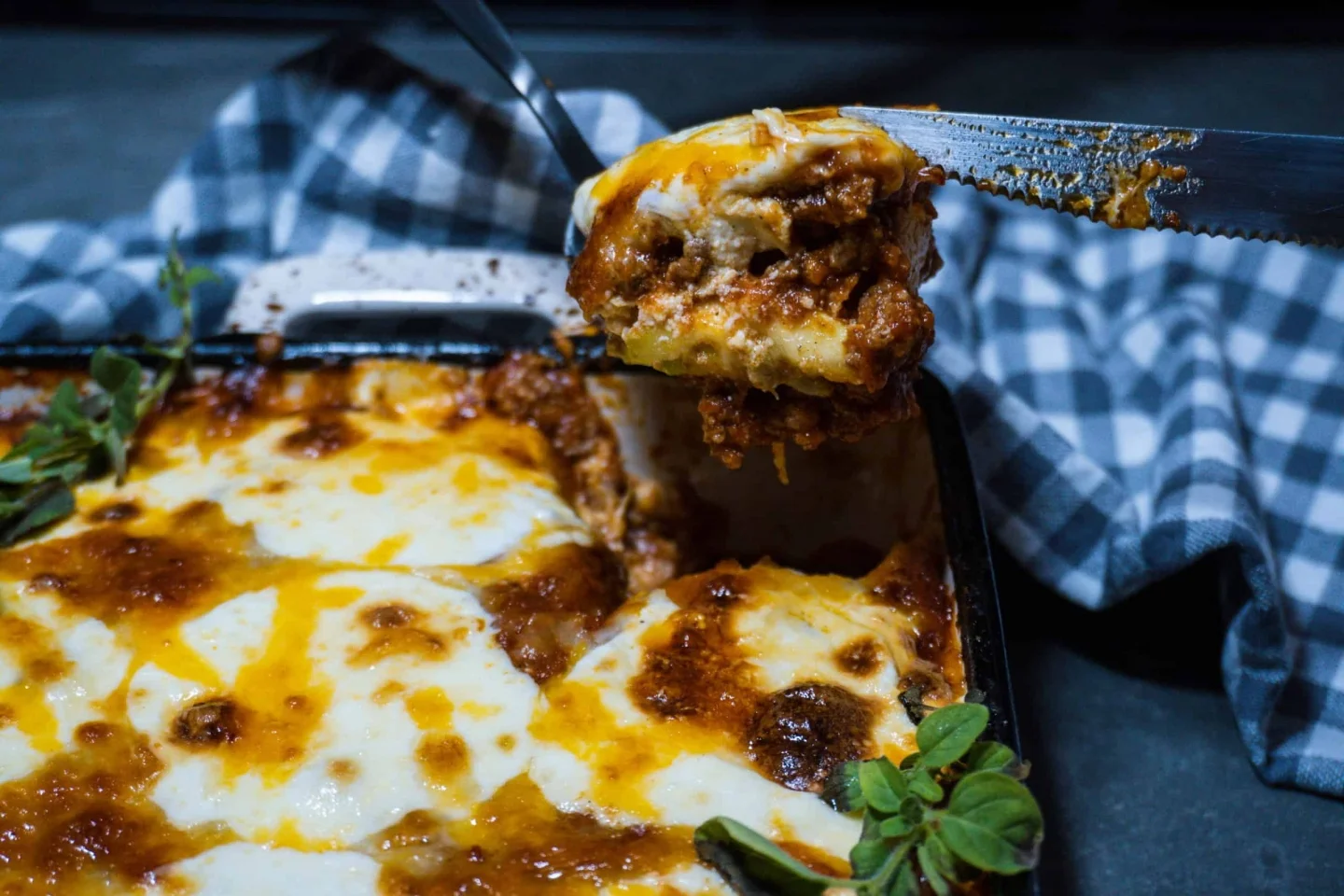 This easy lasagna features prominently in our simple ground beef recipes. We ditched the noodles for zucchini for a gluten-free, wheat-free, and low-carb lasagna.
Alongside layers of savory ground beef sauce, ultra-creamy ricotta cheese, and lots of ooey-gooey mozzarella cheese, it's oh-so-flavorful and comforting -you won't even miss the pasta or noodles.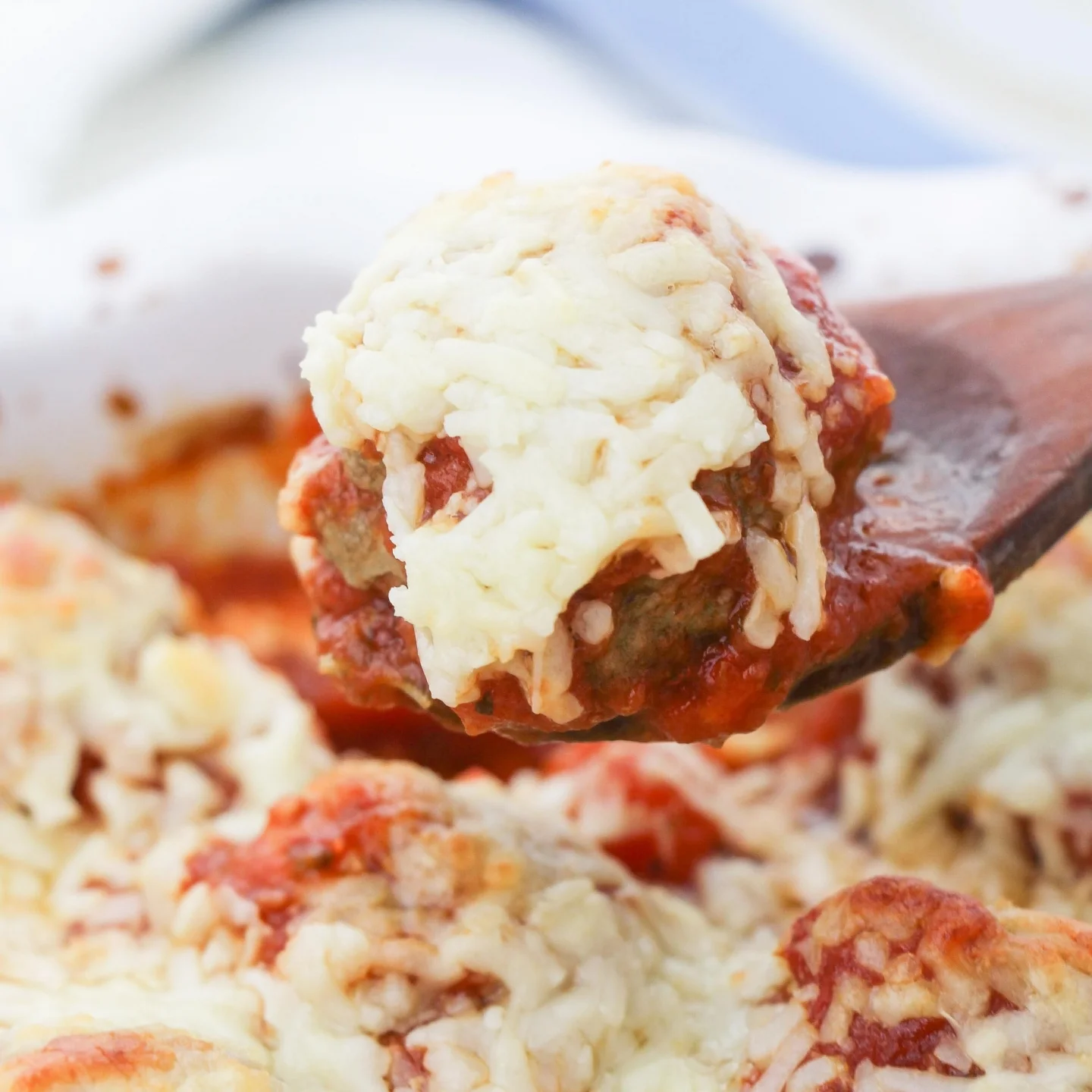 Ground beef and pork combine forces for flavorful meatballs everyone in your family will rave about.
It's flavored with marinara sauce, so you'll still get the flavors of traditional meatballs.
The true game-changer here is a sprinkle of extra parmesan cheese on top. It adds a depth of flavor and extra richness.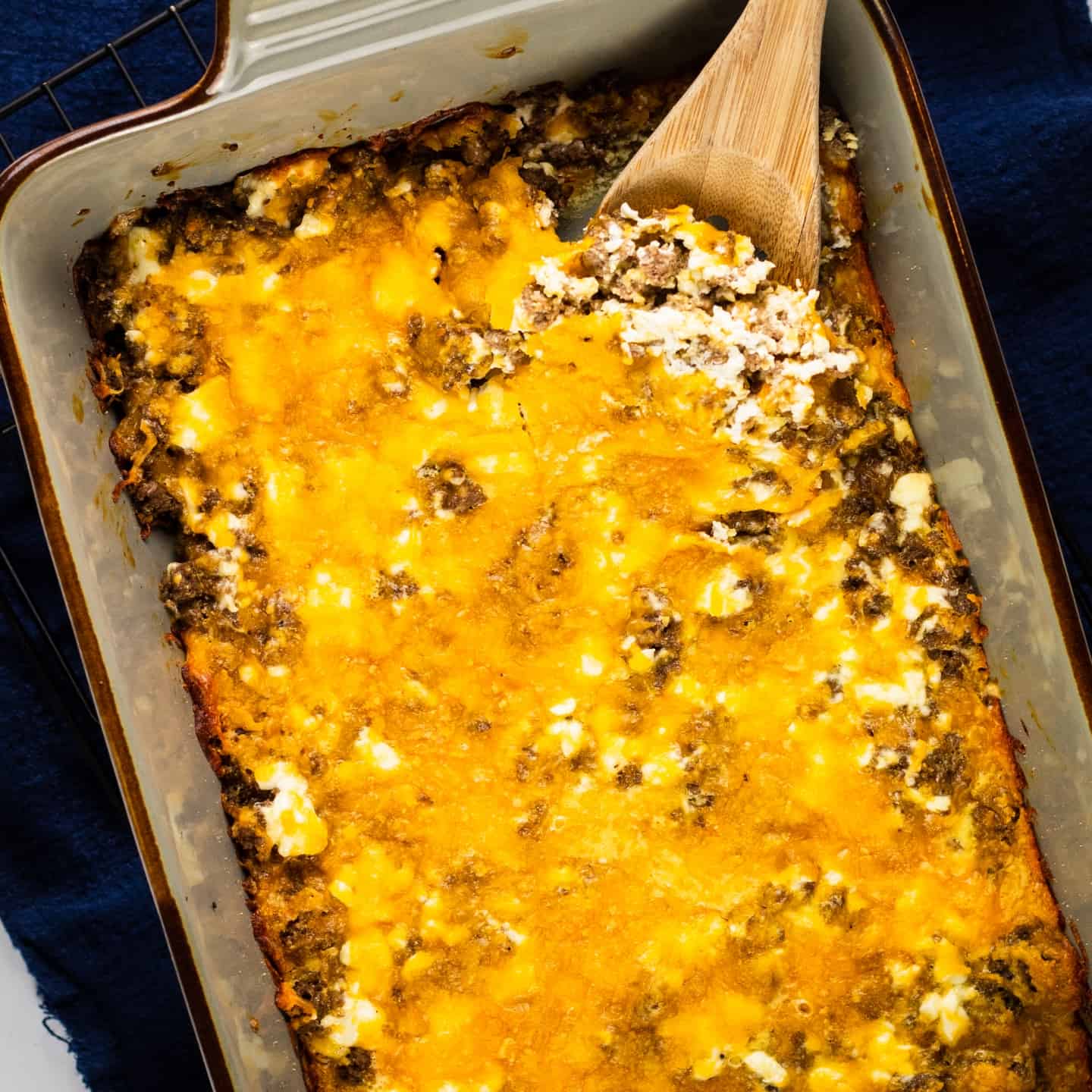 Here's another hearty, delicious cheeseburger casserole that you're going to love.
In fact, it's one of my go-to easy ground beef recipes when we all crave cheeseburgers but don't have time to make them.
This version combines ground beef, Worcestershire sauce, cream cheese, cheddar, heavy cream, onion, and garlic powder -the ultimate comfort food.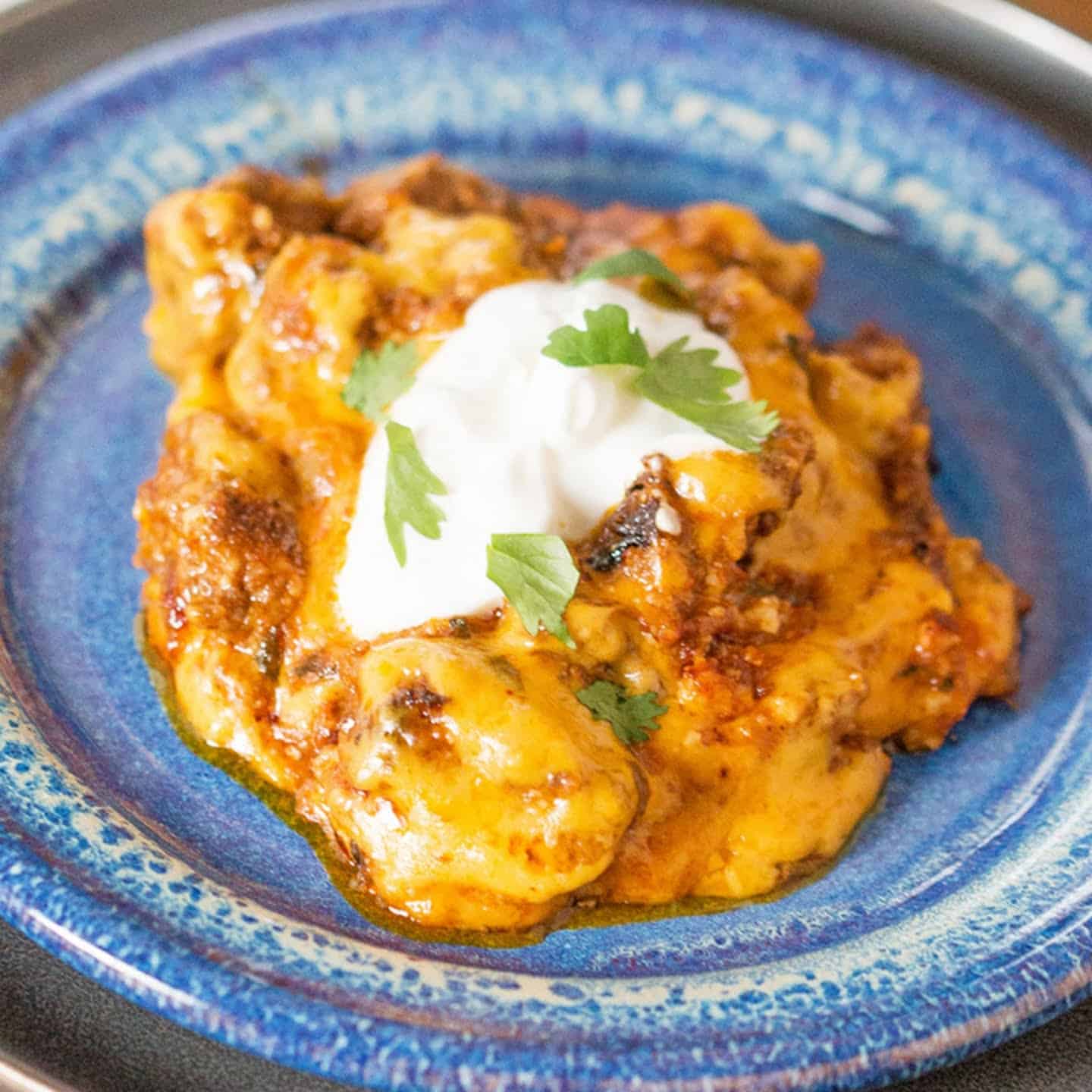 Simple, easy, and budget-friendly, these creamy, cheesy beef enchiladas are a guarantee crowd pleaser.
Enchilada sauce, queso fresco, and green chiles are the key ingredients that combine to give this dish a wonderful depth of flavor no one can turn down.
Top with sour cream, cilantro, and lime wedges and serve with a side of cilantro lime cauliflower rice - a low-carb Tex-Mex lover's dream come true.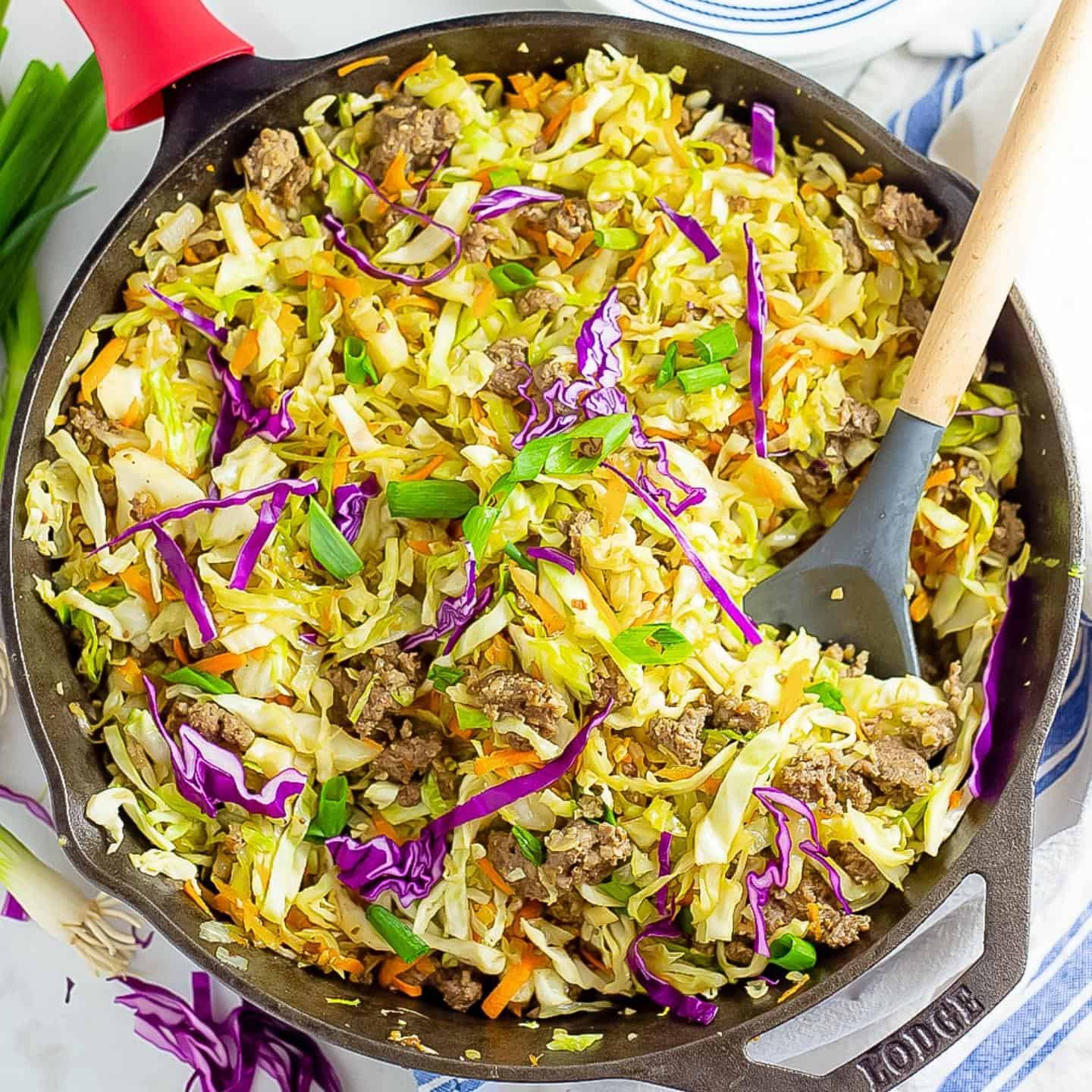 Bursting with Asian flavors, you're going to dazzle the table with this tasty egg roll bowl version.
Best of all, it comes together in 20 minutes with just a few ingredients you most likely have in your pantry.
You can also make it with ground pork, turkey, chicken, or any ground meat that you have on hand.
Get the best of both worlds by whipping up this 5-ingredient Mexican-style lasagna.
The sweet, tangy, and spicy bbq sauce adds a nice Southwestern flair and flavor that's sure to please kids and grown-ups alike.
Garnish with a dollop of sour cream, salsa, and avocado for a satisfying weeknight main dish.
Amp up your appetizer/snack game with this easy ground beef recipe. If your kiddos love tater tots, I guarantee they'll love this one, too! Mini tart shells are filled with seasoned ground beef, cheddar cheese, and ranch dressing.
The recipe is made even easier by using ready-to-fill tart shells. It gets you in and out of the kitchen in just 30 minutes.
These budget-friendly tasty bites are perfect when you need something quick and easy to serve a crowd.
This cheesy and comforting casserole is the epitome of easy ground beef recipes. It's speedy and made with a few ingredients but doesn't sacrifice any flavor.
Cheesy pasta and ground beef cooked in marinara sauce and topped with more cheese - this will be your new family favorite.
Plus, it's freezer-friendly, so you can prepare it in advance.
This easy ground beef hash is the perfect breakfast for dinner recipe. It fits the bill in every way; quick, flavorful, and filling.
With four simple ingredients - ground beef, cauliflower, cheddar cheese, and garlic powder - you'll be adding this easy dinner recipe to your weeknight repertoire.
You can tailor the recipe with what you have on hand; load it with bacon, bell peppers, squash, or jalapenos for extra spice.
Richly flavorful taco soup is always a good idea when you're craving a warm bowl of comforting soup.
It's also a great, crave-able way to enjoy all the Mexican flavors without the hassle of tacos! Awesome, right?
Plus, everything you need for this easy recipe is probably in your pantry. Garnish with a sprinkle of cheese, a dollop of sour cream, avocados, and a splash of fresh lime juice.
Cooked low and slow in savory red wine sauce, the ground beef and pork soak in all the incredible flavors, giving this classic Italian dish a deliciously rich flavor and texture.
Every bite will leave you wanting more and more.
Team up this mouthwatering dish with hearty cooked pasta or grilled Italian bread, and enjoy!
This is one of those easy ground beef recipes that you should have in your back pocket to help you make the most of your busy weeknights.
This recipe is also a great way to bring leftover rice, beans, and corn back to life.
Expand your culinary horizons with these sweet and savory biscuit cups. They cook in just 10 minutes and are sinfully delicious - you'll be making them on repeat all month long!
These biscuit cups are great for snacking or lunch on the go.
Feel free to swap out yellow mustard for Dijon mustard.
Swiss cheese is one of my absolute favorite cheeses. Its rich, creamy flavor is a gem in French onion soup, but it truly shines in this delicious and satisfying, easy dinner recipe.
You'll also love the earthy mushroom flavor, smoky, crispy bacon bits, and the richness of cream of mushroom soup.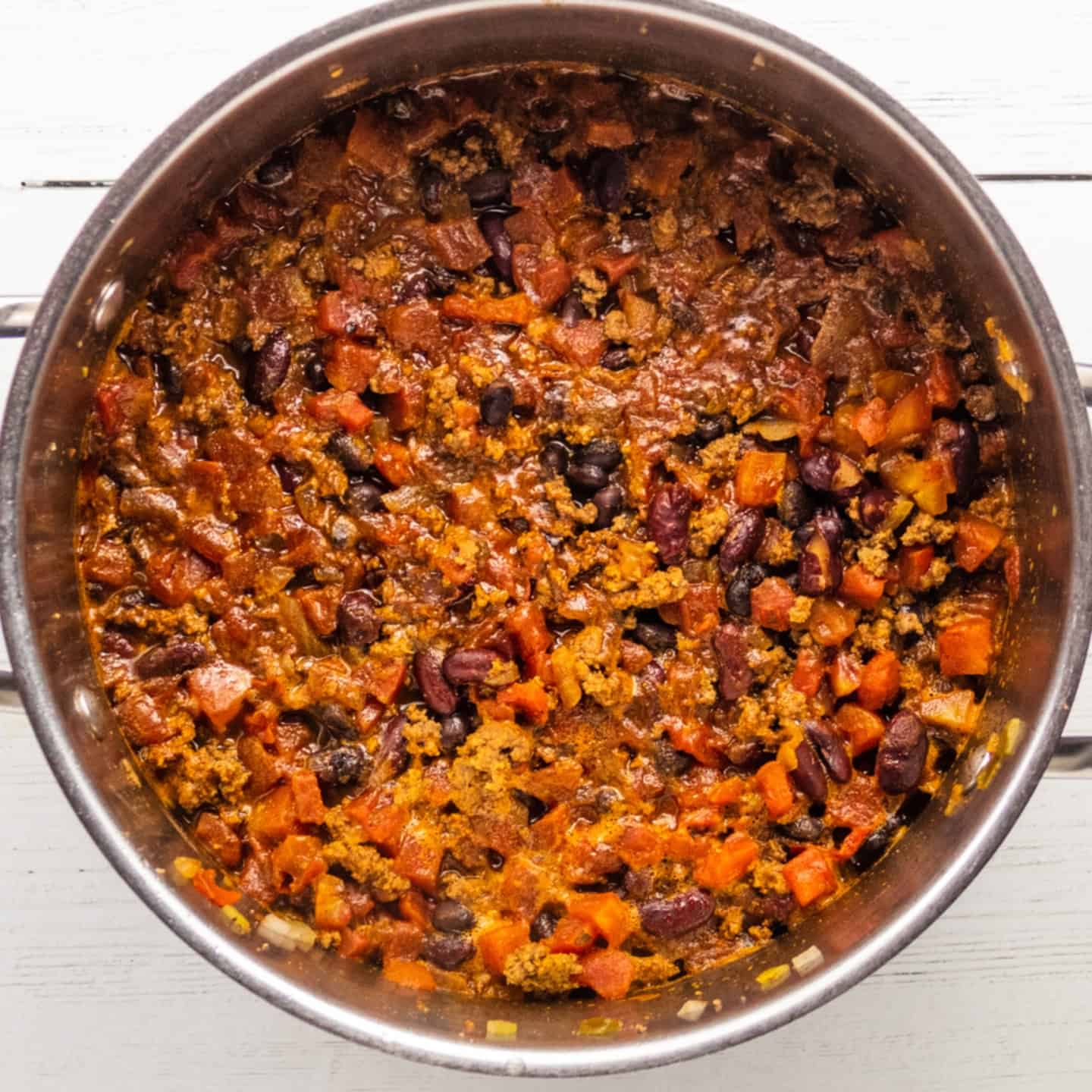 This chili recipe ranks high on my list of easy ground beef recipes; it uses a handful of ingredients, is quick, easy, adaptable, and insanely flavorful!
Make your own chili in 30 minutes by combining chili powder, diced tomatoes, onion, beans and ground beef. So easy and perfect to pair with chili cheese fries for a game day.
Here's the definition of easy ground beef recipes - a family-friendly meal that's flavor & texture packed, easy to make, and comes together in just 20 minutes.
Deliciously seasoned ground beef is tossed in a bowl of diced tomatoes, romaine lettuce, black beans, and shredded cheddar cheese.
It's sprinkled with nacho-flavored Doritos tortilla chips and all sauced up with a sweet, tangy dressing before serving. For another variation check out my dorito casserole that is so easy to make!
Ditch the pastries, cereals, and potato hash for this veggie-packed easy ground beef hash.
It's a perfect breakfast for those short on time but still want to enjoy a nice healthy meal.
But if you don't have 25 minutes to whip up this delicious and filling hash, you can always make a big batch over the weekend and divide it up in small resealable bags or containers for a reheat-and-eat breakfast all week!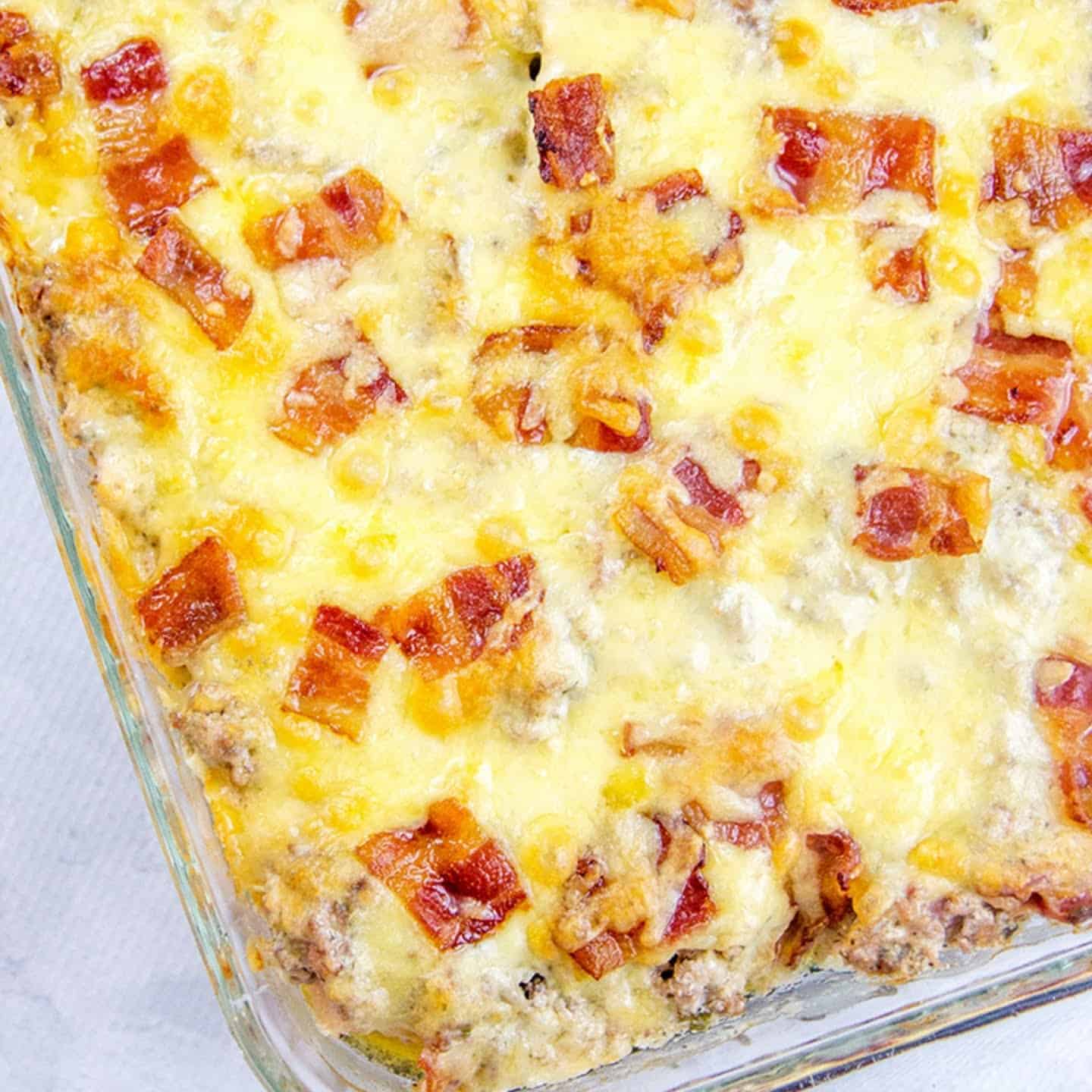 If cheeseburgers are your jam, you'll love this low-carb casserole spin. It's so much easier and comes together quickly without skimping on flavor.
It's outrageously delicious and filling - you might like this hearty casserole recipe even better!
This is hands down one of the best easy hamburger recipes.
Looking for one-pot easy ground beef recipes? Try this Asian ground beef and rice. It's perfect for those nights when you want something quick and flavorful without breaking a sweat.
In a large skillet, brown the ground beef over medium heat; stir in rice, soy sauce, beef broth, and a few seasonings.
Cook for a few minutes, then add carrots frozen peas, and dinner is ready in just 30 minutes!
For more easy dinner ideas make with ground beef check out my ground beef and rice recipes with few ingredients and my easy ground beef recipes.
You can have this easy Meatloaf on the dinner table in under an hour. The recipe uses a flavored stuffing mix, which keeps the ingredients and prep time to a minimum.
The box mix also adds a nice wonderful flavor to the Meatloaf. It's so good; everyone will think you made it from scratch!
Serve alongside fluffy mashed potatoes, veggies, or green salad for a satisfying meal. For more ideas check my glazed meatloaf recipe and my collection of meatloaf recipes with few ingredients.
Too tired to cook? Make your day a little easier and whip up this dump-and-bake beefaroni.
No browning ground beef or boiling pasta - just dump everything into the baking dish and bake until the meat is cooked through and pasta is tender.
It's super flavorful and requires just five ingredients.
Super speedy and bursting with flavor, this beef teriyaki skillet is an excellent idea for busy weeknights.
All you have to do is brown the ground beef with diced onion, minced garlic, and ginger, then simmer with teriyaki sauce.
Slather it on sloppy joes, add to your favorite salad or scoop over lettuce cups for a twist on the traditional Bulgogi, and you've got a meal the entire family will love.
30 minutes + 5 pantry staples, 5 net carbs, and packed with meaty, cheesy deliciousness - what's there not to love? These low-carb burgers are delicious and elegant enough for a weekend dinner party.
So if you're looking to cut back on carbs, you can happily indulge in these restaurant-worthy mushroom burgers.
All you need are four ingredients to make this simple, budget-friendly yet tasty goulash; ground beef, macaroni, onions, and condensed tomato soup.
While this recipe is fantastic as it is, you can always get creative and add beans, corn, or whatever veggies and spices you might have on hand.
🗃️ More Easy Recipes to Try
If you are looking for more meat recipes inspiration you should check these two collection of best delicious meals: leftover roast beef recipes and ground bison recipes.
And if that isn't enough, explore these fantastic diced chicken recipes, chicken casserole recipes with few ingredients and easy ground chicken recipes with few ingredients for a super easy weeknight meal.