If you're looking for an easy meatloaf recipe, you've come to the right place because these inspirational easy meatloaf recipes with few ingredients are sure to get you in the mood for a tasty lunch or dinner!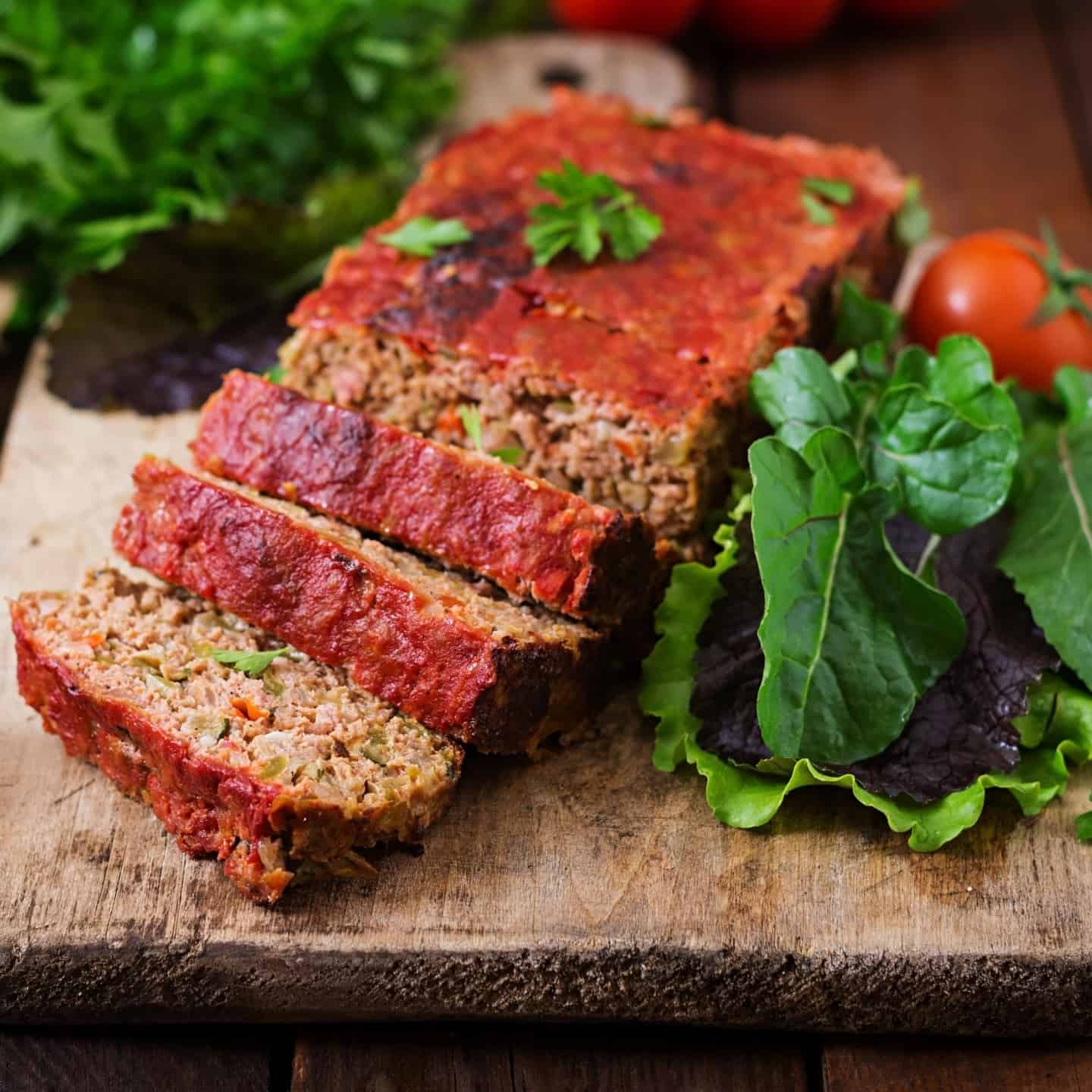 The recipes require only a few ingredients and are simple to follow. Whether you're in the mood for a classic glazed meatloaf or something with a twist, we have a recipe for you.
So fire up the oven and get ready to enjoy a delicious meatloaf tonight.
Easy meatloaf recipes for beginners with few ingredients
The addition of maple-flavored sausages gives this maple meatloaf recipe a delicious and unique flavor.
It's rich in flavor, breadcrumb-free, and made with just a few simple ingredients.
So if you're looking for an easy and delicious meatloaf recipe that has sweet and savory flavors, this is it!
This recipe for meatloaf with sour cream and catsup is an easy and delicious way to make classic comfort food.
The addition of sour cream adds a richness and depth of flavor that takes this dish to the next level. And the catsup provides a sweet and tangy contrast that is irresistible.
Enjoy this tasty ground beef meatloaf recipe for lunch or dinner!
If you want to use your instant pot to make meatloaf, you can, with just 6 ingredients and 35 minutes of your time!
Meatloaf is one of my favorite recipes to make in the instant pot because it reduces the cooking time in half and keeps it moist in the center with a sticky sweet glaze.
The brown sugar and spicy ketchup are a really good combo for the glaze, which adds a sweet and spicy flavor.
Stuffing + meatloaf = a delicious recipe that is so easy to make and feeds a large family for less than $10.
It's amazing what you can do with a bit of ground beef, eggs, stuffing mix, and ketchup. The stuffing mix is what makes the difference in this succulent easy meatloaf recipe and gives the meat mixture flavor and holds it together.
You can even use different stuffing flavors, like chicken, beef, sausage, or onions & sage.
This mouth-watering slow cooker Italian meatloaf is a delicious and easy recipe that the whole family will love.
The tomato basil cooking sauce is what really makes this recipe stand out from the crowd. It is moist and full of flavor. Plus, there's no need for a loaf pan!
Just combine everything in a large bowl and pop the mixture in the slow cooker on top of aluminum foil for 5 to 6 hours.
When it comes to the best meatloaf recipe, this BBQ meatloaf is definitely in with a shout!
BBQ sauce, ground beef, sharp cheddar cheese, and Italian bread crumbs are the main ingredients in this easy meatloaf recipe.
The smokey BBQ sauce adds a lovely smokiness to the dish, and the cheddar cheese in the middle is gooey and delicious. If you love BBQ sauce, then you're gonna love this recipe!
Mexican recipes are always a crowd favorite, and when you combine Mexican flavors with meatloaf, you get one irresistible main dish that is guaranteed to hit the right spot!
This spicy variation of meatloaf is packed with spicy flavor from the chipotle pepper adobo sauce.
Adobo sauce is common in Mexican food for its vibrant color and fiery taste, but you can easily make it milder or hotter to suit your taste buds by increasing or reducing the quantity in this recipe.
These cute little muffin tin meatloaves are just perfect to impress your guests!
Unlike most meatloaf recipes that have more than 10 ingredients with garlic powder, onion powder, Worcestershire sauce, and so on, this recipe bypasses all of that with the addition of onion soup mix to give the mini meatloaf flavor.
They're perfect for kids as they are just the right size and fit perfectly in their packed lunches for school.
This BBQ bacon meatloaf has everyone's favorite ingredients combined into one simple meatloaf recipe.
It's a family-loved recipe that never gets boring! With a simple beef mixture of smokey barbecue sauce, bacon bits, and ground beef, it's succulent with a bit of bite - and a layer of provolone cheese sandwiched in between to add melty goodness.
And to finish it off, it gets a generous topping of more smokey BBQ sauce and fried onions for extra crunch.
This recipe for smoked bacon-wrapped meatloaf studded with cheddar cheese is sure to please the meat lovers in your family.
The savory flavors of ground beef, onions, and garlic are enhanced by the smoky flavor of the bacon. And the bacon also helps to keep the meatloaf moist and juicy.
So fire up that smoker and give the classic meatloaf a smokey twist for the perfect dinner.
Surprise your family and friends for dinner this evening with a chicken meatloaf.
Ground chicken tastes just as good or even better than standard ground beef meatloaf. It has fewer calories and saturated fat while adding a creamier texture.
The additions of minced garlic, sweet fresh onion, and ketchup give this chicken meatloaf a wonderful sweetness.
There's no need for bread crumbs with this delicious Asian-inspired Thai chicken meatloaf.
Instead, the recipe calls for rice noodles to hold all the ingredients together, along with eggs, sweet chili sauce, carrot, and fresh coriander.
It's an easy meatloaf recipe to make when you're in a hurry with just 5 minutes of prep time and a loaf pan required to bake it in.
Yet another meatloaf muffin recipe, but this time with turkey mince as the protein of choice.
This recipe combines Mexican salsa, Monterrey jack cheese, red onion, and oatmeal as the binding ingredient.
Watch how everyone devours these little bites of flavorful heaven in no time! Check out the full recipe below.
If you love cheese and Italian flavors, then this cheese-stuffed chicken meatloaf is just for you!
It comes in our top 5 simple meatloaf recipes with few ingredients to make for dinner. This chicken meatloaf is made with Italian seasoned bread crumbs, basil pesto, mozzarella cheese, and topped with pizza sauce.
The cheesy stuffing makes this dish extra special and gives it a deliciously gooey center. Serve with mashed potatoes and a side salad for a complete meal.
Turkey meatloaf is a delicious, hearty meal that is perfect for a busy weeknight.
This dish is made with just five simple ingredients and can be on the table in less than an hour.
Ground turkey, stuffing mix, gravy, eggs, and onion soup mix, come together to create a moist and flavorful meatloaf that the whole family will love.
If you want a delicious and nutritious meal without the carbs, try this low-carb turkey meatloaf without any bread crumbs or oats.
This meatloaf has a sweet and savory texture with the addition of red bell pepper, tomato paste, parmesan cheese, onion, and garlic. The mixture is then spread into a loaf pan and cooked to perfection.
It's a delicious and hearty meal that is perfect for those on a low-carb diet.
Combining the spicy Mexican flavors of Picante sauce, taco seasoning, and tortilla chips with succulent ground beef to make this irresistible instant pot taco meatloaf.
The combination of tortilla chips adds a nice crunch to this meatloaf, and the taco seasoning and spicy salsa perfectly complement the lean ground beef.
It's all cooked in the instant pot for fast results until the internal temperature reaches 160°F and then topped with Mexican or cheddar cheese. This is one recipe you will want to make again and again.
For less than $5, you could feed a family of 6 with this easy stovetop meatloaf recipe consisting of just 4 ingredients!
I love hearing about quick midweek recipes to make with few ingredients, and when I made this easy meatloaf recipe, I couldn't believe how tasty it was with only a packet of stovetop stuffing and lean ground turkey.
It's perfect for kids and great for moms to whip up after soccer practice. Plus, you can enjoy the delicious meal knowing it's low on Weight Watchers points!
This super easy onion soup meatloaf recipe is a twist on the classic meatloaf that never disappoints. The secret ingredient is one packet of Lipton Onion Soup mix.
But don't let this simple recipe fool you. It's sure to be a family favorite.
It's juicy with a touch of sweetness and pairs well with mashed potatoes, mac n cheese, or a salad for a filling family meal!
If you love Italian flavors, then this cheese-stuffed meatloaf is just for you!
It's made with mozzarella cheese, tomato sauce, chopped onion, ground beef, spices, and crushed saltine crackers to hold it all together.
It tastes like Italian meatballs but without the hassle of shaping individual meatballs and is much more comforting and hearty!
This skinny ballpark turkey meatloaf combines the delicious flavors of a classic hotdog with mustard, ketchup, and sweet relish.
It's way better than a classic hotdog though, and healthier too, with 169 calories and 4 grams of fat per serving.
You and your family will absolutely love it, and it freezes well, which is great for meal prep ideas.
This cheeseburger meatloaf is the best meatloaf recipe on this list in my opinion!
And I say that purely because it tastes exactly like a cheeseburger, and who doesn't love a good homemade cheeseburger?
It has sweetness from the barbecue sauce and spiciness from the chili sauce giving you the perfect combination for the meat mixture and a layer of delicious cheddar cheese.
If you're looking for more ways to add spinach into your diet, start with this lamb meatloaf with Greek-inspired seasonings and flax seeds.
Lamb isn't so common in meatloaf recipes because it is strong in flavor and usually turns out weird, but this recipe, on the other hand, tastes just like traditional Greek lamb gyros.
Plus, it only requires a few ingredients and half an hour of cooking time, which makes this super simple meatloaf recipe with few ingredients is a must-try for busy weeknights.
Prepare something tasty this Sunday with an easy meatloaf recipe that is packed with flavor.easy meatloaf recipes for beginers with few ingredients
This dish is made with ground beef, pork stuffing mix, brown sugar, ketchup, and a few simple spices.
It's a delicious and hearty meal that the whole family will love. So if you're looking for an easy and delicious recipe to make this Sunday, give this meatloaf a try.
This secret 4-ingredient meatloaf is the perfect recipe for those busy weeknights.
The best part about this recipe is that it is so easy to make, and the meatloaf comes out tender, juicy, and full of flavor. The key to this recipe is to use high-quality beef and to not overmix the meatloaf.
Serve with classic sides of mashed potatoes or asparagus, and some country gravy for the perfect meal.
Why is it prize-winning meatloaf, you may wonder. Well, because it's simply too good for anything but first place on our list, and that's saying something because we have some pretty great recipes!
This super easy meatloaf recipe is packed with flavor, thanks to the addition of tomato sauce and quick oats. Not only do they help to bind the ingredients together, but they also give the meatloaf a wonderfully hearty texture.
And if you're looking for a leaner option, you can always substitute ground turkey for the beef. So whether you're a fan of classic comfort food or are just looking for a new recipe to try, this prize-winning meatloaf is sure to please.
One of the quickest and best-tasting ways to make any food is in the air fryer, and this air fryer meatloaf is too easy and delicious not to add to our list.
It's a simple dish to make, and the air fryer does all the work for you!
The result is a perfectly cooked meatloaf that's juicy in the center and slightly crisp on the outside.
This no-egg meatloaf is a delicious option for those who are looking for a hearty, yet healthy, dish.
It's packed with flavor, thanks to the addition of ketchup and cheddar cracker crumbs. And it's a breeze to make, so you can have it on the table in no time!
So whether you're looking for classic comfort food or a new twist on an old favorite, give this no-egg meatloaf a go!
If you're a fan of honey barbecue sauce, then you will love this honey BBQ meatloaf recipe!
The sweet and smoky flavors of the sauce complement the beef perfectly, and the addition of panko helps to bind the ingredients together.
This is a quick and easy meatloaf recipe that's perfect for a weeknight meal, and it's sure to become a family favorite.
Last but not least on our list is this herby ranch meatloaf made with ranch dressing mix and a stuffing mixture.
This dish is savory, moist, and packed with flavor.
The best part is that it's so easy to make. Simply mix all of the ingredients together, shape them into a loaf pan, and cook.