These easy ground beef and rice recipes with few ingredients let you make the most amazing dishes for dinner and special occasions! Ground beef is a versatile ingredient, as seen in these easy ground beef recipes with few ingredients.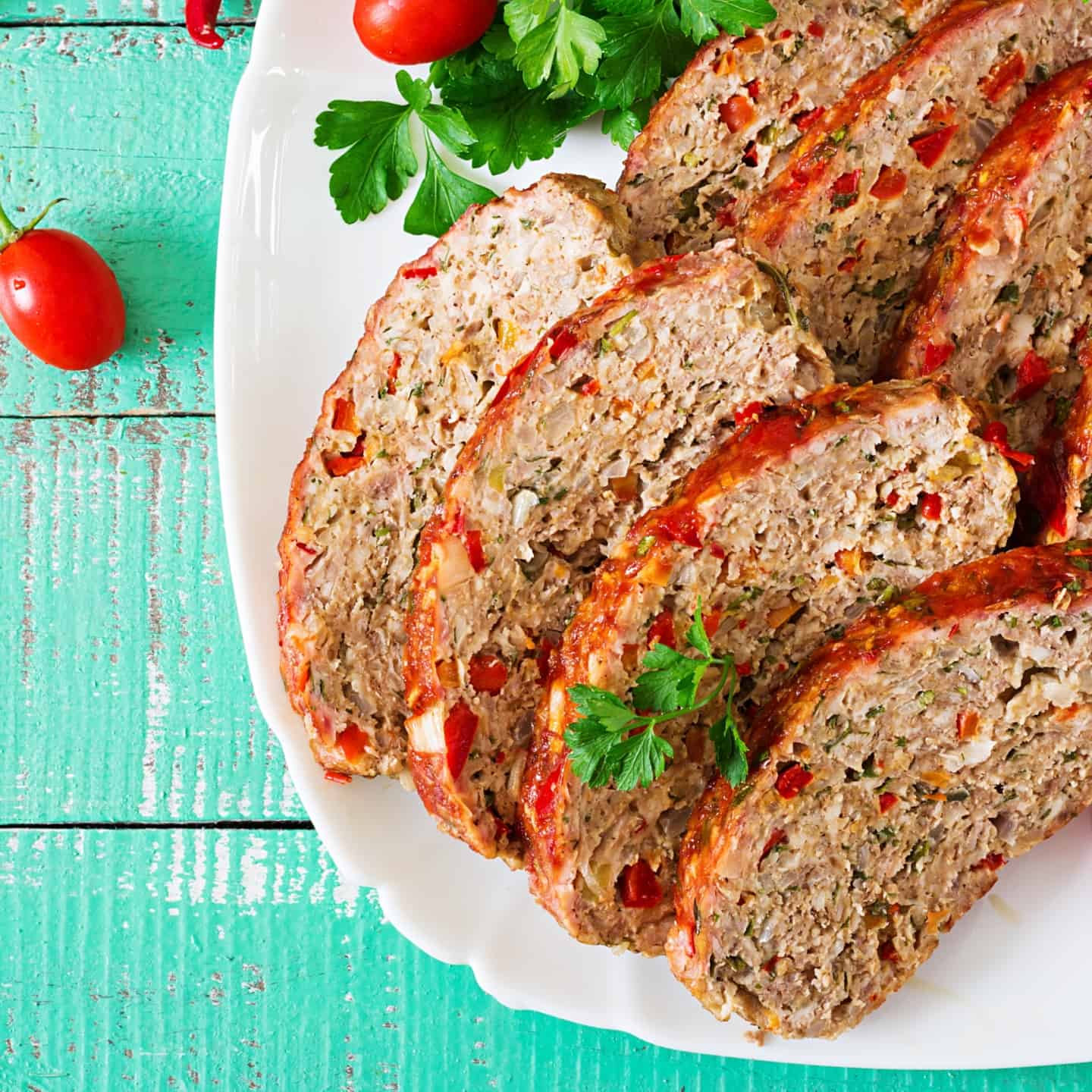 With rice and a combination of a few other ingredients, you can have absolutely delicious meals on busy weeknights!
From skillet meals to soup and stews, there's a recipe for you to try this list. And starting off, the delicious ground beef stuffed bell peppers skillet brings you a busy weeknight dish with great flavors and quick cook time.
This one-pan dish has a yummy taste, requiring easily accessible ingredients and 28 minutes of your time!
The ground beef and rice recipe suffice for dinner, and it'll definitely leave a smile on the faces of your whole family with its blend of flavors.
Ingredients required for this dish include lean ground beef, long-grain white rice, green & red bell peppers, Italian seasoning, beef broth, diced tomatoes, and shredded cheese.
Get white long-grain rice, frozen veggies, ground beef, bell pepper, onion powder, and a few other seasonings to prepare this dish in 25 minutes.
Ground beef and veggies stew over rice is a popular recipe in many families, bringing amazing flavors to the dinner table.
The great recipe starts with sautéing onion, capsicum, and garlic in a pot, and you can pair it with a few of your favorite toppings when you have the complete meal ready!
This Asian-inspired ground beef recipe has won the hearts of many over the years for its delicious flavors!
It's a rice dish that's quite easy to make, requiring ingredients such as cooked white or brown rice, soy sauce, pepper flakes, ginger, and cloves.
Your cooked rice could also be Jasmine rice, and you'll enjoy this dish with a topping of sesame seeds or green onions.
The variety of dishes you can make with taco seasoning and ingredients is absolutely amazing, and this casserole is one of the tastiest.
It's a dish that substitutes excellently on Taco nights, and you'll enjoy it with various toppings.
For the melted cheese effect, top with shredded cheddar cheese and place in the broiler for 2 - 3 minutes.
If you want to make a super-fast flavorful sauce to serve over fully-cooked rice, this is the recipe for you.
The stir-fry sauce combines fresh peppers, minced garlic, ginger, ground beef, and cabbage to satisfy your dinner cravings.
Top with green onions or sesame seeds, and enjoy!
Nothing beats this delicious soup of bell peppers, rice, and ground beef when it comes to comfort food. You'd require other ingredients like tomato sauce, beef broth, brown rice, cheese, and red pepper flakes.
Ensure the rice mixture is soupy, garnish with parsley, and top with shredded cheese. Serve warm, and enjoy!
You can add ground sausage to your soups, and you'll find various options to explore with these ground sausage recipes.
With only seven ingredients, you can have this delicious ground beef mixture with rice ready to share with the whole family.
The super simple recipe takes about 40 minutes, and you can easily fetch its ingredients from the pantry.
These ingredients include cream cheese, tomato sauce, uncooked long-grain rice, onion, chili powder, and ground beef.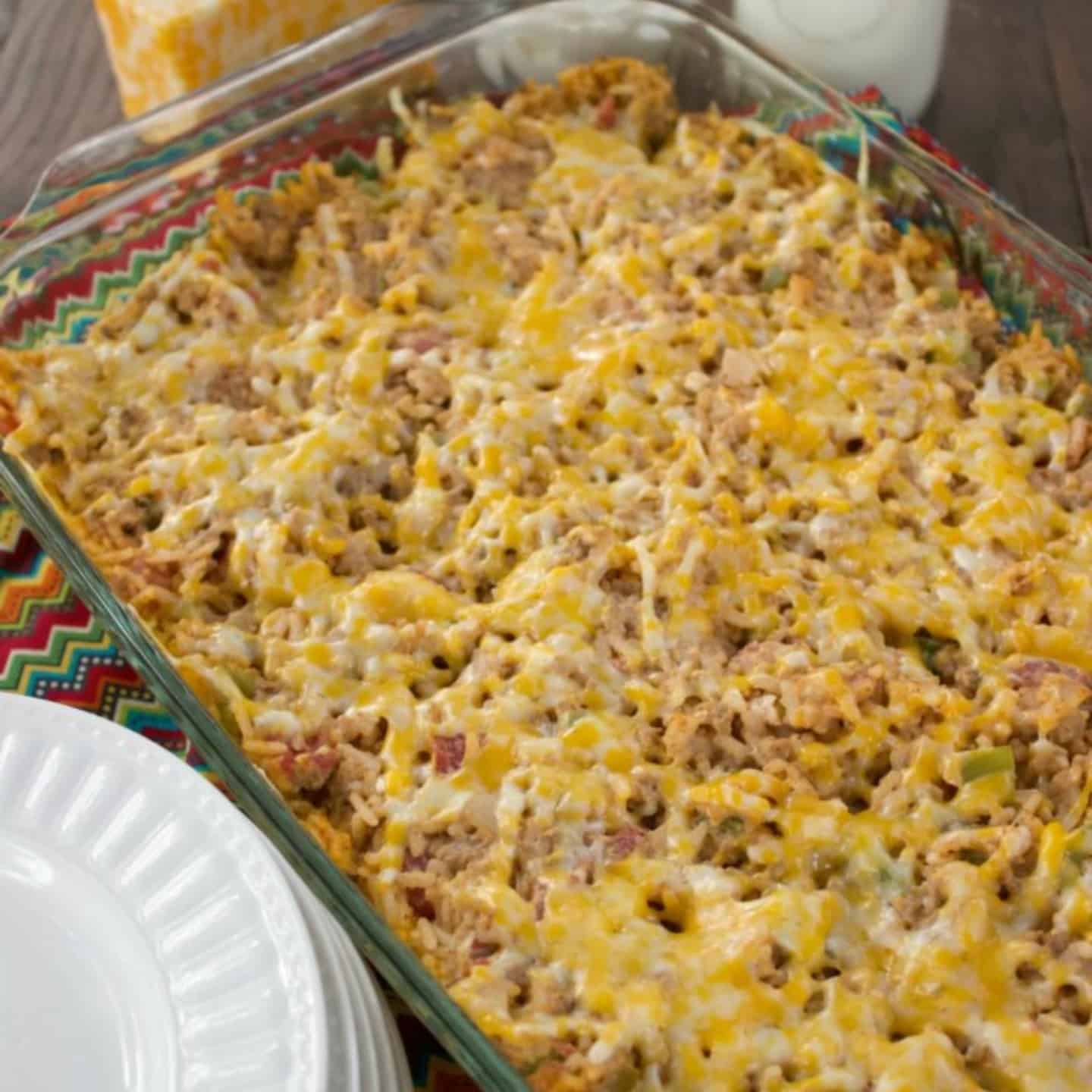 You can make this delicious casserole with leftover rice, or you can have it fresh by cooking rice anew.
It's a super simple casserole, incorporating the best ingredients, including yellow onions, green pepper, cumin, sour cream, cottage cheese, and Colby Jack or Cheddar cheese.
Cook till the casserole is perfectly done, and the cheese is melty.
This recipe combines ground beef, rice, and tomato sauce baked to juicy tenderness.
The ingredients include instant rice, garlic powder, celery salt, black pepper, and salt.
Your sauce incorporates tomato and Worcestershire sauce to give you the perfect dish to serve over rice.
This healthy one-pot meal will have you coming for more with its combination of ingredients!
These ingredients include ground beef, rice, zucchini, tomatoes, and green peppers. You can have the delicious dish ready to serve in 30 minutes and serve it with toppings of your choice!
You can explore more hamburger skillet options with these amazing ground bison recipes.
Change your meal rotation with this ground meat mixture packed into crunchy fried rice balls. They're of Italian descent, and you'll absolutely love them for the great combination of ingredients.
The recipe calls for white short-grain rice, yellow onion, tomato sauce, green peas, breadcrumbs, eggs, sugar, carrot, and ground beef.
It accommodates other veggies, and you'll love it warm with the sauce!
There's no better slow cooker hot dish made with ground beef and rice that you'll love better than this.
Wild rice is the special ingredient, giving you the right texture and flavor to enjoy an amazing dinner.
Put your ingredients in a crock pot, cook at medium-low heat for four hours, and enjoy warm!
Whether it's game day or a special day to celebrate with the family, this easy recipe will earn you cheers!
It's an amazing slow cooker dish, requiring ingredients including ground beef, onions, pinto or black beans, green chiles, and tomato sauce.
Serve over rice and garnish with fresh cilantro to enjoy!
When it comes to easy dinners, it doesn't get better or tastier than this hearty cabbage roll soup.
The soup maximally guarantees comfort, warmth, and delicious flavors on a cold night.
Serve grated parmesan cheese, and enjoy!
If you love Taco bell, you must be familiar with the crunchy and tasty ground beef and rice Quesarito.
You can make the copycat from the comfort of your kitchen with this recipe!
Ensure you've added onion powder and other seasonings in the right amounts for the best flavors.
This dish will have you feeling you could do just anything with its decadence of flavors.
Get a large skillet to start cooking with hot sauce, veggies, and basil leaves.
You can serve over any kind of rice you desire, including cauliflower rice, basmati rice, or jasmine rice.
You can't go wrong cooking this amazing dish for dinner, requiring simple ingredients such as veggies, rice, ground meat, and toppings of your choice.
Add onion, Italian seasoning, and dried herbs for extra flavor.
These stuffed cabbage rolls will have you beaming with joy with each bite!
The rolls are filled with flavors from a ground beef mixture with seasonings alongside an amazing sauce.
Garnish with fresh parsley, and enjoy! See this cabbage goulash recipe for more cabbage deliciousness!
With just five ingredients, you can have this rich, amazing dish on your dinner table.
It takes just 20 minutes to cook, and you'll have a wholesome experience when served hot with tortilla chips.
If you cook rice and ever wonder what stew will take it over the top, it's this Moroccan beef stew with lentils.
The amazing stew in made with a host of seasonings, split red lentils, honey, raisins, and dried apricots.
Serve with green beans on the side!
With less saturated fat, better taste, and great texture, you'll love this air-fryer version of beef-stuffed peppers.
It requires less cook time, and you'll love these stuffed peppers with cheddar cheese, parsley, and green onions.
This meatloaf is made with ground beef, ground turkey, fresh veggies, and brown rice.
It'll easily become your favorite ground beef and rice recipe, owing to the satisfying flavors you'll get with each bite.
Slice the tender and juicy meatloaf and serve over rice! If you loved this recipe, you'd also enjoy this amazing glazed meatloaf!
This dirty rice is one of the ground beef and rice recipes packed full of flavors.
It combines white rice, ground beef, cajun seasoning, onion, celery, and garlic.
Garnish it with parsley or green onions for a fine dining experience.
These meatballs are simply the best thing you can have over rice with flavors from its delicious thick sauce.
It requires a few ingredients and can be prepared in just minutes!
It goes well with any kind of rice and accommodates green onions or sesame seeds as toppings.
This Mexican dish is absolutely delicious, incorporating refried beans, seasoned ground beef, rice, sweet Enchilada sauce, and lots of cheese.
Bake for about 25 minutes till the cheese has melted, and the sauce is bubbling. Serve with cilantro, and enjoy!
Whether on its own or as a side dish, this meal comes with amazing flavors you'll absolutely love!
The rice is cooked in chicken broth and well-spiced diced tomatoes to give you a fantastic meal in about 45 minutes.
Top with cheese, and enjoy!
Another reason to love Mexican cuisine made with ground beef and rice is this fantastic recipe!
The queso sauce gives added flavors on drizzling, and you'll enjoy it with a topping of fresh cilantro.
This dish incorporates ingredients you can easily fetch from your pantry, including veggies, cream of soup, and seasonings.
You'll absolutely enjoy it with the flavors combining to make a satisfying complete meal.
Serve warm with any topping of your choice!
This is an easy stovetop dinner recipe that you can get ready in less than 40 minutes!
It incorporated a sloppy joe sauce and your favorite cheese to make a lovely dinner!
Ensure you're stirring occasionally till the cheese melts, then let it settle for a few minutes before serving.
Rice casseroles are a favorite when it comes to ground beef and rice recipes, and this is guaranteed to give you optimum comfort.
It incorporates canned tomato sauce, cottage cheese, sour cream, and cheddar cheese.
You'll get a melt-in-your-mouth texture with several great flavors!
This Korean-inspired dish is a delicious stew of ground beef, and fresh veggies served with rice on the side.
It's a super-healthy dish and will take only 20 minutes to make.
You can easily fetch the required ingredients in your pantry too!
The Teriyaki beef fried rice is a simple, delicious dish that holds the heart of several families!
It combined sauteed ground beef with cooked rice, seasonings, green onions, and sweet peas.
It's perfect on busy weeknights and should be enjoyed with toasted sesame seeds!
Switch up your rice and minced meat casserole with butternut squash.
Get your casserole ingredients and cut cubes of butternut squash into it for enhanced flavors.
Top with your preferred toppings and allow to cool before serving.
Pizza rice casserole serves as an excellent option on Pizza nights, incorporating amazing flavors from a host of ingredients.
Top it with shredded cheese, serve warm, and have the best dining experience!
This curry beef stew goes excellently over a bed of rice, incorporating ingredients including ground beef, curry powder, turmeric, beef broth, and cubed potato.
Serve over rice and add toppings of your choice to enjoy!
Ground Beef and Rice Recipes Takeaway
These are the best ground beef and rice recipes you can try to explore in your kitchen today! So make these dishes, share them with your family and friends and watch their faces light with joy. For more delightful recipes, see these fantastic ground pork recipes!