Ground bison meat is a great way to add more protein and less fat into your meals. Check out this fantastic 21 best ground bison recipes for you to make at home.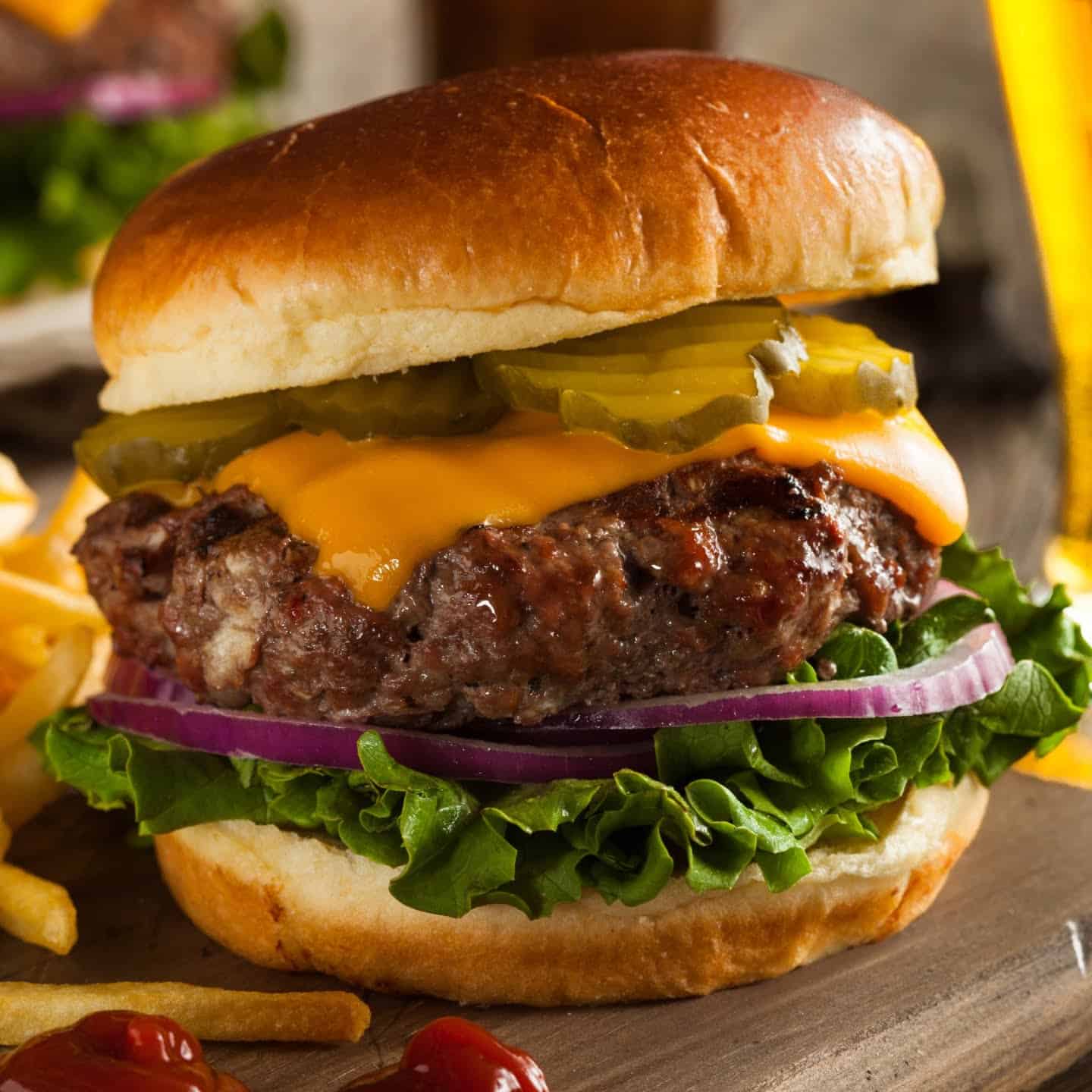 Although ground bison is more expensive than ground beef per pound, it has a richer flavor, perfect for making delicious soups and broths, and the meat is more tender for making succulent meatloafs, pork meatballs and Bolognese.
So if you're looking to mix things up in the kitchen, check out these 21 best ground bison recipes. You'll be glad you did!
Bison burgers are the perfect meaty addition to your next BBQ!
They're juicy, full of flavor, and stacked high with cheese, lettuce, tomatoes, and onions. They are sure to be the main attraction at any event, once your guests start smelling the rich scent of barbecued bison burger!
Whatever toppings you love, they will all go perfectly with a juicy ground bison burger.
These Italian-style meatballs flavored with garlic, parmesan cheese, basil, and herbs are delicious with a light marinara sauce and easy to make.
They taste far better than pork or beef meatballs and the rich juices from the bison meat enhances the sauce.
Serve bison meatballs over linguine pasta or rice for a delicious flavorsome meal!
Tacos are always a good idea, and they're even better when made with ground bison.
This recipe is perfect for a quick and easy weeknight meal and can be customized with your favorite toppings.
Serve them with guacamole, sour cream, Mexican cheese, and Pico de Gallo for a mouth-watering Mexican ground bison dinner or lunch.
This hearty ground bison chili with chili beans and spices is perfect for a winter night. It's packed with flavor and can be made in the slow cooker or on the stovetop.
Top it with shredded cheese and sour cream, and serve it with a side of cornbread or garlic bread.
It's a delicious ground bison recipe that's sure to become a family favorite.
This twist on the classic shepherd's pie uses ground bison in place of ground beef for a leaner, healthier version.
Ground bison shepherd's pie is filled with veggies like carrots, peas, and corn and topped with creamy mashed potatoes and a layer of cheese as you're accustomed to.
It's the perfect comfort food for a cold night.
If you love enchiladas, you'll love this enchilada recipe made with ground bison.
The delicious filling is flavored with spices like cumin and chili powder, and the enchilada sauce is a mixture of tomato sauce, herbs and spices. The enchiladas get a assembled in a dish with the sauce and covered with lots of Colby cheese and baked in the oven to perfection.
Top them with diced tomatoes and sour cream, and serve them with a side of refried beans or Mexican brown rice of the perfect Mexican dinner.
These ground bison stuffed peppers are a healthy and flavorful dinner option.
The bison is mixed with brown rice, tomato sauce, and spices, then stuffed into red or green bell peppers.
They're baked in the oven until the peppers are tender and the bison is cooked through. Serve them with a side salad or some crusty bread.
Looking for an easy way to combine bison meat with vegetables? Try this quick ground bison recipe!
Ground bison recipes are also tasty and this stir-fry is a family favorite and perfect for easy weeknight meal. The bison is cooked in a frgrant aromatic sauce with green beans and tofu until tender and served over rice for a filling meal.
It's a healthy, flavorful, and satisfying dish that the whole family will love.
Easy ground bison recipes don't get much tastier than this delicious breakfast dish made with ground bison, sweet potatoes, and bell peppers.
It's flavored with spices like chili powder, onion powder, and garlic powder - and is perfect for a weekend brunch.
Serve it with eggs, avocado, and hot sauce for a complete meal.
10. Ground Bison and Quinoa Meatloaf
Give your meatloaf an upgrade with this rich ground bison recipe meatloaf and quinoa.
This meatloaf is packed with protein and flavor, and it's a healthier alternative to traditional meatloaf but just as delicious.
It's easy to make using staple pantry ingredients, takes 1 hour to make, and feeds a large family.
These mini burgers are perfect for a party or game day!
The ground bison meat is mixed with salt and black pepper to draw out the delicious flavors of the meat, cooked to perfection, and topped with avocado and cheese.
They pair well with other party foods like chicken strips and spicy chicken wings.
If you're looking for a one-skillet dinner, this fried rice recipe with ground bison and Cajun spice is easy and tasty, and it's a great way to use up leftover rice.
All you need to do is cook ground bison with bell pepper, garlic, and onion in a hot pan with rice and flavor it with hot sauce, Cajun seasoning, Worcestershire sauce, and broth to give the dish a wonderful flavor
It's a quick and easy meal that's perfect for weeknights.
Cheese, cheese, more cheese, and BISON?? Yes, ground bison, pasta, and cheese are a great combination.
Since ground bison is slightly sweeter, it's perfect for mac and cheese. And this recipe is sure to hit the right spot with its creamy sauce and delicious cheese flavors from shredded Colby jack cheese and cheddar.
It's a hearty meal that is perfect for kids and adults alike, and it stores well, meaning any leftovers can be enjoyed the following day!
This is a hearty and filling stew that will leave you feeling satisfied.
Ground bison, potatoes, carrots, kale, butternut squash, celery, and onions are simmered in a savory broth flavored with turmeric. This is the perfect meal to warm you up on a cold day.
It's cooked in a slow cooker for tenderness and served with a crusty loaf of bread to soak up the delicious beef broth.
Making a casserole is a great way to use up leftover ground bison, and this recipe is packed with flavor from the rich bison, russet potatoes, mushroom soup, and onion.
It's topped with shredded cheddar cheese and chopped fresh parsley for a delicious and hearty dish.
This one pot dinner is a creamy dish that is sure to please everyone at the table!
This is one of my favorite bison ground meat recipes to make in a hurry!
Harvest bowls are perfect for mixing your favorite veggies and grains into one meal. You can incorporate flavors and colors to make a dazzling dish like this one here with healthy ground bison.
It's made with natural sweet veggies like roasted butter squash, turnip, sweet potato, and mushrooms, and combines maple syrup,
30 minutes is all you need to make this tomato pasta with bison meat.
It's made with typical Italian ingredients, and everything is cooked in the same pan for easy cleanup. Add shaved parmesan, a drizzle of olive oil, and basil leaves at the end to finish it off!
It's a quick and easy weeknight meal that the whole family will enjoy.
One of my favorite recipes to prepare in 5 minutes and stick in the oven is meatloaf. It's so easy to make, tastes amazing with stick barbecue sauce, and takes only 1 hour to bake.
Plus, you can serve it with a host of side dishes, from roasted asparagus to roasted potatoes and even beans.
Making this barbecue meatloaf with ground bison gives it more lean protein and results in a rich beefy flavor that is oh-so moreish. Try it. You won't regret it!
Simmered bolognese sauce for 4 hours with red wine, crushed tomatoes, carrots, mushrooms, pork sausage, and ground bison!
If all this sounds good to you, then you'll be in heaven with this recipe. It's easy to make and uses staple pantry ingredients.
It's the best bolognese recipe you'll ever try and one that your family will be requesting regularly after the first bite.
This simple succulent ground bison goes perfectly in a taco bowl filled with sliced avocado, tomatoes, lettuce, corn, and chopped cilantro.
All it takes to make this ground bison taco bowl is15-minutes of your time from start to finish, making it a great meal to make on busy weeknights, and even the kids will enjoy eating it.
Taco bowls are great for filling with salad ingredients, healthy grains, and tasty meats like bison for a protein packed meal.
This creamy coconut flavored curry with ground bison is such a fragrant and deliciously tasting curry that only takes 30 minutes to prepare.
The aroma from this curry will have your neighbors knocking on the door! It's healthy and packed with healthy nutrients from Brussel Sprouts, carrots, asparagus, and cabbage - and flavored with curry powder, cilantro, and coconut milk.
This showstopping curry is filled with lots of hearty ingredients that will have your guests coming back for second helpings.
If you are looking for more meat recipes inspiration you should check these two collection of best delicious meals: leftover roast beef recipes and ground beef recipes.