Dragon fruit is a unique and colorful fruit that is becoming increasingly popular in the culinary world. With its vibrant pink or yellow skin and speckled white flesh, it is not only visually stunning but also packed with nutritional benefits.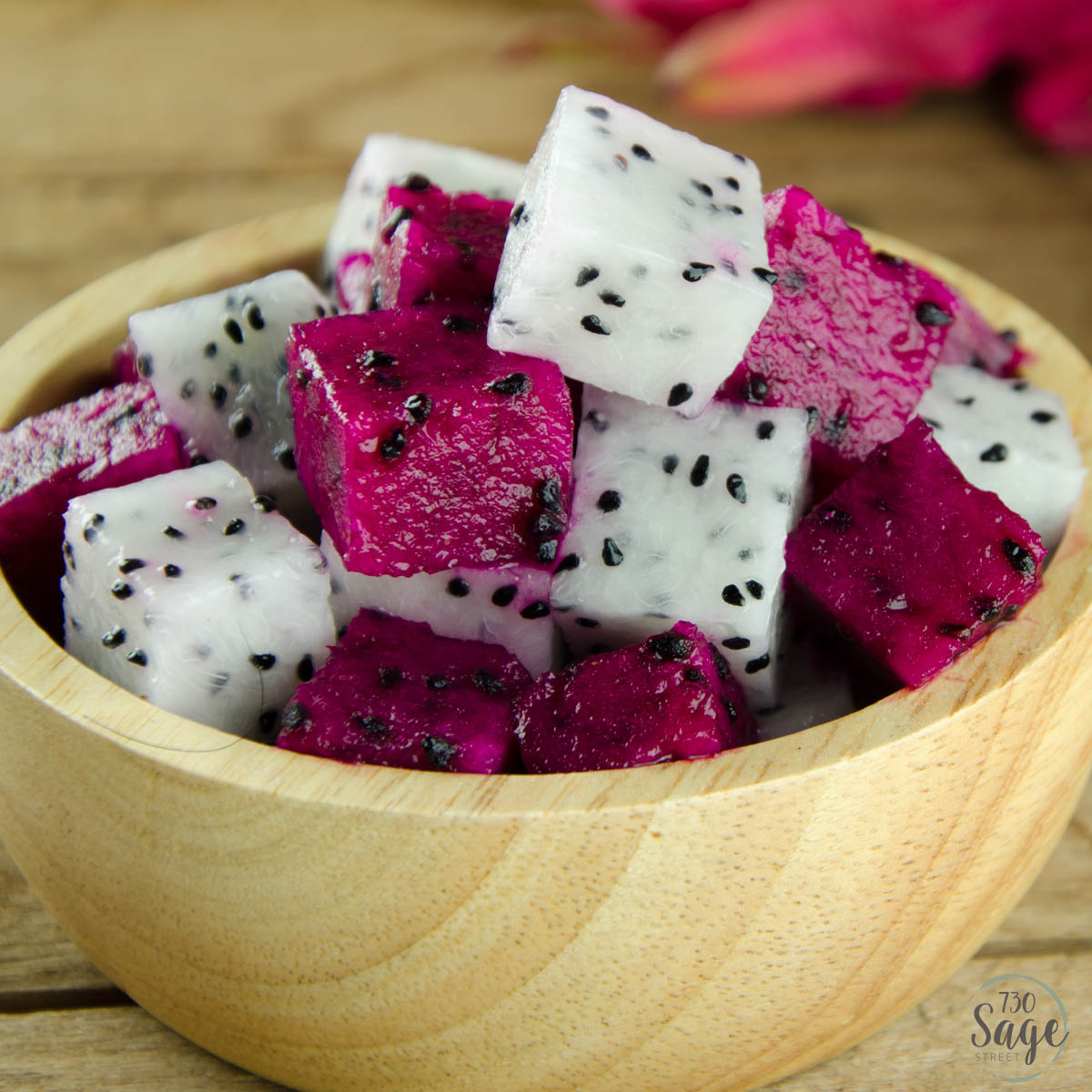 From sweet to savory, there are a variety of creative ways to use this exotic fruit in your cooking.
Whether you are looking for a refreshing drink, a delicious dessert, or a tasty salsa, this collection of 23 dragon fruit recipes has got you covered.
Get ready to explore the many possibilities of this versatile and delicious fruit!
Dragon Fruit Breakfast Recipes
Here are some breakfast recipes that use dragon fruit as the main ingredient:
This vibrant Dragon Fruit Smoothie Bowl recipe is a delicious and healthy way to start your day. Made with frozen pitaya (dragon fruit), tropical fruit, and unsweetened almond milk, this thick and creamy smoothie is packed with flavor and nutrition.
To achieve a thicker consistency, it's important to use frozen fruit and be cautious about adding too much liquid. You can also get creative with the toppings, including blueberries, strawberries, kiwi, and more. This recipe is perfect for anyone looking for a refreshing and nutritious breakfast or snack.
Looking for a delicious and simple breakfast recipe that's also low-carb? These Dragon Fruit Chia Breakfast Pudding Cups are a perfect make-ahead meal for busy mornings. With the use of red dragon fruit, chia seeds, vanilla yogurt, and unsweetened almond milk, this recipe creates a creamy, flavorful pudding that's sure to satisfy. The addition of low-carb vanilla syrup adds just the right amount of sweetness without all the sugar.
This Dragon Fruit Salad Bowl recipe is a visually stunning and healthy way to enjoy a refreshing fruit saladfor breakfast. Begin by selecting perfectly ripe dragon fruit with bright red color and no brown spots. Cut in half and scoop out fruit with a baller, leaving a layer of fruit in the skin to prevent sogginess. Cut other fruits into small cubes and toss with pineapple juice. Layer fruits into the dragon fruit skin, chill in the fridge and drizzle with honey before serving.
This Dragon Fruit Cereal recipe is a gluten-free and healthy breakfast option that's perfect for those looking for a quick and easy meal. Simply cook wild rice according to the package directions and divide it among 4 bowls. In a small sturdy pot, warm up coconut milk or your preferred milk mixture. Pour the warm milk over the rice and top it off with diced mango, dragon fruit, and nuts. If you're concerned about the calories in coconut milk, you can substitute part of it with cow's milk, rice milk, almond milk, or soy milk.
You can also cut the coconut milk with water if preferred. You can also prepare the rice in advance and reheat it in the morning for a quick and easy breakfast.
These gluten-free and vegan Pink Dragon Fruit Chocolate Chip Waffles are both pretty and delicious! Made with a blend of gluten-free flours, almond meal/flour, and unsweetened almond milk, these waffles are crispy on the outside and soft on the inside. Dragon fruit powder adds a vibrant pink color and subtle flavor, while Earth Balance butter and Enjoy Life chocolate chips add richness and sweetness.
Serve with your choice of toppings, such as fresh dragon fruit, berries, chocolate chips, powdered sugar, or maple syrup. Perfect for a quick and easy breakfast ready in just 30 minutes!
Dragon Fruit Dinner Recipes
Here are some Dragon Fruit Dinner Recipes:
This Dragon Fruit Shrimp and Forbidden Rice recipe is a healthy and flavorful dinner option that's both sweet and spicy. Marinate raw, peeled shrimp in a mixture of orange juice, hot honey, and lime juice for at least an hour. Cook forbidden rice according to the package instructions and set aside. Cut dragon fruit into cubes and reserve half for the recipe and the other half to enjoy on its own.
Cook the shrimp in a skillet until pink and cooked through, then remove from the pan and reduce the remaining marinade by half. Stir the shrimp and sauce into the rice and fold in the dragon fruit.
These vegan summer rolls are bursting with fresh flavors and a unique twist of dragon fruit! Made with fresh veggies, fruits, and basil, these rolls are a perfect appetizer or brunch option. Baked extra-firm tofu coated with peanut satay sauce adds a nice crunch to the rolls.
The summer rolls are wrapped in gluten-free rice paper with a filling of red onions, mango, red bell pepper, and avocado along with the sweet and juicy dragon fruit. The rolls are then served with homemade peanut satay sauce to enhance the flavors.
Add this vibrant and delicious Dragonfruit Fried Rice to your dinner menu tonight! This vegan and gluten-free recipe is packed with crunchy veggies and nuts, and the color is sure to brighten up your plate. Using a wok, sauté green beans, pan-fried tofu, and frozen corn until tender and seasoned with salt. Then, 'fry' cooked rice until the grains start to dance in the wok, and add in the dragonfruit flesh to coat the rice with a beautiful pink color.
Toss in the cooked veggies and tofu and top with toasted cashews. Serve warm with homemade sambal, pickles, tomato slices, fried shallots, and salad.
This recipe is for a Dragon Fruit Waldorf Salad, which is a unique twist on the classic Waldorf salad. The salad includes cubed dragon fruit, green and red apples, red grapes, cilantro, and chopped nuts, all tossed in a dressing made with Greek yogurt, mayonnaise, honey, lime juice, salt, and grated ginger. The salad is chilled for at least 30 minutes and served over a bed of lettuce. The recipe is suitable for dinner and serves two people.
This recipe features a vegan taco dinner that is perfect for meatless Monday or taco Tuesday. It includes jackfruit carnitas marinated in a delicious blend of spices, orange juice, and soy sauce or coconut aminos. The marinated jackfruit is served in warm tortillas with a fresh and fruity dragon fruit salsa made with cilantro, dragon fruit, pineapple, jalapeño, lime juice, and salt.
This recipe is quick, healthy, and packed with flavor, making it an excellent option for a quick and easy dinner.
Dragon Fruit Dessert Recipes
Below is a list of the best dragon fruit dessert recipes that you should definitely try:
This Dragon Fruit Angel Food Cake recipe is a twist on a classic angel food cake recipe, infused with dragon fruit powder and served with fresh dragon fruit slices and dragon fruit simple syrup. The recipe uses a box of angel food cake mix, water, and dragon fruit powder to make the batter, which is then baked in the oven.
The cake is topped with more dragon fruit powder and served with fresh dragon fruit slices and a homemade dragon fruit simple syrup. This recipe serves 8 people and takes approximately 42 minutes to prepare and bake.
This Dragon Fruit Cheesecake recipe has a graham cracker crust and a filling made with cream cheese, heavy cream, sugar, vanilla, unflavored gelatin, and frozen dragon fruit blended with pink food coloring. The crust is made by mixing graham cracker crumbs, sugar, and melted butter, then pressing the mixture into a spring-form pan. The filling is made by blending the cream cheese, sugar, and vanilla, then adding whipped cream and gelatin.
Half the filling is poured into the crust, and the other half is blended with the dragon fruit and pink food coloring before being poured on top of the white layer. The cheesecake is frozen overnight before being cut and served.
Dragon Fruit Cream Pie is a creamy and delicious dessert that features dragon fruit puree and cream cheese filling baked in a flaky crust. The dragon fruit puree is simmered with sugar to make a thick filling, which is then mixed with cream cheese, egg, and extracts to create a luscious and fruity filling.
The pie is baked until set and has a slight wobble in the center. It is then cooled and chilled before serving. The pie is perfect for any occasion and is a wonderful way to showcase the beautiful and unique flavor of dragon fruit.
If you're in the mood for a light and refreshing dessert, this easy dragon fruit sorbet recipe is just what you need. Simply peel and dice the fruit, freeze it overnight, and blend it with sweetened condensed milk to create a smooth, creamy puree. Freeze it again, scoop, and serve with your favorite toppings or as a standalone treat. It's a great way to enjoy the delicate, sweet flavor of dragon fruit in a cool, satisfying way. Just be sure to freeze the fruit thoroughly before blending for optimal results.
These Guava Dragon Fruit Popsicles are the ultimate summer treat! Made with guava juice, Greek yogurt, fresh dragon fruit, and agave syrup, they are the perfect balance of fruity, sweet, and refreshing. Whether you're enjoying them by the pool or as a healthy snack, these popsicles are easy to make and sure to please.
Simply blend all the ingredients together, pour into molds, and freeze for at least 8 hours. For an extra pop of color, you can even add a few drops of pink food coloring. These popsicles are a guilt-free dessert you'll want to make all summer long.
Savory Dragon Fruit Recipes
These are the top savory recipes that use dragon fruit:
Looking for a sweet and tangy salsa with a tropical twist? Try this Dragon Fruit Papaya Salsa recipe! This refreshing salsa is perfect for dipping with chips or as a topping for fish or chicken. With juicy chunks of dragon fruit and papaya, zesty lime juice, and fresh ginger, this salsa is bursting with flavor. For an extra kick, add a sprinkle of chile powder. Simply combine all the ingredients and chill in the fridge for 15 minutes before serving.
Spicy Dragon Skin is a delicious and healthy dish that's easy to make at home. Start by cutting the dragon fruit and removing the outer skin with a thin knife. Then, shred the strips and mix them with cold soy sauce, spicy oil, pepper oil, sesame oil, and chicken seasoning to taste. The result is a spicy and flavorful dish that's perfect as a cold appetizer or snack.
Dragon fruit is a highly nutritious fruit with various health benefits, including reducing blood pressure and aiding in weight loss. Try making this Spicy Dragon Skin recipe today and enjoy the unique taste of this exotic fruit.
Dragon Fruit Drinks
Additionally, we have curated a list of the best drinks made with dragon fruit that you must try:
Dragon Fruit Lemonade is a beautifully refreshing drink that is perfect for a hot summer day. The combination of pink dragon fruit and fresh lemon is delicious and looks stunning. To make this drink, start by making a simple syrup from water and sugar. Next, blend fresh dragon fruit until it reaches the desired consistency. Add the simple syrup, freshly squeezed lemon juice, and cold water to the blender and pulse until combined. Pour over ice and garnish with extra dragon fruit, lemon wedges, and mint.
Get ready to enjoy a refreshing and sweet Starbucks-inspired drink right at home with this Dragon Drink recipe! Made with delicious ingredients like nutty coconut milk, sweet mango, apple juice, and bits of dragon fruit, this pink drink is easy to make and perfect for a hot summer day.
Even better, it's vegan and gluten-free, and can be made caffeine-free if you prefer. This recipe is a copycat version of Starbucks' popular Dragon Drink, and is sure to be a hit with everyone who tries it.
This Dragon Fruit Cocktail is a perfect drink for a romantic night with your loved one or just to enjoy on a warm summer evening. With its beautiful magenta color and delightful blend of flavors, it's sure to be a hit with everyone. Made with vodka, elderflower liqueur, fresh lemon juice, and sweet dragon fruit puree, this cocktail is perfectly balanced and so easy to make. Just add all the ingredients to a shaker with ice, shake, and strain into two martini or coupe-style glasses.
Looking for a cocktail that will leave a lasting impression? The Dragon Fruit Mojito is the perfect drink to serve at your next happy hour gathering. It's quick to prepare, and with its beautiful pink hue, it's sure to impress your guests. All you need is dragon fruit, mint, sugar, lime, white rum, ice cubes, and club soda. Simply muddle the dragon fruit and mint, add lime juice and sugar, pour in the rum, mix, and fill the glass with ice and club soda.
Give it a good stir and you're ready to enjoy! Add some extra mint leaves and lime slices to garnish and you're good to go.
This delicious and healthy mango dragon fruit smoothie is a perfect way to start your day with a refreshing and nutritious treat. Made with fresh mango, dragon fruit, chia seeds, hemp seed and milk, it is easy to make and tastes great.
To make this smoothie, start by blending the dragon fruit with ¼ cup of milk until it forms a smooth puree. Then blend the mango, hemp seeds and chia seeds with the remaining ¼ cup of milk. Next, pour the dragon fruit puree into glasses, followed by the mango mixture on top. And voila! Your refreshing and nutritious mango dragon fruit smoothie is ready to be enjoyed.
Dragon Fruit Kombucha is a delicious and refreshing drink that you can make with fresh or frozen dragon fruit. This sweet and tart beverage is made by blending the dragon fruit, pouring it into bottles with homemade kombucha, and letting it ferment for a few days until it's just the right amount of fizzy and flavorful. To ensure the perfect balance of fizz and flavor, be sure to taste it every day and let out any built-up pressure.
Once it's ready, just pop it in the fridge and enjoy anytime you need a sweet and tangy pick-me-up!