These easy dip recipes with few ingredients are perfect for your party appetizers, game days, and quick side dishes! With these recipes, you can make an absolutely delicious dip in less than thirty minutes and with easily accessible ingredients.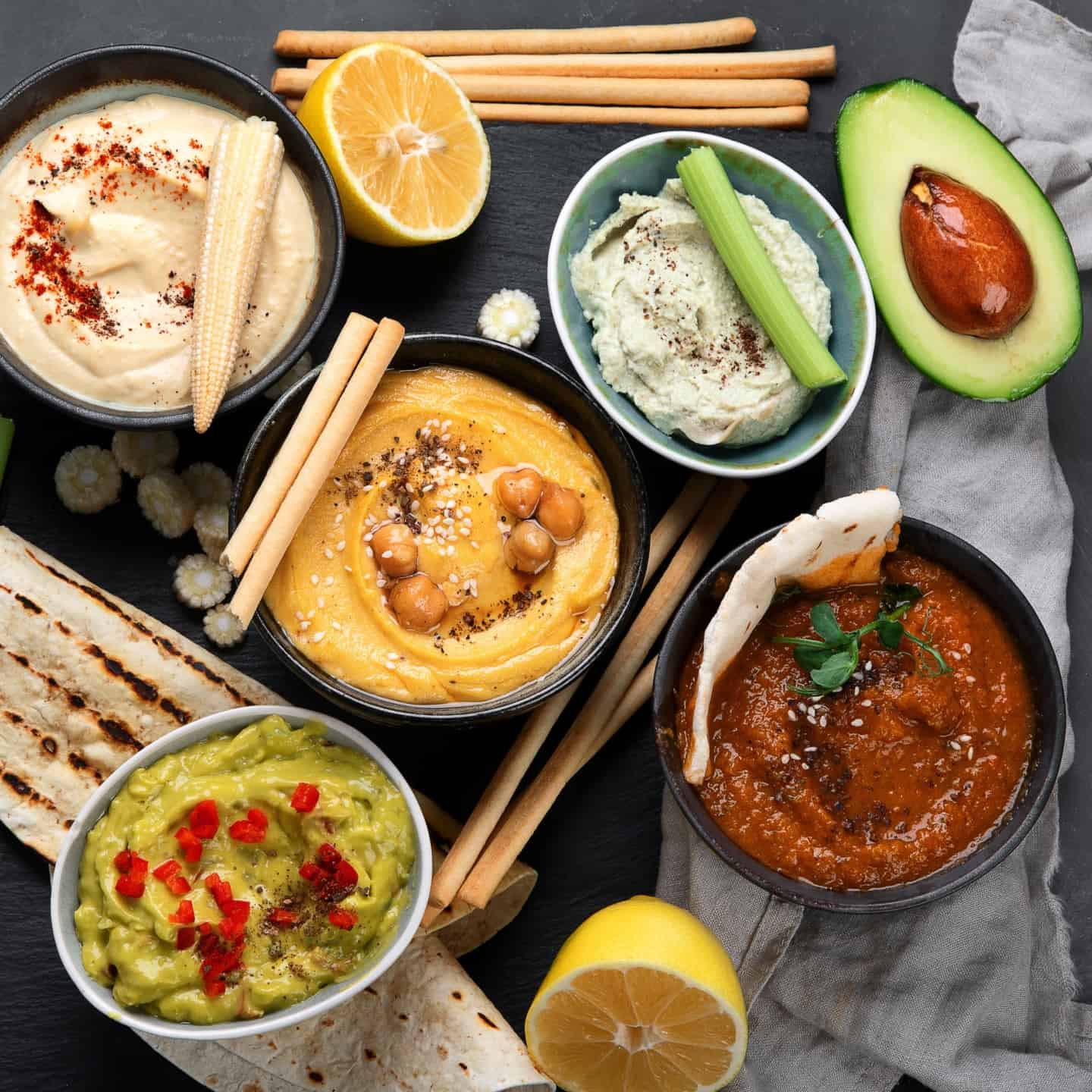 The extra flavors dips bring to dishes are why so many families love them. You can eat almost anything with a dip, from chips to meat dishes and even desserts. If you're looking for ideas of a delicious dessert to enjoy with the dips on this list, see our sweet easy desserts with few ingredients recipes.
We start these savory dips with this classic cream cheese dip made with only two ingredients.
This dip recipe is the perfect choice for your game-day snacks! It's made with only two ingredients, making it ridiculously easy to make in less than ten minutes.
These two ingredients include cream cheese and chicken bouillon cubes. You might need warm water to dissolve your chicken billion cubes to mix with the cream cheese in an electric mixer.
Ensure to stir till it's consistently smooth and creamy. Serve the creamy dip with your chips, and enjoy.
Your Taco Tuesdays are not complete without this amazing taco dip. The best part of this dip is that it's not limited to enjoying with tacos alone.
You only need five ingredients to get this ready, including sour cream, cream cheese, taco seasoning, iceberg lettuce, and shredded cheddar cheese.
Top with green onions to enjoy with tacos, pita chips, celery sticks, carrots, tortilla chips, or corn chips. Need more Taco side dishes? Everything you need is in these easy sides for tacos.
Whether for your super bowl party or family gatherings, this buffalo chicken dip has all the flavors to make your chips and veggies disappear in seconds.
It's a super simple cheesy dip made with shredded chicken, cream cheese, blue cheese, cheddar cheese, and buffalo wings hot sauce.
Top with fresh parsley to enjoy with your potato chips, bread, celery, and carrots.
With only 20 minutes of prep time required, you can have this great dip ready to enjoy with your tortilla chips.
You only need four ingredients for this easy dip recipe, including ground beef, salsa, Velveeta cheese, and taco seasoning.
Top this Mexican blend with a dollop of sour cream and serve with tacos or chips. If you're a fan of ground beef dishes, then you want to see our delicious easy ground beef recipes with few ingredients.
This is one of the easy party dips packed with so many flavors that you won't have any leftovers.
Its flavors come from bacon bits, sour cream, Ranch dressing mix, green onions, softened cheese, and sharp cheddar cheese.
It takes only ten minutes to make, and you can serve it with Graham crackers and raw veggies to enjoy.
You'll have the best holiday parties with this amazing dip that bakes for only 30 minutes. It has a unique flavor that makes it the perfect party dip to serve with crackers and chips.
Ingredients for the delicious dip include sour cream, regular mayonnaise, cheddar, softened cream cheese, bacon, and fresh tomatoes.
Top with bacon bits, green onions, and tomatoes, and serve warm.
Appetizer cuisine isn't limited to baked desserts only, as this sweet candy bar dip proves. It's a lovely treat that will leave no leftovers in your large bowl, and it only takes ten minutes to make!
If you want to have it at your next party, get cream cheese, butter, vanilla extract, chocolate chips, brown sugar, confectioners' sugar, silvered almonds, and coconut flakes.
Serve the tasty dip with fruit slices, Graham crackers, or pretzels to enjoy. If you want more no-bake desserts like this one, check out our easy no-bake dessert recipes with few ingredients.
This dip recipe will come in handy for your next potluck! It's made with just three ingredients, yet it has an addictive taste that will have you coming for me.
These ingredients include breakfast sausage, cream cheese, and Rotel tomatoes. Optionally, you can add bell peppers and lime juice for a little kick.
Serve with vegetables, crackers, and Tostitos to enjoy.
This party dip requires ingredients you can easily fetch from your pantry! You don't even need ranch seasoning to make this irresistible easy peasy recipe that goes with virtually everything.
Get a bowl to mix Greek yogurt, mayonnaise, garlic powder, dried dill, onion powder, kosher salt, and ground pepper.
Top with fresh chives and enjoy with veggies, bell pepper strips, potato chips, and pretzels.
This dip's cheesy goodness makes it the perfect appetizer for your parties. It's one of the easy recipes you can prepare in 30 minutes with a handful of ingredients.
These include cream cheese, mozzarella, grated parmesan, garlic powder, marinara sauce, cheddar, and pepperoni.
Serve with toasted bread, baguette slices, or crackers to enjoy.
This tasty, creamy dip comes with indulgent flavors perfect on toasted baguette slices and pretzels.
Its flavorful ingredients include mozzarella, spinach, parmesan, sour cream, cream cheese, garlic, and artichoke hearts.
Add pepper and salt to taste, and enjoy!
No dip beats this one on a hot summer day with its refreshing flavors and simple seasoning.
Ingredients you need for this dip include lemon juice, hung card or plain yogurt, olive oil, minced garlic, salt, and pepper.
You only need your food processor to mix this perfectly and serve it with your dishes. Enjoy more simple dishes like this with these easy recipes make in your food processor.
Apples are perfect with this caramel dip that you can make with only three ingredients! With wrapped caramels, condensed milk, and butter, you can have this sweet treat ready to eat in 15 minutes.
All you need is a bowl and a microwave, and you'll have your dip prepared.
Other than apples, you will enjoy this dip with graham crackers, wafers, and as a sauce for your cheesecakes.
Kids and adults will love this sweet dip that could serve as a snack and spread for your toast, fruit slices, and pretzels.
It takes only ten minutes to make with cream cheese, brown sugar, peanut butter, powdered sugar, and vanilla.
Serve with pretzels, crackers, bananas, and apple slices. If you loved this dip, you'd enjoy our easy apple desserts with few ingredients.
Easy dip recipes do not get better than this Mexican-inspired deliciousness. It's a simple cheese dip you can get ready in just 20 minutes.
The ingredients for this include Velveeta Queso Blanco, cumin, diced jalapenos, green chiles, butter, ground black pepper, and milk.
Serve immediately with tortilla chips to enjoy.
This avocado dip goes with virtually anything, including tacos, nachos, potatoes, and vegetables, and can be used as a salad dressing.
It's one of the simplest things to make with your food processor, taking ingredients such as avocados, fresh cilantro, jalapenos, and sea salt.
You can serve it immediately or keep it in the refrigerator to chill before eating.
When it comes to party dips, this delicious pineapple cream cheese dip is simply unrivaled. The flavors it comes with promise no leftovers at your next party!
This deliciousness requires softened cream cheese, chopped pecans, crushed pineapple, and seasoned salt.
Top with green onions and serve with your favorite veggies and crackers.
If you haven't tried your fruits with dips before, this classic marshmallow recipe will change that forever.
It's an amazing dip made with cream cheese, powdered sugar, and marshmallow creme. You only need to mix these ingredients, and you have the dip ready to enjoy with fruits!
Humus is one of the most popular spreads and dips you can have with your crackers, chips, veggies, and wraps. This recipe brings you a super creamy and delicious hummus you can make in less than 30 minutes.
Mix chickpeas, lemon juice, tahini, minced garlic, and cumin in your food processor, and you're good to go.
Add olive oil, salt, and paprika to serve!
Virtually every family loves simple guacamole as a spread and dip for a variety of dishes. It's also the perfect party dip that ensures no leftovers with whatever you're serving it with.
The simple ingredients for this include avocados, Rotel tomatoes, garlic salt, tobacco, and juice from lime.
Serve with crackers, baguette slices, and tacos to enjoy.
Nothing says game day festivities better than this Fiesta dip made with just a handful of ingredients.
With cream cheese, ranch dip mix, corn, olives, red pepper, and jalapeno, you're ready to make the best game-day dip.
Serve with crackers to enjoy!
This chip dip is your go-to option for movie nights, game days, parties, or quality time with the family.
It's a simple dip made with herb and garlic cream cheese, a dry ranch dressing mix, and sour cream. It takes only five minutes to prepare, giving your simple snack creamy and tangy flavors.
Be sure to refrigerate before serving your favorite chips.
Made with Greek yogurt and peanut butter, this dip is virtually the best thing you have with your fruit slices, pretzels, and crackers.
With the yogurt and peanut butter, you only need maple syrup and vanilla to add to the mixing bowl.
Top with chocolate chips and extra peanut butter to enjoy.
More tasty fruit dips for you with this fantastic cream cheese recipe!
It incorporates vanilla, cream cheese, marshmallow fluff, sugar, and cool whip to make the most irresistible dip.
It takes only 10 minutes to make, and you can serve it immediately with your favorite fruits.
This dip serves excellently as a snack and side dish for virtually all occasions. You only need a processor to get this ready in about five minutes.
The few ingredients involved include black beans, avocado, salsa, garlic, and ground cumin.
Add salt to taste and garnish with cilantro to serve.
Easy Dip Recipes With Few Ingredients Takeaway
These are the best easy dips you can have for every occasion. They require only a few inexpensive ingredients yet have the capability to make your dish the best at a party or potluck.