Make these easy apple dessert recipes with few ingredients for delicious apple treats! Apple is such a versatile ingredient to incorporate into your dishes, giving you delicious meals to enjoy with your family.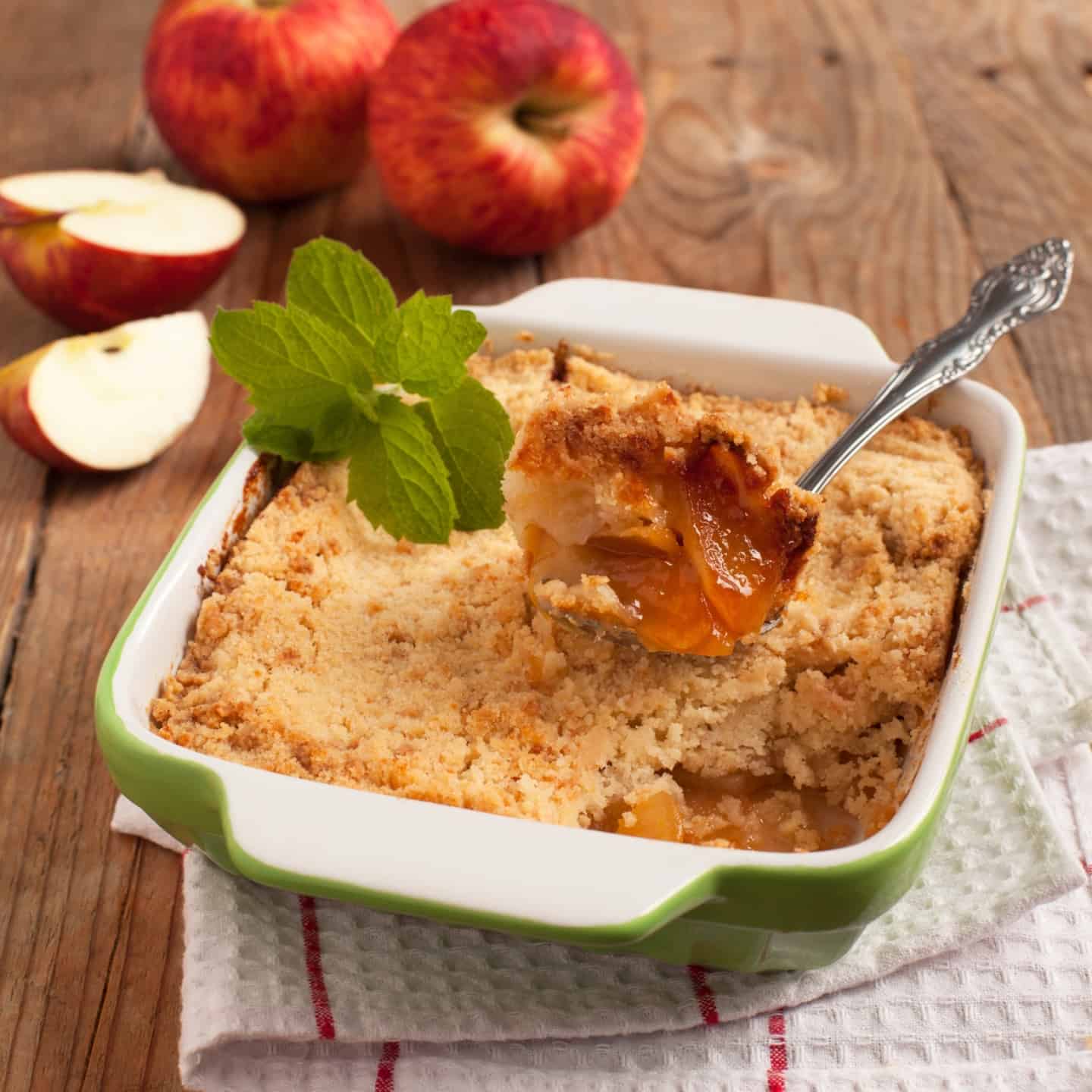 Its sweetness extends to desserts, and you can make amazing treats, from apple pies to cupcakes.
These easy apple desserts will be a great addition to your menu, and you can get them ready in minutes for your social and family gatherings. Also check out my collection of of Also check out my collection of Christmas cookie recipes with few ingredients to make in these coming holidays!
Starting these recipes is the easy apple cake with an amazing sugar crust and soft, tasty, juicy insides.
This apple cake requires only four ingredients and is better known as Sharlotka in Russia. It's a sponge cake with a crunchy, delicious crust and buttery, juicy insides.
The best apples for this dessert are the Granny Smith apples, but you can go for others such as Gala, Honeycrisp, and Jonagold.
Top the cake with almond slices and sprinkle sugar to enjoy! If you want to pair with another cake I recommend to try my easy orange cake recipe.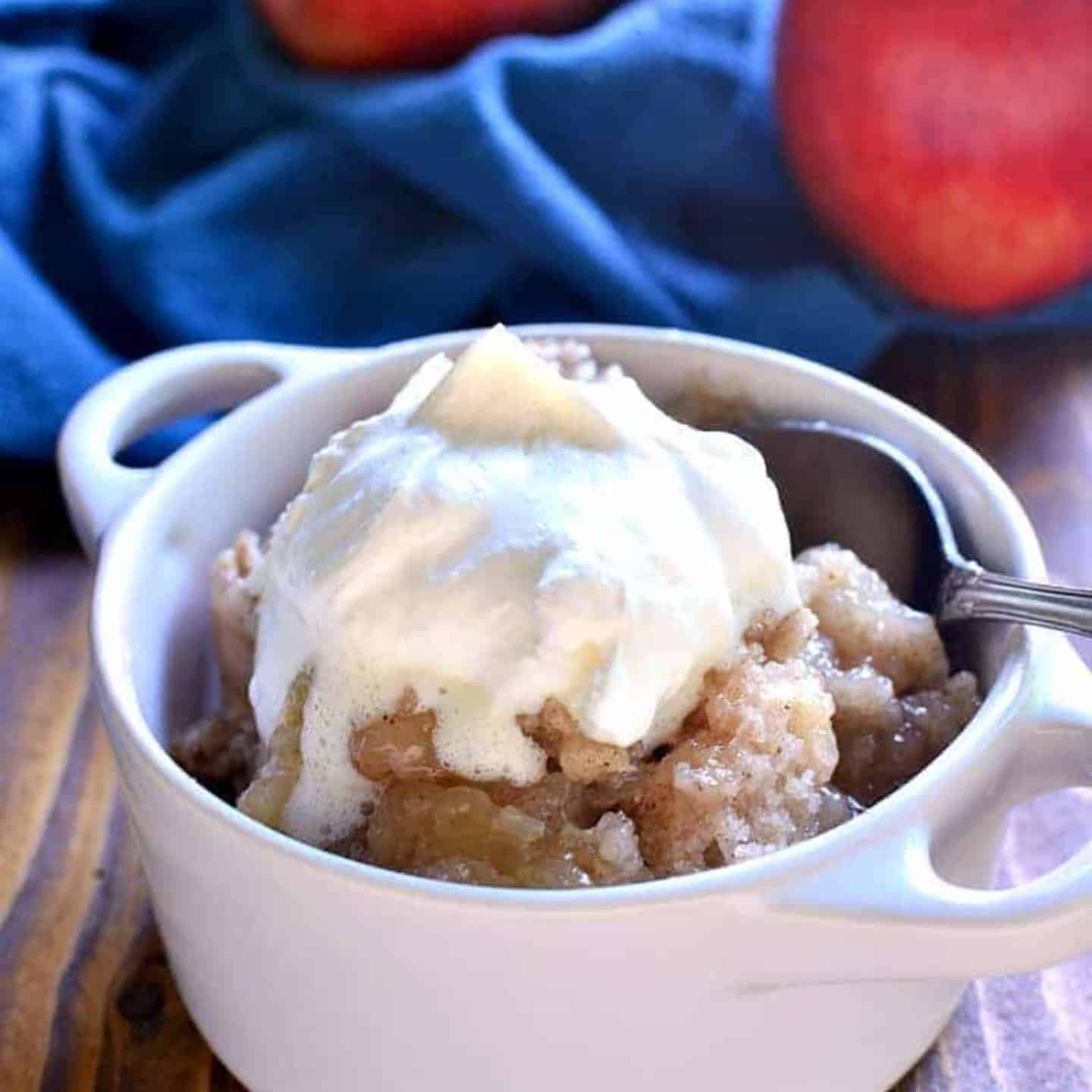 Apple Cobbler is an absolutely delicious dessert that's been enjoyed for years by several families.
It's an easy apple dessert recipe you can make with six ingredients and a prep time of just five minutes!
Your ingredients include self-rising flour, unsalted butter, cinnamon, granulated sugar, milk, and apple filling.
This apple crisp recipe is super simple to make and will give you the best apple flavors you can imagine.
The great recipe calls for Granny Smith apples, flour, brown sugar, melted butter, nutmeg, cinnamon, and lemon juice.
It's the perfect fall treat to enjoy with a scoop of vanilla ice cream. Ensure to bake till golden brown for a crunchy oat topping.
You can go for this scrumptious dessert for your pizza nights, and you only need two ingredients to get it ready.
These include cinnamon rolls with cream cheese icing and an apple pie filling.
Bake till the crust is golden, and drizzle the cheese icing, ice cream, or whipped cream on the pizza when completely cooled.
If you love baking apple pies, you'll absolutely love this apple pie-in-a-cup dessert recipe.
The easy recipe is less time-consuming, uses five ingredients, and gives a new twist to apple pies with the added cinnamon and whipped cream topping.
Bake in a small oven-safe dish and transfer in mugs for individual servings.
These pies use the most delicious apple pie filling in puff pastry dough to give you perfect handy treats.
They'll definitely be a big hit at your next party, so make the best of this apple season with these pies!
Bake till the pasty turns brown, sprinkle with cinnamon sugar, and ensure it's served warm to enjoy.
You can get these delicious apple oatmeal crumble bars ready with just six ingredients. It's the perfect recipe for a tasty crumb topping of oatmeal and a delicious apple pie filling.
It stands out from the other recipes on this list as a vegan-friendly, oil-free, and gluten-free snack.
Add maple syrup, apple pie spice, and vanilla into your filling for the best flavors!
With five ingredients, you'll have this tasty dessert ready to enjoy with your main dishes.
Cut an apple into small cubes and put it into a mix of sugar and cinnamon. Top this with a blend of melted butter, flour, and nuts, if desired.
Bake in a preheated oven for about 30 minutes till golden brown, and serve warm!
Pop tarts are everyone's favorites, and it's easy to see why with their blends of ingredients and flavors.
This dessert is a simple flaky pie crust filled with apple filling, pie spice, and white chocolate.
The baking process is surprisingly easy, and you'll love the result even more with each flavor-filled bite.
If you're feeling fancy or want to impress an unexpected company this season, go for this apple dumplings recipe!
It requires just seven ingredients to put in your prepared baking dish and bake to perfection.
Serve warm and drizzle with any syrup or icing of your choice.
These wontons are a must-try, giving you fantastic apple flavors with caramel sauce.
In a small brown, chop your apples to make your filling and wrap them in a wonton wrapper. Brush with butter and bake till it's brown.
Serve with powdered sugar and caramel topping.
If you have more apples than you know what to do with, it's time to consider the applesauce!
This sauce uses natural ingredients, giving you undiluted apple flavors, and you can have it smooth or chunky with apples.
Serve warm or chilled with vanilla ice cream or whipped cream, and enjoy! For more sweet snacks like this, check our list of easy sweet snacks with few ingredients.
This amazing apple dessert recipe will help you fall in love with baking apples again.
The ingredients required are simple, and they include one sheet of puff pastry, spices, brown sugar, and your preferred apples.
Ensure to bake till they're brown and fluffy, and sprinkle with coarse or white sugar.
Get your baking powder, apples, spices, and butter to make this sumptuous apple dessert in less than an hour.
It's the perfect dessert to share with your family and friends, and you should serve it with the remaining sliced apples and caramel topping.
Serve the dessert warm, and enjoy!
If you think cinnamon rolls will make a delicious combination with apple pie filling, this recipe is for you.
This dessert is enjoyable alone, and you can serve it with vanilla ice cream for added flavors.
Serve warm, and enjoy!
The apple cinnamon dump cake is an amazing dessert that your family and friends will absolutely enjoy!
The best part of this recipe is that it requires only five ingredients to make.
These include ground cinnamon, brown sugar, apple pie filling, butter, and vanilla cake mix. Ensure to serve warm! See these easy cake recipes with few ingredients for more fantastic cake desserts.
These crescent rolls are packed with enough flavors to be the star of your holiday spread.
It's a super easy dessert you can get together in about thirty minutes, requiring just three ingredients. These include crescent roll dough, caramel sauce, and apple filling.
Bake till your crescent rolls are brown, and drizzle with caramel sauce to enjoy.
Apple flavor in a milkshake is a combination that will satisfy all your sweet cravings in one gulp.
Get your food processor to make the shake with slices of apple pie, milk, cinnamon, nutmeg, and ice cream.
Blend to the desired creaminess and serve it chilled.
With only five ingredients, you can have these flourless blondies baked to fudgy perfection and ready to eat.
To make the spectacular dessert, you need unsweetened applesauce, almond butter, coconut flour, maple syrup, and apple pie spice.
Bake the blondies till they're brown and refrigerate for at least an hour before cutting them up to serve. Blondies are a form of cookies, but if you want the real deal, see these easy cookie recipes with few ingredients to make today!
These fries are a classic, and you can enjoy them with a dipping sauce such as caramel sauce.
They're super quick and easy to make, incorporating ingredients such as flour, applesauce, butter, and salt.
Bake your pie fries for about 20 minutes and serve warm with dipping sauce.
21. Rustic French Apple Tart
You'll absolutely love this decadent apple treat, incorporating a few ingredients to make a sumptuous crust, filling, and glaze.
The flavorful treat gives a melt-in-your-mouth feel, and it takes only about an hour to make.
Ensure to bake till the dough is light brown and the apples tender.
These hot and delicious fritters double as desserts and the best comfort food you can have during fall.
They're quite easy to make and have a total cook time of 20 minutes. Ingredients needed for these include peeled apples, cinnamon sugar, baking powder, flour, sugar, and salt.
Sprinkle powdered sugar and drizzle vanilla glaze over the fritters.
You'll enjoy these apple pie doughnuts made with apple pie and chill biscuit dough.
The recipe promises a blend of fantastic flavors from spices, apple juice drizzle, and powdered sugar sprinkles.
This dessert combines cinnamon rolls with apple pie filling, baked to brown perfection and drizzled with a brown sugar glaze.
The bread takes about 50 minutes to make, but the flavors of it make it worth the wait!
If you want a delicious apple dessert on the menu within minutes, these apple pie bites are your go-to recipe!
With just six ingredients, you'll have an amazing treat to share with your friends within 30 minutes.
These ingredients include brown sugar, apple pie spice, unsalted butter, chopped pecans, Granny Smith apples, and crescent rolls.
Apple dessert recipes takeaway
With these easy apple dessert recipes with few ingredients, you have no excuse to make the best out of apple season! These recipes are super easy and quick to make, and they come with ingredients you can easily fetch from your pantry. For even more delicious desserts you can make without apples, see these easy desserts with few ingredients recipes.
🍳 Related Dessert Recipes
If you like easy dessert recipes, save one or all of these fantastic recipes.
For more desserts I recommend you to check my collection of orange desserts recipes that includes my easy orange cake recipe!