You can make this holiday season memorable with these easy Christmas cookie recipes with few ingredients! Of course, Christmas celebrations are incomplete without dedicated delicious desserts to share with your family and friends.
And if you're a fix on what to make, we have you covered with these delicious Christmas cookies!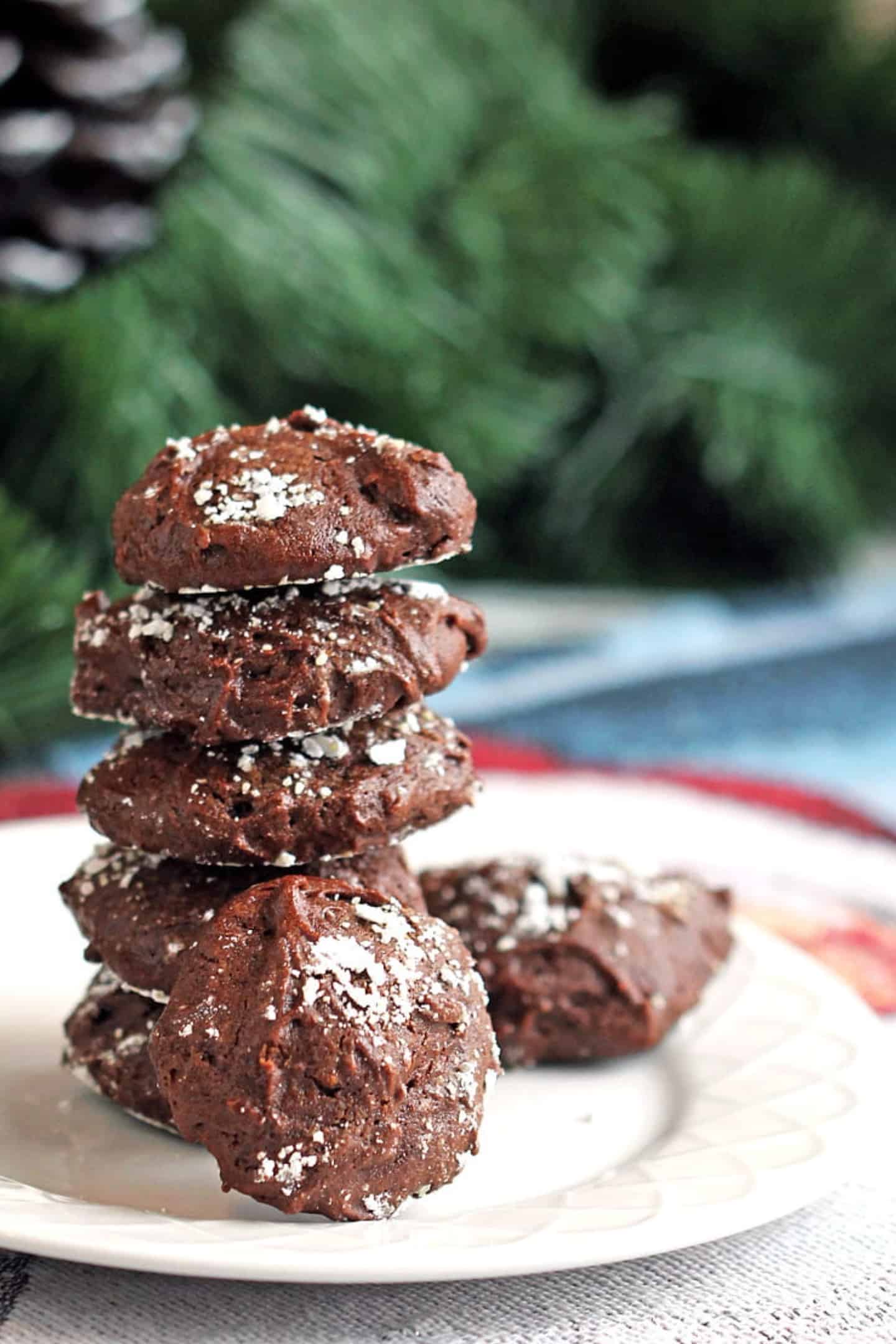 This magical recipe lets you make a sweet treat with flavors from peppermint extract, vanilla, cocoa powder and coconut sugar.
These cookies take about half hour to bake, giving you a delicious and attractive batch!
Covered the cookies with a delicious icing and enjoy them cool.
Shortbread cookies are a delight in Christmas desserts, and you can make them with three simple ingredients.
Get the holiday spirit going with all-purpose flour, softened butter, and powdered sugar!
Bake cookies for about 18 minutes, cool completely, and enjoy!
These easy peanut butter cookies will have you coming for more with their soft and chewy texture.
They give an excellent twist to the conventional crunchy peanut butter cookies and require just as few ingredients!
Get a mixing bowl to make cookie dough with peanut butter, vanilla extract, white and brown sugar, flour, and baking soda. Let them cool on a wire rack after baking, and you can store them excellently in an airtight container.
These cake mix cookies are a super easy holiday cookie recipe with just three ingredients required. The Ingredients include your preferred flavor of cake mix, eggs, and vegetable oil.
Use these ingredients to make cookie dough and bake for about ten minutes. Put them on a cookie sheet to cool and decorate when they're okay to handle!
If these cookies make you crave cake, you'll love to explore these easy cake recipes with few ingredients!
These cookies will be the star of your holiday spread with the amazing sweet flavors it brings to the menu.
The cookies are a simple but delicious blend of soft buttery cookies layered in crushed candy canes and finished with a drizzle of white chocolate.
Christmas treats don't get better than these cookies!
You'll have this on your list of favorite recipes with the fantastic texture and taste of these cookies!
This tasty treat requires only a few cookie ingredients, and you'll get the best chocolaty goodness in under an hour.
Get unsalted butter, semi-sweet chocolate, vanilla, marshmallow, cocoa powder, and other baking ingredients to get started. Add colorful sprinkles to the cookies, and enjoy!
Sugar cookies are the classic cookies for Christmas, and you can make the easy treat with minimal ingredients.
You can design them in whatever shapes with your cookie cutter and layer them with royal icing.
Decorate with sprinkles and candies as you desire.
If you love baking cookies, you will enjoy making these colorful treats of macarons.
Depending on the flavors you want, you can make your macarons with orange zest, tart cranberries, lemon zest, and a load of other condiments.
These chocolate cranberry macarons should be on your baking list for this Christmas with their amazing blend of flavors and texture.
Chocolate chips will always be a great addition to cookies, and you'll absolutely love them in this recipe.
It's a classic recipe that essentially adds chocolate chunks to your peanut butter cookie dough.
Bake the cookies for about 20 minutes and put them on a cooling rack to cool before serving.
These Italian cookies are a holiday favorite, giving you crisp, light, and well-decorated treats for Christmas.
They take about 30 minutes to make, and you should sprinkle them with powdered sugar to enjoy.
These are naturally gluten-free cookies made with almond paste, almond extract, eggs, and sugar.
Sprinkle your cookie dough with just the right amount of confectioner's sugar, and you have the best Christmas treats.
Place on parchment paper to cool, and enjoy!
You'll have a lot of fun making these vanilla sugar crinkle cookies and get even more delight from each bite of these cookies.
They're made with minimal ingredients and have a bake time of 12 minutes.
Sprinkle with powdered sugar, and enjoy!
Your Christmas spread isn't complete without these pillow-soft cookies!
The recipe features your cream cheese and cake mix to make the best cookies.
Ensure not to flatten the cookie scoop too much to get that puff pastry effect.
Pull them out of the oven when the edges turn golden!
Nothing says Christmas season better than these snowball cookies that melt in your mouth with the best flavors imaginable.
The great recipe lets you make cookies you can easily pop in your mouth with the fascinating snowball shape.
Roll them in powdered sugar before serving.
The decoration of these pinwheel cookies says Christmas better than any other cookies on this list.
They're quite simple to make, requiring your typical cookie ingredients.
Your keys are the liquid red and green food coloring to make your Christmas design.
This simple recipe is made with five ingredients, and if you love cookies, you definitely want this on your Christmas desserts menu.
So get softened salted butter, flour, egg yolk, sugar, and your preferred jam to start baking!
Bake till light brown and allow them to cool on a baking sheet.
You can make this deliciousness with four ingredients and a bake time of 25 minutes.
They melt in your mouth to give the best flavors, and if you have excesses, you can keep them in a refrigerator for up to ten days.
These cookies are made with chocolate chips, Nutella, and no-chill cookie dough.
They're fudgy, tasty, and chewy enough to get everybody asking for more.
Bake for about ten minutes and let them cool on a wire rack.
With just three ingredients, you can get these oreo balls on your Christmas desserts menu!
Get oreo cookies, melting chocolate, and cream cheese to make these delicious treats in less than 30 minutes.
Decorate with sprinkles and mini marshmallows, and drizzle with dark chocolate.
Grinch cookies are made in millions of homes during Christmas, and you can easily make yours with minimal ingredients.
Fetch your preferred cake mix, eggs, powdered sugar, and green food coloring.
Get creative with the design and serve with more sugar if necessary.
Chocolate pinwheels are a classic treat during the holidays, incorporating a beautiful and delicious vanilla and chocolate swirl.
So get your unsweetened cocoa powder and cookie dough ingredients to start baking.
Also, you want to use Demerara sugar to roll your cookies in before you serve.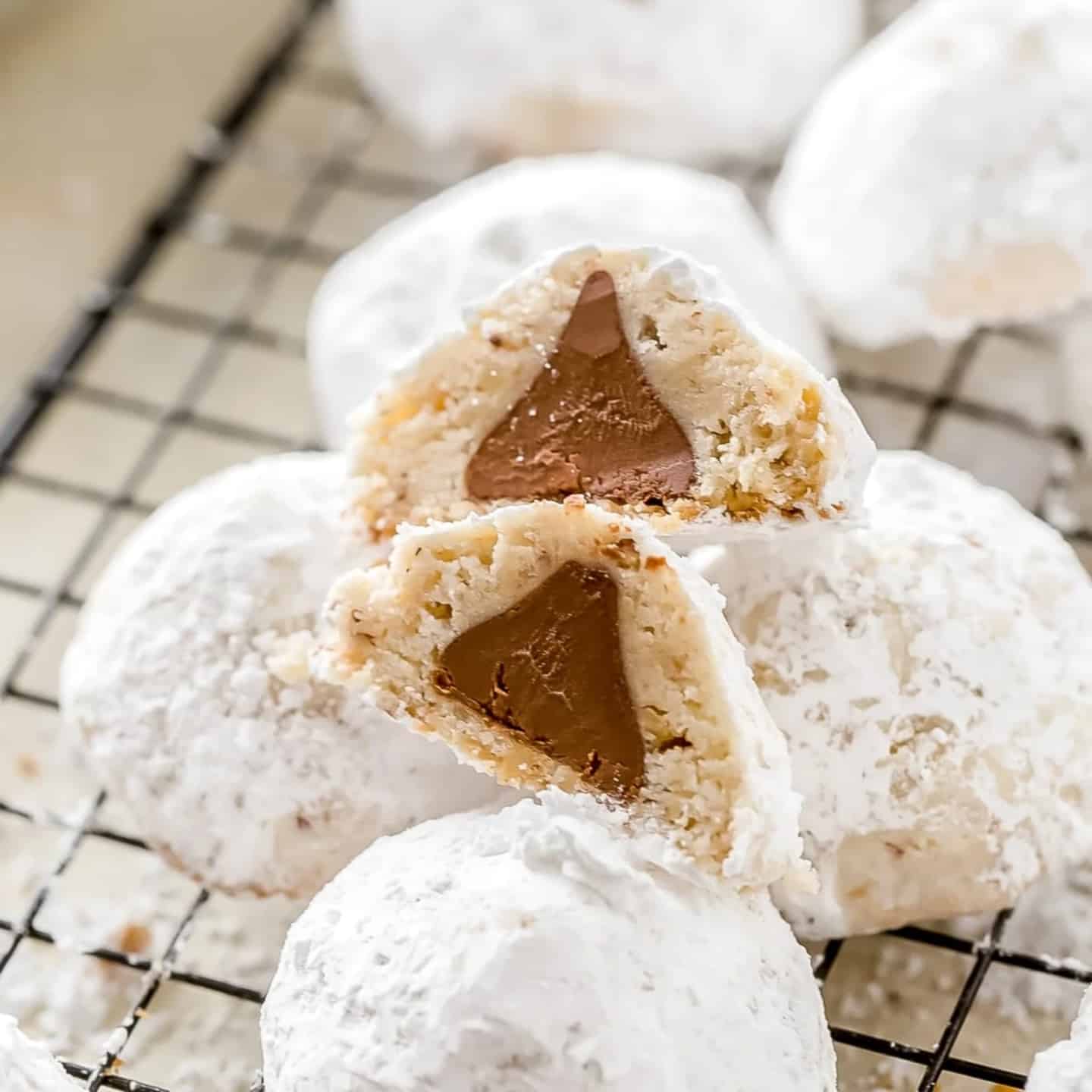 The secret kiss cookies are a delicious treat that infuses a chunk of chocolate into your cookie dough.
You'll absolutely love these cookies in your dessert spread with their fascinating shapes and blend of flavors.
Roll in confectioners' sugar before serving.
These Italian butter cookies are also known as Sables, and you can decorate them with all the colorful Christmas sprinkles you desire.
They're soft, buttery, and melt in your mouth to give you a load of sweet flavors!
You need just six ingredients and a cook time of about 20 minutes.
You can make these Rolo cookies with just four ingredients and have a super delicious treat added to your Christmas menu.
Your secret ingredient is the devil's food cake mix, giving you chewy chocolate cookies to enjoy the holidays.
Serve warm with a sprinkle of powdered sugar.
With flour, salted butter, and brown sugar, you can have these delicious treats to share with your family on friends for Christmas.
Depending on your preference, you can enjoy them as bars or round cookies. Sprinkle them with sugar before serving.
If you fancy the bar cookies, you want to check out this easy holiday blondies recipe with white chocolate drizzle and sprinkles.
Orange and chocolate combine to give these delicious shortbread cookies an unmatchable flavor.
You need only six ingredients to make this, including orange zest and melted chocolate.
Add them to your Christmas spread, and watch the room beaming with cheer!
With only seven ingredients, you can have these cookies ready to enjoy in under 45 minutes.
They're super delicious and chewy and require minimal effort to prepare.
Bake and let them cool on a wire rack before eating.
The Matcha green tea powder gives you a natural food coloring, making these the tastiest and most attractive sugar cookies you want in your dessert spread.
They're perfect for the holidays, and you can make them with minimal ingredients.
Ensure to shape your cookie dough before baking and springing sugar if desired before serving.
The sprinkles you can have on these five-ingredient Spritz cookies make them super tasty and attractive to have at your Christmas feast.
They give a melt-in-your-mouth feel, and you'll have a lot of fun baking these delicious treats.
Add your preferred frosting and sprinkles, and enjoy with a cup of hot chocolate.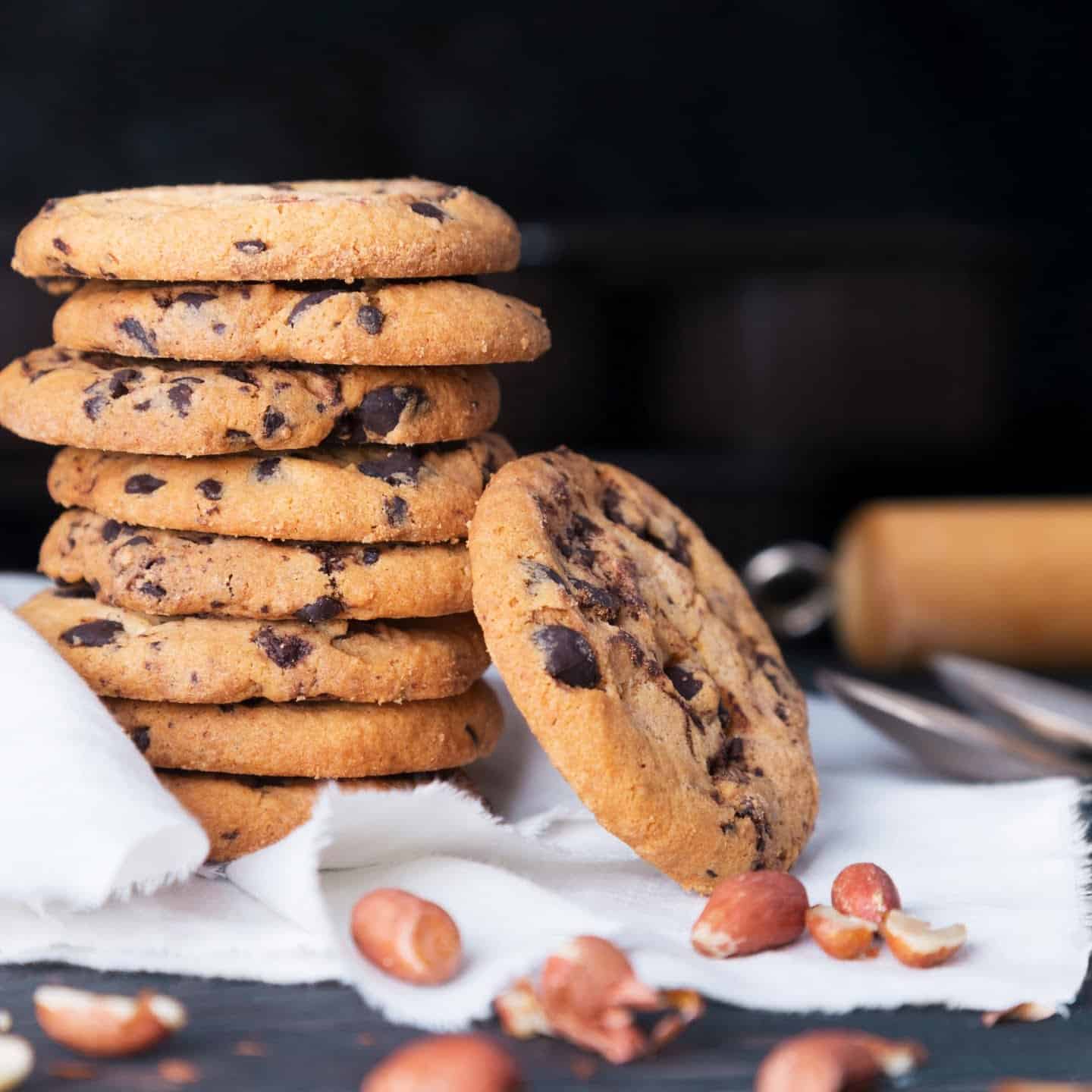 If these easy Christmas cookie recipes with few ingredients have you excited, you'll definitely want to explore more options you can try for other occasions.
From Easter blondies to pumpkin cookies, there's something for you to enjoy for every season!