Get the fiesta started with these spicy, saucy, tasty, tangy pork chop recipes. We have selected authentic, flavorful pork chop recipes for all your tastes. These 22 pork chops recipes are easy, delicious, and fun to make. These pork chop recipes are perfect for family meals and entertaining!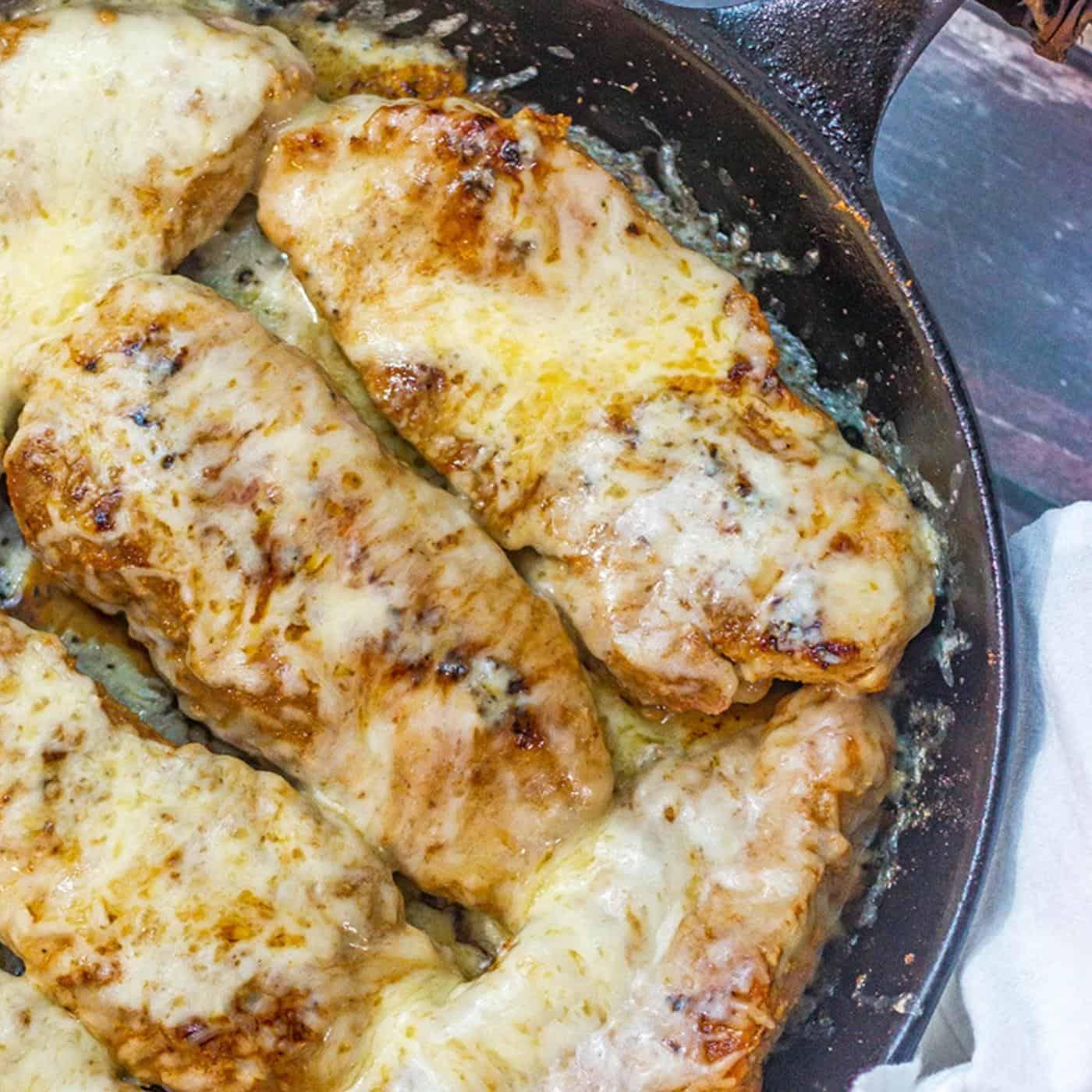 Pork is economical, tasty, easy to prepare, and pairs beautifully with so many different foods.
There are so many ways to dress up these pork chop recipes.
Adding seasoning, sauces, and salsas, and the way you cook the Mexican pork chops can produce many mouth-watering dining experiences.
Whether you prefer to cook pork chops on the barbeque, in a skillet, an in a slow cooker - we have the perfect pork chop recipe.
Here you have some of the most delicious pork chop recipes for you to try! And of course some of the best sauces for pork chops I've ever tried.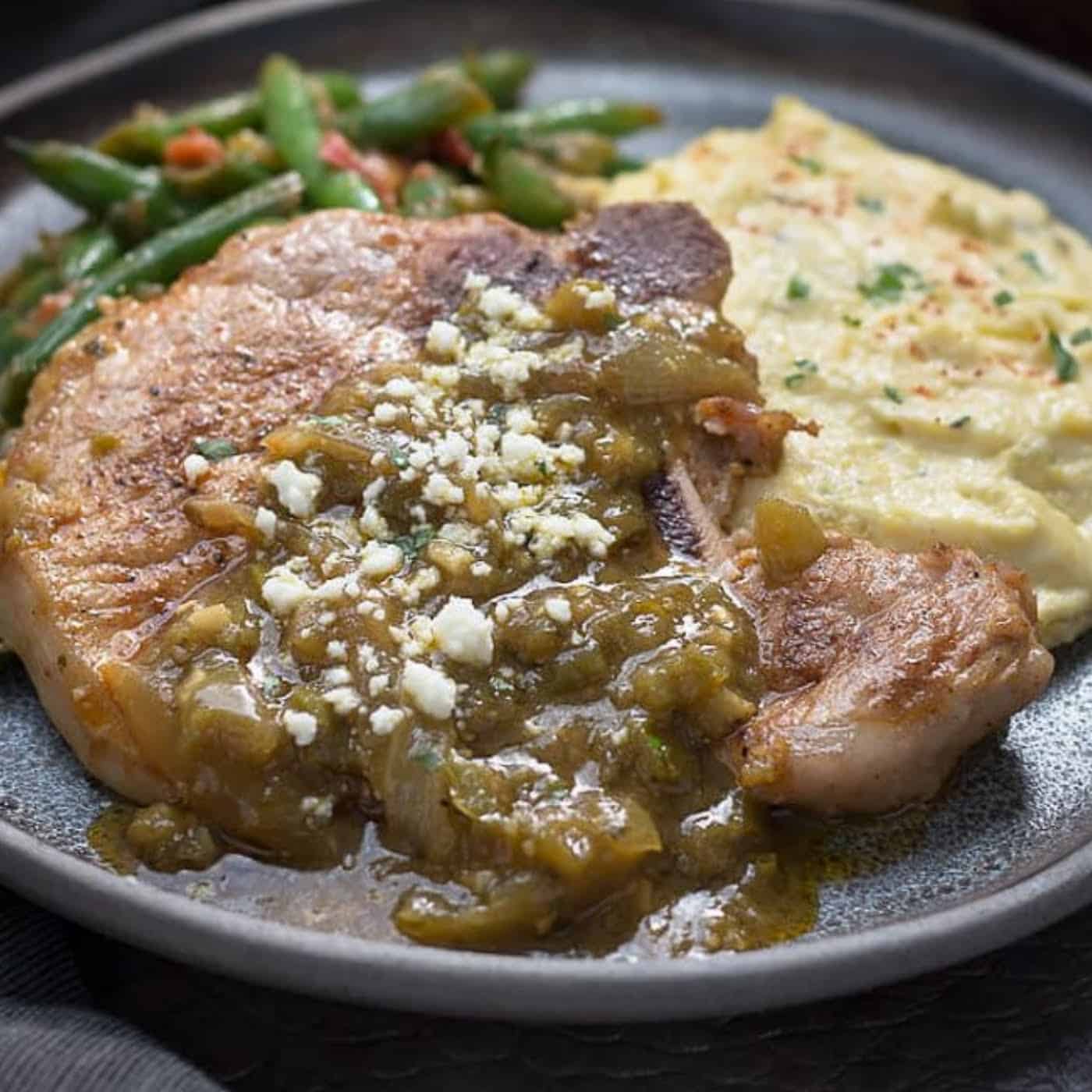 These Mexican pork chops taste amazing and are now a favorite when craving authentic Mexican food.
The chile Verde sauce smothers the pork chop and is so tasty. The rub is made using simple ingredients, chile powder, cumin, black pepper, and salt.
Saucy and spicy, so perfect for Cinco de Mayo.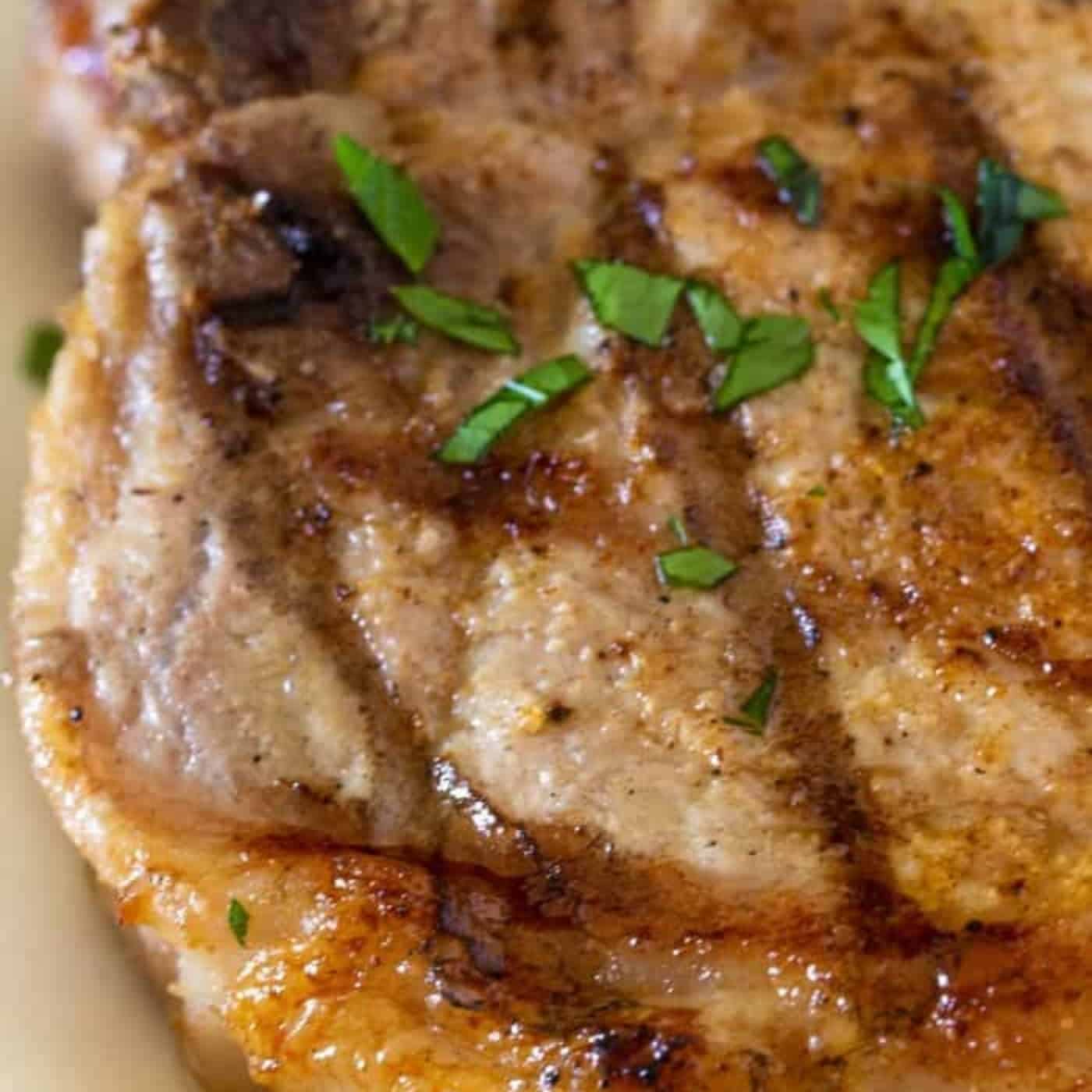 Grilled Mexican pork chops have fantastic flavor. Just season the pork chops and place them on the grill. Cook to an internal temperature of 145 degrees.
Top the Mexican pork chops with tomatillo salsa and serve your family a fantastic entree in less than 30 minutes. So DELICIOUS!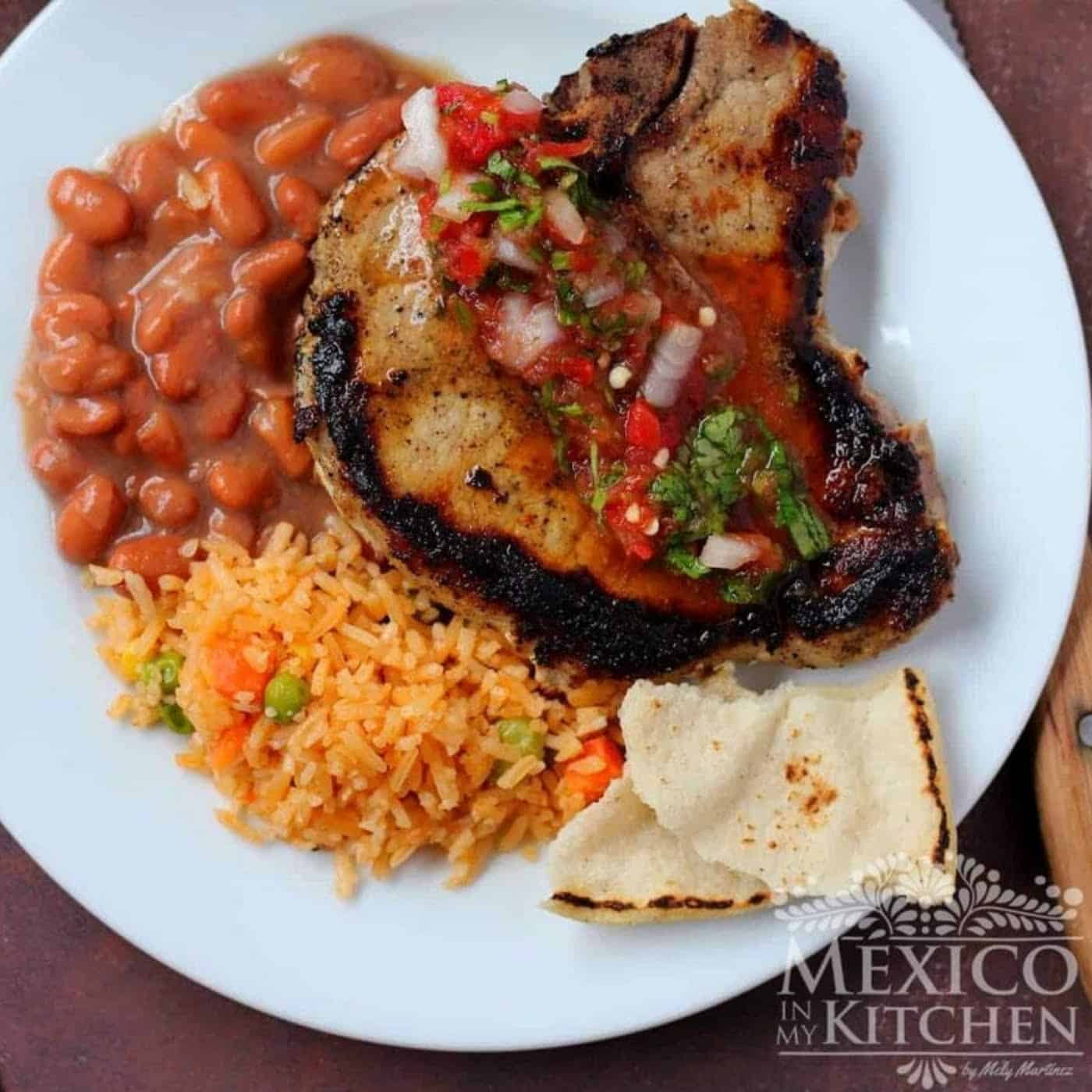 Try this seasoned pork chop recipe for dinner tonight - this recipe is a crowd-pleaser.
The flavors of the marinade and rub are truly unique, and best of all, you will have all the ingredients in your cupboard.
You can make this pork chop recipe using different cuts, whatever cut you have in the freezer.
Guaranteed your family and friends will ask you to make this delicious meal regularly.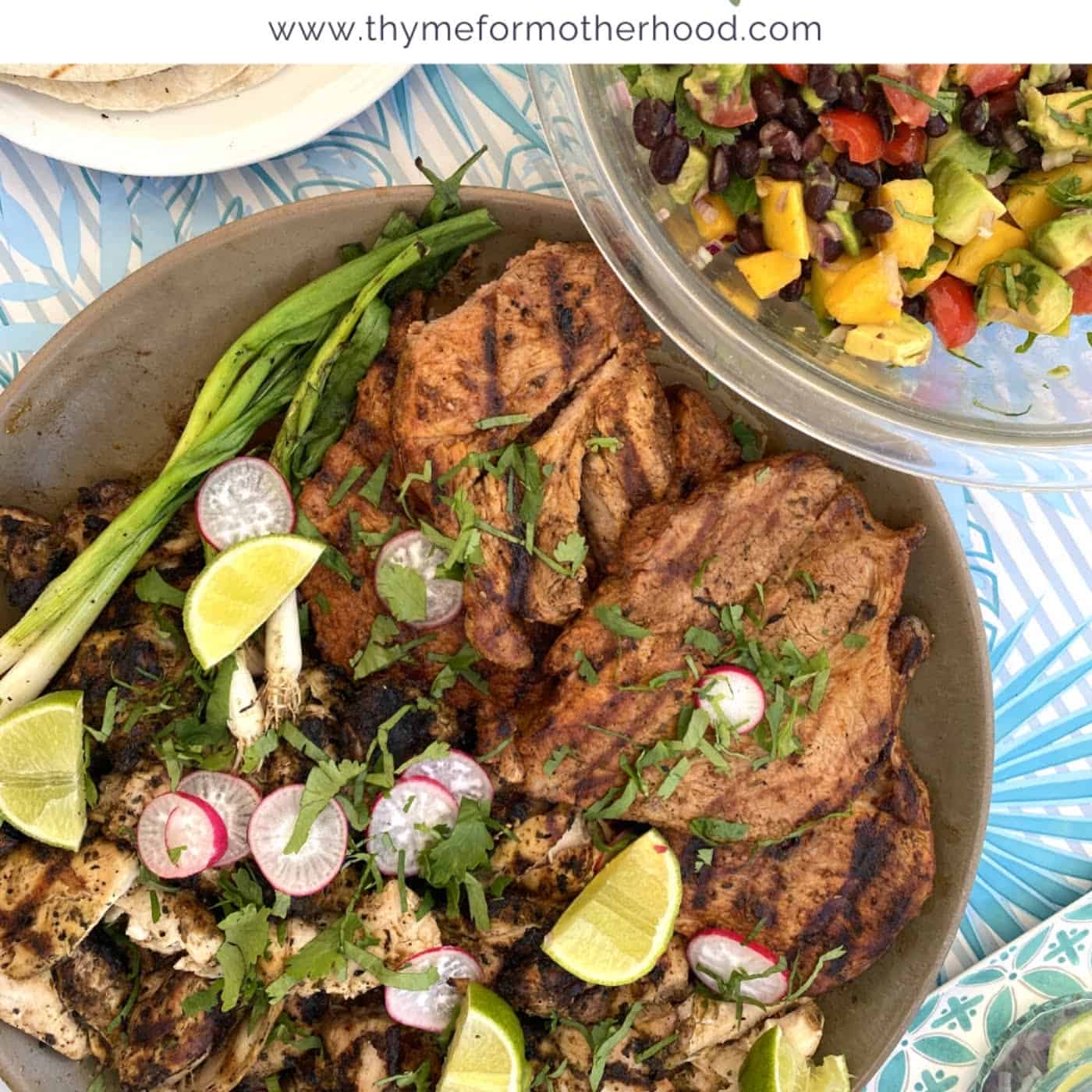 These Mexican-style grilled pork chops are simple to make, and the Mexican chop marinade is flavorful. The prep time is minimal.
The combination of lime, cilantro, and chile is a party in your mouth and compliments chicken and pork chops!
This recipe will definitely satisfy your craving for Mexican pork chops!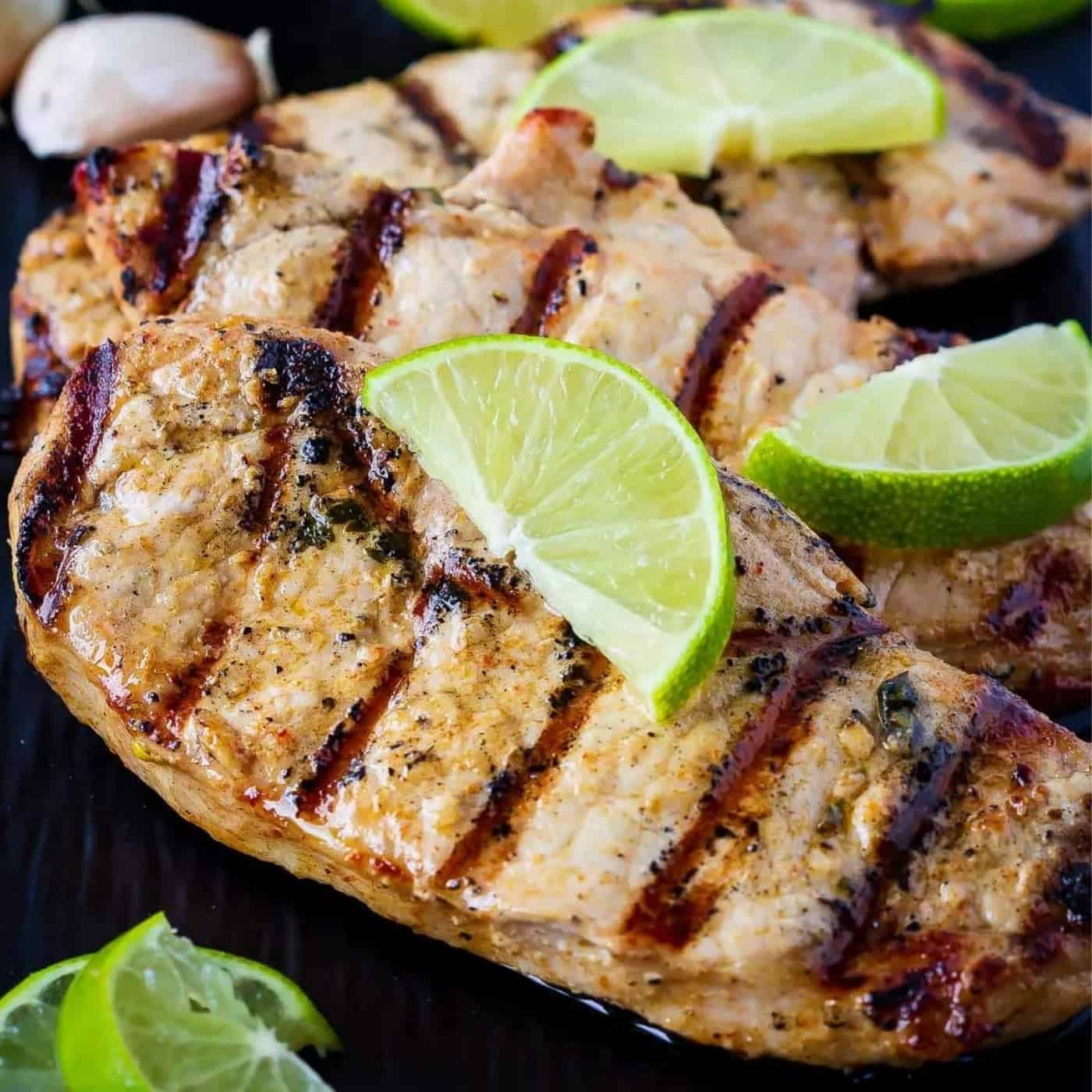 This delicious Mexican pork chop marinade works excellent for bone-in or boneless pork chops and chicken.
A very versatile Mexican pork chop marinade made with lime juice, chile powder, cilantro and salt.
Cook time is minimal - you can use it the same day or pop in the freezer for an easy meal prep later on.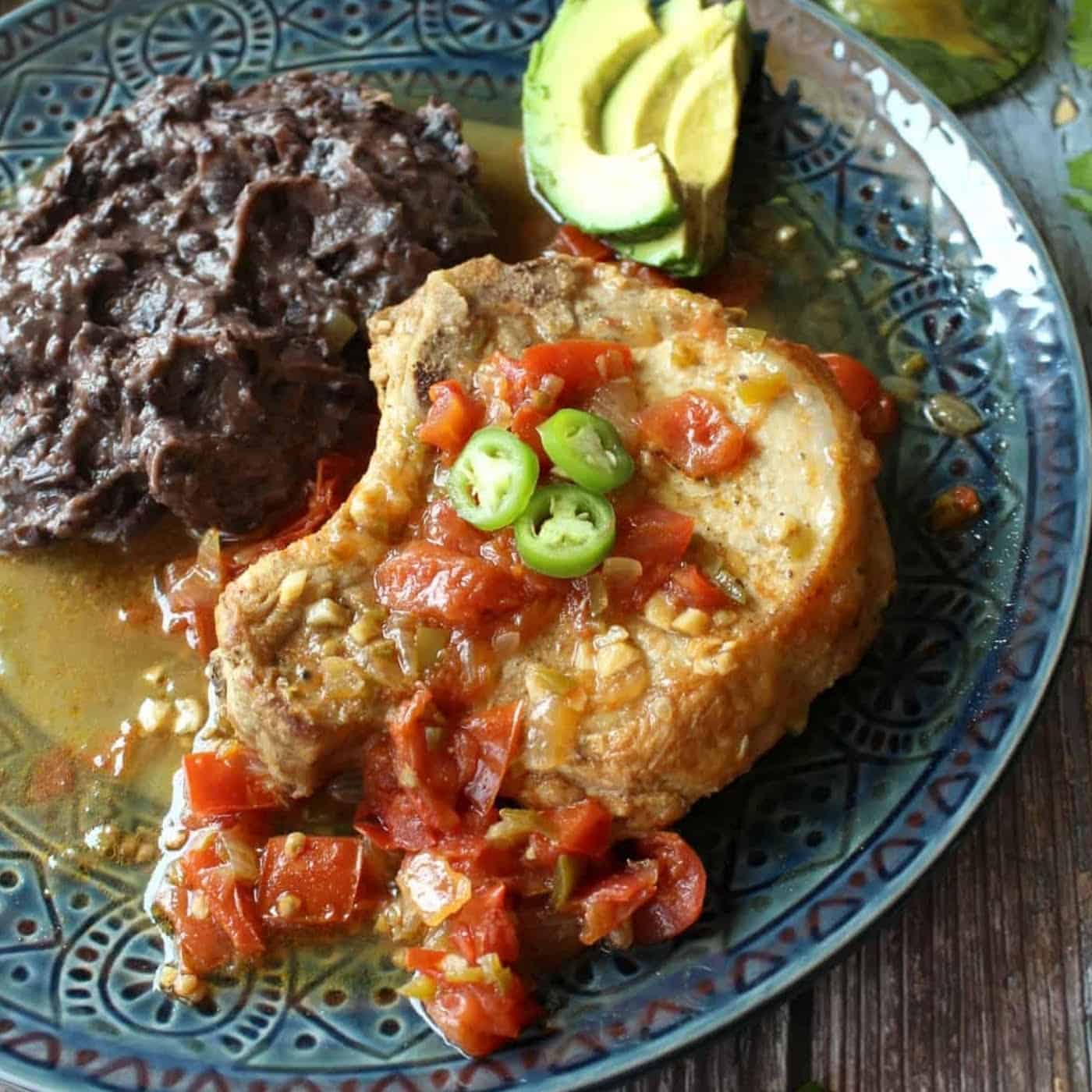 This rich tomato base-style Mexican pork chop recipe is packed with flavor and minimal prep time.
If you are craving Mexican cuisine, the aroma of this sauce will transport you to your favorite restaurant in Mexico.
A perfect weeknight meal or any special occasion!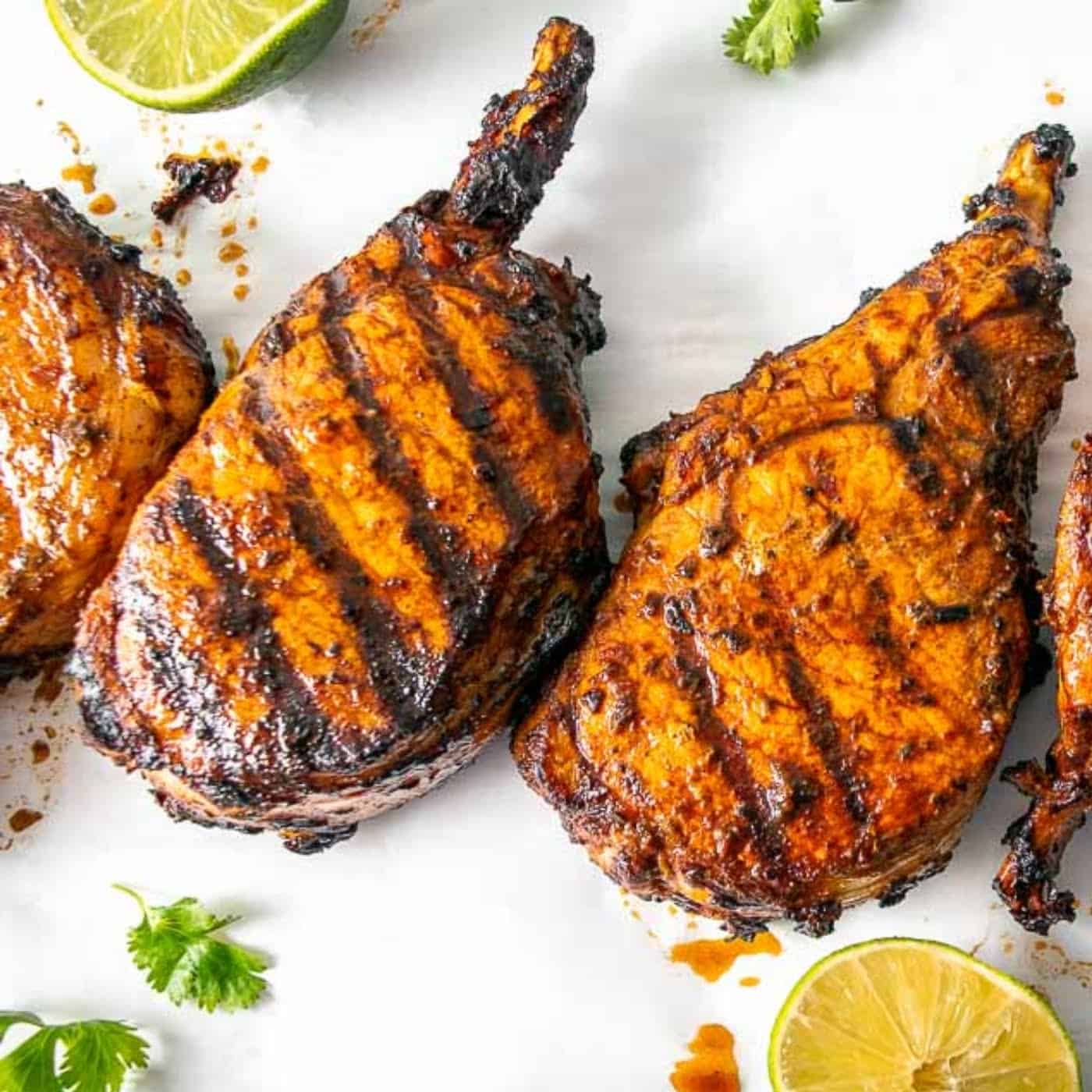 Mexican Pork chops covered in Adobo Sauce is a culinary delight and will change your experience eating pork chops forever.
Anchos chiles are key to this Mexican pork chop marinade sauce as they have loads of flavor.
Adobo sauce can be used for many dishes, so be sure to double the recipe and try it! Everyone loves this pork chop recipe - it is so YUMMY!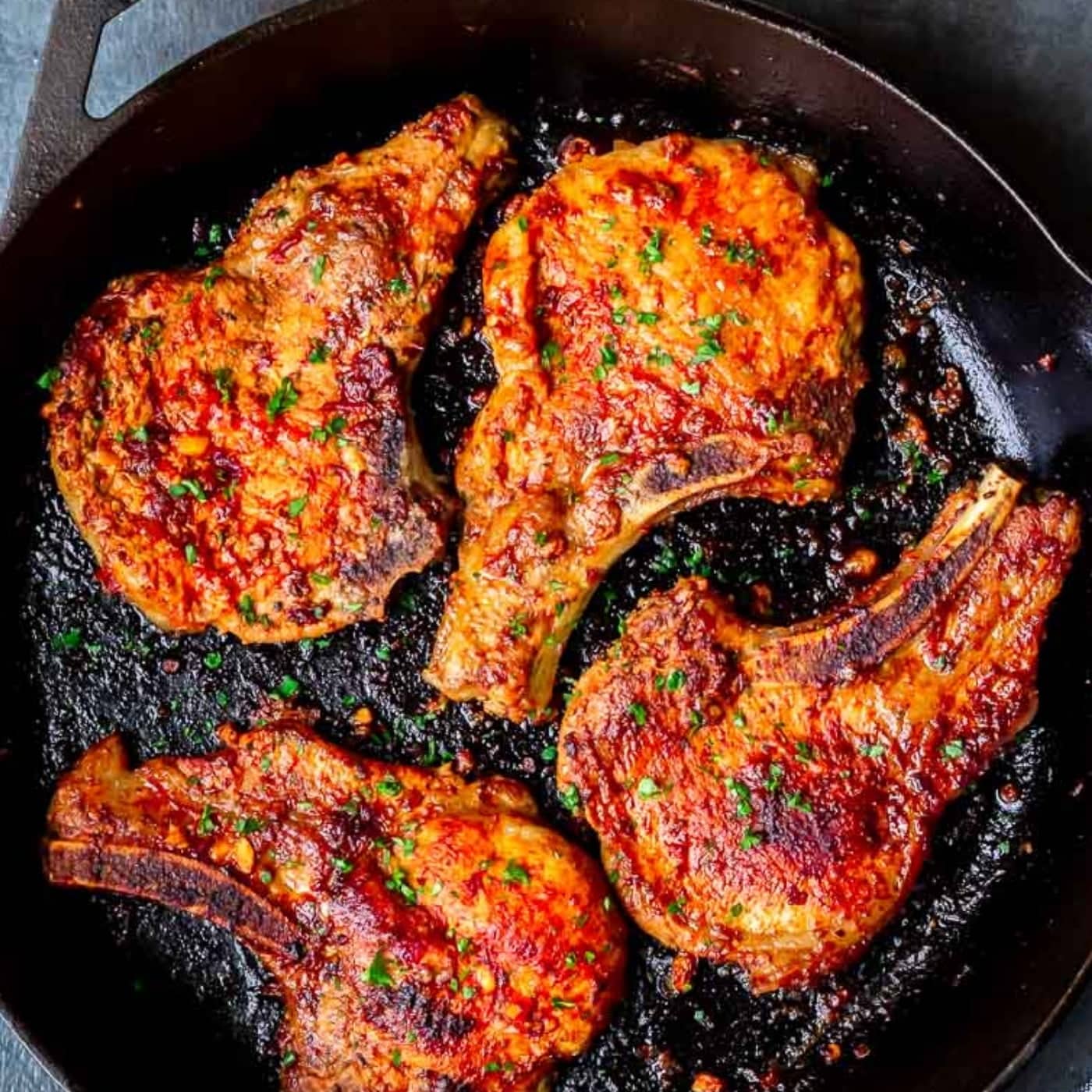 This is one of the easiest and most popular recipes in our Mexican pork chops collection.
All you need is 5 ingredients, all of which you will likely have on hand, and cooking time is only 30 minutes.
The Mexican pork chop marinade is made using chipotle and orange juice, giving this dish a nice spicy finish!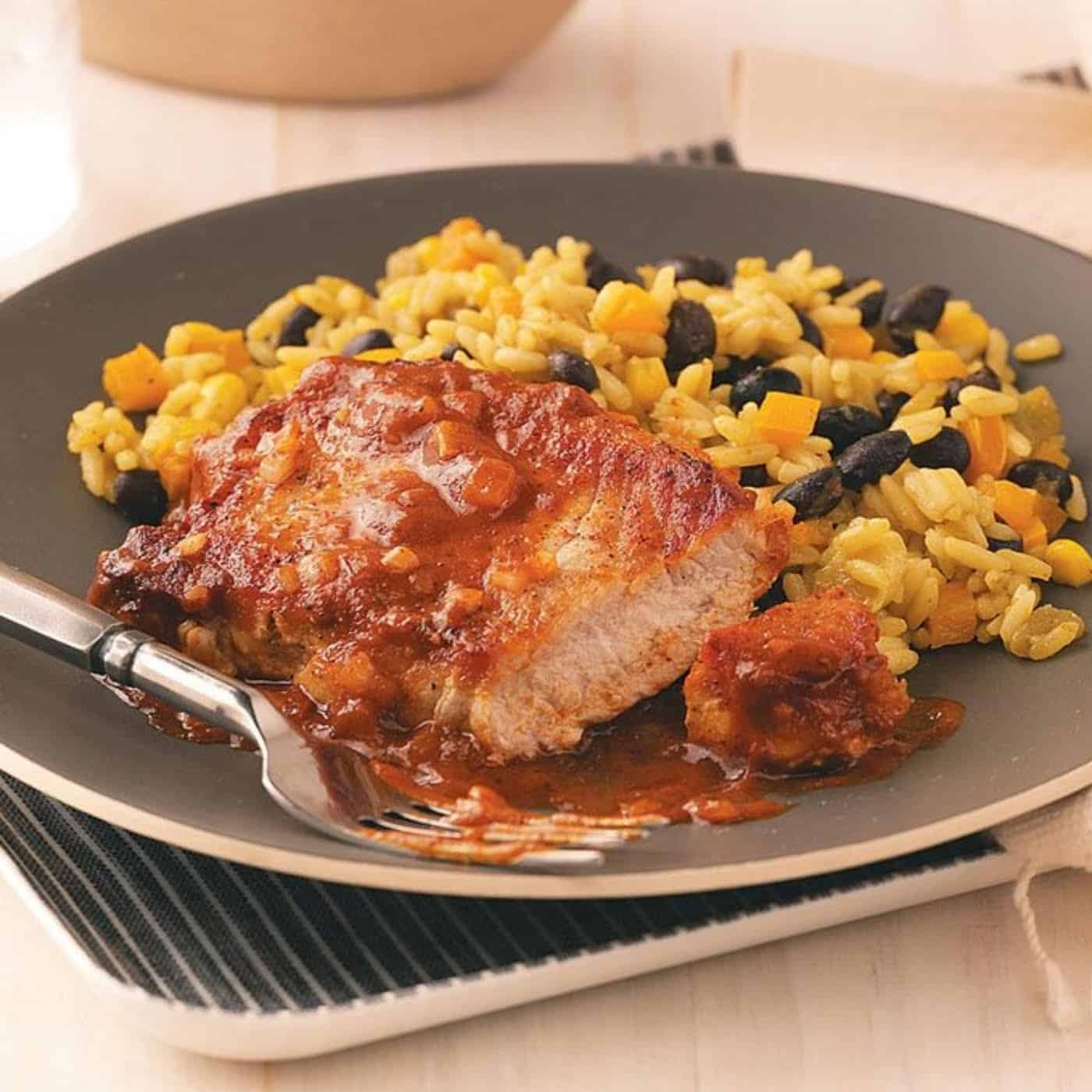 The combination of taco sauce and cheese is always a winner in my house - my kids love this one.
Cook the pork chops in a large skillet over medium-high heat and then cover them with the taco sauce.
The pork chops are so tender and juicy. DELICIOUS - This recipe gets 5 stars in our house!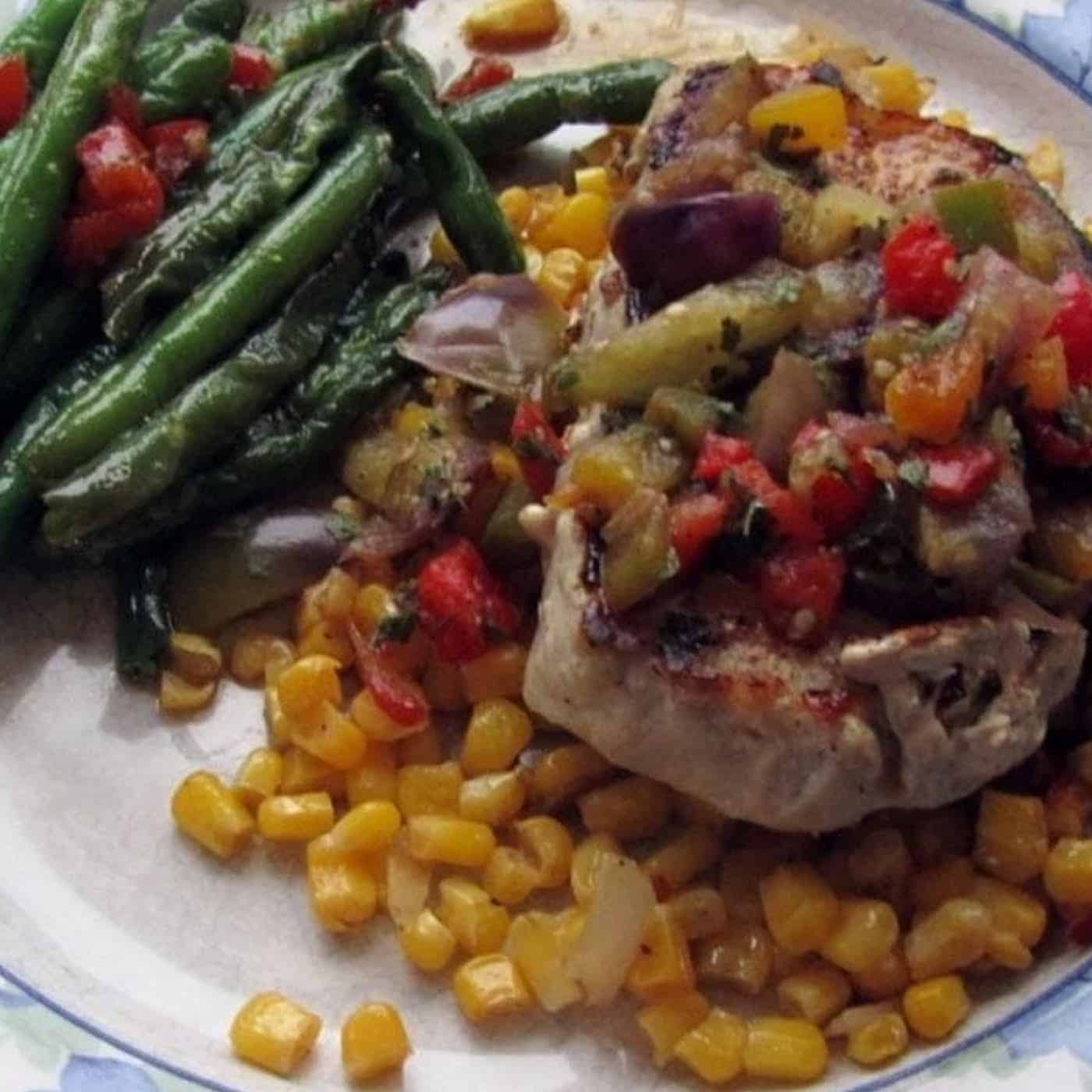 Dress up your pork chops with bell peppers, onion, tomatoes, green chilies, corn, salsa, oregano, and cumin.
The key to the flavor in this pork chop recipe is browning the pork chops and the veggies. Place everything into a baking dish and finish in the oven.
Delicious and healthy!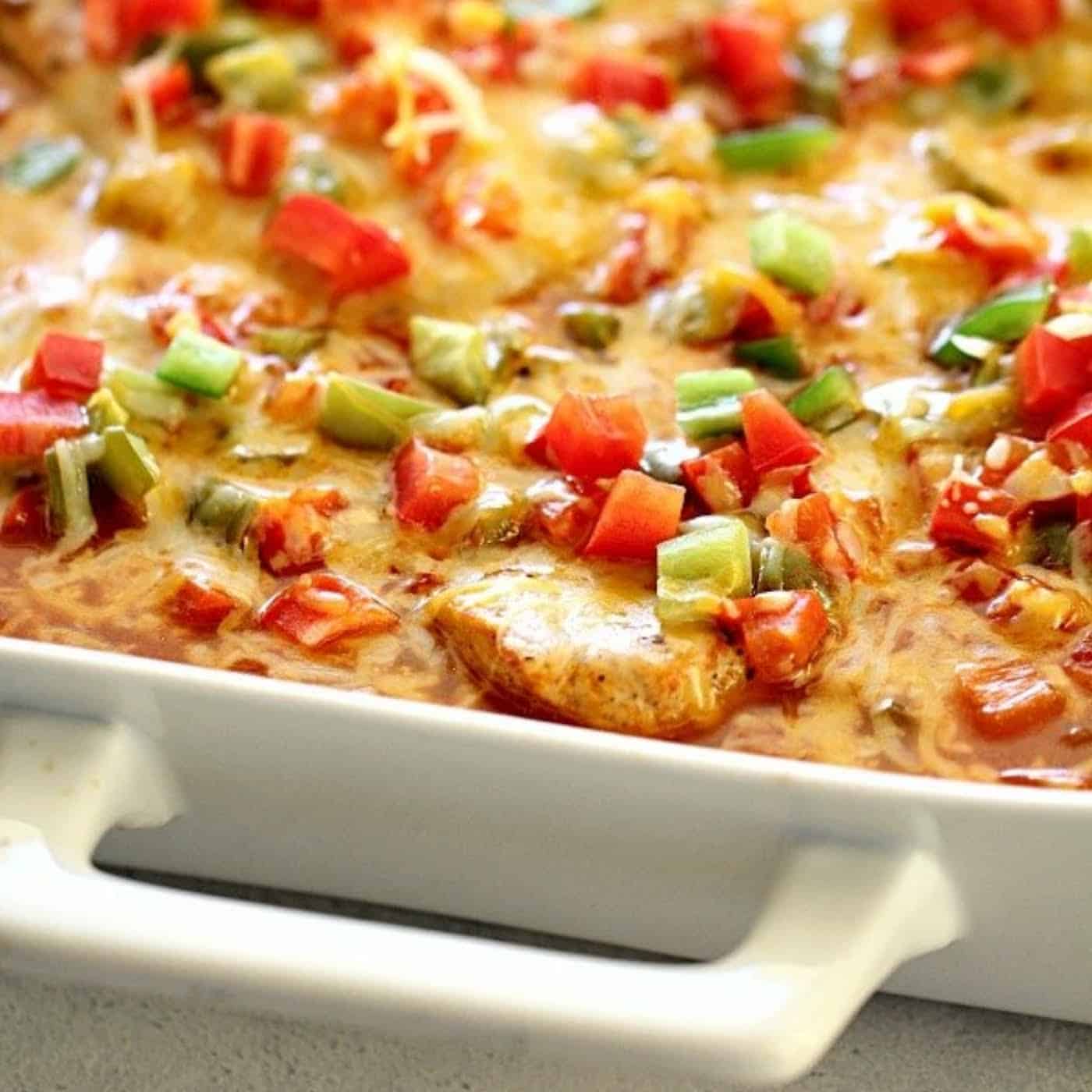 This beautiful pork chop recipe is a flavorful dinner and you make it using one dish. The colors in this casserole are bright and beautiful and the taste is beyond amazing!
This fiesta pork chop recipe with rice comes together with ingredients you will have in your home. No need to go shopping.
An instant fiesta when these Mexican pork chops arrive at the table!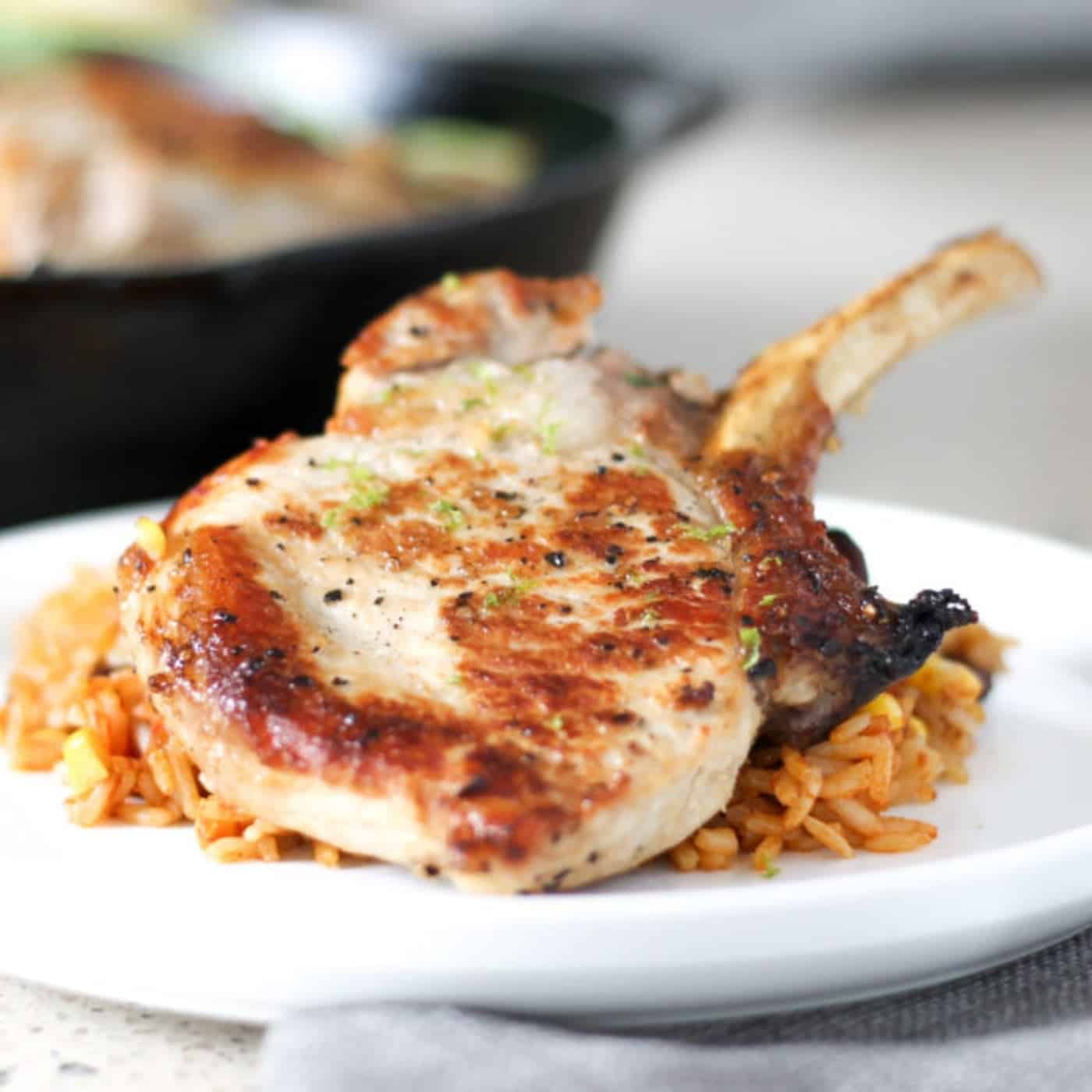 This beautiful and delicious pork chops recipe is so easy; all you need is a skillet. Heat the olive oil in the skillet ad brown the chops.
Set aside. Reduce to medium heat, add the veggies and finish off in the oven.
These authentic Mexican-style pork chops are perfect for family meals or themed dinners!
Guajillo Chiles are one of the best ways to add spicy pizzazz to Mexican pork chops.
The chiles sauteed in a little olive oil and garlic make the most amazing rub.
Smother the pork chops with the rub, sear and finish cooking the pork chops in the oven. Mexican pork chops made with dried chiles you will love!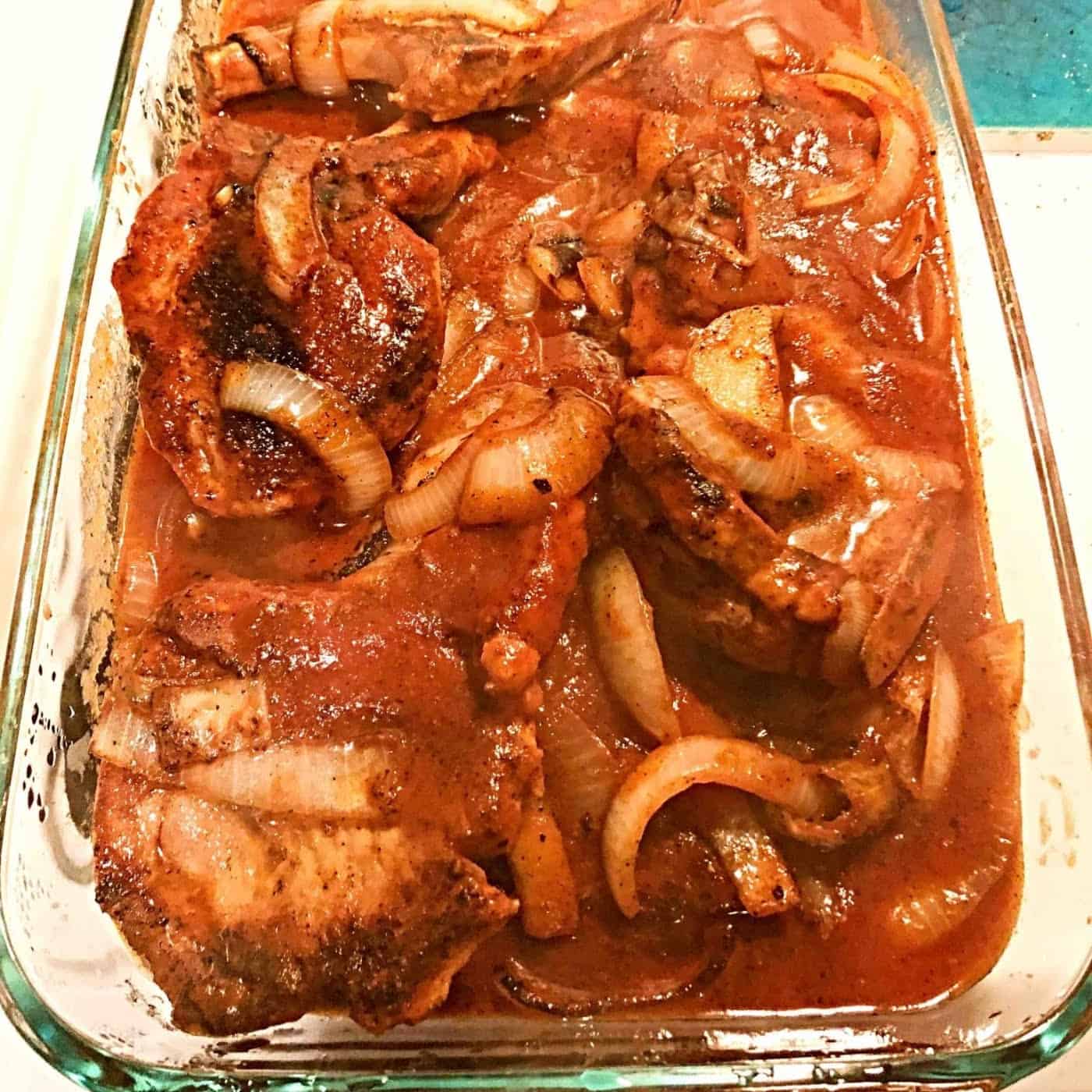 Goleta's family famous pork chops or chuletas are made with rich tomato sauce and sauteed onions.
Cumin is the heart of authentic Mexican food and gives this recipe its fantastic flavor. A classic Mexican dish that will fill your home with the most amazing aroma!
These Mexican pork chops will soon be one of the most requested recipes from your family and friends.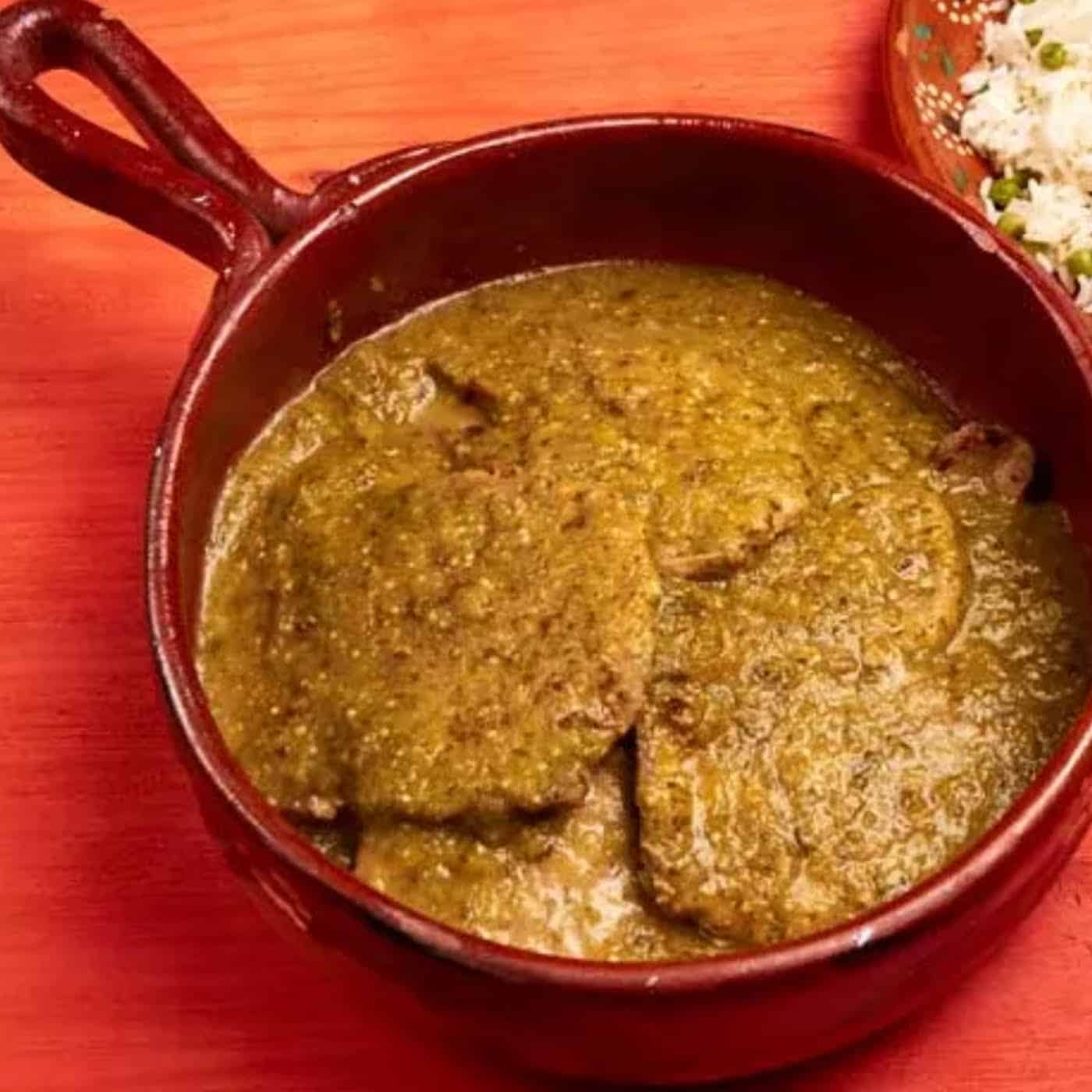 Mexican pork chops smothered in Salsa Verde are one of my favorite ways to cook pork chops.
Thinly sliced pork chops are used if you want to make an authentic dish. You can make homemade salsa or buy salsa verde from the grocery store if you are in a pinch for time.
Cooking pork chops covered with salsa verde is so fast and easy. So simple!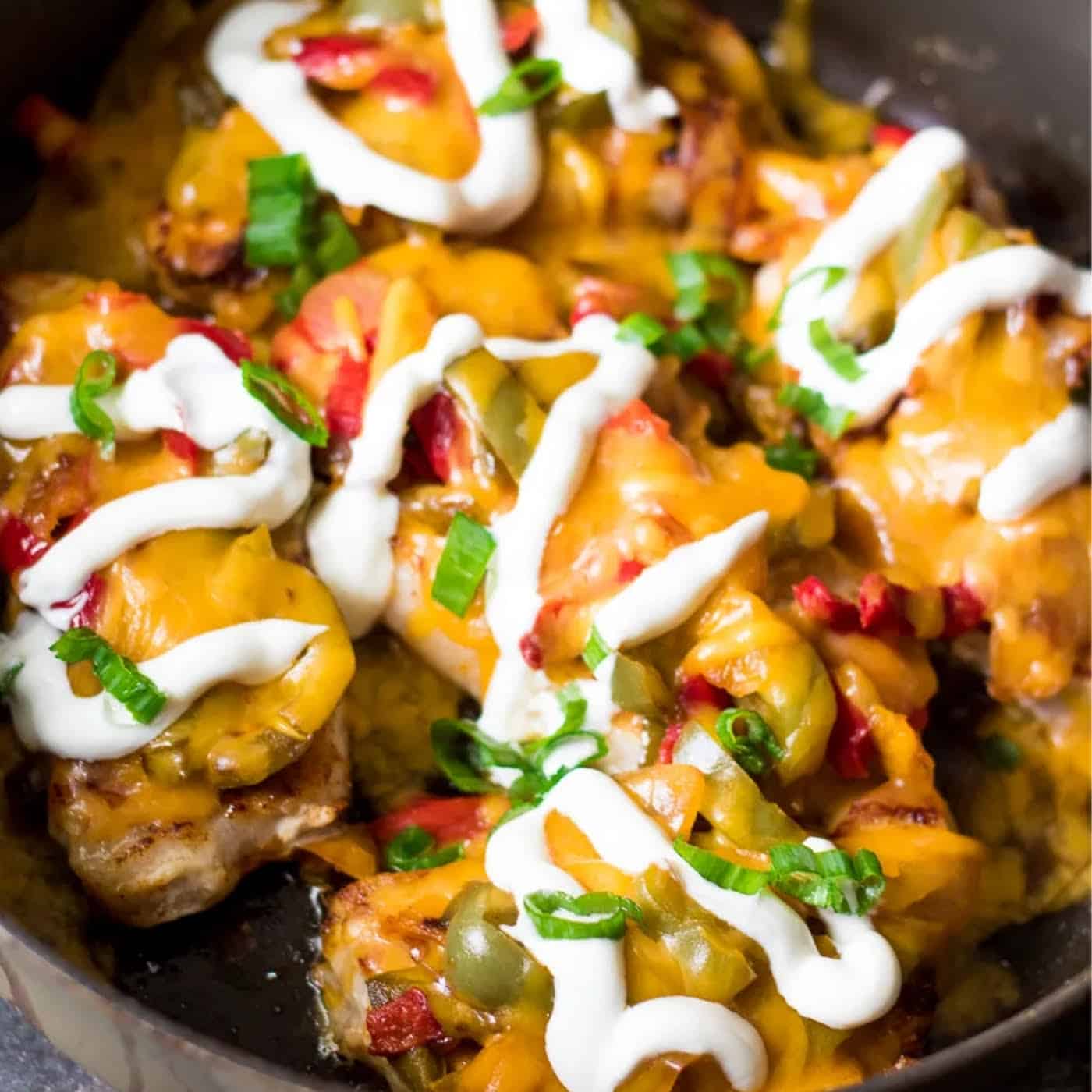 Fajita topped pork chops are one of our newest family favorite recipes. They are simple to make and the cooking time is under 15 minutes - what's not to like!
Simple ingredients, boneless pork, veggies, and lots of cheese.
No wonder everyone loves these Mexican pork chops. So Flavorful!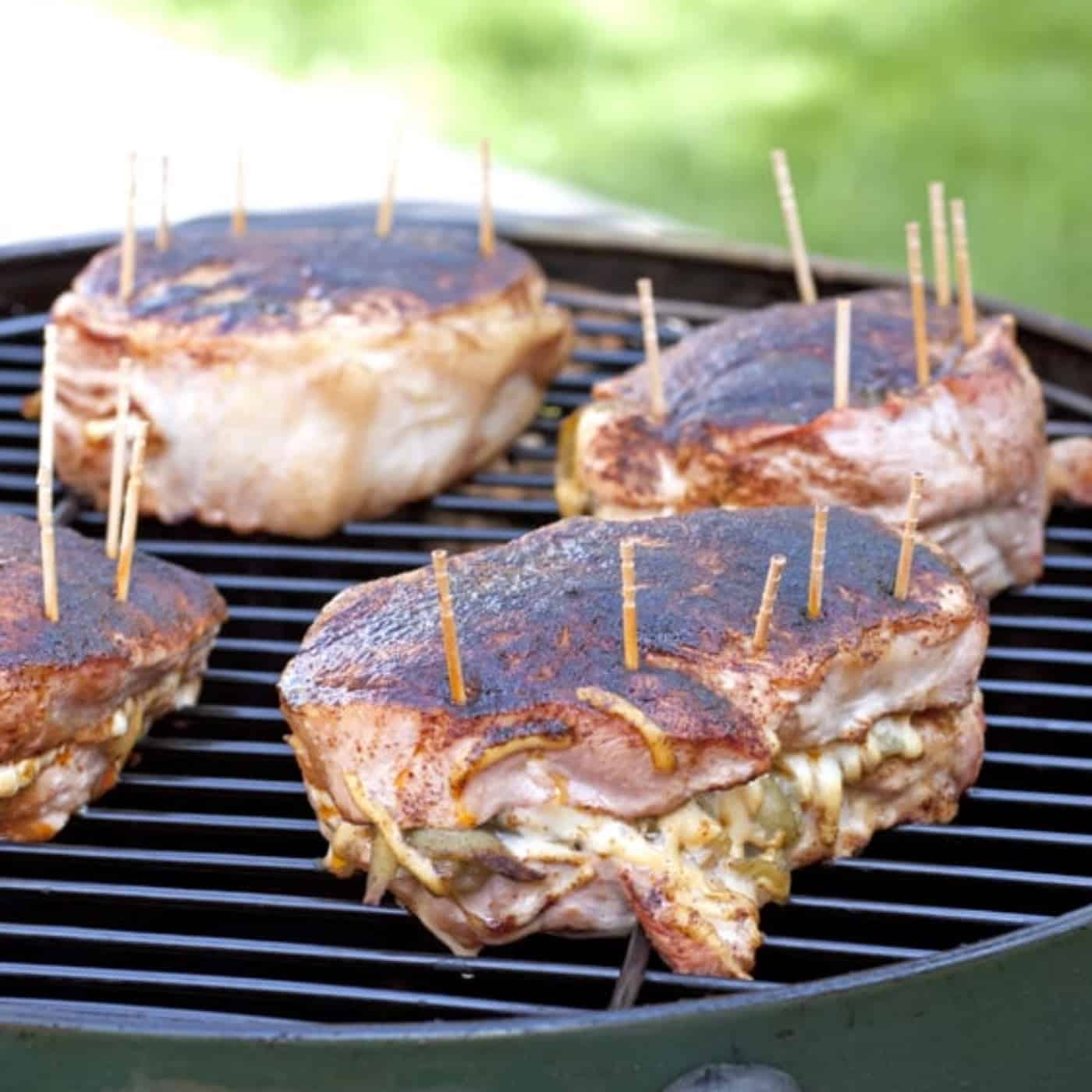 This stuffed pork chop recipe is 5 stars! The rub's flavor, the Oaxaca cheese, and roasted green chiles give these pork chops a sassy and spicy flavor, and the meat is juicy.
Cheese and chiles are a winning combination!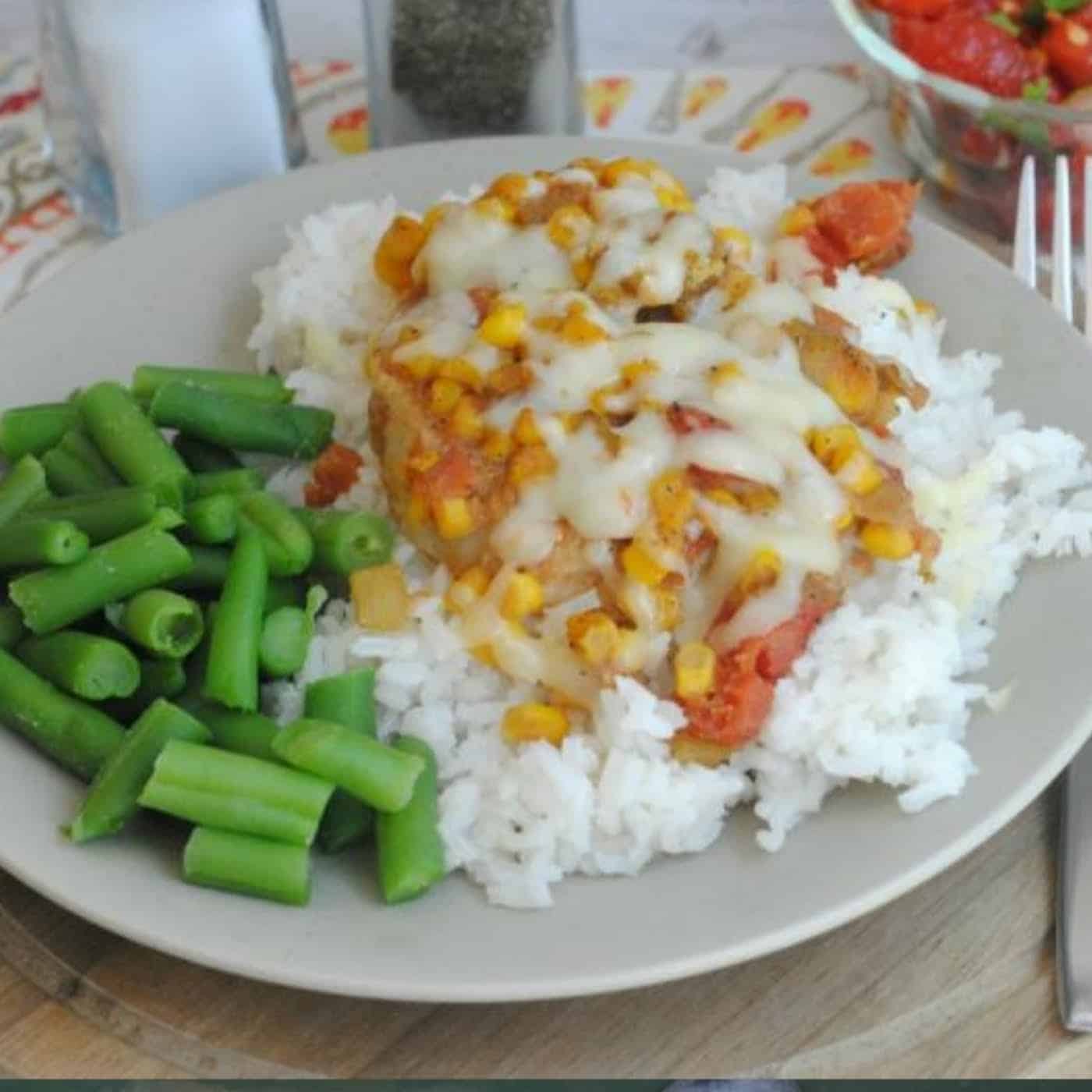 One of the easiest and tastiest pork chop recipes you will ever find!
You can prepare a single meal or freeze it and save it for one of those busy weeknights.
All you need is boneless pork chops, corn, tomatoes with chiles, and spices. So EASY!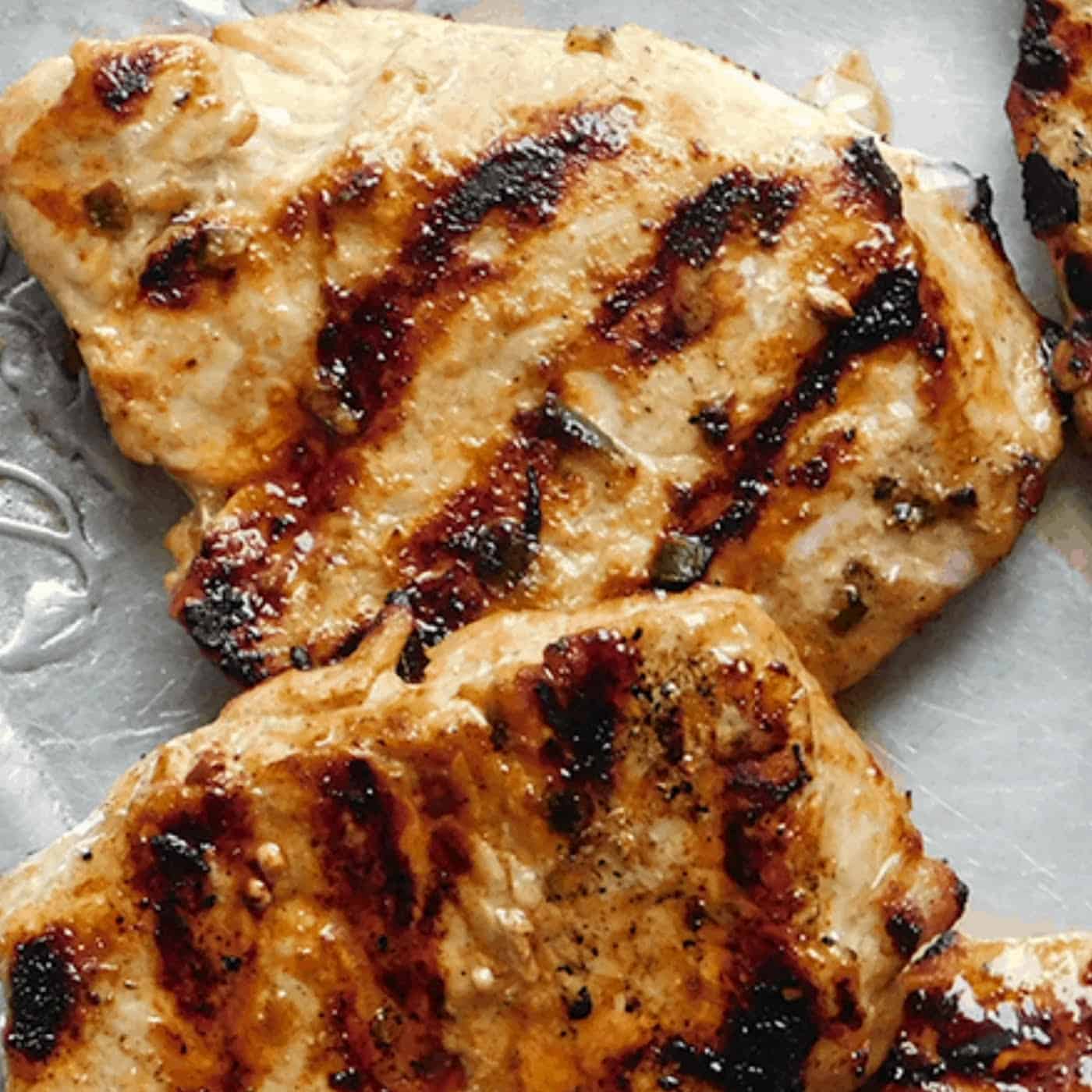 Margarita pork chops are made with the most fantastic marinade using Tequila, lime, garlic, honey, cumin, and salt. Marinate the chops for at least two hours, grill, saute or bake until the pork chops reach an internal temperature of at least 145 degrees.
These Tasty Tequila pork chops are terrific!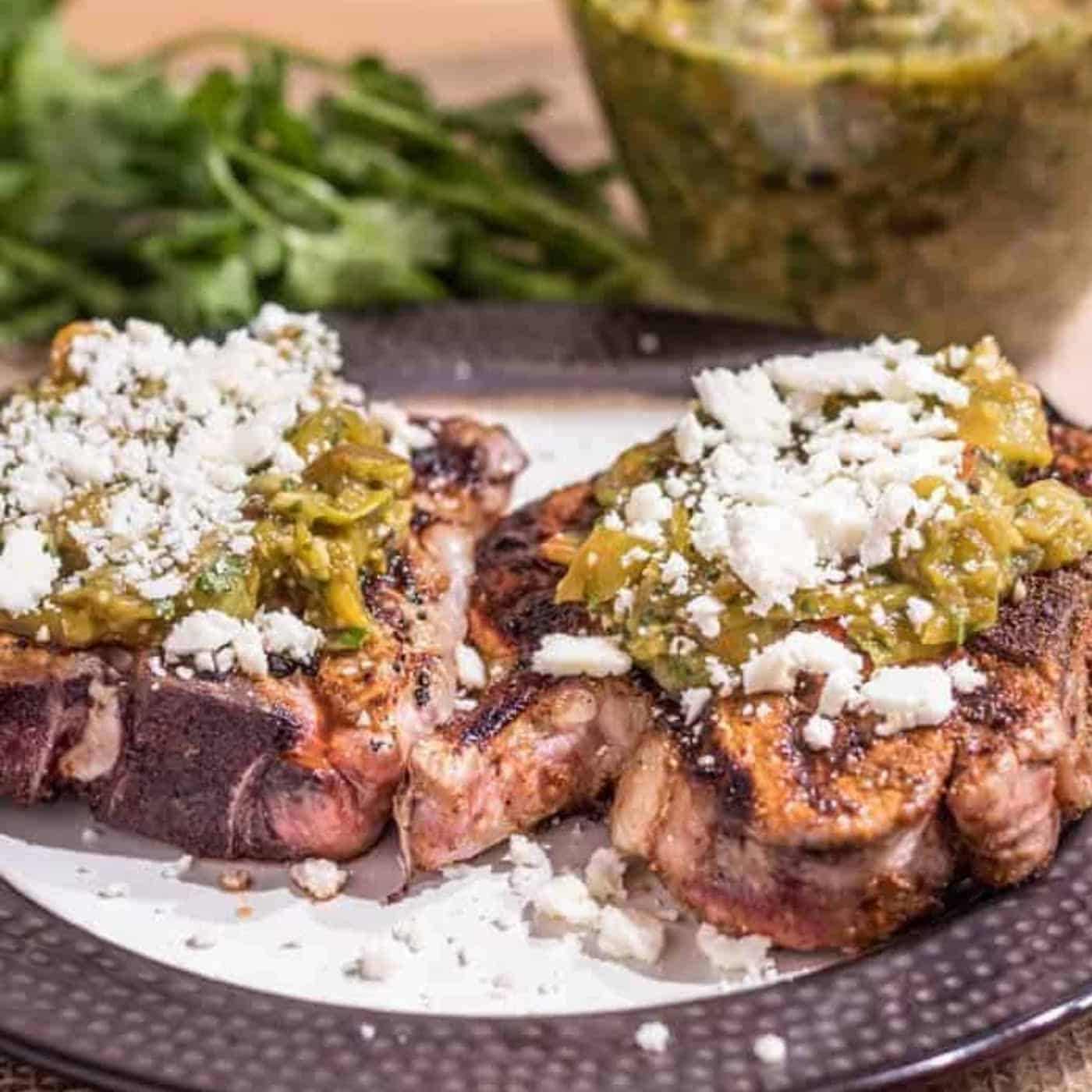 This is one of the tastiest spice-rubbed pork chop recipes I have ever made!
The spicy rub gives these thick pork chops the flavor of the deep south. Cook the pork chops on high, then reduce heat to medium until the thickest part of the pork chop reaches 140 degrees.
Homemade salsa and crumbled cotija take this dish from delicious to over the top! A fresh and vibrant Mexican pork chop recipe.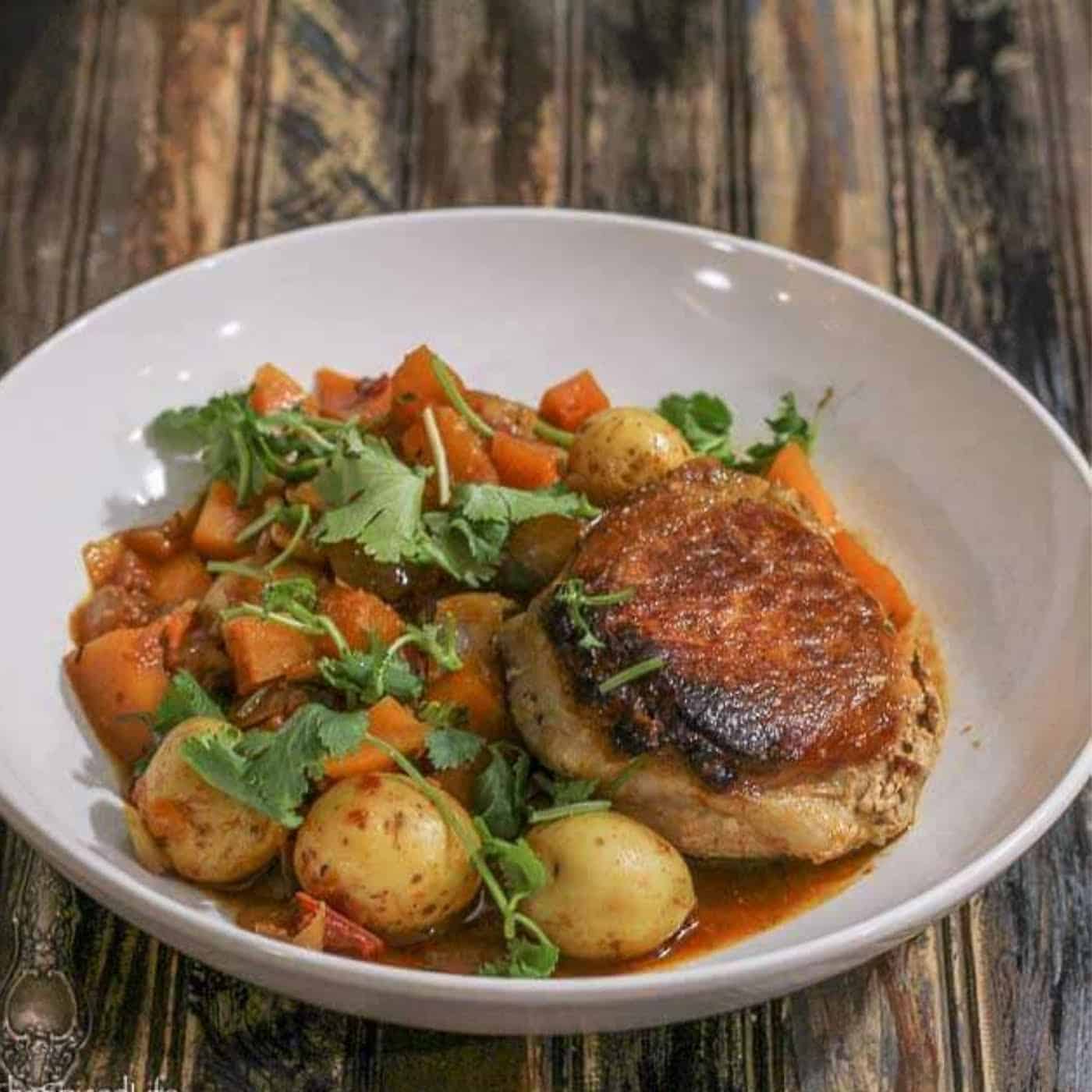 This one-pot Mexican Citrus pork chop recipe is so simple to make and has a fantastic flavor.
Pork chops, squash, potatoes smothered in an orange and lime juice sauce create a one-dish wonder.
Your taste buds will thank you. Super tasty Mexican pork chops and veggies!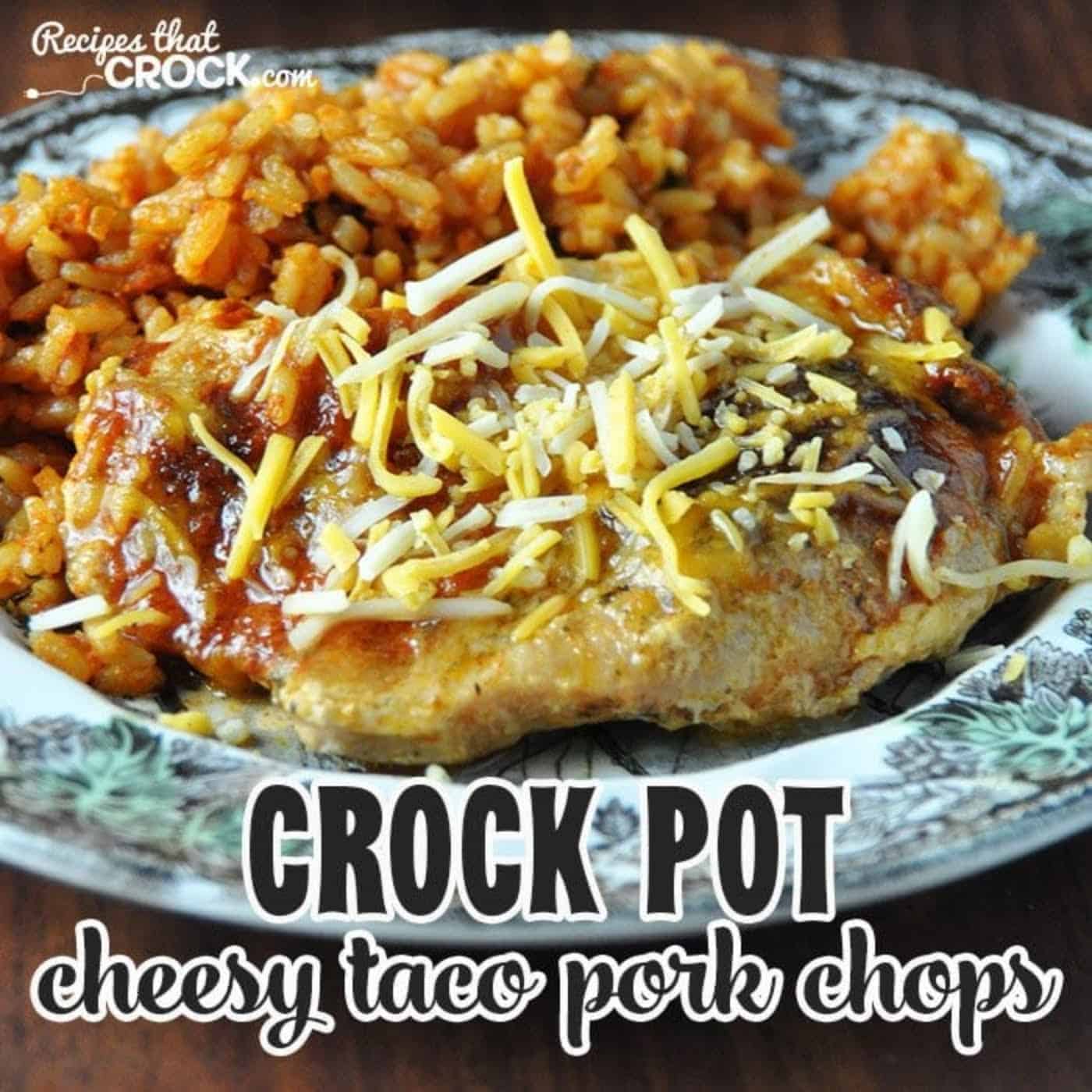 Will the cooler weather around the corner, crockpot recipes return to the forefront.
Crockpot cheesy taco Mexican pork chops are so easy to make and use common ingredients. Just toss everything into the crockpot, and an incredible dinner will be ready when you get home.
The chops are so tender, and everyone loves the taco and cheese combo!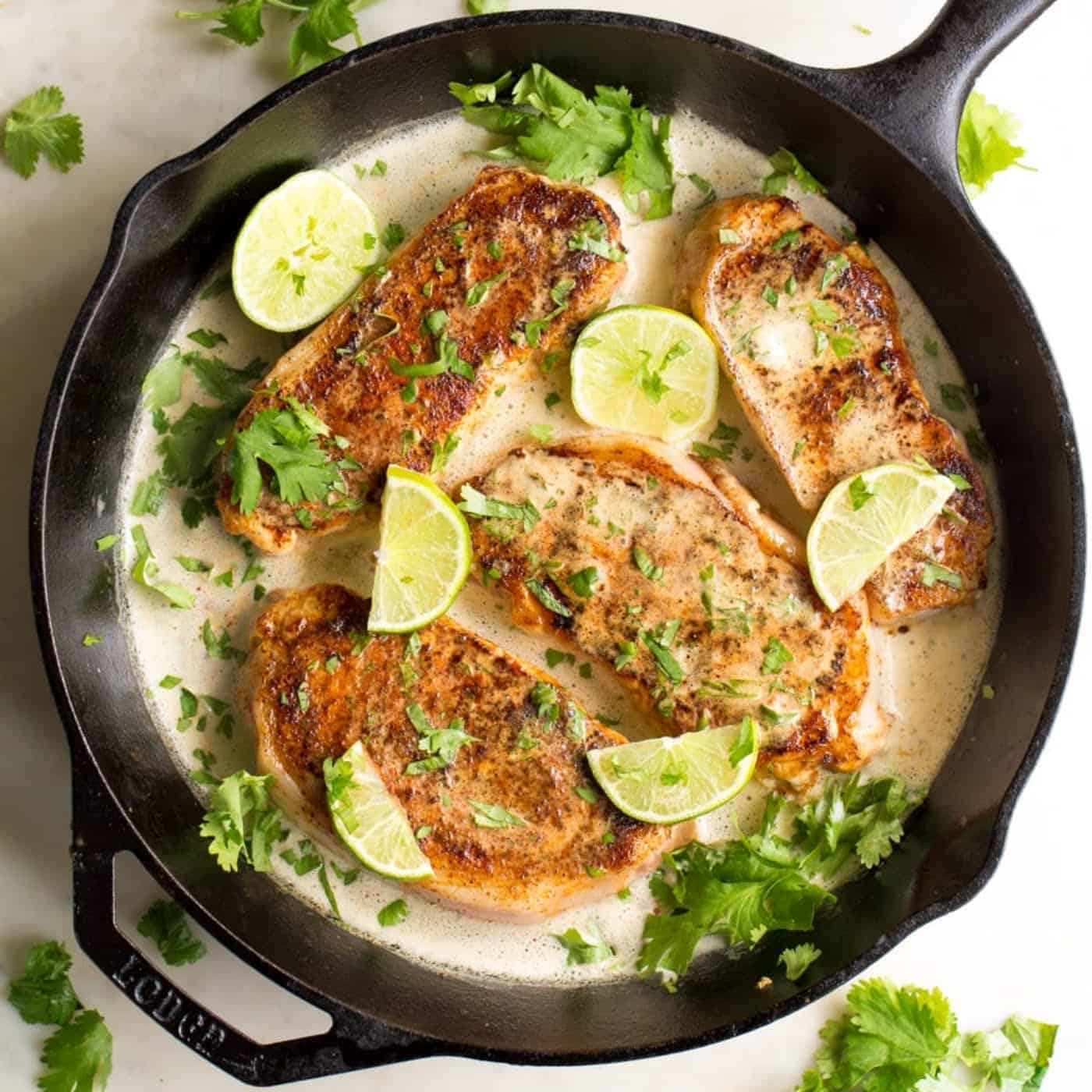 These creamy and smoky chipotle Mexican pork chops are easy to prepare and ready to eat in less than 20 minutes.
The smokey flavor of the chipotle peppers with creamy sauce makes an unforgettable pork chop meal.
These Mexican pork chops are so tender and juicy! Perfect for entertaining or family dinners.
Bonus Mexican Dessert
If you've never had Mexican flan, your missing out. It's hard to find a perfectly balanced dessert recipe. Not to toot my own horn, but my Mexican flan recipe is out of this world.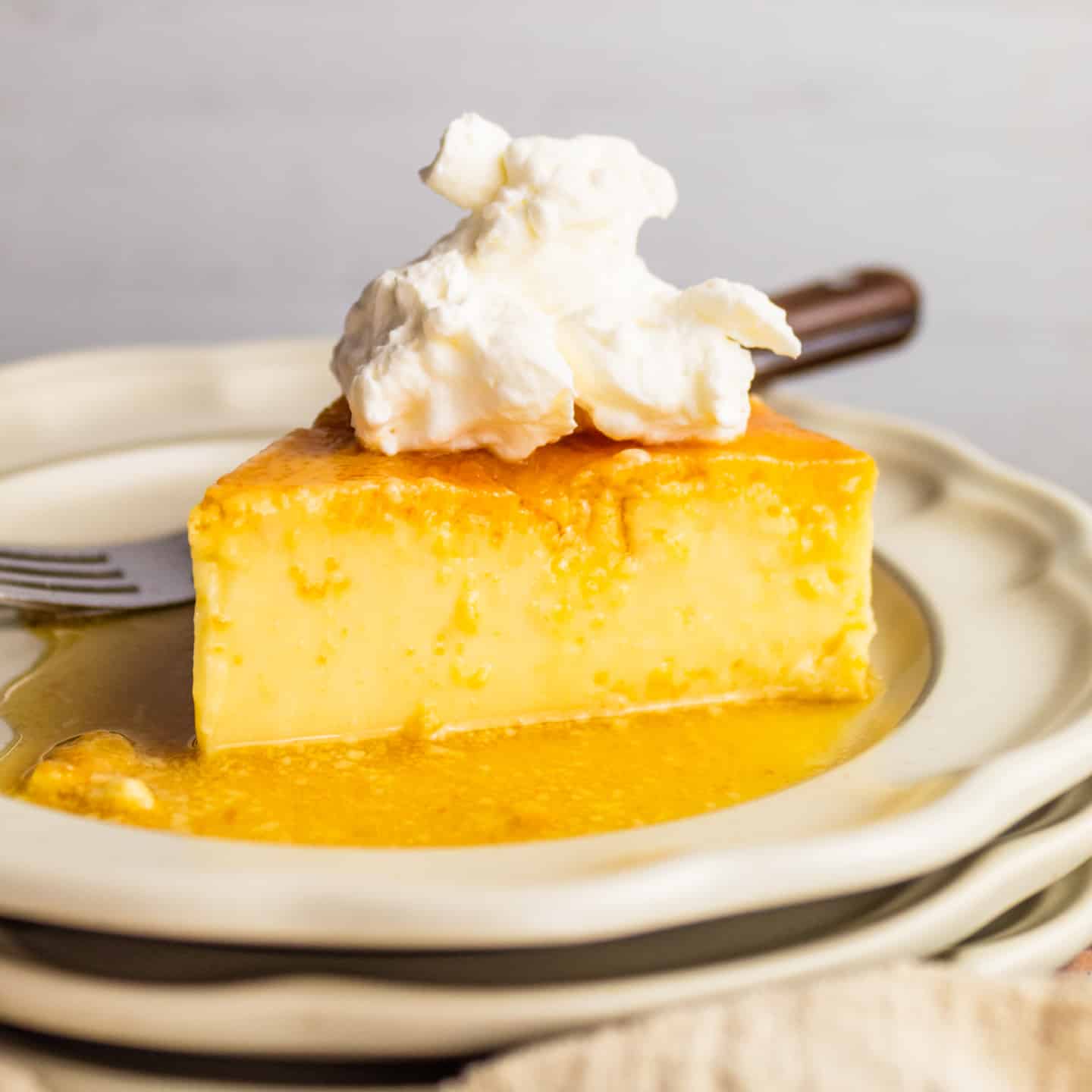 Flan is a light dessert that isn't too sweet yet still states amazing. Trust me and give it a try; you'll be pleasantly surprised.
Mexican Pork Chops with Adobo Seasoning
This Mexican pork chop recipe is packed with flavor and super easy to make. The pan-seared chops are infused with flavor thanks to my adobo seasoning, and the Mexican cheese blend tastes fantastic and helps keep the pork chops tender and juicy.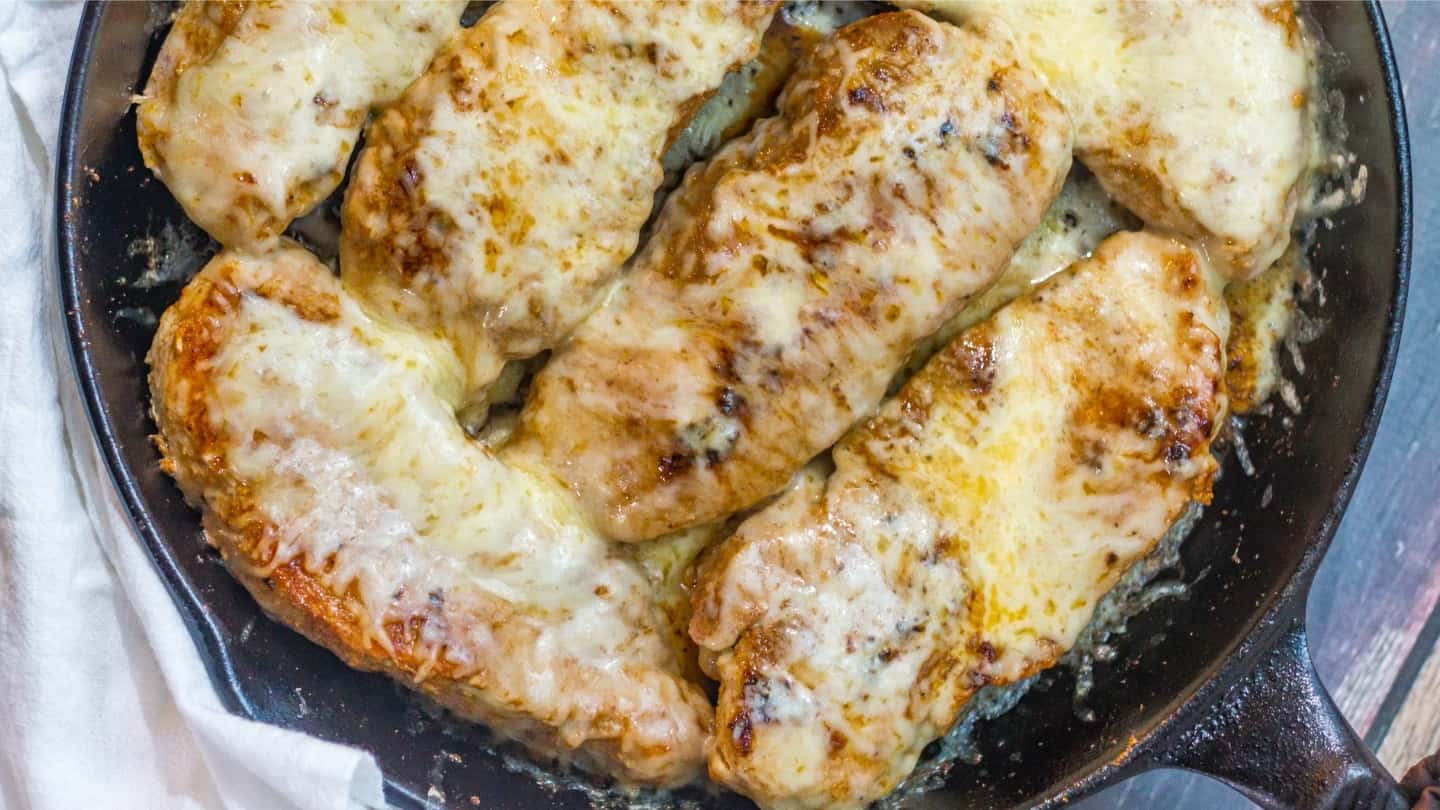 Alternatively, try my one-pot ultra creamy ranch pork chops. They only take 30 minutes and the creamy ranch sauce is fantastic.
🍽 What you need
This recipe is made in a single skillet. If you use an oven-safe skillet, you can pop it in the broiler at the end to make the cheese nice and brown, and bubbly. I like cast iron skillets for this reason. Plus, cast iron doesn't have any finishes that can chip off and be potentially dangerous. It's easy to clean and can last a lifetime if you take care of it.
You can swap the adobo seasoning with your favorite spice blend. Ranch, Italian, or poultry seasoning are excellent subs.
If you don't have adobo seasoning on hand or are not a fan of store-bought spice blends like myself, you can whip up a batch. My homemade adobo seasoning only takes a few minutes, and you only need a few ingredients, which you most probably have in your spice cabinet.
If you like spice mixes and seasoning blends, try my ranch seasoning, taco seasoning, and bread crumbs.
🔪 How to make
This 30-minute Mexican pork chop recipe is fantastic with my cilantro lime cauliflower rice. The combination is iconic, low-carb, and keto-friendly.
Mix the adobo seasoning, cumin, onion powder, paprika, garlic powder, and salt in a small bowl. Sprinkle the spice blend evenly over the pork chops on both sides. You can use your fingers to mix and ensure the seasoning covers all sides and sticks to the chops.
Heat the avocado oil in a large skillet over medium heat for 2-3 minutes. Once your pan is hot, add the pork chops and sear until browned on both sides. This should take about 3-5 minutes per side. But to be on the safe side, make sure your pork chops are cooked at an internal temperature of at least 145° F. This is especially important if you're using thick cuts. I'm pretty sure no one wants an undercooked pork chop.
Remove from heat and let the meat rest for a bit, then drizzle the shredded cheese evenly over the seared pork chops for that cheesy goodness.
Preheat the broiler and place the chops under HI and broil until the cheese melts and browns slightly. If your dish is not broiler-safe, transfer the pork chops to a baking dish.
Serve warm with some veggies and Mexican or white rice. Bon appetit!
That's how this recipe came about!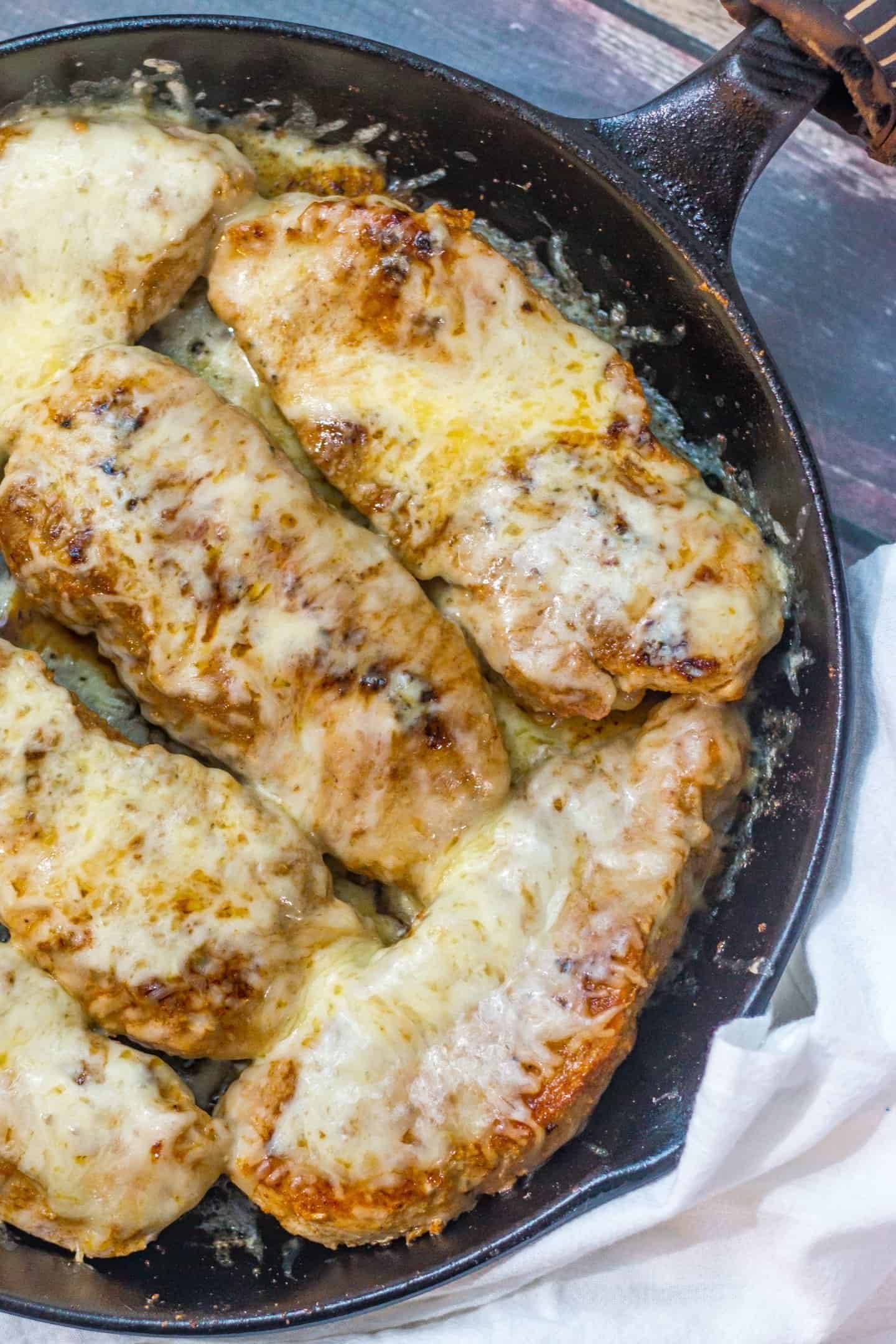 📋 Variations
This Mexican pork chop recipe is quite simple, but just like most recipes, you can alter it to suit your taste or preference. Embrace adventure and sub, or add whatever you want. However, the subs and add-ins need to make sense.
Salsa Verde Version
Mexican pork chops in salsa verde sauce are a delicious option you can try. Salsa verde is a well-flavored sauce that's popular in Mexican households. It's usually a combination of tomatillos, onions, cilantro, garlic, lime, and chile peppers. You can get a bottle of salsa verde at the grocery store or make your own at home.
Suppose you choose the latter, roast or broil the tomatillos and peppers for a few minutes. This gives the salsa verde a bit of extra flavor. Then toss everything in a blender and blend to desired consistency.
1 pound fresh tomatillos, 2 cloves garlic, ½ cup white onion, ½ cup cilantro, 2 peppers, and 1 tablespoon lime juice.
So to make salsa verde Mexican pork chops, sear the meat to golden perfection as directed in the recipe. Pour the Verde sauce over the pork and bring to a boil. Reduce heat and let it simmer for about 10 minutes or until the sauce is reduced by half. You can garnish with cilantro or any fresh herb of your liking.
Swap the Seasonings
You can swap the adobo seasoning with your favorite spice blend. Ranch, Italian, or poultry seasoning are excellent subs.
Swap thin Pork Chops
For this pork chop recipe, I went thin boneless pork chops simply because they cook quickly. But if you prefer thick cuts or bone-in, go ahead and use them. You just have to adjust the cooking time to ensure the chops cook to the right doneness. It can take about 2-4 minutes longer per side but make use of the meat thermometer.
Cheese
The Mexican blend cheese combines Monterey jack, cheddar, asadero, and queso quesadilla cheeses. But if you cant get your hands on this blend, you can use either of the above. Or cheeses that melt well like Provolone, Colby, Asiago, and others.
🥗 What to Serve With
A great meal like this one deserves a delicious side dish to complement it. There are plenty of excellent sides you can serve with Mexican pork chops, but here are my favorites;
Cilantro Lime Cauliflower Rice - I love Mexican pork chops with anything 'ricey'. This is another combo I tried, and everyone in my house loves it.
Garlic green beans - these veggies pair beautifully with the creamy and flavorful pork chop.
👪 Serving Size
This Mexican pork chops recipe is a perfect weeknight meal that serve 6 people. It will get you in and out of the kitchen in no time and is super flavorful. Give it a try, and you won't be disappointed.