These easy appetizer recipes with few ingredients are everything you need to make your next party a hit! With as little as three ingredients, these super flavorful appetizers will earn you cheers and praises.
They're as delicious as these easy desserts with few ingredients, and you'll definitely have fun putting these together! From simple, tasty dips to yummy wraps, this list has your favorite appetizers!
We start our delicious appetizers with these easy cranberry brie bites. They take only a few minutes to prepare with a handful of ingredients.
These irresistible little bites are everything you need for your holiday party. It takes just 20 minutes to make with only five ingredients.
These include frozen puff pastry, brie cheese, flaky sea salt, raw pecans, and cranberry sauce.
Top with fresh rosemary, and serve!
Made with just four ingredients, this super easy appetizer pairs perfectly with many of these easy dip recipes with few ingredients.
All you require are almond flour, ground flaxseed, fine sea salt, and flaked sea salt.
Enjoy the rich buttery flavor and crunchiness with hummus for the best snacking experience.
These classic party appetizers have been a favorite of many families for years. They're super simple to make with no cooking needed.
The savory balls are made with cream cheese, green onions, diced smoked ham, and walnuts.
Serving this with crackers completes the delicious appetizer.
When it comes to attractive and easy appetizers, this baked brie with blueberries and pecans ranks high on our list. It's a delectable appetizer for cheese lovers, and it guarantees no leftovers with its decadent flavors.
Its ingredients include brie, chopped pecans, blackberry jam, honey, rosemary, and orange zest.
Serve with crackers or baguette slices to enjoy.
If you didn't think fruits, bacon, and cheese could make delicious appetizers, these bacon-wrapped dates would change your mind!
The game day appetizer takes its flavors from Medjool dates, goat cheese, bacon slices, maple syrup, and cooking syrup.
Top with chopped parsley to enjoy!
These delicious bites are best to please your guests after a main course. The sweet taste will of this healthy appetizer will have your guests coming for more.
You only need fresh apricots, Buratta or parmesan cheese, balsamic vinegar, prosciutto, and honey.
Add salt and pepper to taste, and enjoy!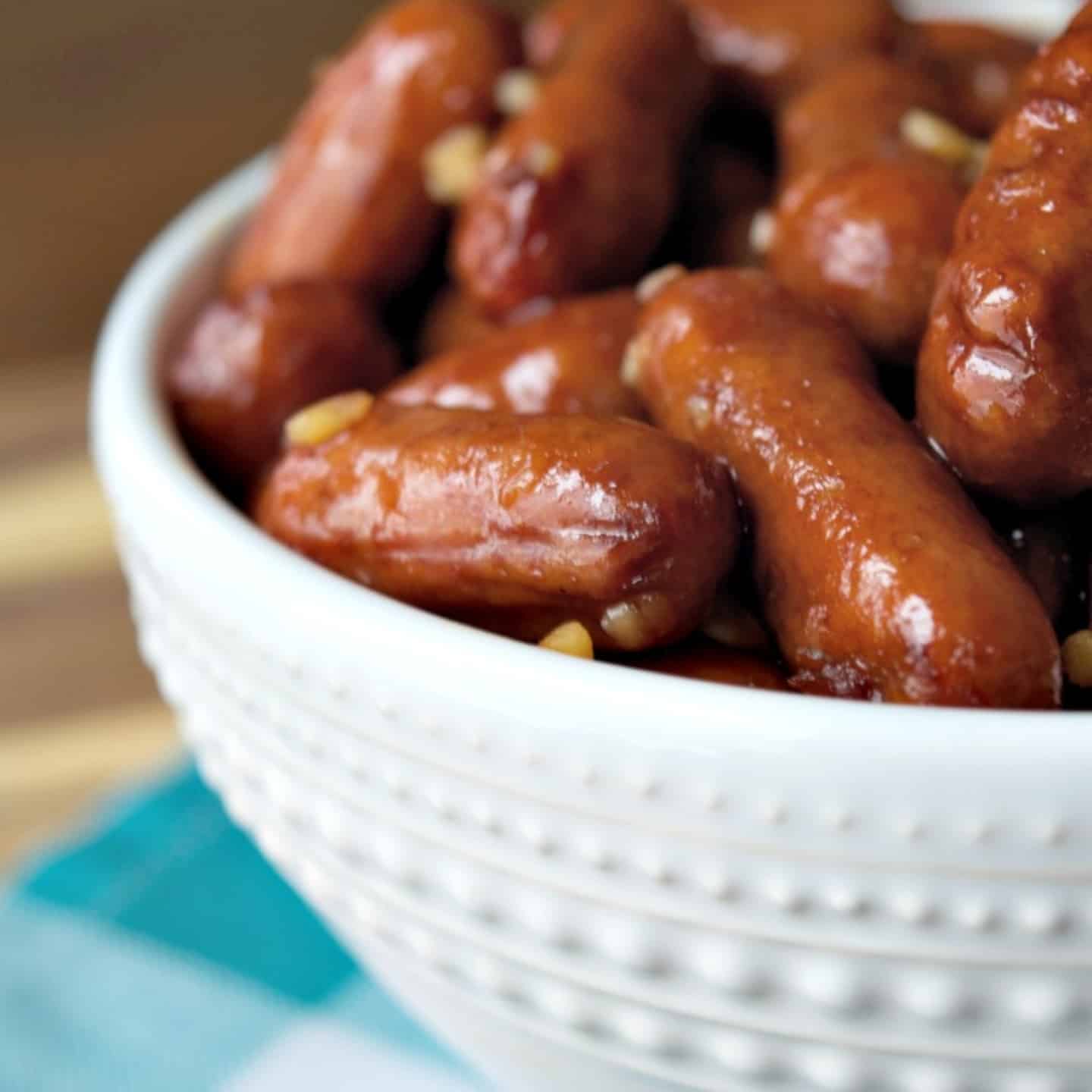 You'll be grateful for this delicious appetizer on a special occasion with its amazing flavors.
It's a slow-cooker appetizer made with sausage, brown sugar, garlic, honey, soy sauce, and ketchup.
It takes only 30 minutes to prepare while your slow cooker does the remaining work.
These easy appetizers are party-perfect and guaranteed to get the cheer going among your guests.
They're made in just 45 minutes with tortilla, grated cheddar cheese, green chiles, melted butter, onions, and kosher salt.
Serve warm and top with cheese to enjoy.
This is the recipe you want to have around for game day appetizers. It's made with only three ingredients, packing yummy flavors that get you in the mood for dinner.
Its ingredients include spinach artichoke and parmesan dip, zucchini, and shredded mozzarella.
Bake for about 4 minutes till the cheese is melty, and serve warm.
If you want to treat your guests to something special, these stuffed mushrooms will surely get you praise.
Your crockpot will do the work for you, and all the ingredients you need include fresh mushrooms, bacon bits, Worcestershire sauce, cream cheese, butter, and ranch dressing mix.
Drizzle with more butter or sauce to serve, and enjoy.
Satisfy your guests' sweet craving with this simple caramel apple dip. It takes only four ingredients and requires six minutes to make.
These ingredients include cream cheese, sugar, toffee bits, and caramel sauce.
Serve with sliced apples or your favorite fruits to enjoy.
Get your tortilla chips, nachos, and burritos ready to enjoy with this crockpot bean dip. It takes only ten minutes to assemble and dump into your crockpot.
Your ingredients include sour cream, refried beans, green chiles, salsa, Mexican cheese, and seasonings.
Add salt to taste and serve with your favorite chips.
Guacamole is a classic party and game day appetizer, packing flavors that go with virtually any dish.
The enjoyable dip is made with Hass avocados, lime juice, red onion, cilantro, jalapeno, and kosher salt.
Serve with tortilla chips, toast, tacos, sandwiches, and absolutely anything you want.
If you want to get the mood right for a special evening, we advise you to go for this elegant and delicious appetizer.
It's made with thin slice baguette, fig jam, olive oil, and blue cheese.
It takes only 15 minutes to make, and you can top it with more blue cheese to enjoy.
You can get more out of crostinis with this recipe that's bound to be your favorite with just one bite.
It's made with baguette, creamy brie, sliced apples, and crumbled slices of bacon.
Drizzle maple syrup on the amazing appetizer, and enjoy! These easy apple dessert recipes with few ingredients will give you more appetizer ideas to make with apples!
Nachos are a super versatile appetizer where your secret ingredient can be anything you want. The base of this appetizer is a mix of tortilla chips and a block of cheese.
You can then add your secret ingredient in the form of toppings, including shredded chicken, ground beef, tomatoes, black beans, and many more.
Add a dollop of sour cream or salsa to enjoy. Your toppings can be so much more with these easy ground chicken recipes with few ingredients and these amazing easy ground beef with few ingredients.
These skewers provide you with a much healthier appetizer option, with less than 30 minutes to get it ready.
It incorporates cherry tomatoes, basil leaves, and mozzarella cheese.
Add salt and pepper to taste, and drizzle balsamic vinegar to enjoy.
Your parties will never remain the same with this amazing appetizer recipe! It's a simple and flavorful snack that requires no cooking and can be prepared in ten minutes.
Ingredients used include softened cream cheese, sharp cheddar cheese, ranch dressing, chives, and bacon.
Mix and roll these ingredients in a soft tortilla and slice them into small-sized bites to enjoy. If you love these, you should check out our easy no-bake desserts with few ingredients!
This buttery flatbread will convince you in a bite that it's the perfect party appetizer. It takes only ten minutes to make with pantry ingredients.
These include thin-crust pizza dough, unsalted butter, cloves, parmesan cheese, and cheddar cheese blend.
Garnish with fresh parsley, and serve with a marinara sauce for dipping.
The real crowd-pleaser is this beer cheese dip that incorporates your favorite beer, cheese, and seasonings.
You'll need cream cheese, cheddar cheese, Worcestershire sauce, paprika, Dijon mustard, paprika, kosher salt, and beer to get this ready.
It takes only five minutes to make and should be served warm as a dip or cold as a spread.
Your chips and wraps are not complete as a party appetizer without this French onion dip.
It's to be served fresh and bursting with flavors from butter, yellow onions, mayonnaise, and sour cream.
Top with chives and fresh parsley, add salt and pepper to taste and enjoy.
Enjoy your fruit and biscuits better with this amazing apple brickle dip. You only need five ingredients from your pantry to get this ready.
These ingredients are cream cheese, brown sugar, toffee bits, granulated sugar, and granulated sugar.
Serve with fruit slices to enjoy.
Whether as a quick lunch in the middle of summer or as party appetizers, these pinwheels have flavors that won't disappoint.
It's made with three ingredients, including pizza crust, deli ham, and swiss cheese.
Make a brown sugar glaze to drizzle on the pinwheels, and enjoy!
Sweet, salty, and tangy combine to give the perfect appetizer with this fillo tart. It takes only 15 minutes to make with just six ingredients.
These include Fillo shells, gala apples, cheddar cheese, honey, and cinnamon.
Bake till the shells are brown before serving.
The decadent flavors from this appetizer are unmatched by any other snack you can think of.
These Antipasti bites are made with just five ingredients in 17 minutes.
These ingredients include Genoa salami, basil, artichoke hearts, and mozzarella balls. Top with more chopped basil to enjoy.
Baked brie also combines perfectly with apples and salted caramel, as seen in this recipe.
The recipe calls for brie, apples, brown sugar, and butter, caramel sauce.
Serve with crackers or pita chips to enjoy.
These crisps are made with just two ingredients, but you can be certain of amazing flavors to get the cheer going for your parties.
The two ingredients required are Jalapeno pepper and cheddar cheese.
You can get these crisps prepared and ready to eat in just 22 minutes.
Get your crusty bread slices out to dip in this flavorful oil made with fresh herbs and extra virgin olive oil.
These herbs include dried oregano, garlic clove, kosher salt, and ground black pepper.
Dip your favorite crusty bread and enjoy!
Nothing beats this Mexican dipping sauce with chips as an appetizer at family gatherings and topping.
It's made with simple ingredients, including American cheese, Monterey Jack cheese, poblano, cheddar cheese, heavy cream, fire-roasted tomatoes, and jalapeno juice.
Add salt and black pepper to taste and serve with chips.
These homemade mozzarella sticks served with sauce are the pinnacle of easy appetizers, giving you a load of flavors to enjoy
You need only six ingredients to get ready, and they take less than ten minutes to cook.
Top with green onions and enjoy with your preferred dipping sauce.
Easy Appetizer Recipes With Few Ingredients Takeaway
Whenever you want to wow your guests for a party or small gathering, these recipes will suffice beyond expectations to get the festivities going. These appetizers require little time and effort, and you'll have a fun time putting them together. If you enjoyed these appetizers, you should see our list of easy sweet snacks with few ingredients.