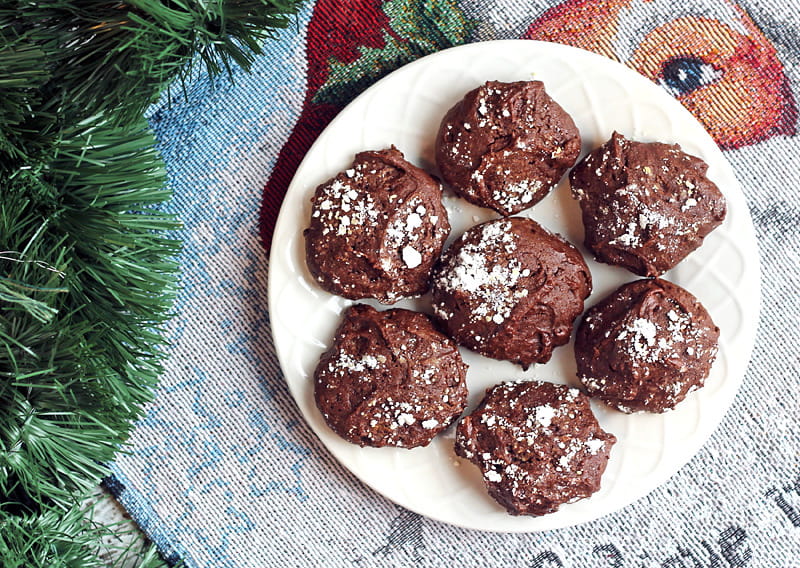 When it comes to baking, there is one brand that has my complete and utter loyalty no matter what it is that I am baking.
Bob's Red Mill
Whether I am buying regular flour, gluten-free flour, grain-free flour, oatmeal, or any other baking product, if Bob's Red Mill has it, they are my brand of choice. I've come to rely on their quality and their commitment to healthy foods and to  providing products that I can trust to meet my needs. And of course, that taste great.
I was so excited to receive a fun product pack from Bob's Red Mill with some baking flours, a pie box and flour sack towel. I was especially anxious to try the gluten-free 1 to 1 baking flour!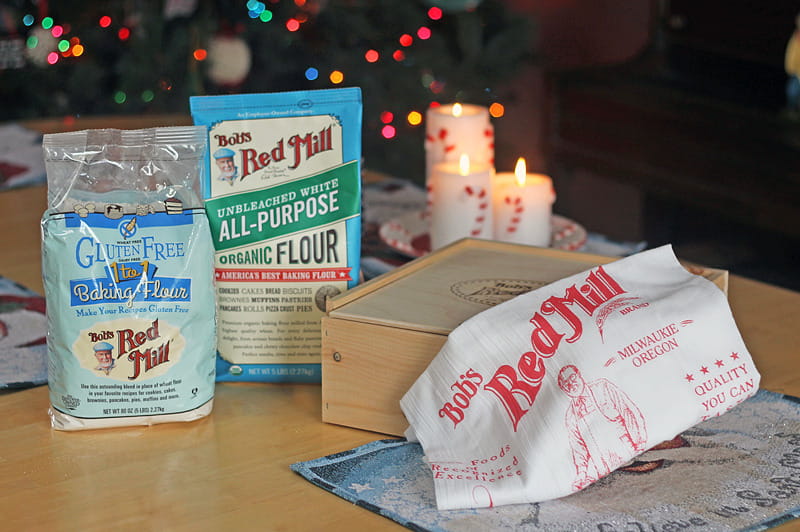 About the Bob's Red Mill Products I Received
Organic Unbleached All Purpose White Flour

Organic Unbleached White Flour is freshly milled from Organic hard red wheat. Both the bran and the germ have been removed leaving the endosperm that is made into white flour. It is not enriched with any additives.
This is the same high protein flour used by professional bakers and produces high, well-textured loaves of bread equally as well as it produces light, airy baked goods.
This kitchen staple is incredibly versatile and perfect for all of your baking needs.

Gluten Free 1-to-1 Baking Flour

Bob's Red Mill Gluten Free 1-to-1 Baking Flour makes it easy to transform traditional recipes to gluten free. Simply follow your favorite baking recipe, replacing the wheat flour with this extraordinary blend.
It is perfectly formulated for baked goods with terrific taste and texture – no additional specialty ingredients or custom recipes required.
This flour combines finely ground brown rice flour, sweet white rice flour, whole grain sorghum flour, potato starch, and tapioca flour with a touch of xanthan gum—just enough xanthan gum to create chewy cookies and springy muffins.
The protein in the sorghum flour helps give baked goods an almost wheat-like texture and aids in browning, for those times you need a perfectly golden brown chocolate chip cookie. Use this blend for cookies, cakes, brownies.
When it comes to baking, I am far from an experienced, but I do love to experiment, especially when it comes to make delicious gluten-free treats for the holidays. You shouldn't have to be deprived of the flavors of the season just because you are gluten-free.
Growing up, I had a great aunt that always made the best Christmas cookies. And boy did she make so many different varieties. I loved getting a place of cookies from her at Christmas, I think probably even more than the amazing gifts she used to give us as well. She just had a knack for those beautiful cookies. Well, I'm not quite as ambitious as my aunt, and I've actually never made any other Christmas cookies besides the sugar ones you cut with cookie cutters. And, even those may have come in a tube. But I won't tell.
So this year I decided to try my hand at something different. Something I call "peppermint hot chocolate cookies."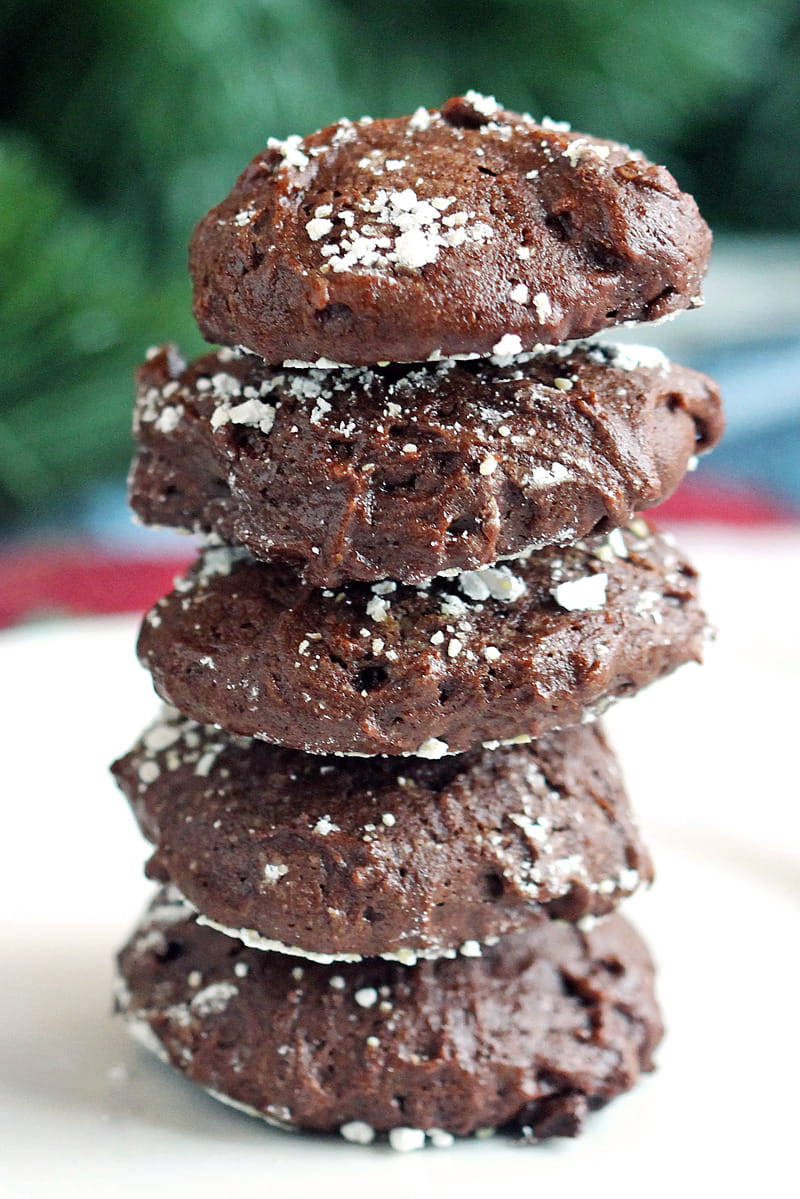 Imagine being able to bite into a cup of rich and creamy hot cocoa flavored with peppermint. THAT is what these cookies taste like.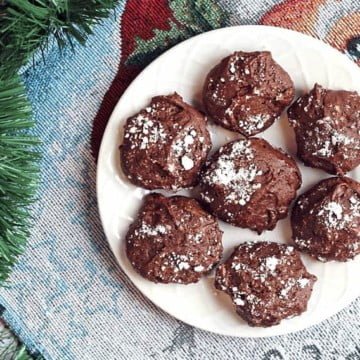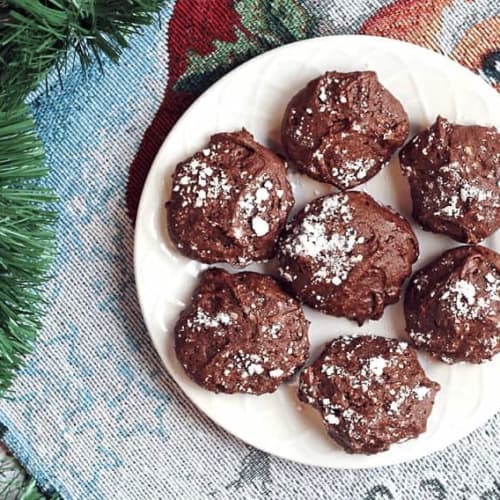 Ingredients 
2-½

cups

gluten-free flour

2

teaspoon

baking powder

2

cups

coconut sugar

1

cup

cocoa powder

½

teaspoon

salt

¾

cup

olive oil

4

eggs

2

teaspoon

vanilla

2

teaspoon

peppermint extract

powdered sugar

-

optional
Instructions
Combine sugar and oil in a large bowl until blended then beat in cocoa powder, eggs, peppermint and vanilla.

In a separate bowl, combine gluten-free flour, baking powder and salt.

Slowly beat dry ingredients into wet ingredients until completely blended.

Cover and refrigerate for 2 hours.

Preheat oven to 350 degrees.

Line a baking sheet with parchment paper and drop spoonfuls of dough about 1-inch in size onto sheet. Spaced 1-2 inches apart.

(Optional) sprinkle powdered sugar lightly over cookies.

Bake 12-15 minutes until springy.

Cool and enjoy.
My kids LOVED these. They really have a great flavor and it's hard to eat just one.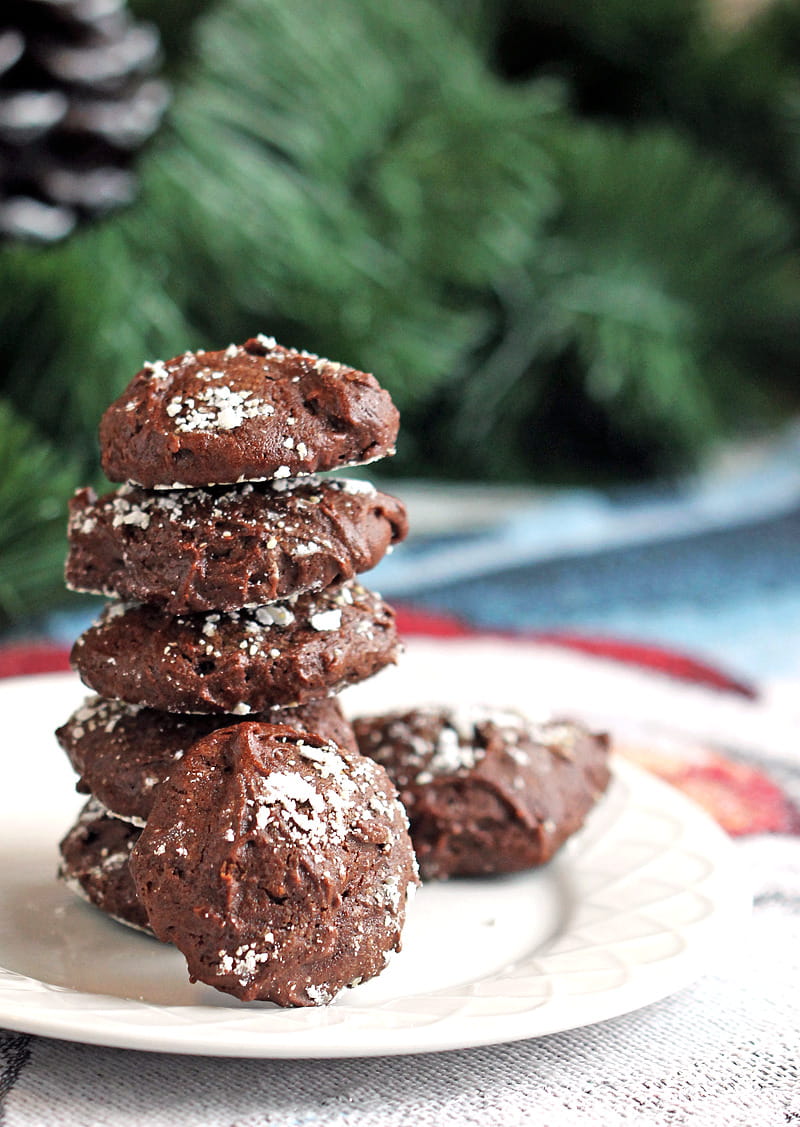 Bob's Red Mill helped me create a delicious recipe that is gluten-free and full of great seasonal flavors. Whether you are gluten-free or not, Bob's Red Mill products will help make your holiday cookies delicious - and likely help make them disappear!
What is your favorite Christmas cookie?