If you're looking for an excuse to bring out your mini waffle maker, we have you covered with these mini waffle maker recipes! Whether for a quick breakfast or a light lunch, you'll get the best recipes to deliver that delicious taste and leave you satisfied in a few bites.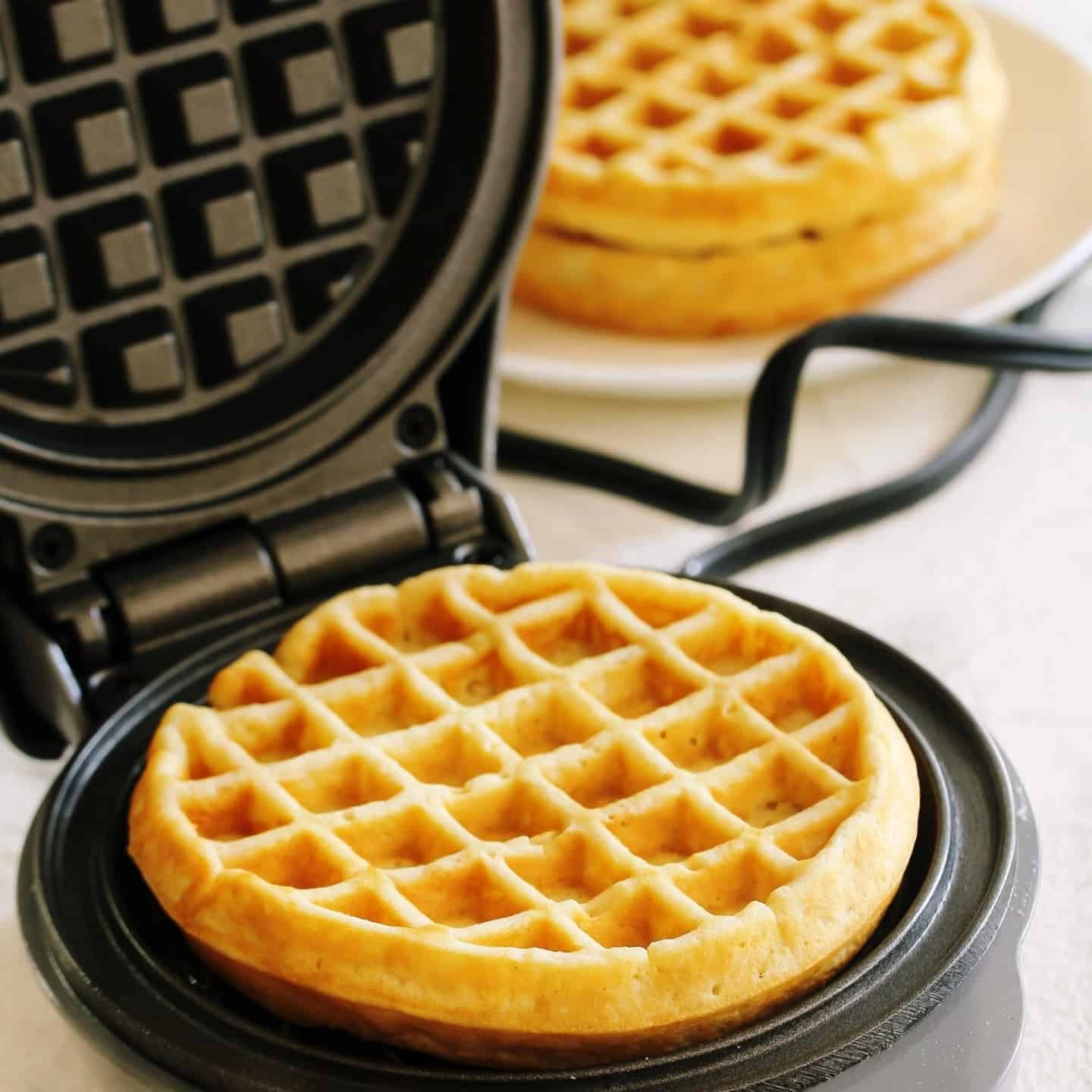 The recipes are easy, require minimal prep time, and give you loads of flavors, as little as they are. Busy week and want to try something else? I've got you covered with my egg bake recipe prep in only 15 minutes!
With these mini waffle maker recipes, you'll have fantastic reasons to use your mini waffle makers more than once or twice a month.
And to kick off the easy recipes, we have the keto-friendly Chaffles that make for an absolutely delicious breakfast.
If you've never heard of chaffles, you've been missing out on super-healthy savory waffles.
Chaffles are made with almond flour, mozzarella cheese, baking powder, cinnamon vanilla, and eggs.
It's low-carb and tastes like your standard yummy waffles. When the mini waffles are done, you can top them with low-carb syrup or butter!
If you want your chaffles loaded with extra cheese and garlic flavor, these garlic bread chaffles are your go-to option.
They'll definitely make your list of delicious recipes and take less than 15 minutes to prepare.
Top these buttery garlic bread chaffles with parmesan cheese and sprinkle with parsley before serving. If you want to go extra, get marinara sauce for dipping.
The sweet potato paleo waffles are made with just two ingredients, and you can have that quick breakfast you want in about 5 minutes!
It's healthy, yummy, and can be served with for favorite toppings!
Get your mini waffle maker and drizzle with olive oil to get started.
This recipe serves well as a dessert, brunch, or breakfast to share with your family. It's perfect during the holidays when you have pumpkin leftovers you don't know what to make of.
This easy recipe calls for flour, pumpkin spice, baking powder, egg white, vanilla, and pumpkin.
Cook the waffles until golden brown and serve with fresh fruit and maple syrup.
You can make these delicious snacks in just a few minutes with cookie dough, chocolate chips, and your mini waffle maker.
The recipe requires only a few ingredients, and you only need to bake your cookie for about four minutes.
Glaze the waffle cookies while warm and leave them to cool before serving. Here are more cookie recipes with a few ingredients that you can try and enjoy!
This is the option for you if you're sticking to healthy food and want a substitute for bread.
So grab your medium bowl and a waffle iron, and you'll have these mini waffles ready in ten minutes!
The ingredients for this recipe include cooking spray, garlic powder, shredded cheddar cheese, minced onion, and broccoli. Serve with sour cream, butter, or ranch dressing.
If you're counting carbs but want the thrill of pizza night, these pizza chaffles are the best alternatives for you.
The crispy low-carb deliciousness calls for almond flour, Italian seasoning, garlic powder, eggs, and shredded cheddar cheese.
They take about ten minutes to go, and you can serve them with your favorite pizza toppings.
Hash browns are a staple in many homes, and you can get its flavors in these delicious waffles.
So grab your mini waffle iron to cook a delicious breakfast in about 11 minutes.
Serve warm and crispy with a dollop of sour cream and fresh chives.
This is probably the easiest recipe you'll find on this list, as it only requires your refrigerated cinnamon rolls and cooking spray.
Simply place the cinnamon rolls in your mini waffle maker and cook till it's in waffle form.
Spread with icing or syrup of your choice.
This breakfast recipe requires just waffles, fresh strawberries, whipped cream, and maple syrup.
The key to making it is how you assemble your waffles and layer them with whipped cream.
For that delicious taste, stir the cream in maple syrup, and slice your fresh berries in halves.
Do you have leftover mashed potatoes? This recipe lets you make the best of it! It serves well as light lunch or a side dish to steak or chicken.
In just minutes, you'll have the mashed potatoes cooked and ready with scrambled eggs or your main dish.
If it's a snack, you can't go wrong with cheese and bacon.
These oatmeal waffles are what you want to have for breakfast to get you through the day.
They're super healthy and require just three ingredients, including banana, oatmeal, and your preferred milk.
You can opt for gluten-free oats for an even healthier meal.
This recipe is one of our favorite recipes that require only wet ingredients to make one waffle.
These ingredients include eggs and milk that you mix and cook in your waffle maker in three minutes!
You can add diced ham, shredded cheddar cheese, and other ingredients you want to give it more flavor.
You can spice up the regular omelet waffles with this recipe, taking more ingredients and giving more nutrients.
This waffle requires eggs, onions, tomatoes, mushrooms, red & green peppers, cheese, and meat.
The waffle should come out fluffy and delicious.
The dash mini waffle maker makes a double batch of waffles for people on a diet. And if you're on a keto diet, this recipe is the perfect one for you.
It's dairy-free, using ingredients including coconut flour, coconut oil, coconut cream, xanthan gum, and a pinch of salt.
They go great at the start of a breakfast sandwich, and you can drizzle them with cream cheese to enjoy!
This recipe straight calls for your donut-making ingredients to go into your mini waffle maker recipes.
They're perfect as snacks and can be made in about 15 minutes.
Get white powdered sugar, melted butter, and cinnamon for the toppings. You can store these delicious snacks in an airtight container for three days.
You shouldn't eat yogurt directly from the bowl when you can make these delicious buttery waffle coins in minutes.
Whisk eggs, sugar, flour, milk, vanilla, and butter to cook in your waffle maker.
Cook for one minute and mold into a cone. Repeat for the remaining batter and enjoy your ice cream!
These are waffles incorporated with lots of chocolate and drizzled with chocolate sauce.
The recipe gives amazing chocolate flavors and textures, as its inside is tender and outside crispy.
You might need several ingredients in your pantry, but it's super easy to assemble and cook! If these chocolate waffles remind you of cakes, check out these easy cake recipes with few ingredients.
These waffles combine whole milk, yeast, granulated sugar, unsalted butter, eggs, kosher salt, flour, and pearl sugar.
You're required to make the dough before you cook in your waffle maker, but the amazing taste of the waffle makes it absolutely worth the effort.
You can make these waffles ahead as they can last up to three months in a freezer. Then, top the waffle with fresh berries, Nutella, cream, or cinnamon sugar to enjoy!
These waffles and colorful, incorporating fruit purees to make a sweet and refreshing breakfast.
You can use purees such as raspberry, blackberry, orange, and even cocoa powder to make the most delightful variations.
They're perfect at food gatherings and can be served with syrup and strawberries.
The keto chaffles take another interesting twist with this recipe incorporating canned tuna.
It's as easy to make as other chaffles, giving you more flavors from the mayonnaise, celery, and red onion in its preparation.
It's perfect for lunch and can be served immediately!
These are a classic with simple ingredients and little time required.
The key is the churro coating made with melted butter, sugar, and cinnamon.
They're delicious alone but can be served with a syrup of your choice.
These are a massive leap from the classic waffle donut, incorporating chunks of apple in the dough that goes in your waffle maker.
It also has a sweet glaze that makes it impossible to beat as a dessert or snack!
As you must have guessed, these are chaffles with a twist of cream cheese!
They're keto-friendly and flexible enough to accommodate your favorite toppings.
Serve warm, and enjoy!
These are keto-friendly chaffles that incorporate some of the ingredients you'll use in a brownie, including cocoa powder, almond flour, vanilla extract, and sweetener.
It's simple to make and can be topped with heavy cream or low-carb toppings.
For more low-carb snacks, see these Carbquik recipes.
Conclusion
With these mini waffle maker recipes, you're on your way to making the most delicious breakfast and lunch regularly for your family. They require minimal time and ingredients, and you'll definitely have fun making them. So, get the mini waffle maker out and start cooking!