These deliciously moreish gluten-free pumpkin bars are the perfect keto-friendly snack with comforting ingredients like peanut butter, pumpkin puree, and chocolate chips. They are super moist, last for up to a week, and only take 25 minutes to prepare!
Fancy pumpkin? Try the best keto pumpkin pie going. When it comes to pumpkin pie recipes, this one is unrivaled. And my keto pumpkin cookies are nice treat!
Contents
No Bake Pumpkin Bars
This absolutely delicious no bake pumpkin bar is as soft as clouds, full of sweet flavors, naturally dairy-free, gluten-free, and sugar-free!
If you're looking to impress your family and friends with a new dessert, then look no further! Gluten-free pumpkin bars have been a favorite in my household for years and are super simple to make with only a bowl and a spoon required to make the batter.
There is no flour in this recipe, just lots of oats, pumpkin puree, and a good helping of peanut butter to bring everything together. I sometimes make these irresistible pumpkin bars with cream cheese frosting when we have guests over. More on this later!
Make the most of pumpkins this fall with my favorite pumpkin bars that will delight any food critic!
What You Need
I use fresh pumpkin and then make a puree with it for my pumpkin bars, but feel to use canned pumpkin if you wish. I do not recommend buying pumpkin pie filling as it is usually sweetened and has additional spices.
This recipe is naturally sweetened with honey and peanut butter, unlike other gluten-free pumpkin recipes that use granulated sugar or a sugar substitute like erythritol.
Ingredients
1 cup pumpkin
2 cups oats - not instant
½ cup peanut butter
¾ cup raw honey - can be increased if you prefer a sweeter bar
½ - 1 tablespoon pumpkin pie spice
1 teaspoon cinnamon
1 tablespoon pure vanilla extract
½ cup chocolate chips - organic preferred
Equipment
Large mixing bowl
Measuring cup
Spoon
Baking dish or cookie sheet
How To Make
Learn how to make these epic gluten-free pumpkin bars. You will be amazed at how easy these oaty pumpkin bars come together and how soft and moist they are. They store for days and taste as fresh as if they had come out of the oven 1 hour ago.
Baking Instructions
Preheat oven to 350 degrees Fahrenheit (177 degrees Celsius).
Grease a baking dish with cooking spray, coconut oil, or melted butter, then line it with parchment paper.
Combine all the ingredients in the medium or large bowl with a spoon until it resembles a thick brown batter. Then pour batter into the prepared pan.
Spread the batter evenly in the pan and bake it in the preheated oven for 20 - 25 minutes until it is firm. Insert a toothpick into the middle of the pumpkin cake, and if it comes out clean, it is ready.
Wait until it has completely cooled before serving.
Optional - Serve with whipped cream or cream cheese frosting. ENJOY!
Top Tips
For a more cake-like consistency. Add in 50g of a gluten-free flour blend like almond flour, half a teaspoon of baking powder, and baking soda.
If you want to give your gluten-free pumpkin bars more sweetness, you can add some brown sugar or substitute the honey for a reduced sugar maple syrup.
Use different cutters like Christmas trees, love hearts, or triangles instead of making gluten-free pumpkin squares.
Wait until the gluten-free pumpkin cake has cooled completely before spreading the frosting on top, as any warmth will cause it to melt.
How to make cream cheese frosting
Although gluten-free pumpkin bars are fantastic on their own, they taste even better topped with cream cheese frosting, even if the calorie count goes up!
If you want to keep the frosting dairy-free, I suggest buying 1 package of dairy-free cream cheese and mixing it with 100g powdered sugar until it's thick and smooth. Alternatively, you can mix cream cheese with sour cream, 1 lemon rind, 1 teaspoon vanilla extract, and powdered sugar for a cheesecake frosting.
Only spread frosting on the pumpkin cake once it's cool completely, then cut it into squares and refrigerate the pumpkin bars for an hour or so before serving.
Variations
Want more delicious bar recipes to take with you on your picnic or potluck? There is a huge variety of flavor combinations you can use to make tasty bars and I make them quite often in my house. Check out some of these household favorite bar variations.
Lemon bars have an intense lemon curd filling and a buttery shortbread base that melts in your mouth with every bite. They are gluten-free, dairy-free, and super moist!
Think of key lime pie but in bar form!
These no-bake peanut bars are effortless to whip up with only 5 ingredients required and combine the best of both worlds with a smooth chocolate topping and an insanely fudgy peanut butter filling. A simply irresistible dessert that no one can resist!
Start your day right with these healthy granola bars packed with dried fruits, oats, nuts, and chocolate chips. These no-bake gluten and dairy-free granola bars have a crunchy and chewy texture and take less than 10 minutes to prepare!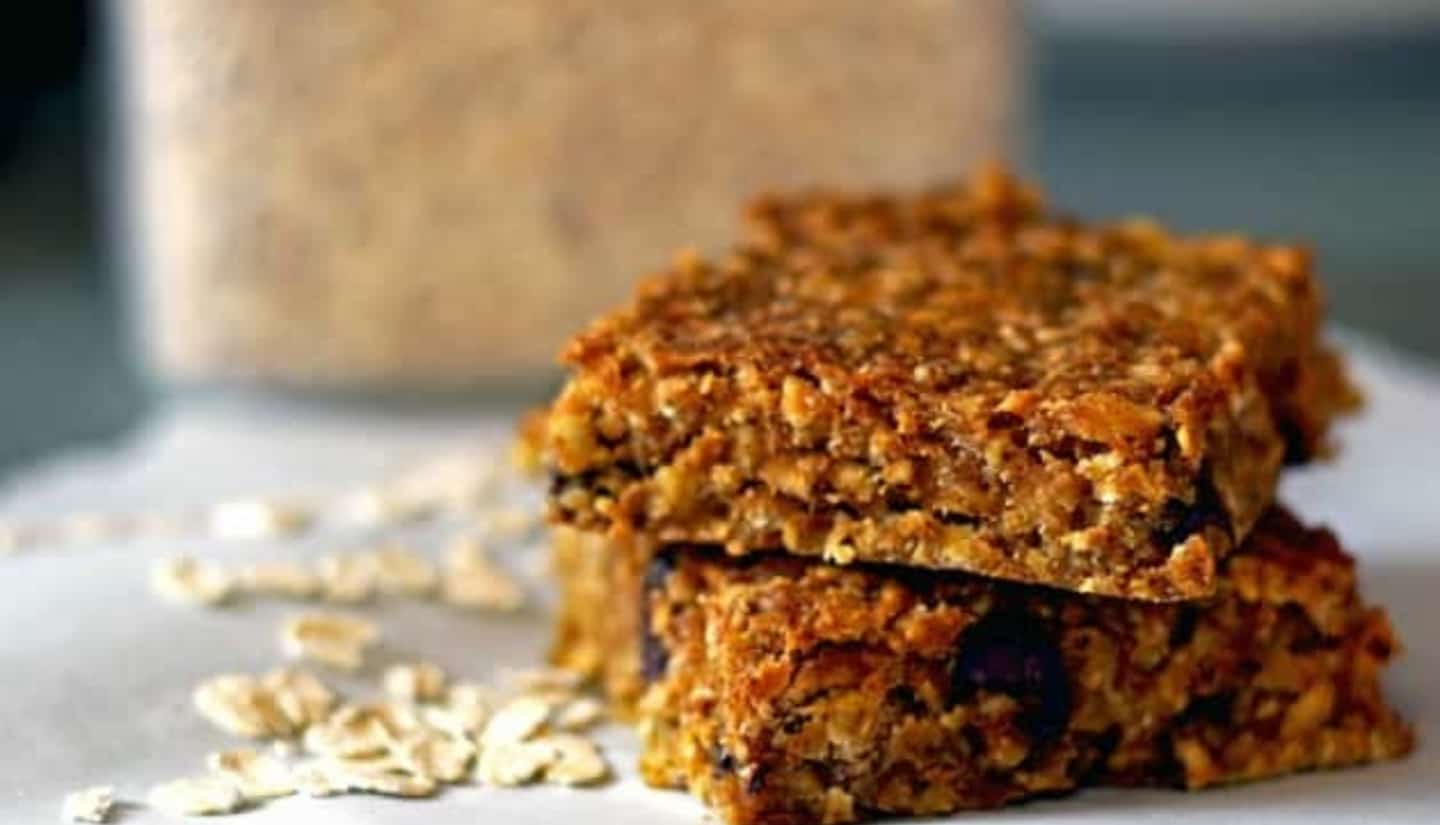 Storage
These gluten-free pumpkin bars are great for eating throughout a busy week as a quick snack and store for many days refrigerated or frozen.
Fridge - Wait until the pumpkin bars have cooled completely, then store them individually in sandwich bags and put them inside an airtight container. Alternatively, wrap the dish the pumpkin bars were baked in plastic wrap. They will keep refrigerated for up to 1 week.
Froze - Once the gluten-free pumpkin bars have cooled down, transfer them to an airtight container and store them in the freezer for up to 6 months. Thaw them overnight in the fridge when you want to defrost them or at least 1 hour before serving.
If you use cream cheese frosting, I do not recommend freezing as the frosting does not react well with ice and will melt when thawing.
Serving size
Gluten-free pumpkin desserts don't get better than this beautifully delicious cake cut into bite-sized squares. I usually enjoy eating these pumpkin bars for breakfast with a nice glass of fresh orange juice. They have oats and peanut butter which are some of the breakfast cooking ingredients I love.
The recipe allows for 10 bars depending on how big you cut them, and you may need to make a double batch if you want some for the next few days as 10 bars in my house lasts maximum of 24 hours.
Enjoy these gluten-free pumpkin bars on their own or with a delicate cream cheese frosting!
📋 Recipe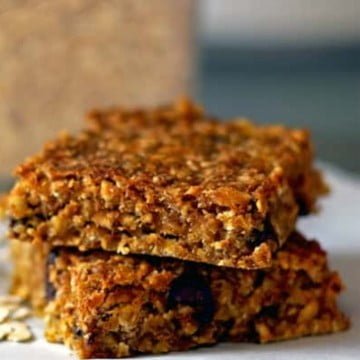 Gluten-free pumpkin bars
These deliciously moreish gluten-free pumpkin bars are the perfect keto-friendly snack stacked with comforting ingredients like peanut butter, pumpkin puree, and chocolate chips. They are super moist, last for up to a week, and only take 25 minutes to prepare!
Print
Pin
Rate
Share
Ingredients
1

cup

pumpkin

2

cups

oats

-

not instant

½

cup

peanut butter

¾

cup

raw honey

-

can be increased if you prefer a sweeter bar

½ - 1

tablespoon

pumpkin pie spice

1

teaspoon

cinnamon

1

tablespoon

pure vanilla extract

½

cup

chocolate chips

-

organic preferred
Instructions
Combine all ingredients in a bowl & blend with a spoon

Line and 8x8 pan w/ parchment paper

Spray w/ olive oil or other non-stick

Spread mixture into pan

Bake @ 350F for 20-25 minutes

Check with toothpick. If it comes out clean, it is done.
Notes
Chocolate chips are optional. You could add nuts, raisins or any other fun stuff you feel like it.
This recipe is easily gluten-free provided you ensure you are using gluten-free oats and chocolate chips. Oats are naturally gluten-free but may be processed in a facility that is not, so if it is not labeled, it may contain traces. Chocolate chips may contain gluten as well, though unsweetened chocolate is gluten-free.
Nutrition
Calories:
80
kcal
|
Carbohydrates:
14
g
|
Protein:
3
g
|
Fat:
1
g
|
Saturated Fat:
1
g
|
Polyunsaturated Fat:
1
g
|
Monounsaturated Fat:
1
g
|
Sodium:
2
mg
|
Potassium:
119
mg
|
Fiber:
2
g
|
Sugar:
1
g
|
Vitamin A:
1100
IU
|
Vitamin C:
1
mg
|
Calcium:
21
mg
|
Iron:
1
mg